There are several Ancheer Indoor Cycling Bikes available but the one under review is the one with model number B3008. Ancheer has come a long way by manufacturing different types of fitness equipment both for home use and for the gym such as treadmills, folding recumbent bikes, spin bikes, mountain bikes, and many more.
They must be given credit for their effort at producing cost-effective fitness equipment that could be useful and enjoyable to the users. Well, arguably, not every single product they manufactured might be great but a good number of them are recommendable and that brings us to the review of the Ancheer Indoor Cycling Bike, Belt Drive B3008.
We have seen a positive trail already as regards the ANCHEER Indoor Cycling Bike B3008. At the time of this review, it has a very high positive approval rating on Amazon. Users are so excited and have positive things to say about it.
This is a spin bike that is under $300 and has key and useful features to make your day while working out with it. It has one of the heaviest flywheels of 49 pounds/22 kg and this technology provides smooth and consistent motion while it improves the resistance with challenging workouts.
It has a comfortable seat that is contoured and padded which allows you to workout longer even without using a gel seat cover, unlike what is obtainable on most spinning bikes. The seat is also micro adjustable which means it can be adjusted 4-ways with a maximum adjustment of 36.2 inches from pedals to seat and minimum of 27.5 inches.  Consequently, the bike could accommodate users of different heights and body sizes.
The base is adjustable so that it can level up on an uneven floor without having to experience wobbling or movement during workouts.
That said, we have the obligation to highlight the pros and cons of the ANCHEER Indoor Cycling Bike, B3008 on this review.
Click right here to have a peek at the price of the Ancheer Indoor Cycling Bike, Belt Drive B3008 on Amazon.
The Frame and Construction
The Ancheer Indoor Cycling Bike, Belt Drive B3008 comes in three variant colors which are black, silver, and yellow.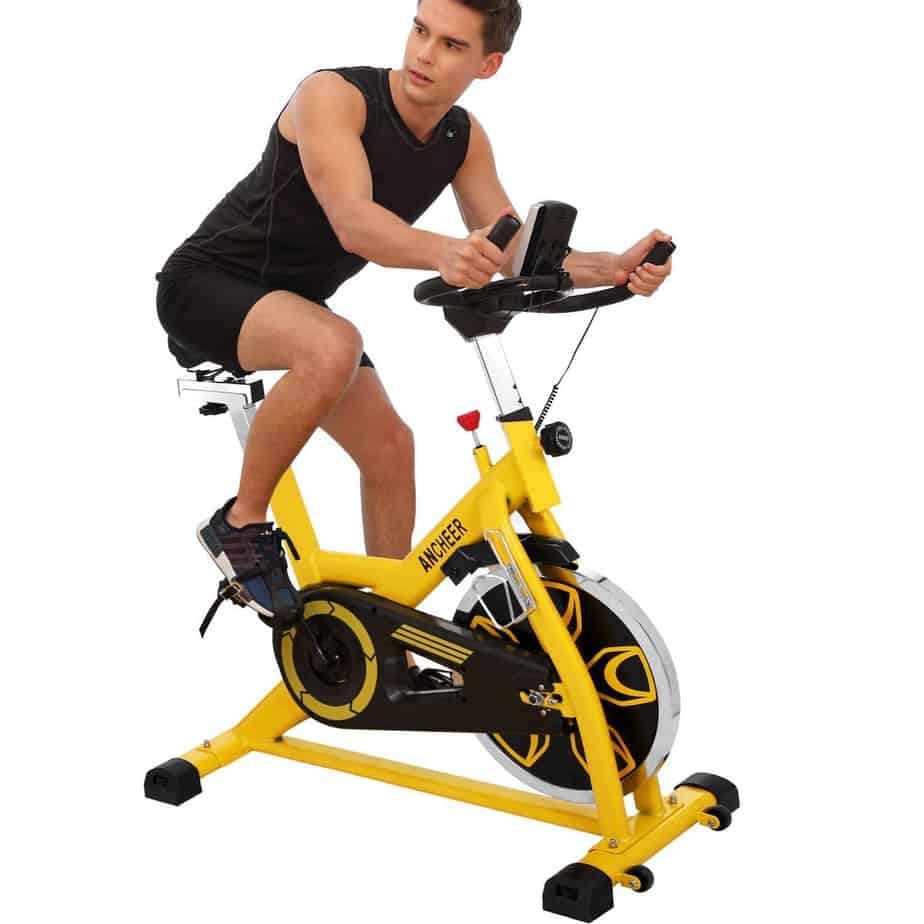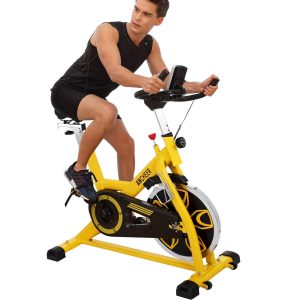 These are but one and the same bike with the same features and price tag except for the color. This means you could choose any of the colors that please you when purchasing.
The frame is built with quality steel that is finished with anti-corrosive and scratch paint so that the original outlook lasts even as the frame lasts for many years. The bike supports a maximum user weight capacity of 264 pounds/119.7 kg; obviously, it is a sturdy bike.
The seat and the handlebar posts are chrome finished which is also resistant to corrosion with good texture.
It is built with a good base framework that guarantees stability as long as the user is within the stipulated weight range it supports. The bike features stabilizer bars, one at the front base, and the other at the rear base.
The stabilizer bars also have adjustable rubber levelers that level up the bike in case the floor is uneven to further boost its stability. However, it is recommended to use a protective rubber mat but that is not overly necessary though.
The bike is compact and even though it is not foldable it can fit in most small rooms and apartments without taking up much space. The overall assembled dimensions are 42.9 inches long by 18.9 inches wide by 43.3 inches tall. In other words, this bike basically requires a workout area of 3.5 feet long by 1.6 foot wide. But consider adding an extra clearance of at least 2 feet on each of the bike and the rear for safety and convenience during the actual workouts.
The bike's shipping weight is 96 pounds/43.5 kg and the assembled weight should be slightly less than that we suppose. The actual bike's weight is not stated in the product description.
The Seat, the Handlebar, and the Pedals
The seat of the Ancheer Indoor Cycling Bike, Belt Drive B3008 is pretty and well designed. It is fairly cushioned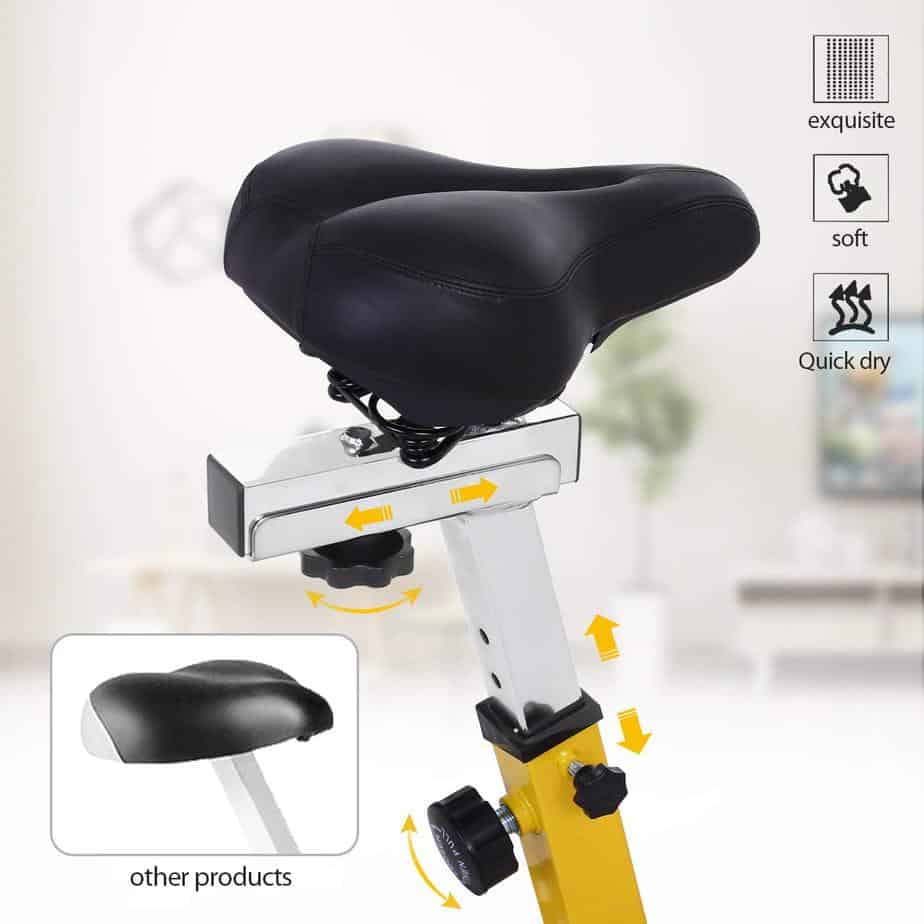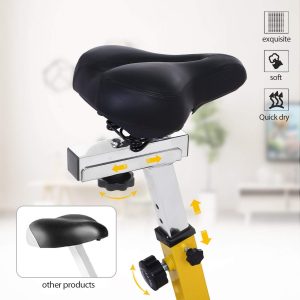 more than most seats that are found on other spin bikes. It does not have the typical slim shape of a standard spin bike seat. It has instead a unique design with two springs to support and improve the overall comfort that it provides.
The seat's dimensions are 9.8 inches long by 7.9 inches wide.
Just as aforementioned, the seat is 4-way adjustable, i.e. could be adjusted vertically, (upward/downward) and horizontally (aft/fore). It is very easy to adjust and won't take a minute to find your suitable workout settings and preference.
This is good for the family since it can accommodate multiple users between the heights of 4.9 feet to 6.2 feet tall.  The maximum height from pedals to the seat is 36.2 inches and the minimum is 27.5 inches.
Most spin bikes' seats do not provide comfort without the use of a gel seat cover but in this case, you may use it without one and still feel comfortable.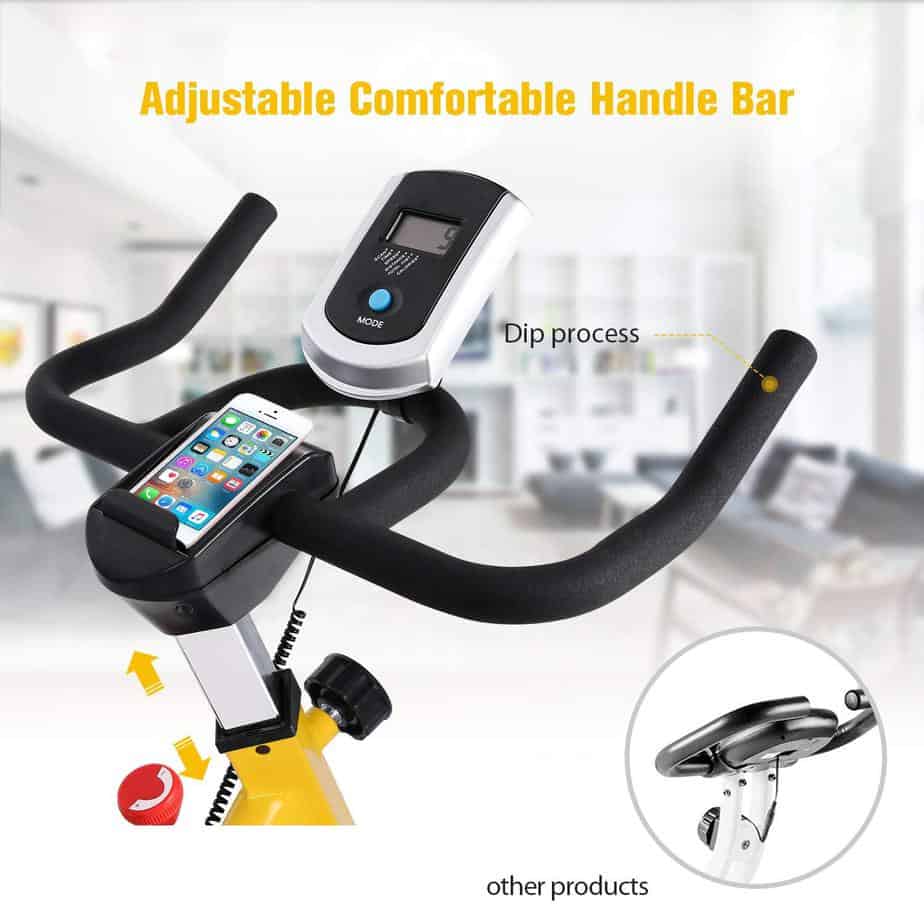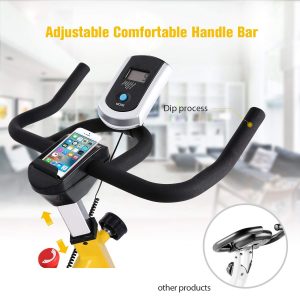 The handlebar is 2-way adjustable with a multi-grip design that provides different grips for different postures. The handlebar's length is 17.7 inches, dip-coated with a soft rubber foam material that provides a firm and comfortable grip that prevents slippage and blisters in the palms.
The maximum height from the pedals to the handlebar is 37 inches and 33 inches minimum.
The handlebars do not have the heart rate sensors embedded in them which also means that you will not be able to monitor your heart rate. This is sort of a downside but you can always use a wristwatch heart rate device or any other such as HR chest strap which is more accurate and convenient than the EKG grip sensors.
The pedals integrated into the Ancheer Indoor Cycling Bike, Belt Drive B3008 are anti-skid designed with toe cages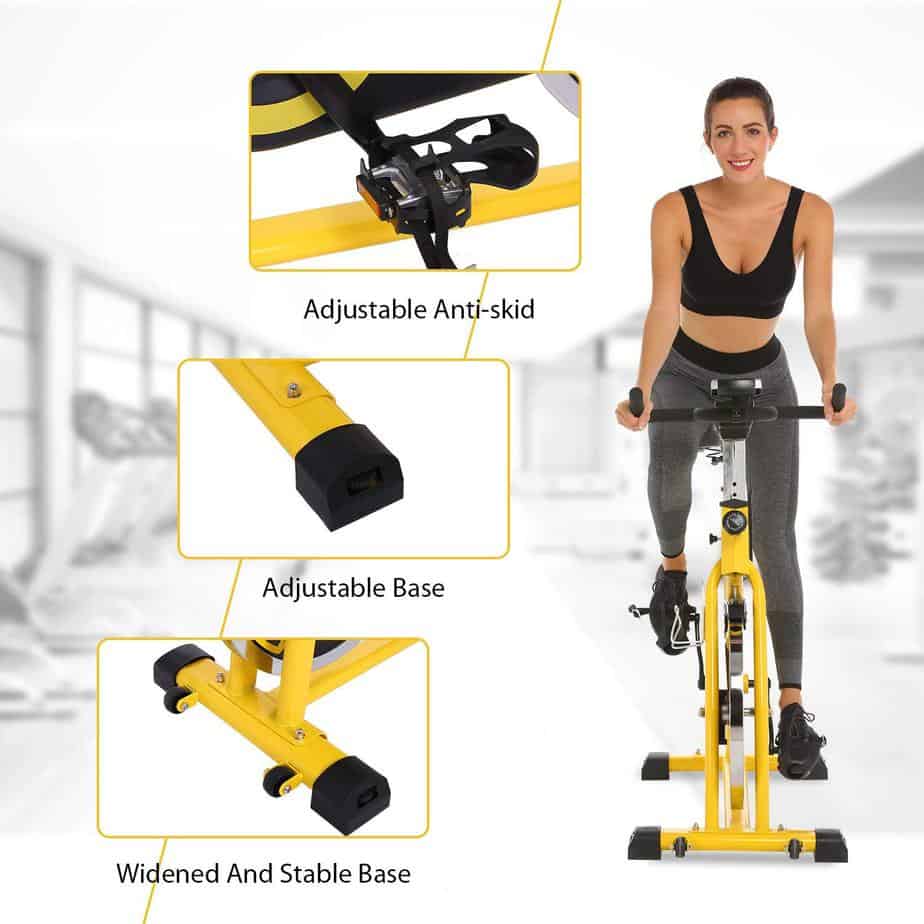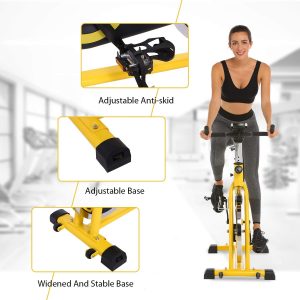 and adjustable safety straps to secure feet and prevent slippage during a high-intensity workout.
The pedals can accommodate standard gym shoes but not spin shoes because it is not dual-sided with SPD cleats. However, it is possible to swap the pedals with a set that has clips for spin shoes if you must.
The pedals are made of quality alloy aluminum strong enough to support standing ride as long as you are within the stipulated weight range the bike supports.
The Q Factor (distance from the inner edge of the left pedal to the inner edge of the right pedal) is not indicated. However, we presume that it may have a decent narrow Q Factor considering the positive reviews by Amazon customers.
Therefore, you may workout without experiencing stress in the leg joints such as the knees and the ankles.
The Drive
The Ancheer Indoor Cycling Bike, Belt Drive B3008 features a belt drive system that is appreciated by most users because of its smooth and quiet operation. It is also maintenance-free because it does not require any further lubrication or periodic adjustment as the case with the chain drive system.
The drive basically consists of a quality durable belt, pulleys, a crankset, crank arms, and the inertia-enhanced 49 pounds flywheel.
It is reported that the performance of the B3008 Indoor Cycling bike is great.
You can also pedal in both directions in order to work on more muscle groups in the legs and for this reason, you will not be able to coast as you could on a real road bicycle. It is only imperative to apply the emergency brake via the tension knob by pushing it down to stop the spinning of the pedals and the flywheel any time you wish to suddenly stop pedaling to avoid an accident.
The Resistance
The Ancheer Indoor Cycling Bike, Belt Drive B3008 features a friction resistance system that consists of a felt brake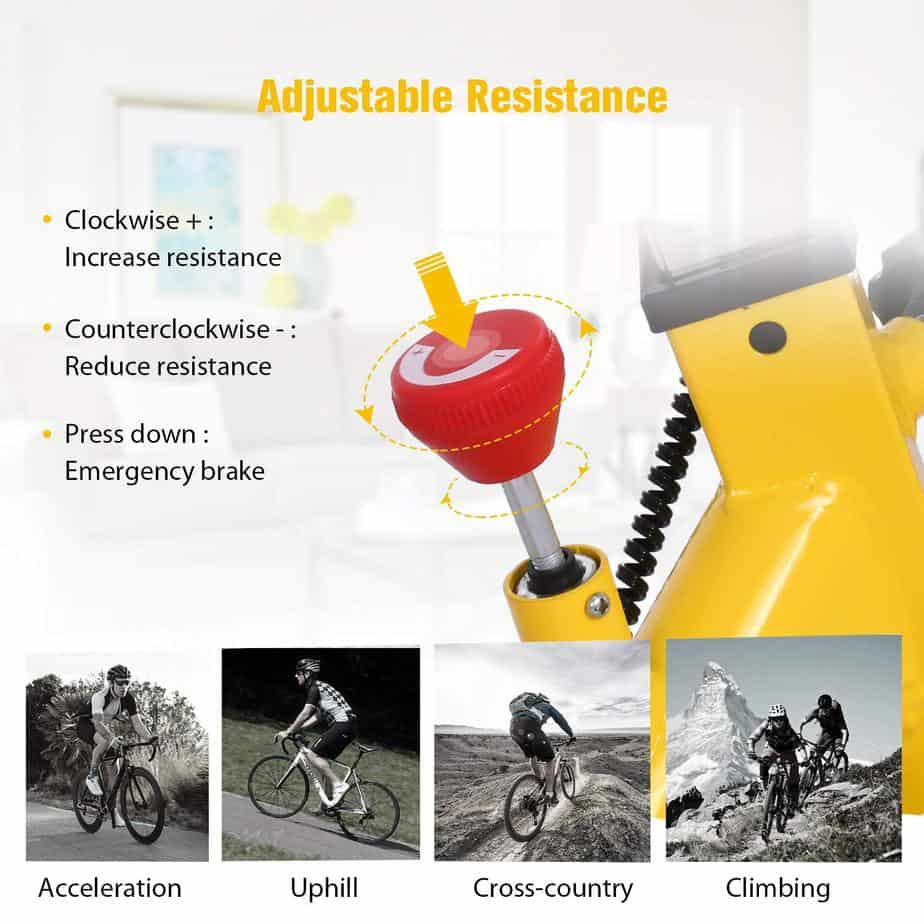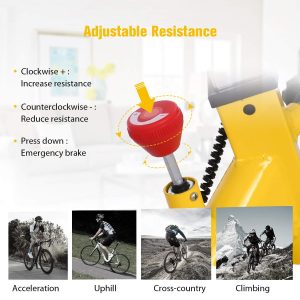 pad and the flywheel as the principal elements that generate the resistance.
The felt brake pad which is attached underneath the mainframe tubing facing down toward the high inertia 49 pounds flywheel's edge is covered with a plastic casing.
Resistance is generated when the felt brake pad comes in contact with the edge of the flywheel.
You can simply increase or decrease the resistance by turning the tension knob that is on the mainframe tubing which is connected to the felt brake pad clockwise or anticlockwise respectively.
The resistance provides different workouts experience such as acceleration, uphill, cross-country, and climbing that could burn tons of calories, tone muscles, and ultimately allow you to achieve physical fitness.
The resistance does not have distinct levels indicated on the tension knob just as the case with Keiser or the ASUNA Lancer because its resistance is infinite with no level.
The advantage of a bike with infinite resistance level is that it provides highly challenging workouts such as steep climbing that even a pro would appreciate but the downside is that you won't be able to know the level of resistance used between workout sessions and consequently won't be able to track your strength and endurance improvement.
Moreover, the brake pad tends to wear out over time and requires replacement at some point in time depending on how frequent it is being used.  However, it is a part that is rarely replaced because it lasts for a very long time.
The Console
The Ancheer Indoor Cycling Bike, Belt Drive B3008 has a basic console with dimensions of 3.9 inches by 6.3 inches. It features a multi-functional LCD display with high readability but could be compromised when used in a poorly lit environment because it is not backlit.
There is only one MODE button available for navigation.
You should be able to track your workout progress as it displays values such as time, speed, distance, calories burned, and SCAN function.
The SCAN function allows you to view all the values being displayed one at a time rotationally after few seconds between.  You could also choose to set a certain value of your choice to display constantly throughout the duration of your workout.
You may have noticed that the heart rate is not among the values to be observed because the bike does not include any heart rate function at all. If you wish to track your heart rate you will have to purchase a separate HR monitoring device such as an HR wristwatch or chest strap whichever one you feel comfortable with. These heart rate monitoring devices provide more accurate data than the one provided by the EKG hand grip sensor and they are also more convenient and flexible.
The console does not require to be plugged to a power outlet in order to work but uses 1 AA battery power on.
The monitor goes off automatically when there is no activity on the bike for a couple of seconds in order to save up battery power and it comes on when the pedals are turned. You could also power on the monitor by pressing the only button once.
Accessory
This bike has two distinct accessories which are vital to experiencing outstanding and enjoyable workouts.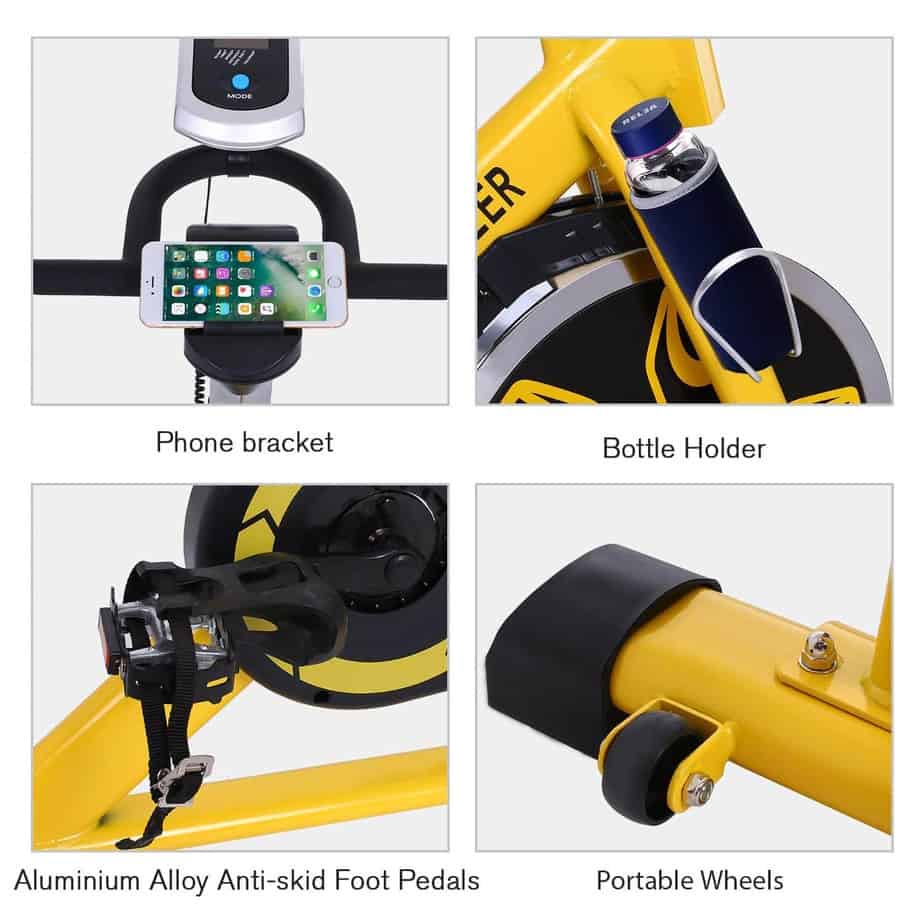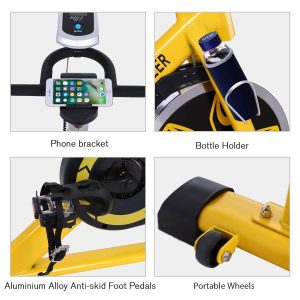 It has a tablet holder that is designated somewhere in the middle of the handlebar. It is positioned in a way that a tablet placed on it won't block the view of the monitor by not allowing the user to see the workout data.  You can watch a movie or listen to your favorite music while you workout without the feat that the device may drop because it is well secured.
The other accessory is the water bottle holder that is designated by the side of the bike's front fork, a perfect position to easily reach for the water.
This keeps water handy so that you can stay hydrated through your workout session which is very essential.
Storage
The storage of the Ancheer Indoor Cycling Bike, Belt Drive B3008 won't really be a problem even to those that have a space problem. This is because it is a compact bike with overall assembled dimensions of 42.9 inches long by 18.9 inches wide by 43.3 inches tall. Differently put, it will require a storage space of 3.5 feet long by 1.5 feet wide.
It is completely portable because of the transport wheels that are integrated into it for easy relocation.
Approval Rating
The approval rating of the Ancheer Indoor Cycling Bike, Belt Drive B3008 is very good just as indicated above. This bike has an impressive approval rating of 4.8 out of 5 stars at the time of this review. This is the average approval rating of nearly 100 Amazon customer reviews.
Pros/Features Overview
Sturdy and stable
Supports up to 264 pounds/119.7 kg maximum user weight capacity
Compact and portable; great for home use
The pedals have toe cages and can accommodate standard gym shoes
The seat is contoured and adequately cushioned for comfort
The seat is 4-way adjustable and can accommodate users of different body sizes and heights (4.9 feet to 6.2 feet)
An adjustable base that levels up on an uneven floor
The handlebar is dip-coated with a rubber foam material that provides a firm and comfortable grip
The handlebar provides different postures
The bike has a quiet and smooth performance
The 49 pounds flywheel generates momentum that provides consistent and smooth operation
Friction resistance provides challenging workouts that are suitable for all fitness levels
Low maintenance
Easy to assemble
LCD monitor that displays workout data such as time, speed, calories burned, distance, and SCAN function
Water holder included
Tablet holder included
Cons
No heart rate data; but you could buy a separate heart rate monitoring device
Resistance level s not indicated
The pedals are not dual-sided with toe cages and SPD cleats
Product Dimensions and Specifications
43'' Length
19'' Width
43'' Height
Supports 264 pounds/119.7 kg maximum user weight capacity
Console: LCD monitor
Handlebar: 2-way adjustable, multi-grip, dip-coated with foam material
Seat: Contoured, cushioned, 4-way adjustable
Flywheel: 49 pounds/22 kg
Drive: Belt
Resistance: Friction
Resistance level: Infinite
Pedals: Toe cages with adjustable straps
Warranty
Shipping, Assembly, and Maintenance
Shipping
The Ancheer Indoor Cycling Bike, Belt Drive B3008 is shipped in a box that weighs 96 pounds with dimensions of 42.1 inches by 2.6 inches by 9.8 inches.
The shipping cost depends on the retailer from whom you are purchasing; however, some vendors such as Amazon provides free shipping within the United States and delivers within days of order.
Assembly
Assembling the Ancheer Indoor Cycling Bike, Belt Drive B3008 is pretty straightforward as it comes pre-assembled with the major components.
You are only going to attach the following parts to the frame such as the 2 stabilizer bars, the seat and the handlebar posts, the pedals, the seat, the handlebar, and the console. All of these will probably take about 30 minutes more or less.
An instruction manual and even an installation video are included. The required tools for the assembly are also included.
Assembling this unit is going to be a walk in the park.
Maintenance
No major maintenance is required because the bike features a belt drive system.
You may want to apply a silicone-based lubricant on the flywheel when it is emitting a sound while the friction resistance is working.
Make sure to always examine the bike before use for any loose, worn, or broken part to avoid an accident. Fix any problem that may arise accordingly.
Finally, always keep the unit clean from dirt and sweat.
Conclusion
In our opinion, the Ancheer Indoor Cycling Bike, Belt Drive B3008 is a cost-effective cycling bike that could provide you with decent workouts in the comfort of your home.
It has all the necessary features to help you realize your fitness goals.
Ancheer Indoor Cycling Bike, Belt Drive B3008 Review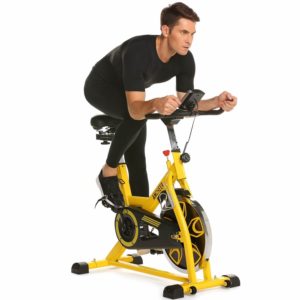 The frame is built with quality steel that is finished with anti-corrosive and scratch paint so that the original outlook lasts even as the frame last for
Product Brand: Ancheer
Product In-Stock: InStock