The Marcy Upright Exercise Bike with Resistance ME-708 is one of the most affordable machines there is among the best upright bike that are popular.
The price tag could probably be the reason for its popularity but also because of the decent build and quality of the unit as well.  You don't want to spend a fortune on some exercise bike if the goal is to be able to perform cardio workouts that are targeted at taking down extra calories and staying physically healthy at home.
There are other reasons why the Marcy Upright Exercise Bike ME-708 should appeal to many users and that includes the fact that it is simple, compact, sturdy, and stable.
It is typically a vertical V-Shaped machine whose frame is made of 2'' by 2'' round 14 gauge steel tubing with fairly large adjustable seat, an ergonomic handlebar that is coated with rubber foam material, weighted and counterbalanced pedals with adjustable straps, monitor that enables a user to track workout progress and more.
This Upright ME-708 could be the right choice that could end that unpleasant ride to the gym and the cost of gym membership fee.  Prevent having to exercise outdoor in hostile weather in exchange for working out in the comfort of your home.
That said, this machine has its downsides agreed, but they are hardly a deal-breaker.
Click right here to have a peek at the price of the Marcy Upright Exercise Bike with Resistance ME-708 on Amazon.
The Frame and Construction
As aforementioned, the Marcy Upright Exercise Bike with Resistance ME-708 is a tall and vertically looking indoor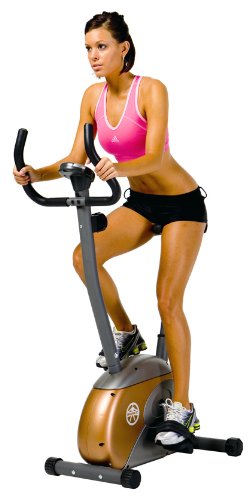 bike whose frame is made of 14-gauge steel tubing that is finished with anti-corrosive and scratch powder coating designed to prevent rusts and scratches that could deface the original outlook. While the plastic parts of the ME-708 are made of ABS (Acrylonitrile Butadiene Styrene) which does not have a melting point and finished with two-tone paint.
It is sturdy enough to support up to 300 pounds/136 kg maximum user weight capacity which is significant for a bike of this category.
For those that prefer non-bulky fitness equipment in their room or apartment, this might just be a perfect choice because it has a small footprint. The overall assembled dimensions are 31.5 inches long by 18 inches wide by 48.75 inches tall. These mean that a workout area for this machine should be 2.6 feet long by 1.5 feet wide. These literally show that the machine has a space-saving design even though it is not foldable.
However, for safe and convenient workout experience, you may want to add extra clearance to the workout area. It is recommended to add at least an extra 2 feet on each side of the unit and at the rear to avoid restrictions that could restrain workouts and potentially cause accidents or harm.
Ordinarily, there should be concerns about stability when a machine has a small footprint such as the case with the Marcy Upright Exercise Bike with Resistance ME-708; but we are surprised to find out that users say it is very stable regardless. The reason for that is because of the base framework that features two stabilizer bars, one at the front and the other at the rear.
The stabilizer bars also have rubber caps on each end which guarantee stable ride even on a floor that is not level. It does not really need a protective rubber mat because the rubbers serve the purpose and also protect the floor being damaged.
It doesn't wobble even though you decide to ride without holding the handlebars.
It is a lightweight machine that weighs just about 41 pounds/18.5 kg but enough to complement its overall stability. Moreover, moving it from one place to another won't be a problem because of that and it is integrated with transport wheels at the front base.
The Seat, the Handlebar, and the Pedals
The seat of the Marcy Upright Exercise Bike with Resistance ME-708 is fairly large and contoured. However, some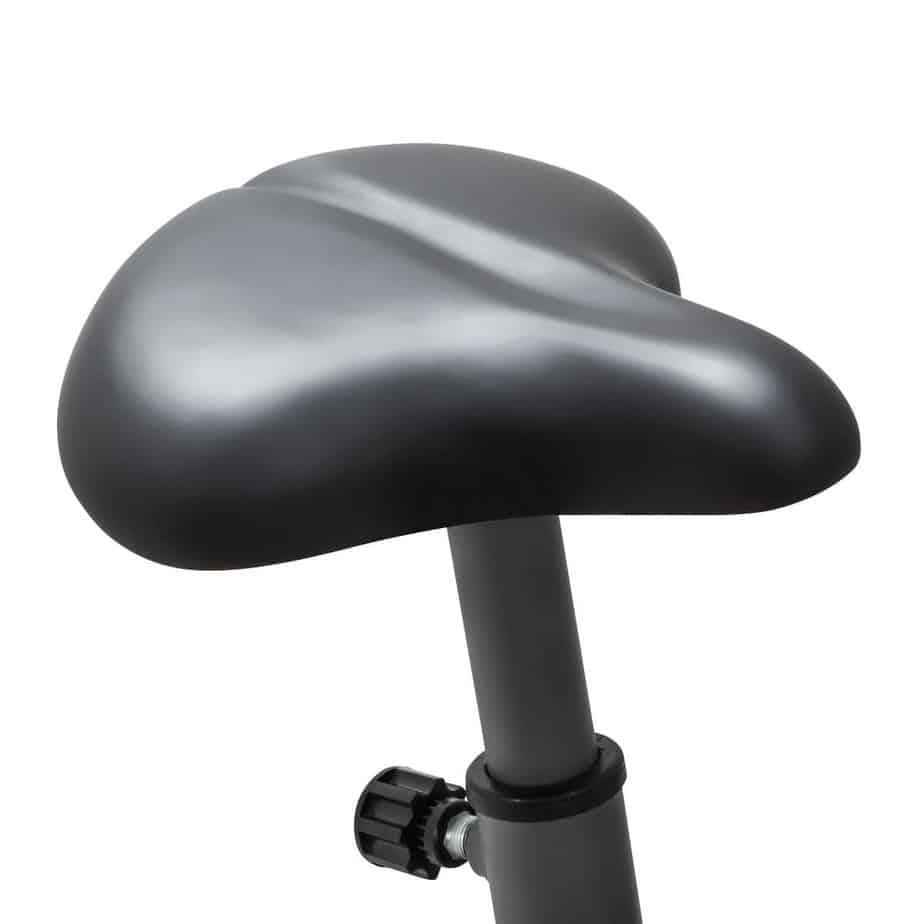 users have a problem with the seat citing its uncomfortable nature due to inadequate cushioning. For this reason, the bike is optionally sold together with a gel seat cover that could improve the feel and comfort. To make sure you get the right size, here is the link for the best and recommended ones; Schwinn Cruiser Gel Seat Cover and Sheepskin Padded Bicycle Seat Cover.
The seat has adjustability to could accommodate users of different heights and body sizes. It has about 9 different height positions that span from 31 inches minimum to 40 inches maximum. The seat provides suitable workout positions for everyone and especially those undergoing physical therapy because of injury or knee replacement.
The seat is vertically adjustable.  It is a 2-way adjustable seat of upward and downward, no aft/fore adjustment available. Other members of the family can use the bike and the seat adjustment only takes seconds to complete.
The Marcy Upright Exercise Bike ME-708 features a non-adjustable handlebar and does not have the HR sensors embedded in it like the case with some of the other upright exercise bikes out there. This also means that the bike is not supplied with an EKG grip heart rate monitor hence you won't be able to monitor your heart rate.
Although, you may use any external heart rate monitor you have or may purchase one separately, while the other alternative is to purchase a good upright bike that comes with a heart rate monitor such as the Trbitty Upright Magnetic Exercise Bike but you must be willing to pay a little bit more because it is slightly pricier than the Marcy Upright Exercise Bike ME-708.
The handlebar is ergonomically designed with a multi-grip design and coated with rubber foam material to provide a comfortable and firm grip.
A user can work out with different grip positions that ultimately affect posture in a positive way.
Again, the handlebar may not be entirely adjustable but the position and the height of the post make the machine to accommodate and provide comfort to different users.
The pedals supplied with the ME-708 are anti-skid designed, weighted, and counterbalanced with safety adjustable straps that secure the feet even during a vigorous workout.
They accommodate shoes but best for standard gym shoes.
The Drive
The Marcy Upright Exercise Bike with Resistance ME-708 features a belt drive system. This means no maintenance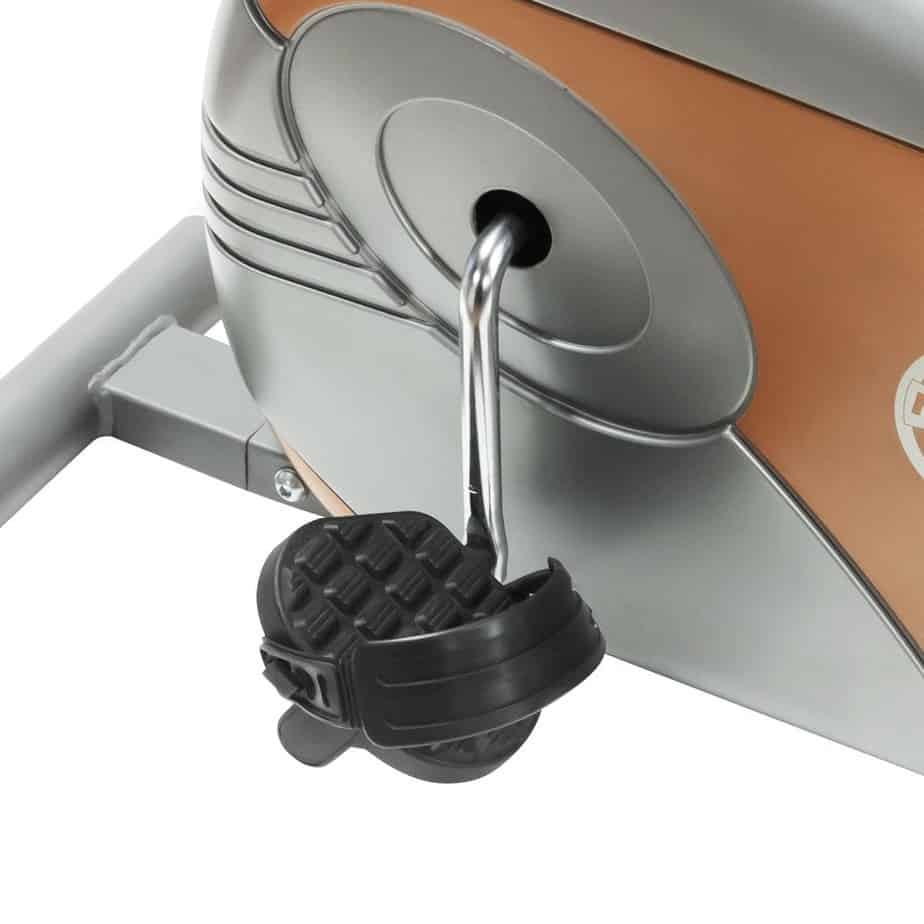 required and it provides a smooth and quiet ride. You don't have to worry about disturbing the family or the neighbors during a workout due to the noise that may be emanating from the drive.
The drive typically consists of a belt, a pulley, a small flywheel that probably weighs between 5 to 12 pounds and a crankset. These are connected and shrouded in an ABS cover for safety and preventing dirt from entering.
The drive or the pedals are bidirectional which means you can pedal in either direction for maximum toning of the muscle groups.
The Resistance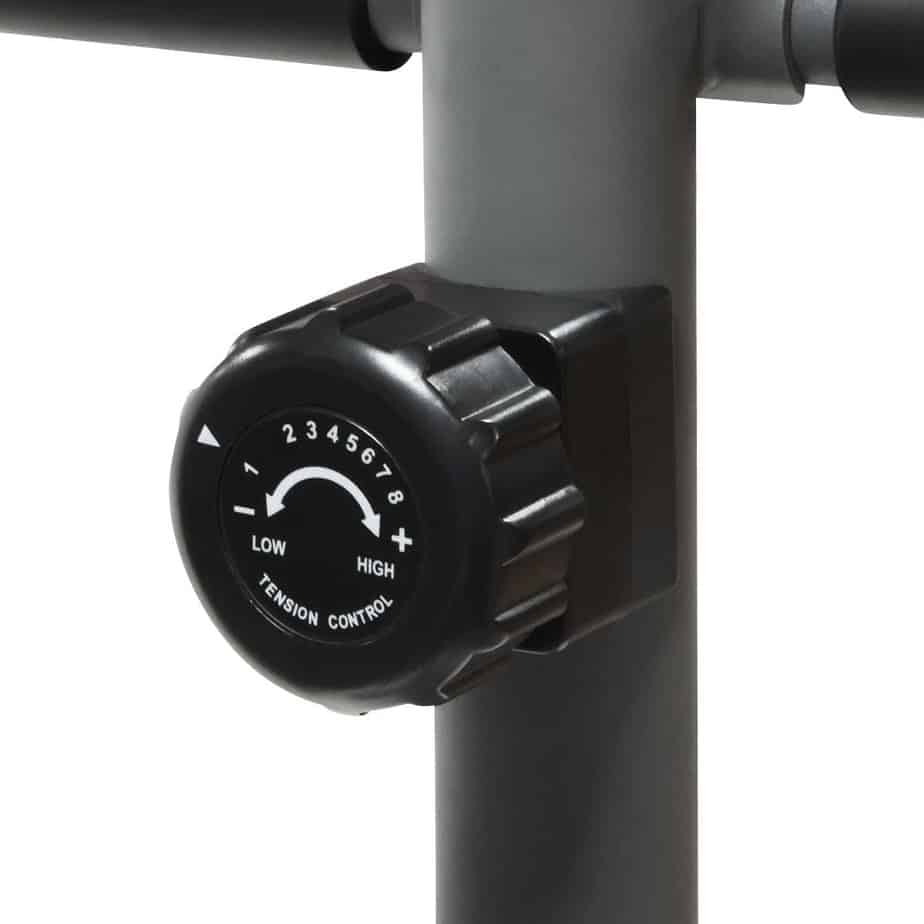 The Marcy Upright Exercise Bike is integrated with a manual magnetic resistance system that is known for its smooth and challenging workouts.
It has distinctive levels of 1 to 8 and great for everyone especially beginners, intermediaries, and folks undergoing physical therapy.
The magnetic resistance system is also maintenance free just as the drive system because the elements that generate the resistance do not come in contact and cause friction like the case with friction resistance system.
This means that the magnetic pad doesn't come in contact with the flywheel but only generates resistance when the magnetic pad is close enough to provide a magnetic field to the flywheel.
The resistance is controlled via the tension knob that bears the markings of the resistance levels on it. It is pretty easy to increase or decrease resistance. Simply turn the tension knob clockwise to increase the resistance or anticlockwise to decrease it.
The ability to know precisely the resistance level used in workouts allows you to track your strength and endurance improvements because you will be able to compare and know when you are or not using higher resistance levels during workouts.
This is a perfect machine that raises your heartbeat and burns tremendous calories.
The Console
The Marcy Upright Exercise Bike comes with a rather basic console that measures about 2.25 inches in size with a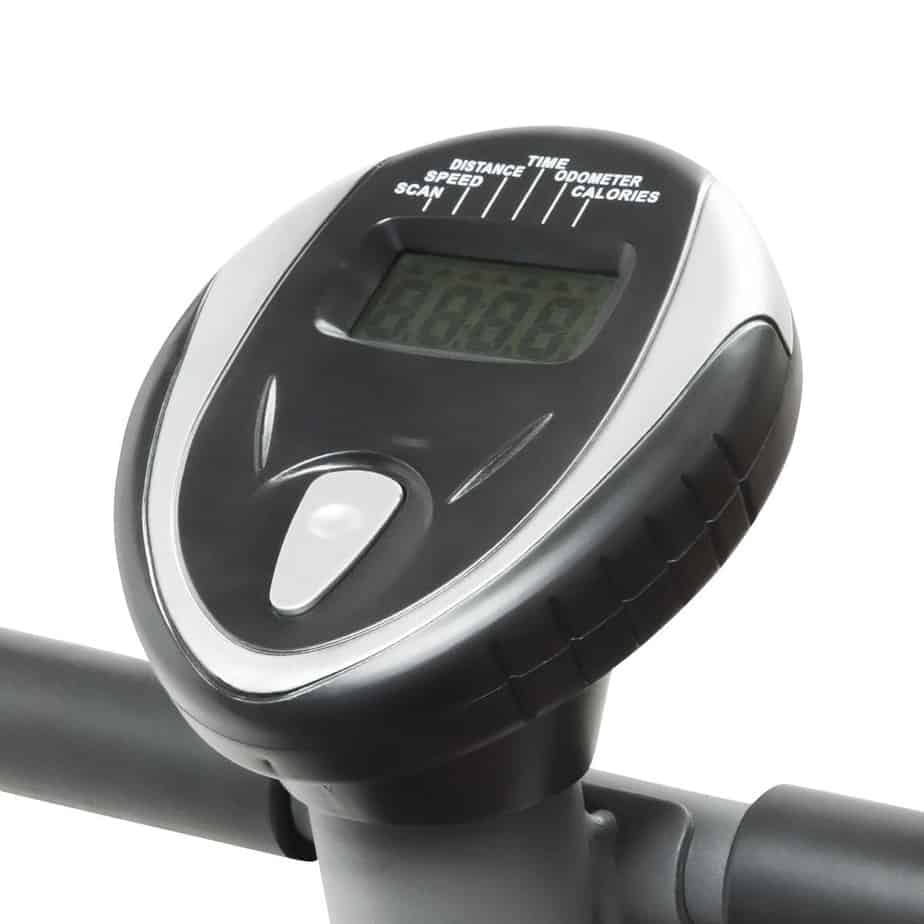 single navigation button.
It has a monitor screen that displays workout values with high readability but could diminish if used in a poorly lit environment because it is not backlit.
The monitor displays values such as time, speed, calories burned, distance, and Odometer. These values are displayed by SCAN function which means each value displays one at a time every 4 seconds rotationally or you can use the MODE button to set up a preferred value that should constantly display without changing for any reason.
The monitor automatically powers off when there is no activity on the bike in other save battery power as it is powered by 2 AAA batteries. It also powers on when the pedals spin or when you push the MODE button.
The values displayed are the approximate estimate and therefore are not completely accurate, they are only meant for comparisons.
Again, this is a basic console that does not connect to a smartphone and does not have workout apps. It does not even display basic values such as heart rate as aforementioned.
If you wish to monitor your heart rate the options are to purchase another upright bike that has the heart rate monitoring function which also in most cases do not supply reliable result because EKG grip sensors are not as good as an HR chest strap, or you can decide to use an external HR chest strap for heart rate monitoring which supply reliable data.
Accessory
The Marcy Upright Exercise Bike ME-708 does not have even basic accessories such as a tablet holder and a water bottle holder.
This is the reason why the price of this bike is down. It is a very affordable bike that allows you to workout with basic functions and features and most people are just fine with it.
Storage
The storage of the Marcy Upright Exercise Bike is pretty easy and stress-free because the unit is compact, lightweight, and has transport wheels for portability.
It has overall assembled dimensions of 31.5 inches long by 18 inches wide which make it one of the upright bikes with the smallest footprint. In other words, the storage space required for this unit is 2.6 feet long by 1.5 feet wide.
You can easily find a place to tuck it away after workouts.
Approval Rating
The ME-708 Upright Bike has a lot of Amazon customer reviews that run into hundreds and the majority of these reviews are positive.
This bike still maintains an average approval rating of 3.9 out of 5 stars at the time this article was written after over one thousand reviews by real users.
This suggests that the Marcy Upright Exercise Bike with Resistance ME-708 is recommendable and reliable.
Pros/Features Overview
Sturdy and stable; supports up to 300 pounds/136 kg maximum user weight capacity
Compact and portable; integrated with transports wheels and could fit in a small room or apartment
The seat is 2-way adjustable and could accommodate users of different heights and body sizes
The handlebar is ergonomically designed that provides comfortable workout posture
The handlebar is covered with a soft rubber foam material that provides a firm and comfortable grip that prevent slippage and blisters in the palms
It features a basic console with LCD monitor that displays workout values such as time, speed, distance, calories burned, Odometer and SCAN function with good readability
The pedals are weighted balanced and counterbalanced with safety adjustable straps that secure the feet
The frame is made of quality 2'' by 2'' round 14 gauge steel tubing coated with anti-corrosive and scratch paint that preserves it
It features a belt drive system that provides a smooth and quiet ride
It features a manual magnetic resistance system that is maintenance-free, smooth, and provides challenging workouts with 8 levels.
It is a cost-effective upright bike
Easy to assemble
It does not need a power source in order to work therefore can be utilized anywhere
Cons
It does not have any accessory; you can purchase them separately if you must use any
No heart rate sensors, therefore, you cannot monitor your heart rate, however, as suggested above you can purchase an external HR chest strap or an upright bike that has the heart rate function which could cost a little bit more
The monitor is not backlit so its readability is limited
This is not the best upright bike for those seeking to experience tough workouts like pros
The seat is not very comfortable but can be improved by the use of a gel seat cover
The 2 AAA batteries for the console are not included
Product Dimensions and Specifications
31'' Length
18'' Width
48'' Height
Supports 300 pounds/136 kg maximum user weight capacity
Weight: 41 Pounds/18.5 kg
Drive: Belt
Resistance: Manual magnetic resistance
Seat: 2-Way adjustable
Handlebar: non-adjustable, features multi-grip design
Pedals: Weighted and counterbalanced with adjustable safety straps
Frame: Steel tubing 2'' x 2'' round 14 gauge tubing finished with anti-corrosive and scratch paint
Covers: ABS
LCD Monitor
Transport wheels: Yes
Warranty
Shipping, Assembly, and Maintenance
Shipping
The Marcy Upright Exercise Bike ME-708 is shipped in a box with the major parts preassembled. The shipping is 43.7 pounds/19.8 kg.
The shipping cost depends on the retailer you are purchasing from; however, some vendors such as Amazon provide free shipping and delivers within days of order.
Assembly
The assembly of this unit is pretty easy just as aforementioned. There are very fewer parts to be attached to the frame upon delivery. The major parts such as the drive and the resistance systems are already attached therefore there are only parts like the front and rear stabilizer bars, the seat and the handlebar posts, the seat, the handlebar, and the console need to be attached to the frame by you.
These won't take more than 30 minutes. The machine comes with an instruction manual that walks you through the process of the assembly and the necessary tools needed are also included.
Maintenance
The Marcy Upright ME-708 is almost maintenance-free because what could have required to be maintained are the drive and resistance mechanisms but in this case, the bike has a belt drive and magnetic resistance systems that are maintenance-free. No lubrication needed, no adjustment required, the magnetic brake pad won't require replacement either.
However, you have to ensure that everything else runs smoothly by always examining the bike for any loose, worn, or broken parts. Do this and fix any problem that may arise before every workout session.
Also, make to keep it clean from dirt and sweat as well.
Conclusion
The Marcy Upright ME708 Exercise Bike is a good choice for those on a budget, those that wish to perform light and medium training at home. It is great for losing weight and toning the lower muscle groups.
[rank_math_rich_snippet]