Ancheer is out to revolutionize the fitness industry even though there are other big and reputable companies on board. The Ancheer S5400 Treadmill is designed to meet every treadmill enthusiasts' expectations.
At the time of writing this review, the Ancheer S5400 Treadmill has a very impressive approval rating from most of the Amazon customers' reviews.
The Ancheer S5400 Treadmill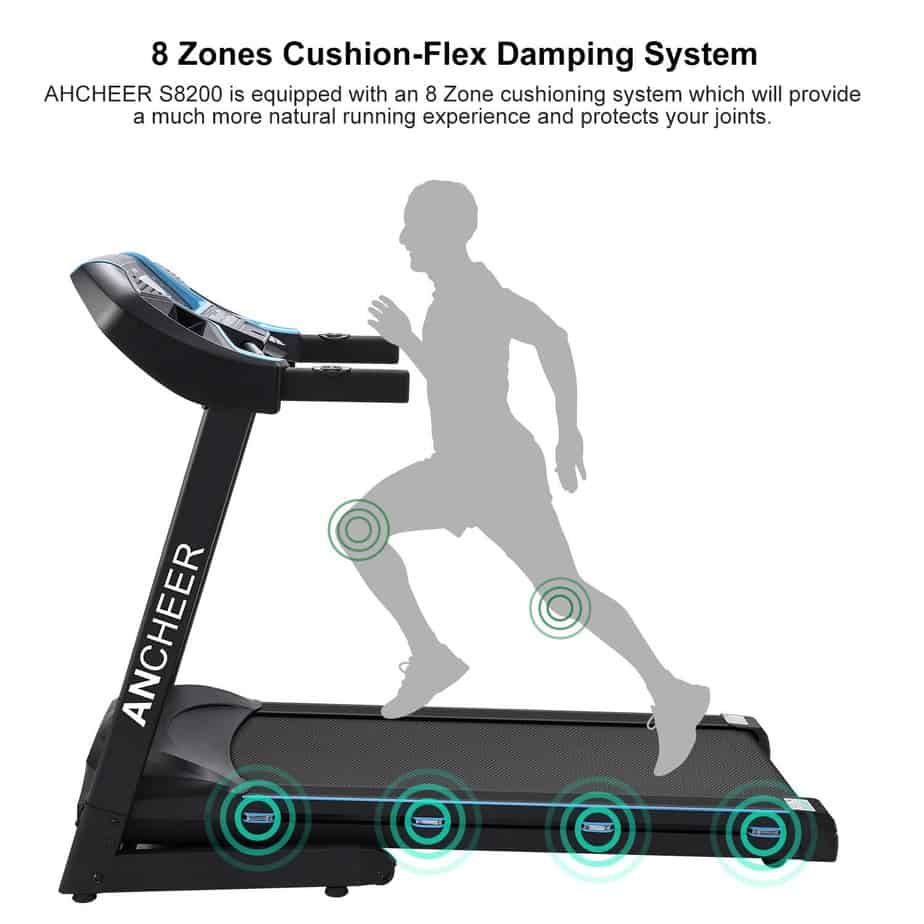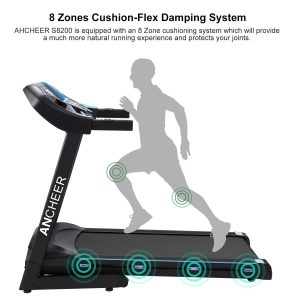 delivers on providing cardiovascular workouts that will ultimately result in you achieving your fitness goals.
In addition to that, some features ensure you experience fun-filled and entertaining workouts.
It has a damping system that protects your joints from the stress that is usually associated with jogging and running.
The unit is integrated with a powerful 3 HP motor with a maximum speed of 10 mph (however, the treadmill shows speed in kph).
It is a compact and foldable treadmill that will fit well in your apartment. The unit is a perfect choice for getting an effective cardio machine at the convenience of your home.
We know that people pay a lot of money for a gym membership, while others can't just stand the gym and the crowd; so this is an opportunity for you to have your privacy, be in control of your time and convenience.
Click right here to have a peek at the best price of the Ancheer S5400 Treadmill.
Features/Pros
It has heart rate sensors that are embedded in the handlebars designed to transmit your heart rate data to the console so that you will be able to maintain your target heart rate zone at all times.
There are 12 preset programs designed and available for you to reach and realize your fitness goals.
It is a compact unit that has a running surface with dimensions of 48.8'' L x 18'' W. It will just be fine in a small apartment.
It is powered with a 3 hp motor that runs a maximum speed of 10 mph and also operates smoothly, quietly, and consistently. You can workout at any time without having to disturb anyone; be it the family or neighbors.
It has an effective damping system designed with 8 big shock absorbing springs that significantly reduce the stress that is usually felt on joints.
It has a 5'' LCD that allows you to read and track your workout progress by displaying such data as the time, speed, distance, heart rate, and calories burned.
It is foldable so that you can store away conveniently. This is done with the help of its pneumatic shocks assist that raises or lowers the running board easily and safely without any hassle.
It has an Auto Stop Safety Function that ensures that you don't get injured in case of accidental tripping. When you hook up the auto-stop safety function clip on your shirt or pants it will automatically stop the machine in case you accidentally trip or fall while working out.
It has a quick speed control buttons on the handrails where you can easily adjust the speed of your workout without having to pause.
Transportation wheels are available for easy moving around and storage.
It has a USB port, headset port, water bottle holder, and device holder.
Cons
The Ancheer S5400 Treadmill may not be a great idea for those that wish to run on it. However, I have seen a user that claims that the husband runs perfectly on it and that could be that he is not so tall. If so he can manage to run because the running surface is only 48.8'' L x 18'' W, but we think you should know about this. This unit is perfect for walking.
Product Specifications
Full Dimension: 68.5L x 28.7W x 51.5L inches
Speed range: 0.5 to 10 mph, but treadmill shows in kph
Motor: 3.0 HP
Maximum User Weight: 308 Pounds
Voltage: X 110V, 50-60Hz
Running Surface: 48.8L x 18W inches
Product Weight: 130 Pounds
Warranty
2 Years for Frame
3 Years for Motor
Friendly Customer Service
Shipping and Assembly
The shipping cost of the Ancheer S5400 Treadmill depends on the retailer you are purchasing from, however, Amazon ships this unit for free.
Assembly is pretty easy and can be assembled by almost anyone. It has a simple to understand manual that could walk you through the process of assembly. Almost everyone that bought this machine had no problem assembling it.
Conclusion
The Ancheer S5400 Treadmill is a worthy treadmill to look up because it is recommendable. You may click right here to read of done by Amazon customers (scroll down the page to see the reviews).
Ancheer S5400 Treadmill Review
Ancheer is out to revolutionize the fitness industry even though there are other big and reputable companies on board.Particularly the Ancheer S5400 Treadmi
Product Brand: Ancheer
Product In-Stock: InStock