If you are looking forward to adding a spin bike to your home gym and you are on a budget then the Ancheer Indoor Cycling Bike SP-4013 Ultra Fitness Spin Bike with LCD Monitor might just be the best choice.  This unit is super affordable compared to what is obtainable in it in terms of features. It has the right features to help you achieve your physical fitness goals and of course durability. As a matter of fact, any other similar unit of a different brand may cost you more $ but here Ancheer is trying to fit in into the fitness equipment industry.
We have reviewed a couple of their products and they are in fact trying to compete with the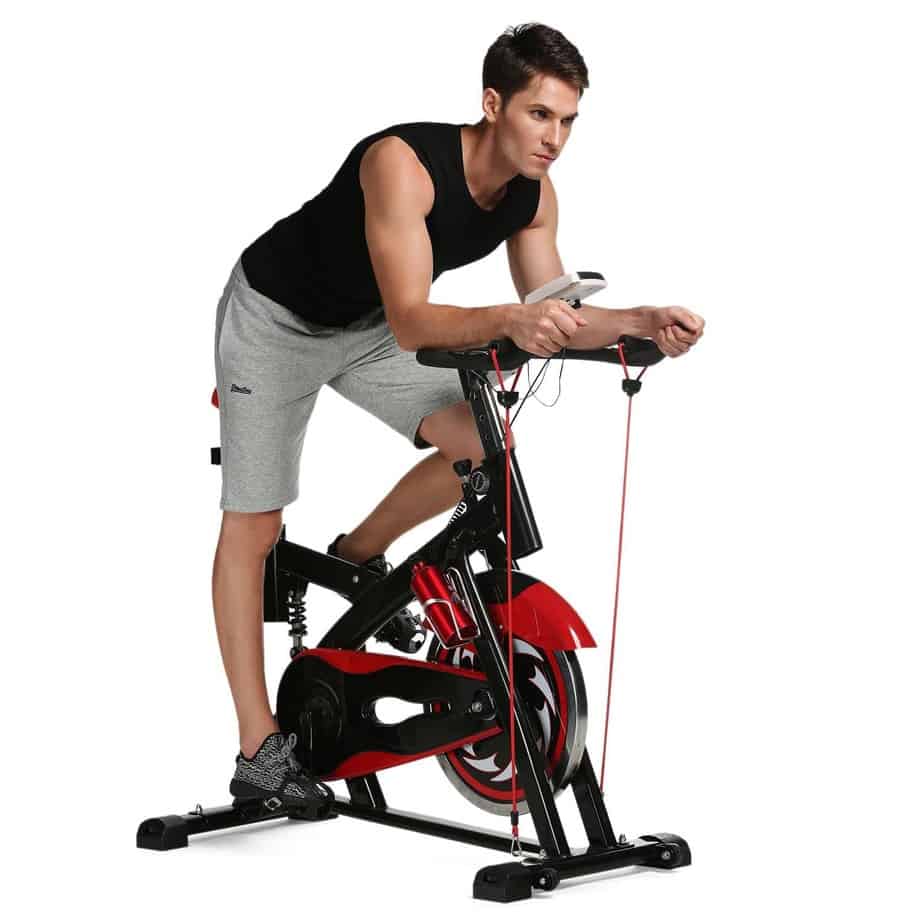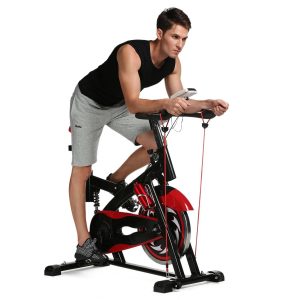 big dogs that have been in the industry before them and we must say they are doing so impressively. Aside from the Ancheer Indoor Cycling Bike SP-4013 Ultra-quiet Fitness Spin Bike with LCD Monitor being affordable for most people on a budget it is also a sturdy machine that is noiseless during operation and it could be ridden by a 100kg or 220 pounds user.
It has a steel flywheel with resistance that could help you burn fat twice as you would with some other unit of its price range. Its resistance is practically made for you to experience easy and of course a very difficult workout. It has a spring seat that is unique because not many upright bikes have it and it is also adjustable therefore can accommodate most users comfortably.
A user will be able to monitor or track his workout progress via the LED monitor that displays workout data such as speed, distance, heart rate, and calories burned. There is also a complimentary but important feature that is available, which is the steel water bottle that is essential for hydration during a workout.
Features/Pros
This is a US stock that is built with heavy steel material to ensure durability. The frame has a wide base that could support 100kg/220 pounds maximum user weight and stability is also guaranteed.
It has adjustable resistance system that works with the steel flywheel which provides super strong resistance that is almost impossible to adjust to the maximum resistance level for a workout.
It has got a chain drive mechanism designed to operate smoothly and quietly. This means you can work out without dragging the whole family or neighbors to your workout session.
Its unique adjustable spring seat and adjustable handlebars ensure good accommodation and comfort to a wide range of users of different sizes. These allow them to experience good and comfortable workouts. It is also painted with environmentally friendly and healthy paint.
Its LED monitor displays workout data such as speed, distance, heart rate, Odometer, and calories burned.
Steel water bottle is also integrated into this unit to enable a user to keep water handy for hydration that is absolutely necessary during and after workouts.
For easy movement around the room and storage is has got transportation wheels to make that possible. And by the way, it is also compact; that means it requires small space be stored in.
It has heart rate sensors embedded on the handlebars for real time heart rate data transmission.
Cons
In as much as this unit is great in terms of affordability and good features, there are few drawbacks I feel I should let you know.
A consumer has complained of the seat being squeaky and the pedals making knocking noise when he turns on the resistance. He says the noise could be very annoying if not for his headphone, and he also thinks that maximum resistance is not that difficult after all.
Another consumer also says that the leg adjuster is plastic and he doesn't like the plastic cage pedals and no SD clips.
Warranty
Shipping and Assembly
Shipping cost of the Ancheer Indoor Cycling Bike SP-4013 Ultra-quiet Fitness Spin Bike with LCD Monitor is totally free if you are purchasing from Amazon. However, this may not be the case with other retailers as there may be charges for shipping.
The assembly of this unit has been reported to be relatively easy with the instruction manual. But if you wish to have a hassle-free assembly you may opt for special expert assembly.
Conclusion
The Ancheer Indoor Cycling Bike SP-4013 Ultra-quiet Fitness Spin Bike with LCD Monitor could have plastic cage pedals and no SD clips but it sure has other features that make it considerable and recommendable and of course, it all depends on individual preferences.
Few consumers faulted this unit but most actually approve of it and would recommend it.  You can click here to read of.
Ancheer Indoor Cycling Bike SP-4013 Ultra-quiet Fitness Spin Bike with LCD Monitor Review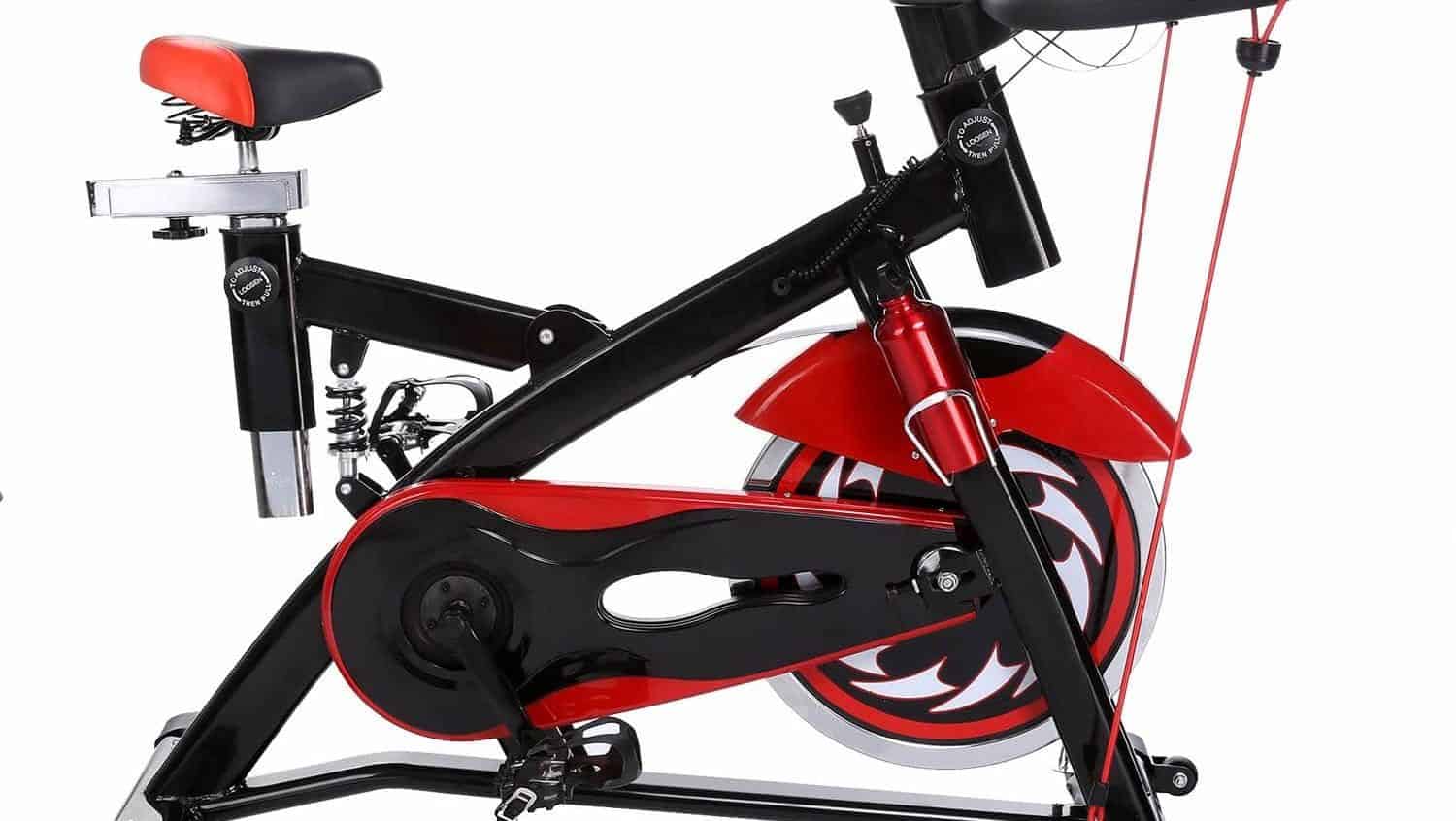 If you are looking forward to adding a spin bike to your home gym and you are on a budget then the Ancheer Indoor Cycling Bike SP-4013 Ultra Fitness Spin
Product Brand: Ancheer
Product In-Stock: InStock