The design and the outlook of the Yosuda Adjustable Indoor Exercise Bike L-005 are similar to that of the Spinner bike made by Maddog Athletic.
The frame is made of heavy-duty steel and the reason why it supports 320 pounds/145 kg maximum user weight capacity. It has a micro-adjustability that allows users of different heights and sizes to be accommodated with minimum and maximum inseam of 28.35 to 38 inches.
The bike features a precision-balanced flywheel that weighs 48 pounds/21.7 kg making it one of the heaviest flywheels spin bikes ever featured, while the overall assembled weight is 110 pounds/49.8 kg. The weight contributes positively to the stability of the bike because it helps to keep the bike grounded even during intense and vigorous exercise.
After a closer look at the cycling bike, we decided that it is a cost-effective bike that is durable with useful features for indoor workout activities.
If you are planning on getting an indoor bike for the home gym then you may consider taking this one seriously. Bad weather, scorching sunlight, or traffic won't be a deterrent towards getting quality and adequate cardiovascular training that will l help you stay physically fit.
It may pass as one of the best spin bikes available.
Click right here to have a peek at the price of the Yosuda Adjustable Indoor Exercise Bike L-005 on Amazon.
The Frame and Construction
The Yosuda Adjustable Indoor Exercise Bike L-005 is not foldable but it is a compact bike that won't overwhelm your space by any means and neither is it too small for most users.
Its overall assembled dimensions are 42.52 inches long by 22.04 inches wide by 46.45 inches tall. In other words, the required workout space for the bike would be 3.6 feet long by 1.8 feet wide with a ceiling height of at least 7 feet high so that a standing ride can be performed without hindrance.
Also, extra clearance of 2 feet on each side of the bike and the rear should be considered so that you can work out unrestricted with safety.
The bike's stability is established by the solid base framework and its overall weight of 110 pounds/49.8 kg.
The bike features a steel rectangular stabilizer bar at the front base and another one at the rear base and there are four adjustable levelers underneath them which further enhance stability on a surface that is not level.
Even though the bike weighs 110 pounds/49.8 kg it could still be moved easily by anyone because it is integrated with transport wheels that make it totally portable. Simply tilt it over towards the front and move it. At this point, it weighs about 1/3 of its original weight.
That said, a protective rubber mat is advised to be used if the bike is going to be placed on a hard surface such as a tiled or wooden floor. Moreover, the rubber mat also prevents sweat from dripping to the floor as well.
The bike has an easy step-thru design that allows users to easily step on and off of the bike without an invested effort.
Both the seat and the handlebar are adjustable. It is a belt-driven bike with a friction resistance system.
The pedals are integrated with toe cages.
The Seat, the Handlebar, and the Pedals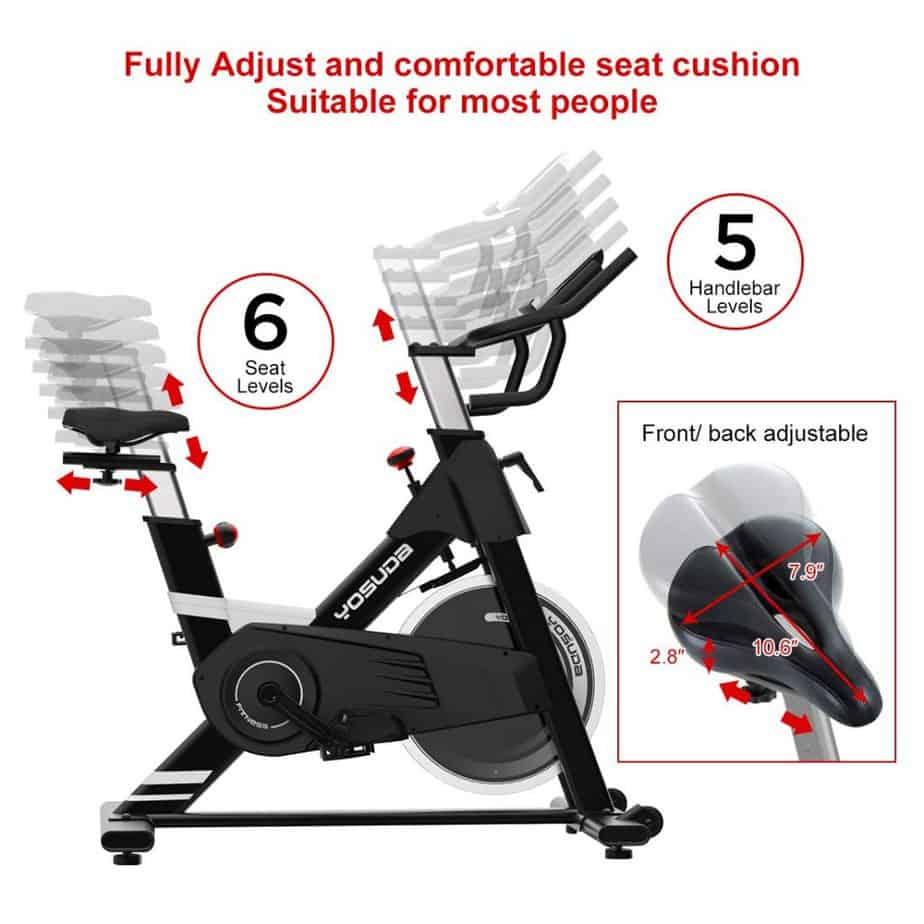 The Yosuda Adjustable Indoor Exercise Bike L-005 features a spin bike seat that is fairly padded. It has dimensions of 10.6 inches long by 7.9 inches wide by 2.8 inches thick.
The seat provides the much-needed comfort for a prolonged workout.
However, if you find it not very comfortable you may use a gel seat cover to improve its comfortability or better still replace it with another seat of your choice because its connection system is standard and therefore could fit other types of seats.
The seat could be adjusted 4 ways, i.e. vertically (upward/downward) and horizontally (fore/aft). This makes the bike very suitable for users of different heights. It has several adjustment positions that allow users to work out with comfort.
It is suitable for users between the heights of 5 to 6.4 feet or if you are not sure you can measure the top of your inner thigh to the ankle and see if the measurement falls within 28.35 to 38 inches. If it does that means this bike will be suitable for you otherwise it won't.
The adjustment is easy, and won't take a minute to get it done.
The Yosuda Adjustable Indoor Exercise Bike L-005 has a multi-grip handlebar that features more workout grip options than most bikes in its category. A user should be able to exercise in different workout angles that are fun and effective.
The handlebar is 2-way adjustable (upward and downward) unlike the seat that is 4-way but it still complements the bike's overall adjustability that ensures a user gets a suitable workout position.
It is coated with a soft rubber foam material that ensures comfort and a secure grip that prevents blisters is in the palm and slippage as a result of sweaty hands.
The handlebar is also integrated with a well-positioned phone holder that does not block the display screen when a device is placed on it.
There are no HR sensors on the handlebar and this also means that you will not be able to keep track of your pulse unless you use an external pulse device.
The pedals present on this bike are incorporated with toe cages that have adjustable safety straps. They accommodate standard gym shoes and secure the feet from slipping during a workout and also provide support for forceful thrust when pedaling.
The Drive
The Yosuda Adjustable Indoor Exercise Bike L-005 features a belt drive system that offers a smooth and quiet operation.
It is also maintenance-free with no post-lubrication or adjustment needed.
This is the reason why most indoor cycling bike users prefer bikes with belt drive systems because they don't have to worry about being distracted by any annoying sound when working out. They don't also have to worry about the family and the neighbors being disturbed because this could also be very distracting to the user.
The drive consists of a quality V-belt, solid crankset and crank-arms, the pulley, and the 48 pounds/21.7 kg perimeter weighted flywheel. Together they provide formidable, smooth, and quiet drive.
The drive is bidirectional, which means you can pedal in both directions so that more muscle groups can be exercised and toned.
That said, you cannot coast on the bike as you could on a road bicycle since the pedals and the flywheel spin together and for this reason, it is important to use the emergency brake system via the tension knob to stop the bike from spinning each time you wish to stop pedaling in order to avoid an accident.
The Resistance
The Yosuda Adjustable Indoor Exercise Bike L-005 has a friction resistance system that consists of pure wool felt pad that is face down toward the flywheel's edge and connected to the tension knob for control.
Resistance is generated when the wool felt pad comes in direct contact with the top edge of the 48 pounds/21.7 kg flywheel.
The tension knob is used to increase or decrease the resistance by turning/twisting it clockwise or anticlockwise respectively.
This type of resistance system is suitable for every user in all fitness levels because it provides easy, medium, and difficult resistance that could even be appreciated by a strong and advanced user. This is even true because of its heavy flywheel that provides consistent momentum and the weight needed for a challenging workout.
It does not produce any bad burning smell when the friction resistance is in effect.
There are no pre-determined resistance levels that allow a user to select a specific resistance suitable for a workout. This means you just have to turn the tension knob until you feel you have the suitable resistance strength for your workout.
The implication is that you may not be able to keep track of your strength and endurance improvement because you won't know the highest resistance levels used between workout sessions for comparisons.
If you need a bike with pre-determined resistance levels then you may want to look up the Keiser or the Asuna Lancer but they are pricier than the bikes without resistance levels.
The Console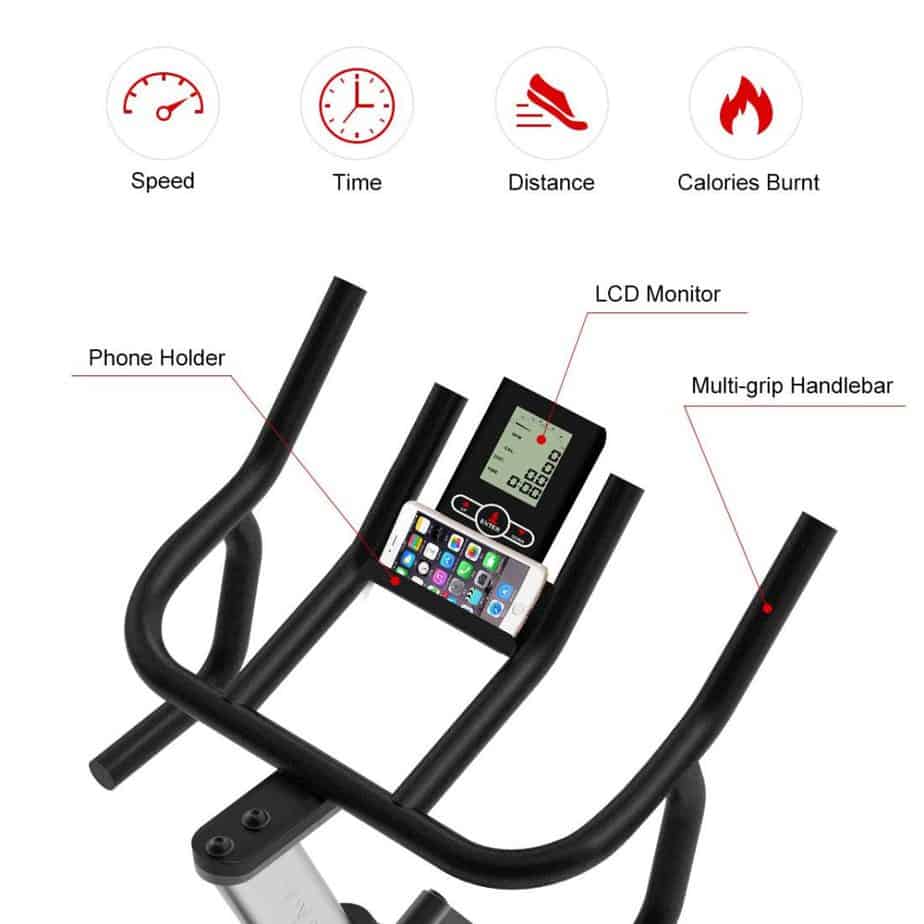 The Yosuda Adjustable Indoor Exercise Bike L-005 features a basic console yet with a unique design that displays all the metrics simultaneously against the conventional design that uses SCAN function (rotationally display metric one at a time after few seconds).
The LCD screen is rectangular and wide enough to display workout values with high readability. The console features three buttons for settings and navigation.
You should be able to keep track of time, distance, calories burned, RPM, and speed which keep you focused and motivated towards achieving your fitness objective.
The monitor is powered by 2 AAA batteries that are also included in the package.
In order to save battery power the monitor automatically turns OFF when there is no activity on the bike and also turns ON when activity resumes. It can also be turned ON by pressing the button on the console once.
Accessory
The Yosuda Indoor Cycling Bike has a phone holder for keeping a smartphone handy for taking calls and for entertainment while working out.
It is well-positioned so that even when a device is placed on it you should still be able to view the monitor screen and keep track of your workout progress.
Aside from the phone holder, the bike does not have any other accessory such as a water bottle holder that is crucial for staying hydrated during workouts.
You can improvise to keep water within reach or purchase a universal water bottle holder.
Storage
The storage of the Yosuda Adjustable Indoor Exercise Bike L-005 is pretty easy because it is portable and not so large.
It has transport wheels integrated at the front base for an easy relocation process and requires a storage space of 3.6 feet long by 1.8 feet wide.
Approval Rating
This bike has fewer Amazon customer reviews at the time of this review but the ones available were positive.
Its approval rating was 5 out of 5 stars but could change over time. Click right here to read more reviews.
Pros/Features Overview
It is sturdy and stable with adjustable levelers
It supports a higher user weight capacity of 320 pounds/145 kg
It is compact and portable
It has a micro-adjustability that accommodates users of different heights and sizes (5 to 6.4 inches tall)
It is quiet and smooth during operation, suitable for home use
It is maintenance-free
It supports varieties of spin bike workouts
Its friction resistance is suitable for beginners, intermediaries and advanced users
It has a heavy flywheel that weighs 48 pounds which provides consistent momentum
It easy to move from one room to another because of the integrated transport wheels
Easy to assemble
It has a monitor that displays time, distance, speed, calories burned, and RPM with high clarity
The pedals are anti-slip designed with toe cages and adjustable safety straps that further secure the feet
It has a handlebar that has a multi-grip design that offers different workout postures
A smartphone holder is included for entertainment
Cons
The monitor is not backlit
There is no heart rate feature
It does not have pre-determined resistance levels
No water bottle holder
Pedals do not support spin shoes but only standard gym shoes
Dimensions and Product Specifications
42'' Length
22'' Width
46'' Height
Inseam: 28.35' min. to 38'' maximum
Flywheel: 48 pounds/21.7 kg precision balanced
Supports 320 pounds/145 kg maximum user weight capacity
Weight: 110 pounds/49.8 kg
Drive: Belt
Resistance: Friction
Pedals: Toe cages with adjustable safety straps made of aluminum alloy
Phone holder included
Frame: Heavy-duty steel
Console: LCD digital monitor
Shipping, Assembly, and Maintenance
Shipping
The Yosuda Adjustable Indoor Exercise Bike L-005 is shipped out in a box that weighs 114.6 pounds/51.9 kg.
The shipping cost depends on the retailer's shipping policy; however, some vendors such as Amazon provides free shipping to United States residents and deliver within days of order.
Assembly
The assembly of the bike is pretty easy and could be assembled by almost anyone. It is delivered partially assembled with the drive and the resistance systems already attached to the frame.
You are to attach the front and rear stabilizer bars, the seat and the handlebar posts, the seat, the handlebar, the pedals, and the console to the frame.
The assembly of the bike won't take more than 45 minutes.
The tools needed for the assembly and the instruction manual that walks you through the assembly process are included in the package.
You may also opt for someone to come over and assemble the bike on your behalf but that comes with an extra charge.
Maintenance
The Yosuda Adjustable Indoor Exercise Bike L-005 does not require any serious maintenance.
Ensure to always examine the bike for any loose or broken part before use to prevent an accident and further damage to the bike.
Finally, make sure to always keep it clean from dirt and sweat at all times.
Conclusion
The Yosuda Adjustable Indoor Exercise Bike L-005 is definitely a solid and well-equipped bike that is suitable for home use. This provides you with decent cardiovascular exercises that burn tons of calories and improve overall physical fitness in the comfort of your home.
Yosuda Adjustable Indoor Exercise Bike L-005 Review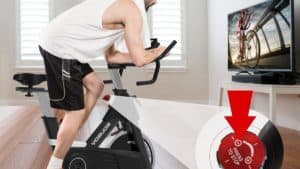 The Yosuda Adjustable Indoor Exercise Bike L-005 is not foldable but it is a compact bike that won't overwhelm your space by any means and neither is it .
Product Brand: Yosuda
Product In-Stock: InStock