The YOSUDA Indoor Cycling Bike Stationary Bike Model L-001A is a basic bike that is capable of providing indoor cardiovascular training that burns tons of calories. It is a very good alternative to training outdoors in bad weather or having to drive or walk to the gym and also paying for the reoccurring membership fee.
This bike is a cost-effective machine because its price tag is considerable and the bike has a lot of good features that ensure you achieve your fitness goals even as you enjoy every bit of time spent on it.
This bike is the preceding model of the YOSUDA Adjustable Indoor Bike L-005 which equally has good quality, features and supports higher user weight capacity, and has a different LCD monitor design but still shares a lot in common though.
Therefore, if you are above 270 pounds/122 kg in weight, you may consider looking up the YOSUDA L-005.
The YOSUDA Indoor Cycling Bike Stationary Bike Model L-001A has a belt drive and friction resistance systems that feature a 35-pound/15.8 kg precision-balanced flywheel.
It has a good frame and construction design that offers sturdiness and stability. Its operation is smooth, quiet, and powerful.
It is also important to note that it is a popular bike that is well received by indoor spin bike enthusiasts.
Click right here to have a peek at the best price of the YOSUDA Indoor Cycling Bike Stationary Bike Model L-001A.
The Frame and Construction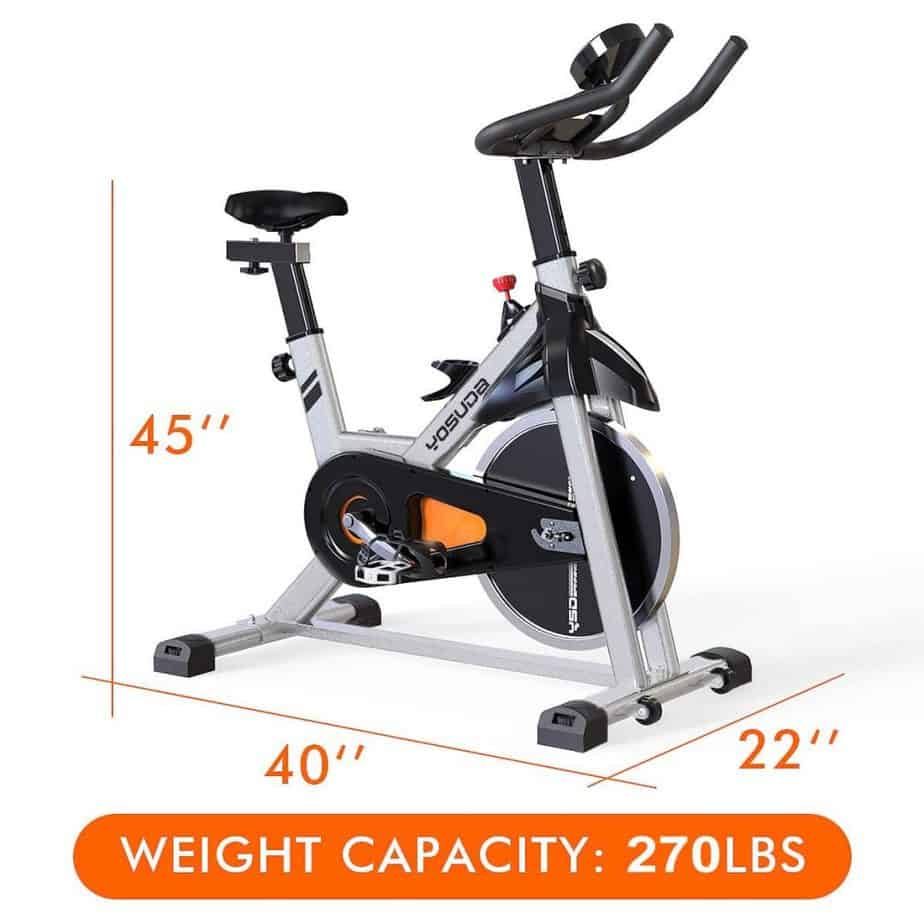 The frame of the YOSUDA Indoor Cycling Bike Stationary Bike Model L-001A is made of heavy-duty steel and it supports 270 pounds/122 kg maximum user weight capacity. It is sprayed with gray anti-corrosion and scratch paint that protects it from rusts and scratches that could deface and degrade its quality.
The plastic parts for the wool felt pad, water bottle holder, belt guard, etc, are made of ABS material.
The bike has a simple and uncomplicated design that is yet very user-friendly and effective.
It is compact, portable, and has a step-thru design that allows certain users with disabilities (joint problems and the elderly) to have no problem mounting and dismounting the bike.
The overall assembled dimensions of the bike are 40 inches long by 22 inches wide by 45 inches tall. Differently put, this bike will require a training area of 3.3 feet long by 1.8 feet wide and a ceiling height of at least 7 feet. Also, do consider adding an extra clearance of 1 to 2 feet at the rear and on each side of the bike for a restriction-free workout experience and safety.
Its stability comes from the well-framed bases that feature front and rear steel stabilizer bars that are attached to the mainframe. The stabilizer bars have an adjustable leveler on each end which allows a user to adjust and balance the bike on a surface that is not even when necessary.
The bike's overall weight of 68 pounds/30.8 kg also boosts its stability as well.
The bike can easily be moved from one place to another regardless of its weight because it features transport wheels at the front base and therefore, anyone can relocate it without hassle.
The bike has a micro-adjustability that makes it possible for users of different heights and sizes to be accommodated.
There will be no boring or dull moments when you exercise with this bike because it has a tablet holder that allows you to keep a smartphone/tablet handy for entertainment and a water bottle holder that helps you to stay hydrated throughout the entire workout session.
The Seat, the Handlebar, and the Pedals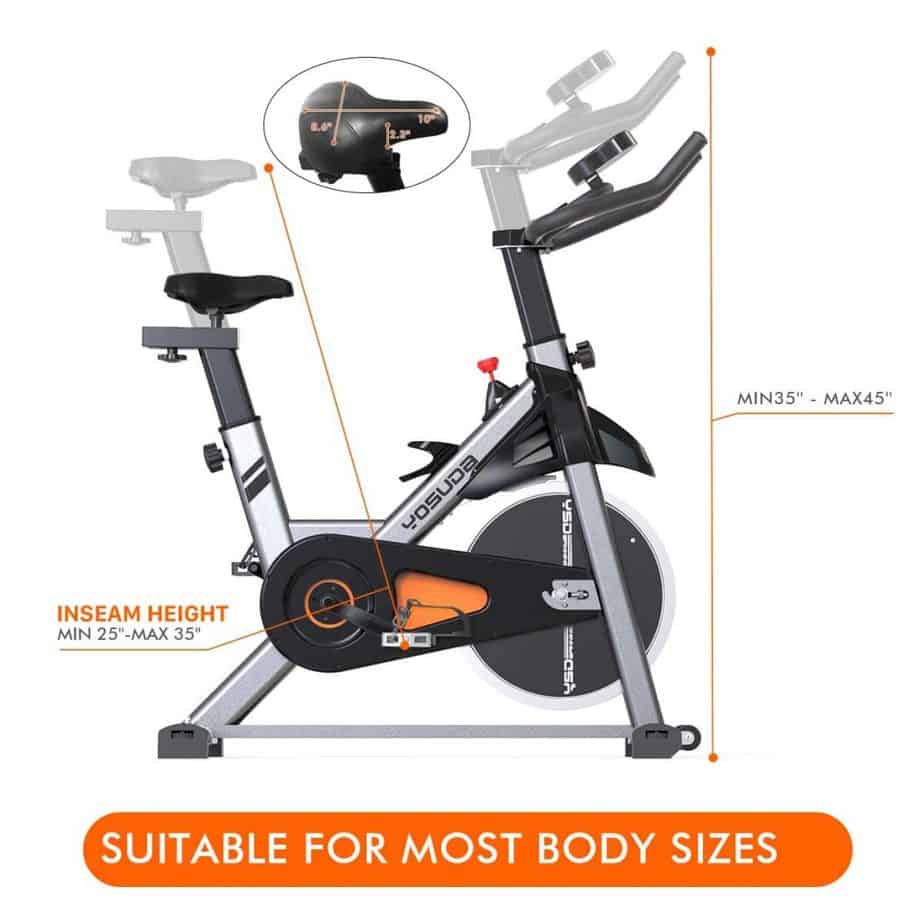 The seat on the YOSUDA Indoor Cycling Bike Stationary Bike Model L-001A is decently cushioned with a vinyl covering. The seat has an ergonomic design with dimensions of 10 inches long by 8.6 inches wide by 2.3 inches thick that supports longer rides.
However, you may use a gel seat cover to improve the feel of the seat if you don't think it is very comfortable because different users have different feelings and opinions about the seat's comfortability.
A user can adjust the seat 4 ways, i.e. vertically upward/downward and horizontally fore/aft. This comes with a lot of advantages because it offers the opportunity to the user to adjust the seat to a more suitable workout position.
The bike supports minimum and maximum inseam heights of 25 to 35 inches. This means that if the measurement of your inner thigh to the ankle falls within this range of heights then be rest assured that this bike will be suitable for you.
The bike should be suitable for users between the heights of 5 to 6.4 feet tall but the inseam measurement application is still the best way to ascertain because some people have short legs while some have long legs regardless of their overall heights.
The seat adjustment setting is easy and won't take a minute to get it done.
The handlebar is 2-way adjustable; it can be adjusted vertically, upward, and downward. Even though there are some spin bikes whose handlebar is 4-way adjustable this still boosts the bike's flexibility in terms of accommodating users of different heights conveniently.
The handlebar's multi-grip design offers different grip options depending on which type of spin bike exercise you wish to perform. This adds fun and variety to your overall workout experience.
It is also coated with a soft rubber foam material that is intended to offer comfort and a secure grip during workouts.
The handlebar features a tablet holder for your smartphone/tablet and an LCD monitor that helps you keep track of your workout progress. However, there is no EKG HR sensors on the handlebar hence no heart rate function on the bike.
The pedals are made of heavy-duty metal and have an antiskid design that features toe cages with adjustable safety straps that ensure feet are in place and secure.
This means that only standard gym shoes can be used on this bike but fortunately, they can be swapped for a set of SDP pedals for spin shoes because the pedals have a standard thread of 9/16".
The Drive
The YOSUDA Indoor Cycling Bike Stationary Bike Model L-001A is a belt-driven bike with a 35-pound/15.8 kg perimeter weighted flywheel that adds consistent momentum to your ride even as you enjoy a quiet and smooth ride as well.
This is the reason why belt-driven bikes are preferred by many over chain-driven bikes even though the latter mimics a road bicycle's operation it still does not perform smoothly and quietly as the bike with a belt drive system.
On top of that, the belt drive system does not require any post-lubrication and adjustment as the chain-driven bike does. It is literally maintenance-free and very easy to use.
The belt drive system consists of the flywheel as aforementioned, a solid crankset and crank arms that support a standing ride, and the pedals of course.
Due to its quiet operation working out in-house has been made easy and convenient because you can watch your favorite TV show or listen to good music without having to turn the volume abnormally high while you exercise.
You don't also have to be afraid that the family or the neighbors could be disturbed with your workout activity instead you shall exercise with full concentration and focus.
You can pedal in reverse if you wish to add fun and variety to your workout routine which will ultimately tone more muscle groups. However, you will not able to coast as you or anyone else could on a real road bike because the pedals and the flywheel spin together.
For this reason, you must use the emergency brake via the tension knob by pulling it to stop the flywheel and the pedals from spinning each time you wish to stop pedaling for safety reasons.
The Resistance
The resistance system integrated on the YOSUDA Indoor Cycling Bike Stationary Bike Model L-001A is a direct contact resistance system otherwise known as friction.
This resistance system consists of a pure wool felt pad attached underneath the mainframe and to the tension knob. The felt pad is face down facing the top edge of the flywheel so that when the tension knob is adjusted clockwise it gets in direct contact with the flywheel thereby generating resistance. The more the tension knob is tightened clockwise the more resistance is increased but when it (tension knob) is turned counterclockwise the resistance reduces.
The resistance is suitable for everyone and anyone because a beginner, an intermediary, and an advanced athlete would appreciate the resistance strength produced by it.
Due to the fact it uses pure wool felt pad there is nothing like a burning smell when the resistance is in effect and the felt pad lasts longer.
But there are no pre-determined resistance levels that tell or indicate precisely which resistance strength you are using at any given time during workouts and this might really make it difficult for you to keep track of your strength and endurance progress.
That said, this is still a very good resistance system that provides resistance strength for easy, medium, and challenging workouts.
The Console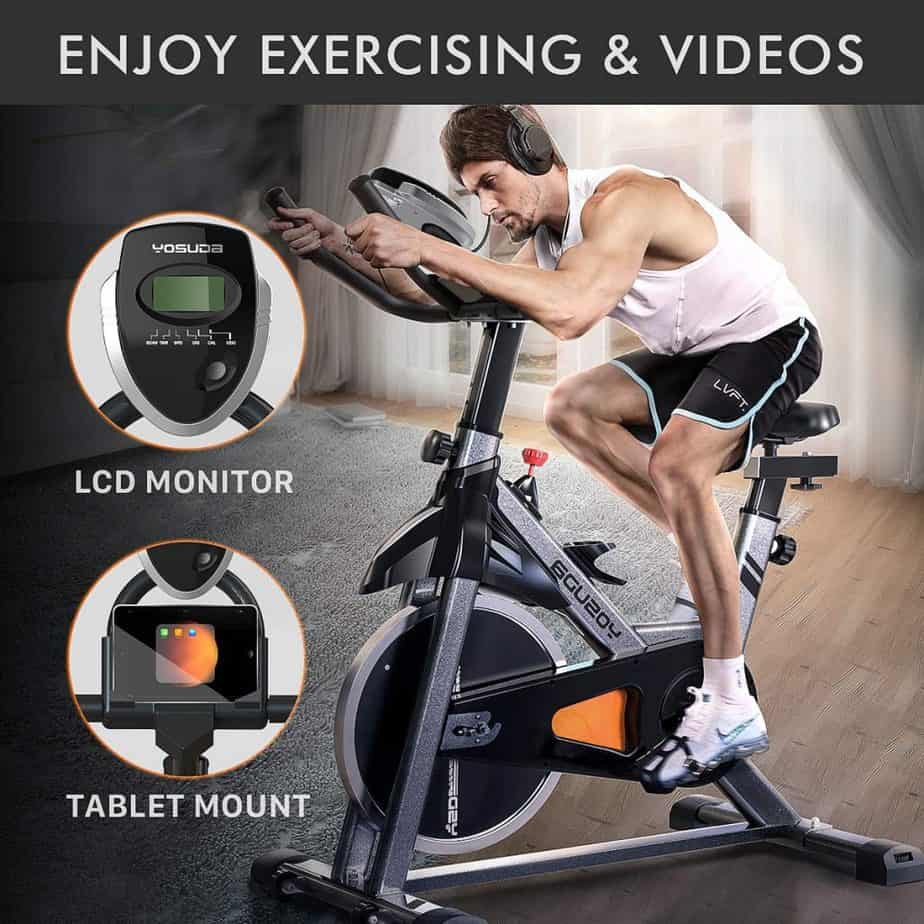 The YOSUDA Indoor Cycling Bike Stationary Bike Model L-001A is incorporated with a basic console that features an LCD monitor that displays workout data with high readability.
The monitor displays workout data such as time, distance, odometer, speed, and calories burned so that you can remain focused and motivated towards achieving your fitness goals.
By default, it has a SCAN function that displays workout values rotationally one at a time after a few seconds and continuously. You can also set a certain preferred workout value of your choice to display constantly instead of rotating all the values.
The monitor is powered by 2 AAA batteries which are included in the package.
You can turn the monitor ON and OFF by using the only MODE button available on the console. The monitor also automatically turns ON when there is an activity on the bike and auto shuts down when it is idle for a few minutes to save the battery power.
Overall, the monitor is basic, useful, and easy to use. However, its readability may be compromised if viewed in a room that is not well-lit because it is not backlit.
If you have noticed it does not display pulse that is because it does not have that function. Therefore, if you wish to maintain your target heart rate zone then you may have to consider using an external heart rate device.
Accessory
There are two accessories available on the YOSUDA Indoor Cycling Bike Stationary Bike Model L-001A. These are the tablet and the water bottler bottle holders which are very significant for a successful workout session.
The tablet holder is well positioned so that when a device is placed on it the display screen will not be blocked by the device. This allows the user to get entertained and also be able to keep track of the workout progress.
While the water bottle holder allows the user to keep within reach for hydration.
Storage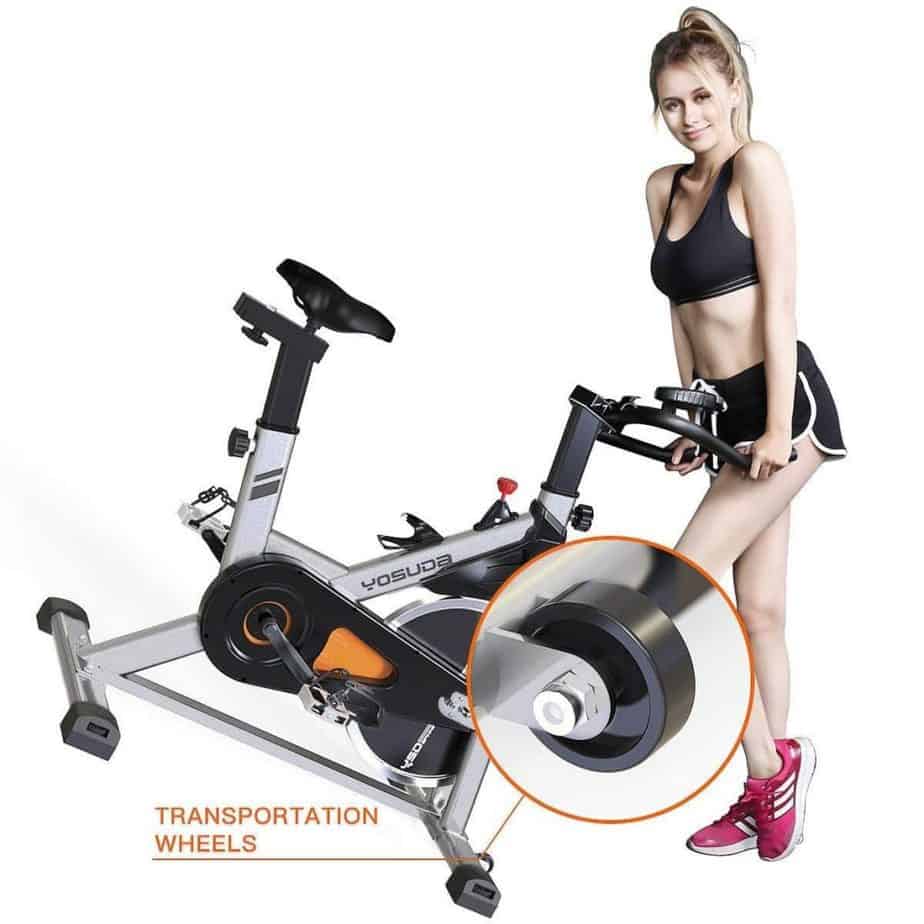 The storage of the YOSUDA Indoor Cycling Bike Stationary Bike Model L-001A is pretty convenient and easy because it is compact and portable.
The bike does not take much space because of its compact design and is very easy to move from one room to another because of the integrated transport wheels.
The dimensions of the storage area needed for this bike are 3.3 feet long by 1.8 feet wide by 3.8 feet high. Therefore, it could be stored under the staircase or even next to a wall in the living room.
Approval Rating
There are several positive reviews of the YOSUDA Indoor Cycling Bike Stationary Bike Model L-001A.
In other words, the majority of the users were satisfied with the bike's quality and functionality and would recommend it.
Pros/Features
It has a sturdy frame and supports 270 pounds/122 kg maximum user weight capacity
It is very stable with a good base framework and adjustable levelers
It is compact thus requires a small area for a workout and for storage
It is quiet and smooth during operation; no disturbance to the family or neighbors
Its resistance is suitable for all users of every fitness level
It provides highly effective cardiovascular exercises that burn tons of calories
It is micro-adjustable and suitable for users of different heights and sizes
It possesses a mid-range heavy flywheel that provides consistent momentum required for intense workouts
It is portable with transport wheels
It has a basic LCD monitor that displays time, speed, distance, odometer, and calories burned
It does not require serious maintenance
It is not difficult to assemble
The seat provides a decent level of comfort for prolonged workout
The ergonomic handlebar features a multi-grip design that offers different workout angles
Cons
No pulse rate function
No pre-determined resistance levels
The display is not backlit
Dimensions and Product Specifications
40'' Length
22'' Width
45'' Height
Transport wheels included
Supports 270 pounds/122 kg maximum user weight capacity
35 pounds perimeter weighted flywheel
Toe cages with adjustable safety straps pedals
Belt drive system
Friction resistance system
2-way adjustable handlebar
4-way adjustable seat
Weights 68 pounds/30.8 kg
Inseam heights: 25'' Min to 35'' Max.
Q Factor: 177mm/6.9''
Shipping, Assembly, and Maintenance
Shipping
The cost of shipping the YOSUDA Indoor Cycling Bike Stationary Bike Model L-001A depends solely on the retailer that is selling to you. However, some vendors such as Amazon provides free shipping to United States residents and delivers the product within days of order.
Assembly
There are not too many parts to be attached to the frame when the bike arrives because it comes partially assembled.
You only need to attach the front and rear stabilizer bars, the seat and handlebar posts, the seat, the handlebar, the pedals, and the console to the frame.
It won't take up to an hour to completely assemble the bike to a functional level.
A decent instruction manual is also included in the package which will guide you through the process of assembly.
Maintenance
The YOSUDA Indoor Cycling Bike Stationary Bike Model L-001A doesn't need serious maintenance, except that the felt pad may need replacement over time but that takes time as well.
The maintenance required regularly would be to always examine the bike before use for any loose or broken part to prevent an accident or further damage to the bike.
Finally, always keep the unit clean from dirt and sweat.
Conclusion
The YOSUDA Indoor Cycling Bike Stationary Bike Model L-001A is obviously an inexpensive bike that provides decent cardio exercises that make users healthier.
It is a simple and basic indoor cycling bike for home use that has been recommended by numerous users.
YOSUDA Indoor Cycling Bike Stationary Bike Model L-001A Review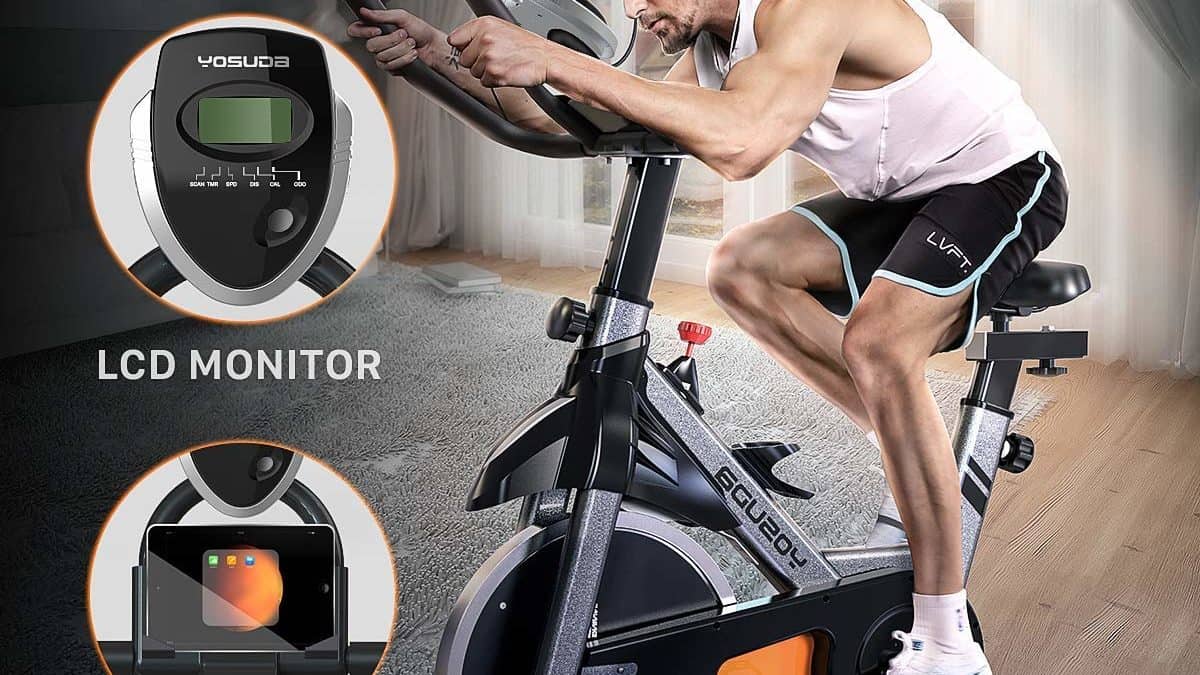 The YOSUDA Indoor Cycling Bike Stationary Bike Model L-001A is a basic bike that is capable of providing the indoor cardiovascular training that burns tons
Product Brand: Yosuda
Product In-Stock: InStock