The FEIERDUN Folding Exercise Bike has a unique arc frame design with a long slightly curved hand/console post. This foldable upright magnetic bike does not have the conventional frame design most foldable bikes have.
The bike has an ergonomic design that generally allows users to train with comfort and ease. The seat can easily be adjusted vertically, and it is also semi-recumbent with a backrest that supports the back. It is fairly cushioned and uses aerodynamic health care technology that allows air to breathe through the fabric allowing the seat to remain cool throughout the entire workout session.
The bike uses a belt-drive transmission system that consists of the V-belt and the precision balanced flywheel elements that provide a smooth and quiet operation that does not bother the user, the family, or the neighbor while exercising.
The console is integrated with a multi-function bracket that allows you to have fun while you exercise because you can place a magazine, tablet, laptop, or any smartphone on it for entertainment purposes. You can basically check news, emails, watch movies, or listen to your favorite music.
The bike supports 270 pounds/122 kg maximum user capacity and weighs 44 pounds/20 kg. It is fully integrated with transport wheels that make it very portable and easy to relocate.
That said, the FEIERDUN Folding Exercise Bike is basically designed for an individual between the heights of 4.8 to 6.1 feet. It is for folks that wish to lose weight and improve overall physical fitness; in other words, it does not provide tough and challenging workouts because its magnetic resistance system does not have the capacity to do that.
Click right here to have a peek at the price of the FEIERDUN Folding Exercise Bike on Amazon.
The Frame and Construction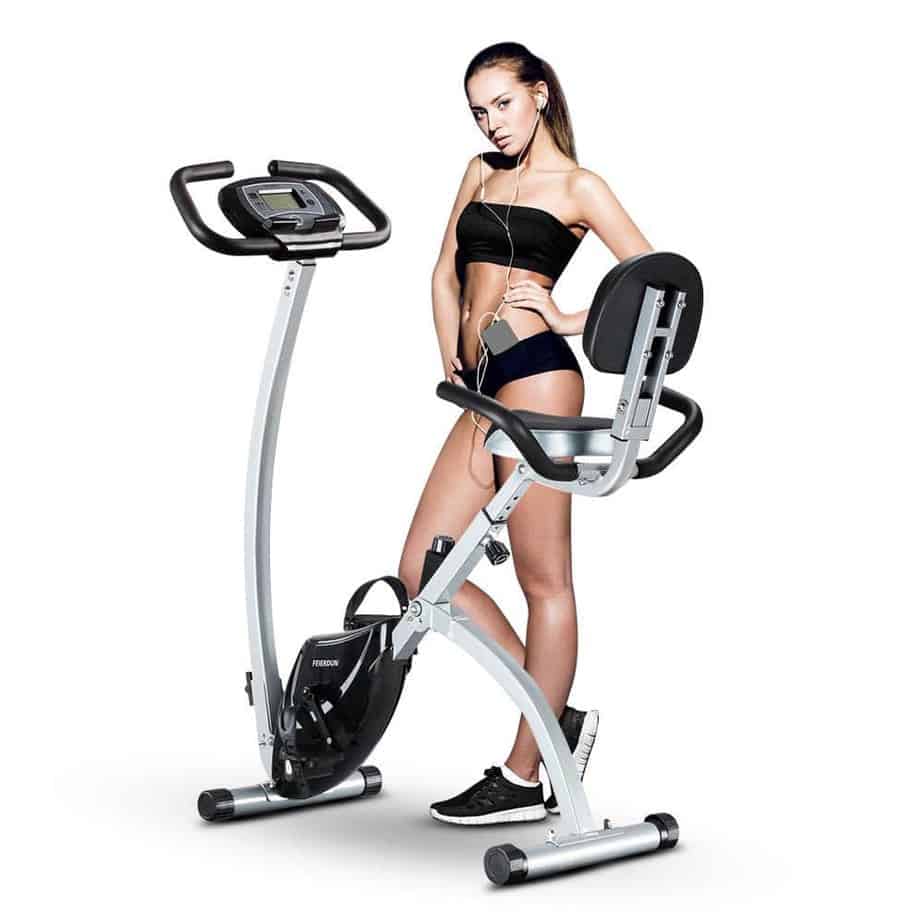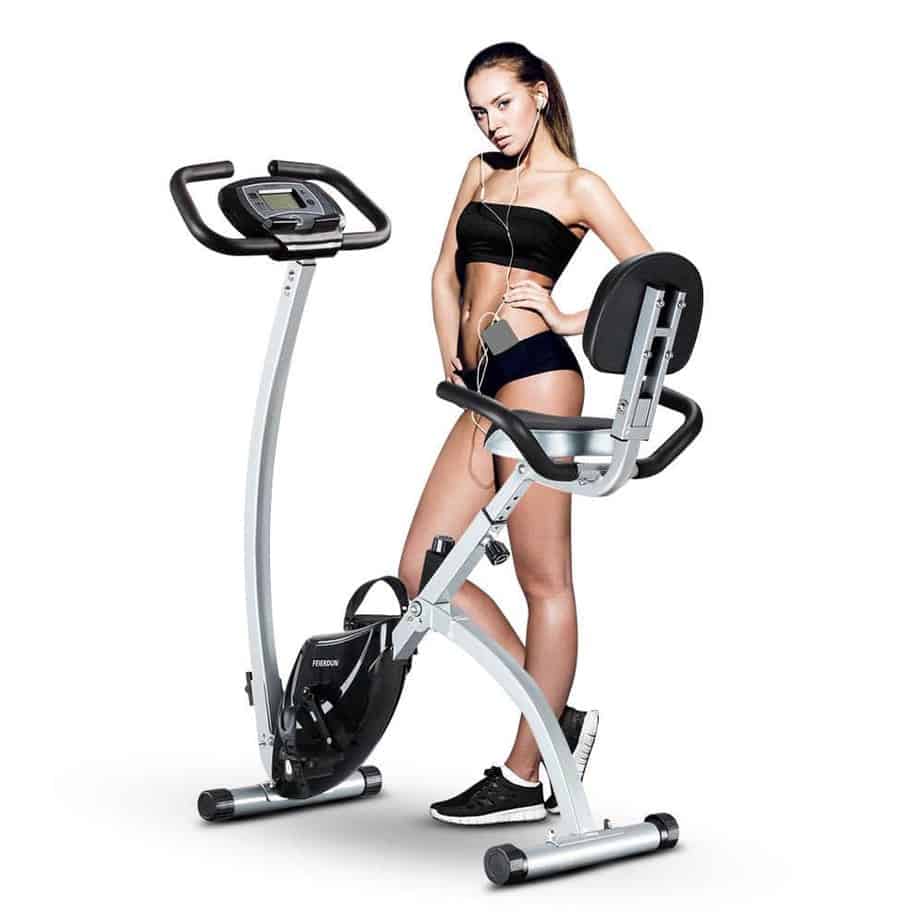 Just before we proceed with the review, this bike is not designed for stand-up pedaling because we have seen prospective users ask if they could. If you must then this bike is not for you, you may want to look up the spin bikes that support this activity.
That said, the frame of the FEIERDUN Folding Exercise is made of solid 2mm thick steel pipe and coated with anti-corrosion and scratch paint that prevents rusts and scratches. As aforementioned, it supports 270 pounds/122 kg maximum user weight capacity.
It is a compact bike that is also foldable. Therefore, it could be used in a room, the living room, or even the balcony without qualms.
The overall assembled dimensions are 29.5 inches long by 16.4 inches wide by 39.3 inches tall. In other words, the workout area required for this bike is 2.4 feet long by 1.3 feet wide with a normal ceiling height or at least 7 feet high. Also, consider adding extra clearance of at least 1 foot on side of the bike for a safe and convenient workout experience.
The bike is stable and users have not complained of any instability or wobbling movement during workouts. The base framework has two rounded stabilizer bars; one at the front base and the other at the rear base with rubber caps on each to make them floor-friendly.
Depending on the surface where you are going to place the unit for exercise, you may need a protective rubber mat to further enhance stability and prevent movements that might be caused by an uneven surface.
It is also very imperative to mention that the bike has one of the coolest step-thru designs that make mounting and dismounting the bike a lot easier. The elderly will have no problem getting on and off of this bike and the semi-recumbent seat even makes it further comfortable for them to use it effectively.
It is obviously a compact, foldable, and lightweight machine that is equally portable. It weighs 44 pounds/20 kg and it integrates transport wheels that aid the relocation process.
The foldable dimensions are 21.3 inches long by 16.4 inches wide by 38.4 inches tall. It can basically fit into unlikely places for storage.
The Seat, the Handlebar, and the Pedals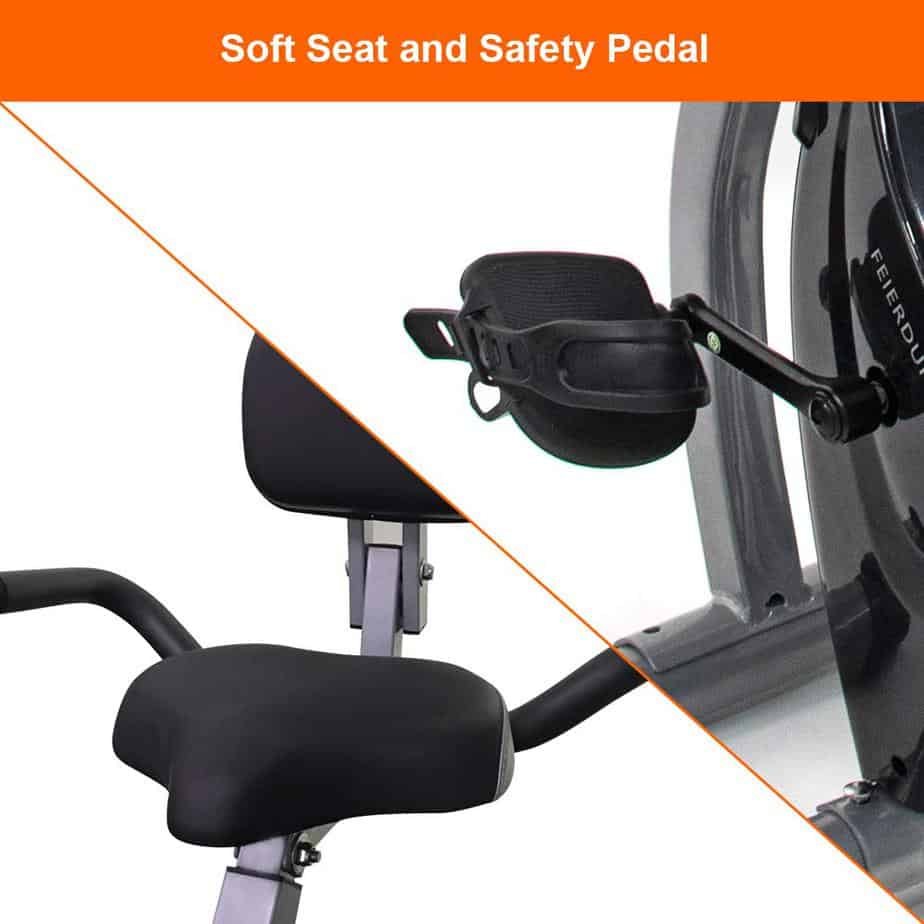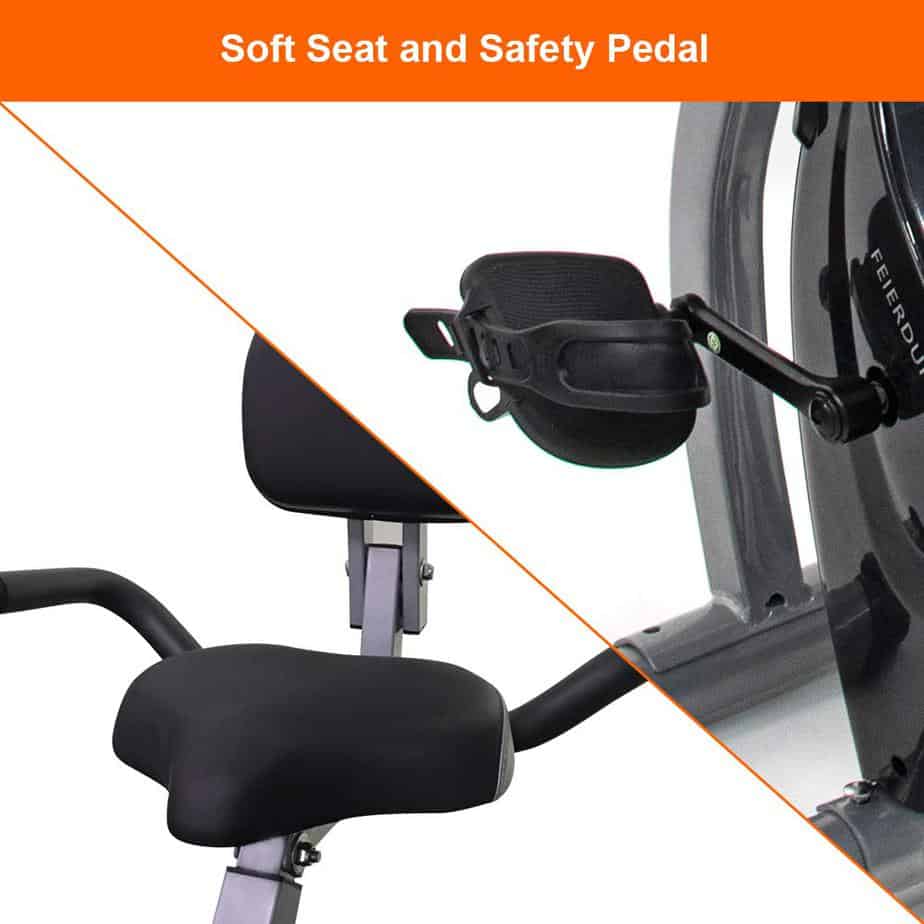 The FEIERDUN Folding Exercise possesses a semi-recumbent seat that provides support to the lower back and has side arms that provides support for aggressive thrust and pedaling.
The seat's backrest can be folded up along with the frame when the bike is not in use.
It (seat) has several layers of cushion that ensure that a user is comfortable. It has an overall design that allows air to breathe through the fabric so that the seat remains cool throughout the entire workout session.
The seat is 2-way adjustable. It can be vertically adjusted to 5 adjustment height angles that accommodate users of different heights and sizes. Users between the heights of 4.8 to 6.1 feet tall can be accommodated by this bike.
The seat's comfortability allows the user to work out and push to the limit during exercise.
The handlebar is non-adjustable but has an ergonomic design that provides a natural suitable workout position to all users.
The arc frame provides enough clearance between the handlebar and the seat. The handlebar features a multi-grip design that allows a user to work out in different angles. It is coated with soft rubber foam that offers a firm and comfortable grip.
There are no EKG HR sensors on the handlebar which means that the bike does not have heart rate capability but a user could use an external HR device to keep track of the pulse.
The pedals have an anti-slip design with adjustable safety straps that secure the feet for vigorous pedaling. The pedals accommodate barefoot or standard training shoes.
The Drive
The FEIERDUN Folding Exercise Bike features a belt drive system that uses a V-belt, a 3.3-pound precision-balanced flywheel.
The belt drive also has other elements such as the solid crankset and crank arms that make the operation formidable. It provides a smooth and quiet operation that does not disturb the user, the family, or the neighbors. You have the privilege of entertaining yourself by watching TV or listening to good music.
Moreover, the drive does not need any maintenance whatsoever, it is simply maintenance-free.
A user can pedal in reverse to exercise more muscle groups.
The drive can provide and withstand the intense and prolonged workouts that are required in order to lose weight.
The Resistance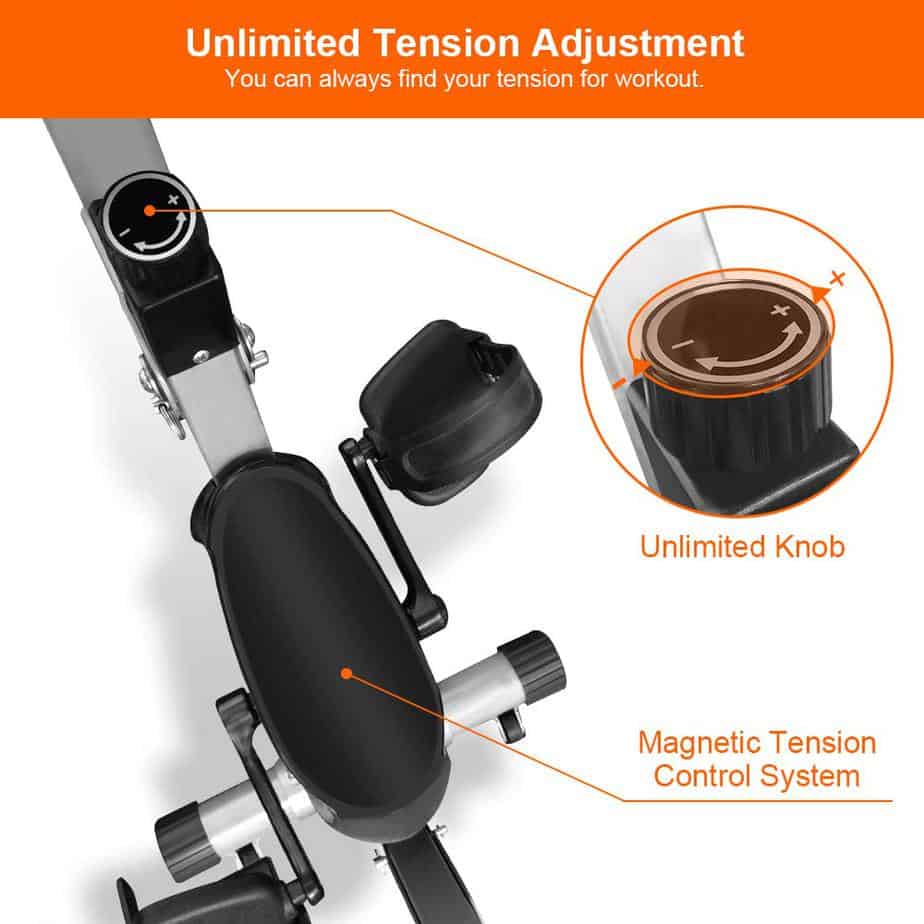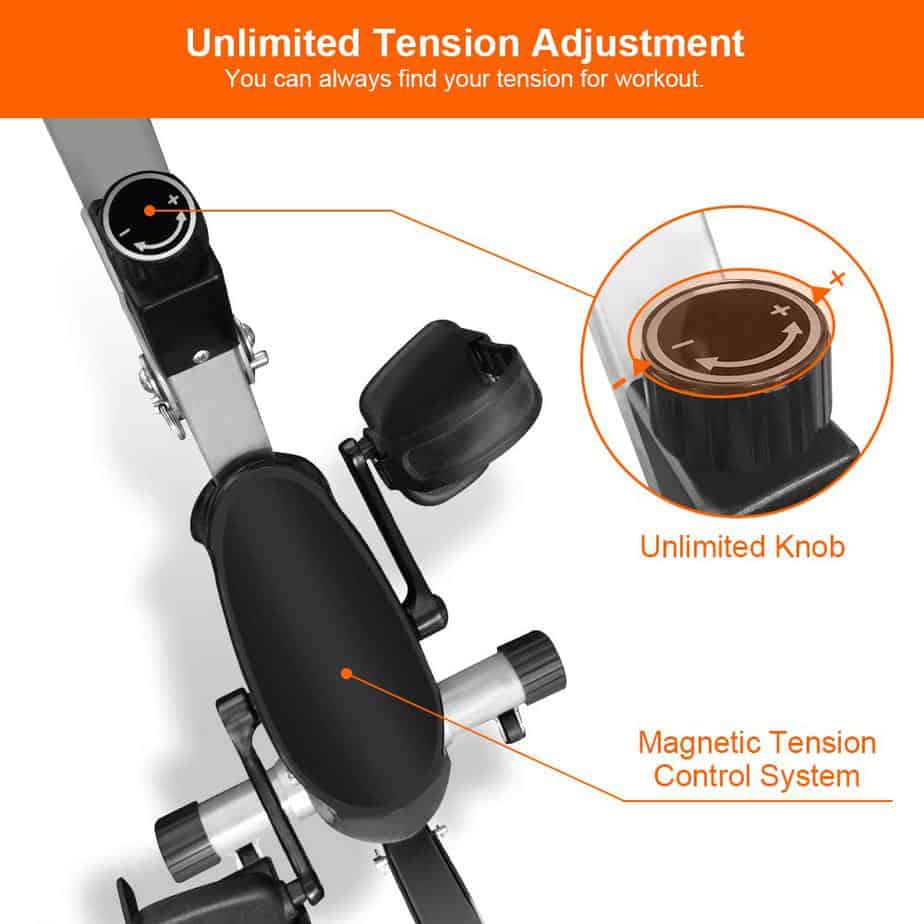 The FEIERDUN Folding Exercise Bike has a manual magnetic resistance system that is also maintenance-free and provides decent resistance that is suitable for beginners, the elderly, those recovering from an injury, and everyone else that wishes to improve the overall physical well being of the body.
This is what the resistance is not; it is not for individuals seeking to exercise with extremely challenging resistance.
The resistance does not have pre-defined levels as is the case with some upright bikes such as the PLENY Upright Foldable Semi-Recumbent Bike. Therefore, a user just has to twist the tension knob until it provides suitable resistance for exercise.
The tension knob is the control system that is connected to the magnetic pad which is positioned close to the flywheel. When the tension knob is turned clockwise the magnetic pad gets closer to the 3.3-pound flywheel thereby providing the magnetic field that generates resistance.
The closer the magnetic pad gets to the flywheel the stronger the resistance strength. To increase or decrease the resistance level simply turn the tension knob clockwise and counter-clockwise, respectively.
The magnetic pad and the flywheel do not make direct contact and that saves the magnetic brake pad from wearing out and needing a replacement.
The resistance provides the user with options of a variety of workouts.
The Console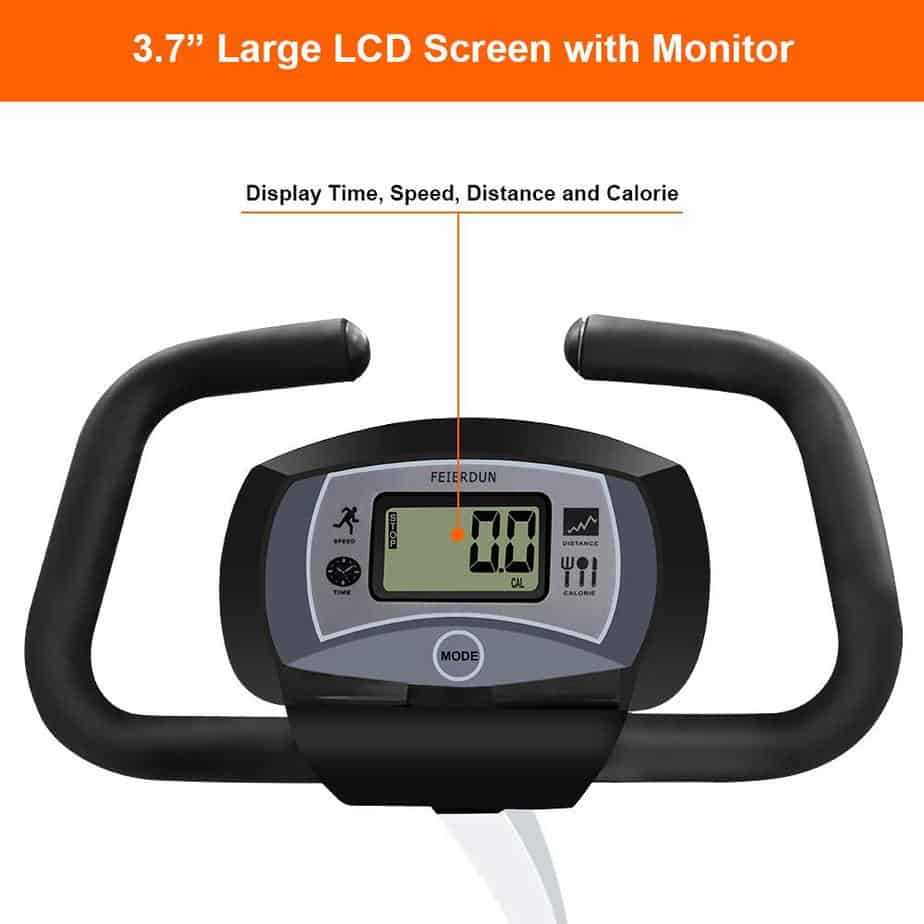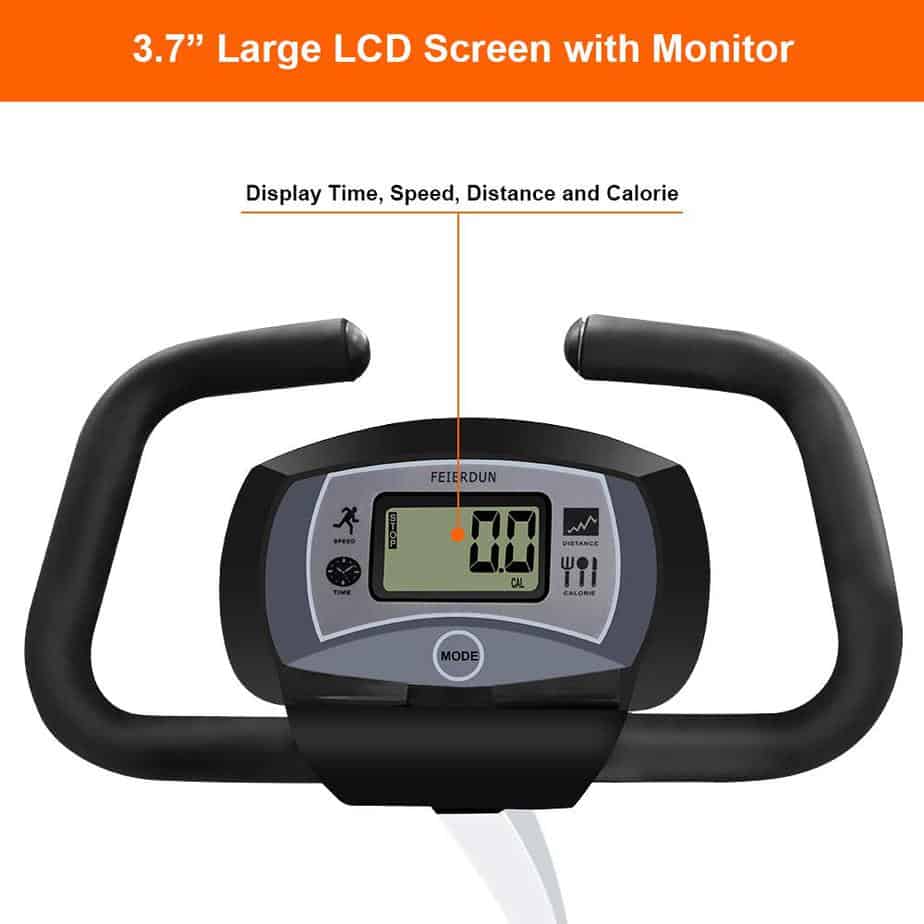 The 3.3 inches wide by 1.5-inch long console that is integrated into the FEIERDUN Folding Exercise Bike has a large LCD screen that displays workout values such as speed, distance, calories burned, and time with high readability.
A user will be able to keep track of workout progress so that motivation and focus will be maintained.
The clarity of the display could be compromised if viewed in a room or environment that is poorly lit because it is not backlit. Therefore, ensure to use it in a room with a good level of illumination.
The console also has the multi-functional bracket otherwise known as the tablet holder. The problem is, a device is placed on this tablet holder the display screen is totally blocked which means the user will not be able to view the workout data.
The monitor is powered by 2 AAA batteries that are also included in the package. The bike does not need any electrical power outlet in order to work.
The console has only one button for navigation just like every other basic unit.
The SCAN function displays workout stats one at a time after few second and continuously. However, you can decide to set up a certain value you prefer to display constantly.
The monitor is easy to operate and kind of self-explanatory.
It could be turned ON and OFF by pressing the MODE button and it could also turn ON automatically if there is activity on the bike and it auto shuts down if the machine is idle without activity for a few minutes in order to preserve the battery's life.
Accessory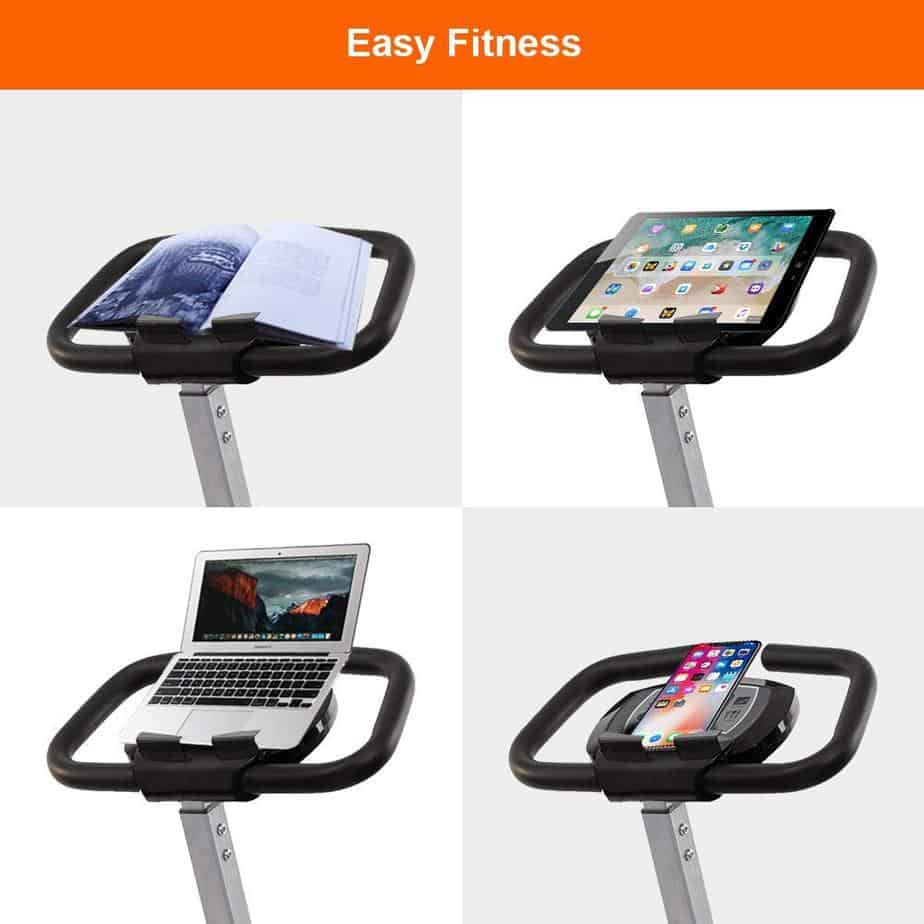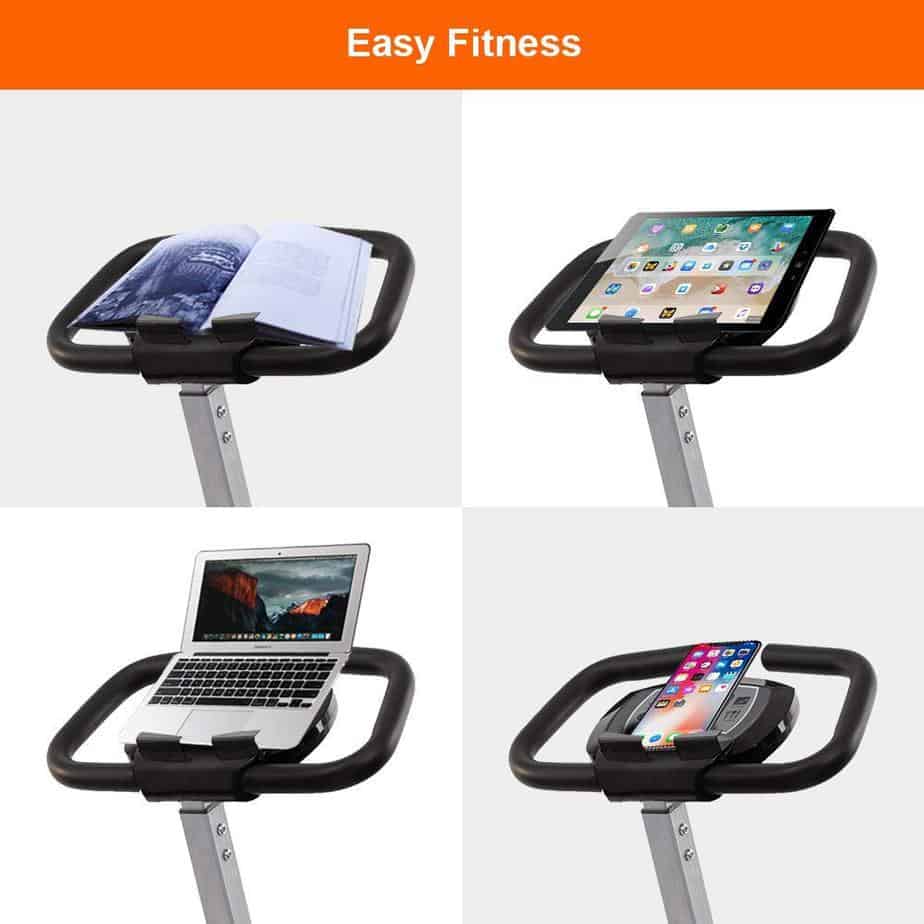 Just as aforementioned, the only accessory that comes with the FEIERDUN Folding Exercise Bike is the tablet holder.
This tablet holder is important because it makes your workout session to be void of boredom. You should be able to entertain yourself by listening to a good music, watching a movie, or even reading a magazine as you exercise.
Storage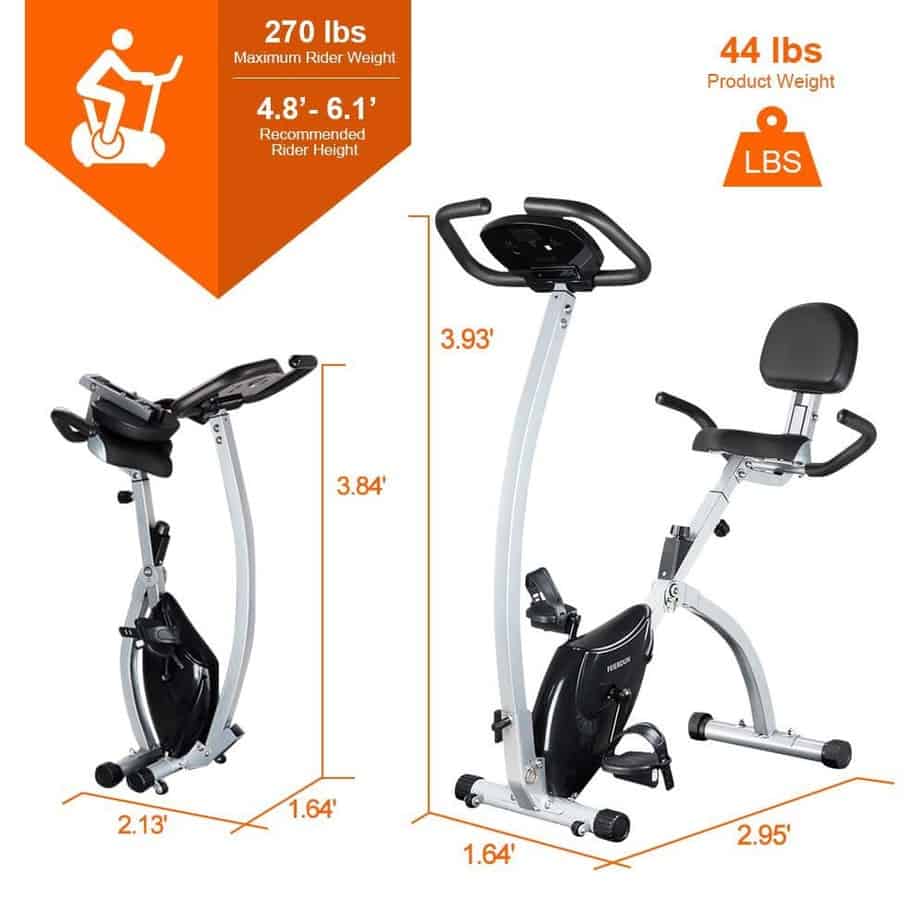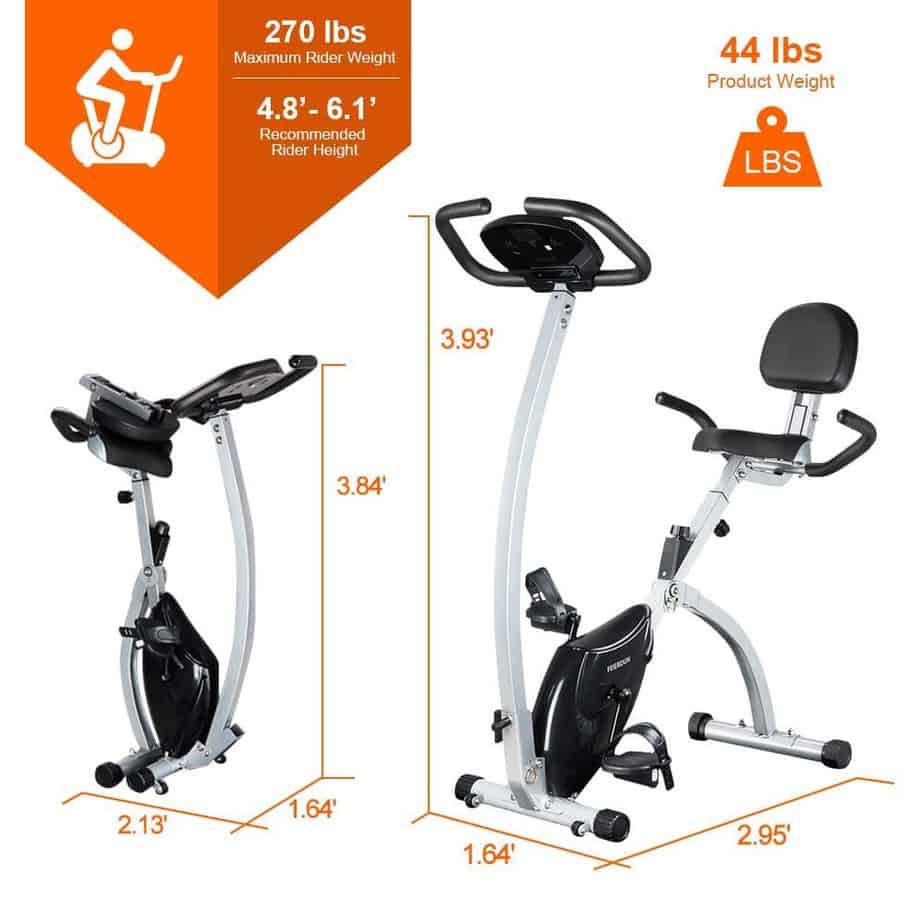 The storage of the FEIERDUN Folding Exercise Bike is pretty easy and convenient. Even folks with acute space problem will be able to use and put this bike away without hassle.
It could be folded up to dimensions of 21.3 inches long by 16.4 inches wide by 38.4 inches tall. This means it could fit almost anywhere such as the closet or even in a corner of the room.
It is a lightweight machine with transport wheels that make moving or rolling away very easy.
Approval Rating
The approval rating is an indication of how popular a product is because real users have used and decided to review and rate the product based on experience and this helps to influence the purchasing decision of those that are interested in that product.
That said, the FEIERDUN Folding Exercise Bike has about thirty Amazon customer reviews with an average approval rating of 4.8 out of 5 stars at the time we put this review together.
This simply shows that at the time of this of this review not a single Amazon user that reviewed it felt that it is a bad product.
Therefore, it will suffice to say that it is a recommendable bike.
Pro/Features Overview
Strong and sturdy; supports 270 pounds/122 kg maximum user weight capacity
It has a unique arc frame design that provides easy step-thru and suitability
The seat is 2-way adjustable with 5 adjustment positions that could accommodate users between 4.8 to 6.1 feet tall
The seat is comfortable with a backrest and side arms that support the back and provide leverage for aggressive thrust
It has a space-saving design that doesn't take up much space during workouts and takes even less space when stored away
It is completely portable with transport wheels
It has a tablet holder for keeping a smartphone, magazine or even a laptop handy for entertainment purpose
The LCD monitor displays time, distance, speed, and calories burned with good clarity as long as it is being viewed in a highly light-up area
It is not difficult to assemble
It does not require a power outlet to be functional
Its operation is quiet and smooth
It provides decent resistance that could help in getting rid of calories
Cons
No heart rate feature
The bike is not for serious professional athletes
The tablet holder is ill-positioned so that when a device is placed on it the display screen is blocked and the user will not be able to view workout data
Product Dimensions and Specifications
29'' Length
16'' Width
39'' Height
21'' Length (folded)
16'' Width (folded)
38'' Height (folded)
Supports 270 pounds/122 kg maximum user weight capacity
Weight: 44 pounds/20 kg
Drive: Belt
Resistance: Manual magnetic
Seat: Cushioned and 2-way adjustable with 5 adjustment position suitable for 4.8 to 6.1 feet users
Console: Large LCD panel, 3.3'' W x 1.5'' H
Transport wheels included
Frame: High-quality 2mm thick steel pipe
Handlebar: Multi-grip design, non-adjustable
Pedals: Antiskid design with adjustable safety straps
Warranty
12 Months on all Parts with a 30-day return without condition
Shipping, Assembly, and Maintenance
Shipping
The FEIERDUN Folding Exercise Bike is shipped in a box that has the dimensions of 40.7 inches by 18.1 inches by 9.2 inches and weighs 46.5 pounds/21 kg.
The shipping cost is decided by the retailer you are purchasing from; however, Amazon provides free shipping to the United States residents and delivers in time.
Assembly
The FEIERDUN Folding Exercise Bike is not supplied completely assembled but it is partially assembled. Therefore, there are parts that need to be attached by you such as the seat post, the handlebar post, the seat, the handlebar, the front, and the rear stabilizer bars, and the console.
The assembly could take less than 30 minutes to accomplish by any adult of any age.
The tools required for the assembly and an instruction manual that walks you through the process are included in the package.
If you do not want to assemble it yourself you can hire someone to do it for you which will cost you an extra charge.
Maintenance
No serious maintenance is needed. The drive comes pre-lubricated and won't require further lubrication by you.
You only need to always examine the bike for any loose or broken parts before use in order to avoid an accident or further damage to the bike.
Finally, make sure to always keep it clean from dirt and sweat at all times.
Conclusion
The FEIERDUN Folding Exercise Bike is an upright foldable indoor bike that is suitable for anyone that wishes to keep fit and especially for those that have space issue because it is compact and foldable.
It is also great for the elderly and those that are undergoing physiotherapy that requires exercising with a bike.
Finally, it has a good approval rating at the time of this review and so is YES depending on what you need in a bike.
[rank_math_rich_snippet]