The XTERRA Fitness ERG700 Rower also known as the ERG700 Air Turbine Rower is a large rower that is foldable. It is integrated with an air and magnetic resistance system that is dynamic and super effective.
Essentially, it has the combination and the dynamics of air and magnetic resistance elements that generate formidable resistance with 16 levels.
This rower is not officially a commercial-grade, however, it has the quality and the features that make it seem to be so, but it is not, it is designed for home use.
It is a full-body rowing machine that provides the full benefit of rowing in the comfort of your home.
It has got easy on & off design that features 20 inches frame height. It has got a 5.5'' backlit LCD monitor that provides you with more workout details than other rowers.
The seat and handlebar are ergonomically designed to offer optimum comfort that lasts throughout a workout session no matter how prolonged it is.
As aforementioned, the overall quality is pretty good and that is demonstrated by the capacity of weight it supports as well.
This is a perfect tool for aerobics exercises that lose weight and keep the heart and the body in good condition.
Click right here to have a peek at the price of the XTERRA Fitness ERG700 Rower on Amazon.
The Frame and Construction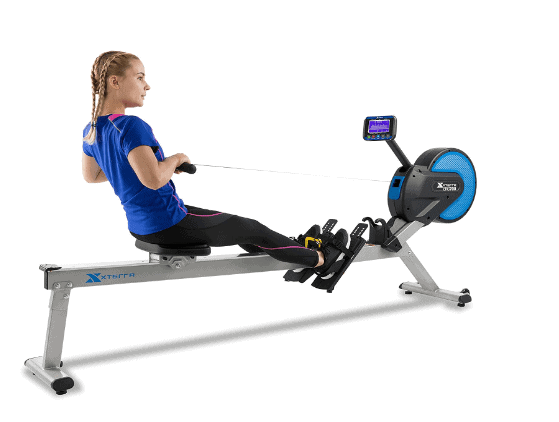 The frame of the XTERRA Fitness ERG700 Rower is made up of both steel and aluminum. The rail system is made up of aluminum for smooth glide motion while the rest of the frame is made up of heavy-duty steel.
There are bits of durable ABS material as well, such as the resistance system covering is covered by this.
To further ensure that the steel parts of the rower are fortified they are coated with anti-corrosive and scratch paint that prevents rusts invasion or degradation.
Just as aforementioned, the rower supports 350 pounds/158.7 kg maximum user weight capacity. The base is equipped with heavy-duty steel front and rear stabilizer bars that feature adjustable levelers underneath. These levelers are used to level up or balance the rower on a surface that is crooked and its overall weight of 80.9 pounds/36.6 kg, either way, further stabilizes the rower.
The rear base could be folded up along with the mainframe for easy storage.
As you may have noticed, the rower is not compact, especially length-wise, and it will require large space for workout performance. However, it takes less space when it is time for storage because it could be folded up to almost half its size.
The overall assembled dimensions of the rower are 97 inches long by 18 inches wide by 38 inches tall. Differently put, it will basically require a workout area of 8' long by 1'.5'' wide plus additional extra clearance of 1-2 feet that might be required for safety and convenience reasons, especially if it is not going to be used in an open area.
It is portable because it has transport wheels at the front base that facilitate its relocation process.
The seat, the Handlebar, and the Pedals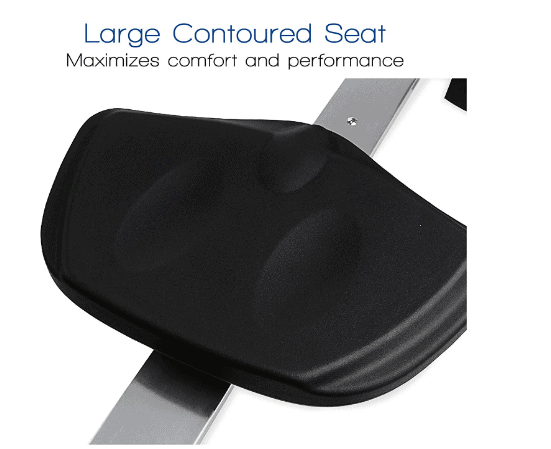 The seat has a steel base that is integrated with three sets of durable concealed rollers that are attached to the rail for smooth and quiet glide motion.
The seat's height at the top end of the frame is about 20 inches; therefore, users can easily get on & off of the rower without hassle, and that includes the elderly and folks with a disability.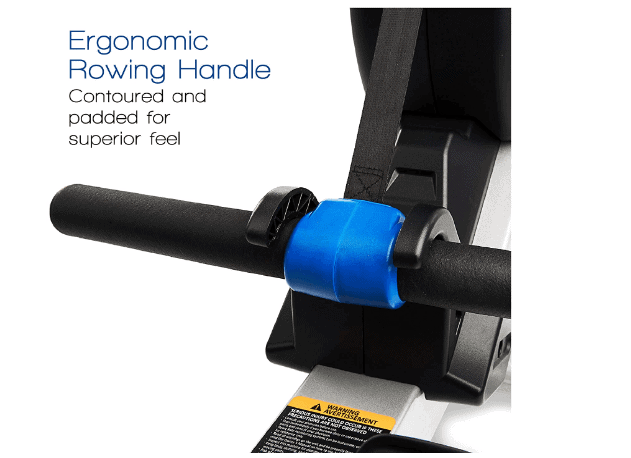 The user won't experience slippage as a result of sweat in the palms or blisters.
The handlebar is attached to a durable 1-inch nylon strap that won't snap no matter how hard it is being used.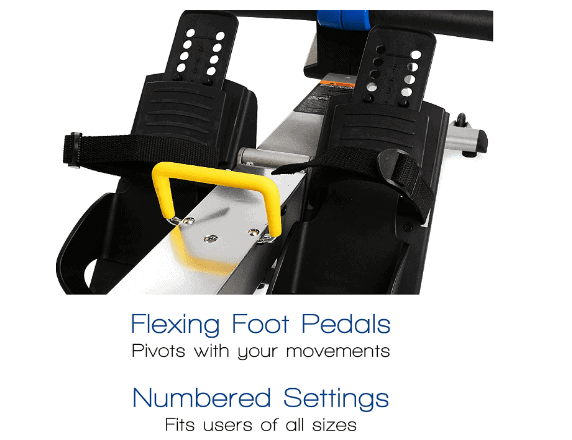 The pedals are large with heel borders, adjustable with safety straps that secure the feet in place. They also flex and pivot to help you maintain proper feet position or form.
This means no matter the intensity of your rowing activity the feet are secure and you feel the stress in the ankles either.
The Resistance
The XTERRA Fitness ERG700 Rower's resistance system is dynamic and formidable. The rower features air and an electronic magnetic resistance system.
This means it combines air and magnetic elements to generate resistance.
The rower is integrated with a 7.7 pounds/3.5 kg fan flywheel and a small magnetic brake pad and a servo motor.
The fan generates a dynamic resistance that simulates the real rowing boat. The faster you pull the handlebar the harder the resistance becomes. When combined with the resistance generated by the magnetic field the resistance becomes even more difficult.
Therefore, it will suffice to say that the resistance is suitable for everyone at any fitness level even for the advanced professional rowers as well.
There are 16 resistance levels that you can adjust to depending on your fitness level. The adjustment is done electronically, in other words, is done via the console. This also means that the resistance auto-adjust when a certain program is engaged.
For the fact that the magnetic resistance is electronically controlled the console needs to be connected to a power outlet before it can be functional.
The level of noise generated by the fan is low and won't bother you, the family, or the neighbors.
The Console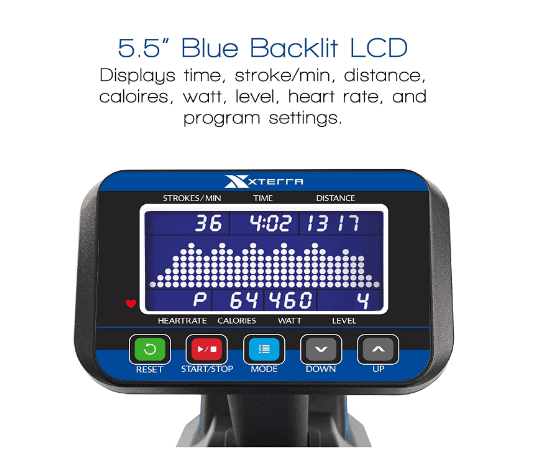 The console is adjustable for different viewing angles that provide clarity to different users.
There are 10 workout programs available which include target time, target distance, target calories, 20/10 interval, 10/20 interval, custom interval, cardio workout, fat burn, strength workout, and game workout.
The target time, target distance and target calories allow you to set your target goal for time, distance, and calories with a countdown, while the 20/10 and 10/20 intervals allow you to exercise for 20 sec. and rest for 10 sec or workout for 10 sec and rest for 20 sec respectively.
The fat burn, cardio, and strength programs are also preset workout programs that provide you with the opportunity to burn tons of calories, improve your cardio health and strength level, while the game enables you to work out against obstacles in order to be challenged which ultimately increases the intensity of your workout and alert level.
The console does not support wireless/ Bluetooth connectivity nor does it have any online compatible fitness app.
Again, the console is not powered by some AA batteries as the case with other models but this requires a power source to be functional.
Accessory
As expected, no accessory is present on the rower. Improvise keeping water within reach in order to stay hydrated throughout your workout session.
Storage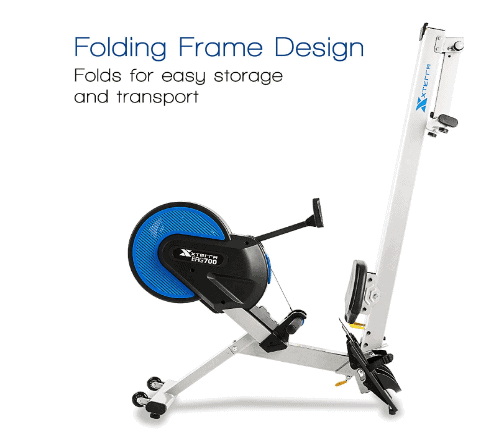 The folded dimensions are 52.5 inches long by 18 inches wide by 62 inches tall.
Pros/Features Overview
It is a sturdy rower that supports 350 pounds/158.7 kg maximum user weight capacity
It is portable with transport wheels
It is foldable for easy storage
It has a long rail that can accommodate even very tall users
The seat height is 20 inches, perfect for users to mount and dismount
The seat is padded and contoured optimally for a long workout
The pedals are large, adjustable, with borders at the heel and adjustable safety straps for securing the feet and they flex and pivot
The dynamic resistance with 16 levels provide easy, medium and challenging workouts suitable for all users
The fan is not very noisy
The console is adjustable for different viewing angle
The console features a 5.5'' LCD monitor with blue backlit LED that displays workout data with high clarity
There 10 workout programs that help you to lose weight, improve strength, endurance, and cardiovascular health
Low maintenance
Assembly not difficult
Good warranty
Cons
It doesn't come with an HR chest strap
Is not compatible with any workout app
Product Dimensions and Specifications
97'' Length
18'' Width
38'' Height
53'' Length (folded)
18'' Width (folded)
62'' Height (folded)
Weight: 81 pounds/36.7 kg
Supports 350 pounds/158.7 kg maximum user weight capacity
Resistance: Combo air and magnetic with 16 levels
Pedals: Large, adjustable, safety straps, flex, and pivot
Frame: Steel and aluminum
Seat: Padded, contoured and attached to 3 sets of solid concealed rollers
Transport wheels included
Console: LCD blue backlit monitor, 10 workout programs
Warranty
Lifetime on Frame
5 Years on Parts
1 Year on Labor
Shipping, Assembly, and Maintenance
Shipping
The XTERRA Fitness ERG700 Rower comes in a box that weighs 103 pounds/46.7 kg.
The shipping cost depends on the vendor's shipping policy; however, Amazon provides free shipping and delivers within days of order.
It comes with a 30-day money-back guarantee.
Assembly
The rower doesn't get delivered completely assembled. Nevertheless, it arrives partially assembled with the major components already attached to the frame.
You are only expected to assemble the front and the rear stabilizer bars, the seat, and the pedals to the core unit.
The assembly process won't take up to an hour.
Also included in the package are the tools for getting the job done and an instruction manual that walks you through the process of assembly.
Maintenance
There is no serious maintenance required of you since you are not expected to open any part of the rower to lubricate or adjust.
All you need to do is always examine the rower for any loose or broken parts before use. This is a preventive measure that averts an accident or further damage to the rower.
Finally, ensure to always keep it clean from dirt and sweat before and after use.
Conclusion
The XTERRA Fitness ERG700 Rower is definitely a rower that could be considered by any user because it is durably built with a long rail that accommodates taller individuals.
It supports a higher user capacity of 350 pounds/158.7 kg and has a combo air and magnetic resistance system that offers 16 adjustable levels.
Chances are, anyone at any fitness level will find this rower very useful and productive.