The XMark Functional Trainer Cable Machine with Dual 200 lb Weight Stacks XM-7626.1 comes with 200 pounds/90.7 kg weight stacks on each side of the machine just as the name implies. This is unlike the BodyCraft HFT Functional Trainer Home Gym that comes with 150 pounds weights stacks on each side and then offers 50 pounds/22.6 kg upgrade which could incur an additional cost.
This means that the XMark Functional Trainer is slightly cheaper than the BodyCraft HFT Trainer Home gym even though they both have a lot in common in terms of features and that also includes the Inspire Fitness Functional Trainer FT1, they are all great and recommendable trainers for the home gym. You may look them up as well if you have not finally made up your mind on the XMark Trainer.
The XMark Functional Trainer Cable Machine with Dual 200 lb Weight Stacks XM-7626.1 has impressive and compelling features such as the 200 lbs weights stacks that can easily be adjusted by anyone, old or young, tall or short, it doesn't matter. No need to be moving weight plates in and out of the machine each time you wish to increase or decrease the weight resistance. This does not only saves time but also prevents weights from dropping on the floor or even your foot.
Each weight plate weighs about 10 lbs which means you can only do an increment of at least 10 lbs weight, but if you are wondering if you could do less, let's say 5 lbs then you may have to go for the 5 lbs weight stack adaptor plate made by BodySolid.
The machine is made with commercial grade steel that is durable and can withstand any type of hard use. It is also very stable, no tipping or wobbling will be experienced during exercises and you do not have to bolt it to the floor because the weight is heavy enough to keep it conveniently grounded.
Click right here to have a peek at the price of the XMark Functional Trainer Cable Machine with Dual 200 lb Weight Stacks XM-7626.1 on Amazon.
The Frame and Construction
The frame of the XMark Functional Trainer Cable Machine with Dual 200 lb Weight Stacks XM-7626.1 is made of 11-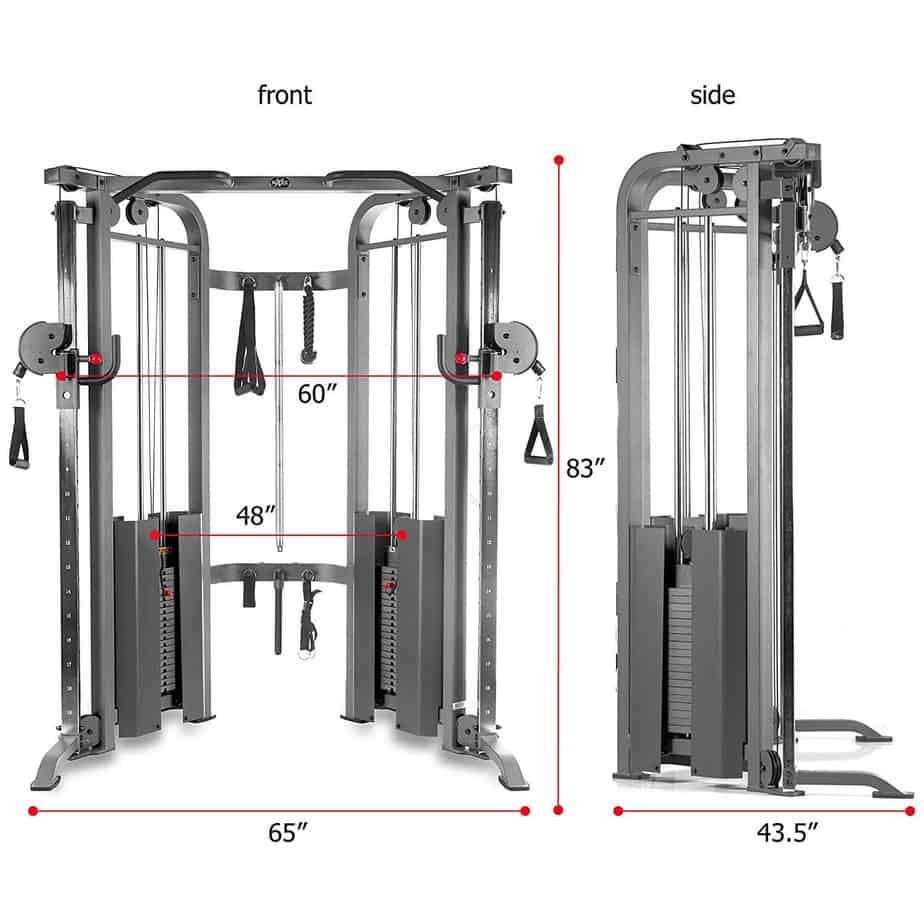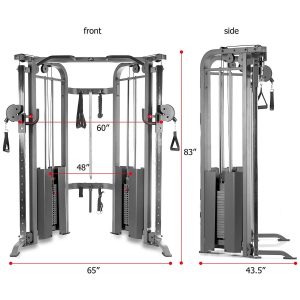 gauge 2 inches by 3 inches rectangular steel. The frame is finished with a gray/black color that is anti-corrosive. You also have the option of choosing the trainer that is coated with white anti-corrosion paint instead. Both the gray/black and the white-painted trainers are one and the same because they have the same functionality except for the colors.
The tubular guide rod is chrome finished.
The trainer is large but still won't take up much space because of its overall design. It has this V-shaped design that could easily fit in a corner of the room. Moreover, it does not require any additional clearance behind it or on each side of it in order to conveniently perform all the exercises. All the exercises can be performed at the front of it.
The functional crossover trainer also features a set of spit grip pull-up bar for chins-up and pull-ups.
The assembled dimensions are 65 inches wide by 43.5 inches long by 83 inches tall. In other words, the required dedicated workout area for this unit should be 5.4 feet wide by 3.6 feet long and at least a ceiling height of 8 feet so that you can have enough space for chin-ups/pull-ups exercise.
It is also a pretty heavy trainer that weighs about 800 pounds/362 kg; this is the reason why the unit must be installed in a dedicated area where you wish to use the machine because it cannot be moved except to dismantle and relocate it and then reassemble it again which could be cumbersome.
NO need to hook it up to the floor in order to make it stable, as you may already know the weight is heavy enough to keep it extremely stable. No movement or wobbling during chin-ups or any other exercises.
The bases of the machine also have rubberized pads that make it floor friendly, although it is still recommended to install it on a large protective rubber mat.
Weight Resistance
The XMark Functional Trainer Cable Machine has a dual 200 lbs/90.7 kg weight stacks which are one of its selling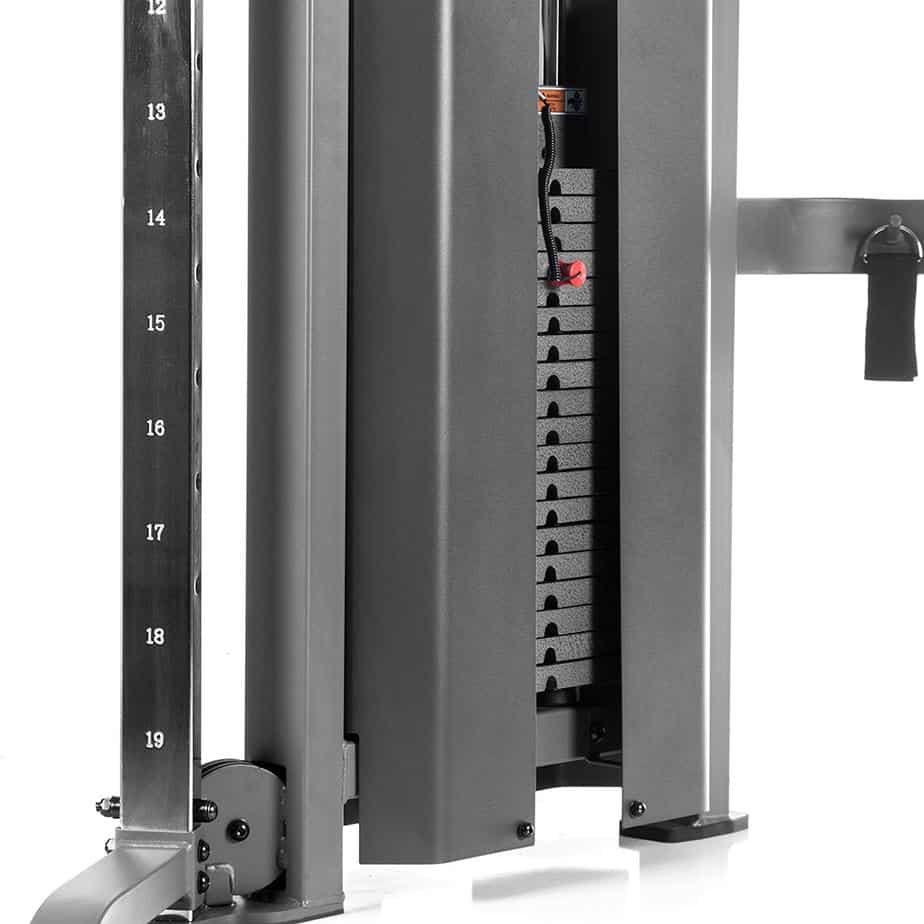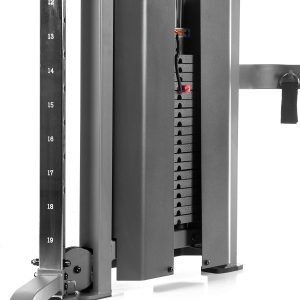 points because there are other trainers in the same category that have lesser weight stacks but instead they offer upgrade options that could cost more.
There are 20 weight plates on each side of the weight stacks and each of the weight plates weigh 10 lbs and it is about 1 inch thick. This means a user can increase or decrease the weight resistance by 10 pounds, but you can purchase a BodySolid 5 lbs adapter if the 10 pounds increment is too much for you.
As aforementioned, the adjustment of the weight resistance is as easy as eating a piece of cake. You don't have to move weight plates back and forth each time you wish to make a change to your weight resistance. All you need to do is to move the safety lock pin to the weight resistance level you wish to work out with. It is very safe because each weight stack has two tubular guide rods that keep the weight plates in order while they are in use.
The weight stacks are spaced at 48 inches apart.
The weight plates are durable because they are made of cast iron as opposed to cement or any other material, therefore, they could last forever.
Finally, the weight stacks are not upgradable but as aforementioned, you can use the BodySolid 5 lbs adapter to reduce the increment from 10 lbs to 5 lbs.
The Pulleys and Cables
The XMark Functional Trainer Cable Machine with Dual 200 lb Weight Stacks XM-7626.1 has a set of adjustable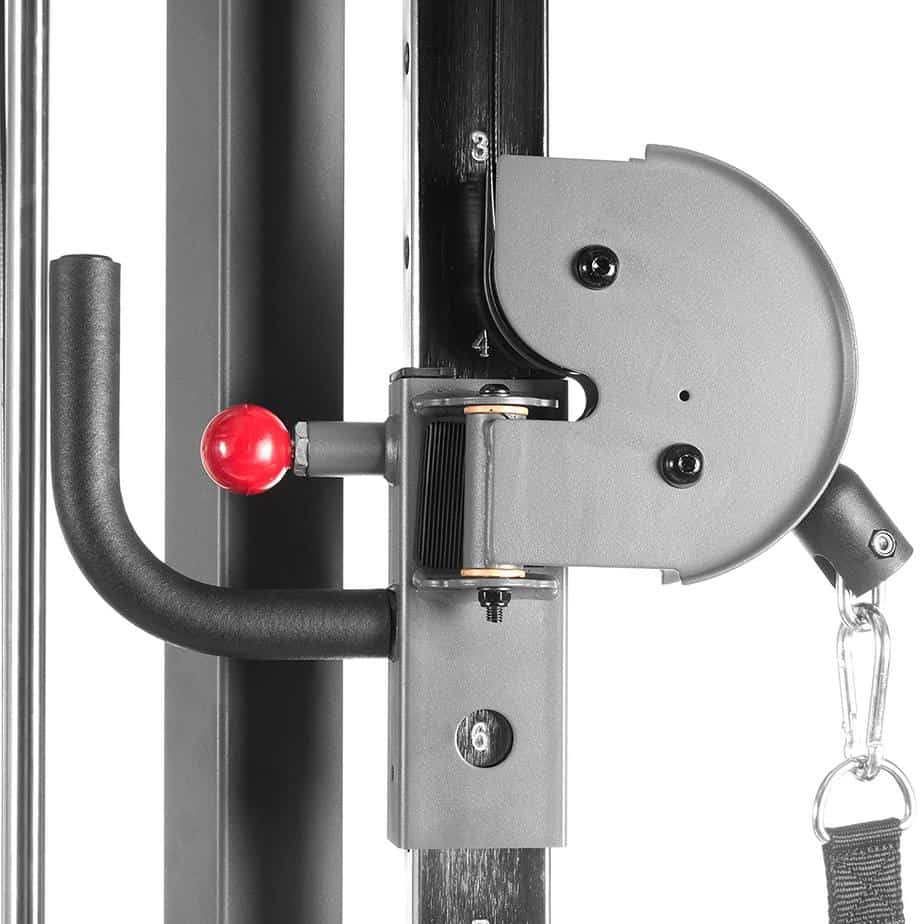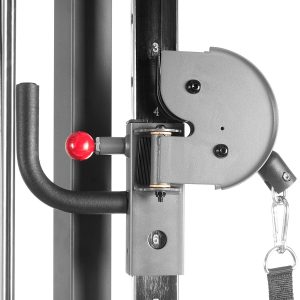 pulleys that are 60 inches apart. There are 19 heights adjustable positions available to enable you to perform all the variety of workouts possible. Each height adjustment is 3.5 inches apart.
There are several pulleys present on this unit aside from the main outer set that has the handles on them. These pulleys are made of heavy-duty nylon material for durability and integrated with sealed ball bearings for smooth operation.
The adjustable set of pulleys could swivel 180 degrees sideways therefore very versatile for any type of workouts or exercises.
The highest height position is 6.6 feet while the lowest is 1 inch.
The pulleys allow you to train like a pro on a limited front space of the trainer. The cables could be extended to up to 81 inches from the pulleys. This offers enough length for free movement during an exercise.
The cables are also very durable and strong as they are aircraft quality steel ropes that are encapsulated in a PVC material so that the movement over the pulleys will be smooth and friction-free.
Accessory
This functional crossover trainer comes with certain accessories that allow you to perform more different types of exercises. These are included in the package and they are as follows:
A set of 8 inches hand straps
A set of 17 inches long straps handles
A 23 inches triceps rope
A short bar
42 inches knurled long bar
Leg extension leg curl strap
An ankle strap
A 24 inches by 34 inches workout wall poster displaying 36 exercises
Optional Accessory
This is the accessory that is not included in the package but optionally available for you to purchase if you deem it necessary.
Of course, the FID bench is necessary because it will enable you to perform exercises such as the chest press, incline press, and seated shoulder press.
Exercises Available
There are over 36 exercises that could be performed with the XMark Functional Trainer Cable Machine with Dual 200 lb Weight Stacks XM-7626.1. These exercises target the overall body muscle groups and some of these exercises are as follows:
Chest Exercises
Standing Incline press
Standing decline press
Standing chest press
Standing pec fly
Incline press
Chest press
Back Exercises
High row
Mid row
Low row
Rear deltoid
Pull-ups
Standing shoulder press
Shoulder exercises
Seated shoulder press
Lateral raise
Internal rotation
External rotation
Upright row
Bicep curl
Arms Exercise
Core Exercises
Kneeling crunch
Deadlift
Core rotation
Core rotation incline
Core rotation decline
Golf swing
Lower body exercises
Squat
Lunge
Lunge decelerating
Hip abduction
Hip Adduction
Hip extension
Hip flexion
Kick back
Leg extension
Leg curl
Approval Rating
The approval rating of the XMark Functional Trainer Cable Machine with Dual 200 lb Weight Stacks XM-7626.1 is pretty good. At the time of this review, there are 29 Amazon customer reviews with an average approval rating of 4.7 stars out of 5 stars.
This is compelling evidence that the functional crossover trainer is worth the investment.
Pros/Features Overview
Very strong and durable
Very stable
It is compact with a V-shaped design that fits in a corner of the room
It has rubberized pads underneath the bases for floor-friendliness
Its adjustable pulleys swivel 180 degrees and have height adjustment of 19 positions for a variety of workouts
All workouts can be performed right in front of the trainer without the need to go around it
It features 200 lbs weight stacks; i.e. 200 lbs weight stack on each side
Very easy and safe to adjust the weight resistance
Over 35 exercises could be performed with the trainer
The pulleys and the cables are durably made
The weight plates are made of cast iron
The trainer comes with several accessories; see above
Great warranty
Cons
The weight stack is not upgradable
Assembly takes time
It requires a dedicated permanent space for installation
Product Dimensions and Specifications
43'' Length
65'' Width
83'' Height
Pulleys: Adjustable, 19 height positions with 3.5 inches space apart, 60 inches apart
Pulleys highest setting: 6.6 feet
Pulleys lowest setting: 1 inch
Weight stacks: Dual 200 lbs stacks
Weight plates: 10 lbs each and 1 inch thick
Exercises 35+
Warranty
Lifetime on Frame
1 Year on Parts
Shipping, Assemble, and Maintenance
Shipping
The XMark Functional Trainer Cable Machine with Dual 200 lb Weight Stacks XM-7626.1 in 8 heavy boxes that weight about 827 pounds/375 kg.
The shipping cost varies depending on which vendor is selling the machine to you. Nevertheless, some retailers such as Amazon provides free shipping to the United States residents.
Assembly
The assembly of this functional crossover trainer takes time as there are a lot of parts to be put together. It will require at least two persons to assemble it.
It could take about 4 hours, more or less to completely assemble the unit. All the tools required for the assembly and the instruction manual that guides you through the process of the assembly are all included in the package.
Maintenance
No major maintenance needed but it will require you to be applying silicone lubricant onto the parts such as the guide bars of the weight stacks and the pulleys for smooth operation.
Moreover, always examine the unit for any loose or broken part.
Conclusion
The XMark Functional Trainer Cable Machine with Dual 200 lb Weight Stacks XM-7626.1 is a recommendable functional trainer for the home gym. It is very strong, durable, versatile, and cost-effective.
Adding the XMark Functional Trainer to your home gym is a good investment.
[rank_math_rich_snippet]