The GS60 JOROTO Indoor Cycling Bike is a light commercial spinning bike (but not designed for commercial use) that has the looks and the features to deliver on your fitness goals. It is super quiet during operation and can accommodate most users of different heights and sizes due to its micro-adjustability. It has inseam height from 27.5 inches to 35.4 inches.
It has a 30 pounds/13.6 kg perimeter weighted flywheel that ensures that your ride is graced with consistent momentum.
Unfortunately, it does not include a heart rate monitoring feature of any sort. We kind of think that that should have been included considering the price tag of the bike.
That said, the lack of EKG sensors on this bike can hardly be a deal-breaker for most people because they can always use an external heart rate monitoring device that is a lot more accurate and reliable, but just in case it is to you may look up the Xpec Pro Stationary Upright Exercise Bike.
Click right here to have a peek at the price of the GS60 Joroto Indoor Cycling Bike on Amazon.
The Frame and Construction
The GS60 JOROTO to Indoor Cycling Bike obviously does not have the regular look of the spin bike. Its design is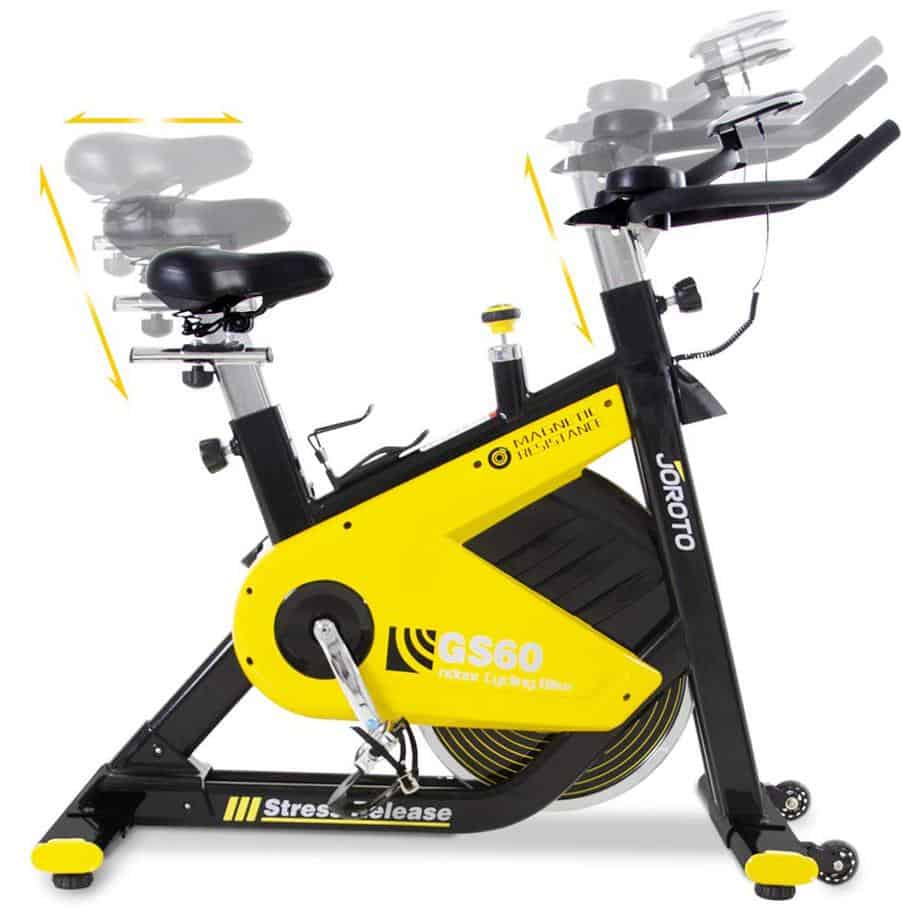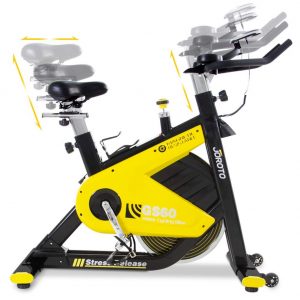 appealing to the eyes and it also gets the job done.
Its overall design provides stability, comfort, and usability so that the user will be able to achieve his/her fitness goals.
The frame is made of heavy-duty steel that supports 280 pounds/127 kg maximum user weight capacity. All the steel parts are coated with anti-corrosion and scratch paint that preserves and keeps them durable with the exception of the seat and handlebar posts that are chrome finished which is also anti-corrosive.
While all the plastic parts such as the shrouds that shield part of the flywheel, the magnetic brake, and the belt are made of ABS material that has the characteristics of toughness.
Its stability stems from the solid base framework that features front and rear stabilizer bars made of steel which also have four adjustable levelers underneath them intended to take care of tilting and wobbling movements that might be caused by an uneven surface.
That said, it is recommended to place the bike on a protective rubber mat to further cement its stability and prevent sweat from dripping to the floor while working out.
The GS60 Joroto Indoor Cycling Bike not a lightweight machine and neither is it a very heavy machine. Either way, its weight of 90 pounds/40.8 kg boosts its overall stability without necessarily being a burden during the relocation process because there are these transport wheels integrated at the front base that make the bike completely portable and easy to relocate from one room to another.
When it comes to size, it is not extremely large because its overall assembled dimensions are 49 inches long by 20 inches wide by 46 inches tall. In other words, this bike will require a workout area of 4 feet long by 1.7 foot wide and a ceiling height of at least 7 feet high so that you can conveniently perform the stand-up pedaling.
However, it is recommended to add an extra 1 to 2 feet clearance at the rear and on both sides of the bike for a safe and comfortable workout experience.
The GS60 JOROTO Indoor Cycling Bike could pass as one of the best spin bikes ever loved by its users.
The Seat, Handlebar, and the Pedals
The seat of the GS60 JOROTO to Indoor Cycling Bike is 4-way adjustable and larger than the conventional saddle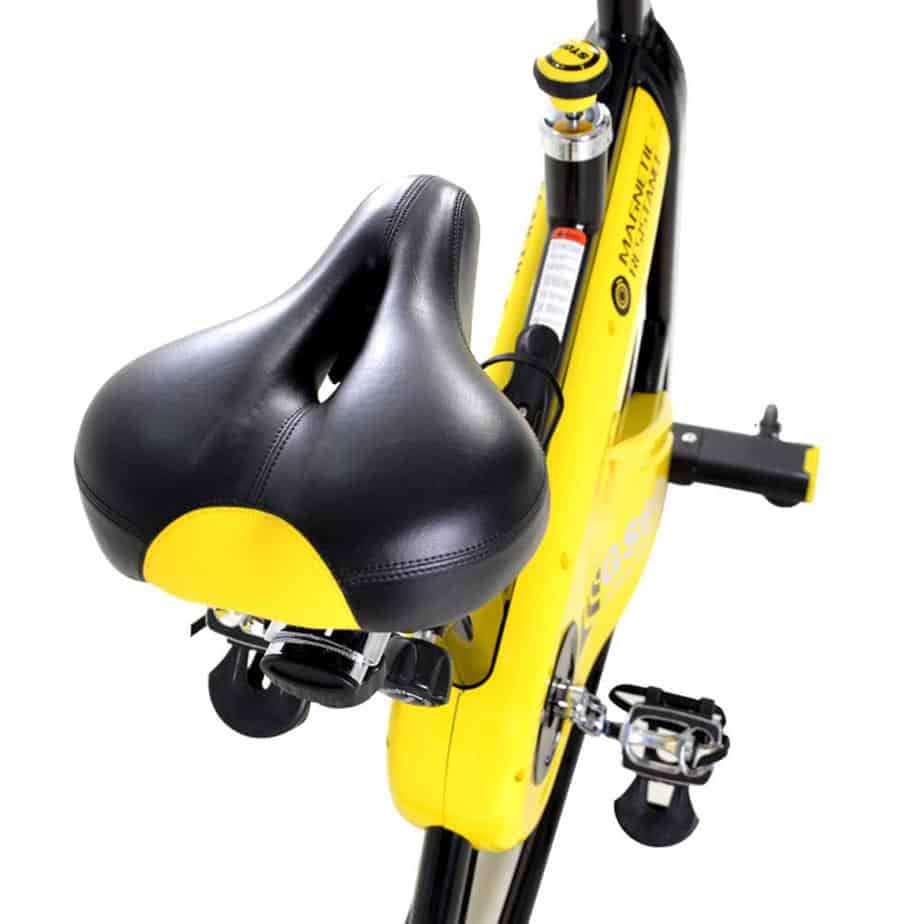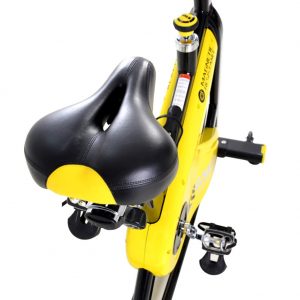 that comes with the most spin bike. It could be adjusted vertically (upward/downward) and horizontally (fore/aft). This allows users of different heights to be accommodated especially users that their inseam falls within 26 inches to 35 inches, although, it is supposed to be suitable for users between the heights of 5 to 6.4 feet tall.
If you are not sure the bike will be suitable for you, just measure the top of your inner thigh to the bottom of your ankle, if it is over 35 inches then it is likely that the bike won't be suitable for you otherwise it is all good.
The seat is ergonomically designed to provide free movement between the thighs while riding and padded with a soft foam material that conveys comfort to the butt. It is also integrated with dual springs underneath to provide a superior buffer, shockproof performance, and better protection to the user.
It has a hollow design that helps heat release and enhances breath-ability so that the butt doesn't get all wet.
You may as well use a gel seat cover to further positively enhance the feeling provided by the seat.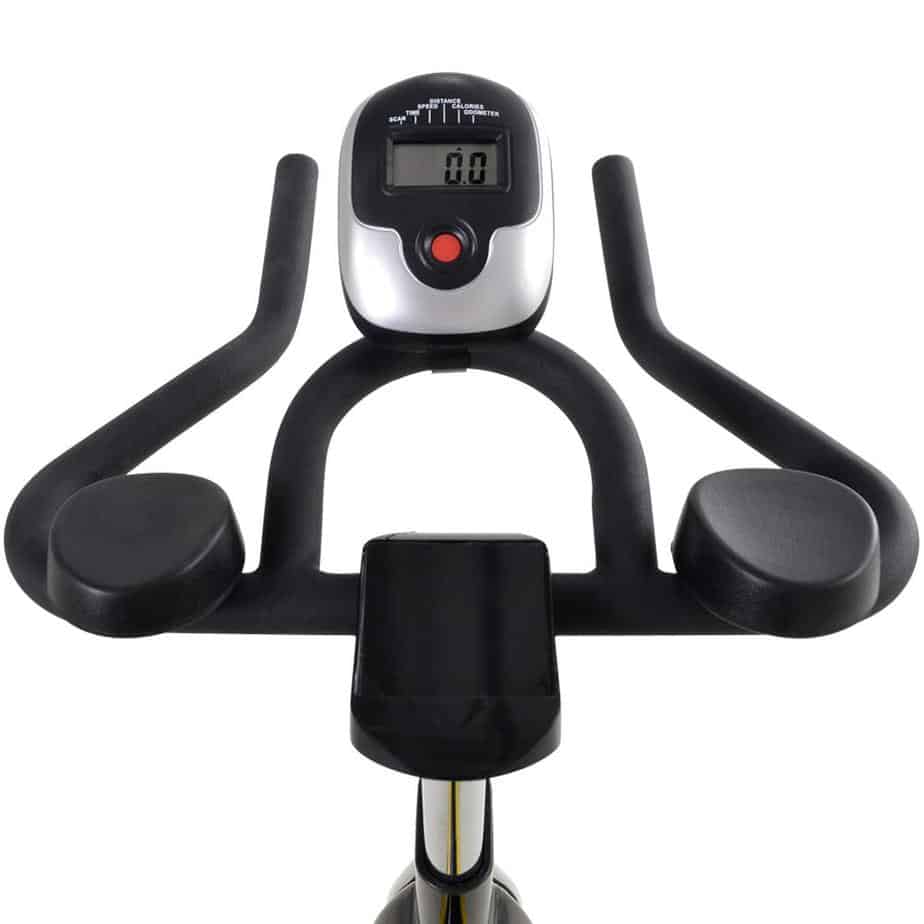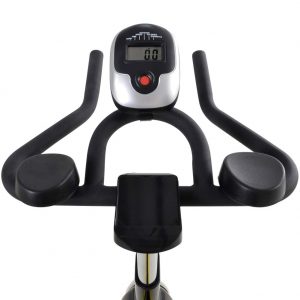 The handlebar has 2-way complimentary adjustability; it could be adjusted only vertically, upward, and downward. It also has a multi-grip design that provides the user with the options of different postures during workouts.
The handlebar is coated with a soft foam material that prevents slippage, blisters in the palms and ultimately provides comfort and a firm grip during workouts. There are also two elbow pads where you can rest the elbows while you grasp the top handlebar for a shoulder workout. This is something that is not common with most cycling bikes and the handlebar also features a multi-functional LCD monitor and a tablet holder.
The pedals that come with the GS60 JOROTO to Indoor Cycling Bike feature toe cages with adjustable safety straps. The toe cages ensure that you ride with full thrust without the fear that your feet will slip during a vigorous workout.
This also means that the pedals can only accommodate standard gym shoes and not spin shoes, but if you wish to swap them for Shimano pedals with clips that will be possible as long as the pedals have 9/16'' thread.
Also, it is important to note that the left pedal is screwed in counter-clockwise while the right pedal is screwed in clockwise.
The Drive
The GS60 JOROTO Indoor Cycling Bike is a belt-driven bike which is more the reason why it is quiet and smooth during operation. Virtually all belt-driven bikes are smooth and quiet during operation, unlike the chain-driven ones.
The drive on this bike consists of the 30 pounds/13.6 kg perimeter weighted chrome-plated flywheel which is responsible for high inertia, a heavy-duty belt, pulley, a highly durable crankset, and crank arms that are made of steel. These elements together provide a formidable force and quality that ensure you experience fun-filled workouts at all times.
The belt drive is also maintenance-free, does not require periodic lubrication or adjustment.
You can work out without the annoying noise interference that could distract you, disturb the family or the neighbors. Therefore, you can work out at any time and also watch your favorite TV shows without the need to turn up the volume more than usual.
You can also pedal in reverse to exercise more muscle groups if you so desire. But this also means that you cannot coast on the bike as you could with a road bicycle because the drive is such that the pedals and the flywheel spin together.
Stand-up pedaling is possible with this bike as long as the user's weight is within the stipulated range of 280 pounds/127 kg maximum.
The Resistance
The GS60 JOROTO Indoor Cycling Bike features a manual magnetic resistance system. This means that the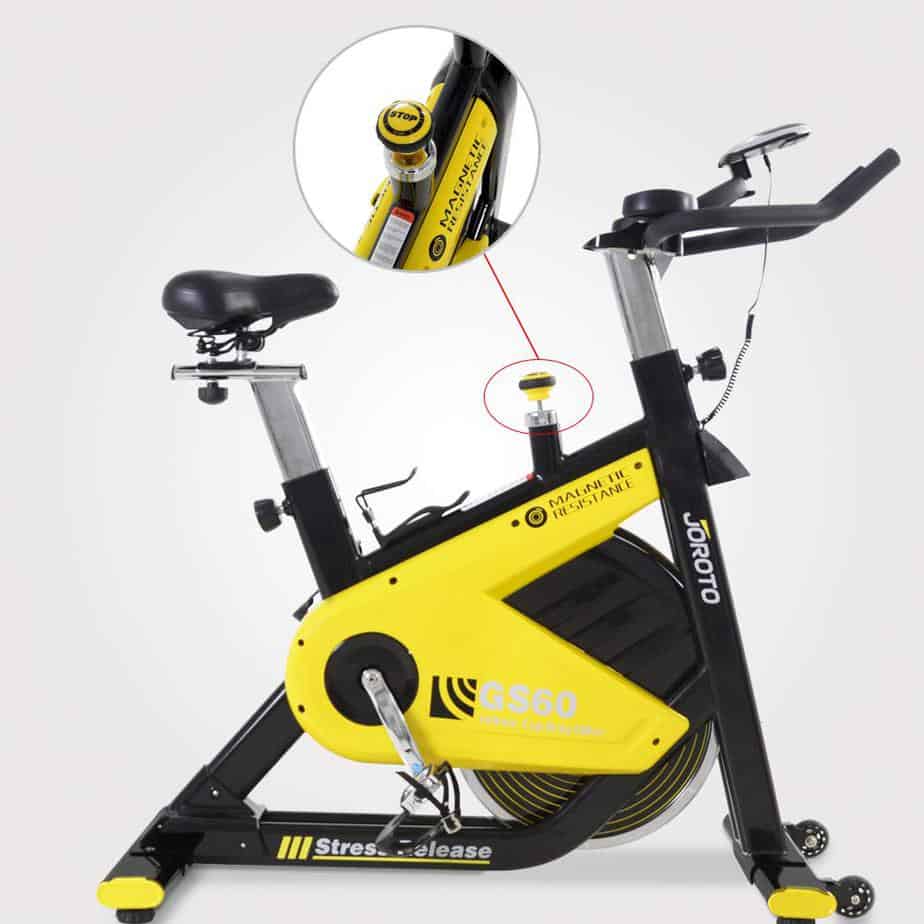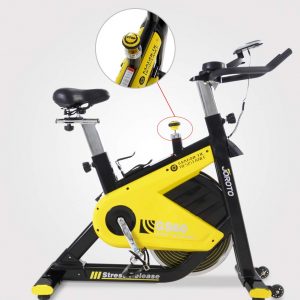 resistance system consists of a brake magnetic pad that is attached to the tension knob which is situated on top of the mainframe tube. When the tension knob is turned clockwise the magnetic brake pad moves close to the flywheel's edge thereby generating resistance, and when turned anticlockwise the resistance reduces.
The good news is that it provides decent challenging workouts that are suitable for anyone at any fitness level but may not be the best choice for those that are seeking to experience extremely challenging workouts.
Moreover, you don't have to worry about the magnetic brake pad getting bad because it does not make direct contact with the flywheel in order to generate resistance as the friction resistance system.
There are no pre-determined resistance levels as the case with most bikes with a magnetic resistance system. This also means that a user may not be able to track strength and endurance improvement because there is no way to ascertain advancement in resistance levels being used in different workout sessions.
The Console
The console that comes with the GS60 JOROTO Indoor Cycling Bike is basic with a single button for navigation. Its monitor displays values such as time, speed, distance, total distance, and calories burned. Obviously, there is no heart rate reading because the bike does not have EKG sensors neither is the console telemetry enabled. If you wish to maintain your target heart rate zone by viewing your heart rate then the option is to purchase an external heart rate device.
However, the values being displayed by the monitor will help keep you focused and motivated towards achieving your fitness goals.
The monitor displays with high clarity, however, it could be diminished when viewed in a poorly-lit environment because it is not backlit.
The monitor also has a SCAN function that displays all the workout values rotationally one at a time and continuously, but you can also set up a certain value of your choice to display constantly without changing.
The monitor powers ON/OFF when the single MODE button is pressed once and it can also power ON automatically if there is activity on the bike and powers OFF when there is non-activity for few minutes in order to save battery power.
The monitor is powered by 2 AAA batteries.
Accessory
A tablet holder is included on the GS60 JOROTO Indoor Cycling Bike and well-positioned as well as not to block the view of the monitor when a device is placed on it. This is a plus because many spin bikes do not have a tablet holder and when they do the monitor's screen view is often blocked when a device is placed on it.
You can easily and conveniently place a smartphone or a tablet for entertainment while you work out and still be able to view your workout data at the same time.
There is also a water bottle holder that enables you to keep water handy so that you can stay hydrated throughout the entire workout session, very important.
Storage
The GS60 JOROTO Indoor Cycling Bike does not require too much storage space because it is not a very large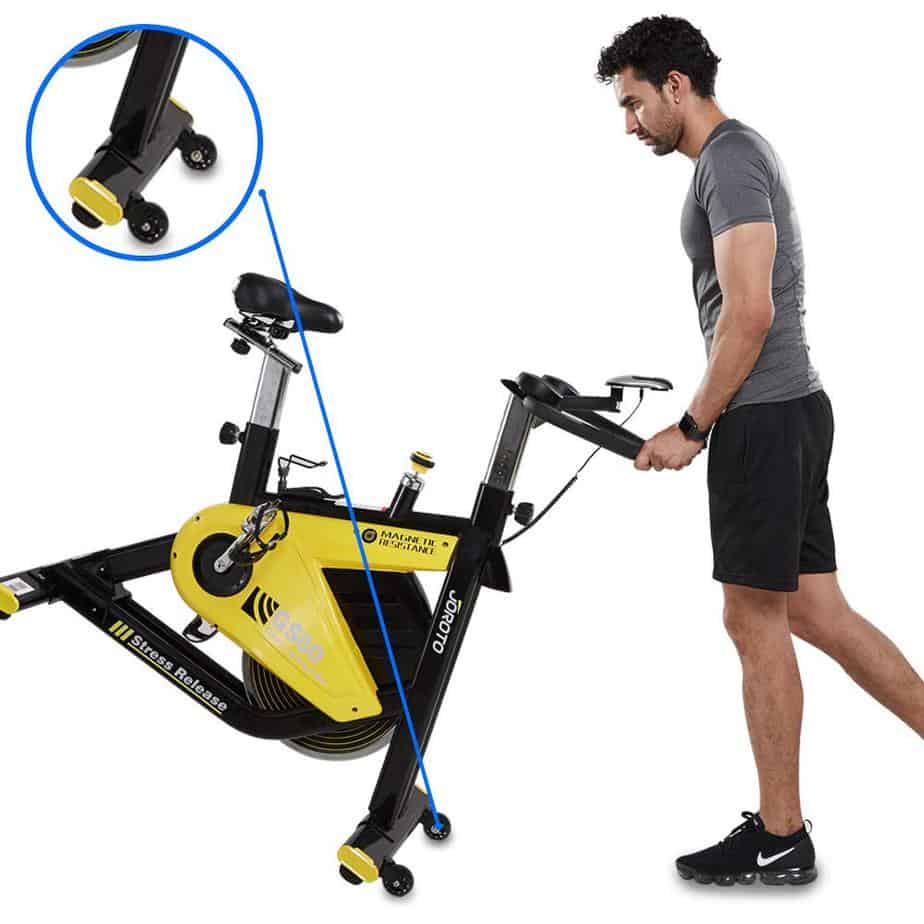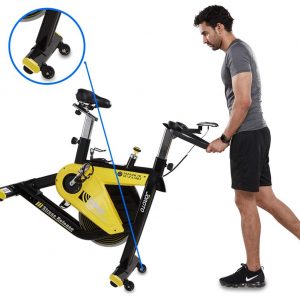 machine. Its overall assembled dimensions of 49 inches long by 20 inches wide by 46 inches tall will only require storage space of 4 feet long by 1.7 foot wide. This means you can decide to keep it next to the wall, the closet, or under the staircase.
Even though it weighs 90 pounds/40.8 kg it is very portable because it is integrated with transport wheels at the front base. Once you tilt it towards the front you can quickly and easily relocate it to another area you want it to be.
Approval Rating
The approval rating of this bike is impressive on Amazon. There are almost 70 Amazon customer reviews at the time of this review and the majority of the users is positively satisfied and would recommend it.
This is a strong indication that you would probably not be disappointed with the overall quality and performance of the GS60 JOROTO Indoor Cycling Bike.
Pros/Features Overview
Sturdy and stable; supports 280 pounds/127 kg maximum user weight capacity
It has a unique design that could motivate a user to workout
It has a solid base framework
The seat is ergonomically designed with two shock absorber springs underneath
The seat is 4-way adjustable which allows users with an inseam of 27.5 inches to 35.4 inches to be accommodated
The handlebar is 2-way adjustable with a multi-grip design that promotes different workout postures
The handlebar also has elbow pads for the elbows
The bike operation is smooth and quiet due to the belt drive and manual magnetic resistance systems it possesses
It does not require major maintenance
The pedals are integrated with toe cages that have adjustable safety straps that secure the feet and provide leverage for full thrust during workouts
The pedals have 9/16'' standard thread that makes it possible for them to be easily swapped with another set of pedals
Its LCD monitor displays workout data such as time, distance, total distance, speed, and calories burned
Tablet and water bottle holders are included
Easy assembly
An instruction manual and the assembly tools are included in the package
Cons
It does not have a heart rate reading function
The monitor is basic with no backlit
Warranty
1 Year limited warranty for all parts
Product Dimensions and Specifications
49'' Length
20'' Width
46'' Height
Weight: 90 pounds/40.8 kg
User weight capacity: 280 pounds/127 kg maximum
Console: Basic with LCD monitor that displays time, speed, distance, total distance and calories burned
Resistance: Manual magnetic
Drive: Belt
Pedals: Toes cages with adjustable safety straps, 9/16'' thread
Seat: 4-way adjustable
Handlebar: 2-way adjustable with elbow pads
30 pounds/13.7 kg perimeter weighted flywheel
Portability: Transport wheels included
Water bottle holder included
Tablet holder included
Shipping, Assembly, and Maintenance
Shipping
The GS60 JOROTO Indoor Cycling Bike is shipped in a box that weighs 99 pounds/ 44.9 kg.
The shipping cost is determined by the vendor that is selling to you. However, some retailers such as Amazon provide free shipping to the United States residents.
Assembly
The assembly of the GS60 JOROTO Indoor Cycling Bike is not difficult because it is delivered with the major components preassembled.
You are only required to attach the seat and handlebar posts, the frame and also the pedals, the front and rear stabilizer bars, the seat, the handlebar, and the console.
To completely assemble the bike won't take up to an hour. An instruction manual that should walk you through the assembly process and the tools for the assembly is included.
You may opt for the ''expert assembly'' where someone will come over and assemble the bike for you if you don't want to do it yourself, however, this option comes with an extra charge.
Maintenance
No lubrication, no adjustment required with the GS60 JOROTO Indoor Cycling Bike. It has a belt drive and magnetic resistance systems are maintenance-free.
You only need to always examine the bike before use for any loose or broken parts so that an accident or further damage to the bike could be averted.
Finally, also make sure you keep it clean from dirt and sweat always.
Conclusion
The GS60 JOROTO Indoor Cycling Bike is a bike with some level of decency, and this has been confirmed by the users via the Amazon customer reviews.
This bike can provide you with quality workouts that could burn tons of calories and ultimately help you lose weight and improve overall physical fitness.
GS60 JOROTO Indoor Cycling Bike Review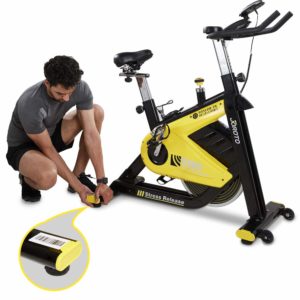 The GS60 JOROTO to Indoor Cycling Bike obviously does not have the regular look of the spin bike. Its design is appealing to the eyes and it also gets the
Product Brand: Joroto
Product In-Stock: InStock