If you are searching for a recumbent bike to purchase, the Velocity Exercise CHB-R2102 Recumbent Bike should be under your radar.
The reason is that it is sturdy, affordable, and has features that could help you realize your fitness goals. Moreover, it has several favorable Amazon customers' reviews with an impressive overall approval rating at the time of this review.
It has an adjustable frame as the Goplus Recumbent BIke. This enables users to customize the bike to suit them because the seat is not independently adjustable.
However, the bike supports a maximum user weight capacity of 250 lbs./113 kg as opposed to the MaxKare Recumbent Bike that supports up to 300 lbs./136 maximum user weight.
That said, the Velocity Exercise Recumbent Bike is equipped to provide outstanding and productive workouts at home.
Click right here to have a peek at the Velocity Exercise CHB-R2102 Recumbent Bike.
The Frame and Construction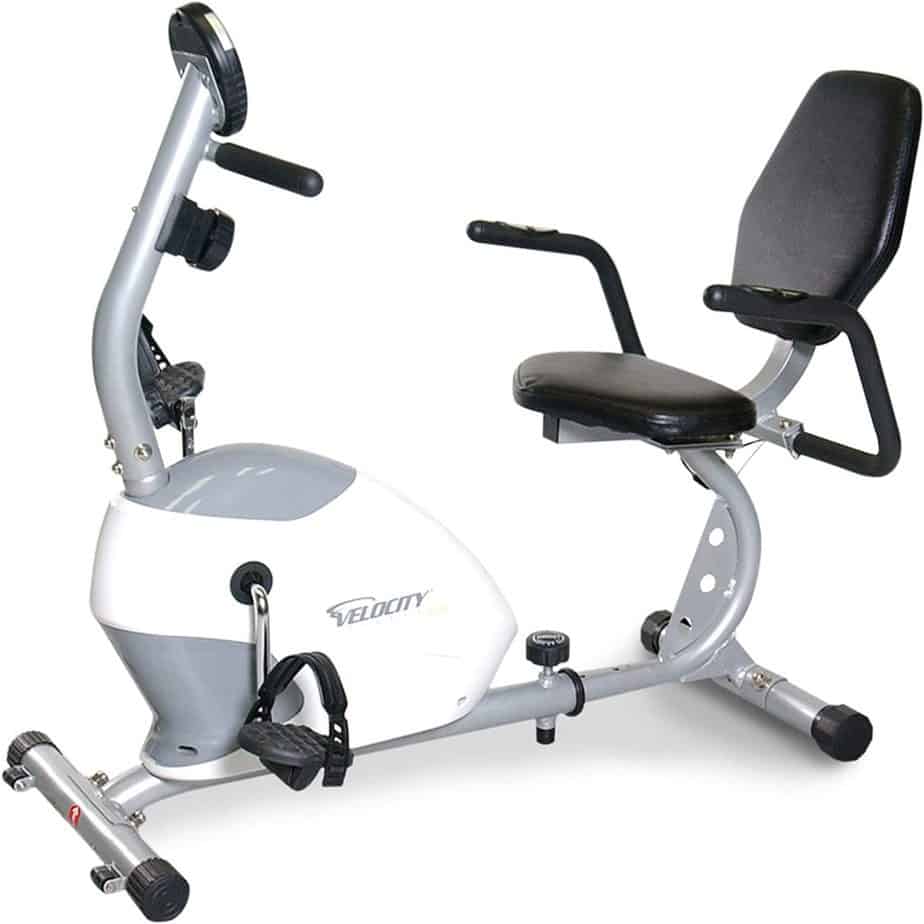 The overall construction of the Velocity Exercise CHB-R2102 Recumbent Bike is characterized by sturdiness and beauty.
Its frame is made of solid steel and It is further fortified with an aluminum powder-coated finish that prevents rust and degradation.
Just as aforementioned, the frame could be adjusted to 3 different positions at the middle of its base, so that users of different heights can be accommodated.
The base of the bike features front and rear steel stabilizers that are integrated with a rubber cap on each end of them. Thereby creating a floor-friendly base that is also stable.
The rubber caps on the rear stabilizer are polygonal in shape and adjustable. They enable the user to balance the bike on a surface that is not even, while the bike's overall stability is further boosted by its net weight of 63 lbs./28.5 kg.
Its overall assembled dimensions are 53'' long by 23.2'' wide by 37.5'' high. Consequently, the bike will require a workout area with perimeters of 4'5'' length by 2' width.
Although, it is recommended to add extra clearance of 1-2′ at the rear and on each side of the bike for a safe and proper workout experience. This is especially imperative if it is going to be used in a congested area.
It can easily be moved for storage via the integrated transport wheels at the front base.
The manufacturer of the Velocity Exercise CHB-R2102 Recumbent Bike has 30 years of experience. The equipment is independently tested and it passed a strict ASTM standard for safety and durability.
Therefore, you can purchase this bike with confidence.
The Seat Velocity Exercise CHB-R2102 Recumbent Bike
The Velocity Exercise CHB-R2102 Recumbent Bike has a large and padded seat. It is firmly screwed to the main-frame tube. Thus, it cannot independently adjust, but It does horizontally (forward/backward) when the frame is adjusted as aforementioned.
The seat provides enduring comfort that allows the user to work out longer without feeling bored, while the long backrest offers the back support needed for aggressive pedaling.
It has a set of armrests that are integrated with EKG heart rate sensors, and when they are held during a workout, the heart rate is read and transmitted to the monitor. This allows the user to track and maintain the target heart rate zone at all times.
The armrests are not adjustable as well but they do adjust with the seat when the frame is adjusted.
The Handlebar
Aside from the seat's handlebars, there is a curvy set of handlebars designated on the console mast.
They allow you to work out in a different workout posture. They (including the seat's handlebars) are coated with anti-sweat and soft rubber foam for secure and comfortable grips.
No slippage or blisters in the palms will be experienced as a result of prolonged workouts.
The front handlebars are fixed; they are not adjustable or moveable, neither are they integrated with HR sensors.
However, they are optimally positioned to be suitable for every user.
The Pedals
The bike has a large set of balanced-weighted pedals that are anti-skid designed with adjustable safety straps.
They can accommodate different foot sizes but are only meant to be ridden with a pair of standard gym shoes.
The Drive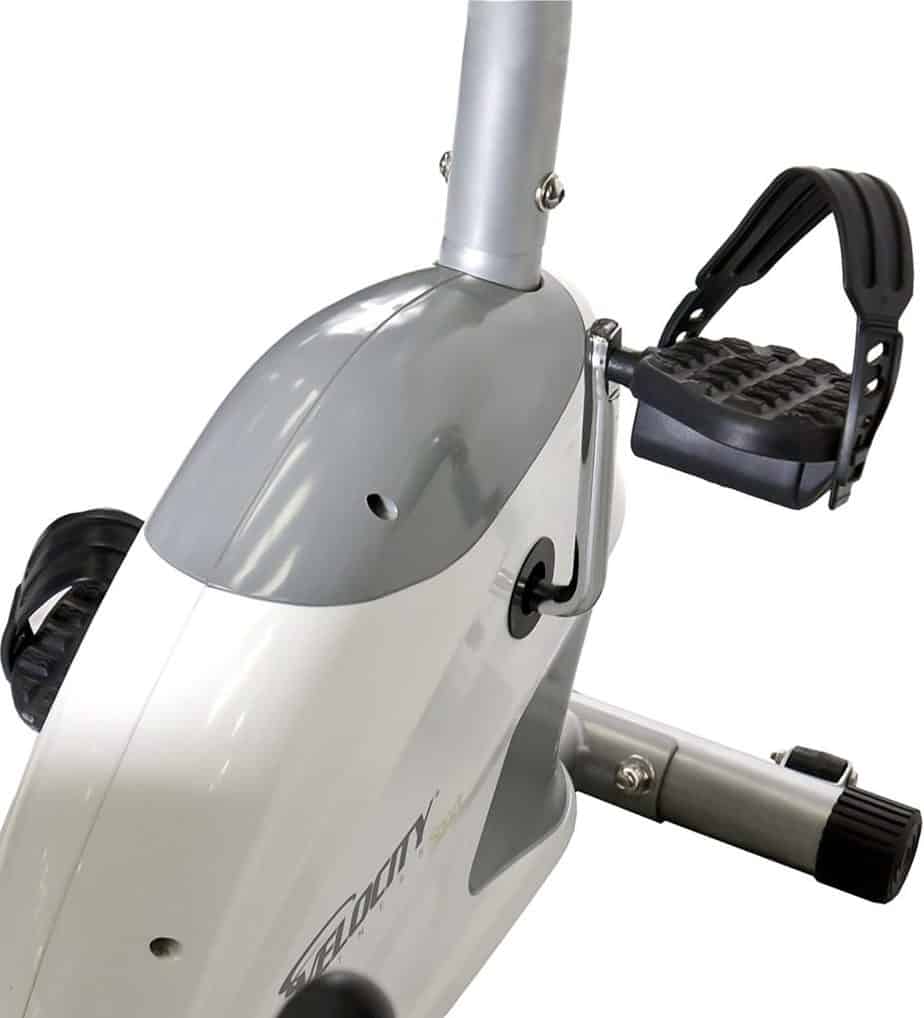 The Velocity Exercise CHB-R2102 Recumbent Bike is incorporated with a belt drive system. It comprises an anti-stretch belt, a 3-piece crankset, heavy-duty crank-arms, pulleys, flywheel, and pedals.
The drive mechanisms work together to provide a smooth and quiet operation that makes the bike a perfect option for home use.
You can work out anytime, any day without being apprehensive that the family or the neighbors might be disturbed by your activities.
The drive also does not require any sort of maintenance. No need to take its covers apart to lubricate or adjust the belt as the case with a chain drive system.
The 9 lbs./4 kg perimeter weighted flywheel provides consistent momentum for a vibration-free ride.
The drive is bidirectional, therefore, you can pedal in reverse as well to exercise more muscle groups.
The Resistance
The recumbent bike features a manual magnetic resistance system with 8 adjustable levels. It provides a variety level of intensities that are suitable for everyone that wishes to lose weight, improve cardiovascular health, strength, and endurance level.
It is frictionless; thus, the bike's operation remains smooth and quiet even when the resistance is engaged.
Resistance is generated when the magnetic brake pad emits a magnetic field around the flywheel without any friction involved.
To increase the resistance level, turn the tension knob that is attached to the mast clockwise, and anticlockwise to reduce it. The tension knob has predefined resistance levels of 1-8 inscribed on it for easy selection.
The Console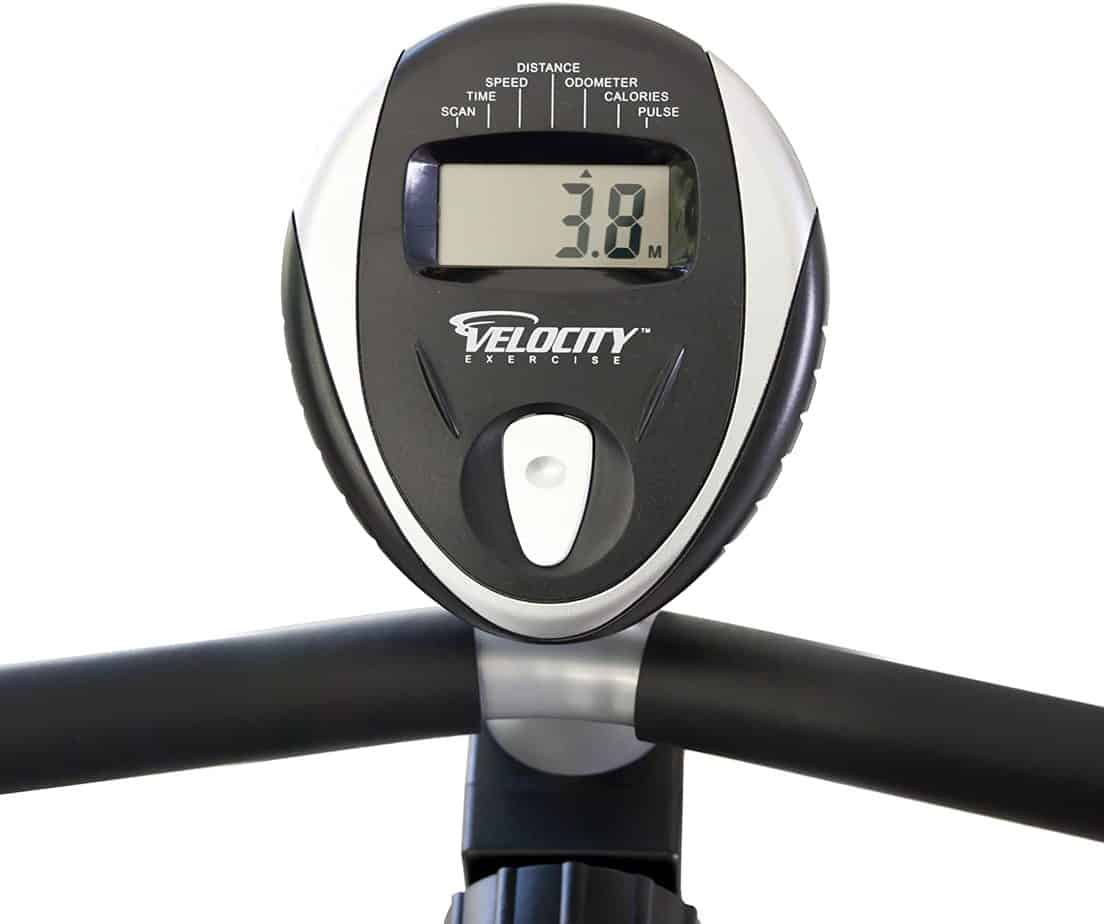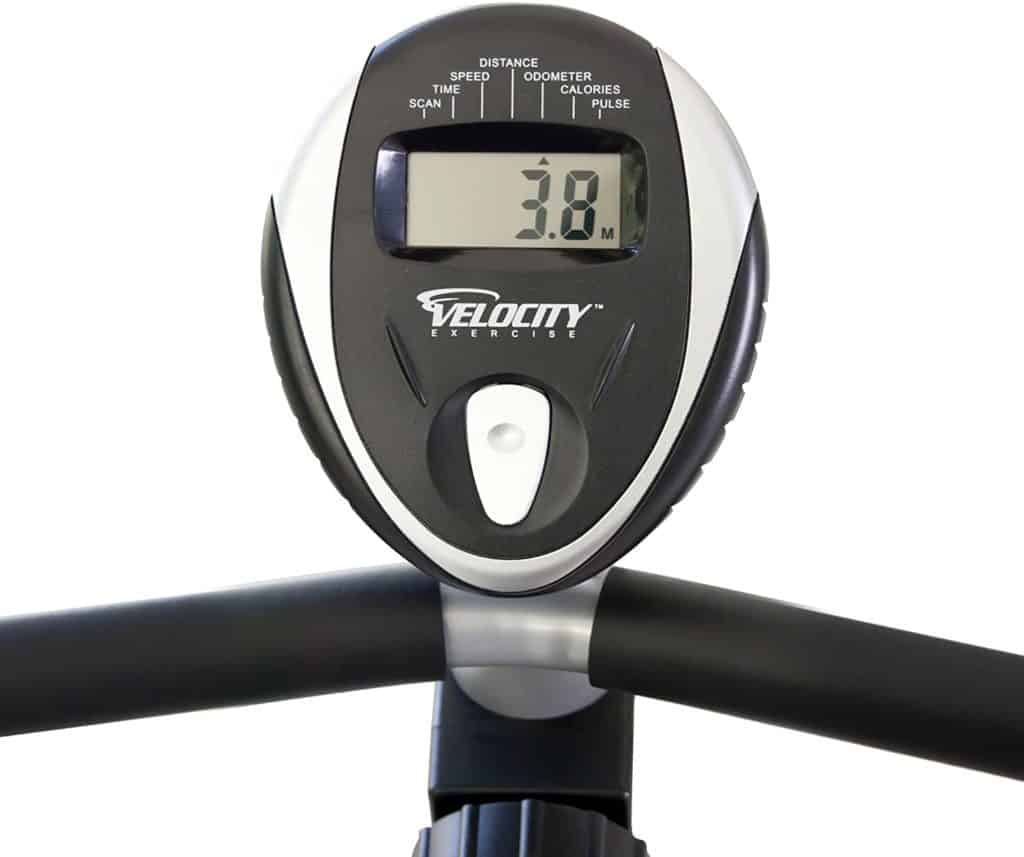 The console is as expected very basic. No workout programs, it is not telemetry-enabled and the LCD monitor is not backlit.
It features only an LCD monitor that tracks workout progress by displaying stats such as Time, Distance, Odometer, Speed, Calories, and Pulse. It is easy to read as long as it's being viewed in a well-lit room otherwise it is going to be compromised.
Of course, the monitor can only track your heart rate when the seat's handlebars with the EKG sensors on them are held during a workout.
The workout stats are displayed one at a time every few seconds and rotationally by the SCAN function. It is also possible to override the SCAN function and instead set a preferred workout stat to display constantly without switching to another.
The LCD monitor is battery-powered, and to preserve its power the monitor automatically turns OFF when there is no activity on the bike for a few minutes and it automatically turns ON when pedaling activities resume.
It can also be turned ON/OFF manually by a push of the button.
Accessory
This unit does not have any accessories, not even basic ones like a water bottle or tablet holder.
Although, most recumbent bikes aren't integrated with these accessories except for some of them such as the Pooboo W258.
The absence of the water bottle holder is not a deal-breaker because a user can always improvise to keep proper hydration during a workout.
Storage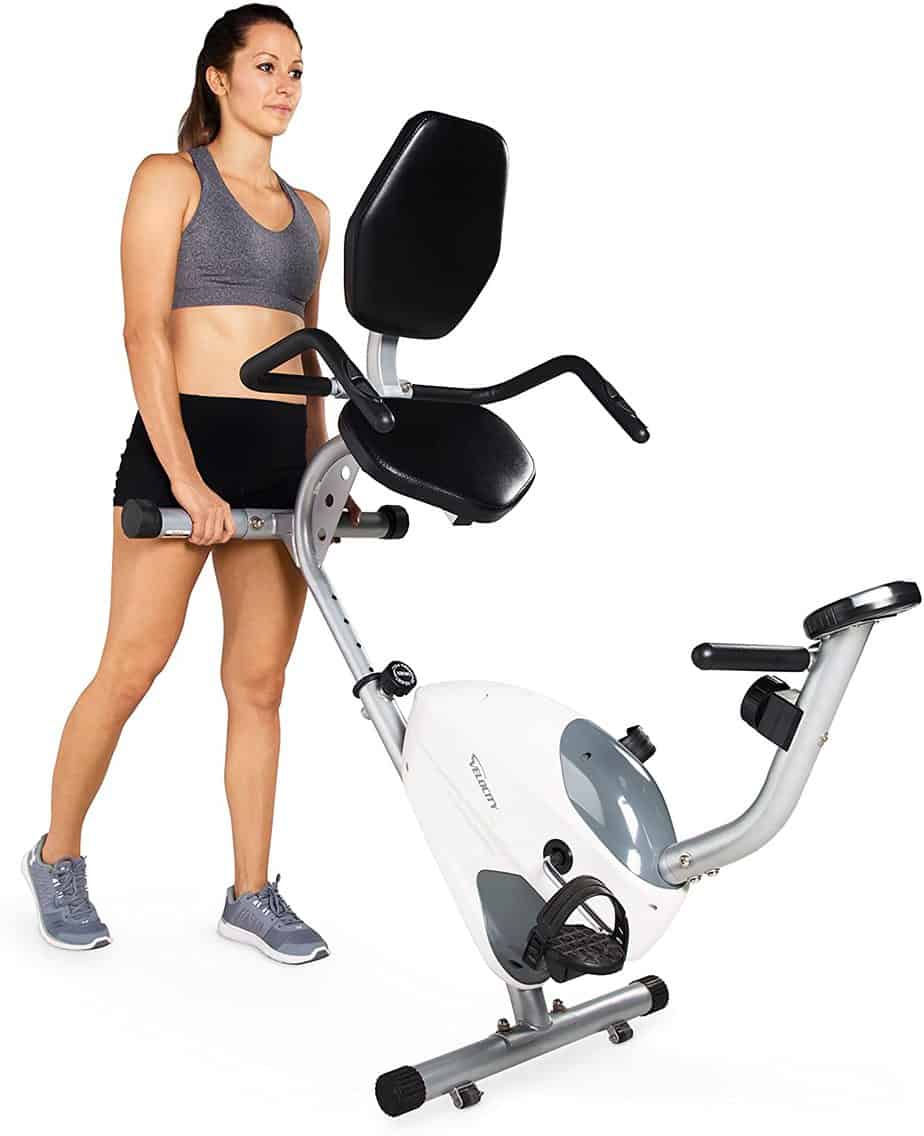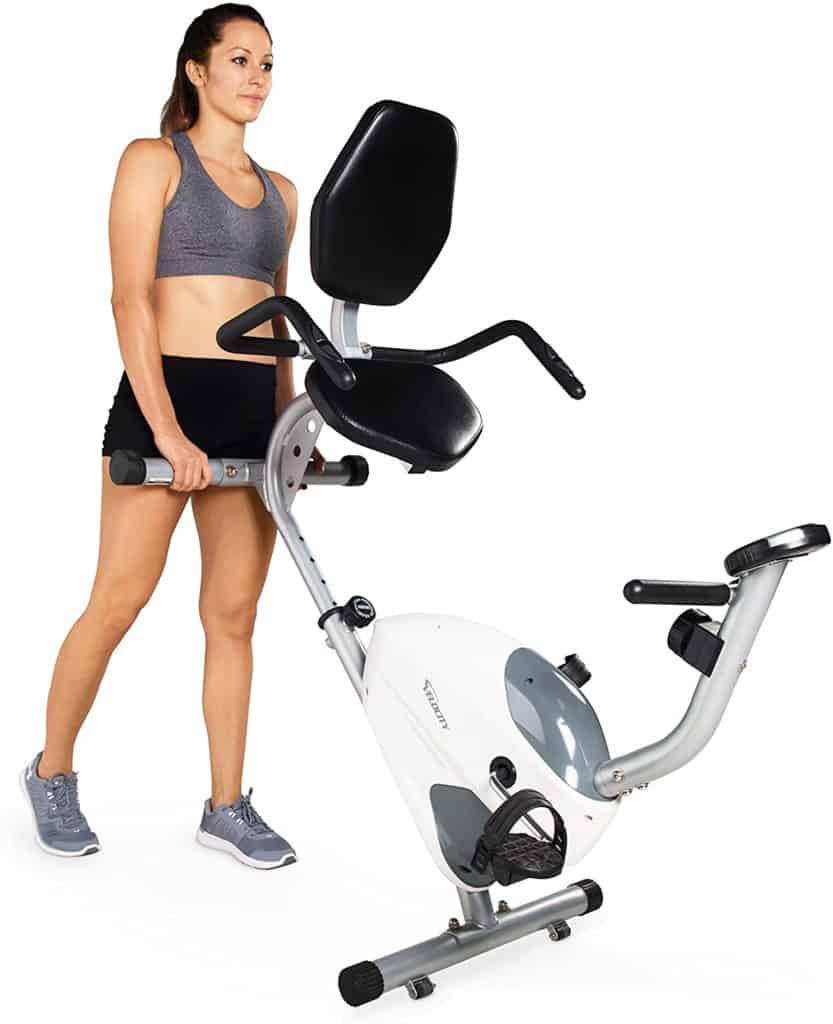 The Velocity Exercise CHB-R2102 Recumbent Bike is not very large, thus it won't take up too much storage space.
Transport wheels are also incorporated at the front base for easy relocation process for storage.
Approval Rating
The recumbent bike has several favorable Amazon customers' reviews and an overall approval rating that is impressive.
This is an indicator that users are good with the bike.
Pros/Features Overview
The bike is sturdy, stable, and durable
Supports a maximum user weight capacity of 250 lbs./113 kg
It is inexpensive
It features a solid steel frame that is powder-coated with anti-corrosive paint
It is customizable; thus, users of different heights can utilize it
The bike offers low-impact workouts that are gentle to the joints
The magnetic resistance system offers several levels of workout challenges that are suitable for weight loss, improvement of the heart and lungs' health, and toning of the muscle groups
The seat and the backrest are large and generously padded and covered with vinyl material for enduring comfort
Two sets of handlebars provide secure and comfortable grips and an opportunity to work out in different postures
It has an LCD monitor that tracks workout progress including the heart rate
It has an easy step-thru design that allows everyone to mount and dismount it easily
Transport wheels integrated for easy relocation
Low maintenance
Easy to assemble
Decent warranty
Cons
No tablet or water bottle holder
The LCD monitor is basic and nonbacklit
Warranty
5 Years for the Frame
90 Days for the Monitor
30 Days for the Parts
Product Dimensions and Specifications
Length 53''
Width 23.2''
Height 37.5''
Net weight: 63 lbs./28.5 kg
Maximum user weight capacity: 250 lbs./113 kg
Drive: Belt
Resistance: Manual magnetic
Seat: Large with backrest
Handlebar: 2 sets of nonadjustable handlebars
Pedals: Weighted anti-skid with adjustable safety straps
Frame: Steel and customizable
Heart rate monitoring: EKG contact sensors
Console/Monitor: Basic and battery-powered, nonbacklit LCD monitor tracks Time, Distance, Odometer, Speed, Calories, and Pulse
Transport wheels: Yes
Tablet holder: No
Water bottle holder: No
Flywheel: 9 lbs./4 kg in weight
Shipping
The Velocity Exercise CHB-R2102 Recumbent Bike is shipped out in a neatly packed box.
Different retailers have unique shipping policies.
However, Amazon provides free shipping and delivers the product in a couple of days.
Assembly
An average recumbent bike such as this is usually very easy to assemble. Its assembly is simple and straightforward.
With the complicated components already preassembled, you are required to join the two frames together, then attach the stabilizer bars, the seat and the handlebars, the mast, the console, and the pedals to the main core unit.
A manual and a tool kit are included in the package to help you successfully assemble the bike.
An average skilled person can put the bike together in less than an hour.
Maintenance
The bike is for the most part maintenance-free.
You only need to keep it clean always. Examine and check it for any loose or broken parts before use or periodically. Fix any problem that may occur promptly.
Conclusion
The Velocity Exercise CHB-R2102 Recumbent Bike is made by one of the most reputable brand names that have been around for decades. The manufacturer has a track record of producing a broad range of quality fitness products, including this bike.
The machine is durable, stable, and portable.
It offers the opportunity to perform cardio workouts that could transform your physical fitness for the better.