The Pooboo Magnetic W258 Recumbent Bike is one of the affordable recumbent bikes you may consider purchasing if you are on a budget. It is engineered to offer a performance that is on par with some of the expensive bikes.
It is lightweight and portable yet stable for users up to 220 lbs./100 kg in weight. Although it can support up to 330 lbs./150 kg maximum user weight capacity, the manufacturer recommends a lower user weight limit to ensure long-term usage.
Its design is pretty simple and has basic features that could help you to experience low-impact cardiovascular exercises.
The magnetic resistance system with 8 predefined adjustable levels provides a wide range of resistance intensities for users that intend to improve their overall physical well-being.
The recumbent bike is integrated with a basic digital LCD monitor that displays basic workout stats that are useful to keep you focused and motivated toward achieving your fitness goals.
It has a comfortable and adjustable seat that makes it possible for users between the heights of 5'-6'2'' to be accommodated.
Who can use it? Well, anyone that wishes to get fit or improve their physical fitness, and that includes the elderly and those undergoing physical therapy as a result of an injury.
If you need a recumbent bike that could support a higher user weight capacity than this then look up the Harison Magnetic Recumbent Bike otherwise click right here to have a peek at the price of the Pooboo Magnetic W258 Recumbent Bike on Amazon.  
The Frame and Construction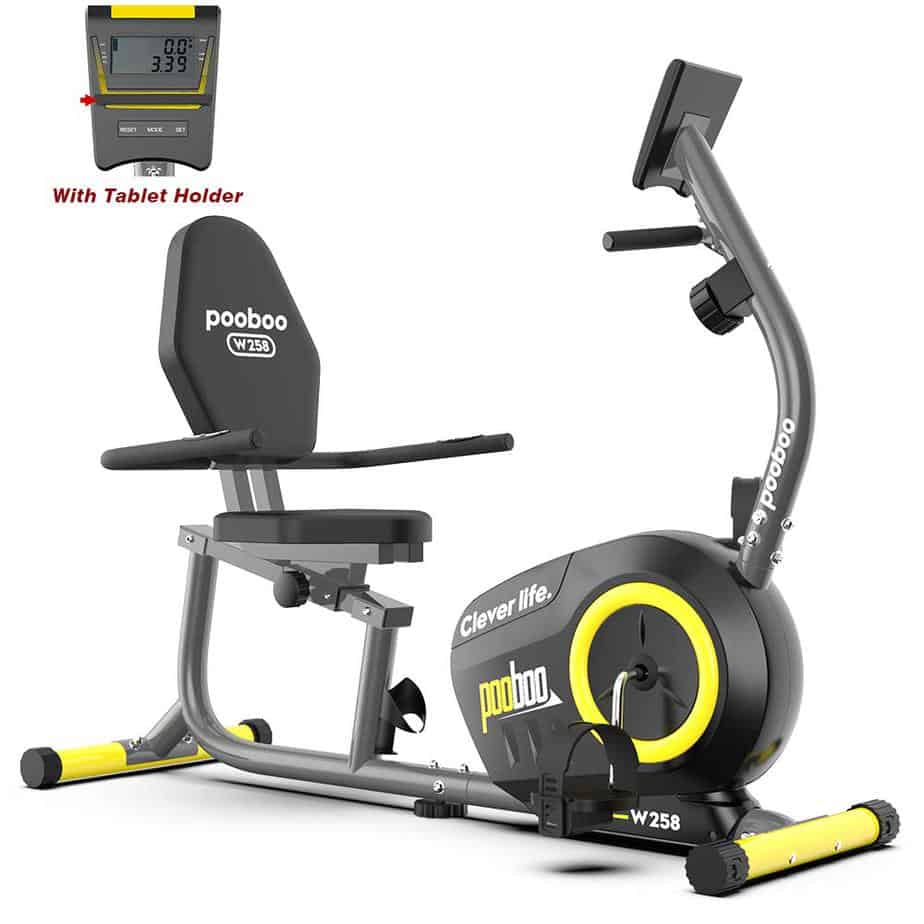 There are two versions of this recumbent bike. One has its drive/resistance system covers painted blue-black colors while the other version has its covers painted yellow-black colors. Besides the color differences, they both have the same features and price tag.
The Pooboo Magnetic W258 Recumbent Bike is designed for home use and it has a steel frame that is coated with a gray rust-resistant paint while the drive/resistance system covers are made of ABS plastic.
It is stable and it holds up when engaged in a vigorous workout due to its base framework. The base features a rounded steel stabilizer bar at the front and at the rear and a small one in the middle. There is also a rotational rubber cap on each end of the rear stabilizer bar which helps to balance the bike on any type of floor.
The recumbent bike is lightweight, only weighs 60 lbs./27 kg but it sure boosts its overall stability.
There are small transport wheels at the front base of the bike that assists in moving it from one point to the other in the room.
The Pooboo W258 Recumbent Bike is not very large but will require a little bit of space. Its overall assembled dimensions are 54'' long by 24'' wide by 39'' high. Differently put, this will need a workout area with measurements of 4'5'' length by 2' width. Also, consider additional clearance of at least 2' all around it for safety and easy access.
Speaking of safety and easy access, the bike has a step-thru design that makes it a lot easier for anyone to get on and off the bike without hassle. You can literally walk through and sit on the seat and walk out when you are done exercising.
The Seat of the Pooboo Magnetic W258 Recumbent Bike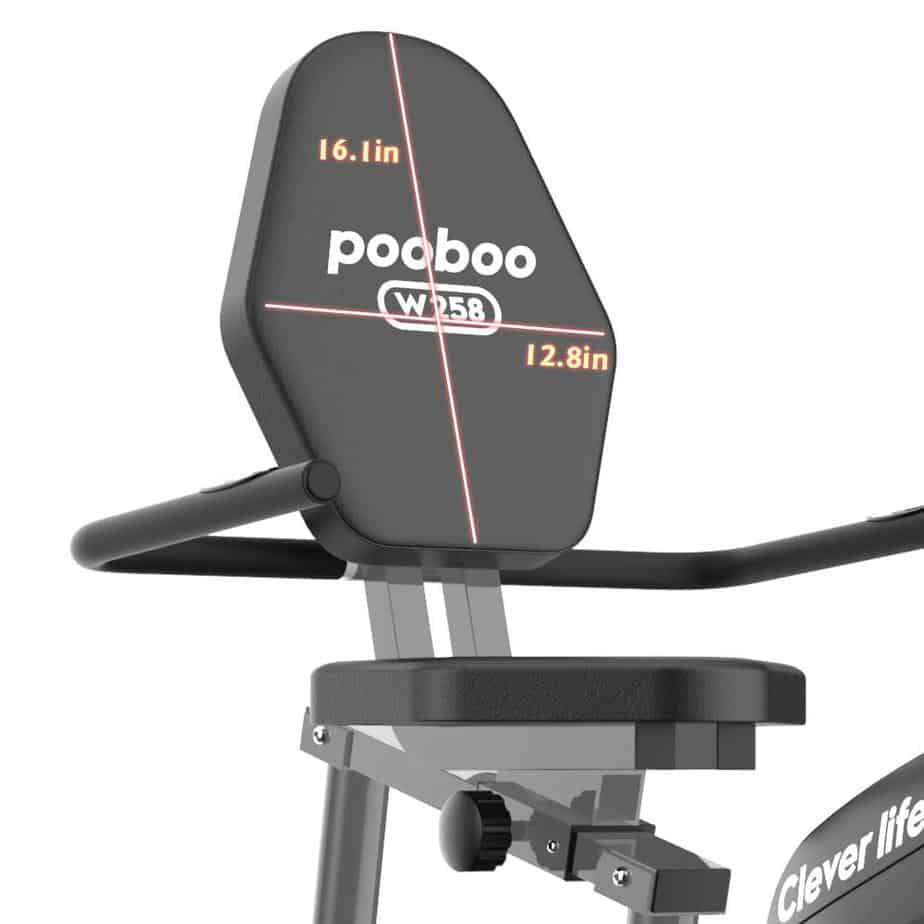 The seat is designed to provide comfort and to last longer. It is padded up to 2'' thick, (including the backrest), covered with vinyl material and large enough to accommodate users of different sizes. The dimensions are 11.8'' L x 12.6'' W.
It could be adjusted back and forward to enable you and anyone else to have a proper leg extension to the pedals. The seat's height also slightly changes to high and low positions when it is being adjusted due to the slanted rail it's attached to.
The seat adjustment is done via the knob below it on the side of the steel rail. Simply loosen the knob and slide the seat either backward or forward as the case may be and tighten it up when the desired position is achieved. It is as simple as that and it takes only a few seconds to get it done.
It is important to note that the backrest cannot be adjusted independently and its dimensions are 16.1'' Long by 12.8'' wide.
There is an armrest with EKG HR sensors on each side of the seat. These armrests provide you with the grips needed in order to pedal vigorously while comfortably sitting back. Moreover, your heart rate data is being transmitted to the monitor when the HR sensors are held during a workout so that you can maintain your target heart rate zone.
The Handlebar of the Pooboo Magnetic W258 Recumbent Bike
Aside from the side armrests, the recumbent bike also has slightly curvy handlebars attached to the front mast. These handlebars are simple and non-adjustable. They are coated (including the armrests) with a rubber foam material that provides secure and comfortable grips.
The Pedals
The Pooboo Magnetic W258 Recumbent Bike is equipped with a pair of anti-slip rubber pedals with a metallic core. They also have adjustable safety straps that help to further secure the feet from slippage during intense pedaling.
They are designed to accommodate standard gym shoes.
The pedals are balance-weighted.
The Drive
The Pooboo Magnetic W258 Recumbent Bike features a belt drive system that comprises of a durable V-belt, solid crankset and crank-arms, a small flywheel that weighs 7.7 lbs./3.4 kg, and the pedals.
This is a common and popular drive system that is often found on modern indoor bikes due to its smooth and quiet operation and the fact that it doesn't require any post maintenance such as lubrication.
Hence, you can work out as it pleases you at any time of day because no one will complain about your activities interfering with theirs. Moreover, you don't have any obligation to carry out any maintenance as it requires none.
The drive system is bidirectional; meaning you can pedal in reverse if you so wish.
The Resistance System
The Pooboo W258 Recumbent Bike is integrated with a manual magnetic resistance system that offers 8 adjustable levels. It is a simple and basic resistance system that does not require to be plugged into a power outlet, neither can it be controlled via the console.
It has a control knob also known as the tension knob that could be used to increase or decrease the resistance intensity. Turn it clockwise to increase the resistance or anticlockwise to decrease it.
The bike's operation is smooth and almost vibration-free when the resistance is engaged due to the fact that there is no friction between the resistance mechanism elements. Resistance is simply generated when the magnetic pad emits a magnetic field on the premises of the flywheel.
As a result, no part wears out and consequently, no part requires to be replaced.
The resistance levels provide adequate resistance intensities that are suitable for those that are recovering from an injury, those that wish to burn fats and lose weight, and of course anyone that generally wishes to improve the overall physical well-being.
The Console
This bike comes with a digital display meter. The monitor tracks workout stats such as Time, Distance, Speed, Calories Burned, Odometer, and Pulse. These are useful data that keep you motivated and focused.
There is also a SCAN function that is responsible for displaying the workout data one at a time after every few seconds because the monitor cannot simultaneously display all the workout data. However, you can choose to set a certain preferred workout value to display constantly.
The display readability is good as long as it's being viewed in a room with good lighting.
There are also goal settings for Time, Distance, and Calories. The 3 buttons on the console help you to navigate through the available functions and they are easy to use. Distance and Speed are measured in km.
There is a built-in tablet holder on the console for the placement of your tablet device.
The console is not backlit, not telemetry-enable, meaning it's not compatible with a wireless HR chest strap (heart rate is read via the sensors on the armrests), there are no preset programs, no Bluetooth function or online connectivity.
The monitor is powered by 2 AAA batteries.
Accessory
The Pooboo Magnetic W258 Recumbent Bike has extras such as a water bottle holder for maintaining good hydration and a tablet holder for entertainment during a workout.
Both of these accessories play a crucial role in experiencing outstanding and productive workouts.
They are designated in strategic places that allow you to easily have access. Nevertheless, the monitor's screen gets blocked when a tablet device is placed on the holder thereby depriving you of observing your workout progress and getting entertained at the same time.
Storage
The recumbent bike is easy to store away. The reason is that it's lightweight and has small transport wheels at the front base.
It is not foldable; thus, it will require a storage area with measurements of 4'5'' length by 2'' width.
Approval Rating
Pooboo has been in the record for manufacturing good home fitness equipment and the Pooboo Magnetic W258 Recumbent Bike is no different. Hence, most users on Amazon have reacted positively as regards the bike's overall construction, performance, and usability.
Pros/Features Overview
Steel frame
Sturdy and stable
Supports 220 lbs./100 kg maximum user weight capacity
Users of different heights (5'-6'2'') can use it
The seat is adjustable and accommodative
Two sets of handlebars (armrests and the front handles)
Integrated with a belt drive system that provides smooth and quiet operation
The manual magnetic resistance system offers 8 resistance levels suitable for losing weight, injury recovery, and the improvement of the overall physical fitness
Anti-slip balance-weighted pedals with adjustable straps
Step thru design allows you to get on and off the bike easily
The LCD monitor tracks your workout progress
EKG pulse contact sensors
Goal setting functions for Time, Distance, and Calories
Maintenance is almost non-existent
Water bottle holder included
A tablet holder included
Assembly is relatively easy
Cons
The monitor is not backlit or telemetry-enabled
No Bluetooth or online connectivity
The display gets covered when a tablet device is placed on the holder
Product Dimensions and Specifications
Length 54''
Width 24''
Height 39''
Shipping dimensions: 37'' L x 14'' W x 21'' H
Maximum user weight capacity: 220 lbs./100 kg
Weight: 60 lbs./27 kg
Shipping weight: 66 lbs./30 kg
Flywheel: 7.7 lbs./3.4 kg
Drive: Belt
Resistance: Manual magnetic with 8 adjustable levels
Console: Non-backlit LCD monitor tracks Time, Distance, Odometer, Speed, Calories, Pulse; has a SCAN function
Goal setting functions for Time, Distance, and Calories
Pedals: Textured with adjustable safety straps
Seat: 2-way adjustable with backrest
Handlebar: 2 sets (armrests and front handlebars)
EKG pulse sensors: Yes
Telemetry-enabled: No
Transport wheels: Yes
Tablet holder: Yes
Water bottle holder: Yes
Shipping
The Pooboo Magnetic W258 Recumbent Bike is shipped in a box that weighs 66 lbs./30 kg and with dimensions of 37'' L x 14'' W x 21'' H.
It is usually shipped out free of charge (free standard shipping) by Amazon and delivered to you in a couple of days.
Assembly
The assembly of this bike is not really difficult as it comes with its major components such as the drive/resistance system already assembled.
You are expected to assemble the 2 pieces of the steel frame, the front mast, the stabilizer bars, the seat and the backrest, the handlebars, the pedals, and the console.
The assembly could take about an hour or more. There is also an instruction manual that clearly walks you through the process. The tools needed for assembly are included in the package too.
Maintenance
No serious maintenance is needed.
Basically, keep it clean at all times and ensure that the console does not get in contact with liquid. Examine the bike before use for any loose or broken part; respond accordingly if there is any problem.
Conclusion
The Pooboo Magnetic W258 Recumbent Bike is an affordable bike designed for home use. It is constructed to support up to 330 lbs./150 kg maximum user weight capacity, but for the sake of durability, the manufacturer recommends a maximum user weight capacity of 220 lbs./100 kg or less.
Its operation is smooth and quiet and has a manual magnetic resistance system with 8 adjustable levels that could help you burn fats, tone muscles, and ultimately improve your overall physical fitness.
[rank_math_rich_snippet]