The Pooboo Commercial A6 Challenger Cycling Bike is one of those smooth sleek bikes that are also lethal to calories. In other words, it's not only elegant but equipped with the features that help you to realize your fitness goals.
It has a 38 lbs./17 kg flywheel that maintains steady and consistent motion, a 2-way multi-grip handlebar that offers 3 grip positions, a 4-way adjustable seat that provides comfort and accommodates users of different heights and sizes.
The belt drive transmission is smooth and quiet, while the magnetic resistance system offers unlimited resistance that is vibration-free when engaged during a workout.
The cardio-oriented cycling bike engages the core, and the leg muscle groups even as it improves the heart and the lungs' health.
It is a rear-driven magnetic cycling bike that has a design as the Flywheel Exercise Bike.
Click right here to have a peek at the Pooboo A6 Challenger Cycling Bike.
Frame and Construction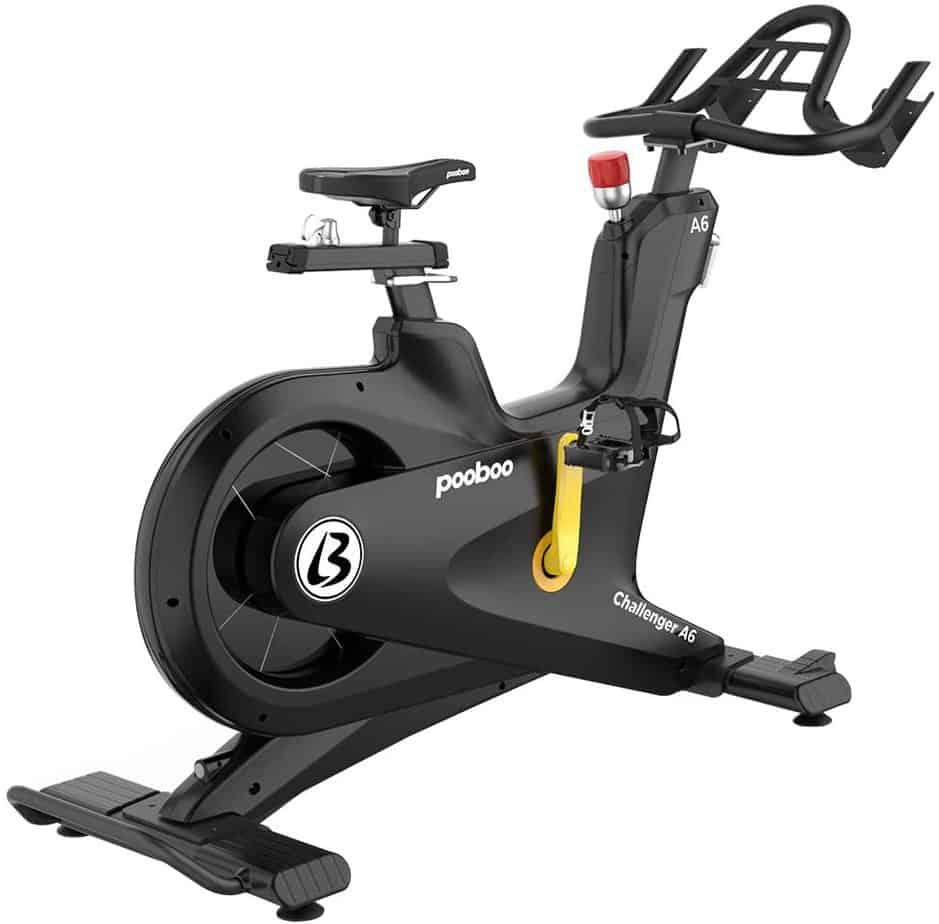 The Pooboo Commercial A6 Challenger Cycling Bike is a commercial-grade unit. It could be used in a commercial gym or at home.
Its frame is made of thick 2.5T-3.5T refined steel that ensures outstanding sturdiness, while the coverings for the frame are made of ABS material. As a result, the bike supports 330 lbs./149.6 kg maximum user weight capacity and its fluent outline design exhibits a premium quality that also exits as a decoration in the room.
Its robust base framework features steel stabilizers with adjustable rubberized levelers. Hence, it is floor-friendly and stable on crooked surfaces. Moreover, its net weight (136 lbs./136 kg) further grounds and boosts its overall stability.
Therefore, no shaking or wobbling will be experienced even during an intense workout.
The transport wheels and the lifting handle at the rear facilitate the relocation process of the bike.
The Pooboo Commercial A6 Challenger Cycling Bike is slightly larger than an average bike. It has dimensions of 63.4'' long by 21.3'' wide by 49'' high. Differently put, it requires a workout area with perimeters of 5'3'' length by 1'8'' width.
It is also recommended to consider adding extra clearance of 2' at the rear and on each side of the bike for safety and easy access reasons.
The Seat of the Pooboo Commercial A6 Challenger Cycling Bike
The seat is professionally and ergonomically designed, padded, and contoured to ventilate air swiftly and provide great comfort to your every ride.
It's 4-way adjustable; it could be adjusted vertically (upward/downward) to up to 31 levels and a couple of inches horizontally (fore/aft). The clear laser marks engraved on the seat adjustment tube make the adjustment a walk in the garden and takes only a few seconds to accomplish.
Hence, it is customizable and can accommodate different users, and is the best for family use.
The Handlebar
The Pooboo Commercial A6's multi-grip handlebar is integrated with a polymer smooth plastic. The high-density smooth dip plastic is anti-corrosive and provides a secure and comfortable grip. You won't feel blisters in the palms or slippage as a result of sweaty hands during a prolonged workout.
The different grip positions it offers include mountain climbing riding mode, standing riding mode, and seated riding mode.
It is integrated with a tablet and water bottle holders for entertainment and hydration purposes.
It can be adjusted vertically (upward/downward) to up to 17 levels. This is complementary to the seat's adjustability and the bike's overall customizability.
The Pedals
The Pooboo 6A Commercial Bike is equipped with anti-skid toe caged pedals with adjustable safety straps. They accommodate different feet sizes but only allow conventional gym shoes to be used.
Your feet will be optimally and comfortably secured at all times, even during an intense workout.
The aluminum alloy-made pedals are attached to a durable heavy-duty crank that supports stand-up pedaling.
The Drive
The Pooboo Commercial A6 Challenger Cycling Bike has a belt drive system. It is a popular drive system that consists of an anti-aging belt, a heavy-duty crank, and the 38 lbs./17 kg chromed flywheel.
It provides outstanding operation that is characterized by smoothness, and quietness, while the heavy-duty flywheel ensures consistent and vibration-free motion.
Its operation makes the bike more family and home-friendly. This simply means you or anyone else can work out with the bike at any time of the day without invading other people's privacy.
You can also engage in other activities while working out such as watching your favorite TV show or listening to good music as a way of distraction or motivation.
The drive requires no maintenance as opposed to a chain drive system. No periodic lubrication or adjustment is needed.
The Resistance
The Spin bike is incorporated with a manual magnetic resistance system with unlimited resistance levels.
This also creates an unbelievably smooth and superlative silent ride when engaged.
It requires less to no maintenance when compared with a friction resistance system. In other words, its mechanisms include 3 pieces of 4500 gauss magnets, and the flywheel doesn't come in contact to generate resistance.
Instead, the magnets emit a magnetic field around the premise of the flywheel to generate resistance.
Thus, no part wears out and no replacement or maintenance is needed.
The tension knob is connected to the magnets via a cable so that when it is turned clockwise or counterclockwise the resistance intensity increases or decreases respectively as the case may be.
Push the tension knob down to apply the emergency brake whenever you wish to take a break from pedaling.
The bike functions without being plugged to a power outlet, a total contrast to the KETTLER Racer 7 that needs to be plugged because it has an automatic magnetic resistance system.
The Console
Well, the Pooboo Commercial A6 Challenger Cycling Bike doesn't have any console, but it does have a tablet holder that is perfectly designated for a better view when a tablet device is placed on it.
Accessory
Aside from the built-in tablet holder, the bike also has water bottle holders that could be used for a water bottle and the placement of other stuff like keys, remote controller, etc.
Therefore, you will be able to keep water within reach for proper hydration and a smartphone/tablet for entertainment or YouTube workout instruction video.
Storage
The bike is pretty easy to roll out for use or away for storage. The integrated transport wheels at the front base help you to tilt and roll it away by lifting it through the handle at the rear base.
However, it does require a little bit of space for storage, and it would be best if you can afford a dedicated workout area to leave it on. Otherwise, it could be stored in a garage, or by the wall.
Pros/Features Overview
It has a highly durable steel frame
It is stable and sturdy
Supports a high maximum user weight capacity of 330 lbs./149.6 kg
It is elegant exists as a decoration in the room
Its operation is smooth and quiet
It is customizable; thus, users of different heights can be accommodated
It provides cardio workouts for weight loss, improvement of heart and lungs' health, toning the core and lower body muscle groups
The manual magnetic resistance system provides unlimited resistance intensities suitable for all users
The balance weighted toe caged pedals with adjustable safety straps accommodate different feet sizes and comfortably secure them
The multi-grip handlebar allows a user to workout in different positions and provides a secure and comfortable grip as well
The seat is contoured, padded, and designed to ventilate air swiftly for maximum comfort
A tablet holder is included
Water bottle holders included
Low maintenance
Easy to assemble
Cons
It doesn't have a console/monitor/heart rate monitoring/workout program
No online app connectivity
The pedals are not SPD
Product Dimensions and Specifications
Length 63.4''
Width 21.3''
Height 49''
Shipping dimensions: 53'' L x 38'' W x 12'' H
Maximum user weight capacity: 330 lbs./149.6 kg
Net weight: 136 lbs./61.6 kg
Gross weight: 152 lbs./58.9 kg
Drive: Belt
Resistance: Manual magnetic, unlimited levels
Frame: 2.5T-3.5T refined steel
Seat: 4-way adjustable
Handlebar: 2-way adjustable, multi-grip designed
Pedals: Toe caged with adjustable safety straps
Water bottle holders: Yes
Tablet holder: Yes
Transport wheels: Yes
Shipping
The Pooboo Commercial A6 Challenger Cycling Bike is shipped in a box that weighs 152 lbs./58.9 kg with dimensions of 53'' L x 38'' W x 12'' H.
Amazon provides free shipping and makes the delivery in about a couple of days.
Assembly
The bike's assembly is easy and straightforward. Assembly instructions and the tools are included in the package.
It takes less than an hour to completely assemble and doesn't require a highly skilled person to do it.
Maintenance
The unit is almost maintenance-free due to its drive and resistance systems.
You only need to keep it clean always and ensure to examine it for any loose or broken part before use or periodically to prevent an accident or further damage to it.
Conclusion
The Pooboo Commercial A6 Challenger Cycling Bike is a strong and durable bike designed for commercial and home use.
Its overall design guarantees exceptional workout experiences that help the user to quickly transit to improved physical fitness.