The MaxKare Recumbent Exercise Bike is compact like an average spin bike, and it has a similar build as the Pooboo W528 Recumbent Bike.
It offers low-impact and comfortable cardio workouts that could help you to lose weight, and tone the core and lower body muscle groups.
It is equipped with a manual magnetic resistance system with 8 adjustable levels that control workout intensities when adjusted and it has a belt drive system that ensures smooth and quiet operation.
It is home-friendly; it doesn't occupy too much space and doesn't generate an annoying sound that might be intrusive.
Despite its small frame, it can accommodate users between the heights of 4'8''-6'5'' tall, thanks to the seat's adjustability.
The bike doesn't need to be plugged into a power source to be functional, except the monitor that runs on batteries which are included in the package.
Click right here to have a peek at the MaxKare Recumbent Exercise Bike on Amazon.
The Frame and Construction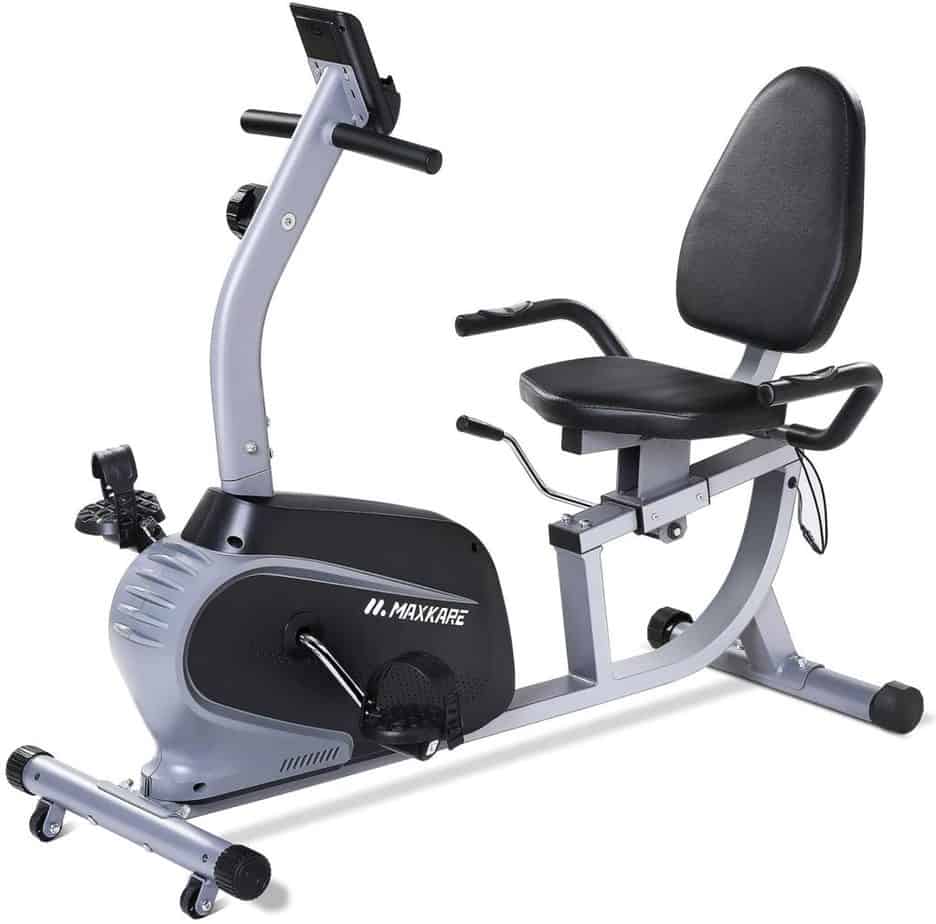 The frame of the MaxKare Recumbent Exercise Bike is made of solid steel and coated with anti-corrosive paint for longevity, while other parts such as the drive/resistance system and the console coverings are made of ABS material.
The bike supports a maximum user weight capacity of 300 lbs./136 kg.
Its overall assembled dimensions are 45.7'' long by 18.9'' wide by 41.7'' high. That's pretty much a small footprint when compared to an average recumbent bike.
Consequently, the bike requires a workout area with perimeters of 3'8'' length by 1'6'' width. Although, it's recommended to consider adding extra clearance of 1-2′ at the rear and on each side of it for safety, and easy access; and to cover the additional space the armrests and the seat may require, especially when the seat is adjusted all the way to the back.
The bike's stability is well established due to the base framework that features front and rear steel stabilizers with a rubber cap on each end. The polygonal rubber caps on the rear base rotate, hence, they serve as levelers that enable the user to balance the bike on a surface that is not even.
Moreover, the bike's overall weight of 62 lbs./28 kg further stabilizes it.
It has a step-thru design that literally allows a user to walk in and out of the seat hassle-free; a big deal for those with joint pain or arthritis.
The Seat of the MaxKare Recumbent Exercise Bike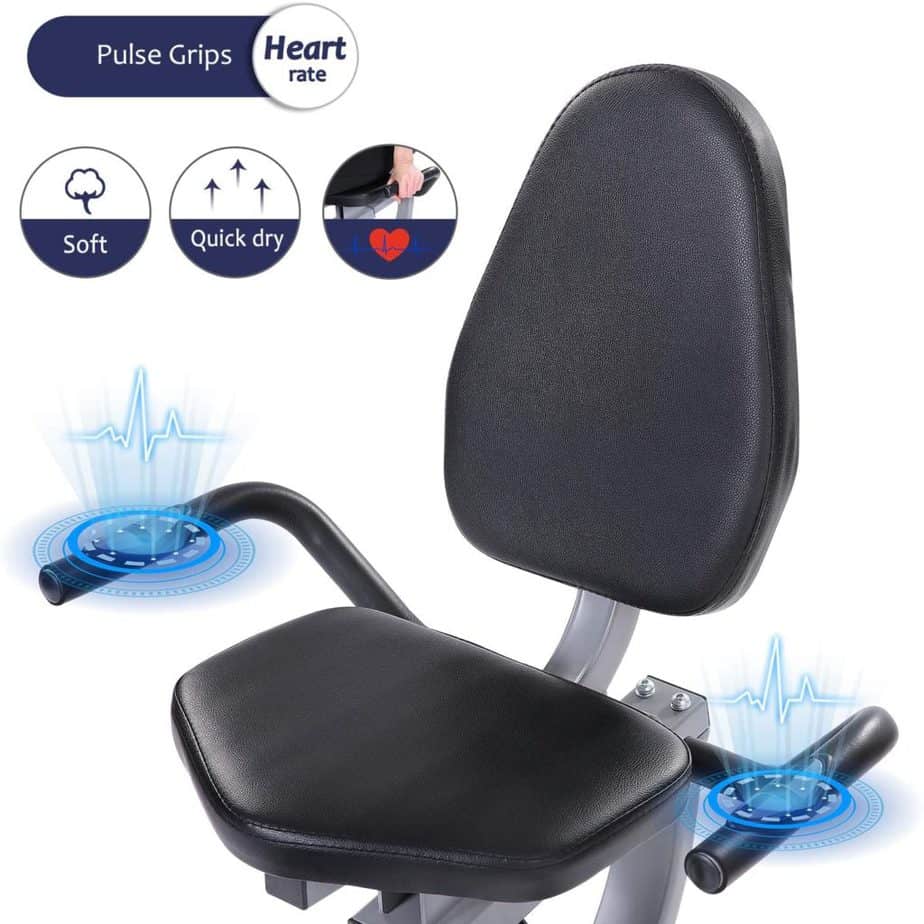 The recumbent bike has a large comfortable seat with a backrest.
The seat's dimensions are 11'' length by 14.5'' width by 1.5'' thick. These indicate that it has enough space for the butt and is well-padded (covered with vinyl material) for maximum comfort.
The same could be said about the backrest as well; it is wide and long enough for proper back support when performing the sit-back pedaling.
The seat is attached to a wide steel rail and could be adjusted back and forth to accommodate users with inseams of 27"-35'' (the length of the inner thigh to the ankle). However, the backrest is fixed in a reclining position that is not adjustable.
There is an armrest integrated with EKG heart rate sensors on each side of the seat. Your heart rate data is transmitted to the monitor when they are held during a workout so that you may track and maintain your target heart rate zone at all times.
These armrests also provide you with the support needed during a workout for aggressive and comfortable pedaling.
They are not independently adjustable, but they do with the seat.
The Handlebars
Aside from the armrests/handlebars mentioned above, there is also a set of curvy handlebars at the front mast of the bike. These are alternative grips you can use when you wish to change your workout posture.
They are designed and positioned to reduce the impact on the wrists.
They don't have the HR sensors incorporated into them as the side armrests, thus, your heart rate cannot be read when you use them.
Both the side armrests and the front handlebars are coated with adequate soft rubber foam that provides secure and comfortable grips. In other words, no slippage or soreness will be felt during a prolonged workout session.
Finally, the front handlebars are not adjustable but are slightly inwardly curved to provide universal suitability to all users and they are fixed and not moveable.
The Pedals
The MaxKare Recumbent Exercise Bike comes with a set of anti-skid pedals that are made of plastic and a metallic core. They also have adjustable safety straps that secure the feet and prevent slippage during an intense workout.
These pedals are balance-weighted and are designed to be used with standard gym shoes only and cannot be ridden while standing on them.
The Drive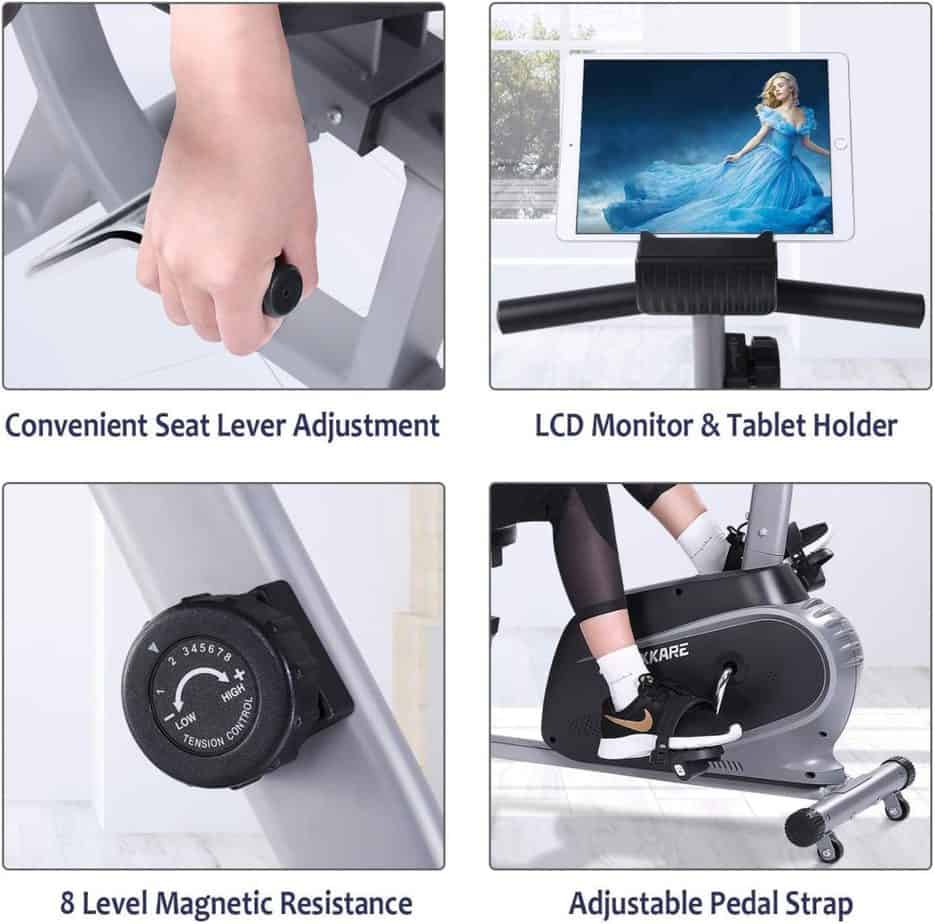 The unit is equipped with a belt drive system that comprises a durable anti-stretch belt, crankset and crank-arms, pulleys, pedals, and of course a small balance weighted flywheel that weighs 7 lbs./3 kg with dimensions of 200 mm x 72.5 mm.
These elements work together to provide smooth, quiet, and consistent pedaling operation.
As a result, the bike can be used at any time of the day regardless of the family or the neighbors are around because they won't be disturbed by your workout activities.
Moreover, the belt drive system doesn't need to be maintained; no periodic lubrication or adjustment will be required. However, there might be the need to replace the belt at some point in time, but this usually takes time to occur.
The drive is bidirectional; meaning you can pedal forward and in reverse as well.
The Resistance
The MaxKare Bike has a manual magnetic resistance system with 8 adjustable levels.
It is a frictionless resistance system that uses a magnetic brake pad and a flywheel to generate resistance. Thus, no part wears out, and no replacement of any part is required.
Moreover, the operation of the bike is smooth, quiet, and vibration-free when the resistance is applied.
A variety of resistance intensities can be attained; for instance, 1 to 2 resistance levels are suitable for gentle exercise that involve the circulation of blood, 3 to 5 levels are great for the improvement of the heart and lungs' health.
While 6 to 8 levels intensify your workout for weight loss and strengthen the bones and muscle groups.
To increase and decrease the resistance levels, turn the tension knob that is attached to the right side of the mast clockwise and anticlockwise respectively.
The tension knob has resistance levels inscribed on it to enable you to know the level you are exercising with.
The Console
Just as expected, the console on the MaxKare Recumbent Exercise Bike is basic. It features a nonbacklit LCD monitor that is not telemetry-enabled. However, your heart rate can still be tracked via the use of the HR sensors on the seat's handlebars.
The monitor displays data with high readability but could be compromised if viewed in a poorly lit environment.
It tracks workout stats such as Time, Speed, Distance, Calories Burned, and Pulse to keep you focused and motivated on achieving your fitness goals.
There is also a SCAN function that displays the workout stats rotationally one at a time after every few seconds since the screen can only show a workout stat at a time.
However, if you wish to constantly view a certain workout value, you can override the SCAN function and set the value of your choice.
You can also set workout goals for Time, Distance, and Calories.
The monitor is battery-powered; it requires 2 AA batteries which are also provided and included in the package by the manufacturer.
To conserve the batteries' power, the monitor automatically shuts down when there is no pedaling activity on the bike, and it automatically turns ON once the activity resumes.
There are 3 navigation buttons on the console which include the Set, Reset, and Mode buttons.
The Mode and the Set buttons are used to select and set a certain workout value you wish to view constantly and for the setting of workout goals as well, while the Reset button allows you to clear the existing data from the screen.
Accessory
The unit has a tablet holder integrated into the console. It is large enough to conveniently accommodate a big tablet.
Consequently, this opens up a whole new level of workout and entertainment experience. You will be able to engage in necessary distractive activities such as watching a movie, viewing exotic scenery, or listening to music while working work.
Storage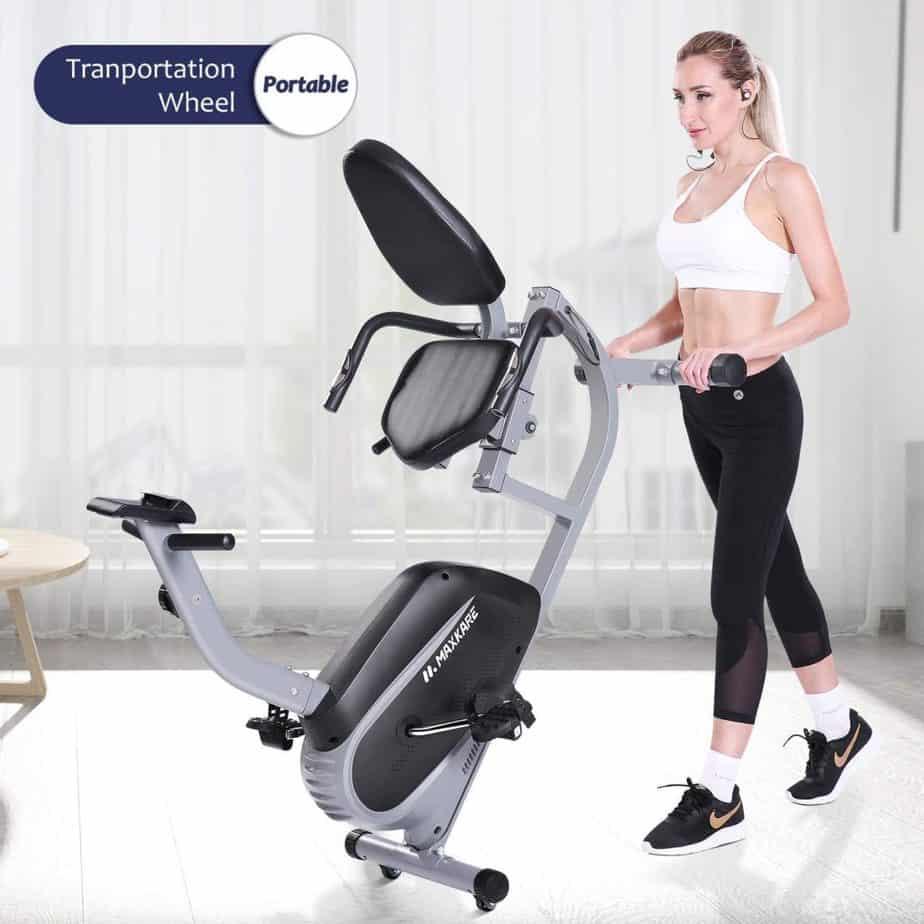 The MaxKare Recumbent Bike is compact, lightweight, and portable. These are all recipes for easy storage.
It doesn't require much storage space; actually, a storage area with perimeters of 3'8'' L x 1'6'' W will suffice, and there are transport wheels at the front base for an easy relocation process.
Approval Rating
This unit is pretty popular; it has a lot of positive reviews on Amazon and with an impressive overall approval rating.
Pros/Features Overview
Durably and sturdily built
It's compact, lightweight, and portable
It's affordable
It supports a maximum user weight capacity of 300 lbs./136 kg
Integrated with rear adjustable levelers for stability
The seat is horizontally adjustable, supports users with inseams of 27''-35''
There are 2 sets of handlebars that support different workout postures
Its operation is smooth, quiet, and vibration-free
The magnetic resistance system with 8 adjustable levels provides different workout challenges suitable for most users.
The anti-skid pedals with adjustable safety straps secure the feet comfortably
The easy step-thru designed frame allows users to quickly mount and dismount the bike regardless of their fitness status
The monitor tracks workout progress by displaying distinct stats such as Time, Speed, Distance, Calories, and Pulse
EKG contact pulse sensors read your heart rate
Goal setting functions for Time, Distance, and Calories
Tablet holder included
Batteries for monitor included
Low maintenance
Not difficult to assemble
Cons
The LCD monitor is not backlit
No sound system, cooling fan, or workout programs
No water bottle holder
A tablet device placed on the holder may block the view of the monitor
BUY IT NOW FROM AMAZON
Warranty
Product Dimensions and Specifications
Length 45.7''
Width 18.9''
Height 41.7''
Shipping dimensions: 27'' L x 10'' W x 23'' H
Gross weight: 65 lbs./29.4 kg
Net weight: 62 lbs./28 kg
Maximum user weight capacity: 300 lbs./136 kg
Drive: Belt
Resistance: Manual magnetic, 8 adjustable levels
Applicable users' height: 4'8'' to 6'5''
Supported users' inseams: 27''-35''
Flywheel: 7 lbs./3 kgs; dia. 200 mm x 72.5 mm
Console/Display: Basic nonbacklit LCD monitor
Power: 2 AA Batteries (included)
Goals setting function for Time, Distance, and Calories
Seat: 2-way adjustable
Handlebar: 2 sets (armrests & front handlebars)
Pedals: Anti-skid with adjustable safety straps
Heart rate monitoring function: EKG pulse contact
Tablet holder included
Transport wheels included
Shipping
The MaxKare Recumbent Exercise Bike is shipped out upon purchase.
Amazon provides free shipping and it takes a couple of days to get it delivered.
Assembly
This bike is not difficult to assemble. Although, you can have a professional come over to assemble it on your behalf at a cost.
However, this is what to expect if you wish to assemble it yourself. You only need to attach some parts to the core unit.
These include the rear stabilizers, the seat and the armrests, the mast, the handlebars, the pedals, and the console.
It takes less than an hour to completely get it assembled. An instruction manual and the tools needed for the assembly are included in the package.
Maintenance
As aforementioned, no serious maintenance is needed.
Simply keep the unit clean at all times. Don't expose the console to water, moisture, or excessive sunlight.
Check the bike for any loose or broken parts before use or periodically.
Conclusion
First of all, the MaxKare Recumbent Exercise Bike is an affordable magnetic resistance bike with 8 adjustable levels.
It is a low-impact machine with an easy step-thru design; suitable for everyone that wishes to improve or maintain his/her overall physical well-being, including the elderly and those recovering from an injury.