When you think of a space-friendly and affordable home gym, think of the Total Gym 1600. Well, if you think that's all there is to it then you are in for a surprise because it has much more that could help you get decent workouts.
This is not the traditional stack, weight, and handles kind of home gym but a bodyweight resistance-based unit just like the Total Gym 1400 Deluxe Home Gym that will help tone your muscles and improve flexibility as well.
This home gym will be right for you if you are on a budget, having a space problem, and looking for something that could help you tones your overall muscle groups.
To adjust the resistance level is by simply adjusting the recline of the platform which could be done in a jiffy. It does offer challenging workouts by adjusting the incline to use the greater percentage of your body weight but you can also use as little as 3 percent of the bodyweight which is pretty easy for anyone.
Total Gym has been consistent for manufacturing good home gyms including the fact that celebrities like Chuck Norris, Wesley Snipes, and more endorsed it. And no one will like to put their reputation on the line for a product that does not worth it, right?
<<<Click right here to purchase Total Gym 1600 at the lowest price available>>>
What is so great about Total Gym 1600?
There is a couple of things about this home gym that might interest you and we are going to talk about them in detail.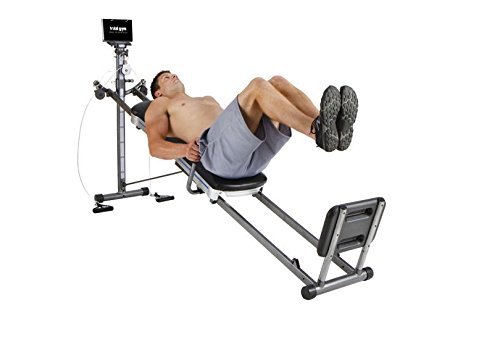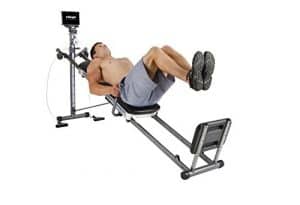 To start with, this home gym is a lightweight unit that weighs about 75 pounds and it is space-friendly as well. You can set it up and use it anywhere you wish at home. Being that it has a space-friendly design using and storing it won't be a problem because it can be folded up and be stored under the bed, the closet, or lean it on the wall. Moving it or relocating it is not a problem at all.
It is equally sturdy despite the fact it is a lightweight machine with a small footprint. Amazingly, users have not complained about any sort of instability. This machine is although good for those that wish to engage in lightweight training, cardio, or flexibility training. It supports up to 250 pounds maximum user weight capacity.
It provides a full-body workout with up to 60 different types of workouts available to ensure that you get the result you desire. This means you can work on every muscle group in the body and feel the burn.
It comes almost fully assembled with just little to be done to completely assemble it.
With this piece of equipment, the entire family can conveniently workout on it. It comes with accessories such as the dip bars for working on the pectorals, triceps, shoulders, and chest and this takes just minutes to attach with locking pin. The Multi-Function Attachment which can be attached to either top or bottom rails provides you with the opportunity to perform pull-ups, leg curls, and shoulder presses.
The Total Gym's unique leg pull accessory, the leg pulley provides you with the opportunity to work and strengthen the major leg muscles. There is two press up bars included designed to help you build and strengthen the chest, triceps, the upper back, and shoulders. It is also designed to make military-style press exercises possible with a wide or narrow grip.
Last but not the least, it comes with a basic squat stand for squat exercises that targets the lower body by building, toning, and slimming the leg's muscles. Its custom-designed ankle cuff is for any foot/ankle size because of its adjustability. This is great for exercises such as the hamstring pull and inner thigh pull.
The Total Gym 1600 manufacturer also completely understands the need for workout orientation and so deemed it fit to attach exercise flip chart to the top of the Total Gym for easy and handy reference. Interestingly, there are exercises developed by a team of Total Gym certified trainers available in the flip chart and instruction on how to realize your fitness goals.
You can also choose to watch the Total Body workout DVD that will help get you in the way of experiencing outstanding workouts.  The manufacturer almost got every angle covered so that you can utilize this unit perfectly as it is intended.
What isn't so great?
Now, that we have somewhat gone through what we like about the Total Gym 1600 we shall also look at what we think is not so great about it.
This home gym is not great for those individuals that wish to perform the hardcore kind of strength exercises because this is a lightweight home gym with bodyweight resistance that won't provide an extremely challenging workout. Even though it has an adjustable incline that allows you to use different bodyweight resistance for workouts that is not still enough for hardcore strength workouts.
If you are looking to perform hardcore exercises and rip up muscles then you might consider home gyms with the weight stack. Weider Home Gym could be a good alternative but the problem is that the resistance is not upgradeable which means you cannot increase the weight above the standard weight.
Better still, you may look up the Marcy MWM-990 Home Gym it may just turn out to be what you need.
These are good alternatives that are within the price range of the Total Gym 1600 otherwise there are some awesome home gyms out there but certainly expensive.
Approval Rating
The approval rating of a product indicates how popular the product is and so should be looked at before considering purchasing the item. This helps to solve half of the problem of decision making on whether to purchase a product or not.
If the approval rating of a given product is good, then you can go ahead to check out other aspects of its features to know if it suits your personality or not, otherwise, you will move on to other products with good feedback and approval rating.
In the case of the Total Gym 1600, it has a good approval rating and as a matter of fact, it made it to our best home gym list.
There are very few complaints about this home gym and currently, at the time of this review, it has an approval rating of 4.7 out of 5 which is very approving.
Most of its users are very happy and impressed with the unit and will be willing to recommend it to others.
Features/Pros Overview
It is a sturdy home gym
Very easy to assemble because it comes almost preassembled only the accessories need to be attached
Supports up to 250 pounds maximum user weight capacity
It is foldable
It is lightweight and easy to move or relocate
Can be stored away in the closet, under the bed or leaned on the wall
Has over 60 workouts available
It has got 8 levels of incline adjustment for bodyweight resistance
Has a well-padded seat that slides over the rails at the top of the unit
It has got non-slip rubber feet to keep the unit from moving and prevent scratch or dent on the floor
It has solid and strong cords and pulleys
Ankle cuffs are adjustable and comfortable
It is great for improving strength and flexibility and of course tones the overall body muscles
It comes with accessories such as the dip bar, two press-up bars, leg pulleys, and the squat stand.
It has a flip chart and DVD that help you to utilize the home gym properly and achieve your fitness goals
Cons
Not an ideal home gym for serious strength training individuals that would rather experience extreme workout challenge.
Dimensions Specifications
92.5'' Length
16' Width
43.25'' Height
Weighs about 75 pounds
Supports 250 pounds maximum user weight
Warranty
One year limited warranty which is not kind of cool, right? But considering the price of this home gym one might argue that it is fair after all. The one-year limited warranty that covers the frame and the parts is not the best nevertheless not the worst ever. This is the type of warranty you expect to get with home gyms of this price range and that is why we did not list that the warranty sucks on our ''cons'' list.
Shipping, Assembly, and Maintenance
Shipping
The shipping cost of this machine depends on the retailer you are purchasing from, but vendors such as Amazon usually provide free shipping within 3 to 4 days.
Assembly
As aforementioned, this home gym comes almost completely assembled. Therefore, the only thing you are required to do is to attach the accessories.
Nevertheless, an instruction manual is also included to guide through the process of completing the assembly.
It can easily be assembled by one person due to the fact it is a lightweight machine, therefore, no need for a helping hand but if you get one that's all good.
You may click right here to download or view the user's manual with some assembly information.
Maintenance
There is no major maintenance required except to always keep it clean from dust and sweat at all times.
Conclusion
There is no doubt that the Total Gym 1600 is a recommendable home gym that is loved by many. It is affordable and provides workouts that are geared towards helping you to achieve your fitness goals.
Our only concern is that it is not for those that wish to perform extreme challenging hardcore workout due to the fact it has bodyweight resistance that is not great for that. Other than that, this is an amazing unit that is suitable for individuals on a budget and those that have limited space at home.
If you have any further questions you may like to ask please feel free to holler at us and we shall be glad to respond accordingly.
Total Gym 1600 Review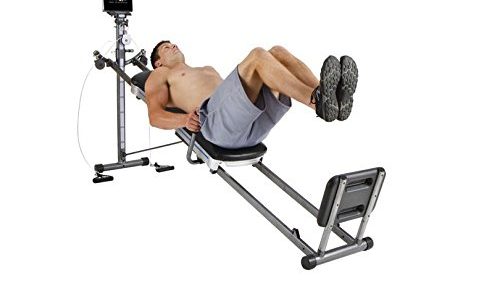 To start with, this home gym is a lightweight unit that weighs about 75 pounds and it is space-friendly as well. Basically, you can set it up and use it any
Product Brand: Total Gym
Product In-Stock: InStock