The Bowflex Blaze Home Gym has a power rod resistance-based system that is designed to provide resistance in every move you make during workouts. The machine offers over 60 quality workouts that are geared to rip and build your muscle groups with up to 210 pounds of resistance.
This type of resistance system is considered to be gentle on the joints hence individuals that are recovering from injury would love to use the Bowflex Blaze.
This home gym shares a lot in common with the Bowflex PR1000 Home Gym including their popularity.
This unit is an ideal choice to add to your home gym if you are looking forward to engaging in different types of exercises without having to go to the gym. It will also save you a lot of money you should have been paying for a commercial gym membership and probably more if your family members were to be registered as well.
It is also important to mention that its 210 resistance is upgradeable to 310 or 410 pounds what many home gyms of its price range do not have. With this machine, you can perform full-body workouts you have always wanted.
You can perform aerobic row and leg presses with the sliding seat and exercise the chest with numerous workouts. Someone once said that the manufacturer has been working overtime to come up with the design the Bowflex Blaze Home Gym has, and he is right. So, if you wish to look and feel better this unit can make that happen in minutes if you choose to workout with it.
<<<Get the Bowflex Blaze Home Gym at the Cheapest price Available now! >>>
The Frame and Construction
When it comes to quality, the Bowflex Blaze has got it all because it features a frame that is made of steel tubing and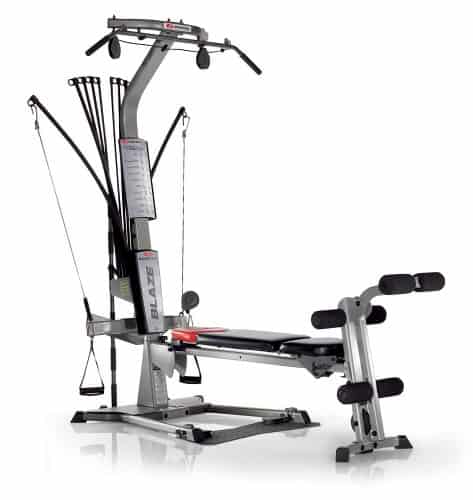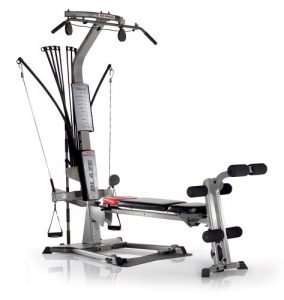 well constructed overall design that is sturdy. It supports up to 300 pounds of maximum weight capacity and weighs about 195 pounds. The steel parts of the home gym are finished with anti-corrosive paint that is meant to prevent rust, however, it is not meant to be used outdoors but indoors.
The footprint is 90'' L by 38'' W it is recommended that 8 feet 4 inches by 6 feet 6 inches workout space is created. This is quite a sizable and bulky home gym but it takes up a reasonable space though. The height is 83'' which means it must be assembled in a room that has a ceiling height of 7 feet to 7 feet 5 inches for maximum safety.
It is believed to accommodate users up to 6 feet 6 inches or 7 inches in height. This claim is rational even though we have not seen the testimony of anyone within this height range that testified he was accommodated neither did we observe any complaints on height restrictions.
Interestingly enough, the Bowflex Blaze Home Gym is foldable with a footprint of 52'' long by 38'' wide by 83'' high. The foldable parts are the leg attachment and the bench bar with the front base. This implies that more space could be saved when the machine is not in use.
The unit's bases feature a rubber stabilizer foot on each point that is on the front and the rear which makes the machine to be stable during workouts and this also prevents unnecessary dent or scratch on the floor. However, if you think that the floor is going to be used on is very uneven then a rubber mat might be necessary and will greatly improve the stability of the unit.
The rear part of the home gym has transport wheels designed to help in relocating the unit. Although, a user said he would rather not try to move the home gym all the time because it is cumbersome. And we think is a good idea not to be moving a machine of this size and weight all the time except when it is necessary.  Come to think of it, how could you be moving a machine that is 195 pounds equivalent of 88.45 kg plus the folded footprint size of 52'' long by 38'' wide by 83'' tall? Let it be assembled in a place that is going to be used permanently.
The Seat and Bench
This home gym is featured with a removable bench and a sliding seat which should allow a user to do or perform a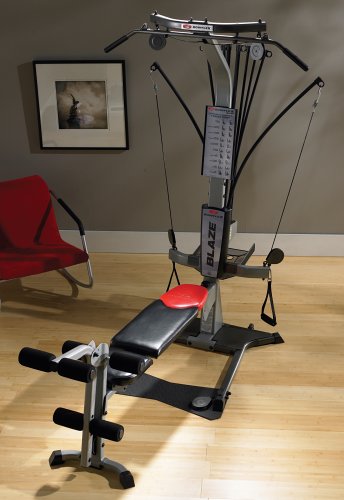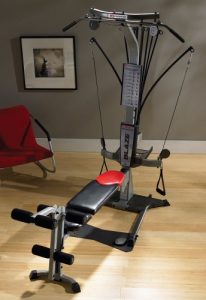 variety of exercises. The sliding seat is attached to the central rail that moves freely and used to perform exercises such as the aerobic row and can also be fixed in one of the two positions available to enable a user to perform other exercises.
To perform exercises such as the chest fly the movable seat is fixed and locked in the close-position while the bench is attached and set in about 45 degrees. On the other hand, the seat is fixed and locked in the far position for exercises such as hip abduction, and the bench is laid flat on the central rail.
The seat's rollers are made of heavy-duty and quality ball bearings that could prolong the lifespan.
The seat and the bench are well padded and cushioned with 2'' of foam and covered with durable and quality synthetic leather. These are indeed made to convey and provide much-needed comfort during workouts, especially during prolonged workouts.
The Resistance System
As you may already know, the Bowflex Blaze Home Gym has a power rod-based resistance system that is upgradeable as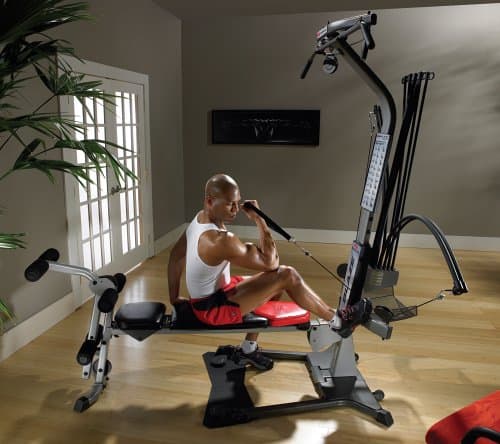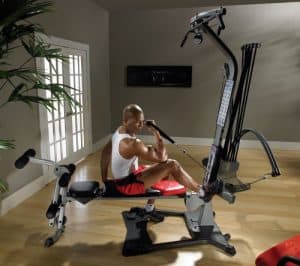 well. The innovative resistance system is present in some of the Bowflex models such as the Bowflex PR1000.
The resistance has a standard 210 pounds of maximum resistance that could be used and increased from 5 pounds to 210 pounds.
This type of resistance system provides suitable workout challenges that have minimal stress on the joints and muscles. The power rods are so unique and durable that they don't wear out easily. They are produced under the highest quality control measures and were sheathed and tested four different times to guarantee durability and great quality.
There are 5 power rods on each side of the home gym that consist of 105 pounds that equal 210 pounds being the maximum standard weight resistance. You can purchase separately the power rods that will allow you to upgrade the weight to 310 or 410 pounds.
The power rod resistance adjustment is pretty forward and simple. To use any of the resistance rods you must connect or hook up with the rod(s) you intend to use with cables and handles and both sides' weight must be even.
Now, you may be wondering if these power rods break or lose their resistance level at some point in time. Well, there are no complaints that any of the power rods broke but they do lose their elasticity or resistance effect over time. But that also depends on how intense and frequent the resistance power rods are used.
The rods are guaranteed for life but you have to register with Bowflex to be covered. Please do contact them for verification and additional information in regards to this.
Accessories and Parts
The Bowflex Blaze Home Gym can boast of several accessories that include the lat bar, squat bar, leg bar,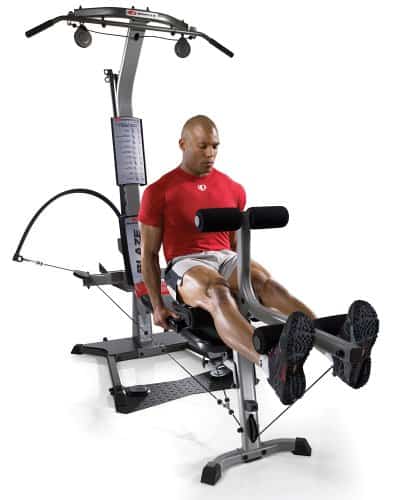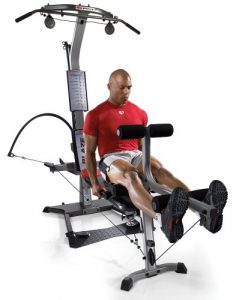 etc. The lat bar attachment of this home gym is designed in a curvy manner that will allow a user to engage in different workouts. The leg attachment is also improved upon to enable a user to perform leg extensions and leg curls as well.
Virtually all the ball bearings that are used in this home gym are of high quality including the ones present in the pulleys. They are heavy-duty and can rotate all the way around. The cables are shielded with plastic material and are made of stainless steel wire ropes and extremely durable.
The power rods and the grips' various connections are done with hooks and rings that are made of stainless steel as well.
The handgrips and the rollers on the leg attachment are covered with rubber/foam material to provide a comfortable grip and comfortable leg curl and leg extensions experience. The handgrips come with the leg press strap and are multi-function because it enables a user to perform different exercises that involve foot grip and cuff.
There is an exercise placard that is attached to the machine which is to provide workout instructions or descriptions to the user. A user can simply look at this placard and get a quick orientation on what to do or how to exercise.
At the rear end of the home-gym, an accessory tray is attached which is designed to help a user hold some of their personal effects such as phone, keys and even water bottle for hydration.
Approval Rating
The Bowflex Blaze Home Gym is a very popular piece of equipment with an average approval rating of 4.3 out of 5 on Amazon. Very few home gyms of similar design and price range get such popularity.
This is an indication that the majority of the users are well pleased with the home gym and wrote feedbacks in favor of the unit.
You may click right here to read the Amazon customer reviews.
Pros/Features Overview
Durably built and sturdy
Has up to 60 exercises available
The resistance is upgradable
It provides enough room for any given exercise
Weighs about 195 pounds which adds to its stability
Supports up to 300 pounds maximum user weight
It is foldable
It has transport wheels for easy relocation
Has a standard maximum resistance weight of 210 pounds
Well-cushioned bench and seat
The roller upholstery and cushion is up to 4 inches for leg curls and leg extensions
It has got handles that are versatile supporting different grips
The warranty is great
Cons
The power rods could lose their elasticity over time, hence the need to register for guaranteed coverage with Bowflex.
The home gym size could be seen as bulky to some users who may have a space problem
Product Dimensions and Specifications
90'' Length
38'' Width
83'' Height
Weighs about 195 pounds
Supports up to 300 pounds maximum user weight
Resistance is upgradable
The number of exercises available is 60 (arm exercises-16, chest exercises 8, Abs exercises 5, back exercises 9, shoulder exercises 14, leg exercises 13, and cardio row)
Horizontal and foldable platform
Warranty
5-year limited warranty on commercial quality construction
Lifetime on Power Rods
Shipping, Assembly, and Maintenance
Shipping
The Bowflex Blaze Home Gym is shipped out in a neat and well-packaged box. The shipping cost of this equipment solely depends on the retailer you are purchasing from, however, retailers such as Amazon usually provide free shipping and arrives within 3 to 4 days of order.
Assembly
Assembling the home gym easy to do since it has easy to follow instruction manual that will walk you through the process. However, it takes a couple of hours to fully assemble it which could vary from 2 to 3 hours depending on the level of your dexterity.
Some of the tools required for assembly are supplied nevertheless; you will need additional tools such as screwdrivers and an adjustable wrench to successfully carry out the task of assembly.
You may download the owner's manual, assembly manual,  and user manual or you can simply read them.
Maintenance
The maintenance of this home gym is not rocket science because it does not require any major tasks except to make sure that it is always clean free of dust and sweat. Inspect the bolts and tighten if necessary and also check the rails to be sure they are free of dirt as well to prevent the rollers from damaging.
Conclusion
If you are interested in power rod resistance system home gyms then probably you are interested in the Bowflex Blaze Home Gym because it appeals to anyone that wishes to exercise with this kind of equipment.
This is a versatile and extreme quality home gym for home use you can enjoy for a long time and get the feeling and the look you have always desired.
It made it to our best home gym review article.
If you have any further questions please do feel free to holler at us and we shall be glad to respond accordingly.
Bowflex Blaze Home Gym Review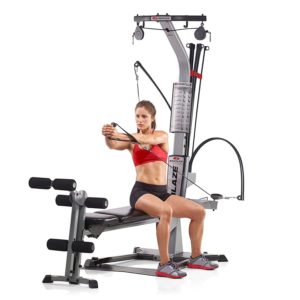 The Bowflex Blaze Home Gym has a power rod resistance-based system that is designed to provide resistance in every move you make during an exercise. .
Product Brand: Bowflex
Product In-Stock: InStock