The BodyCraft Galena Pro Home Gym is one of the longest home gyms that has been in the market. It has evolved to become one of the best home gyms you can ever rely on to provide a variety of workout options.
Recently, this home gym made it to our best home gyms list and the reason is that the manufacturer has done a very good job of innovating and improving it over the years. The design is such that it offers a wide range of workout options and still manages to be compact because it does not take up too much space as most standard home gyms do.
BodyCraft has been around for awhile in the business of manufacturing fitness equipment. Since 1994 it was founded, the company has been manufacturing fitness equipment that is of high quality and affordable.
The fact that it is a compact unit does not make it any less dynamic. It offers a variety of features that include the Chest Press, Dual-Function Pec Dec, Leg Extension, Leg Curl, Lat Pull, Low Pulley Station, and Abdominal Crunch.
Working out with the BodyCraft Galena Pro Home Gym will strengthen major muscle groups in the body within a short amount of time.  You can't go wrong to sculpting the body if you opt for this home gym because it is the sculptor of the upper and the lower body.
Its patented and unique Dual-Function Pec Dec will be loved by those who love performing the dumbbell style flys or the traditional flys because it provides both.
The authenticity of the home gym's quality is reflected in the warranty the manufacturer is providing.
<<<Click right here to purchase the BodyCraft Galena Pro Home Gym at the latest affordable price available>>>
Quality and Design
It has been established that the BodyCraft Galena Pro Home Gym is built with quality in mind by the manufacturer.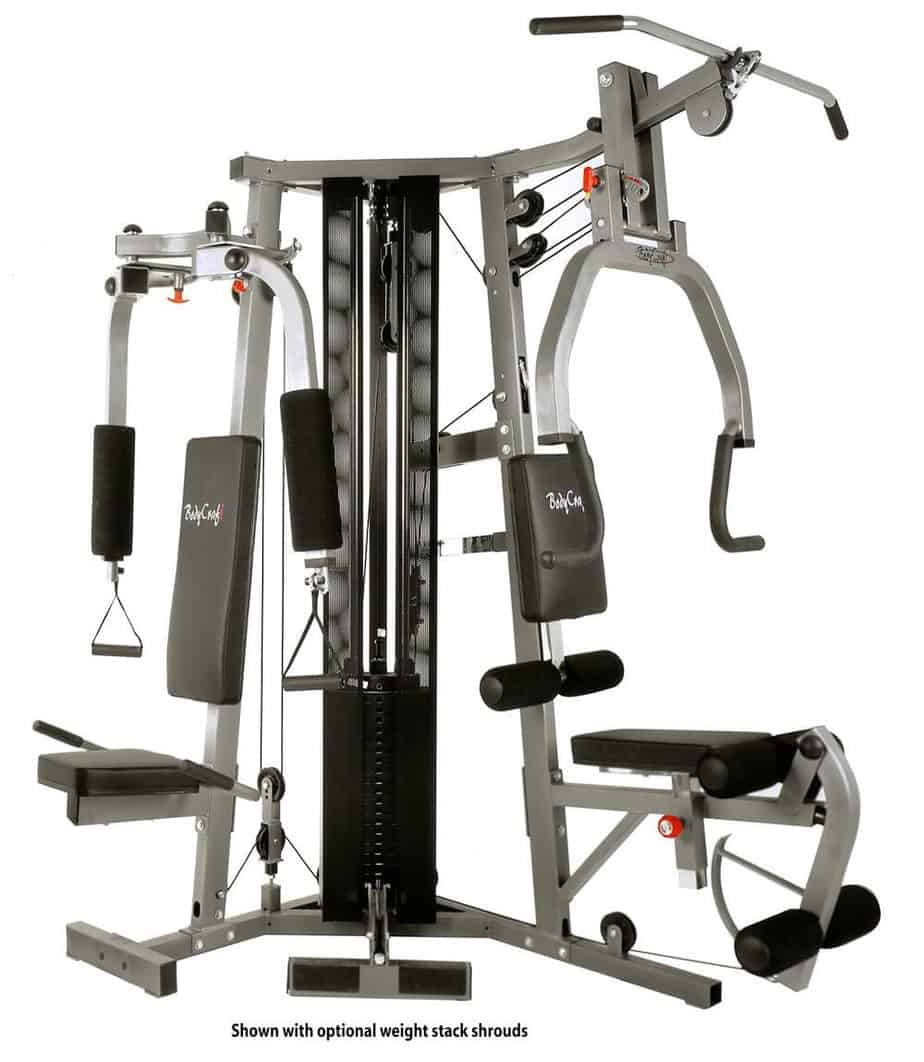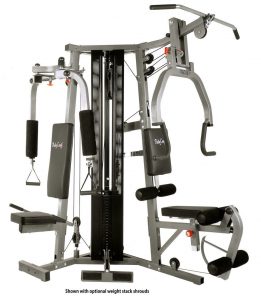 Reading through the feedback of users the majority of them agreed that this home gym has a value-oriented price with high quality.
The frame is made of solid high gauge steel tubing finished with electrostatic powder coat paint. It features 3.5'' fiberglass reinforced nylon, sealed ball bearing, and 7 x 19 strand 2000 pounds tensile strength cables that are internally lubricated.
It has got 1.25'' thick precision milled EZ Glide nylon bushings on weights plus all the foam are very thick and covered with quality vinyl for durability and comfort.
The seat and the backrest are adjustable as well offering the support and comfort you need during the entire workout session.
The patented dual-function pec dec can be used to perform the traditional flys by pressing elbows against the pads while the dumbbell style flys is done by gripping the handles and swinging outward to chest height and then pressing forward and together.
Just as aforementioned, this home gym provides you with the opportunity to perform the pec dec flys which you will appreciate if you love doing the dumbbell style flys or the traditional flys.
These are the overview of the features this home gym possesses
Patented Dual-Function Pec Deck
It has got a comfortable and adjustable seat; both the seat and seat back are fully adjustable equipped with high-density foam that is well designed and contoured for lumbar support. This is also covered by heavy –gauge vinyl.
It has got a low pulley station that is easy to access and it offers enough room for leg kicks, low rows, arm curls, deltoid raises exercises, and even more.
It has yet another workout station that is designed for bench press which has an adjustable starting point that allows or accommodates different size users. You can also perform a variety of exercises aside from the bench press such as the incline press, shoulder press, and mid-row.
These are some of the exercises you can perform with the BodyCraft Galena Pro Home Gym
Dumbbell Style Flys
Traditional Flys
Bench Press
Shoulder Press
Mid Row
Incline Press
Rear Deltoid Flys
Bicep Curl
Lateral Raises
Bicep Curl
Triceps Extension
Leg Extensions
Leg Curls
Chest Press
Lat Pull
Leg Press which is optional
The leg press is optional which means it does not come with equipment as an original package but must be purchased separately to be able to perform it.
It is smart to purchase the leg press so that you will be able to perform this exercise as well.  It is fixed onto the front of the pec dec seat and has a resistance of up to 300 pounds and completely adjustable for all different sizes of users.
This is not the only feature that is optional because the weight stack shrouds are also purchased separately. Now, this is equally important to purchase because its primary purpose is to enhance safety and prevent harm or accident by keeping the weight stack enclosed and in place.
Approval Rating
This is the aspect everyone that is looking to buy any sort of product online ought to be looking at because the approval rating is like the popularity measurement of a given product.
Therefore, in the case of the BodyCraft Galena Pro Home Gym, we can confidently say it is a popular home gym. The Amazon feedbacks from real users show that the majority of them are very pleased and happy with the equipment and will recommend it to friends.
You may click right here to read the feedbacks on Amazon
Pros/Features Overview
It is affordable compared to other home gyms of the same category
It is solidly built to last for like forever
The customer service is great
It is compact and can fit in a corner of the room while the quality and number of exercises are not compromised
It possesses a great number of features that could allow you to work and sculpt almost the entire muscles groups
It has a patented Dual-Function pec dec that allows you to perform the traditional flys and of course the dumbbell style flys as well
It has got multiple stations of 3 which will allow you to perform seated flys, low row, upright cable curl, presses, pull-downs, and leg extensions. You might say these exercises could be performed in most home gyms but the difference is that stations were specifically designed for these exercises in the BodyCraft Galena Pro Home Gym.
Cons
This home gym does not allow you to increase weight stack above 200 pounds which is the standard weight without the optional leg press attachment and the cable system that will increase the stack resistance up to 300 pounds. Moreover, even if you add the leg press attachment that increases it to 300 pounds is only for the leg press. However, 200 pounds is good and adequate for most exercises and users except if you are an advanced user who may need additional resistance that is more than 200 pounds.
If you wish to have complete exercise options including being able to work on the lower body then you should be ready to spend some additional dollar to acquire the leg press
Product Dimensions
72'' Length
58'' Width
81'' Height
Warranty
Limited Lifetime against defects in materials and workmanship
Shipping, Assembly, and Maintenance
Shipping
The shipping cost of the BodyCraft Galena Pro Home Gym depends on the retailer you are purchasing from; however, Amazon provides free shipping and usually delivers within 3 to 5 days of order.
Assembly
The assembling of this home gym is pretty straightforward however may be kind of confusing for those that are not good at assembling stuff.
An instruction manual is included in the delivery which should assist in walking you through the assembly process, however; one user complained how horrible the instructions on the manual are.
If you choose to assemble it by yourself, then you will need a hand to ease some of the pressure otherwise if you don't want to go through the ''hassle'' of figuring which part fits it then you might opt for the ''hire assembling expert' on Amazon.
Maintenance
This home gym does not need any special maintenance since it has sealed ball bearings and internally lubricated 7 by 19 strand construction cables rated to 2,000-pound tensile strength.
The maintenance needed is basic which is to always keep it clean from dust and of course sweat at all times.
Conclusion
In conclusion, this is a recommendable home gym for home use. It is a very solid and sturdy machine that will last for a very long time.
Comfort is guaranteed while exercising with this home gym and there are good numbers of useful exercise options that are designed to help you chisel out the type of body you desire even as it improves your physical fitness as well.
The only drawback is that it might not provide you with the opportunity to increase the resistance weight above 200 pounds if you are an advanced user otherwise it is still an ideal machine for you.
BodyCraft Galena Pro Home Gym is worth the price.
BodyCraft Galena Pro Home Gym Review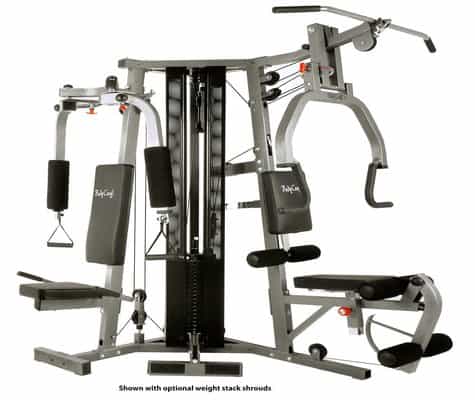 The BodyCraft Galena Pro Home Gym is one of the longest home gyms that has been in the market. It has evolved to become one of the best home gyms you can ever rely on to provide a variety of workout options.
Product Brand: BodyCraft
Product In-Stock: InStock