The Sunny Health & Fitness SF-RW5910 Phantom Hydro Water Rower comes with an oblique red water tank similar to the one on the SF-RW5713 Obsidian Surge water rower. But it is 60 degrees angled as the one on the Merax Rowing Machine.
It has a strategically positioned tablet holder for entertainment purposes and a water bottle holder for staying properly hydrated during workouts.
These are important features most rowing machines lack.
Click right here to have a peek at the best price of the Sunny Health & Fitness SF-RW5910 Phantom Hydro Water Rower on Amazon.
The Frame and Construction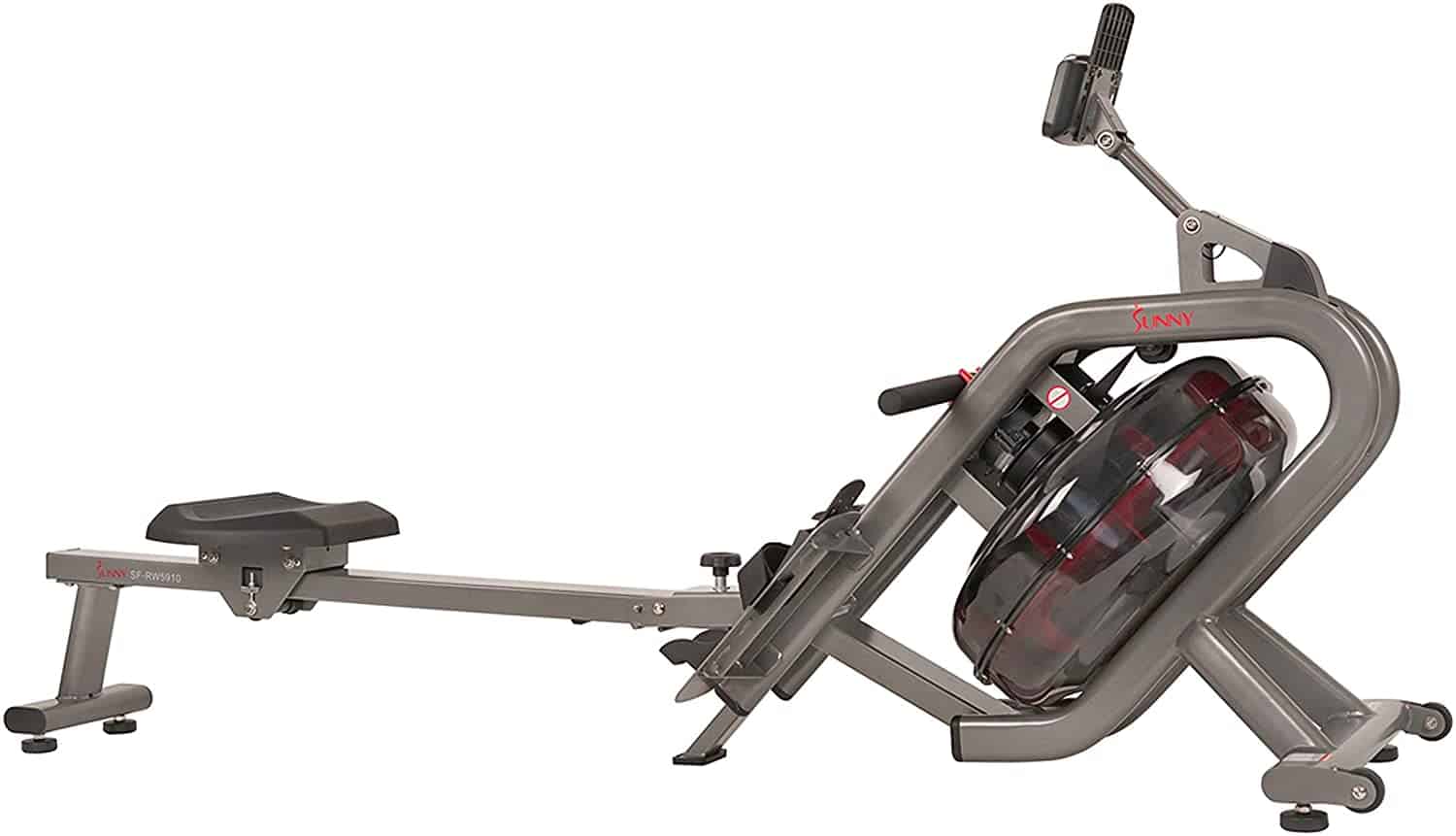 The Sunny Health & Fitness SF-RW5910 Phantom Hydro Water Rower is predominantly steel build with a small fraction that features ABS plastic material.
Differently put, the water tank is made of polycarbonate material; the footrests, the water bottle holder, the tablet holder, and the console covers are made of ABS and nylon materials, while the frame (including the base, & the monorail) is made of gray anti-rust painted rectangular solid steel.
As a result, it doesn't deteriorate over time, and it supports a maximum user weight capacity of 300 lbs./136 kg.
The overall assembled dimensions are 81.5'' long by 21.25'' wide by 39.5'' high. So, you must have an area with perimeters of 6'80'' length by 1'77'' width for workout executions. Additionally, a clearance of 2' all around it should be considered for a safer and better workout experience.
Since the rowing machine is foldable, it doesn't take up much space during storage. When folded the dimensions become 43'' long by 21.25'' wide by 51'' high. Therefore, a storage area with perimeters of 3'58'' length by 1'77'' width will be sufficient.
The assembled weight is 88.2 lbs./40 kg which enhances its stability.
Speaking of, the rowing machine features front and rear steel stabilizer bars with adjustable levelers for maximum stability that doesn't budge even when aggressively rowing.
The base is also floor-friendly because it won't leave a scratch on any type of platform.
However, using a protective rubber mat underneath it may be a smart move that will not only prevent hole prints on a rug but also improve the overall stability.
The rowing machine can easily be moved to and from storage area via the transport wheels at the front base.
The Seat of the Sunny Health & Fitness SF-RW5910 Phantom Hydro Water Rower
The seat is large, textured, and padded with dimensions of 11.5'' long by 14'' wide by 2.5'' thick. It accommodates the butt comfortably without the tendency of slipping off during workouts.
It integrates 3 sets of sealed ball bearing rollers that are attached to the monorail. Thus, it glides steadily, smoothly, and quietly back and forth.
The rail beam is 42'' long and supports up to a 40'' inseam (inner thigh to ankle length). This means users up to 6'5'' tall can exercise with the rowing machine without a problem.
The floor to seat height is 16'' high, fairly off the ground to enable those with joint issues or arthritis to easily get on and off the unit.
The Handlebar
The handlebar of the Phantom Hydro Rowing Machine is slightly curved and coated with anti-slip soft rubber foam.
It is ergonomically designed to suit users with different shoulder-width, and it provides secure and comfortable grips.
It is attached to a 1'' nylon strap whose other end is anchored to a recoil system. As a result, no sound is produced with each stroke you make (except the swooshing sound of the water in the tank), and no lubrication is required as opposed to a chain drive system
The Pedals
The pedals are adjustable in height and in width.
They feature Velcro adjustable nylon straps and heel guards designed to secure the feet in place.
As aforementioned, the pedals are made of plastic and nylon. However, each of them sits on a 45-degree angled metallic plate that is attached to the frame. Hence, they don't pivot but are positioned to offer good foot placement that does not stress the ankles.
The Drive/Resistance
This rowing machine has a belt drive system that comprises a 1" nylon belt, the recoil system, and the polycarbonate water tank.
The water tank integrates 16 hydro blades that serve as the boat paddles for propelling or stirring the water. Each stroke you make swirls the water in the tank to produce a swooshing sound that mimics boating in a river or a lake.
But that is not the only thing that happens when you row because resistance is generated when you pull the handlebar.
The more strokes you make create progressive resistance that ultimately challenges you. In other words, there are no predefined resistance levels or a control knob. Instead, the resistance is controlled and produced by your rowing ability.
Although, the resistance can somewhat be controlled through the level of water in the tank. The more water there is in the tank the greater the resistance and vice versa.
Therefore, you may either choose to fill the tank to the highest level with water or less depending on what you are trying to achieve.
Again, filling the tank with water to the bream does not necessarily make you experience extreme workout challenges, you will have to pull the handlebar harder and faster to feel the burn.
This is typically good for HIIT (high-intensity interval training) that nukes fat and calories in tons within a short time of exercise.
The noise level of the water in the tank is not high, and so, it doesn't distract or disturb you, the family, or the neighbors. On the contrary, it is rather soothing and comforting.
A siphon pump and a funnel are included in the package to help you remove or add water into the tank.
The Console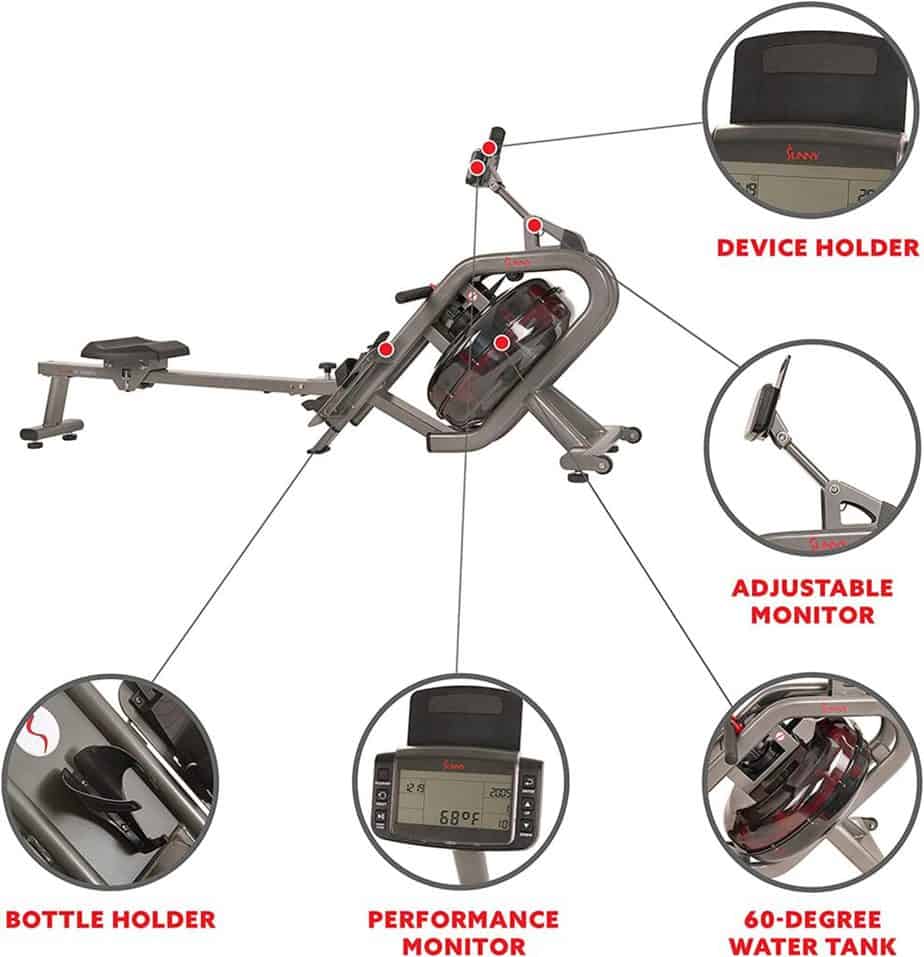 The console is rectangular in shape and so is the LCD monitor it features.
The monitor has sub-windows that simultaneously track workout stats such as Time, Time/500m, SPM, Distance, Strokes, Total Strokes, Calories, Pulse, Calendar, Temperature, and Clock.
It displays the workout metrics with good readability, and you can adjust the angle for a better view. However, the degree of its clarity might be compromised if viewed in a room with low or poor illumination because it lacks a backlight.
The console is telemetric, but it doesn't come with the HR wireless device. Therefore, you will have to purchase a 5.3 kHz HR chest strap separately if you wish to keep an on your heart rate report.
There are 2 different workout programs available, namely, Manual and Race programs.
The Manual program is the normal workout mode that allows you to exercise while your workout stats such as Time, Time/500, RPM, Strokes, Total Strokes, and so on are recorded and displayed. You can also set up a goal (count-down) for Time, Distance, and Calories.
While on the other hand, the Race program enables you to compete against the computer with virtual boats of you and the computer shown on the screen racing to reach the goal.
The race ends when either you or the computer reaches the goal.
There is a pulse recovery function that calculates and determines the health status of your heart immediately after a workout. It usually produces a result that is between F1 (excellent) and F6 (poor).
The monitor is powered by 2 AA batteries (included).
Accessory
The Sunny Health & Fitness SF-RW5910 Phantom Hydro Water Rower is equipped with a water bottle holder for staying hydrated, and a tablet holder for entertainment and viewing workout videos.
These extras indeed make your workout worthwhile.
Storage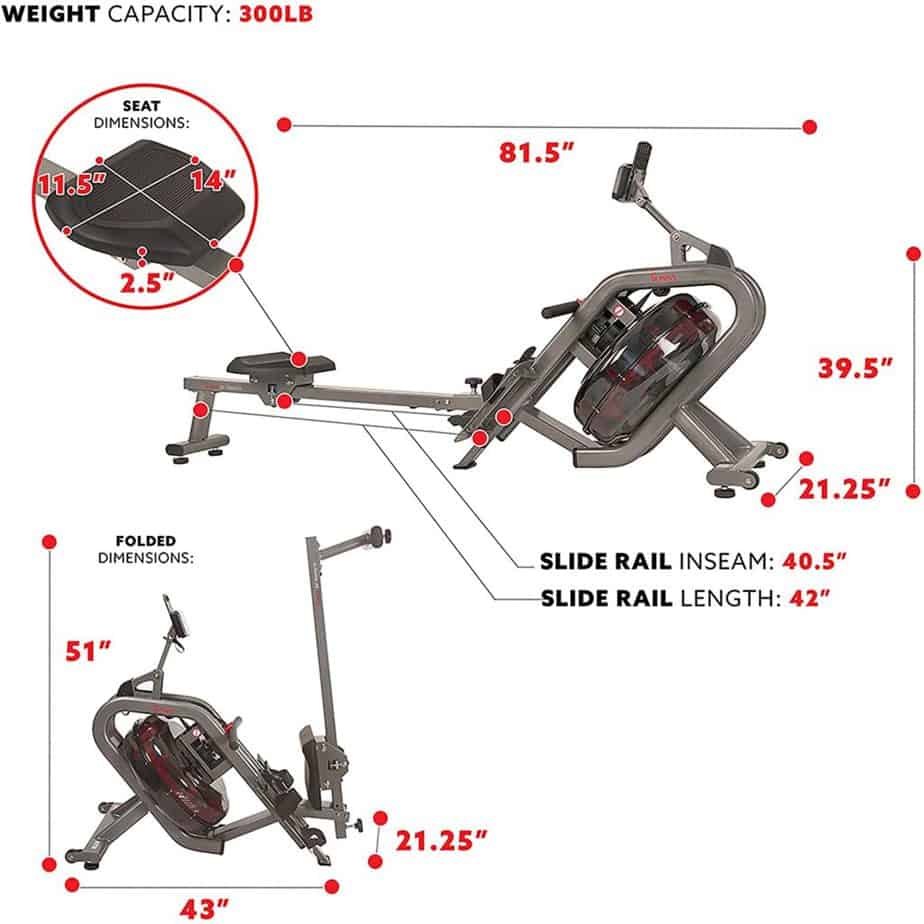 This rowing machine is foldable and portable, a recipe for easy storage.
It doesn't take up much space once it is folded and can easily be rolled away to any part of the room or apartment.
Places like the garage or a standard closet could be ideal for storing it.
Pros/Features Overview
Durably and solidly built
Elegant and sturdy
Stable and portable; thanks to its robust base framework with adjustable stabilizers and transport wheels
It is foldable and easy to store
Supports 300 maximum user weight capacity
Its operation provides a swooshing and soothing sound
The slide rail is 42'' long and it supports users with up to 40'' inseam
It has a water resistance system that provides progressive and variable resistance levels suitable for everyone
It is a full-body and low impact cardio workout machine for weight loss and overall physical fitness improvement
The console is telemetric; it features an angle-adjustable multi-digital display that tracks Time, Time/500m, Distance, Strokes, Total Strokes, SPM, Calories Burned, Pulse, Calendar, Temperature, and Clock simultaneously
The footrests are large and adjustable with heel guards and safety straps
The seat is contoured, textured, a thickly padded for long-lasting comfort and stability
The handlebar is ergonomically designed, curvy, and cushioned
2 programs; Manual and Race
HR Recovery function
The maintenance required is low
Not difficult to assemble
Water bottle and tablet holders included
Decent warranty
Cons
The monitor is not backlit
The HR chest strap device needs to be purchased separately
Warranty
3 Years for Frame
180 Days for Parts and Components
Product Dimensions & Specifications
Length: 81.5''
Width: 21.25''
Height: 39.5''
Folded Dimensions: 43'' L x 21.25'' W x 51'' H
Shipping Dimensions: 45.9'' L x 22.4'' W x 26.4'' H
Slide rail length: 42''
Net weight: 88.2 lbs./40 kg
Gross weight: 105 lbs./47.6 kg
Frame: Steel
Drive: Nylon belt
Resistance system: Water
Maximum user weight capacity: 300 lbs./136 kg
Maximum user height: 40'' inseam (up to 6'5'' tall users)
Handlebar: Straightly but slightly curvy and cushioned
Footrests: Length and width adjustable with heel guards and safety straps
Seat: dia. 14'' L x 11.5'' W x 2.5'' Thick, contoured, and padded
Console/Monitor: Multi-digital LCD with manual and race mode
HR recovery function
Heart rate monitoring: Wireless 5.3 kHz HR chest strap (optional)
Transport wheels included
Water bottle and tablet holders included
Siphon pump and funnel included
Shipping
The Sunny Health & Fitness SF-RW5910 Phantom Hydro Water Rower is shipped in a box that weighs 105 lbs./47.6 kg with dimensions of 45.9'' long by 22.4'' wide by 26.4'' high.
The shipping and delivery are relatively quick and free of charge. However, it still boils down to where you reside, thus, some customers might experience delayed delivery time than others.
Assembly
The assembly of this rowing machine does not need any special knowledge. An average skilled person can comfortably put it together because only the stabilizer bars, the seat, the slide rail, the pedals, and the console need to be attached to the main core unit.
There is also an instruction manual that guides you through the process of assembly.
Everything being equal, it takes less than an hour to get the rowing machine ready.
Maintenance
The maintenance needed for the phantom hydro rowing machine is to keep it clean always (especially the rail and the ball bearings).
Do not expose the console/monitor to moisture, liquid, and excessive sunlight.
Do a routine check before engaging in a workout session to be sure that all parts are in good condition.
Finally, the water in the tank needs to be treated with a chlorine tablet (included in the package) after every 6 months.
Conclusion
The Sunny Health & Fitness SF-RW5910 Phantom Hydro Water Rower is for home use. It supports up to 40'' inseam and 300 lbs./136 maximum user weight capacity.
As per user experience, you won't be disappointed because it is stable, and has a water resistance system that provides progressive workout difficulties.
This rowing machine helps to kick start a metabolism that burns calories.