The Sunny Health & Fitness SF-RW5713 Obsidian Surge 500 Rowing Machine integrates a commercial-grade frame even though it is designed for home use.
It could easily pass for Xterra Fitness ERG600W Water Rowing Machine because they have striking similarities. Thus, you may want to also check it out to know which one suits you best in terms of budget.
That said, the Obsidian Surge 500 Rowing Machine supports up to 38'' inseam (inner thigh to ankle height), and its dynamic water-resistance system with 16 hydro-blades provides different levels of workout challenges (even as the blades withstand damage that may occur as a result of corrosion).
The featured console has an LCD monitor that is capable of connecting to an ANT+ wireless heart rate chest strap or an HR wrist watch for tracking your pulse rate.
In due course of this review, I am going to highlight every aspect of this rowing machine.
Meanwhile, you may click right here to have a peek at the price.  
The Frame and Construction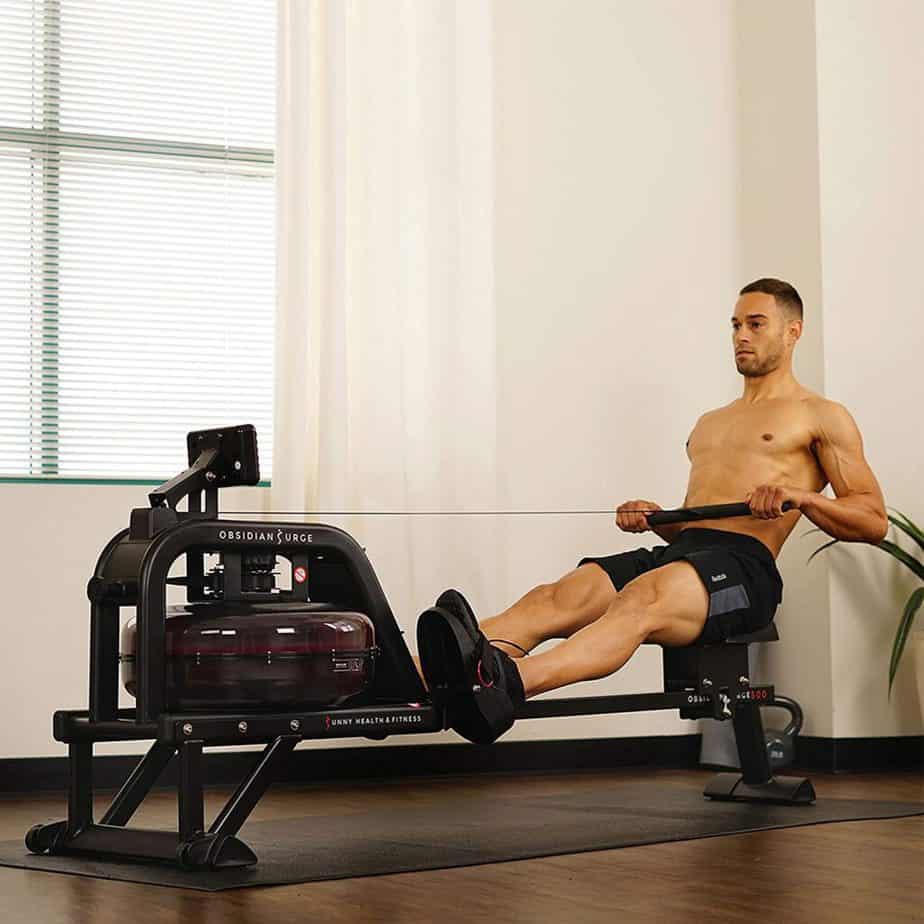 The Sunny Health & Fitness SF-RW5713 Obsidian Surge 500 Rowing Machine is predominantly made of sturdy and lightweight steel that mainly constitutes its frame. It is further fortified by black anti-corrosion paint for longevity.
Even though its design is not necessarily unique, it does look elegant and it is capable of supporting 300 lbs./136 maximum user weight capacity.
The base is robustly designed with adjustable levelers at the rear to ensure that optimum stability is achieved regardless of how crooked its surface platform may be.
However, do place the unit on a firm, and relatively even surface for the best stability experience.
Just as the case with nearly every indoor rowing machine, the Sunny Health & Fitness SF-RW5713 Obsidian Surge 500 Rowing Machine is no different because it requires a bit amount of space for workout activities.
Its overall assembled dimensions are 80'' long by 22'' wide by 34'' high. In other words, the unit is going to need a workout area with perimeters of 6'7'' length by 1'9''' width, and an additional clearance of 2' on each side of it for safety and easy access.
Last but not the least, there are transport wheels at the front base designed to assist in the relocation process of the rowing machine; with that, it's pretty easy to move it for storage, after all, it only weighs about 91.9 lbs./41.6 kg.
If you wish to add a full body and low impact indoor rowing machine to your home gym, putting the Sunny Health & Fitness SF-RW5713 Obsidian Surge 500 Rowing Machine on your consideration list might be a smart idea.
The Seat
The seat is molded and ergonomically designed; it is contoured and padded to provide comfort as it possibly can. Its dimensions are 10'' long by 12'' wide by 2'' thick.
The seat incorporates 3 large rollers that run on and beneath the rail beam for seamless smooth and quiet back and forth gliding.
Another selling point of this rowing machine that is worth mentioning is the height of the seat from the floor. It stands at 17'' which is a plus because users (especially those with joint pain or arthritis) won't have difficulty getting on and off the rower, and there won't be the need to purchase height extensions as either.
Finally, to be sure that the rower is suitable for you (allow you to exercise with full leg extension), measure your inner thigh to the ankle to know if it is 38'' or less. Anything higher than that might be problematic.
The Handlebar
The handlebar is straight and coated with thick anti-slip soft rubber foam for secure and comfortable grips. Hence, slippage or blisters won't be experienced no matter how frequently or longer you exercise with the machine.
The handlebar is attached to a 1'' durable nylon strap that is connected to the recoil system.
Even though a chain anchor/drive has always been considered durable and reliable, this also won't snap on you anytime soon.
The length of the handlebar is suitable for different shoulder sizes.
The Pedals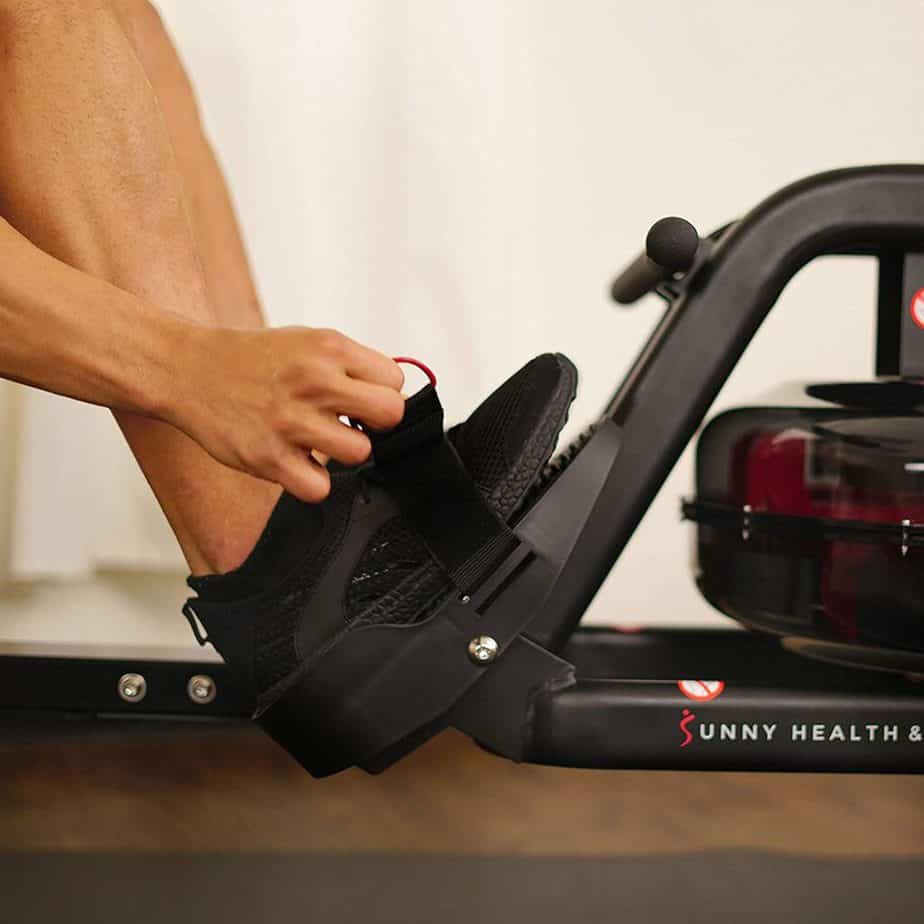 The Sunny Health & Fitness SF-RW5713 Obsidian Surge 500 Rowing Machine has pivoting pedals that adhere to your feet and ankle movement during workouts. This reduces the stress that could have been felt in the ankle area.
The pedals are large and textured with adjustable safety straps and heel guards. They can accommodate most foot sizes, providing stable and secure foot placement.
Although, if you have small feet, it is possible that the safety straps may hit your toes instead of strapping the foot. This could really be annoying and could ultimately interfere with your workout activity.
Resistance
As aforementioned, the Obsidian Surge 500 Rowing Machine has a dynamic water resistance system. However, it could have been better if it is mechanically adjustable just as the Concept2 Rowing Machine.
That said, water rowing machines' resistance system, in general, cannot be adjusted, except to manually reduce the water level in the tank. In other words, less water in the tank reduces the intensity of the resistance, otherwise, the resistance will be strong.
Now, that is the case with this unit.
Moreover, what makes the water-resistance system stand out is its ability to simulate real outdoor rowing boat operations. It makes a splashing sound and increases resistance when you paddle faster.
Users of different fitness levels can always be engaged with a suitable resistance level since the resistance generated is proportionate to the user's rowing ability.
The tank of this unit can contain 2-3 gallons of water with 1-6 fillable levels, and it bellies 16 hydro blades that swirl the water for outstanding splashing sound and resistance effect.
The noise level is at least bearable when compared to that of an air rowing machine. Therefore, you can watch your favorite TV/movie, or listen to music while rowing.
The water in the tank is required to be periodically treated (after every 6 months) with a chlorine tablet. Some are included in the package, and how to properly apply it is detailed in the instruction manual.
Also, a pump and a funnel for adding and removal of water accompany the package.
The Console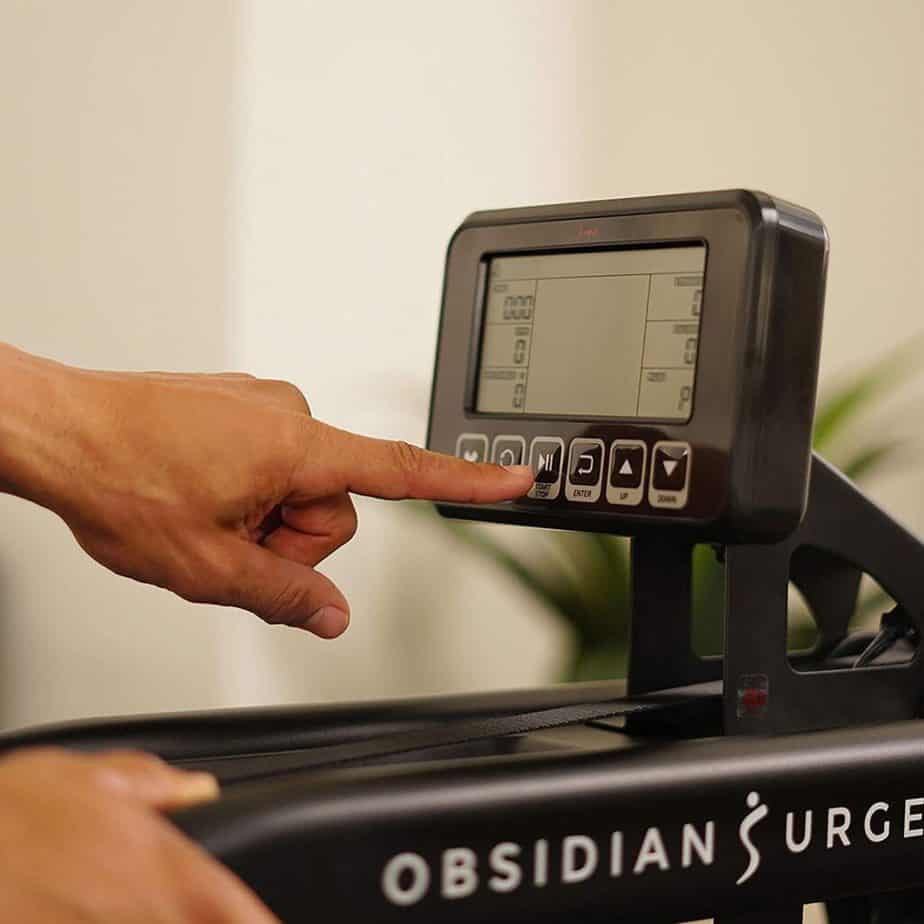 The Sunny Health & Fitness SF-RW5713 Obsidian Surge 500 Rowing Machine is equipped with a mid-range console that features a non-backlit multi-digital LCD monitor.
The LCD monitor is also known as the R2 Fitness Meter tracks workout metrics such as Total Time, Time/500M, SPM, Total Strokes, Calories, Ambient Temperature, and more.
You can personalize workouts or use the built-in programmed features to accelerate the attainment of your fitness quest. You may set up a goal (count-down) for Time, Distance, or Calories, and also determine the health status of your heart by pressing the Recovery button at the end of a workout.
It usually produces a result that is between F1 (Excellent) to F6 (Poor).
On top of that, the console features an ANT+ heart rate technology that enables you to sync a 5.3 kHz HR chest strap or even an HR wrist watch for heart rate tracking during workouts.
The monitor is powered by 2 AA batteries (included). To save the batteries' power, the monitor powers off when there is no activity on the rowing machine for up to 4 minutes.
While on the other hand, it turns on by a push of a button, or when you start rowing.
Having said that, some downsides are worth mentioning and that is the fact that the monitor does not have a backlight. As a result, it will be difficult to view it in a room that is not adequately lit.
The other aspect is that the HR chest strap is not included in the package. Therefore, you will have to purchase it separately if you wish to use one.
Accessory
The Sunny Health & Fitness SF-RW5713 Obsidian Surge 500 Rowing Machine does not have even the basic accessory such as a tablet holder or a water bottle holder.
So, you will have to improvise to keep water within reach for proper hydration and a smartphone/tablet device for entertainment purposes.
Storage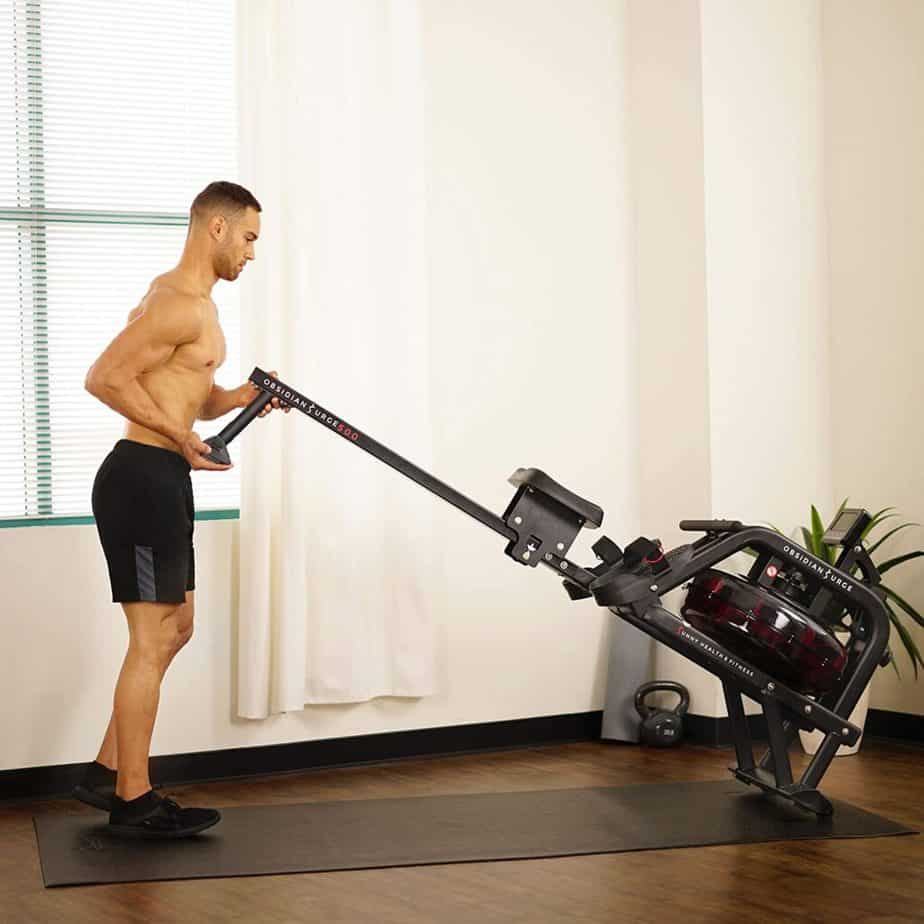 This unit is storage-friendly even though it takes a heck of a space during a workout. The reason is that it is designed to be stored vertically instead of horizontally.
The water in the tank does not have to be drained or removed during this time and it won't leak either.
The integrated transport wheels at the front base enable you to easily raise the unit from the rear and roll it over to the storage area without hassles.
It is best stored in a corner of the room, out of everyone's way.
Pros/Features Overview
Solidly and sturdily built
Supports 300 lbs./136 kg maximum user weight capacity
Supports inseam height of 38'' or less
It provides a complete body and low impact cardiovascular workouts
Its operation is smooth and bearably noisy; it generates a splashing sound that brings a nostalgic feeling of rowing in a real boat in an open water
Its robust base guarantees stability
The seat is large, contoured, and padded for lasting comfort; there haven't been many complaints about it
The handlebar is cushioned with anti-slip soft rubber foam for maximum comfort and firm grip
The pedals are large and textured with heel guards and adjustable safety straps (although they are too large for small feet)
The floor to seat height is 17"; this enables you to easily get on and off the rowing machine without struggle
The console is compatible with a 5.3 kHz HR chest strap or HR wristwatch
The multi-digital LCD monitor Tracks workout stats such as Total Time, Time/500M, SPM, Total Strokes, Calories, Ambient Temperature, and more;
HR Recovery Function;
Goal setting for Time, Distance, and Calories
Its dynamic water-resistance system provides different levels of challenging workouts depending on your ability
Minimal maintenance required
Siphon water pump and a funnel included in the package for the removal and replacement of water in the tank
Transport wheels integrated for easy relocation process
The unit is storage-friendly
Assembly is fairly easy
Cons
The machine requires a sizable space for workouts
No water bottle or tablet holder
The HR chest strap is not included in the package
The monitor is not backlit
The pedals may not be suitable for those with small feet
Warranty
3 Years on the Frame
180 Days for Parts and Components
Product Dimensions & Specifications
Length: 80''
Width: 22''
Height: 34''
Shipping dimensions: 42.7'' L x 22.4'' W x 20.5'' H
Vertical storage dimensions: 33.46'' L X 22.05'' W x 78.74'' H
Net weight: 91.9 lbs./41.6 kg
Gross weight: 116 lbs./52.6 kg
Maximum user weight capacity: 300 lbs./136 kg
Inseam height: 38''
Rail length: 42''
Frame: Steel
Seat dimensions: 10'' L x 12'' W x 2'' H
Drive: Belt (1'' Nylon)
Resistance: Water
Console/Monitor: R2 fitness LCD meter, compatible with ANT+ HR technology
Recovery function
Time, Distance and Calories goal setting
Seat: Large, padded, and contoured
Handlebar: Straight and coated with anti-slip soft rubber foam
Pedals: Large, pivoting, textured, with heel guards and adjustable safety straps
Siphon and funnel included
Transport wheels integrated
Shipping
The SF-RW5713 Obsidian Surge 500 Rowing Machine is shipped out in a box that weighs 116 lbs./52.6 kg with dimensions of 42.7'' long by 22.4'' wide by 20.5'' high.
It usually arrives in a couple of days after an order has been placed.
Assembly
The assembly is fairly straightforward and uncomplicated.
When the directives on the instruction manual are followed, you will be able to complete the assembly in about 40 minutes, more or less.
Also, the tools needed for a successful assembly are included in the box.
Maintenance
Keeping the rail and the rollers clean at all times is vital. This ensures that they are not stuck because of debris deposits.
Change the water in the resistance tank every 6 months and have it treated with the included chlorine tablet to avoid fungi growth in it.
Do a routine check of the rowing machine before every workout to ensure that all the parts are tight and in good condition.
Conclusion
The Sunny Health & Fitness SF-RW5713 Obsidian Surge 500 Rowing Machine is a decent unit.
Although it has its downsides, however, it has some applaudable features.