The Stamina 35-1450 Elite Wave Water Rower is the new and improved version that integrates a console compatible with a wireless HR chest strap (included) for tracking your pulse during workouts.
The unit provides a dynamic resistance that goes all the with you in terms of extreme workout challenges. It works on over 80% of the body's muscle groups and even triggers metabolisms for weight loss and overall improved physical fitness.
However, if you require something that is a little bit above the floor, then, you may have to look up the Obsidian Surge 500 Rowing Machine that has a 17'' floor to seat height.
Otherwise, click right here to have a peek at the price of the Stamina 1450 Elite Wave Rower.  
The Frame & Construction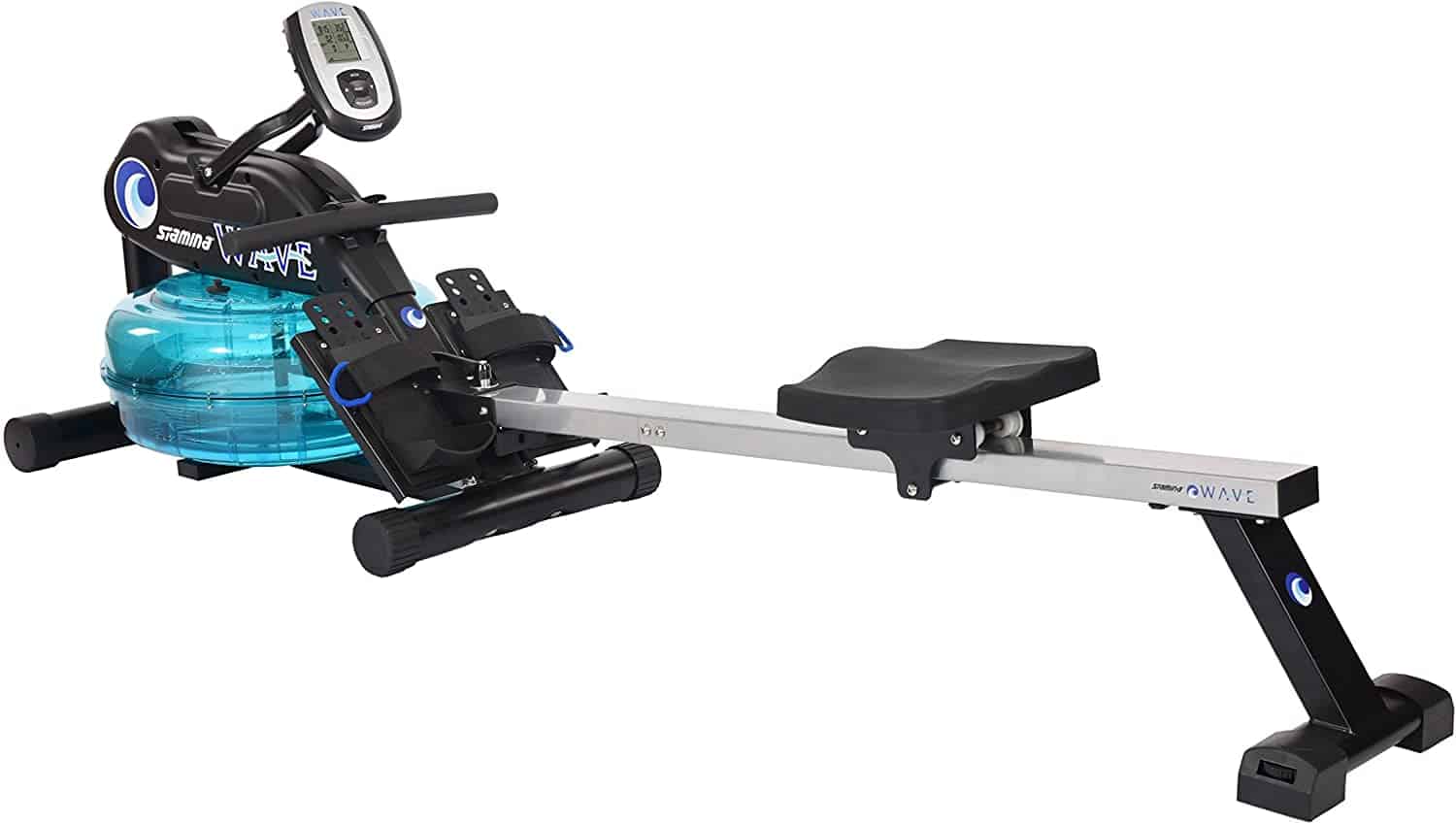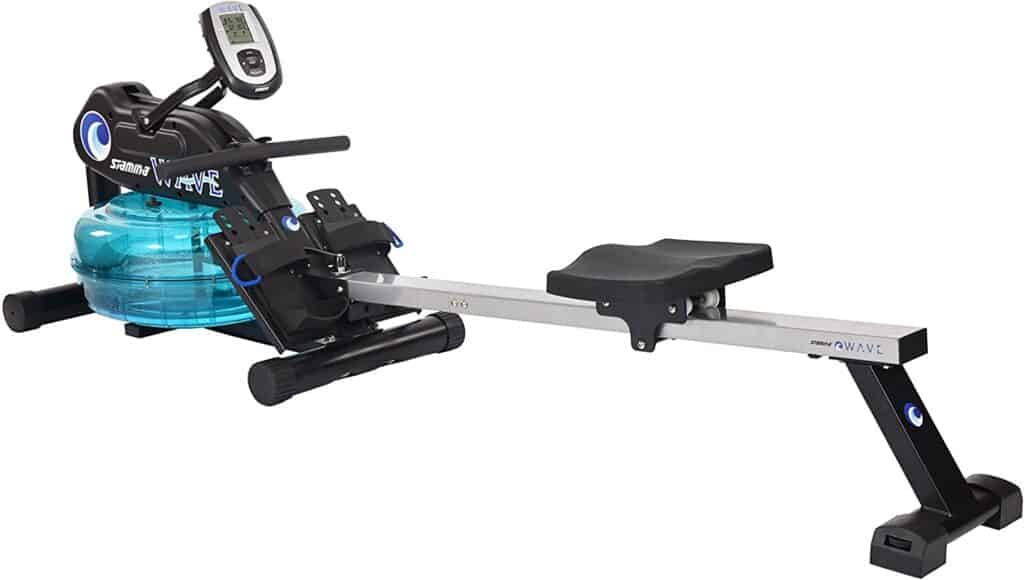 The Stamina 35-1450 Elite Wave Water Rower's frame (including the rail beam) is made of alloy steel.
The rail beam is slightly angled for quick recovery when you glide back and forth. This also adds additional resistance to the leg muscle groups for effective impact.
The rear base integrates a slanted support bar and a stabilizer with adjustable levelers, while the front base features a stabilizer and transport wheels.
As a result, optimum stability is guaranteed.
The rowing machine supports a maximum user weight capacity of 300 lbs./136 kg.
As always, it needs a sizable space for workouts. However, it requires less storage area because it is foldable.
The overall assembled dimensions are 85'' long by 20'' wide by 34'' high. Therefore, it is going to need a workout area with perimeters of 7'/213.36 cm in length by 1'7''/51.8 cm in width with an additional clearance of 2'/60.9 cm around it for safety and easy access.
The folded dimensions are 36'' long by 20'' wide by 60'' high. Thus, a storage area with perimeters of 3'/91.44 cm length by 1'7''/51.8 cm should suffice.
You can easily move the unit around the room or apartment through the wheels at the front base.
Finally, the floor to seat height is 12'', and its assembled weight is 71 lbs./32.2 kg.
The Seat of the Stamina 35-1450 Elite Wave Water Rower
The seat is molded and padded, and it is equipped with 3 sets of ball-bearing rollers that guarantee smooth and quiet back and forth movement.
It is wide and contoured to accommodate your butt and weight comfortably. This means you can exercise longer without feeling discomfort and the need to quit.
Although, stuffing an extra cushion may improve the seat if you have to.
That said, the floor to seat height is 12'' as aforementioned. This is consequential because users with bad knees (such as arthritis) may not easily get on and off the rower without struggling.
The inseam (the length of the inner thigh to the ankle) the unit supports is not stated. However, users that are up to 6'5'' tall can fit in due to its long rail beam.
The Handlebar
The handlebar of the Stamina 35-1450 Elite Wave Water Rower is a slightly curved metallic that is covered with anti-slip soft rubber foam. This ensures secure and comfortable grips that allow you to maintain proper rowing posture no matter how long you exercise in a stretch.
The handlebar is attached to a 1'' nylon strap that is in turn connected to a recoil system that consists of a bungee cord.
The Pedals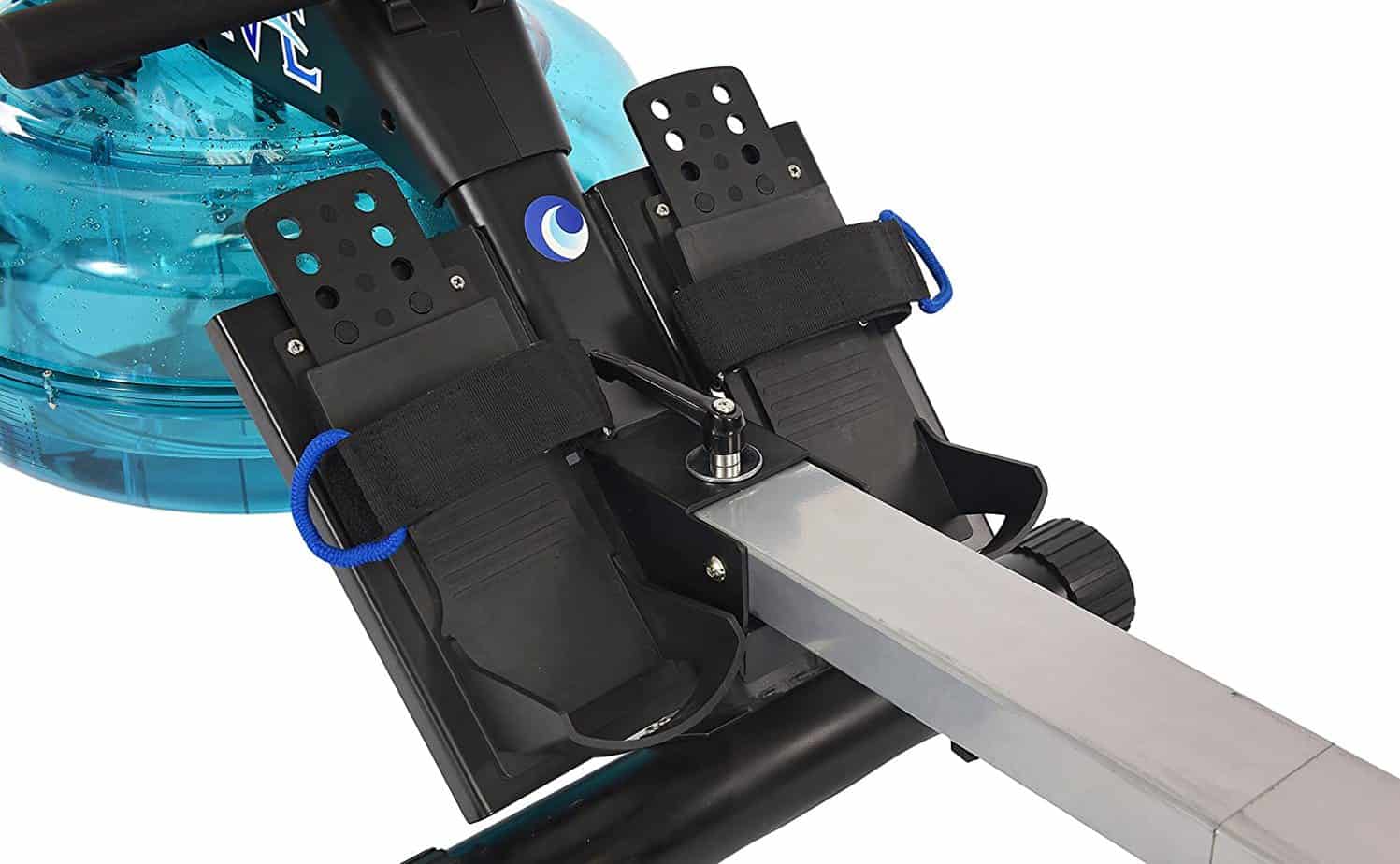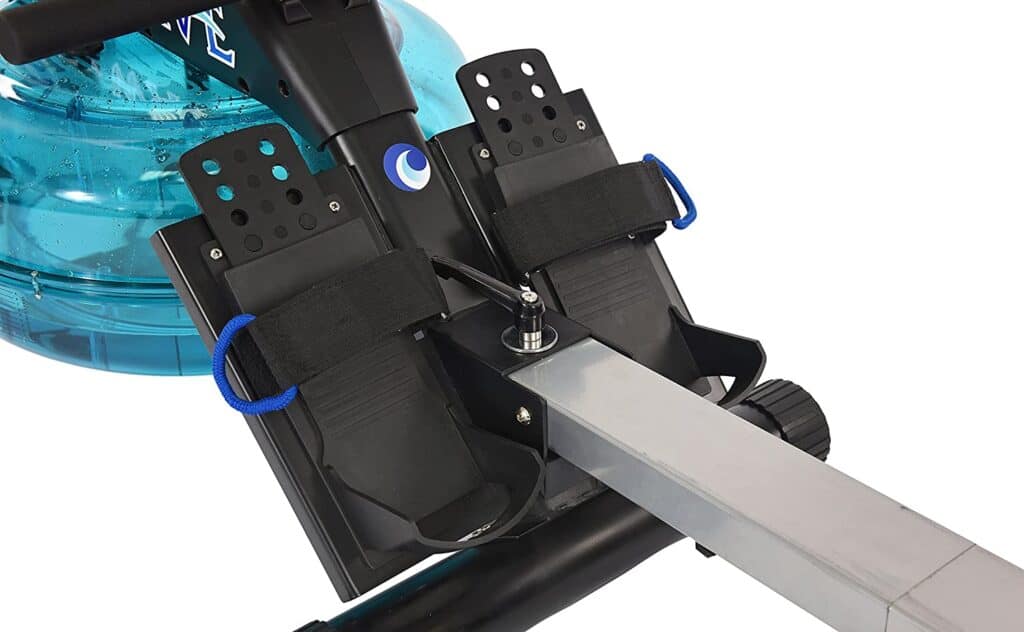 The pedals/footrests are made of plastic and are attached to metallic plates. They have safety features such as adjustable straps and heel guards that secure the feet in place and prevent them from slipping off during a workout.
They are not pivotal and neither can you adjust the angle. However, they are set at an optimized position of 45 degrees for a better user experience.
Lastly, the pedals are large and textured; hence, they can accommodate different foot sizes.
The Drive/Resistance System
The Stamina 35-1450 Elite Wave Water Rower is a belt-driven fitness machine. It consists of a nylon strap for smooth rowing activity.
Although, it will require a replacement at some point in time alongside the bungee cord. But the replacement is not done often and can easily be done by you as laid out in the owner's manual.
The rowing machine integrates a blue polycarbonate water reservoir/tank that is designed to provide resistance when the paddles/blades inside of it swirl the water around.
In other words, it has a water resistance system that is dynamic in offering infinite levels of workout difficulties. However, the level of intensity you get depends on your strength and how fast or slow you can pull the rowing handlebar.
The faster you pull the handlebar, the stronger the resistance becomes, and the slower you pull the weaker it gets.
You may also decide to increase or decrease the rate at which the resistance propagates. This can be done by adding more or less water in the tank using the marked level 1-10 on the body of the tank for guidance.
A siphon pump and a funnel are included in the package for filling and removal of water from the tank.
The water in the tank must be refreshed every 4-6 months and be treated with a tablet of sodium dichlor that is 56% chlorine. A deviation from these maintenance guidelines may void the product warranty.
As per the noise level of the rowing machine; it is soothing and minimal. This means as you enjoy the swooshing sound it makes; it doesn't constitute a nuisance to the people around you.
The Console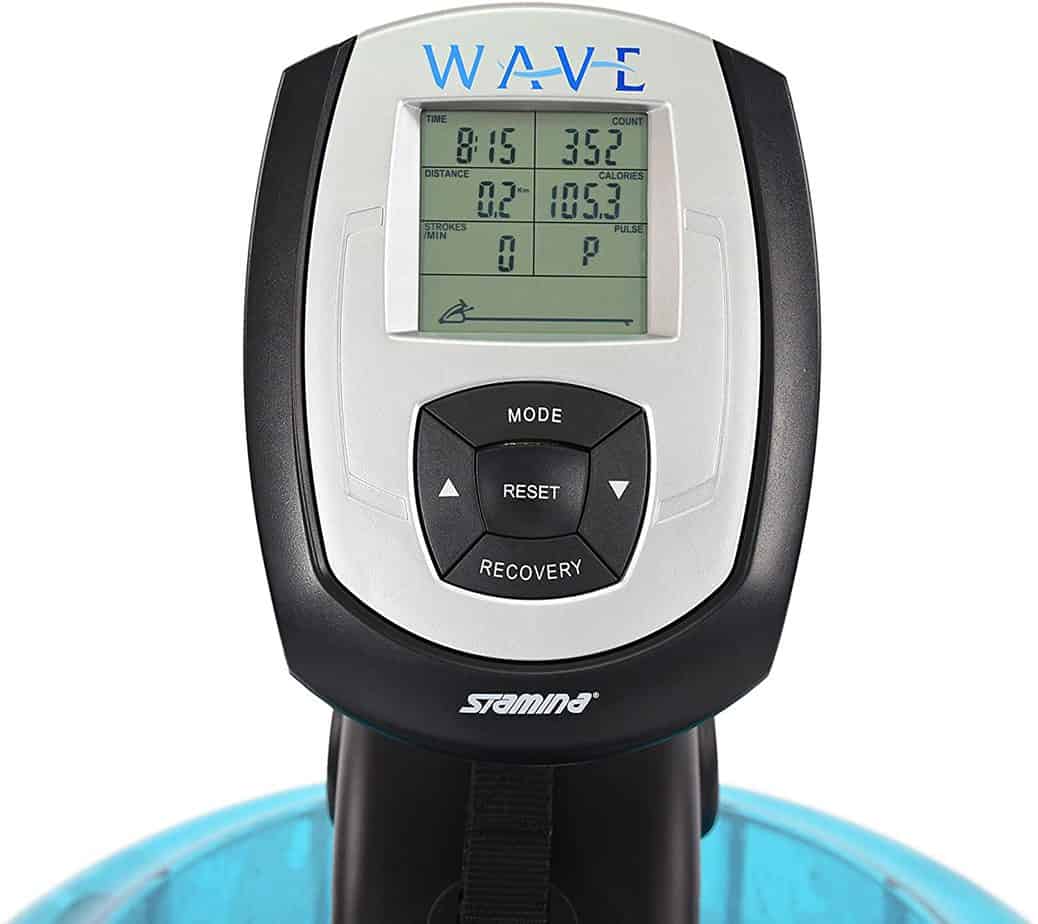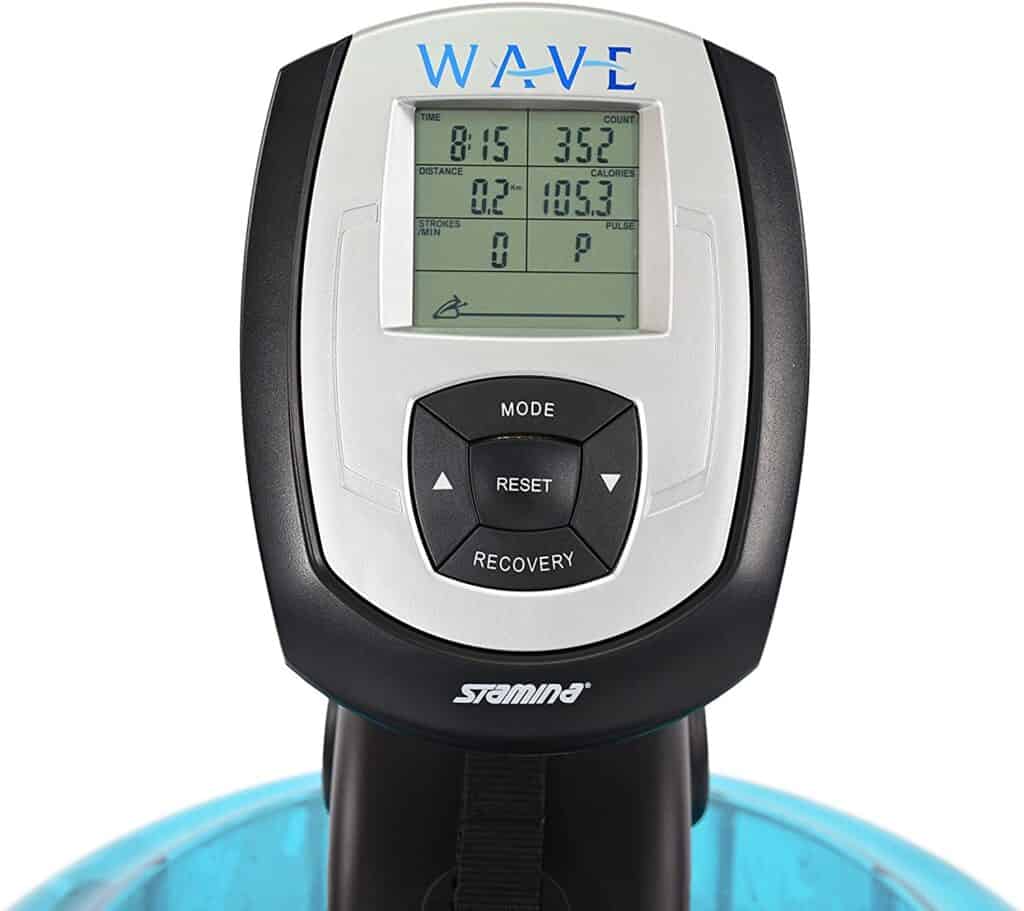 This unit has an upgraded console that is compatible with a wireless HR chest strap (device included).
This is the major difference between this rowing machine and the Stamina 1445 model. This enables you to keep track of your pulse in order to maintain your target heart rate zone at all times.
You can target a certain heart rate for weight loss or improvement of strength and endurance by increasing or decreasing your rowing speed.
There is a heart rate recovery function that calculates how fast your heart returns to its normal state after the end of a workout. It does so by providing a heart health status that is usually between F1 (Excellent), F2 (Good), F3 (Fair), F4 (Below Average), F5 (Not Good), and F6 (Poor).
Upon pressing the heart rate recovery function button, the only data that will be displayed by the monitor would be the Heart Rate and Time. The Time data will start counting down from 60 seconds until it reaches 0 and then gives its result.
The console features a multi-digital LCD monitor with 7 segmented display windows. In other words, it displays multiple workout data such as Time, Distance, Calories Burned, Stroke Count, SPM (Stroke Per Minute), and Heart Rate without the need to scroll through them.
Its readability is good as long as the monitor is viewed in a well-lit environment. Otherwise, you may have a hard time trying to figure it out.
The monitor is powered by 2 AA batteries (not included in the package), and it can be turned on by pushing a button on the console or by pulling the handlebar.
It automatically turns off after 4 minutes of inactivity.
Finally, it is possible to set a countdown goal for Time, Distance, Calories, Count, and Heart Rate. This goes a long way to challenging and motivating you toward achieving your fitness goals.
The instruction manual includes detailed instructions on how to operate the monitor with relevant diagrams.
Accessory
Aside from the HR chest strap device that comes with the rowing machine no any other accessory is included. This means, no water bottle holder or a tablet holder.
Storage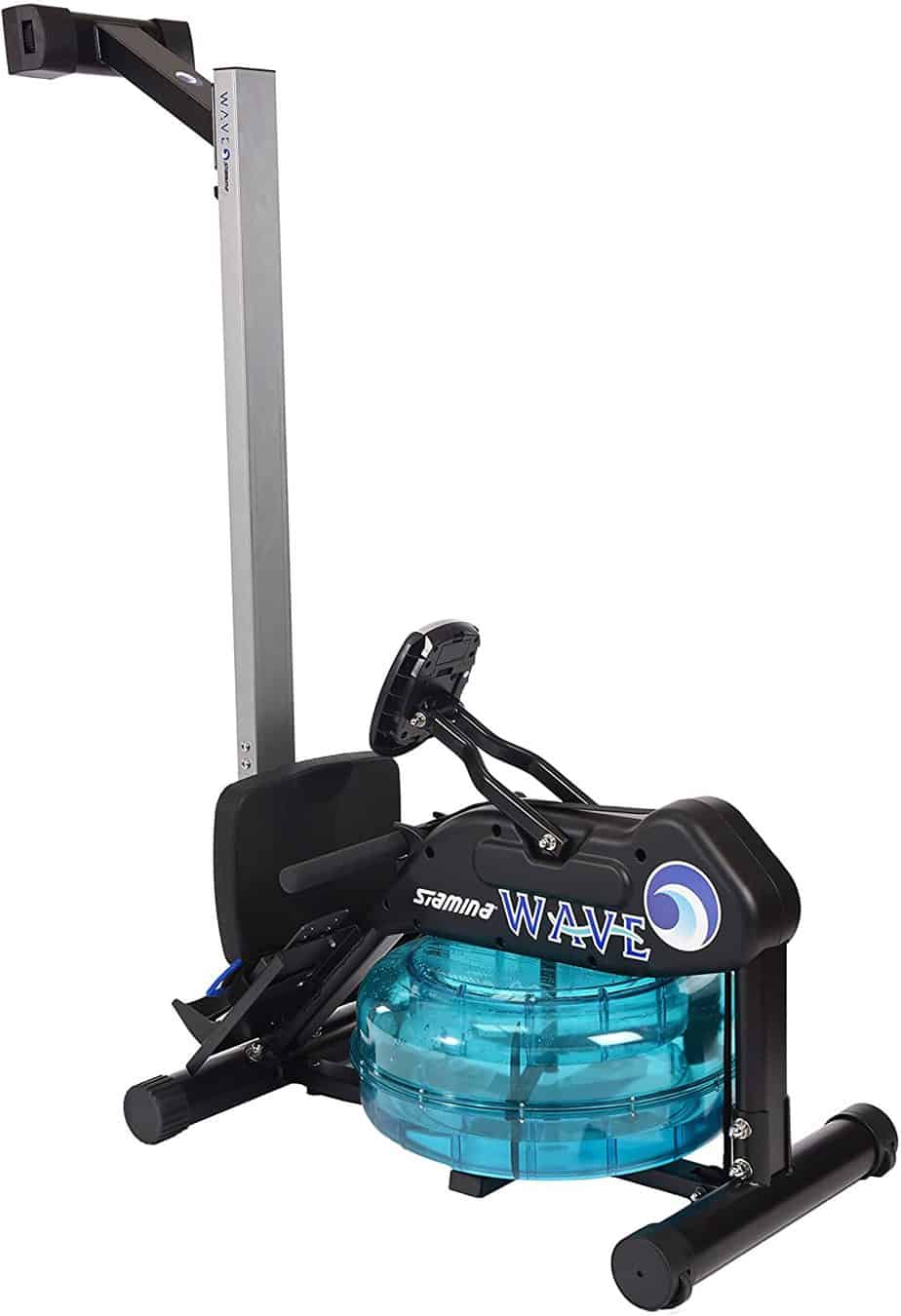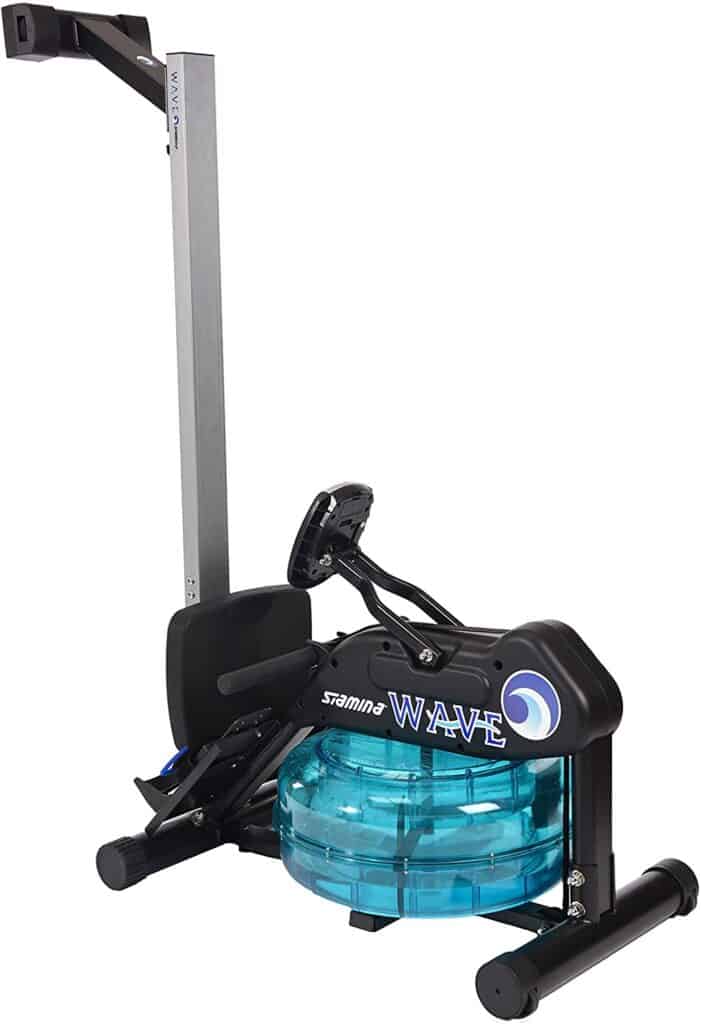 As aforementioned, the beauty of the Stamina 35-1450 Elite Wave Water Rower is that it is foldable, hence, it doesn't require a large area for storage.
A storage area with perimeters of 3'/91.44 cm length by 1'7''/51.8 cm will be enough for the machine.
Also, you can easily move it from one room to another via the transport wheels at the front base.
Pros/Features Overview
Construction is solid and sturdy
Supports 300 lbs./136 kg maximum user weight capacity
It has a space-saving design (foldable)
Its water-resistance system is dynamic; it provides unlimited resistance levels suitable for anyone
Users that are up to 6'5'' tall can fit in without experiencing restricted leg extension; thanks to the long steel beam
Wireless HR compatible console
HR chest strap device included in the package
Multi-digital LCD monitor tracks workout stats such as Time, Distance, Stroke Counts, SPM, Calories, and Pulse simultaneously
The seat is wide and contoured for lasting comfort
The pedals are large, textured with adjustable safety straps for maximum safety and comfort
The handlebar is coated with anti-slip rubber foam for a firm and secure grips
It makes a soothing swooshing sound during a workout with a minimal noise level
Transport wheels are integrated for easy relocation process
The maintenance requirement is low
Easy to assemble
Cons
The monitor does not have a backlight
No water bottle holder
No tablet holder
Warranty
3 Years for the Frame
90 Days for the Parts
Product Dimensions & Specifications
Length: 85''
Width: 20''
Height: 34''
Shipping dimensions: N/A
Net weight: 71 lbs./32.2 kg
Gross weight: 97 lbs./44 kg
Maximum user weight capacity: 300 lbs./136 kg
Frame: Steel
Resistance: Water
Drive: Nylon strap
Seat: Wide, contoured, and padded
Handlebar: Anti-slip coated and cushioned
Pedals: Large, textured, with adjustable safety straps and heel guards
Rail length: N/A
Inseam: N/A
Floor to seat height: 12''
Console/monitor: Mid-range multi-digital nonbacklit LCD
Recovery function
Goal setting for Time, Distance, Calories, Stroke count, and Pulse
Wireless HR transmitter included
Transport wheels included
Siphon pump and funnel included
Shipping
The Stamina 35-1450 Elite Wave Water Rower ships in two separate boxes that contain the water tank, and the rail beam, respectively.
Their combined weight is about 97 lbs./44 kg.
Its delivery usually takes a couple of days if you are in the United States.
Assembly
The assembly of this unit takes about 40 minutes, or at the latest, an hour.  
The major and complicated components are preassembled. You only need to attach the rail beam, the seat, the stabilizer bars, and the console to the tank/core unit.
Maintenance
Keep the rowing machine clean always, especially after a rowing activity. Do not expose the console/monitor to poor conditions such as a hot, dirty, or wet environment.
Take time to refresh the water in the tank every 4-6 months and treat it with a sodium dichlor tablet.
Conclusion
The Stamina 35-1450 Elite Wave Water Rower is a full-body and low-impact cardiovascular exercise machine that helps to burn calories, tone muscle groups, and improve strength and endurance strength.