The Sole F63 2019 Folding Treadmill is a good choice for those seeking to not only walk and jog but also run. It is a 2019 model that is designed with the necessary features that could provide users with a better user experience.
It is not only reserved for runners but for seniors as well because the cushioning system reduces the stress that is usually felt in the lower joints.
The Sole F63 2019 Folding Treadmill is for home use and has a solid construction that features a bulletproof steel frame and a well-thought-out base that holds steady during any type of exercise.
The tread belt is 60 inches long by 20 inches wide, enough to exercise with full stride length when running. A 3.0 CHP motor that withstands and supports vigorous workout activities without getting heated or broken in the process.
Easy to fold up and transport as it is integrated with Easy Assist and transport wheels. The console features a large light commercial backlit display screen that keeps track of workout progress.
There are 10 programs available and Bluetooth technology that allows you the freedom to transfer workout data from the machine to any smartphone device. You can download and track your workout data for free via the Sole app, and you may have your fitness data be transferred to any of these fitness apps; Fitbit, Record, Mapmyrun, and Apple Health.
The Treadmill supports 325 pounds/147 kg maximum user weight capacity and it is currently one of the best running treadmills in the manufacturer's lineup.
Click right here to have a peek at the price of the Sole F63 2019 Treadmill on Amazon.  
Frame and Construction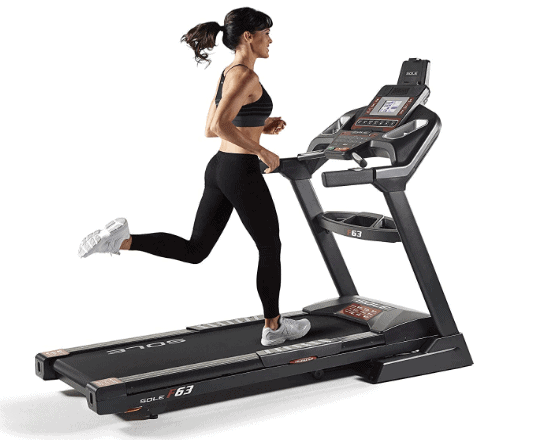 The Sole F63 2019 Folding Treadmill is seen as one of the best quality treadmills in its price range by several users and magazines. It has the quality and several features that disproportionately outweigh the cost.
Moreover, SOLE is a household name that has built its reputation on manufacturing good, quality, and user-friendly treadmills using the best components available and the SOLE F63 is a testament to that even at a decent price.
Its construction is made up of a solid bulletproof steel frame just like all the rest of SOLE treadmill. The frame features epoxy powder-coated paint that protects all the welded parts and elongates its original appearance and durability. The frame is indestructible thus the lifetime warranty. It holds 325 pounds/147 kg maximum user weight capacity, therefore, is capable of handling multiple users.
The deck size is roomy with dimensions of 60 inches long by 20 inches wide. It is uniquely designed and cushioned to provide users with a comfortable and quiet workout experience. This also reduces the stress impact on the knees and the ankles by 40%.
The treadmill is integrated with high-quality and larger (2.5 inches) rollers that are mostly found on high-end treadmills. Each roller is designed with sealed bearings and copper ground wires to reduce static. The large rollers do not only last longer but they also prolong the belt lifespan as well because it provides a smooth and quiet operation that is friction-free.
The running surface has double woven 2-ply belts with four layers. There are two rubber layers over a middle PVC layer with a nylon backing that rolls on the deck and rollers so that friction and over-stretching of the belt will be prevented and ultimately guarantee durability.
Obviously, the Sole F63 2019 Folding Treadmill is not a compact treadmill but has a space-saving design that allows the user to easily fold up when not in use. The overall assembled dimensions of the treadmill are 82 inches long by 35 inches wide by 57 inches tall. In other words, it will require a workout area of 6'9'' long by 3' wide and a ceiling height of at least 7'.
Its base framework is great in that it holds weight without wobbling or shaking. Also, it weighs about 254 pounds/115 kg which grounds and boosts stability.
The step-up height is 8 inches, therefore, stepping on and off of the treadmill won't be a problem, not even to seniors.
The Motor
The Sole F63 2019 Folding Treadmill has a 3.0 CHP heavy-duty high torque motor with flywheels. In other words, the motor is an industrial class with a large diameter, integrated with all-steel zinc coated balanced flywheels that ensure a secure and vibration-free running surface.
The presence of the flywheels enables the motor to run smoother and cooler with less ampere draw which consequently extends its lifespan.
Basically, the motor is capable of supporting your workout activities without overheating or breaking down.
It provides a start-up speed of 0.5 mph and a speed range of up to 12 mph.
The Console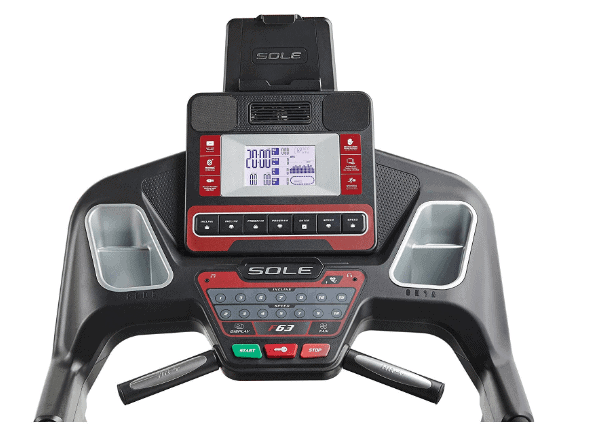 The console on this treadmill is equipped with features that essentially help you to enjoy your workout even as you remain focused and motivated toward achieving your fitness goals.
It features a large light commercial display screen that keeps track of your workout progress by displaying workout data such as heart rate, speed, pace, calories burned, and many more. Its white backlit screen provides a clean readout that is crystal clear and cannot be affected by the lighting level of the environment.
There are several navigational buttons that include the speed buttons, incline buttons, START/STOP buttons, safety lock buttons, and more.
The console has Bluetooth technology that allows users to connect to the treadmill with any Android or iOS smartphone to transfer data, download, or track their information on the SOLE app for free. Data can also be transferred to other apps such as Fitbit, Record, Mapmyrun, and Apple Health.
There are 10 programs available that include 6 preset for cardio training and fat burning, 2 custom, and 2 heart.
The heart rate can be read via the use of a wireless chest strap or contact pulse sensors. This helps you to keep a tab on your heart rate so that you can maintain the target heart zone always.
SOLE integrated a message board that is an alphanumeric text center that sends scrolling messages to the users designed to guide them through all the details of every workout. For instance, if you wish to know how to the user profile workout, just push the user profile button and the message board will walk you through it.
The message board also recaps your entire workout progress when you are done exercising so that you may see the extent of your progress.
This is part of the user-friendliness that eliminates frustration and improves the ability of the user to use the full capabilities of the treadmill.
Extras such as a USB charging port, Bluetooth audio speakers, a tablet holder, a water bottle holder, and a cooling system are integrated into the treadmill to provide seamless comfortability and entertainment to the user.
Incline
The Sole F63 2019 Folding Treadmill is equipped with a power incline that provides a 0-15% angle. It can easily be controlled via the console or the handlebars.
This allows you to add options to your workout by varying the intensity and the challenge of the exercise.
Moreover, incline and speed could be assigned automatically when a certain preset program is selected.
Approval Rating
The SOLE F63 2019 Treadmill has good acceptability because there are so many users and review websites that consider it the best in its price range.
Pros/Features Overview
The bulletproof steel frame is durable
Its overall construction provides comfort and stability
Supports high user weight capacity of 325 pounds/147 kg
Powerful 3.0 CHP with flywheels supports different types of workouts and provide smooth and friction-free vibration
Heart rate monitoring can be done with the use of a wireless chest strap or the contact pulse sensors
10 programs that include 6 preset workouts that target cardio and fat burning training; 2 custom and 2 heart
Can walk, jog and run on the treadmill
The Easy Assist Folding system allows folding and unfolding of the treadmill to be hassle-free
It is foldable, thus doesn't take up much storage space
The tread belt and rollers are durable, and there are multiple layers
Provides a good range of speed and incline that allow you to engage in different exercises
The cushioning system reduces impact up to 40%
The integrated USB charging port, Bluetooth audio speakers, tablet and water bottle holders, and the cooling system provide comfort, convenience, and entertainment
The message board guides you on how to fully utilize the treadmill capabilities
The 6.5 inches backlit LCD monitor keeps track of workout progress
Excellent warranty
Low maintenance
Assembly is not difficult
Cons
It is large and will require space
It's difficult to move through the stairs
Warranty
Lifetime on the Frame
Lifetime on the Motor
3 Years on the Deck, Electronics and the Parts
1 Year on Labor
Product Dimensions and Specifications
Length 82''
Width 35''
Height 57''
Running Surface Dimensions: 60" L x 20" W
Supports 325 pounds/147 kg maximum user weight capacity
Frame: Bulletproof steel
Weight: 254 pounds/115 kg
Rollers 2.5''
Step-up height: 8''
Bluetooth capability: Yes
Programs: 6 preset, 2 custom, and 2 heart
Motor: 3.0 CHP, DC type
Incline: 0-15%
Speed: 0.5-12 mph
Display: 6.5'' LCD, white backlit
Chest strap compatible: Yes, and included
Contact pulse sensors: Yes
Belt: 2-ply
Bluetooth speaker compatible: Yes
Tablet and Phone holders: Yes
Cooling fan: Yes
USB device charging port: Yes
Shipping, Assembly, and Maintenance
Shipping
The SOLE F63 2019 Treadmill is shipped in a box with dimensions of 86 inches by 36 inches by 17 inches.
Amazon provides free shipping and makes delivery within a couple of days from the day of order.
Assembly
The assembly is not difficult however, it is a heavy machine that could require two persons to move to where it is intended to be used for assembly.
Included in the package is the instruction manual that walks you through the assembling process step by step. The tools for the job are also in the package.
Maintenance
No serious maintenance is needed. Simply keep clean at all times from dirt and sweat and make sure that the console is not exposed to moisture, water, or sweat.
Further instruction is included in the owner's manual.
Conclusion
The Sole F63 2019 Folding Treadmill is a treadmill that has been recommended and applauded by many users and review websites. We think and believe it fits the narrative.
Sole F63 2019 Folding Treadmill Review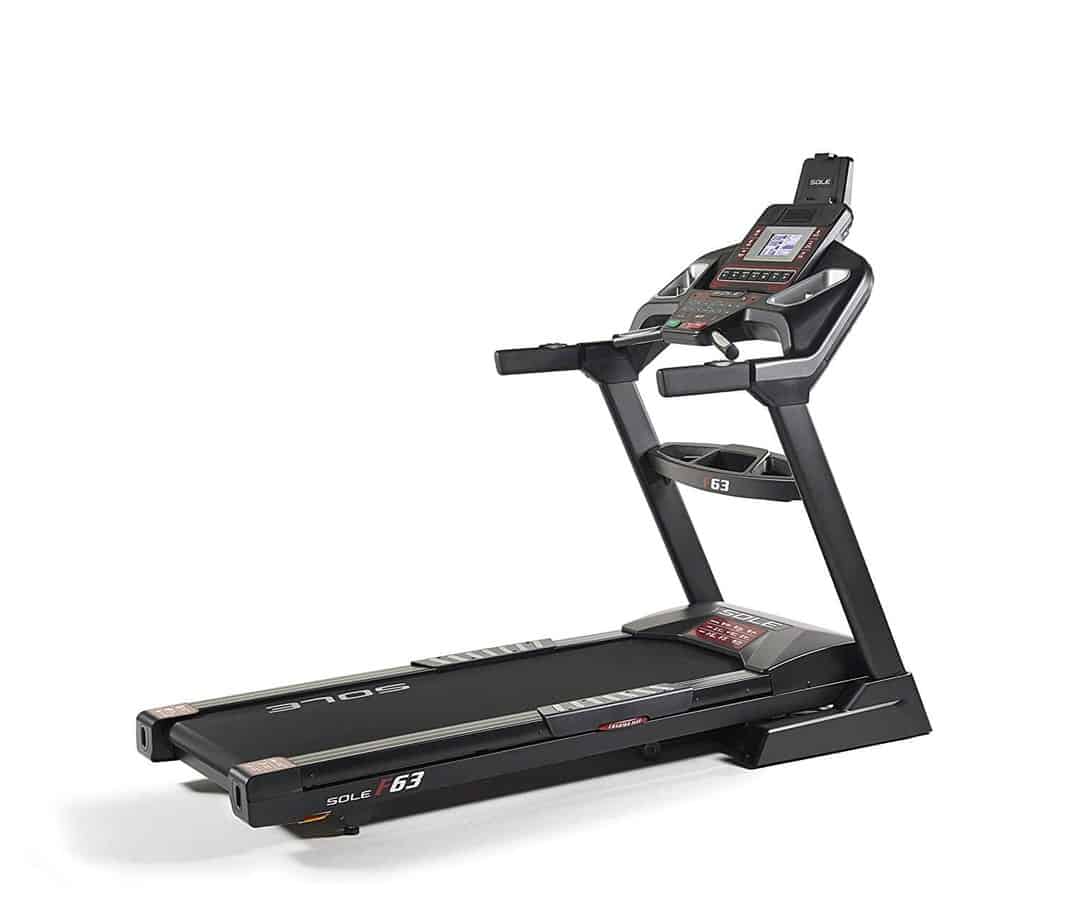 The Sole F63 2019 Folding Treadmill is a good choice for those seeking to not only walk and jog but to also run. It is a 2019 model that is designed with the necessary features that
Product Brand: Sole
Product In-Stock: InStock