Sunny Health and Fitness has made series of low budget recumbent bike available for those that like working out but face a budget problem. The Sunny Health and Fitness SF-RB4601 Bike is one of those budget-friendly recumbent bikes that would really make your workout experience remarkable. You may also check out other series that I have reviewed such as the SF-RB4616 and SF-RB921. The recumbent bikes share a lot in common with a just slight difference in the features. You will find a comparative table of these recumbent bikes below to help you understand the similarities and the differences as well.
One of the appealing features of this bike is the adjustable seat which would allow you to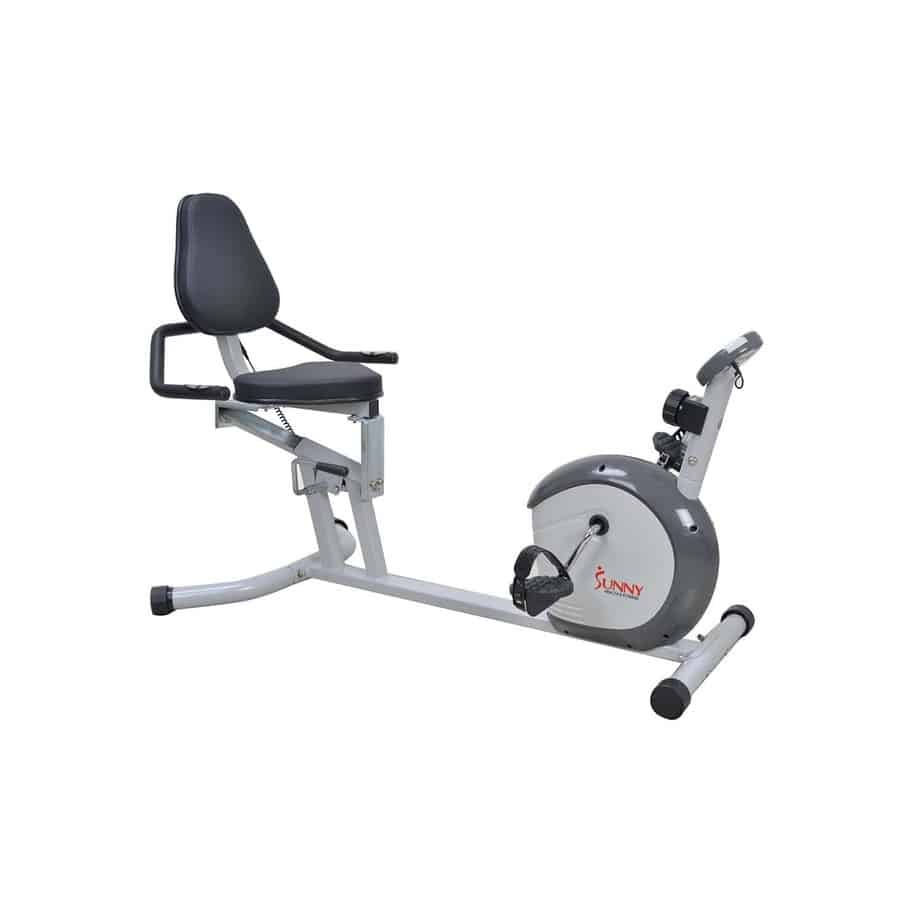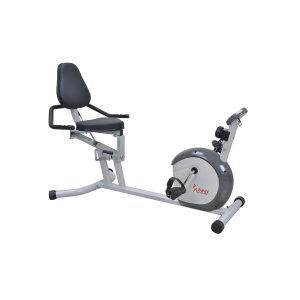 easily adjust to your preferred position without even having to get off the bike. Also, it has got 8 level adjustable magnetic tension system that allows you to choose how easy or difficult your workout should be and this is done by the turn or twist of the knob. The belt drive transmission ensures a quiet and smooth workout experience as well. Sunny Health and Fitness has managed to get all the basic and necessary features integrated into this bike even at a great price.
Click right here to have a peek at the best price of the Sunny Health and Fitness SF-RB4601 Recumbent Bike.
Features/Pros Overview
The Drive System is such that is smooth and quiet while in operation and this means that you can listen to your favorite TV show or music while not having to worry about disturbing the family or neighbors. And for safety reasons, the flywheel is enclosed so that children and pets may not have access to it.
The pedals have anti-slip surface and straps that are adjustable to suit your feet in order to prevent any accidental slippage during a workout.
The bike has an adjustable seat that is only found on Sunny Health and Fitness bikes. This is unique because it is easy to adjust even while still sitting on the machine. Can you imagine adjusting to your comfortable workout position at a flick of a handle by the side? Well, that is how easy it is to adjust the seat without any hassle. This is important because being comfortable during a workout mainly has to do the comfort the seat offers right? And if you are comfortable during workouts you will be able to work out longer which will ultimately translate to achieve greater results. Remember, this an exclusive feature only found on Sunny Health and Fitness. Aside from the fact, the seat is easily adjusted, it is also well cushioned both the seat and the backrest to add to the most needed comfort.
The handlebars are well positioned that it won't interfere with your comfort instead it will add an extra comfort. They are useful features when it comes to needing a support during a workout.
The heart-rate sensors are integrated and embedded on the handlebars to enable you to see your heart rate during a workout and to help you stay within your target heart rate at all times. This also means you have to grip the handlebars at all times if you wish to monitor your heart rate.
Sunny Health and Fitness did consider integrating 8-level magnetic resistance in this unit despite its cheap price. You can easily adjust your workout from easy to difficult by simply turning the resistance tension knob to the level you wish to be on. Therefore, this is suitable for people of different fitness levels. However, you may be disappointed if you are expecting a tougher workout experience because the highest level does not offer that. So you may have to consider higher recumbent bikes such as the

Schwinn 270 Recumbent Bike

which also means extra cost.
It has got a basic digital display that enables you to view your workout data such as the time, speed, distance, calories burned and pulse. This, however, keeps you motivated to achieve your fitness goals.
It is easy to store and move the Sunny Health and Fitness SF-RB4601 Recumbent Bike around the room because of its compact nature. This is a lightweight machine that weighs about 59 pounds yet supports 300-pound maximum user weight. But before you drag it around make sure that it doesn't leave a mark on the floor.
It is sturdy as the frame and stabilizer bars ensure that. The frame is also made of steel which makes it even stronger and doesn't wobble or make a creaking sound during a workout. Interestingly, the end caps on the stabilizers can be turned to balance the unit; therefore, uneven floor won't make it be rocking side to side.
Cons
There is a whole a lot of other features I would like to see on this machine but the price won't make that possible. Nevertheless, there are a couple of things I think are the downside of the Sunny Health and Fitness SF-RB4601 Recumbent Bike.
The Monitor is not backlit which means you cannot see the workout data without having the lights turned on in the room.
No preset workout programs available

It doesn't have transport wheels

It doesn't have a water bottle or device holder
Warranty
3 Years for Frame
90 Days for Other Parts and Components
Product Dimensions
56'' Length
29'' Width
38'' Height
Weighs about 59 pounds
Supports 300 Pounds maximum user weight
Shipping and Assembly
The shipping cost depends on where you are purchasing the product from. Should you be buying from Amazon then the shipping cost is totally free but that may not be the case with other retailers though.
As for assembly, it is pretty easy to assemble because the major components come pre-assembled which mean fewer parts to fix. Moreover, it is accompanied by an assembly manual that would walk you through the process of assembly.
Conclusion
The Sunny Health and Fitness SF-RB4601 Recumbent Bike is no doubt a good buy considering the price. There are features I would love to see in it but that still does not make it any less useful because it has got features that would enable you to realize your fitness goals at an affordable price.
It is also easy to maintain as you can easily clean it for few minutes within the week.
It is also important to mention that currently, consumers of this product are fine with it as they recommend it.
Sunny Health and Fitness SF-RB4601 Recumbent Bike Review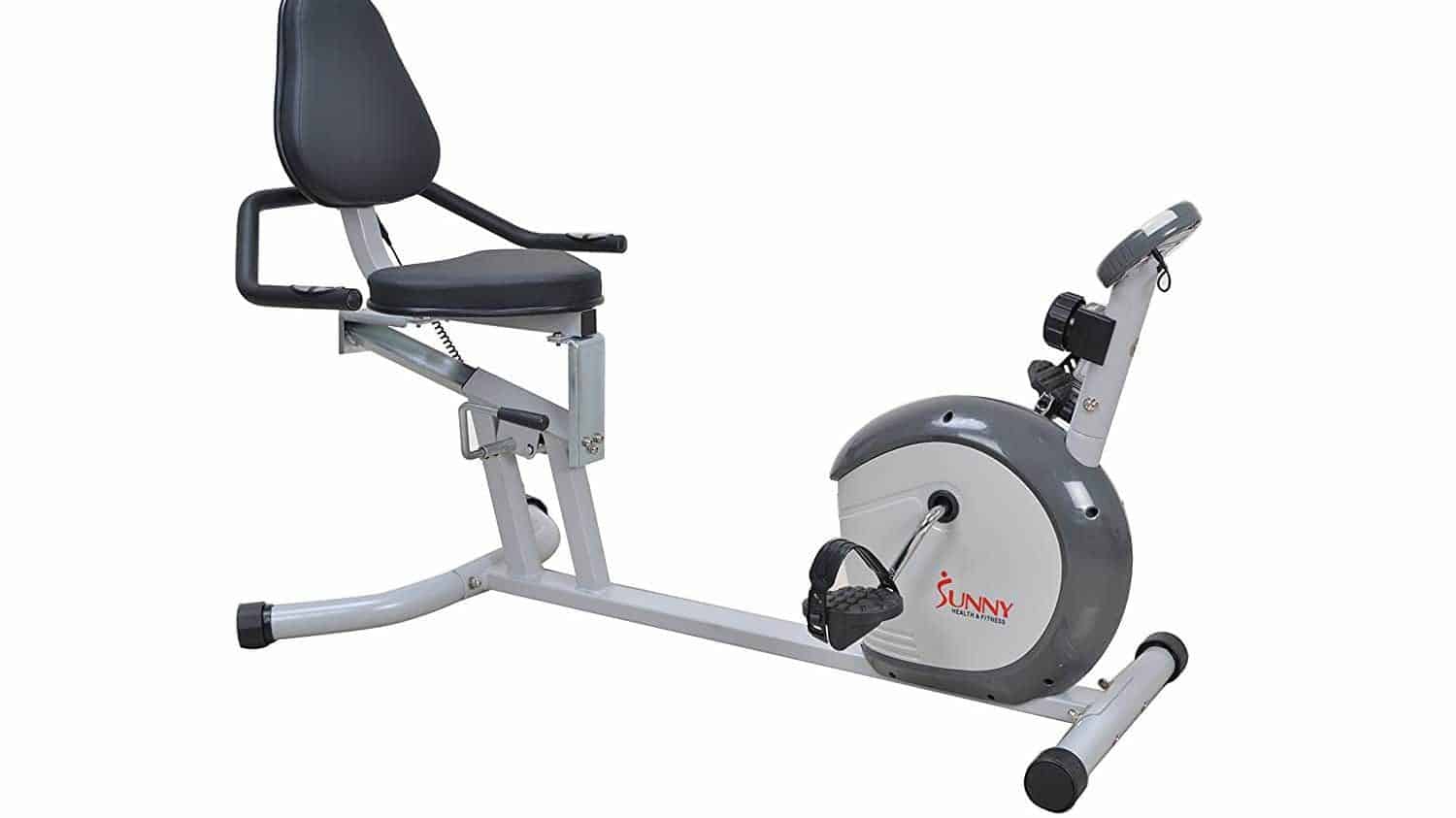 The Sunny Health and Fitness SF-RB4601 Bike is one of those budget-friendly recumbent bikes that would really make your workout experience remarkable.
Product Brand: Sunny Health & Fitness
Product In-Stock: InStock