The TOMSHOO 500W Folding Motorized Treadmill gives you the good start of burning extra calories and achieving a physical fitness you have always desired. It is very affordable with great features that would help you to easily achieve your fitness goals. This unit has a modern design adorned with a 500W motorized motor that has a low-noise during operation. This offers low-intensity workouts that would help you burn fat, lose weight, improve endurance, and generally help you build that body.
If you have losing weight and toning the muscle groups in mind then the TOMSHOO 500W Folding Motorized Treadmill will help you reach those goals. The machine was also built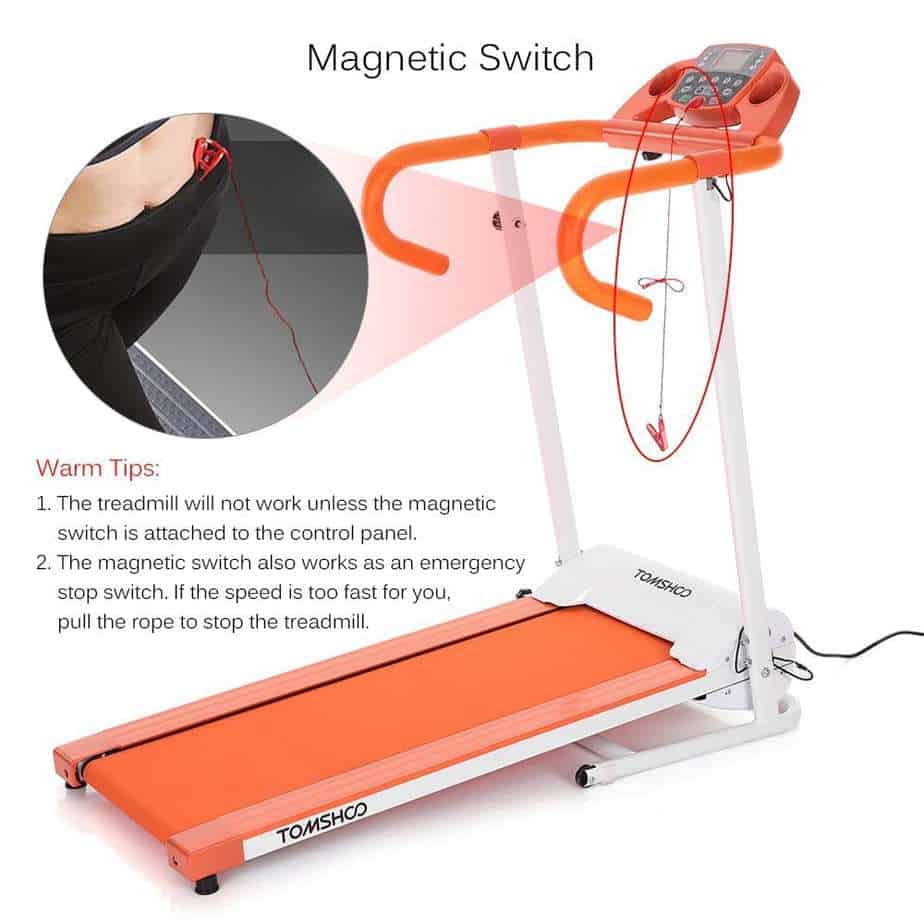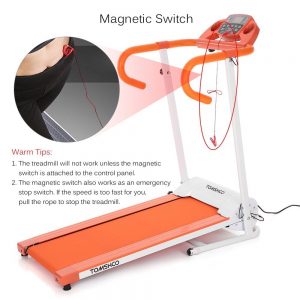 with steel which makes it sturdy and can support up to 250 pounds maximum user weight. The handle rails are well coated with foam to provide comfort, balance, and safety during a workout.
It is pretty compact and foldable which means small apartment owners will not have to worry about space and it will not always be on the way. However, being that it is compact with about 39.4'' x 13.4'' running surface this also means that runners will experience some restrictions during a workout because the deck is pretty small.
But overall, this unit will provide you with the opportunity to workout at home without having to go to the gym, pay for that gym membership fee or even have to worry about the bad weather either. Interestingly, this unit comes in three different colors which are Black, Orange or Silver which you select from when purchasing.
Click right here to have a peek at the best price of the TOMSHOO 500W Folding Electric Treadmill. 
Features/Pros
It has got a LED Display that allows you to view your workout data such as the speed, distance, and calories burned.
The frame is made of steel which makes it be sturdy, durable and supports 250 pounds maximum user weight.
It has got Ergonomic handrails that are coated with foam to provide balance, safety, and comfort during a workout session.
It is integrated with transport wheels which make the movement of the unit easy and it is also foldable which saves space during storage.
There is an easy-to-reach emergency stop switch that would allow you to stop the machine in case of any accidental tripping during a workout to prevent injury. Essentially, this is a safety measure in place.
Specifications
The running belt is made up of PVC
Control Panel Material: ABS
It rated power is 500W
It supports a maximum user weight capacity of 250 pounds
Rated Frequency: 60 Hz
The Running surface size is 39.4'' x 13.4''
The unit weighs about 27.5kg/60.6 pounds
The unfolded size is 49.2'' x 46.5'' x 24''
The folded size is 26.8'' x 24'' x 49.2''
Shipping size is 52'' x 25.6'' x 10.6''
Shipping weight is 30kg/66.1 pounds
Shipping and Assembly
Shipping cost usually depends on where you are buying the unit from. If you are purchasing from the Amazon then the shipping cost is totally free, however, this may not be the case with other retailers though.
As for assembly, this is pretty easy because upon buying the product instruction manual is one of the things you will receive in the package. So, this will easily walk you through the assembly step by step. Besides, the main components are preassembled thereby making the final assembly a piece of cake.
Conclusion
The TOMSHOO 500W Folding Motorized Treadmill is good for those that wish to workout at home because it is very affordable. However, this is not for professional athletes because its features as you may have already observed are basic which will only allow you to workout averagely in order to achieve the fitness goals you have always wanted. You have the opportunity of selecting the color you wish to be shipped to you as there are 3 colors available; Black, Orange, and Silver.
Moreover, I observed that few of the current consumers were complaining of defect or one function not working. This could be as a result of incorrect assembly or not just adhering to the warnings. Therefore, the warnings say:
Do make sure that the treadmill is well assembled before powering it on.
Do not place it on a thick mat in order to allow good air circulation underneath the treadmill
Do not expose the treadmill to moisture or rain
Pregnant women and seriously injured people are not recommended to use it.
TOMSHOO 500W Folding Motorized Treadmill Review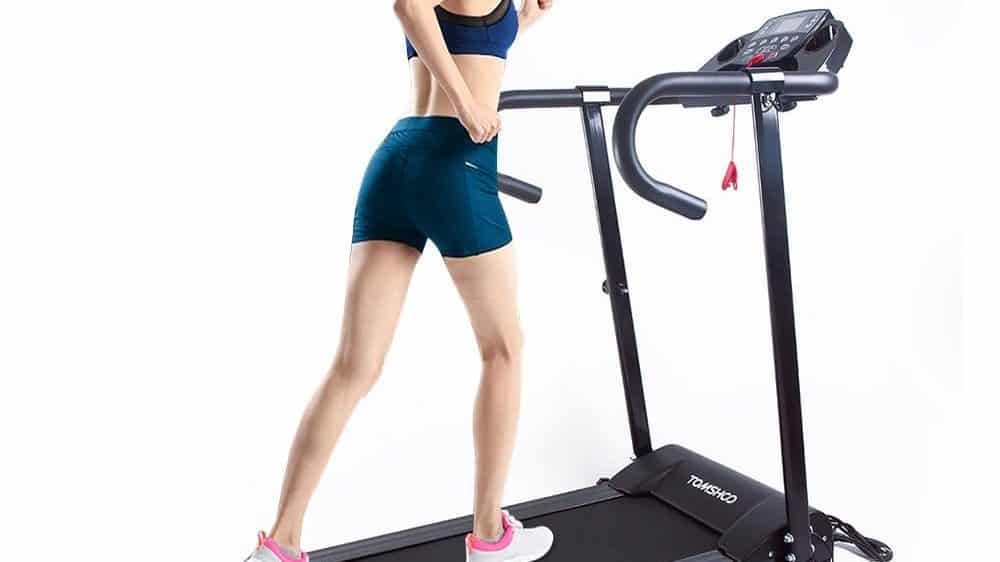 The TOMSHOO 500W Folding Motorized Treadmill gives you the good start of burning extra calories and achieving a physical fitness you have always desired
Product Brand: TOMSHOO
Product In-Stock: InStock