The Sunny Health and Fitness SF-RB921 Recumbent Bike is yet another budget-friendly unit that is worth looking up. Recently I reviewed the Sunny Health and Fitness SF-RB4616 Recumbent Bike which is also similar to the SF-RB921 because they share similar features with just a slight difference. I will be leaving a comparison table in this review below.
This unit supports a 265 pounds maximum user weight and it is the most affordable in the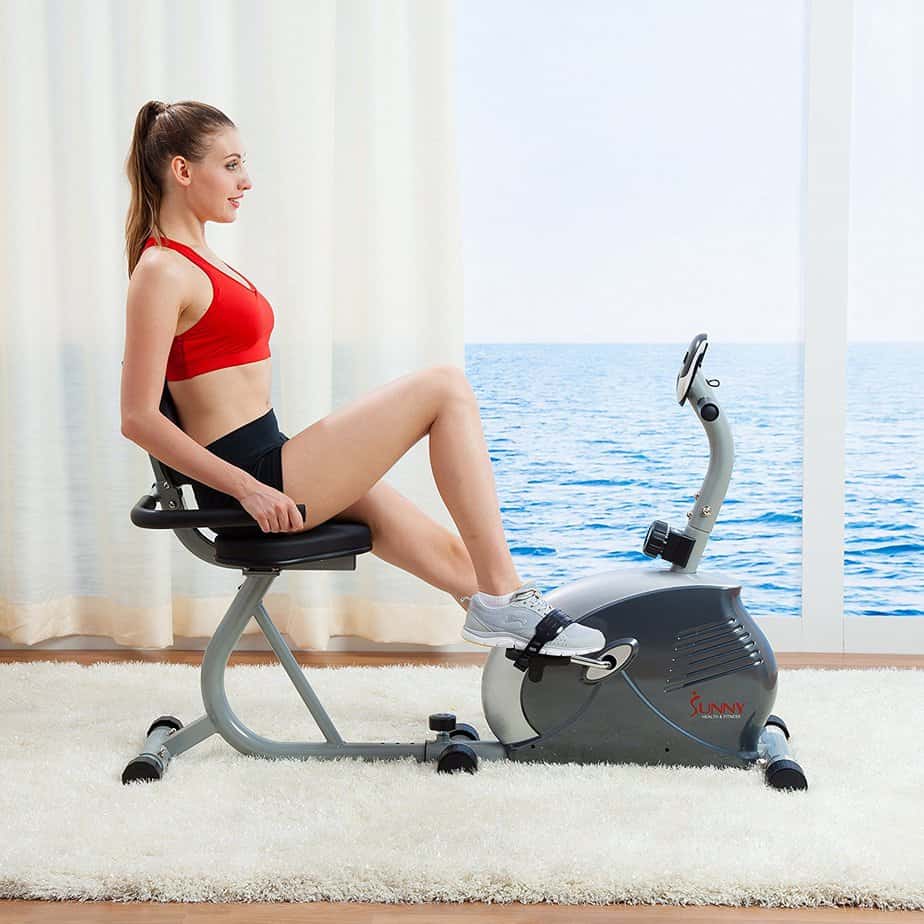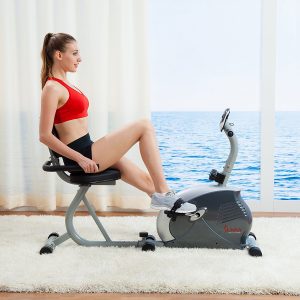 series. Although, it has the basic features and one cannot really expect much from any recumbent bike of its price range. Nevertheless,, it is durable, sturdy and has what it takes to help you stay physically healthy.
Let's look at the features/pros and the downside it might also have shall we?
Meanwhile, you may click right here to have a peek at the best price of the Sunny Health and Fitness SF-RB921 Recumbent Bike.
Features/Pros Overview
The

Sunny Health and Fitness SF-RB921 Recumbent Bike

has double-direction 4KG flywheel which is not the size of the typical flywheels you could get in more high-end equipment but that keeps the motion smooth and quiet.
It has 8-level magnetic resistance system that is fast and reliable with a tension knob that would allow you to easily adjust the resistance. This also means you can adjust to experience an easy or challenging workout to burn out a lot more fat which can result in achieving your fitness goals quicker.
It has got a comfortable seat that is well cushioned and adjustable as well which means you can adjust to your preferred position during a workout.
Did you also know that the frame is adjustable too? This is designed to accommodate different sizes of individuals.
It is integrated with LDC monitor that displays your workout data such as the speed, distance, heart rate, time, calories burned and scan to keep you motivated as you work through achieving your fitness goals.
It features a walk-through design intended to allow you to experience an easy and comfortable workout.
The pedals have slip-resistant design and straps intended to prevent any accidental slippage during a workout.
The handlebars are embedded with the heart rate sensors that would transmit your pulse real time which will help you stay within your target heart rate zone at all times. And the handlebars are equally positioned for a comfortable and complete body workout.
This unit is compact, stable and provides one the most ergonomic and low-impact style available and because of its compact nature, it saves space and light to move around for storage.
Cons
There are a lot of things that are lacking in the Sunny Health and Fitness SF-RB921 Recumbent Bike, but these drawbacks mostly have to do with the convenience and entertainment aspect such as lack of water bottle holder, table or device holder and port, speakers, etc; but the basic issue which is to be able to work out and achieve physical fitness is covered by this unit. One cannot really expect more from this machine given its price range.
Warranty
3 Years for Frame
90 Days for other Parts and Components.
Product Dimensions
46'' Length
32'' Width
5'' Height
Supports 265 pounds maximum user weight
Weighs about 56 pounds (shipping weight)
Shipping and Assembly
Shipping of the Sunny Health and Fitness SF-RB921 Recumbent Bike is absolutely free if you are purchasing from the Amazon but that may not be the case with other retailers.
While the assembly of the unit is relatively easy and simple, it also comes with the major components pre-assembled with very little to be assembled by you. And of course, an instruction manual is also included to help guide you through the process of assembling.
Conclusion
No doubt, this unit has the basic features that would help you achieve your fitness goals in return for a very good and affordable price. You may even expect some wobbling during intense and rigorous workouts but always remember that this is a lightweight machine sold for $100+, therefore, I don't think that would come as a surprise. So far, the majority of its consumers is really happy with their purchase and would recommend it to anyone.
You may also look at the Marcy ME 709 because they share a lot in common.
[rank_math_rich_snippet]