Schwinn 270 Recumbent Bike is another beautiful piece from Schwinn, just as they have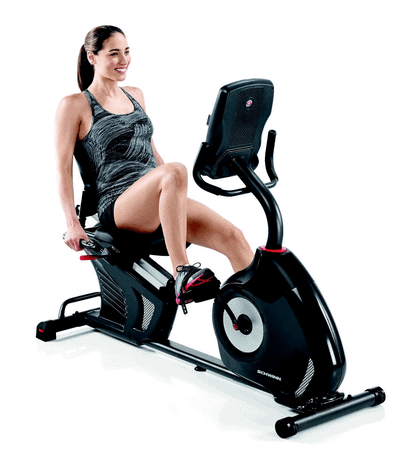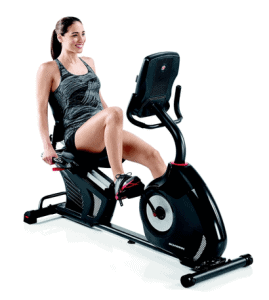 always been living up to expectation by producing quality and advanced machines.
They exhibited their trademark of outstanding creation with Schwinn 270 Recumbent Bike just as they did with the Schwinn 470 Elliptical Machine and many others. They are indeed specialists in health and fitness equipment.
As you can see, Schwinn 270 Recumbent Bike is an advanced machine with features that are uncommon with other machines of its type.
Did you know that Schwinn has been in the business of making bicycles for almost 150 years? Did you know they have been in the business of manufacturing exercise bikes for 50 of those years? These guys have got a reputation in this industry and undeniably great products to their name and to showcase.
The features that accompany this machine are very advanced such that it has dual track LDC windows designed to monitor up to 13 different display feedbacks! It has 29 programs, out of which there is a goal tracking that will keep you challenged and motivated.
How about the 25 levels of resistance available that allows a user to find his level of challenge and ultimately achieve positive results at the end. Then the recumbent vented seat ensures that its user is comfortable with back support. There is nothing like being comfortable while working out because that alone will make you workout at your full potential.
Schwinn 270 Recumbent Bike is now available on the Amazon with of course free shipping.
Features
• Dual track two LCD window, which allows you to monitor multiple different feedbacks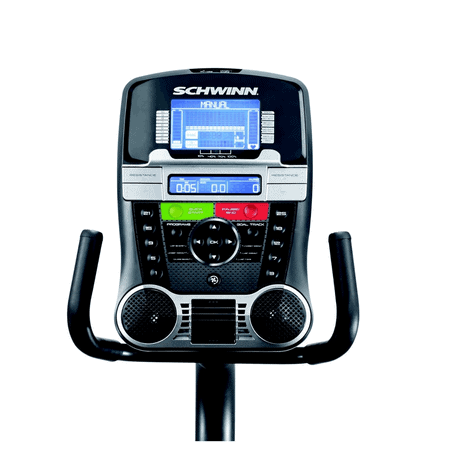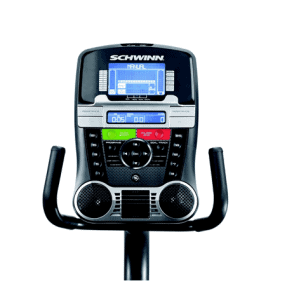 • It has a
• Schwinn Connect goal tracking and data export update you about attaining your fitness goals.
• It has a high-speed high inertia perimeter weighted flywheel that ensures that every workout is quiet and smooth
• It has 29 pre-set programs and 4 user settings which are all designed to keep you motivated and challenged
• 25 levels of resistance that will allow you to challenge yourself to achieve your goals quickly
• It has a USB port for charging and data exchange
Pros
This is a bike that was well built and sturdy to support 300 pounds of weight capacity. And users will not have to be worried about shaking and slipping which is a very common experience with other bikes. The user only needs to get hold of the grip handles to monitor the heart rate and the seat is easy to adjust.
For the fact this machine only weighs 87 pounds, moving it is not a problem as it comes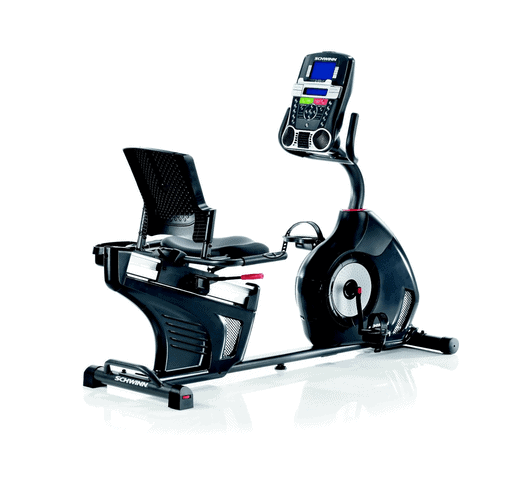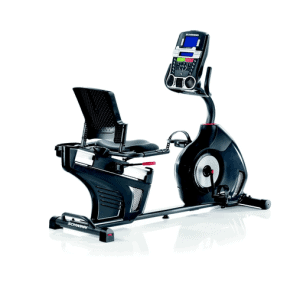 with a transport wheel and handles. Here is my favorite, the dual-track LCD windows, it is a beauty.
This will display all the different data and information regarding your exercise, which includes distance, speed, resistance, calories burned, rpm, user profile, and much more.
You can charge your electronic device using the USB port and also export data using Schwinn Connect technology. The seat has back support with a padded bottom, which was designed to ensure the comfortability of the user. And this is great especially for people that have back problems but want to exercise.
As part of entertainment features, some built-in speakers would are in included to enable users to listen to their favorite music while working out. In addition to that, it has a 3-speed fan that blows right on the user's upper body which cools off the heat of the workout to an extent. A water bottle holder is designated at a convenient spot for easy access to water while exercising.
It has a modest warranty; 10 years on frame, mechanics 2 years, electronics 1 year, and labor 90 days. It can take between 1 to 2 hours to assemble.
Cons
This is based on one person's complaint amongst many positive reviews; he says that he found the seat uncomfortable and might not be good for someone with hip surgery. Another person complained about it not being too sturdy; it wobbles left and right when he was using it.
Conclusion
The Schwinn 270 Recumbent Bike is a recumbent bike to consider given the fact that it has a very good Amazon customer reviews.
It has almost 1000 Amazon customer reviews with an average approval rating of 4.3 out of 5. This is a very good indication that this recumbent bike worth considering because of its worth and value for the money you will be paying for it.
Customer feedback has always been the best way to know which machine works. Over 80% of its users are satisfied with what they got and would recommend it.
Currently, the price is way better than what it used to be before and still retains its features and quality. It has a very good warranty and a very good number of features that would allow you to experience outstanding and effective workouts.
Schwinn 270 Recumbent Bike-Review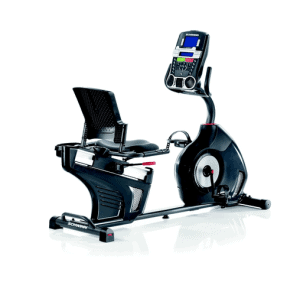 Schwinn 270 Recumbent Bike is another beautiful piece from Schwinn, just as they have always been living up to expectation by producing quality and advanced
Product Brand: Schwinn
Product In-Stock: InStock