The OVICX XCycleQ100 Stationary Indoor Bike is a magnetic resistance unit designed for cardiovascular exercises. It is less expensive than the OVICX XCycleQ200, and yet it supports a higher user weight capacity.
Its operation is smooth and quiet due to the belt drive system and it's fully customizable to accommodate users of different heights and sizes.
The integrated monitor tracks workout progress, however, it doesn't include heart rate monitoring. So, if this is something you must have, then you may want to consider purchasing the XCycleQ200 or an external HR monitoring device.
That said, the unit is sturdy, portable, and compact.
Click right here to have a peek at the OVICX XCycleQ100 Stationary Indoor Bike.
The Frame and Construction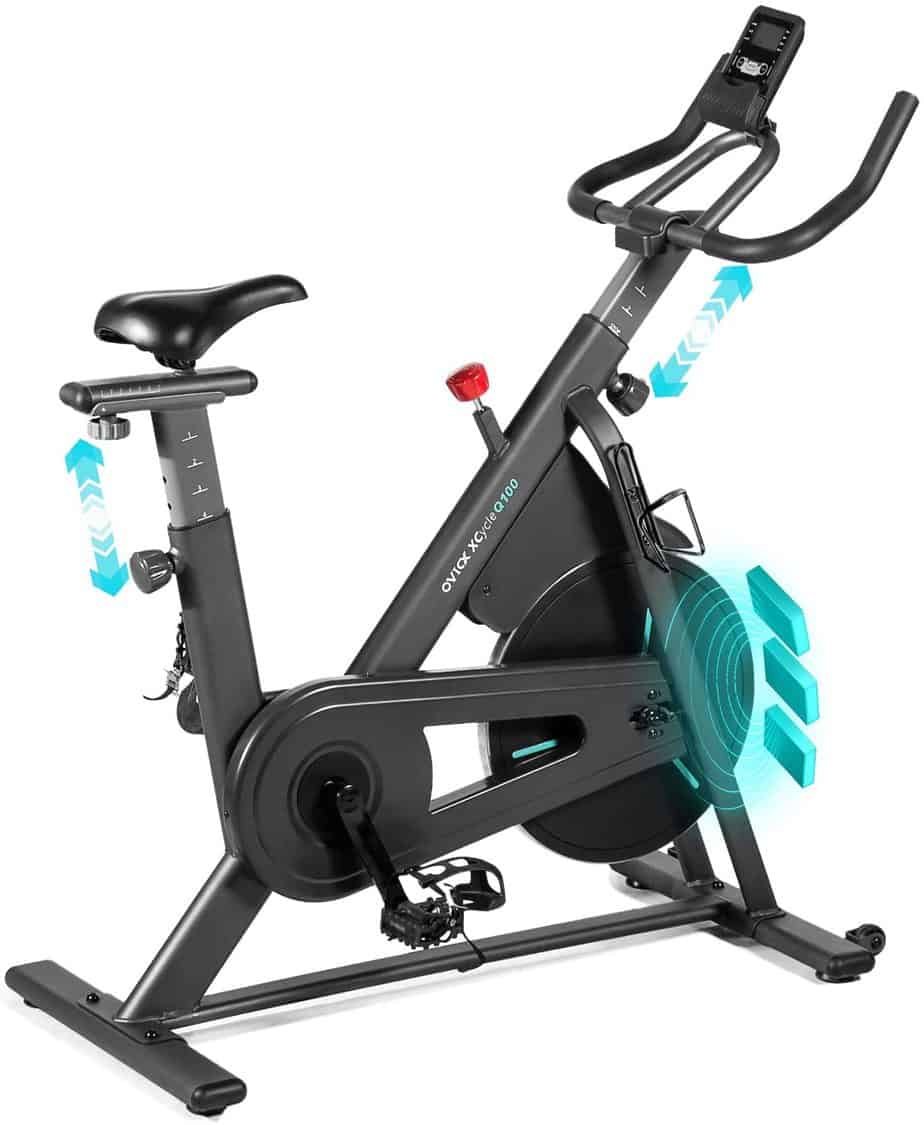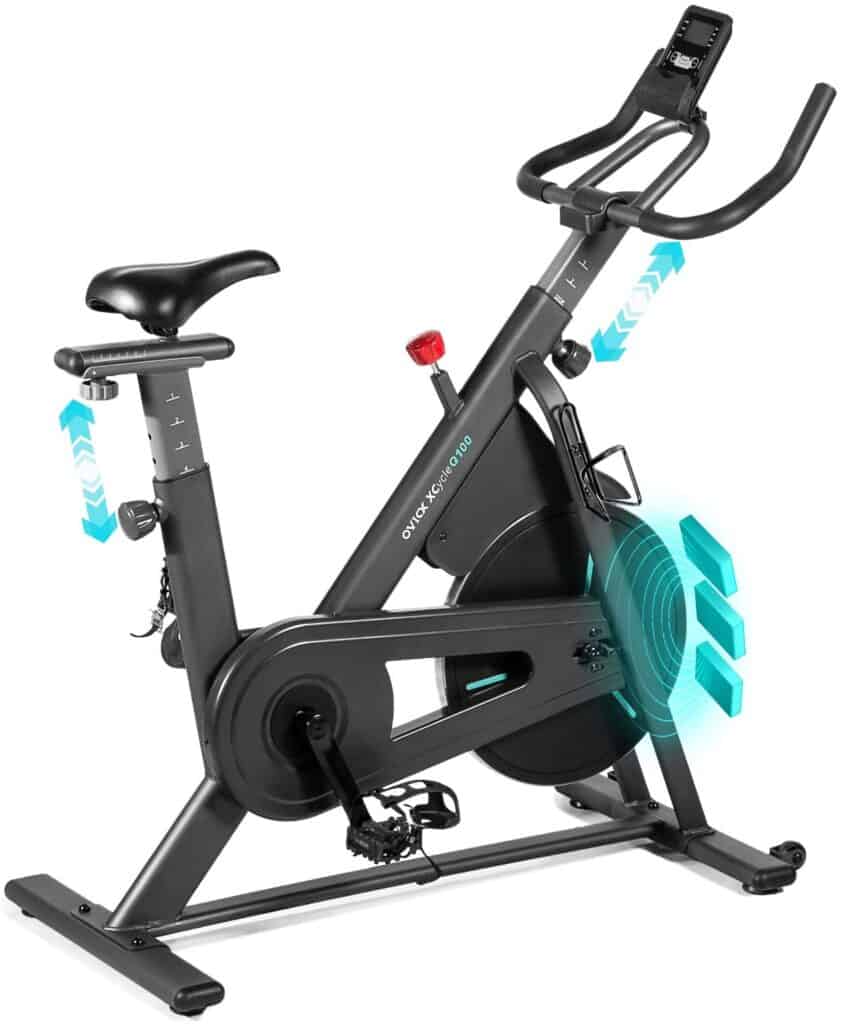 This indoor cycling bike possesses a heavy-duty steel frame that is coated with anti-corrosion paint and fewer parts that are made of ABS material.
As a result, the bike is durable and it supports a maximum user weight capacity of 300 lbs./136 kg.
Due to the base robust framework and the integrated adjustable rubber levelers, users can perform a vigorous stand-up pedaling exercise without experiencing instability.
The front-mounted transport wheels facilitate the relocation process of the bike and it only weighs about 49 lbs./22 kg.
The assembled dimensions are 39'' long by 20'' wide by 46'' high. Differently put, the bike will need a workout area with perimeters of 3'3'' length by 1'7'' width, and depending on your height, a minimum ceiling height of 7'-8' will be safe, especially, if you wish to perform out-of-seat pedaling.
Moreover, do consider extra clearance of 2' around the bike for convenience, safety, and easy access purposes.
The Seat of the OVICX XCycleQ100 Stationary Indoor Bike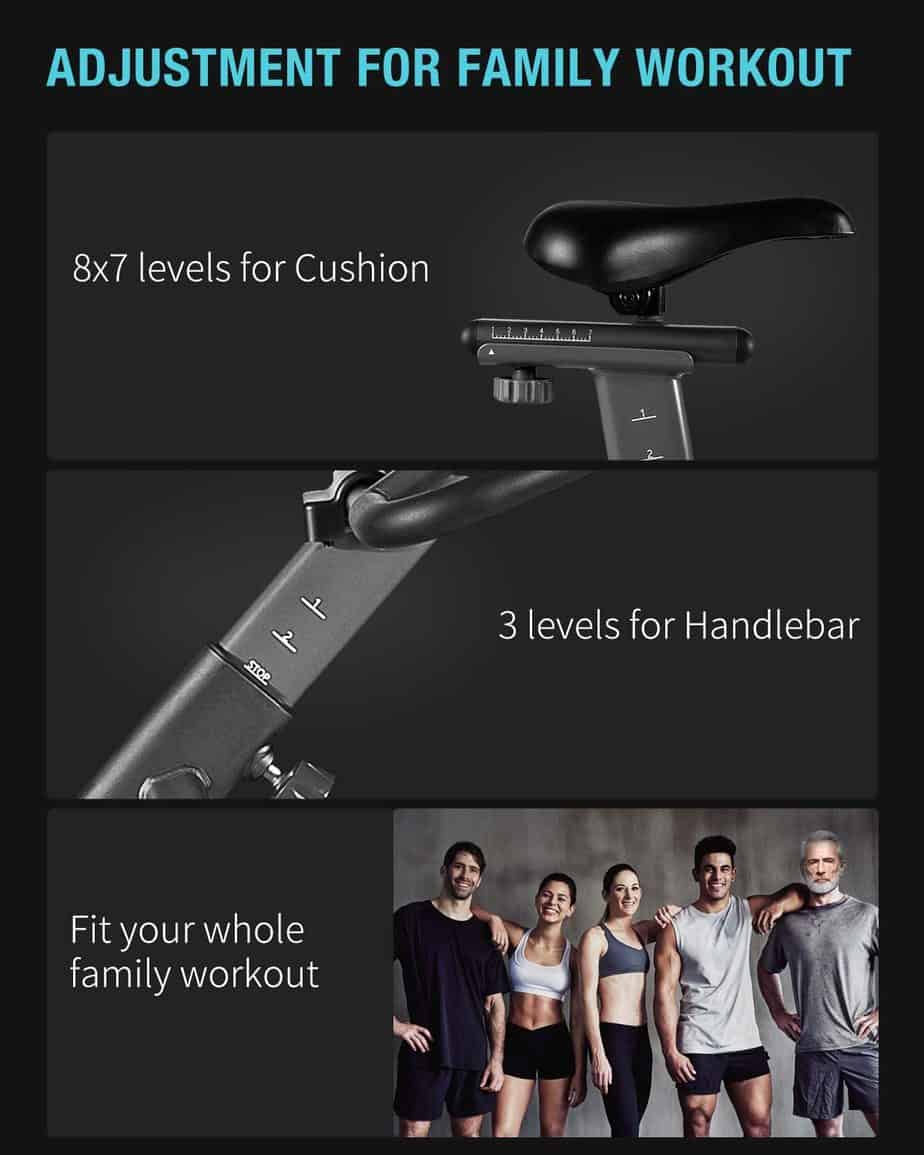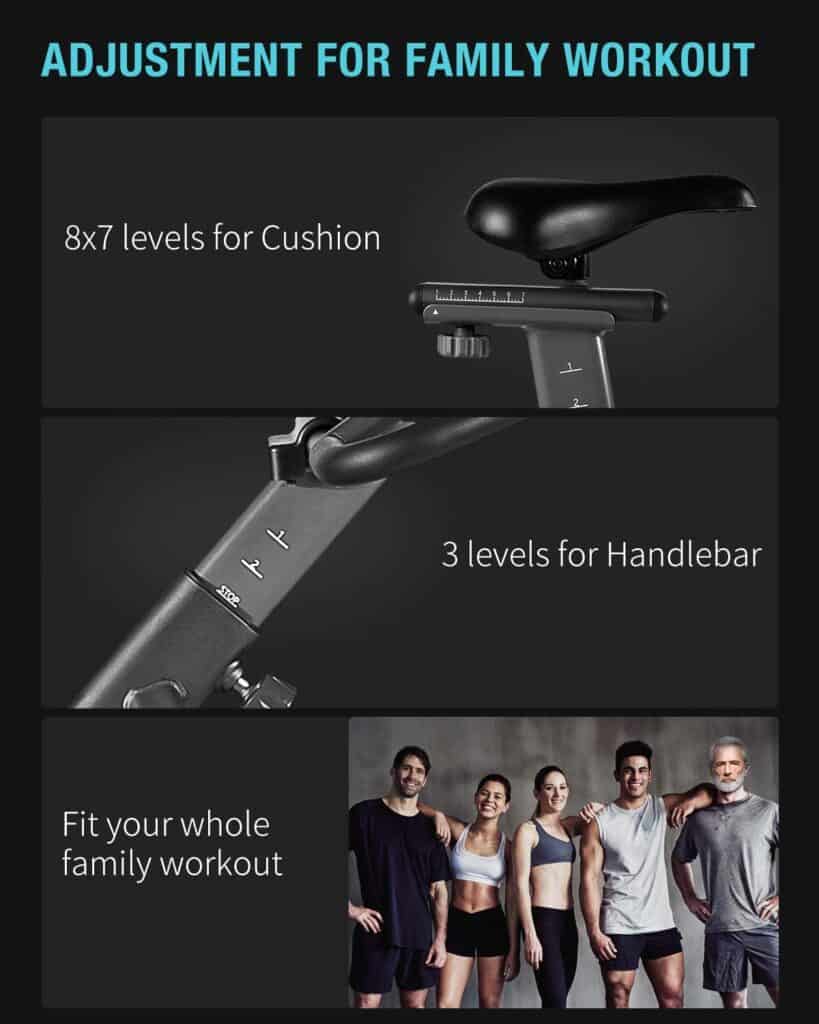 The seat on this bike is fully adjustable and well-cushioned to provide lasting comfort. It can be improved if necessary, by the use of a gel seat cover or cycling shorts. You can have it replaced with another saddle of your choice as long the tube diameter is 2-2.3cm. Although, it is not recommended to do this for safety reasons.
It could be adjusted vertically (upward/downward, 1-8 positions) and horizontally (fore/aft, 1-7 positions). The floor to seat lowest height is 33.1'', while the floor to seat highest height is 40.6''.
Consequently, users that are between the heights of 4'8'' to 6'2'' can exercise with the bike.
The Handlebar
The handlebar of the OVICX XCycleQ100 Stationary Indoor Bike is ergonomically and multi-grip designed to suit users of different heights and sizes. It has handle grip options for standing riding position, climbing riding position, and pedestrian riding position.
It is 2-way adjustable; it could be adjusted vertically (upward/downward) between 3 positions that are clearly calibrated on the post. The floor to the lowest handlebar height is 44.5'' and to the highest position is 45.1''.
Bear in mind that the space between the seat and the handlebar gets shorter or wider each time the handlebar is adjusted downward or upward, respectively. In other words, this complements the seat's adjustability for adequate comfort for users.
Moreover, it is cushioned with soft anti-slip rubber foam for secure and comfortable grips.
However, it doesn't integrate EKG heart rate sensors for tracking and transmitting the heart rate data to the monitor as the XCycleQ200 does.
The Pedals
The indoor cycling bike comes with a pair of self-leveling, toe caged pedals with adjustable safety straps. They can accommodate and secure different foot sizes and can be ridden with a pair of standard gym shoes.
That said, they are not for spin shoes. If you wish to have them swapped for a pair of clip-in pedals, you can, because they have standard 9/16'' thread.
The Drive
The XCycleQ100 Cycling Bike is equipped with a belt drive system that is popular for its quiet and smooth operation. It comprises a V-poly belt, pulleys, solid crankset, crank-arms, and 35 lbs./15.8 kg precision-balanced flywheel.
Its operation is environmentally friendly, you won't be distracted by any noise, and the family or the neighbors won't be either.
The drive system doesn't need you to lubricate or adjust any internal component as opposed to a chain drive system.
Moreover, you can diversify your workout by pedaling in reverse to tone more muscle groups. But this also means you cannot coast on it as you could on a bicycle since the flywheel and the pedals are fixed.
Therefore, it is only imperative to apply the emergency brake by pushing the tension knob down whenever you wish to suddenly stop pedaling to avoid an injury.
The Resistance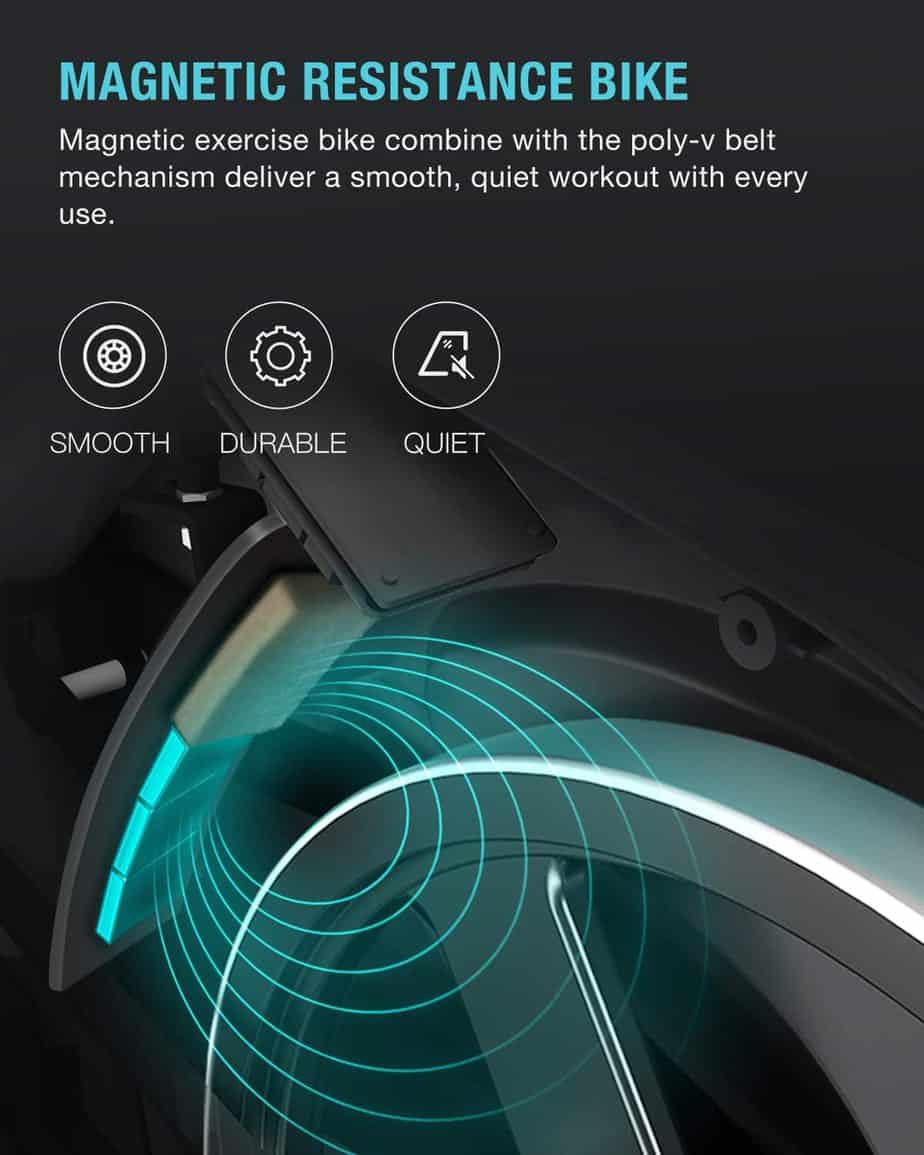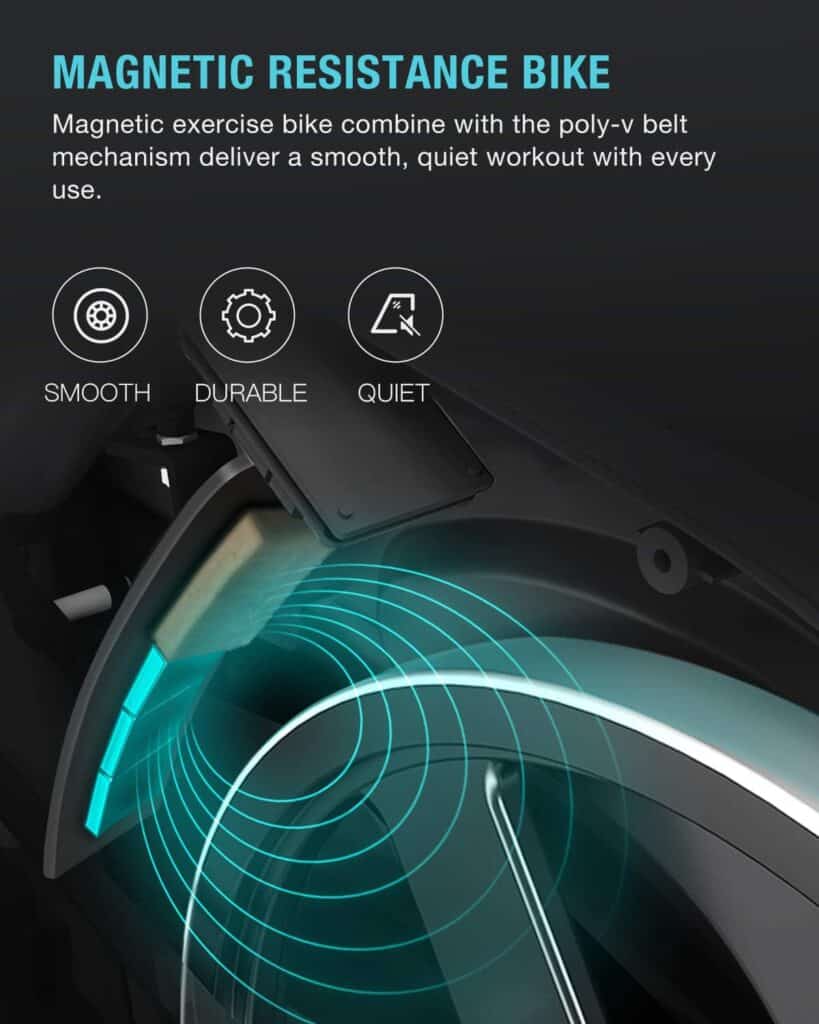 The OVICX XCycleQ100 Stationary Indoor Bike has a manual magnetic resistance system that provides different workout intensities and also complements the overall performance of the bike.
In other words, the operation of the bike remains smooth, quiet, and vibration-free, even when the resistance is engaged.
This is partly because the resistance is generated when the magnetic brake pad emits magnetic fields around the flywheel without making any direct contact. So, the resistance is frictionless, thus, no part wears out and none will require to be replaced after some time.
To increase or decrease the resistance intensity, simply turn the tension knob clockwise or counterclockwise, respectively, and there is no limit to which to adjust it to because it's infinitely adjustable.
The resistance system is great for any user that wishes to lose weight, improve cardiovascular health, muscle group toning, and more.
The Console
The bike is incorporated with a basic LCD monitor that tracks workout stats such as Time, Distance, Calories, and Speed. Its readability is good but may be difficult to view in a poorly-lit room because it's not backlit.
It has a SCAN function that switches and displays the workout values rotationally one after the other after every few seconds. However, you can also have a certain workout value set to display constantly without switching to another.
The monitor is battery-powered, and it automatically shuts down after 4 minutes of inactivity, and it turns on automatically when you start pedaling.
That said, the console does not have Bluetooth connectivity and neither is it telemetry-enabled.
Accessory
There is a tablet holder built into the console and a water bottle holder that is designated on the right side of the bike below the handlebar. They are both important in terms of having fun and staying properly hydrated during workout sessions.
With that being said, the monitor's screen could be blocked when a device is placed on the tablet holder.
Storage
It is not difficult to put this cycling bike away because it is compact, portable, and lightweight.
The transport wheels at the front base enable you to easily move it for storage. After all, it only weighs 49 lbs./22 kg and will require a storage area with perimeters of 3'3'' length by 1'7'' width.
Pros/Features Overview
Durable and sturdy
Affordable
Due to the bike's compact design, it doesn't take up too much space for workouts and storage
It supports a maximum user weight capacity of 300 lbs./136 kg
Its stability is optimal due to the robust base with adjustable levelers
It is customizable, thus, users of different heights and sizes can be accommodated
The seat is comfortable and can be swapped for another
The toe caged pedals accommodate and secure different foot sizes comfortably and they can be swapped for clip-in pedals
The multi-grip handlebar allows you to train in different workout postures comfortably
The bike's operation is smooth and quiet
The magnetic resistance system provides a range of workout challenges for weight loss, improvement of heart and lungs' health, and overall physical fitness improvement
The heavy flywheel provides consistent momentum that prevents vibration
Transport wheels included for easy relocation process
The included LCD monitor tracks workout progress (Time, Distance, Speed, and Calories)
Maintenance requirement is minimal
Easy to assemble
A tablet holder included for keeping a smartphone/tablet device within arm's reach for entertainment or taking calls
Water bottle holder is within reach for proper hydration
Cons
No heart rate monitoring function
The monitor is not backlit
A device placed on the tablet holder blocks the view of the display screen
Warranty
3 Years for the Frame
90 Days for Electronics and Parts
Product Dimensions and Specifications
Length 39''
Width 20''
Height 46''
Shipping dimensions: 40'' L x 35'' W x 9'' H
Net weight: 49 lbs./22 kg
Gross weight: 60 lbs./27 kg
Maximum user weight capacity: 300 lbs./136 kg
Frame: Steel
Drive: Belt
Resistance: Manual magnetic
Seat: 2-way adjustable
Handlebar: 2-way adjustable
Pedals: Toe caged with adjustable safety straps
Flywheel: 35 lbs./15.8 kg
Monitor: Basic non-backlit LCD
Heart rate monitoring: No
Tablet holder: Yes
Water bottle holder: Yes
Transport wheels: Yes
Shipping
The OVICX XCycleQ100 Stationary Indoor Bike is shipped out in a box that weighs 60 lbs./27 kg with dimensions of 40'' Long by 35'' wide by 9'' high.
Amazon delivers it in a couple of days without shipping cost.
Assembly
Since the product arrives partially assembled, you are only required to attach the base stabilizers, the seat and the handlebar posts, the seat, the handlebar, the console, and the pedals.
An instruction manual is included to guide you through the process, and it takes about half an hour to completely assemble it.
Maintenance
Due to the belt drive/magnetic resistance system, the cycling bike doesn't require serious maintenance.
It only needs you to ensure that it is kept clean at all times, and prevent liquid, moisture, and direct sunlight from getting to the console.
Inspect it before use to ensure that every part is tight and in good condition. Act accordingly if there is any problem. In other words, re-tight any loose part and replace any broken one.
Conclusion
The OVICX XCycleQ100 Stationary Indoor Bike is designed for home use. It helps you to lose weight, including the reduction of belly fat, toning of muscle groups, and more.
It is an affordable bike that doesn't overwhelm your space and it's pretty easy to store away.