We have reviewed the best rowing machines, and the Stamina ATS Air Rower 35-1399 happens to be one of them.
But if you are willing to invest more for an expensive and outstanding air rower then, the Concept2 Model D or Model E should be under your to-do-list.
That said, click right here to have a peek at the price and of of the Stamina ATS Air Rower 1399 on Amazon.
The Frame and Construction
The Stamina ATS Air Rower is available in black (35-1403), black/chrome (35-1399), and crypto green/black (35-1404) color variants. It is mostly made of durable anti-corrosive steel,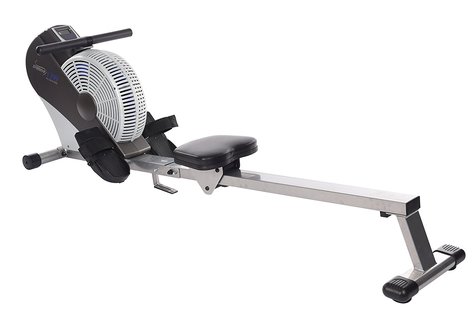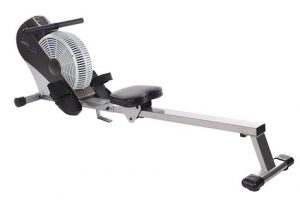 while other parts such as the console casings are made of ABS material.
Hence, it supports 250 lbs./113 kg maximum user weight capacity.
Its base framework features steel stabilizers that ensure optimum stability. It also integrates anti-skid pads and transport wheels. So, the machine doesn't skid during a vigorous workout and it can easily be moved from one spot to another.
It is designed to fold up around the front area thereby making the seat and the monorail stand vertically. When folded, the dimensions become 18'' L x 28'' W x 48'' H. So, it takes a small space for storage.
Its assembled dimensions are 77'' long by 18 wide by 22'' high. As a result, it will require a workout area with perimeters of 6'5" length by 1'5" width. Additionally, an extra clearance of 2′ around it will be necessary for safety during workouts.
The Seat of the Stamina ATS Air Rower 35-1399
The seat integrated into this rowing machine is well upholstered and cushioned. So, It enables users to feel comfortable throughout their entire workout session.
The slanted rail also promotes smooth gliding and momentum; the bodyweight resistance exerts more pressure on the lower body for greater muscle groups toning.
There is rarely any complaint about the seat being uncomfortable. However, individuals with an injury in the tailbone may experience some discomfort after a few minutes into a workout. But padding it with extra cushion will alleviate the problem.
The distance between the seat stopper and the footplates is 4′, thus, users that are up to 6'4" or less can be accommodated.
The Handlebar
The ATS 35-1399 Rowing Machine has a long anti-slip foam coated handlebar that provides comfortable and secure grips to all users, including those with wide shoulders.
In other words, users won't experience slippage or blisters in the palms no matter how long or frequently they exercise with the machine.
Pedals
The foot-pedals are large, textured, with adjustable nylon safety straps. They also have a protective border at the heel for additional safety. Therefore, they can accommodate different foot sizes and ensure that the feet are optimally secured.
Also, the ankles don't hurt since the foot-pedals pivot in adherence to the workout movement.
The Resistance
The Stamina ATS Air Rower 1399 has an air resistance system that provides decent levels of workout challenges for most users. It mainly consists of a fan flywheel that is strapped with a 1" nylon cord with a recoil system.
So, each time the handlebar is pulled, the fan flywheel is set into motion to generate resistance; and the faster you pull the harder the resistance becomes. In other words, the resistance intensity you experience depends on your workout tempo.
The resistance system doest have a damper for controlling the airflow that consequently adjusts the resistance level. Although, the lack of it is consistent with inexpensive rowers such as this, except if you are willing to spend more for a Concept2 Model D Rowing Machine.
The noise level of the rower won't be a problem. On the contrary, most users see that as a way of motivation because the harder they pull, the noisier it gets, which inspires them to work out harder.
That said, the noise emitted by the fan won't interfere with your ability to watch a TV show or listen to music as you exercise. However, if it does, the use of an earphone could resolve the problem.
Of course, the family or the neighbors may hear your workout activity but it will hardly be a disturbance to them or wake up a newborn baby taking a nap in the next room.
Console/Monitor
The console on this rowing machine is basic, and it features a non-backlit LCD monitor that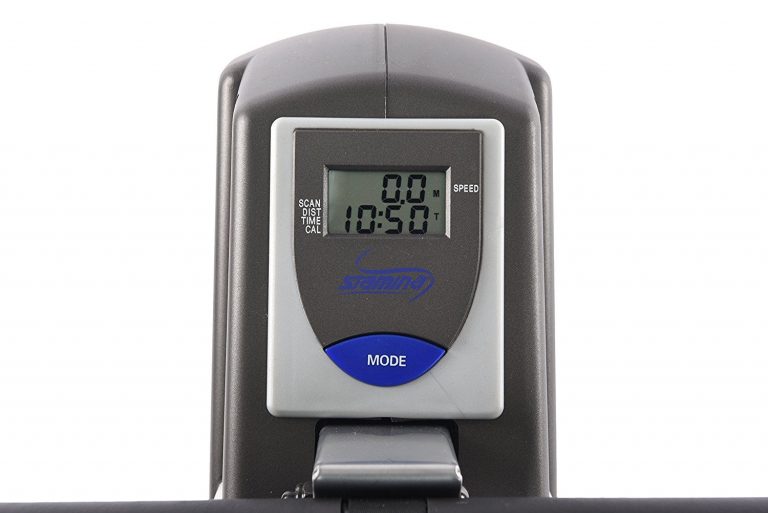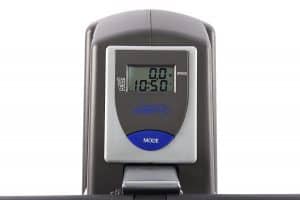 tracks workout stats such as Speed, Distance, Time, and Calories Burned. The Distance and speed are measured in miles, and mph, respectively.
The Speed value displays constantly at the top of the display screen, while other values are displayed rotationally one at a time after a few seconds by the SCAN function.
However, you can decide to override the SCAN function and set a preferred workout stat to display constantly instead.
The display is easy to read as long as it is being viewed in a well-lit environment, otherwise, it will be compromised.
The monitor is powered by 2 AA batteries (not included), and it is designed to turn off automatically after a few minutes of inactivity and it turns back on when activity resumes. This saves and prolongs the batteries' lifespan.
Storage
The storage of the Stamina Air Rower 1399 is very easy due to its space-saving design. Even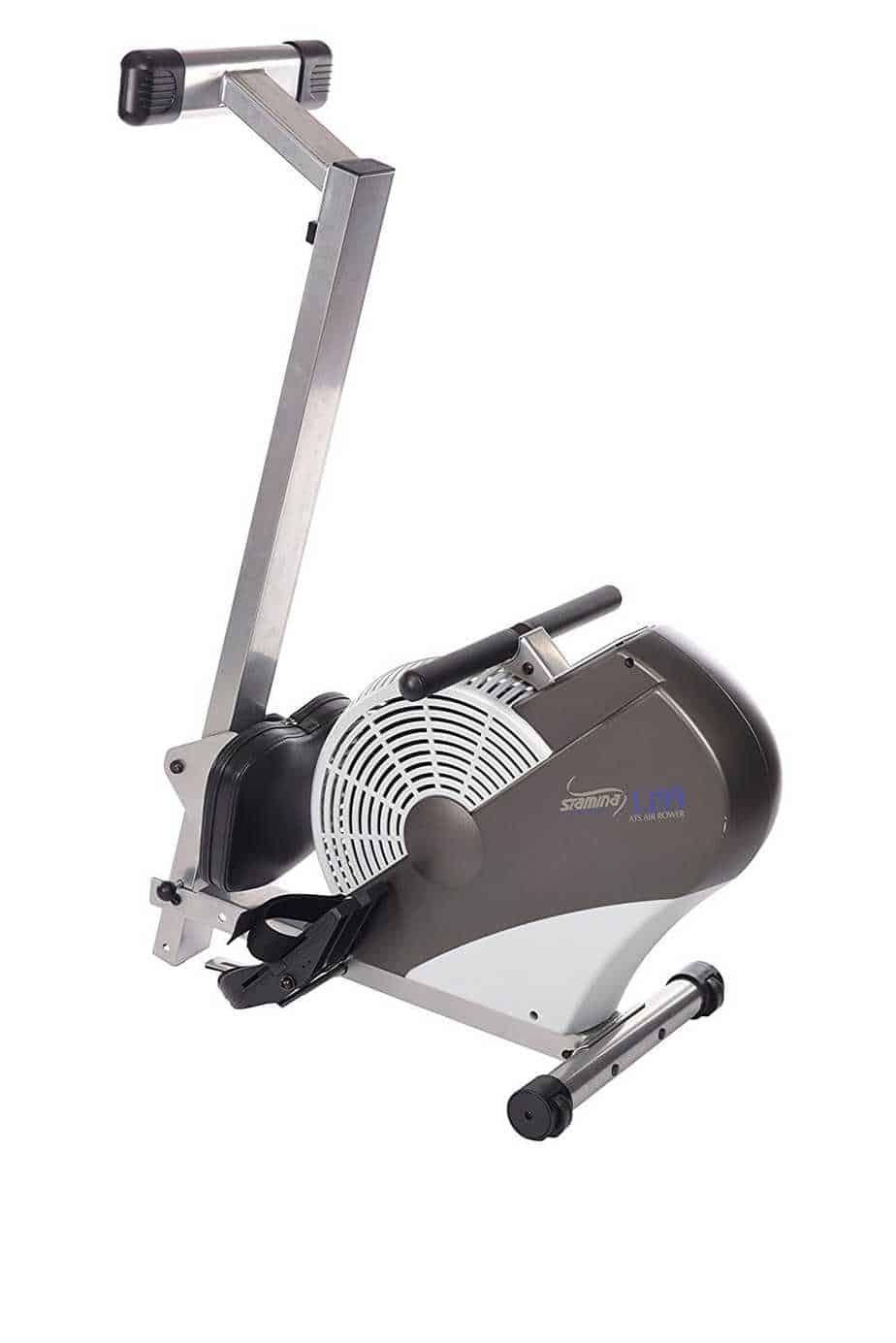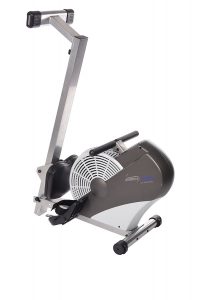 though it might require a little bit of space for workouts, it requires less space for storage.
When folded, its length size reduces to more than half its assembled length, and there are transport wheels at the front base that help in the relocation process.
A storage area with perimeters of 1'5"' length by 2'4" width will suffice.
Approval Rating
This rowing machine has thousands of Amazon customers' reviews, the majority of which are positive. Also, independent review sites have a favorable view of it as well.
This simply means, the rowing machine is popular and one of the best in its category.
Features/Pros Overview
Its rice is good
The frame is made of steel, thus it's durable
Supports up to 250 lbs./113 kg maximum user weight capacity
Its LCD monitor tracks Speed, Distance, Time, and Calories Burned
It is foldable with transport wheels for easy relocation and storage, and it doesn't take time to fold up
The rowing machine provides a low-impact and full-body workouts
It is available in 4 color variants
The seat is well padded, upholstered and positioned to deliver a comfortable workout
Users between the heights of 4'9" to 6'4" can utilize the rowing machine
The air resistance system is dynamic, it provides a workout challenge that is proportionate to the user's fitness ability
The pivotal foot-pedals are large, textured, with nylon straps and heel protective borders
Easy to assemble
Maintenance is low
Cons
The monitor is nonbacklit
No heart rate monitoring
Product Dimensions & Specifications
77'' Length
18'' Width
22'' Height
Folded dimensions: 18" L x 28" W x 48" H
Shipping dimensions: 45" L x 22" W x 9" H
Net weight: 53 lbs./24 kg
Gross weight: 55 lbs./25 kg
Maximum user weight capacity: 250 lbs./113 kg
Drive cord: Nylon belt
Seat: Large, padded, with ball-bearing rollers
Foot-pedals: Pivoting, large, textured, with adjustable safety nylon straps and heel protective guard
Resistance: Air
Floor to seat height: 10"
Monitor: Basic non-backlit LCD
Transport wheels: Yes
Frame: Steel
Warranty
3 Years on Frame
90 Days on Parts
Shipping, Assembly, and Maintenance
Shipping
The shipping cost of this machine depends on the retailer you are purchasing from. However, Amazon provides free shipping and delivers it within 3 to 5 days.
Assembly
The Stamina rower 1399 is easy to assemble since it is delivered with the major components preassembled. It also comes with an instruction manual that could help you through the process.
It takes about 30 minutes to fully assemble it and you can download the user's manual right here.
Maintenance
There is no major maintenance required.
Just make sure that the rowing machine is kept clean, especially the rail and the rollers, at all times. Don't expose the console to direct sunlight, liquid, or moisture.
Inspect it before use to be sure that every part is in good condition and tight.
Conclusion
The Stamina ATS Air Rower 1399 is designed for home use. It is an inexpensive rowing machine that enables you to engage and tone most of the muscle groups in the body, lose weight and improve overall physical fitness.
Stamina ATS Air Rower 35-1399 Review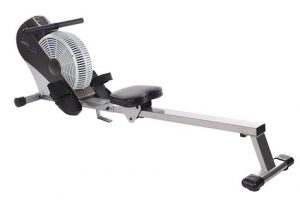 We have reviewed the best rowing machines, and the Stamina ATS Air Rower 35-1399 happens to be one of them.
Product Brand: Stamina
Product In-Stock: https://schema.org/InStock