The OVICX XCycleQ200 Magnetic Stationary Spin Bike is a front-driven machine that has a sealed body similar to the Flywheel Home Exercise Bike. Its design makes it highly safe at home and around children because almost every moving part is concealed.
It has a micro-adjustability that allows users of different heights and sizes to customize for a perfect accommodation. The multi-grip handlebar provides a variety of grips for different workout postures, and the integrated LCD monitor tracks workout progress.
The cycling bike is sturdily built and designed to last; it offers the opportunity to perform cardio workouts for weight loss, toning of muscle groups, improvement of the heart and lungs' health, and more, in the comfort of your home.
Click right here to have a peek at the OVICX XCycleQ200 Magnetic Stationary Spin Bike.
The Frame and Construction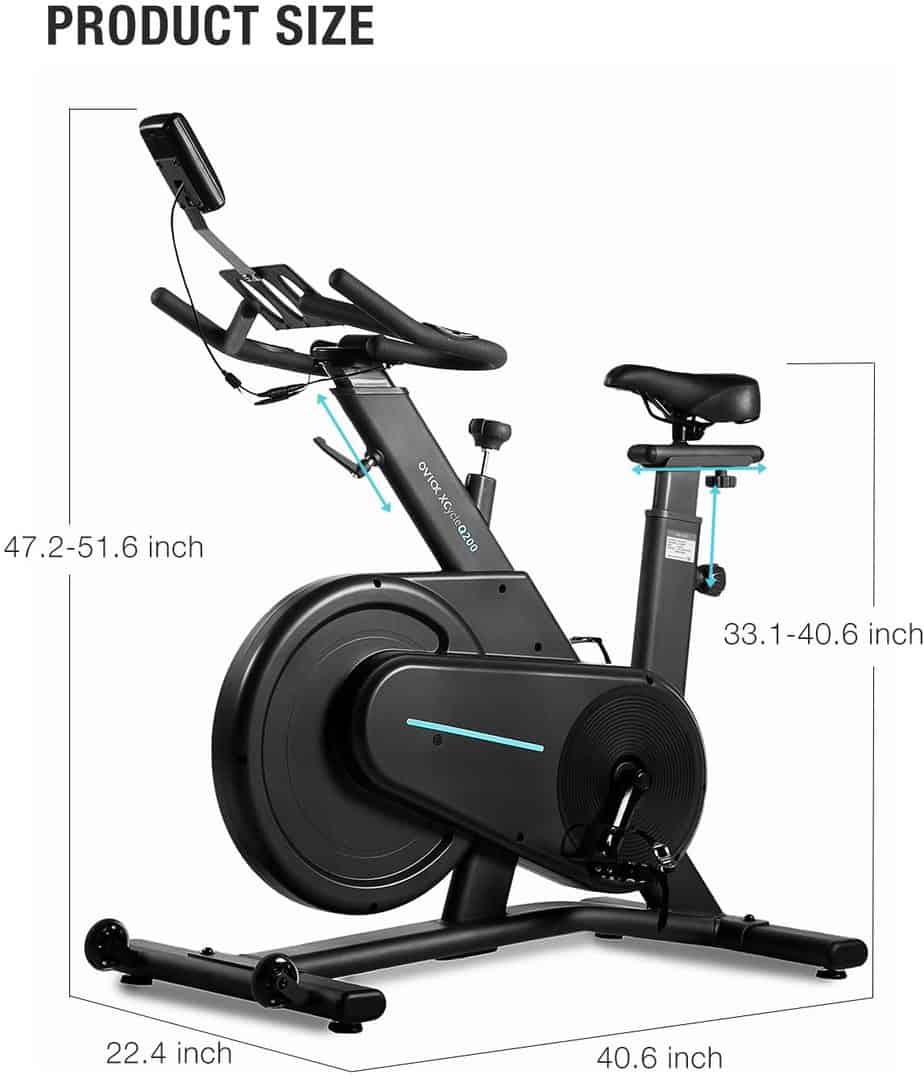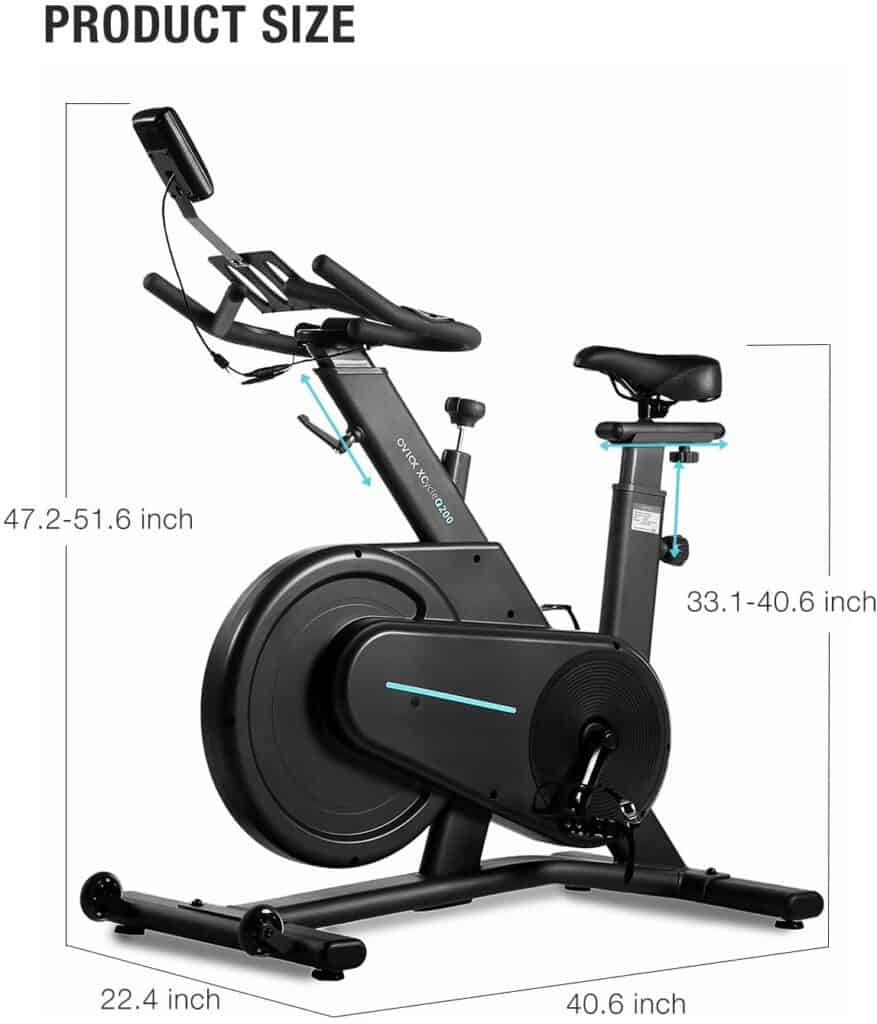 The construction of the OVICX XCycleQ200 Magnetic Stationary Spin Bike epitomizes a decent and durable bike for home use.
It features a 3.7'' rectangular heavy-duty steel frame that is coated with anti-rust paint, and ABS-made covers for the flywheel and the drive.
Hence, it supports a maximum user weight capacity of 265 lbs./120 kg.
The base is robust and fully equipped with adjustable rubber levelers that help to enhance its stability on a crooked surface. Moreover, even though the bike isn't very heavy, its assembled weight of 82 lbs./37.2 kg still boosts its overall stability.
The bike is compact; its assembled dimensions are 40.6'' long by 22.4'' wide by 51.6'' high. Resultantly, it needs a workout area with perimeters of 3'4'' length by 1'9'' width and a ceiling height of 8' high.
Additionally, ensure to leave a 2' clearance around it for a safe and convenient workout experience.
The bike is easy to move from one spot to another due to the front-mounted transport wheels.
The Seat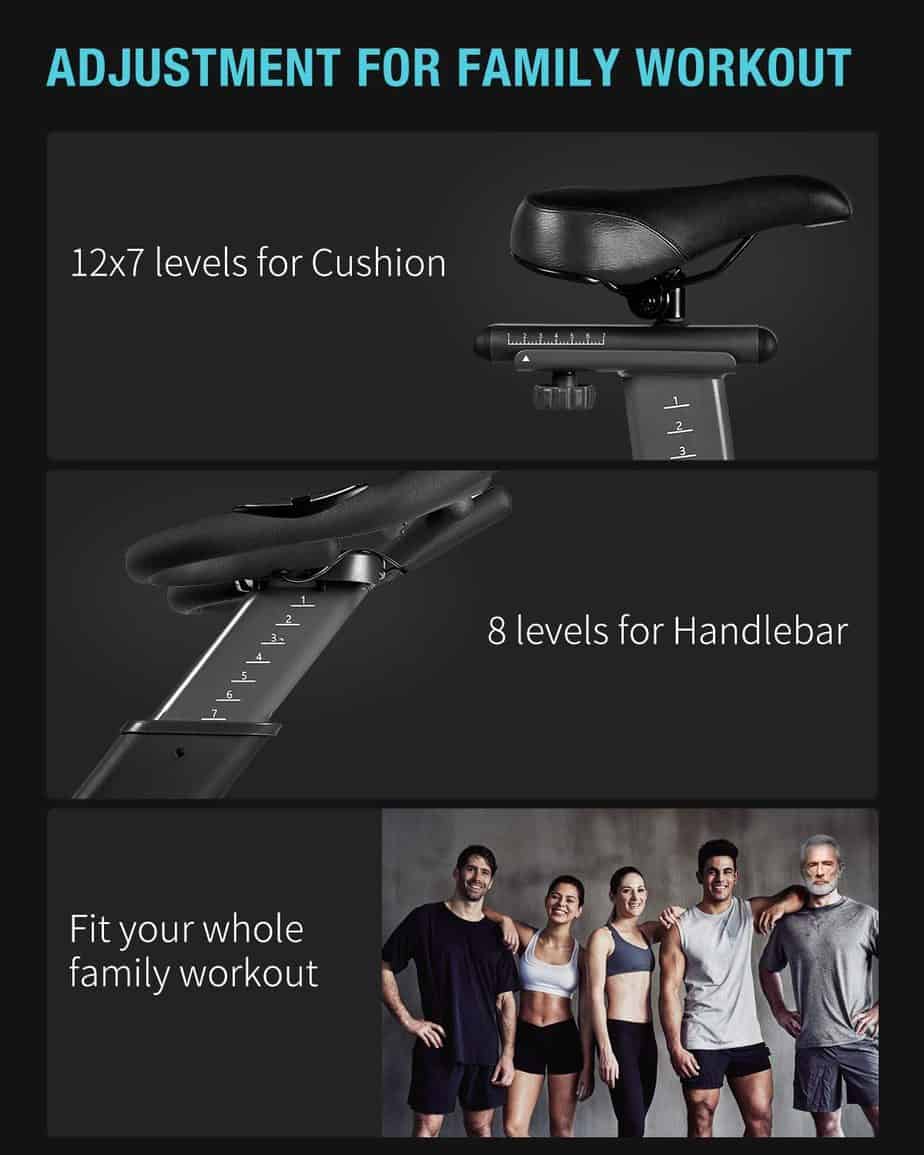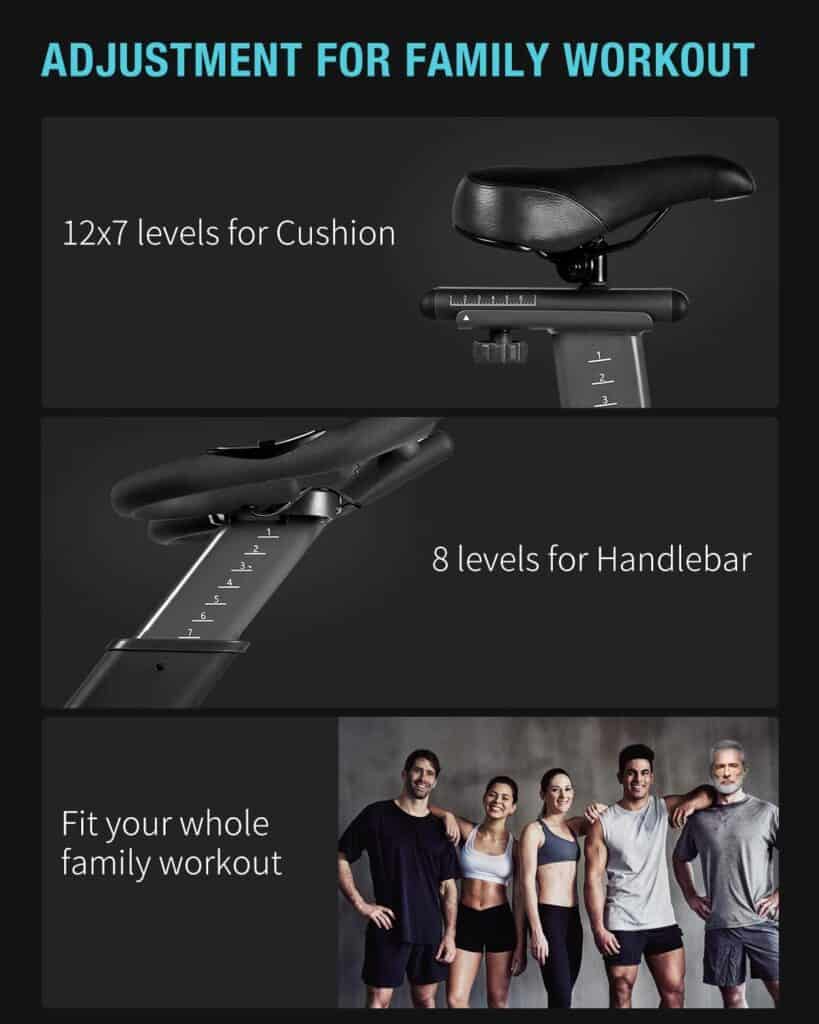 The OVICX Magnetic Stationary Spin Bike is equipped with a comfortable seat that is cushioned and covered with vinyl material. Therefore, you can work out longer without feeling stressed out.
However, you can use a gel seat cover to improve its comfortability if you feel the need or have it swapped for another saddle of your choice because the connection mechanism is standard, thus, there are many options available online or in the local bicycle shop.
The seat could be adjusted 4-ways, that is, vertically (upward/downward) and horizontally (fore/aft). The adjustments are well-calibrated to enable users to easily know and re-adjust to their previous suitable positions when someone has altered them.
You can vertically adjust the seat between 33.1'' – 40.6'', and 1-7 positions horizontally. So, multiple users that are between the heights of 4'8'' – 6'2'' can utilize the bike.
The Handlebar
The magnetic bike has an ergonomically designed multi-grip handlebar that is well coated with soft rubber foam for secure and comfortable grips. This means you won't experience slippage or blisters in the palms no matter how long or frequent you work out.
The handlebar has a couple of grips that allow you to train in different workout postures, and these include standing riding position, off-road riding position, climbing riding position, and pedestrian riding position.
It also integrates HR sensors that read and transmit your pulse rate data to the monitor whenever they are grasped during a workout.
It is possible to adjust the handlebar vertically from 1 to 8 calibrated positions that span between 47.2'' – 51.6'' high. So, this is complementary to the seat's adjustability for a better and comfortable workout experience for all users.
The Pedals
This bike is incorporated with a set of aluminum alloy anti-skid toe caged pedals with adjustable safety straps for secure and comfortable footing. So, even if you engage in vigorous workouts that involve different riding positions, your foot won't slip.
The self-leveling pedals can accommodate different foot sizes and standard gym shoes. However, they are not designed to be ridden with special spin shoes. Fortunately, they can be swapped for SPD pedals because their thread is compatible.
The Drive of the OVICX XCycleQ200 Magnetic Stationary Spin Bike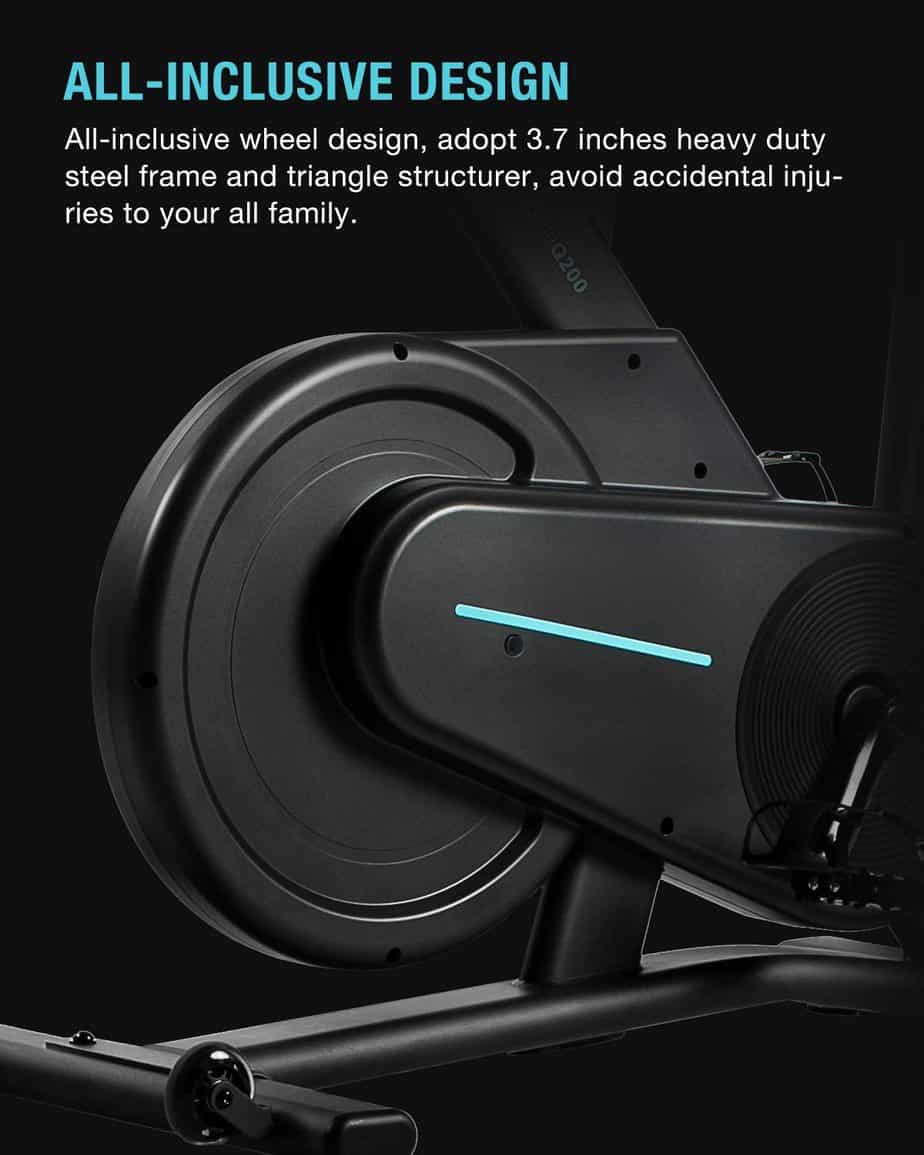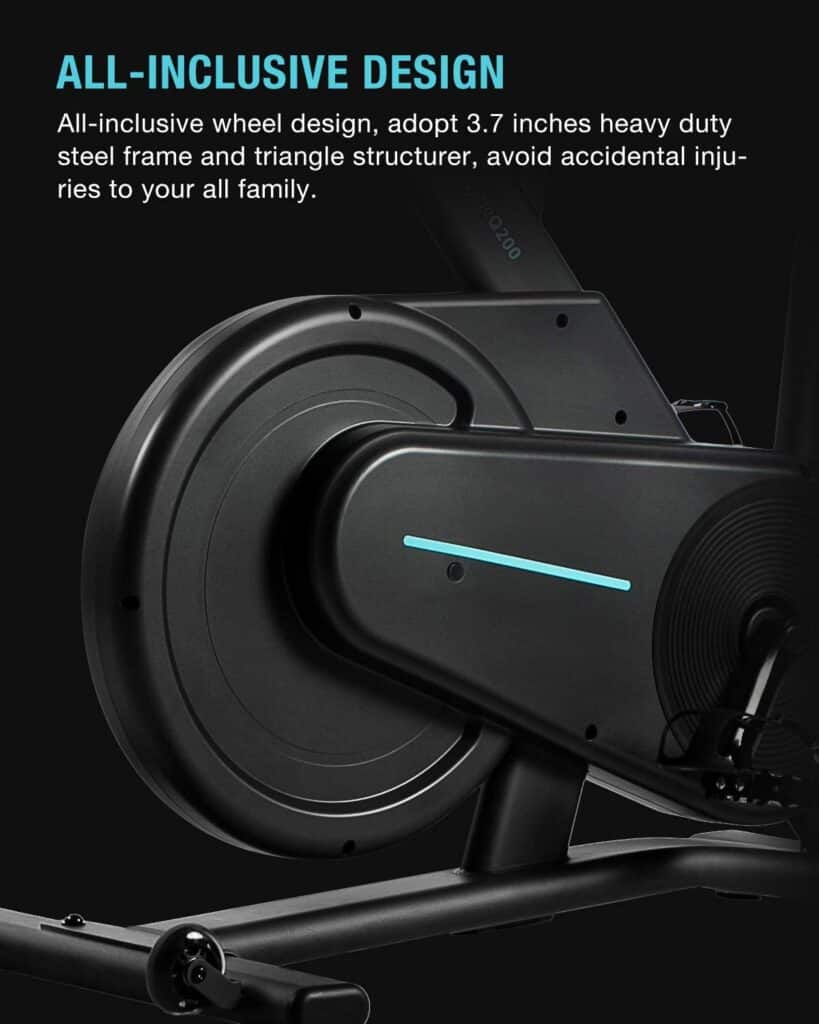 The OVICX Magnetic Stationary Spin Bike has a belt drive system that consists of mechanisms such as a poly-V belt, pulleys, a 3-piece crankset, solid crank-arms, and the 35 lbs./15.8 kg precision weighted flywheel.
Together, these elements provide a smooth and quiet transmission that allows you to use the bike at any time of the day without violating anybody's privacy. You can watch a TV show or listen to your favorite music under a normal volume range.
Moreover, the drive is also maintenance-free. You are not obligated to take the shrouds apart for lubrication or adjustment of any internal part.
However, the belt might need to be replaced at some point in time, but this usually takes time to happen.
Finally, if you want to pedal in reverse to diversify and tone more muscle groups, you can, because the drive is bidirectional.
The Resistance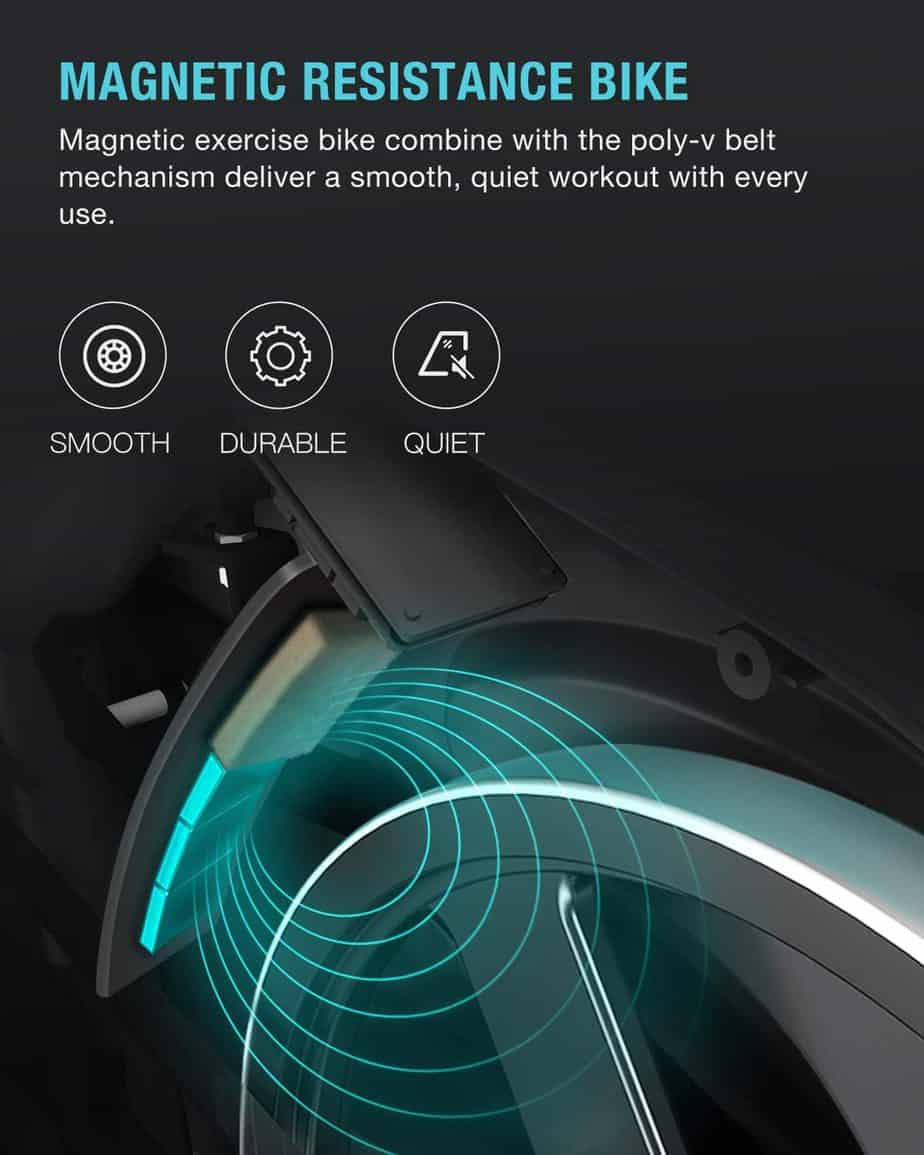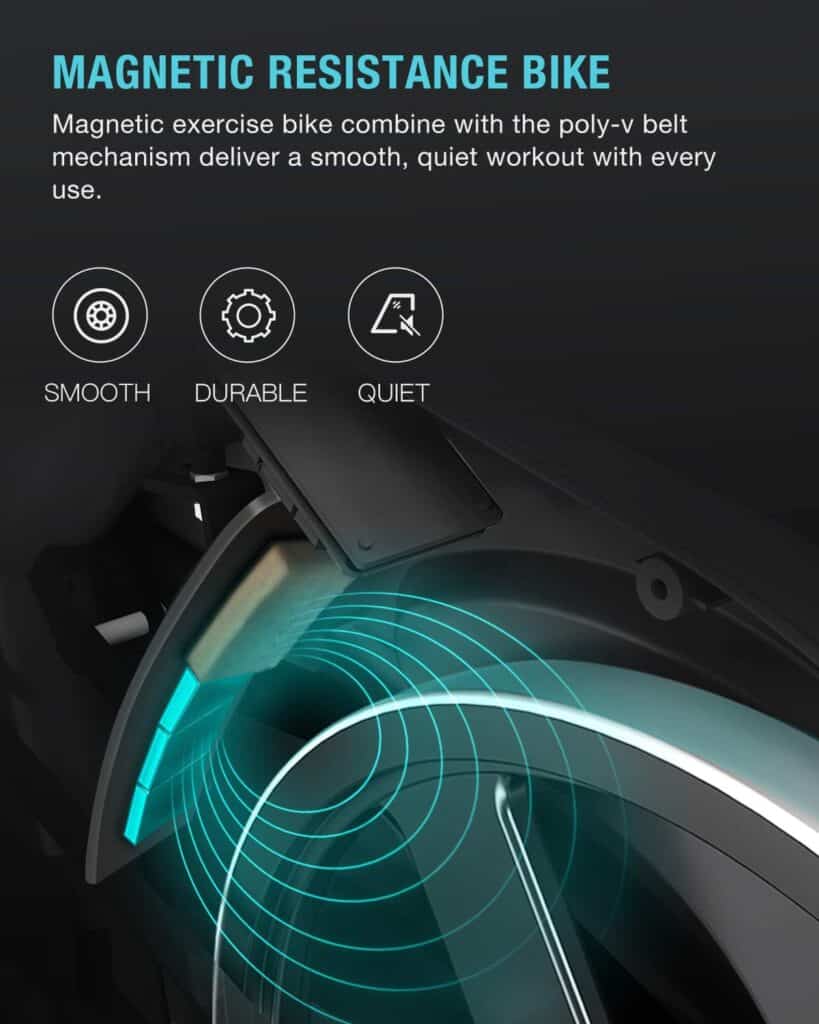 The OVICX Spin Bike has a magnetic resistance system with unlimited adjustable levels. This means resistance is generated when the magnetic brake pad that interfaces with the top surface of the flywheel emits magnetic fields without actual contact.
In other words, it is frictionless, hence, no part wears out during the process of generating resistance, and no maintenance is required.
The resistance intensity is determined by how close or farther away the magnetic brake pad is to the flywheel. To increase or decrease the resistance intensity, simply turn the tension knob clockwise or counterclockwise, respectively.
The bike's operation remains smooth, quiet, and vibration-free even when a higher resistance level is applied.
Due to its infinite resistance levels, users can work out with a suitable amount of challenges that give them results.
Lastly, the tension knob also doubles as an emergency brake.
If you wish to abruptly stop pedaling, ensure to push it down to bring the flywheel to a halt. The reason for this is that the flywheel and the pedals are fixed, and as a result, they spin simultaneously without the possibility of coasting.
The Console
The OVICX XCycleQ200 Magnetic Stationary Spin Bike comes with a non-backlit LCD monitor that tracks Time, Distance, Speed, Calories Burned, and Pulse. These workout values are displayed simultaneously, and no need for a SCAN function to rotationally switch them one after the other every few seconds as is the case with some indoor Cycling bikes with a smaller monitor screen.
So, you can view all the workout values at the same time with good readability. However, since it isn't backlit, its clarity could be compromised when viewed in a poorly-lit room.
The battery-powered console is not telemetric, therefore, your pulse rate is only tracked and displayed whenever the HR sensors on the handlebar are grasped during workouts.
Although, it has Bluetooth connectivity that allows you to sync to the FitShow app via an Android or iOS smartphone for tracking workout real-time and sharing.
Accessory
The OVICX XCycleQ200 features a large tablet holder that can accommodate any device size for entertainment purposes.
Although, no water bottle holder for staying hydrated during workouts. You will have to improvise or purchase one separately.
Storage
The unit is compact, lightweight, and portable. You can easily move it via the integrated transport wheels at the front base.
An area with perimeters of 3'4'' length by a 1'9'' width will be enough for storage.
Pros/Features Overview
The construction is solid and durable
It supports a 265 lbs./120 kg maximum user weight capacity
Its base is robust for maximum stability
It doesn't require too much space
There are transport wheels for easy relocation process
It is customizable to accommodate users of different sizes and heights
The LCD monitor tracks Time, Distance, Calories, Speed, and Pulse
EKG contact monitoring system
The seat and the handlebar are comfortable
The pedals are toe caged with adjustable safety straps for maximum secured footing, and they also accommodate different foot sizes
The seat's connection mechanism is standard; therefore, you can swap it with any other option you choose
The bike's operation is smooth and quiet
There are unlimited resistance levels that provide a range of workout intensities suitable for different users
The 35 lbs./15.8 kg precision weighted flywheel provides consistent momentum for a vibration-free ride
Bluetooth connectivity to FitShow app for workout progress tracking and sharing
Easy to assemble
Maintenance is low
A large tablet holder is included
Cons
No water bottle holder
The console is not telemetric
The LCD monitor is not backlit
Warranty
3 Years for the Frame
90 Days for Electronics and Parts
Product Dimensions and Specifications
Length 40.6''
Width: 22.4''
Height: 51.6''
Shipping dimensions: 40.94'' L x 33.86'' W x 8.89'' H
Net weight: 82 lbs./37.2 kg
Gross weight: 92 lbs./41.7 kg
Maximum user weight capacity: 265 lbs./120 kg
Drive: Belt
Resistance: Magnetic, infinite level
Seat: 4-way adjustable, 33.1'' – 40.6'' (vertical) 8 positions (horizontal)
Handlebar: Multi-grip, 2-way adjustable, (47.2'' – 51.6'')
Pedals: Toe cages with adjustable safety straps
Monitor: Nonbacklit LCD
Flywheel: 35 lbs./15.8 kg
Frame: Steel
Bluetooth connectivity
FitShow app compatible
Tablet holder: Yes
Water bottle holder: No
Transport wheels: Yes
Shipping
Amazon ships out the OVICX XCycleQ200 Magnetic Stationary Spin Bike free of charge and gets it delivered in a few days.
It is shipped in a box that weighs 92 lbs./41.7 kg with dimensions of 40.94'' L x 33.86'' W x 8.89'' H.
Assembly
The assembly is straightforward and easy because it arrives partially assembled. So, you are to attach the base stabilizer bars, the seat/handlebar posts, the seat, the handlebar, the pedals, and the console.
It takes about 30 minutes, more or less to completely assemble the machine. Moreover, an instruction manual and tools required for a successful assembly are included in the package.
Maintenance
The magnetic cycling bike does not need serious maintenance.
It is expected of you to keep it clean at all times, use and store it in a cool and dry area. Inspect it before use to make sure that every part is tight and in good condition.
Conclusion
The OVICX XCycleQ200 Magnetic Stationary Spin Bike is a decent machine whose operation is smooth and quiet. It possesses a magnetic resistance system with unlimited adjustable levels, an LCD monitor that tracks your workout progress, a strong frame that supports users that are up to 265 lbs./120 kg, and more.
On top of that, it's sold at a reasonable price.