The Spirit Fitness XT185 Folding Treadmill is the least of the Spirit Fitness XT series, and as expected, it has fewer features than its successors.
However, it is strong and reliable with a decent number of features that could take you through the journey of discovering yourself and attaining better physical well-being.
That said, having reviewed other treadmills, I suggest you also look up Nordic Track T 7.5 S or T 6.5 S Treadmill before making your final purchasing decision because they are comparable with price disparity.
Although, Spirit Fitness has been viewed positively by many, including some professional fitness entities such as FIT PROF that deemed them fit for Best Buy Treadmill winner.
You may click right here to have a peek at the best price of the Spirit Fitness XT185 Folding Treadmill on Amazon.
The Frame and Construction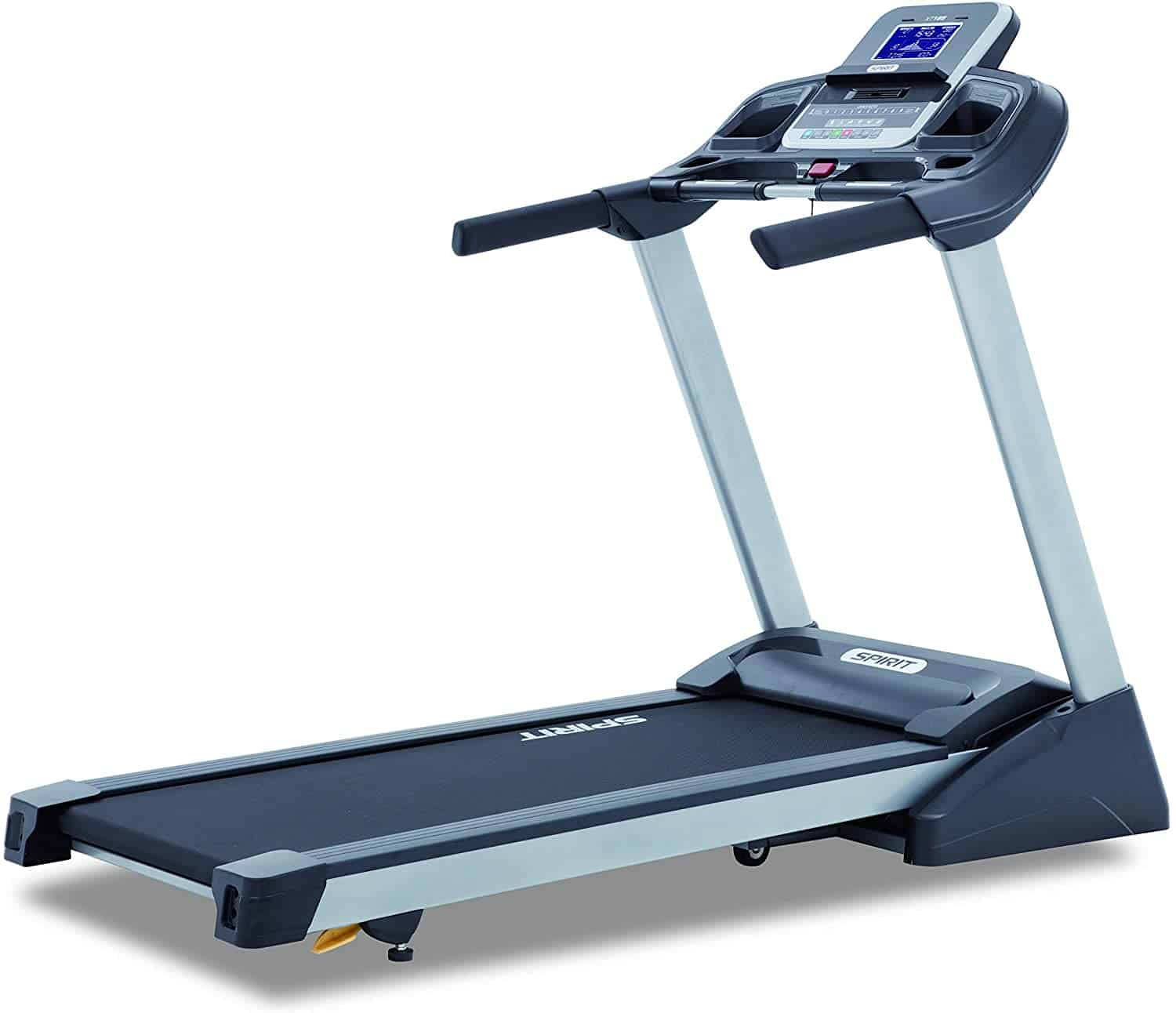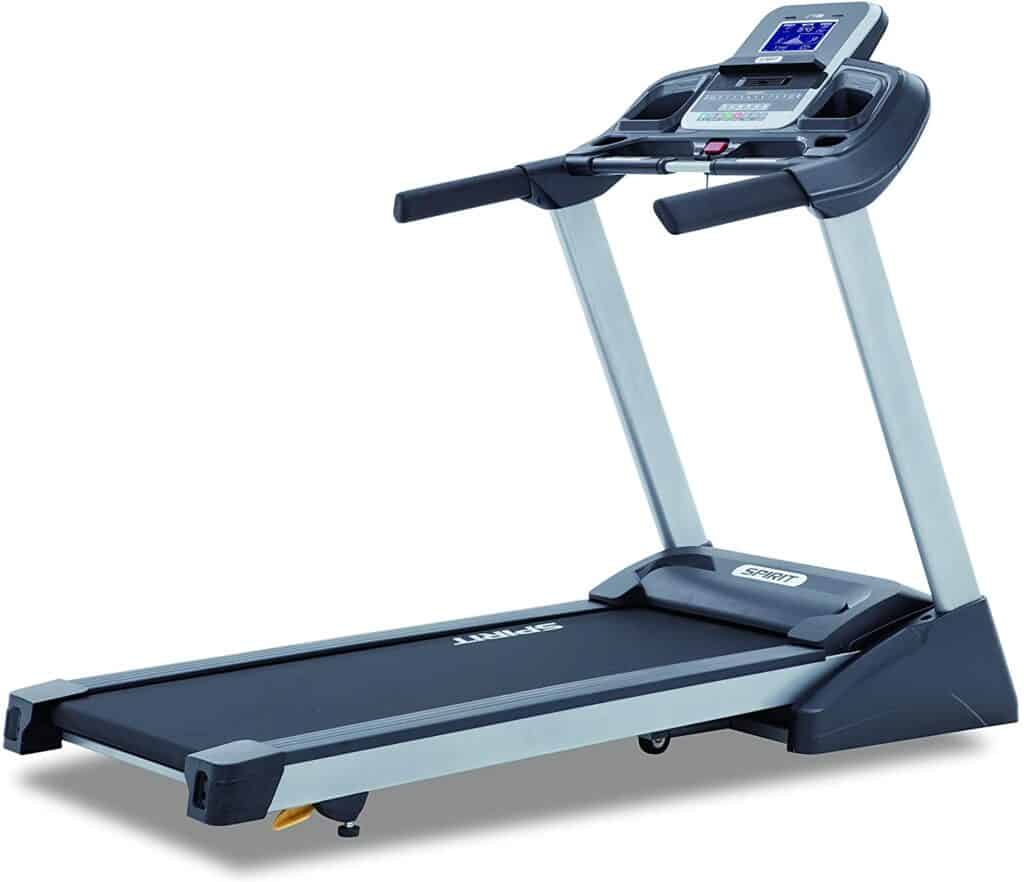 The Spirit Fitness XT185 Folding Treadmill has a heavy-duty commercial-grade steel frame with anti-corrosion grey powder-coat paint which happens to be the only available color.
It supports a maximum user weight capacity of 275 lbs./125 kg.
It is sturdily built with a great base that has adjustable levelers at the rear for stability. Also, it stays grounded due to its assembled weight of 229.3 lbs./104 kg.
Its folding design and the integrated transport wheels make it easy for it to be moved around the room or apartment even though it is considerably heavy.
The assembled dimensions are 77.4'' long by 34.8'' wide by 57.5'' high. To put it differently, this means it requires a workout area with measurements of 6'45'' length by 2.9'' width, and a ceiling height of at least 8'5'' because of the incline.
It is also recommended that 2' of extra clearance be added at the rear and on each side of the treadmill for safety and convenience when working out on it.
The folded dimensions are 42.5'' long by 34.8'' wide by 68.9'' high. So, even though the treadmill takes a fair amount of space for workouts, it requires less space area for storage.
The Deck of the Spirit Fitness XT185 Folding Treadmill
The ¾'' phenolic, silicone lubricated deck's size (running surface) is 20'' with 55'' length. It is roomy enough to allow users to walk, jog, and run securely and comfortably.
The tread-belt is 1-ply, 1.6mm thick with an anti-slip surface. It runs on 2.5'' (front) and 2.0'' (rear) crowned rollers. As a result, the rolling movement is smooth and frictionless without emitting any sound or noise that could be annoying.
It integrates 6 cushions for absorbing shock that occurs during a running exercise. Thus, the impact on the joints is significantly reduced.
Finally, there are wide and textured side rails that could safely be stepped on when you wish to make a quick exit without turning off the treadmill.
The Motor
The motor has a 2.75 horsepower capacity. It powers the drive you need for your workout activities without developing heat or breaking down.
The treadmill is regarded as a workhorse that could withstand the long duration of workout sessions.  
The motor is energy-efficient and needed to be plugged into a dedicated 110 V/15 Amps power outlet for proper functionality.
It provides a speed range of 0.5mph (0.8 km/h)-10 mph (16 km/h), and a 0.1 mph incremental adjustment that is designed to enable you to tailor your workout for warmups, or otherwise, as you see fit. This is especially great for beginners who may wish to take their workout progress one step at a time.  
The speed can be adjusted via the quick or the gradual keys on the console. So, there are options to jump-start your workout with a relatively high speed or you can simply increase the speed as gradually as possible.
The monitor's operation is not only smooth without vibration but also relatively quiet. Quieter than even the footfall of the user during jogging or running exercise.
Thus, your family, roommates, or neighbors with whom you live in close proximity won't feel bothered when you enjoy working out in the comfort of your home.  
The Incline
The Spirit Fitness XT185 Folding Treadmill has an automatic incline system with 10 adjustable levels.
This means it has a small motor that lifts and lowers the front base whenever the incline system is implemented. Consequently, this changes the running surface from flat to incline for an uphill running experience that requires a little bit of your effort.
This is especially good because it challenges you to do more for a better improved overall health.
Just as the speed adjustment, this could also be adjusted via the quick incline and gradual keys on the console.
The Console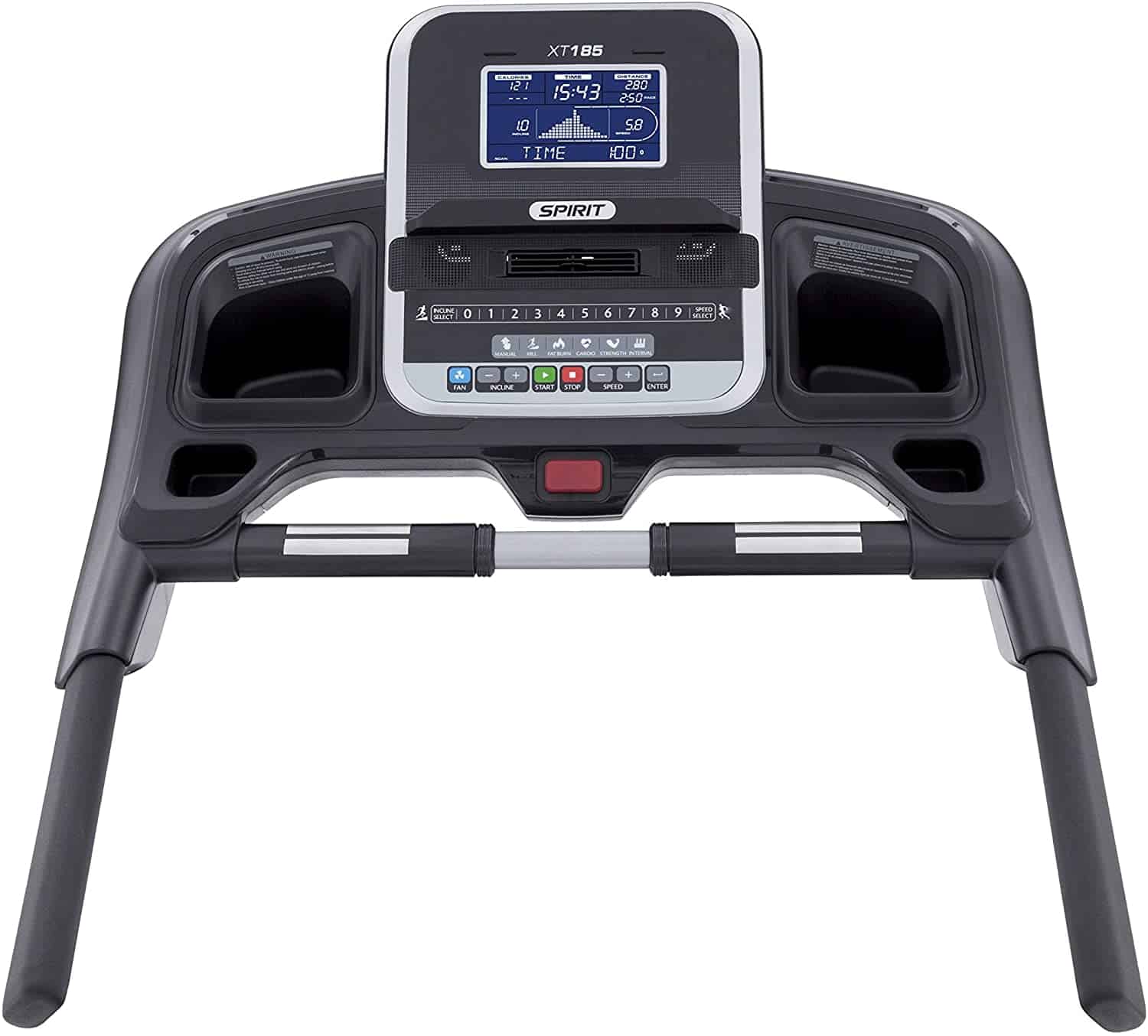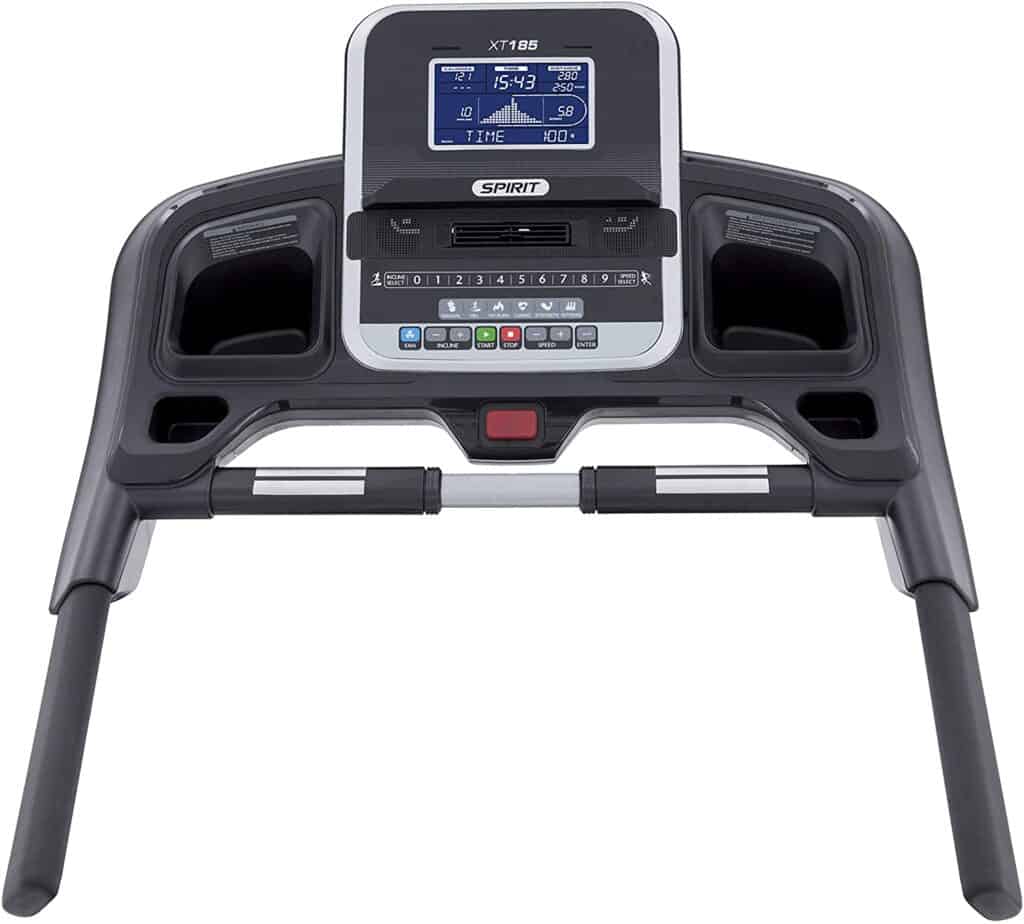 This treadmill has a console that encompasses a 7.5'' blue backlit monitor, a reading rack/tablet holder, a swivel fan and its button, speakers, dual storage trays, speed & incline quick/gradual buttons, start & stop/pause buttons, enter button, and the 6 program buttons.
There is also a lateral handrail attached on each side of the console for support and safety during workouts.
The Speed and Distance stats can be set to measure in mph/miles or km/h/km.
The monitor offers workout statistics that are meant to inform and keep you motivated during workouts. It displays stats such as Time, Distance, Speed, Elevation/Incline, Calories, Pace, Altitude, Laps, Segment Time, and Heart Rate.
These metrics are displayed simultaneously with good readability that can't be compromised.
To monitor and keep an eye on your target heart rate zone, you will have to grasp the hand pulse bars.
6 programs are available; namely, Manual, Hill, Fat Burn, Cardio, Strength, and Interval.
Aside from the Manual program that enables you to select and adjust the speed and incline levels during a workout, the rest automatically deploys certain programmed speed and incline levels to achieve their intended goals.
Accessory
As aforementioned, the console integrates storage trays that could be used for water bottle placement (for hydration purposes) and other personal belongings such as keys, a remote control, etc.  
There is also a table holder for the placement of a magazine or smartphone/tablet device for entertainment purposes.
A swivel fan is also included for keeping you cool and dry during exercises, and the built-in speakers provide quality audio output.
Storage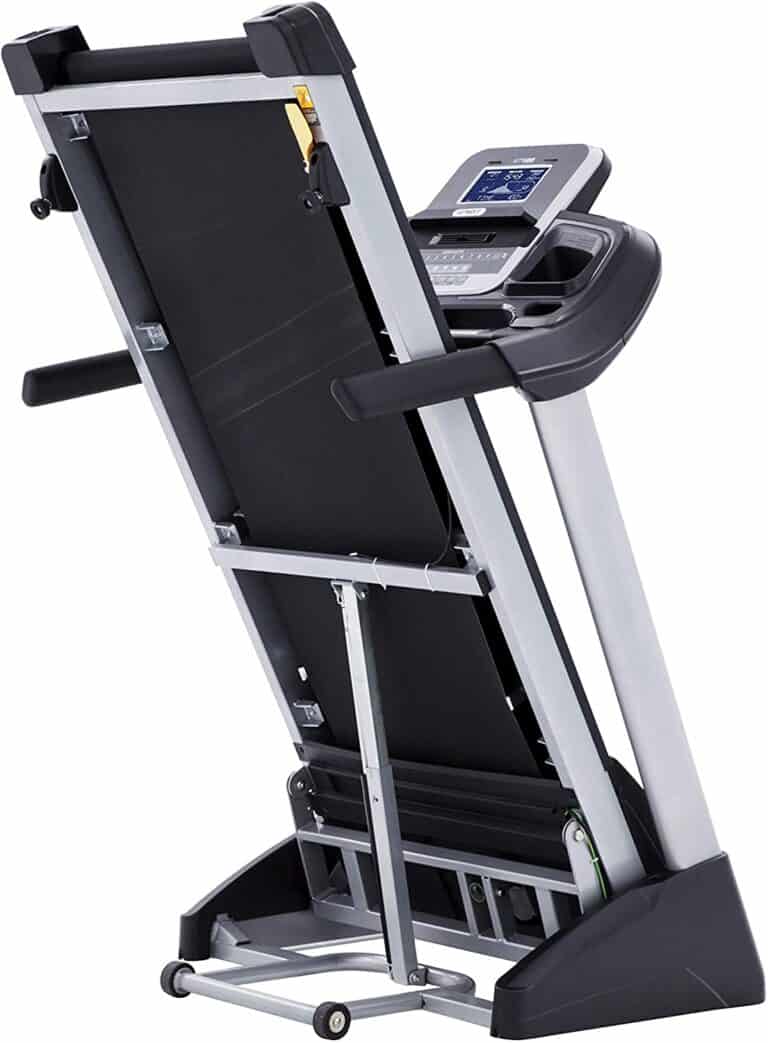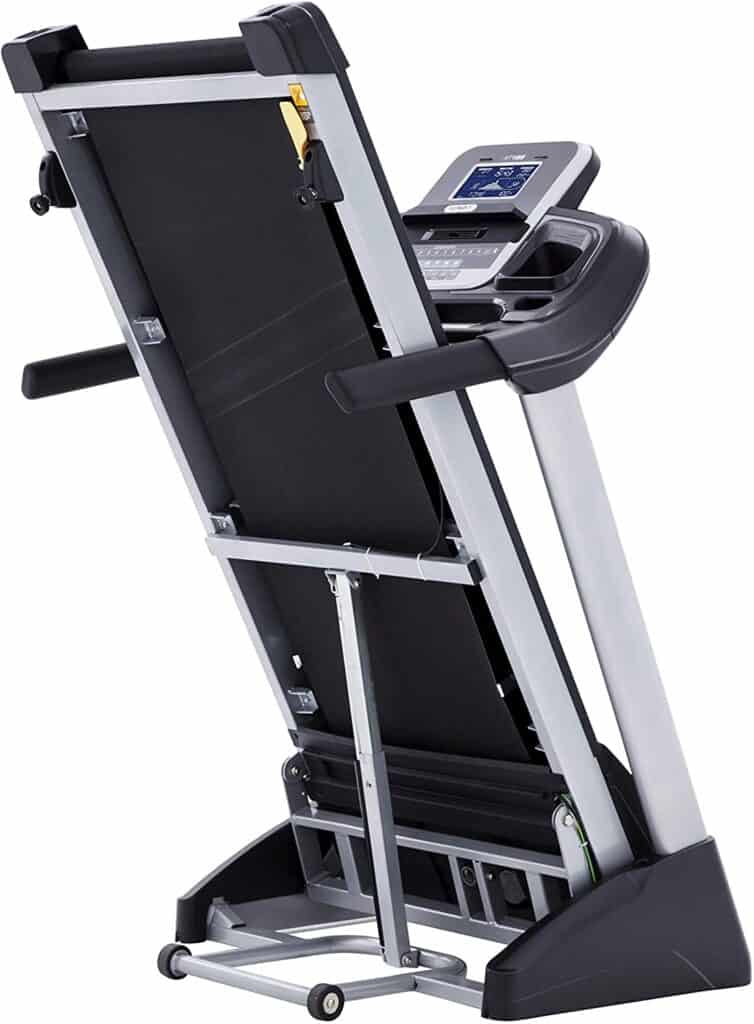 The Spirit Fitness XT185 Folding Treadmill is storage-friendly because it is foldable with transport wheels.
Despite it weighing about 229.3 lbs./104 kg, the transport wheels integrated help to easily move it for storage once folded.  
It has a lift assist system for folding and unfolding the treadmill safely without much effort from you.
The storage space it requires would be an area with measurements of 42.5'' (3'45'') length by 34.8'' (2'9'') width.
Pros/Features Overview
Durable like a horse due to its sturdy commercial-grade construction
Foldable with transport wheels and lift assist; hence, easy to store
Supports a maximum user weight capacity of 275 lbs./125 kg
It has a powerful and energy-efficient 2.75 horsepower motor that provides a speed range of 0.5-10 mph
The operation is smooth and nearly quiet during workouts
Its robust base design offers optimum stability
The deck is 20'' W x 55'' L, roomy enough for safe and comfortable exercises
Integrates automatic incline system with 1-10 adjustable levels
There are 6 programs; Manual, Fat Burn, Cardio, Strength, and Interval
7.5'' blue backlit LCD monitor tracks workout stats such as Time, Distance, Speed, Calories Burned, Elevation, Pace, Altitude, Laps, Segment Time, and Heart rate
Contact HR grips integrated for heart rate monitoring
It has a shock-absorbing system that reduces the impact usually felt on the joints when running
Assembly is not complicated
The maintenance requirement is minimal and it comes with a small lubricant oil for the running surface
Good warranty
Tablet holder included
Storage and water bottle trays included
A cooling swivel fan included
Built-in speakers included
Cons
The console is not telemetric
A device placed on the tablet or magazine holder could block the view of the monitor
It requires a bit of space for workouts
The number of workout programs available is limited
Warranty
Lifetime for Frame
Lifetime for Motor
Lifetime for the Deck
5 Years for the Parts
1 Year for Labor
Product Dimensions and Specifications
Length: 77.4''
Width: 34.8''
Height: 57.5''
Folded dimensions: 42.5'' L x 34.8'' W x 68.9'' H
Shipping dimensions: 81.1'' L x 35.8'' W x 15.2'' H
Tread belt size: 20'' W x 55'' L, 1-ply (1.6mm thick)
2.5'' & 2.0'' Crowned rollers
Net weight: 229.3 lbs./104 kg
Gross weight: 255.7 lbs./116 kg
Frame: commercial-grade steel
Maximum user weight capacity: 275 lbs./125 kg
Motor: 2.75 horsepower
Speed range: 0.5-10 mph
Incline: Automatic, 10 levels
Monitor: 7.5'' Blue backlit
Shock absorbing system: Yes
Lift assist
Programs: 6
Built-in speakers
Contact grips for heart rate monitoring
Swivel cooling fan
Tablet holder
Storage and water bottle trays
Shipping
The Spirit Fitness XT185 Folding Treadmill is put on transit immediately after placing a valid order, and delivery is in a few days.
Amazon often provides free shipping.
Assembly
This treadmill becomes fully assembled after a few steps are taken.  
You are only expected to attach the masts and the console to the main core unit.
An instruction manual is included for step-by-step guidance.
The tools needed for the assembly also accompany the package.
However, you can hire an expert technician to come over to your home and do all of these on your behalf.
Maintenance
This unit needs to be kept clean after workouts. The tread belt is pre-lubricated by the manufacturer, but you need to pay attention to it to know when it's due for re-lubrication.
However, it is recommended to lubricate it after every 90 hours of use, but you may service it when necessary, even before the time elapses.
Additional instructions are made available on the owner's manual.
Conclusion
The Spirit Fitness XT185 Folding Treadmill is an entry-level machine with fewer features when compared to the subsequent models.
It is rugged and dependable. Hence, it doesn't break down on you no matter how long or frequent you make use of it.
The generous warranty indicates the level of trust and confidence the manufacturer has toward this treadmill.
So, if you are looking for a home cardio machine that could help you lose weight, tone muscle groups, and improve heart and lungs health, then, this might be it.