Under-Desk exercise machines have always been convenient and effective in terms of space occupation and achieving fitness goals.
They do provide us with the opportunity to exercise while engaged in what also matters, such as working on a computer or simply seated on a sofa watching a favorite TV show; and this is exactly what the LifePro Under-Desk Elliptical Trainer does.
It is designed for home and office use and has a lifetime warranty, something other under-desk ellipticals hardly have, not even the much-coveted Cubii Under-Desk Elliptical can boast of that.
However, it does not allow you to exercise while standing on it, just as in the case with the Sunny Health & Fitness SF-E3908 Under-Desk Elliptical.
Click right here to have a peek at the best price of the LifePro Under-Desk Elliptical Trainer on Amazon.
The Construction of the LifePro Under-Desk Elliptical Trainer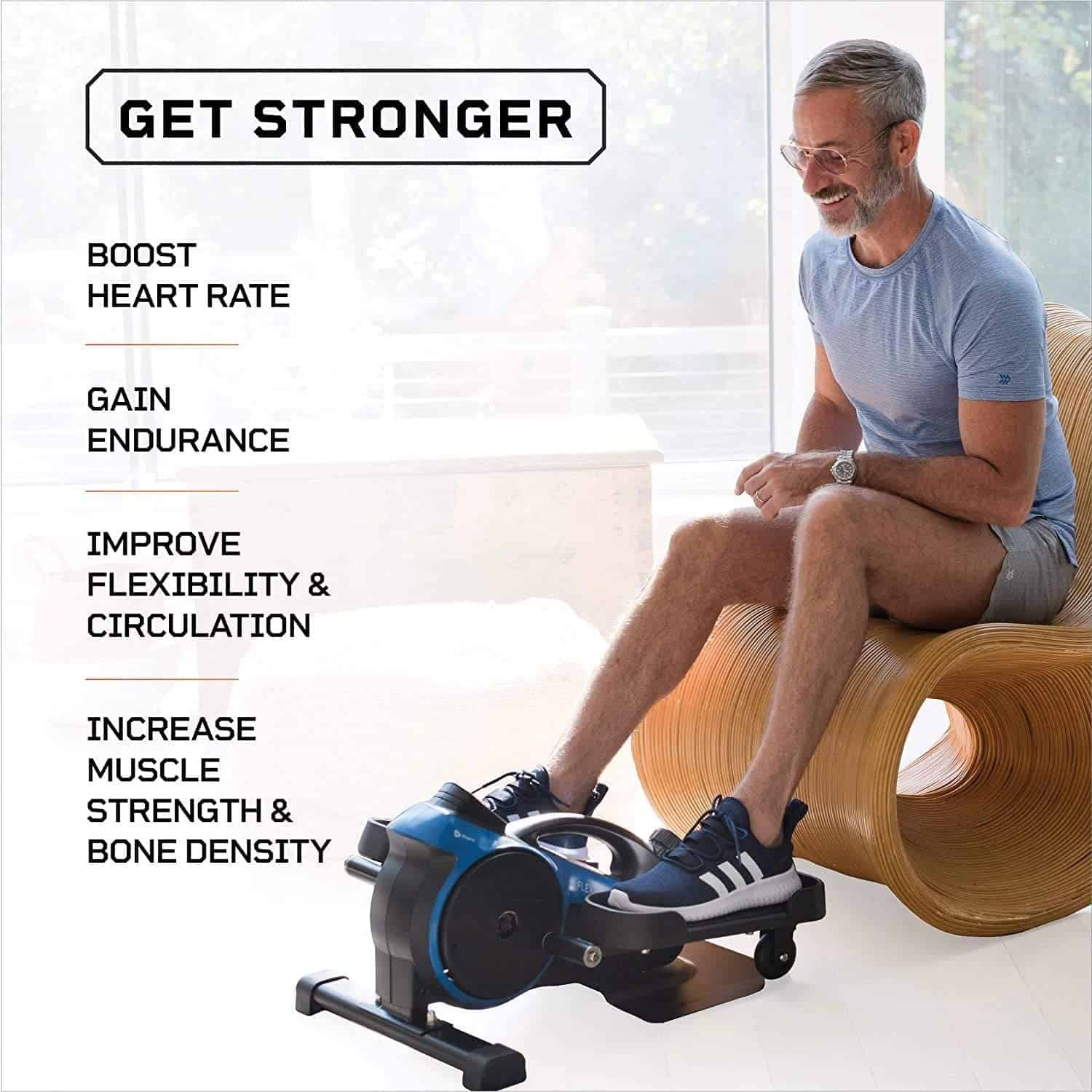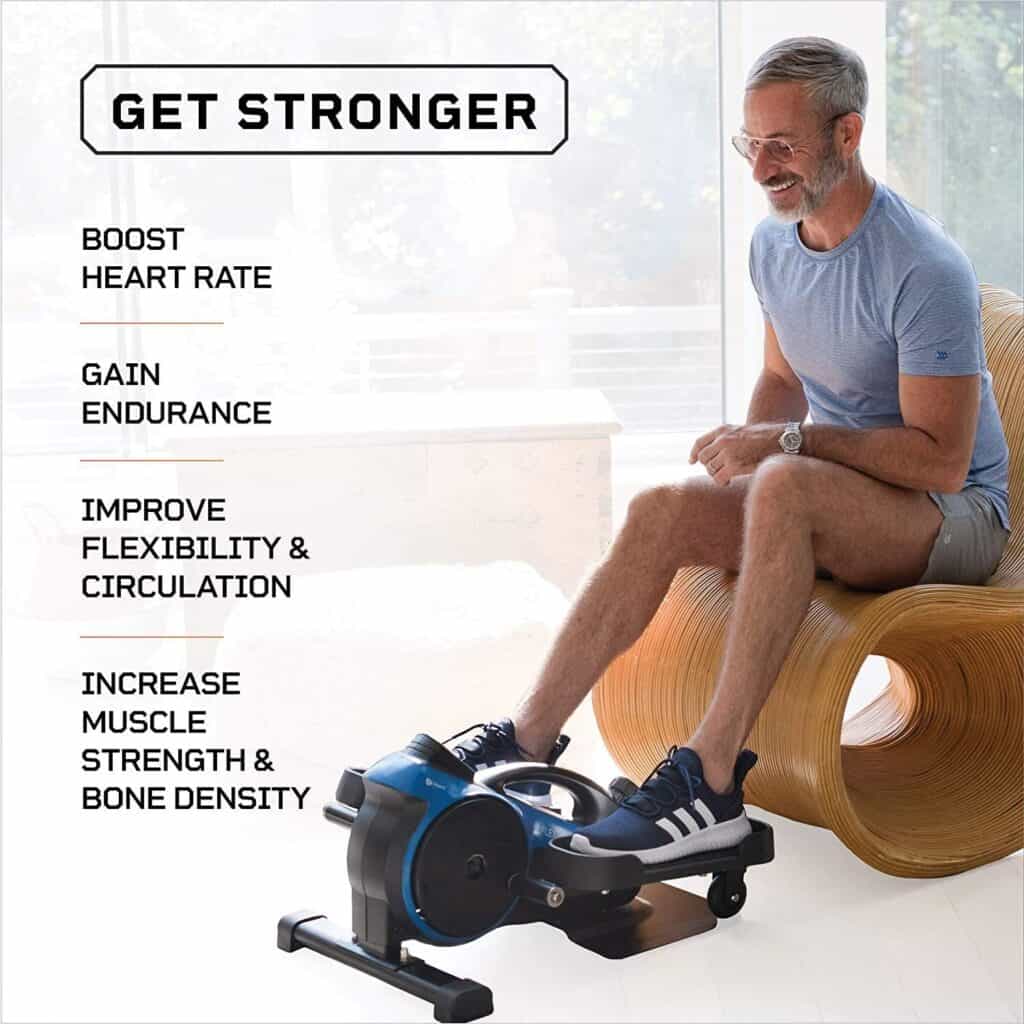 The build of this unit hinges on its core steel frame, while its exterior parts (mainly drive/resistance shrouds) are made of durable plastic.
There is a steel plate (which also serves as the pedals' rollers slide board) at the rear base and a stabilizer bar at the front base for stable workouts.
It weighs 26.5 lbs./12 kg which further enhances its overall stability. Hence, you can work out without experiencing the unit slipping away from under your feet.
It can be used on a wooden or carpet floor, but better on a surface with a protective rubber mat.
Its compact design makes it even more appealing to those who do not wish to keep a bulky workout machine for improving physical wellness.
The integrated handle on top of it is designed to be used for carrying it around the room or apartment.
The assembled dimensions are 22.7'' long by 18.5'' wide by 12.9'' high. Differently put, an area with perimeters of 1'89'' length by 1'54'' width will be fine for workouts and storage.
For those that wonder if it can be used for arm exercises, the answer is no, because the footplates do not have straps, thus, it will be awkward.
If you need something like this that could also be used for upper body exercises, then, you may have to consider the LifePro Under-Desk Cycle.
The Pedals
The pedals are made of durable plastic with a metallic base.
Their design includes textured surface, front, rear, and inner protective guards for increased traction and secure foot placement.
They are not adjustable, but large enough to accommodate users that have up to size 13 foot.
The front part of the pedals is attached to what is supposed to be the cranks, while the rear has rollers underneath them that glide on the rear metallic plate. Therefore, their motion is characterized by smoothness and quietness.
The stride length is 7'' with no possibility of adjusting to increase or decrease it.
Finally, each of these pedals is meant to support a maximum weight of 110 lbs./49.89 kg.
The Drive
The LifePro Under-Desk Elliptical Trainer has a belt drive system. As a result, you will be able to be in a meeting virtually or watch your favorite TV show without noise interference.
This also means no burden of maintenance will be on you as opposed to a chain drive system that often requires periodic lubrication and adjustment.
The drive system comprises a belt, the cranks, and the small weighted flywheel, and it is designed to provide a fixed transmission. Consequently, you can pedal both ways (forward and backward) for maximum workout effect.
The Resistance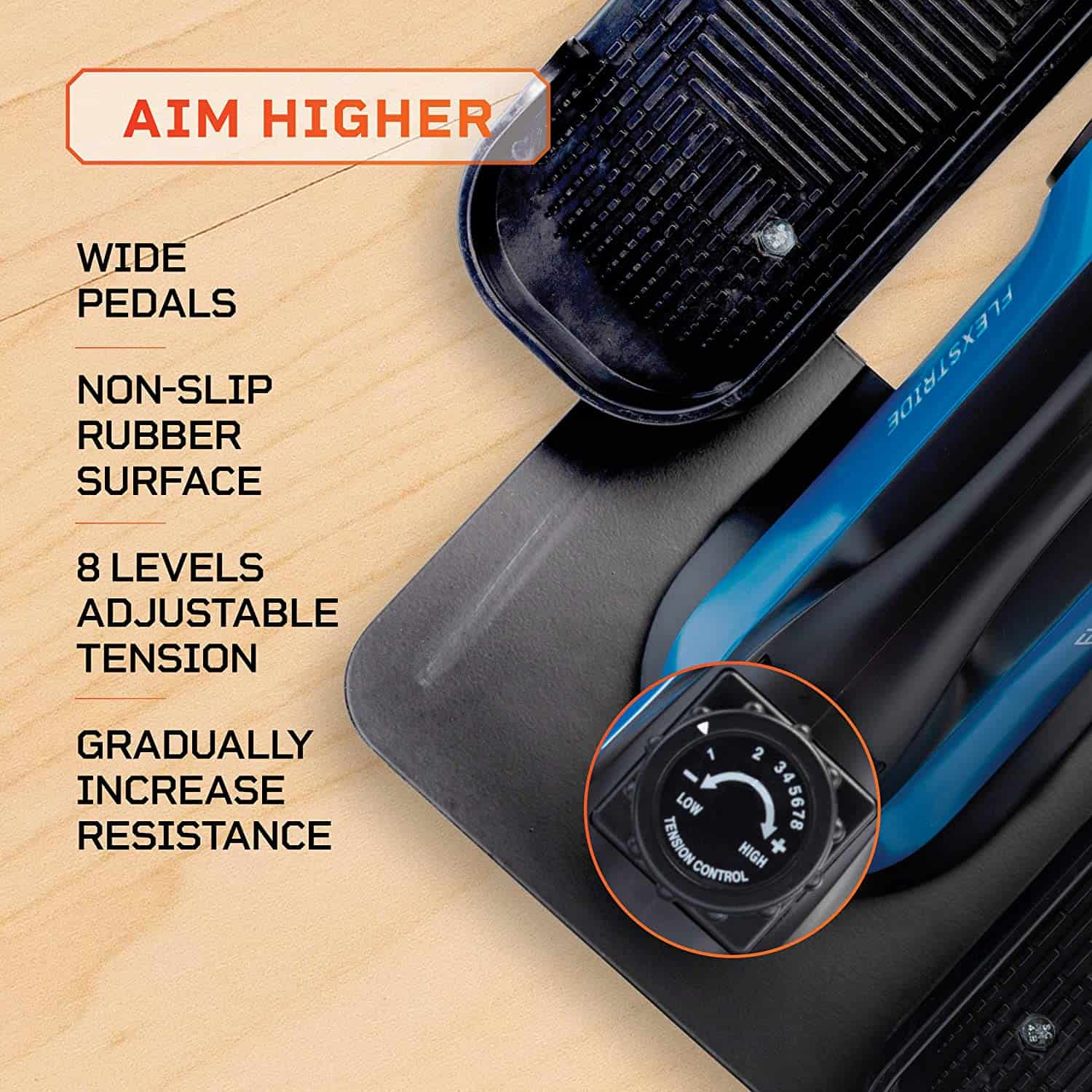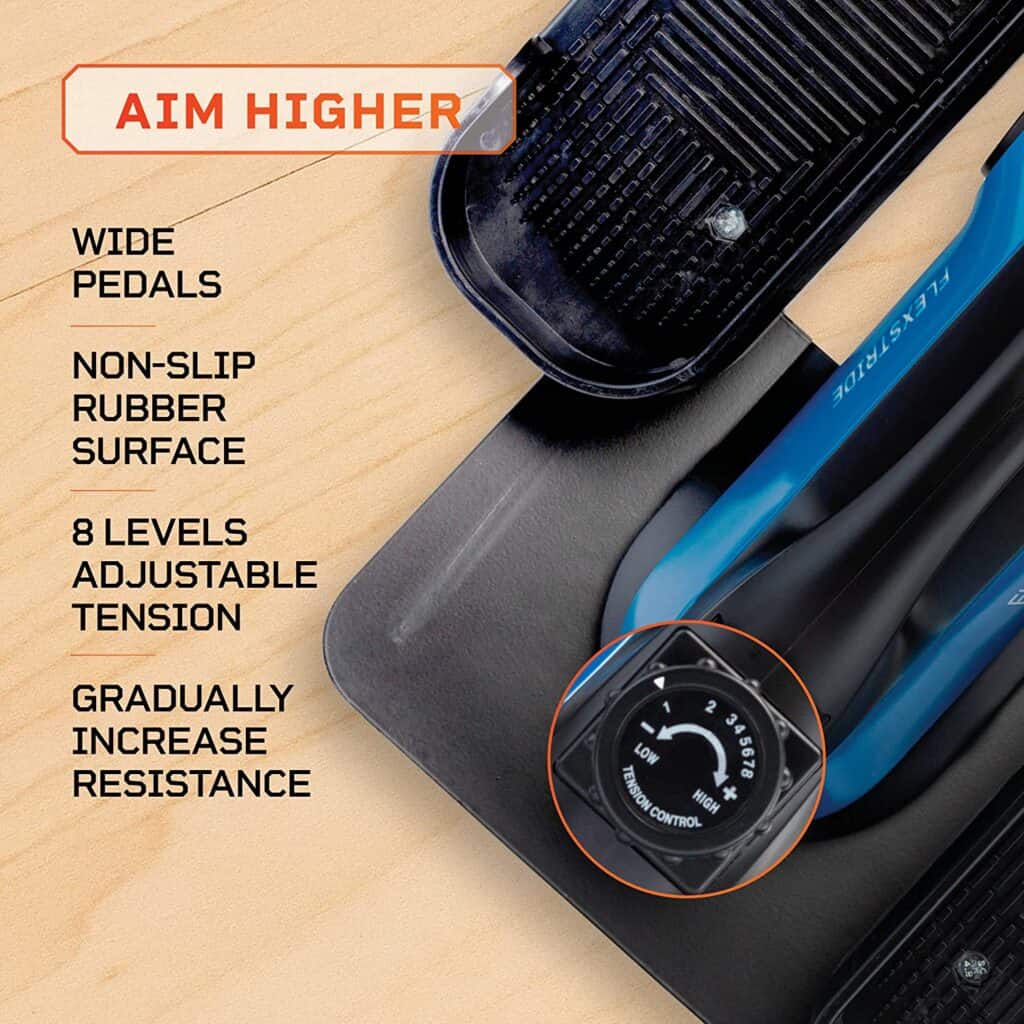 This machine has a manual magnetic resistance system with 8 adjustable levels.
It generates resistance without friction, which is the beauty of it because no noise will be emitted, and no part wears out during the process.
The main resistance-generating components include a magnetic pad and a metallic flywheel.
Resistance is generated when the magnetic pad emits magnetic fields around the metallic flywheel.
To increase or decrease the resistance level, twist the tension control knob clockwise or counterclockwise, respectively. By so doing, the magnetic pad shifts closer or farther away from the flywheel, hence, affecting the strength of the magnetic fields released.
The resistance levels are suitable for seated workouts, and they enable you to break a sweat, burn some calories, and tone muscle groups.
The Console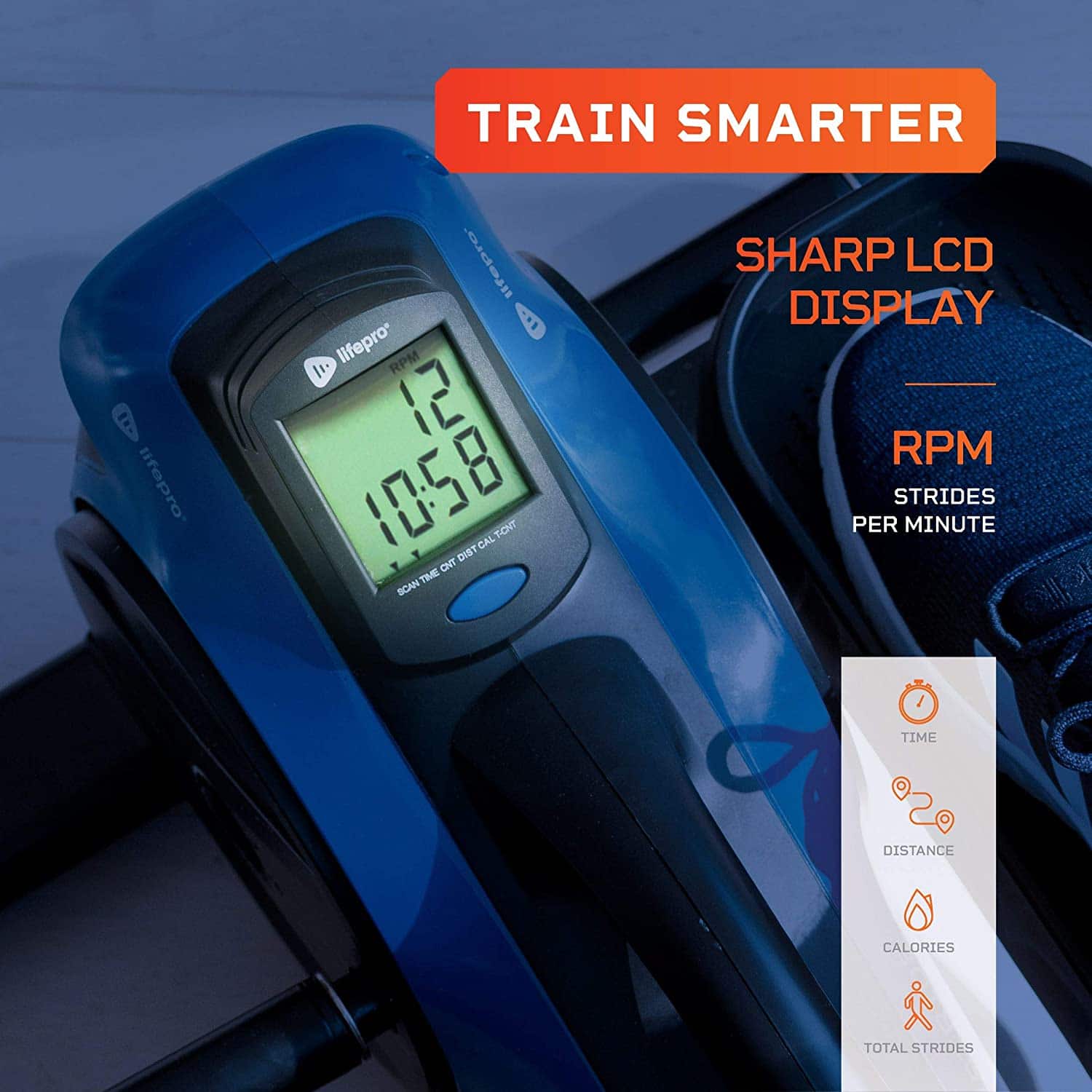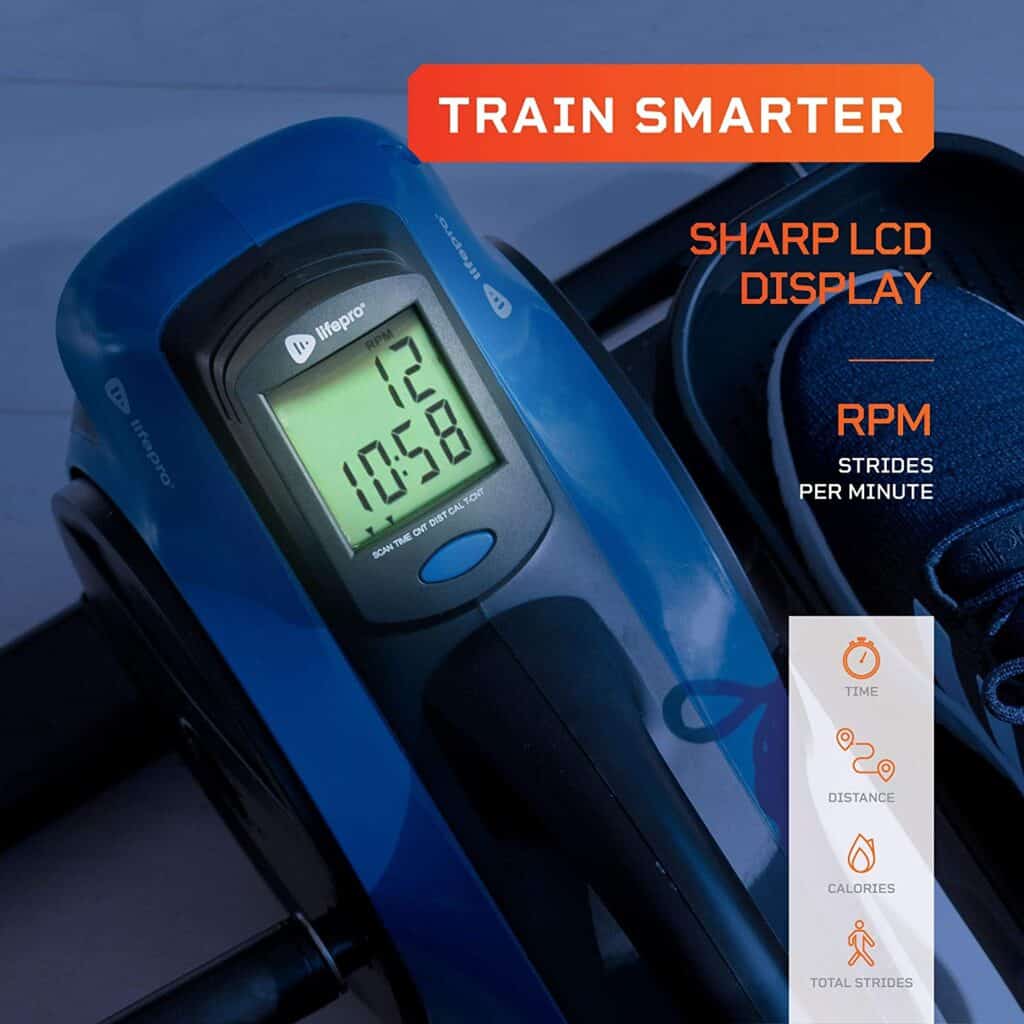 The LifePro Under-Desk Elliptical Trainer is equipped with a console that features an LCD monitor for tracking workout stats such as Time, Distance, Count, Total Count, RPM, and Calories Burned.
There is a SCAN function that displays the metrics one at a time after every few seconds since it isn't possible for them all to be displayed at once. However, if you wish to set up a workout value of your choice to display constantly instead, you can.
The readability is good as long as you view the display in an environment that is well-lit. Otherwise, it will be diminished because the monitor is not backlit.
The console is Bluetooth-enabled. This means it has the capability of connecting to a smartphone (both Android & iOS) that has a third-party workout app such as Zwift for better workout tracking. The app is free to download from the app or play store.
The monitor is powered by 2 AAA batteries which are included in the package. To insert or replace the batteries, simply remove the monitor by lifting it through the top line around it. You don't have to force it as it comes off easily.
The screen comes alive once you start pedaling or when the button on the console is pushed, and it automatically turns off after 4 minutes of inactivity on the unit.
You may have noticed the heart rate function was never mentioned; this is because it has none.
So, if that is really a concern to you, you may use an external device to keep an eye on your target heart rate zone at all times.
Storage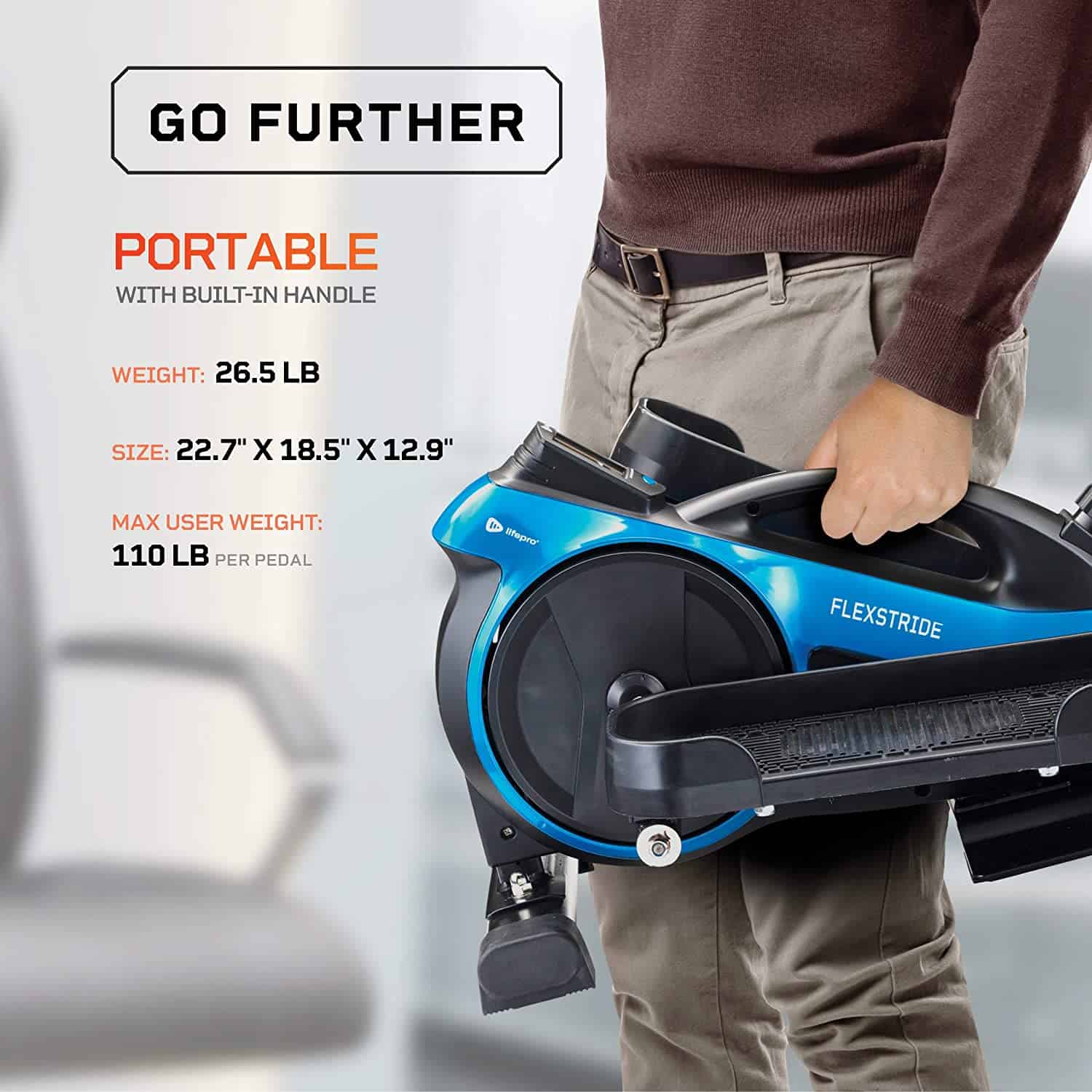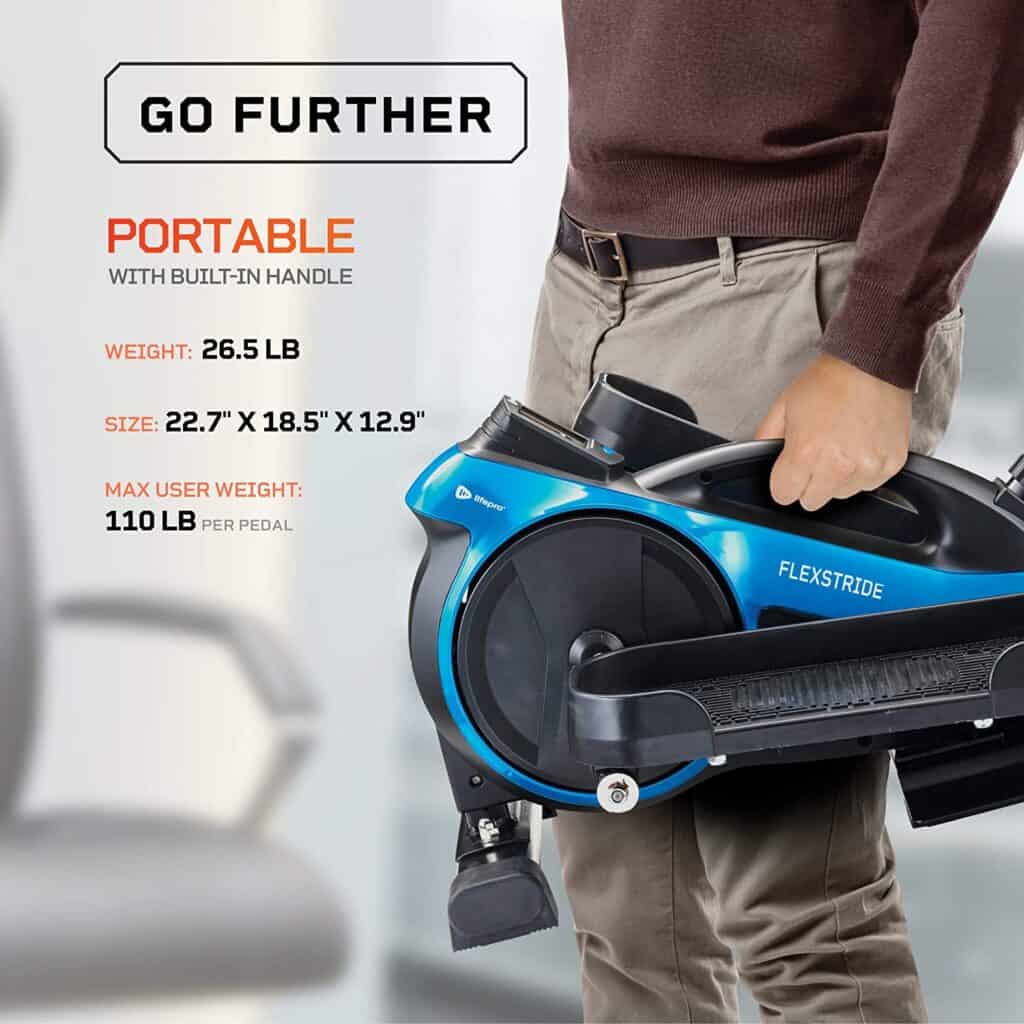 The LifePro Under-Desk Elliptical Trainer is storage-friendly because it is compact, lightweight, and portable.
In other words, it requires less space, and you can conveniently move it by the handle to any part of the room.
A storage area with perimeters of 1'89'' length by 1'54'' width can accommodate it. Ideally, storing it in a corner of the room, or out of sight in a closet is fine.
The Pros/Features Overview
Sturdily built and elegant
It is compact, lightweight, and handy; thus, it saves space, easy and convenient to move for storage
Its operation is smooth and quiet
The pedals are textured with protective guards for secure footing, and they can accommodate size-13 shoes
The unit offers low-impact workouts
The magnetic resistance system offers 8 adjustable levels for workout difficulties that are suitable for both young and old
The base stabilizer bar and plate offer optimum stability
It includes a monitor that tracks workout stats such as Time, Distance, Count, Total Count, RPM, and Calories Burned
The console is Bluetooth-enabled, and it is compatible with third-party apps such as Zwift for tracking workout progress via a smartphone
It arrives almost pre-installed
No serious maintenance is required of you
Lifetime warranty
Cons
The monitor is not backlit
It does not support standing workouts
No heart rate function
Warranty
Product Dimensions and Specifications
Length: 22.7''
Width: 18.5''
Height: 12.9''
Shipping dimensions: 24.4'' L x 14.5'' W x 13.15'' H
Net weight: 26.5 lbs./12 kg
Gross weight: 31.85 lbs./14.42 kg
Frame: Steel
Maximum user weight each pedal support: 110 lbs./49.89 kg
Drive: Belt
Resistance: Manual magnetic with 8 adjustable levels
Monitor: LCD monitor
Bluetooth-enabled console and compatible with Zwift app
Pedals: Large and textured
2 AAA batteries included
Shipping
The LifePro Under-Desk Elliptical Trainer is shipped out in a box that weighs 31.85 lbs./14.42 kg with dimensions of 24.4'' long by 14.5'' wide by 13.15'' high.
Oftentimes, Amazon offers free shipping, and it gets delivered in a couple of days.
Moreover, in the event you wish to return it, no shipping cost is charged as well.
Assembly
The assembly of this machine takes no time (about 10 minutes or less) to complete because most of the parts are already in place upon receiving it.
There is also an instruction manual that guides you through the process of how to correctly assemble it
Maintenance
The maintenance requirement includes keeping the unit clean after every workout.
Inspect it before every use for workouts to be sure that every part is good.
Where store it matters because you don't want to keep it where it will be exposed to dirt, heat, or moisture as any of these conditions could affect its functionality.
Conclusion
The LifePro Under-Desk Elliptical Trainer offers exercise opportunities to those that work a lot behind a desk or the elderly whose physical activities have been impaired.  
It is one of the affordable under-desk ellipticals you can find with a good build and features that could enable you to enjoy and realize your goals.