The Spirit Fitness XT285 Folding Treadmill is the upgraded version of the Spirit Fitness XT185 Folding Treadmill. This means it has certain features the XT185 does not have, and as a result, it ticks off the boxes that make a treadmill to be deemed as well-designed.
The XT285 has a longer running surface, supports a higher user weight capacity, possesses a more powerful motor, has additional workout programs, and much more.
It is compatible with Spirit Fit and Zwift apps that add fun to your workouts. These enable you to interact with a virtual world for a better workout experience and productivity.
Click right here to have a peek at the best price of the Spirit Fitness XT285 Folding Treadmill on Amazon.
Frame and Construction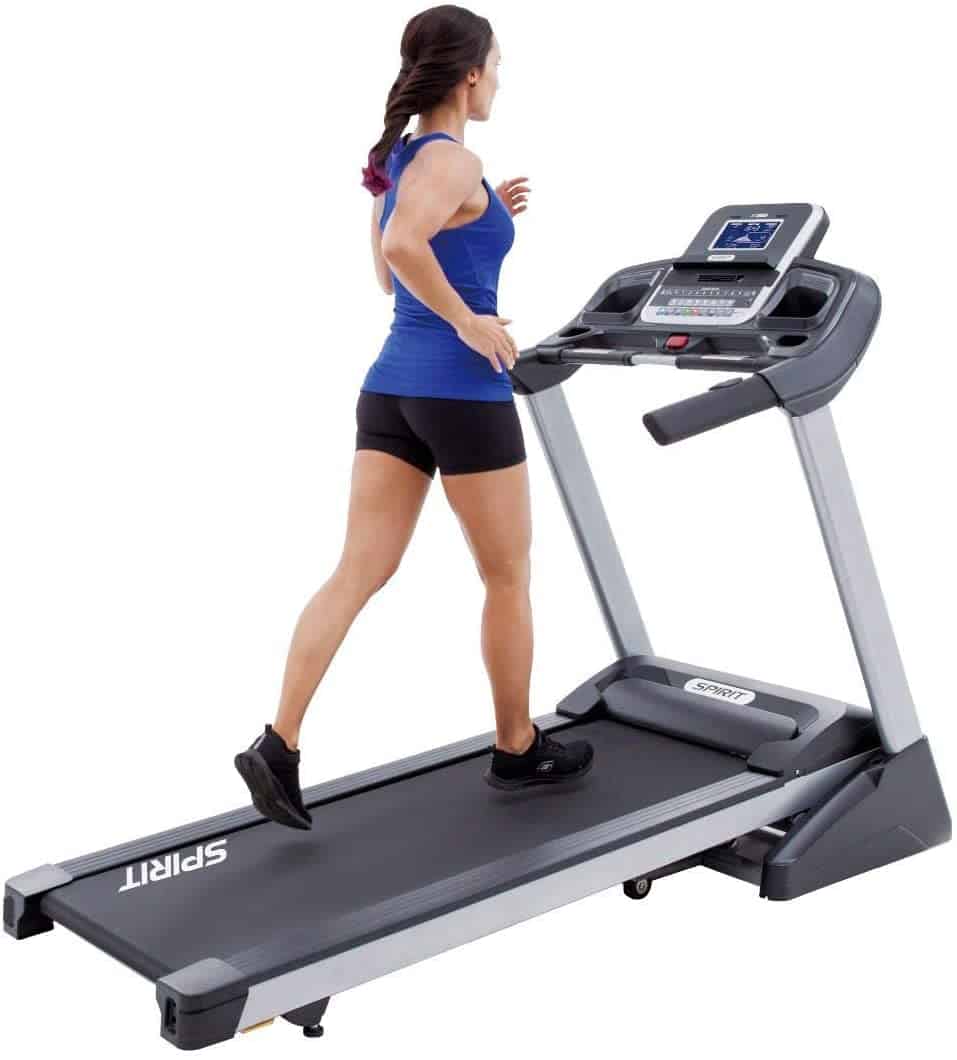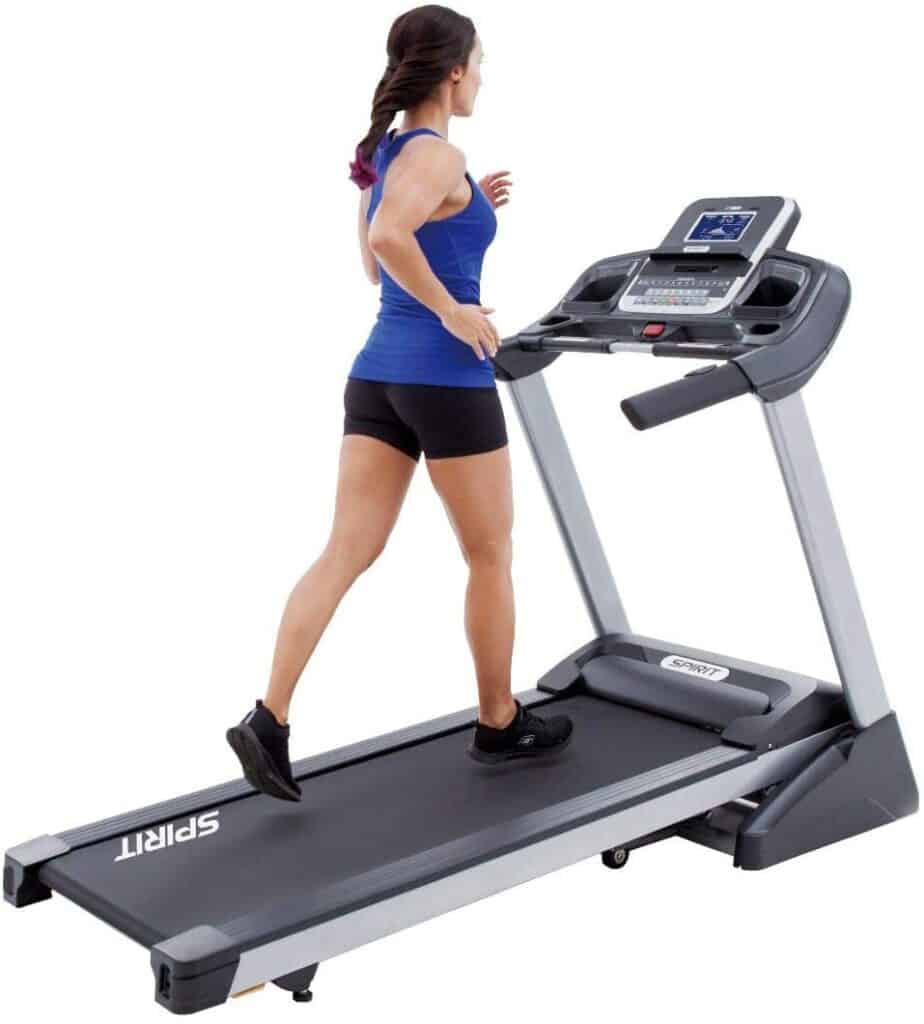 The Spirit Fitness XT285 Folding Treadmill has an anti-corrosion powder-coated commercial-grade steel frame structure that features a deck that is ¼'' thicker than the XT185's.
While the dashboard, the side rails, and the base coverings are made of ABS material for safety and cosmetic purposes.
Hence, it is elegant and sturdy enough to support walkers, joggers, and runners that are up to 350 lbs./158.7 kg in weight.
The side rails are wide and textured so that users can hop on them whenever they wish to exit the running surface for a short break without turning off the treadmill.
The treadmill is optimally stable due to the steel crossbar tubing at the front base and the adjustable levelers at the rear.
Moreover, the overall assembled weight of the treadmill is 235 lbs./106.59 k. This further ensures that the treadmill remains grounded and unshakeable. Therefore, you won't experience any wobbling or tilting moments.
When it comes to the unit's size, it will suffice to say that it requires a bit of space. In other words, it may not fit in a room that is not spacious.
The assembled dimensions are 81'' long by 35'' wide by 57.5'' high. To put it differently, it needs a workout area with measurements of 6'75'' length by 2'91'' width, plus additional extra clearance of 2' at the rear and on both sides of it.
Most treadmills will be fine under a ceiling height of 8', but this requires about 8.5'' or more because of the incline system.
Having said that, the treadmill is foldable, and regardless of its weight, it can easily be moved around the room due to the integrated transport wheels.
It does not need a lot of space for storage since once folded the length dimension significantly reduces. So, a storage area with measurements of 3'66'' length by 2'9'' width can accommodate it.  
The Deck of the Spirit Fitness XT285 Folding Treadmill
The Deck of the Spirit Fitness XT285 Folding Treadmill is 1'' thick, and it features a 20'' wide by 60'' long running surface. This is particularly good for those who wish to run on it because their stride won't be restricted.
Moreover, it is cushioned to reduce the stress that is usually felt on the joints.
The 1-ply tread belt is 1.6 mm thick, and it rolls over 2.5'' (front) and 2.0'' (rear) crowned rollers. As a result, its movement is smooth and almost noiseless.
The Motor
The Spirit Fitness XT285 Folding Treadmill is equipped with a 3.0 horsepower motor that can support running activities.
It is designated at the front base of the treadmill and covered with ABS material.
It requires low energy and does not get overheated because of frequent or prolonged use. Neither does it generate a disruptive noise that could bother folks around you.
The motor provides a speed range of 0.5 mph (1 km/h) – 12 mph (19 km/h), and it is possible to increase or decrease the speed by 0.1 mph. Hence, users of different fitness levels can engage in walking, jogging, running, and even sprint activities.
Besides the quick and gradual speed adjustment buttons on the console, there are easy-to-reach toggle speed buttons on one of the lateral handrails. Therefore, you can easily adjust the speed level regardless of your workout posture.
For the motor to be functional, the treadmill needs to be plugged into a 110 V/15 Amps electric power outlet.
The Incline
The XT285 treadmill features a 12-level automatic incline system.
This means the incline system only functions when the treadmill is plugged into a power outlet because it integrates a motor lift that elevates and lowers the front base of the treadmill when the incline is adjusted.
The incline offers different degrees of workout challenges that could help you to improve and attain the physical fitness you have always wanted.
Just as the speed adjustment, the incline could also be adjusted via the easy-to-reach toggle keys on the left side of the handrail, and through the quick and gradual incline buttons on the console. These create the flexibility you need to easily adjust the incline regardless of whether your hands are on the handrails or not.
The Console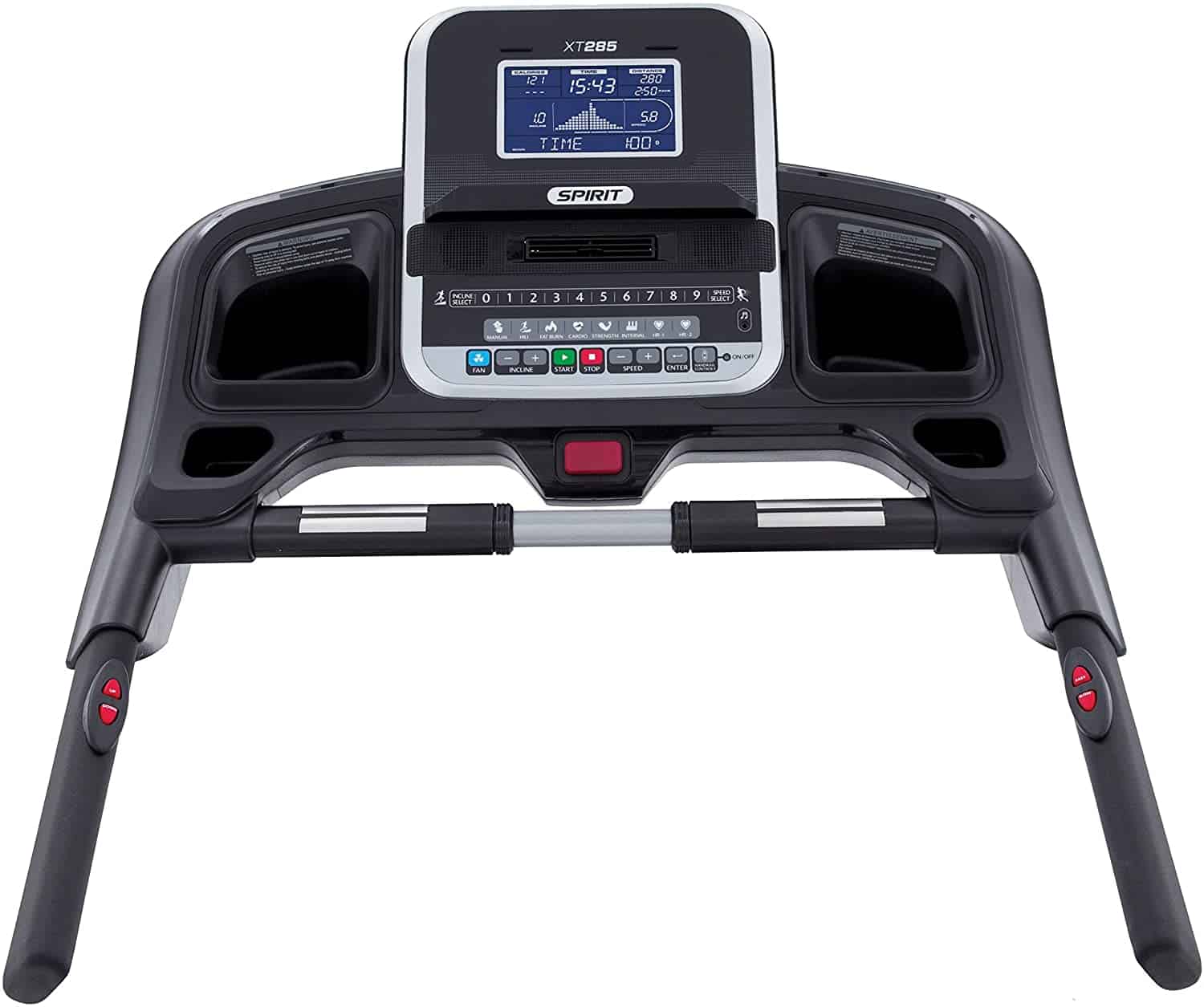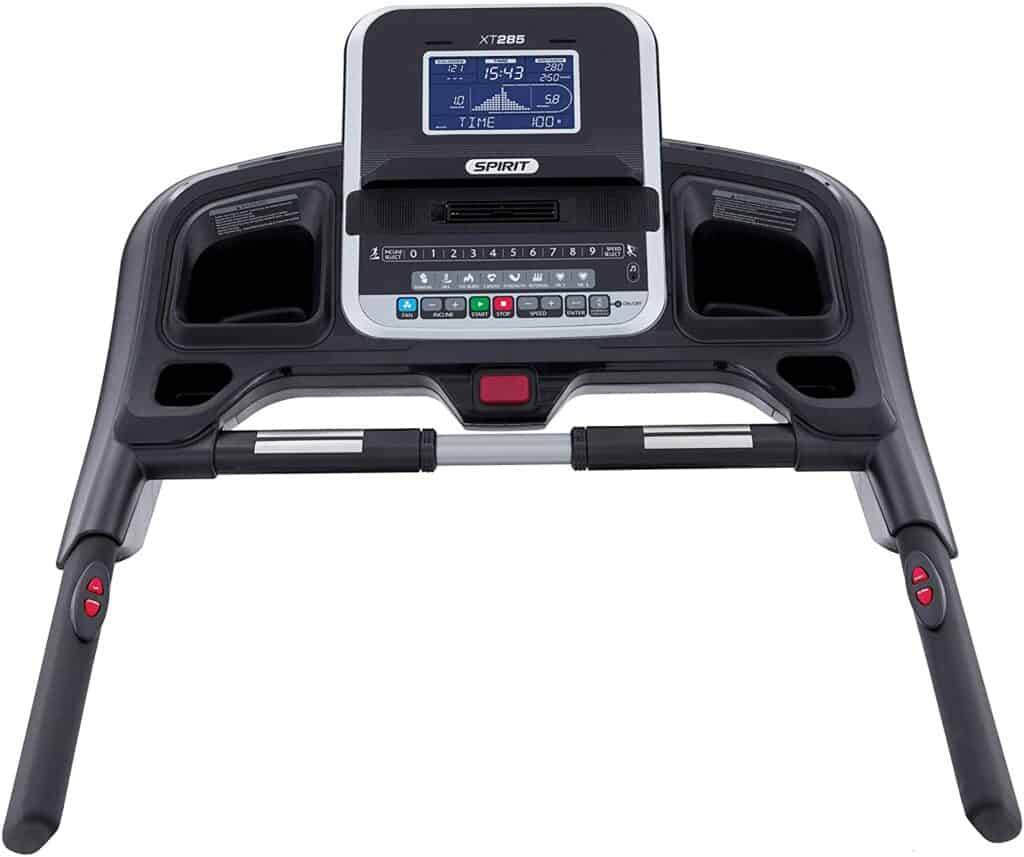 The Spirit Fitness XT285 Folding Treadmill has a console with some interesting features such as the 7.5'' blue backlit LCD monitor, tablet-friendly reading rack, program keys, speed/incline adjustment buttons, adjustable cooling fan, built-in speakers, on/off/pause buttons, audio input jack, and more.
The monitor tracks workout progress and displays statistics such as Time, Distance, Speed, Elevation, Pace, Laps, Altitude, Calories, Segment Time, and Heart Rate to keep you motivated and focused.
These stats are displayed simultaneously with good readability.
Instead of 6 programs as the XT185 model offers, this treadmill provides 8 programs that include Manual, Hill, Fat Burn, Cardio, Strength, Interval, and 2 Heart Rate.
When any of the preset programs is selected, the speed and the incline levels are automatically assigned, but they can be customized to suit your needs.
For instance, upon selecting a program, your age and weight will be required to be entered to provide accurate data output. Otherwise, the default age, which is 35 will be used instead.
Spirit Fitness did an awesome job of providing a comprehensive and easy-to-understand instruction manual that could guide you on how to use the features on the console.
There are contact grips for heart rate monitoring, and it is possible to synchronize a heart rate chest transmitter (included) with the console to wirelessly track your pulse.
The console is Bluetooth-enabled. It is designed to help you connect to the Spirit Fit App via a smartphone that has the app on it so that you can track and record your workouts.
It even gets better because the console is also compatible with the Zwift app which takes your workout experience to a whole new level. It gets you into a virtual world where you can engage in interactive racing, score points, and unlock achievements.
The app is available for free on the Apple store and Google play; hence, it is compatible with Android and iOS-based devices. The connection process is simple and intuitive.
Accessory
There are a couple of accessories available on the Spirit Fitness XT285 Folding Treadmill. Among them is the tablet holder for the placement of a smartphone/tablet or magazine.
The console also integrates built-in speakers and an audio jack for streaming music for quality output.
There are dual trays for a water bottle (for hydration purposes) and storage of other personal items such as keys, a remote control, and more.
A swivel fan is incorporated to help keep you as cool and dry as possible during workout sessions.
Storage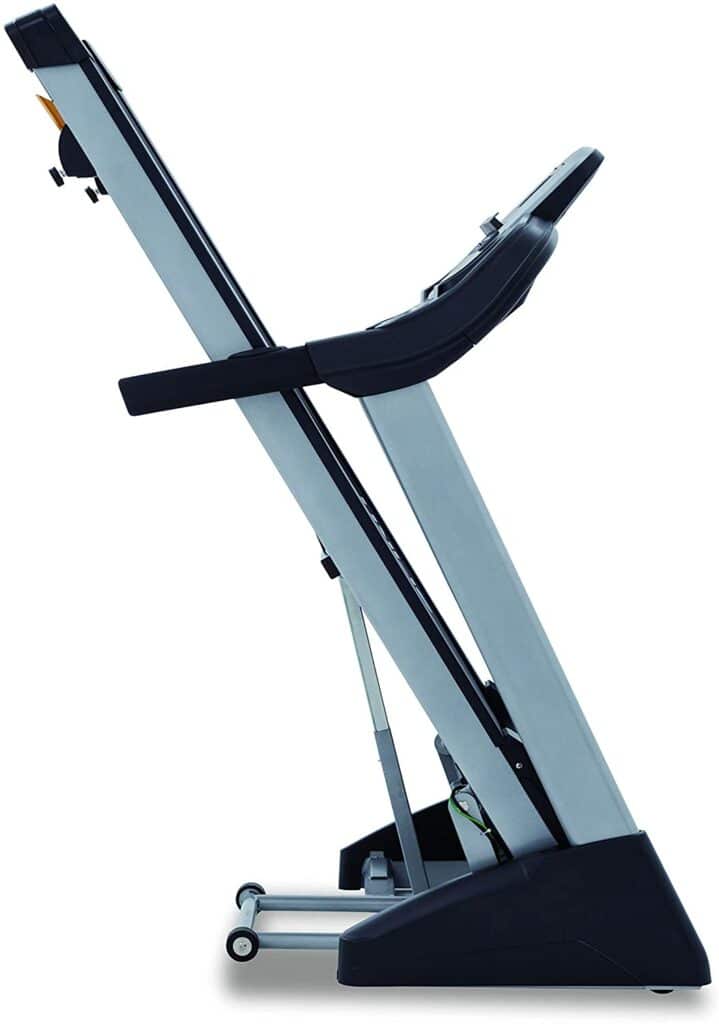 Apparently, the Spirit Fitness XT285 Folding Treadmill is foldable with wheels. Therefore, even though it weighs 235 lbs./106.59 kg, it can easily be moved around the room.
It has a lift assist system that makes it easy to fold and unfold safely without much effort from you.
When folded, the dimensions become 44'' long by 34.8'' wide by 71.3'' high. So, an area with measurements of 3'66'' length by 2'9'' width will be enough for storage.
Pros/Features Overview
Solidly built with a commercial-grade steel frame
It supports a maximum user weight of 350 lbs./158.7 kg
It is foldable with wheels for easy storage
The deck is 1'' thick, and has a 1-ply (1.6 mm) tread belt that rolls over 2.5'' & 2.0'' crowned rollers for smooth and steady rolling
The running surface is 20'' wide by 60'' long; roomy enough for most users to exercise safely and comfortably
The deck includes 6 cushions that are designed to reduce the negative impact on the joints during jogging or running activities
Handlebar-mounted speed & incline adjustment controls
More powerful and energy-efficient 3.0 horsepower motor provides a speed range of 0.5-12 mph
The operation of the motor is quiet & vibration-free
Automatic incline system with up to 12 adjustable levels
8 programs, namely, Manual, Fat Burn, Hill, Strength, Interval, Cardio, and 2 Heart Rate
There are EKG contact grips and a telemetric system for monitoring heart rate (HR chest strap included)
The treadmill has a console that features a blue backlit LCD monitor that tracks Time, Distance, Speed, Calories, Elevation, Laps, Segment Time, Pace, Altitude, and Heart Rate simultaneously
Bluetooth connectivity
Spirit Fit app, Zwift app, and more compatible
Tablet holder included for keeping a smartphone/tablet device handy for taking calls and entertainment purposes
Dual trays are included for keeping water and other items handy for convenience and maintenance of proper hydration
A swivel fan is available for keeping cool
Speakers and an audio jack for audio output
Assembly is pretty straightforward and easy
Maintenance is not cumbersome
Cons
Takes up more space for workouts
The view of the monitor gets blocked if a device is placed on the tablet holder
Warranty
Lifetime for Frame, Motor, & Deck
10 Years for Parts
1 Year for Labor
Product Dimensions & Specifications
Length: 81''
Width: 35''
Height: 57.5''
Folded dimensions: 44'' L x 34.8'' W x 71.3'' H
Shipping dimensions: 84.3'' L x 35.8'' W x 15.2'' H
Net weight: 235 lbs./106.59 kg
Gross weight: 264.6 lbs./120 kg
Tread belt dimensions: 20'' W x 60'' L
Frame: commercial-grade steel
Maximum user weight capacity: 350 lbs./158.7 kg
Motor: 3.0 horsepower
Incline: Automatic, 12 levels
Speed: 0.5 mph-12 mph
Cushioning system: 6 cushions (rear rigid mount)
Rollers: 2.5'' (front) & 2.0'' (rear) crowned
Programs: 8
Monitor: 7.5'' blue backlit LCD
Bluetooth-enabled
Spirit Fit App and Swift compatible
Audio jack: Yes
Built-in speakers: Yes
Swivel fan: Yes
HR monitoring: Contact grips & Telemetric
Transport wheels: Yes
Dual storage tray: Yes
Shipping
The Spirit Fitness XT285 Folding Treadmill is shipped out in a single box that weighs 264.6 lbs./120 kg, with dimensions of 84.3'' long by 35.8'' wide by 15.2'' high.
It gets delivered in a couple of days and requires 2 persons to move it to the installation area.
Amazon usually offers free shipping without charge.
Assembly
It takes a few steps to assemble this treadmill because the majority of the parts are pre-assembled.
The parts that need to be assembled include the left and the right upright stands and the console/dashboard.
An instruction manual that details the process is attached in the package, including the tools that are needed as well.
Maintenance
Basically, it is recommended to keep the treadmill clean at all times, especially the tread belt to prevent dirt from causing a problem.
The tread belt will require lubrication at some point in time. It is recommended that it be lubricated after 90 hours of usage or when it starts showing signs of not running smoothly.
Do not expose the console to liquid, dirt, or heat to avoid malfunctioning.
Conclusion
The Spirit Fitness XT285 Folding Treadmill is a durable home cardiovascular exercise machine with a decent number of features.
It supports 350 lbs./158.7 kg maximum user weight capacity, integrates a 3.0 horsepower motor that provides a speed range of 0.5 mph to 12 mph.
There are 8 programs, and a telemetric console (HR chest strap included). It is also Bluetooth-enabled and compatible with Spirit Fit and Zwift Apps.