The Nordic Track T 7.5 S Treadmill model NTL19819 is a cost-effective machine. It is sturdily built with decent features and quality in return for the cost. It is the upgrade of the Nordic Track T 6.5 S Treadmill (there is a chart below to clearly distinguish them).
The treadmill is poised to provide an outstanding cardio workout experience that includes the ability to train with a real-time personal trainer via the 7'' interactive HD Touchscreen, thanks to the iFit technology.
Its spacious running surface allows you to exercise with long and powerful strides, while the 3.0 DurX commercial motor keeps the drive going no matter how prolonged, vigorous, and frequent your workouts become.
Click right here to have a peek at the Nordic Track T 7.5 S Treadmill.
The Frame and Construction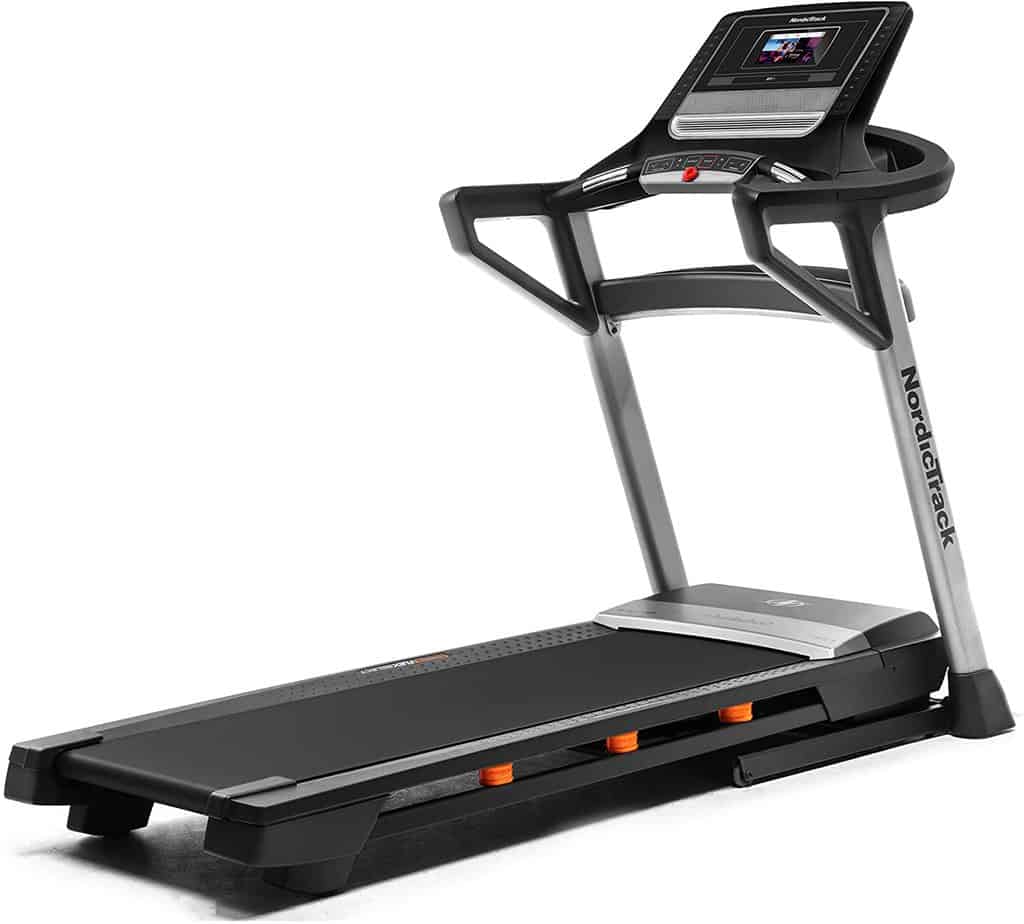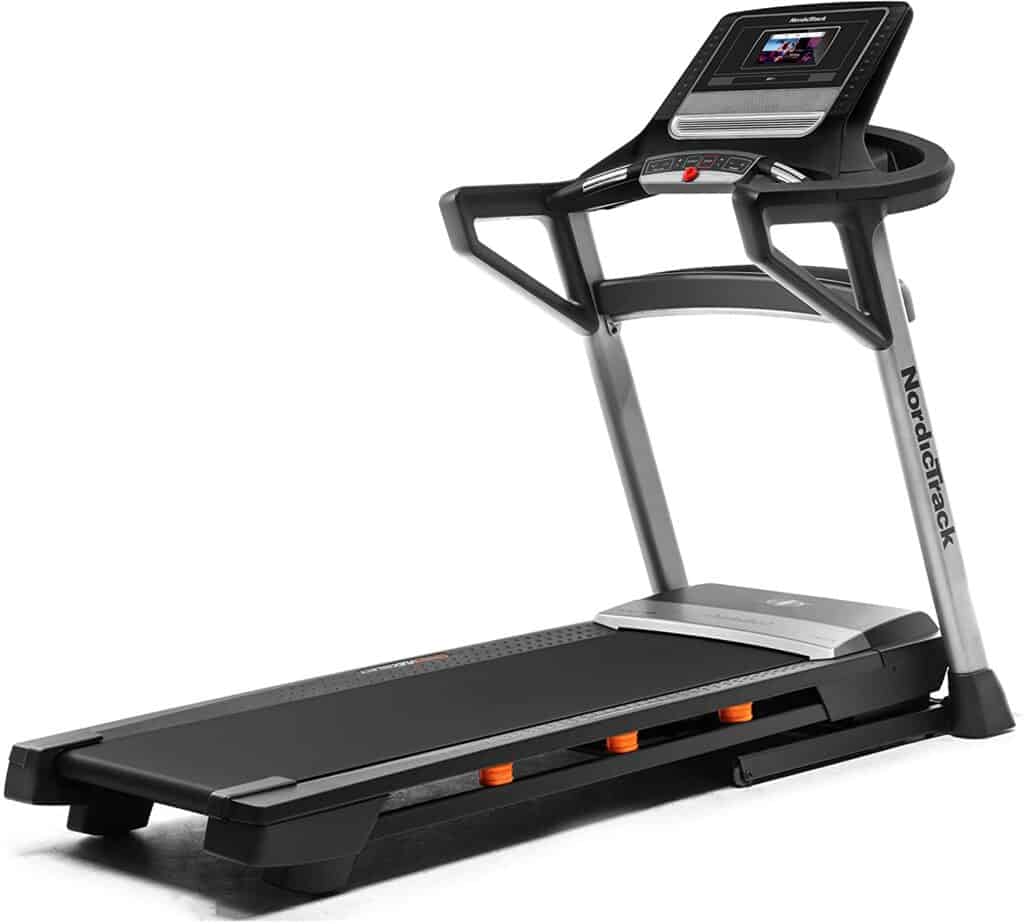 The Nordic Track T 7.5 S Treadmill has a solid steel frame that is coated with anti-corrosion paint, while other parts such as the dashboard, the motor, and the foot rail covers are made of durable plastic.
As a result, it exudes elegance and supports 300 lbs./136 maximum user weight capacity.
The anti-skid base framework enables users to train without experiencing wobbling or tilting moments. Its assembled weight of 209 lbs./95 kg further enhances the overall stability.
The treadmill has a space-saving design with EasyLift Assist that helps you to easily fold and unfold it. While the included transport wheels facilitate the relocation process without hassles regardless of its weight.
Its assembled dimensions are 81.6'' long by 36'' wide by 59'' high. This means it's going to take a little bit of space.
In other words, it needs a workout area with perimeters of 6'8'' length by 3'' width. If it's going to be utilized in a confined area, ensure to leave an extra clearance of at least 2' around it for easy access and safety.
The ceiling height that is suitable for the treadmill depends on your height. To determine this, you need to add your height and 22'' being the highest incline position and at least 5'' clearance.
So, for example, a 6' tall user's ceiling height formula is 72'' (user's height) + 22'' (floor to deck's height when the incline is at its highest) + 5'' (clearance) = 99'' (8'2'' ceiling height).
Finally, the step-up height of the treadmill is 10''.
Comparison Table
| | | |
| --- | --- | --- |
| | Nordic Track T 6.5 S Treadmill | Nordic Track T 7.5 S Treadmill |
| Assembled dimensions | 73" L x 36" W x 54′ H | 81.6" L x 36" W x 73" H |
| Tread belt | 20" W x 55" L | 20" W x 60" L |
| Motor | 2.6 CHP | 3.0 Durx commercial |
| Speed | 1-10 mph | 1-12 mph |
| Incline | Automatic 1-10% | Automatic 1-12% |
| User weight capacity | 300 lbs./136 kg | 300 lbs./136 kg |
| Display | 5" Backlit LCD | 7" HD interactive Touchscreen |
| iFit | Yes with 1 Month free membership | Yes with 1 Year free membership |
| iFit Module | Needs to be purchased separately | wifi-enabled |
| Bluetooth | No | Yes |
| Programs | 20 | 50 |
| Heart Rate Monitoring | EKG contact | EKG contact & optional Bluetooth heart rate chest strap |
| Sound System | Yes | Yes |
| Cooling fan | No | AutoBreeze cooling fan |
The Deck of the Nordic Track T 7.5 S Treadmill
The deck dimensions of this treadmill are 20'' W by 60'' L. It integrates 1.9'' Precision and Balanced Non-Flex Rollers, and a multi-ply and textured tread belt that runs on them smoothly and quietly.
On top of that, the deck also has a FlexSelect Cushioning System that features 3 suspension cells on each side of it. They can be rotated clockwise or counterclockwise to adjust the firmness of the tread belt as you see fit.
Thus, the cushioning system absorbs and reduces the shock that usually affects the hip, knees, and ankles, and it also simulates a real road running experience.
The Motor
The Nordic Track T 7.5 S Treadmill has a powerful and energy-efficient 3.0 CHP DurX commercial motor. This provides a consistent and enduring speed range of 1-12 mph.
The speed can be adjusted by increments of 0.1 mph and 0.5 mph via the gradual keys on the console. While it's also entirely possible to quickly select any speed range through the available 1-12 mph buttons.
If and when a preset workout program is selected a certain speed level is automatically engaged.
The frequent and prolonged use of the treadmill doesn't make the motor any less efficient, in other words, it does not overheat or break down.
Its performance is smooth and void of vibration due to the integrated small flywheel.
The motor is designated at the front base with a plastic cover for safety and the prevention of dirt.
Of course, it makes some noise due to the sound of the motor and some moving parts, but nothing to be concerned about. Its noise level is fairly low and it won't interfere with the sound of the TV or the music you listen to.
Moreover, even though the family members may hear the noise they won't be disturbed by it.
The motor needs to be connected to a 120V AC, 15A, power outlet for it to be functional.
Incline
The T 7.5 S Treadmill has a 0%-12% automatic incline system. This feature lets you diversify your workouts with different levels of challenges that are result-oriented.
Being an automatic incline also means it can't be deployed without plugging the treadmill into a power source.
You can manually select an incline level through the buttons on the left side of the console and it also gets selected automatically when a preset workout program is used or when a personal trainer digitally and remotely adjusts it during a real-time interactive session.
As aforementioned, the floor to deck height becomes 20'' high when the incline is at its highest position (12%). Therefore, the suitable ceiling height for most users will be at least 8'.
Console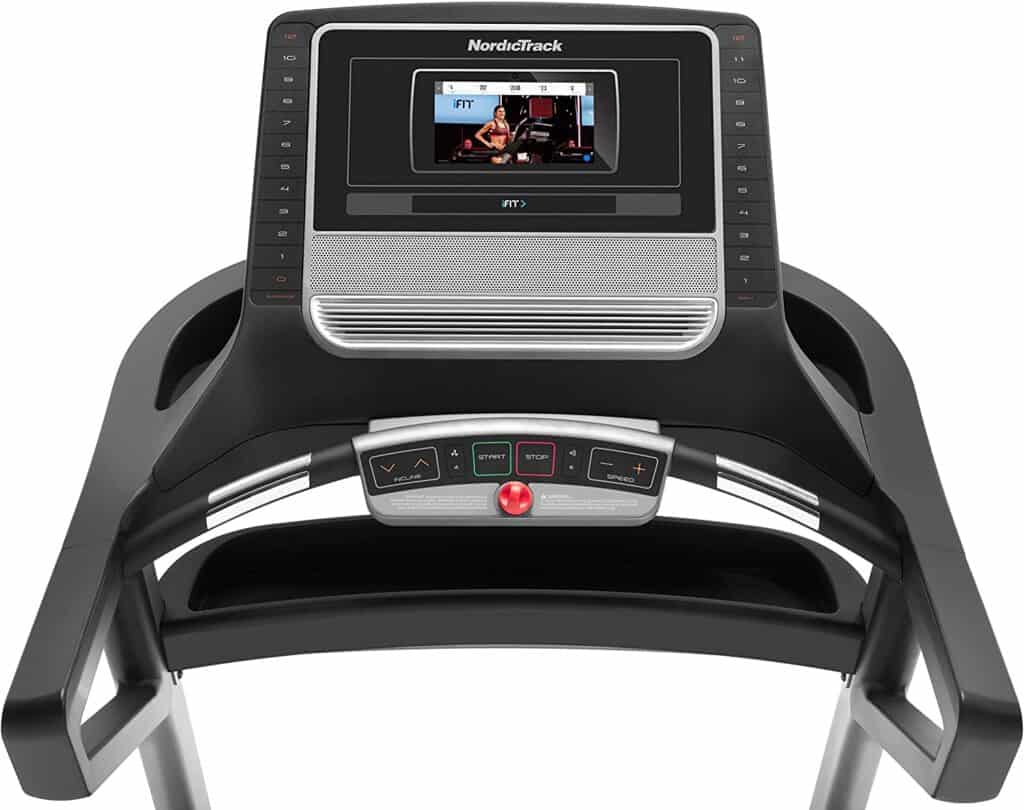 The console on this treadmill is superior to the one on the T 6.5 S Treadmill. It features a 7'' rectangular HD interactive Touchscreen LCD monitor. This tracks workout progress by displaying stats such as Time, Distance, Speed, Calories, Incline, and Heart Rate.
The Heart Rate data is displayed only when the EKG contact grips are held during a workout, or when the optional Bluetooth heart rate chest strap is used.
The Distance and Speed are measured in miles/kilometer and mph/km/h, respectively.
Needless to say, its readability is awesome and cannot be compromised when viewed in a poorly-lit environment.
The built-in 50 preset workout programs take care of every workout routine you might have in mind, and they include high-intensity interval training (HIIT) programs, weight loss programs, muscle toning programs, etc.
IFit Technology
The LCD monitor connects to the iFit technology just as any tablet device could. You can view unlimited workout programs, daily new workouts, live interactive sessions with personal trainers, run on visual streets using Google Maps, track workout progress, compete with other iFit users, and more through the monitor.
When on a live interactive workout session, the personal trainer can remotely and digitally control your speed and incline levels when they deem it necessary.
Interestingly, you don't need to separately purchase an iFit module for connection because the console has wireless capability. This means it can connect to your wifi internet which enables you to sync to the iFit account for access to all of the aforementioned.
However, a membership subscription is required to be able to access the iFit features. But the treadmill comes with a free 1-year subscription which has to be renewed by you upon expiration if you wish to continue using it.
Accessory
There are noteworthy extras integrated into the console and these include the 2'' Bluetooth-enabled built-in speakers, an auxiliary port, an AutoBreeze workout fan, an accessory tray, and water bottle holders.
These are designed to make your workouts to be boredom-free. You can listen to music or watch your favorite movie/TV show, and also be able to maintain proper hydration.
Storage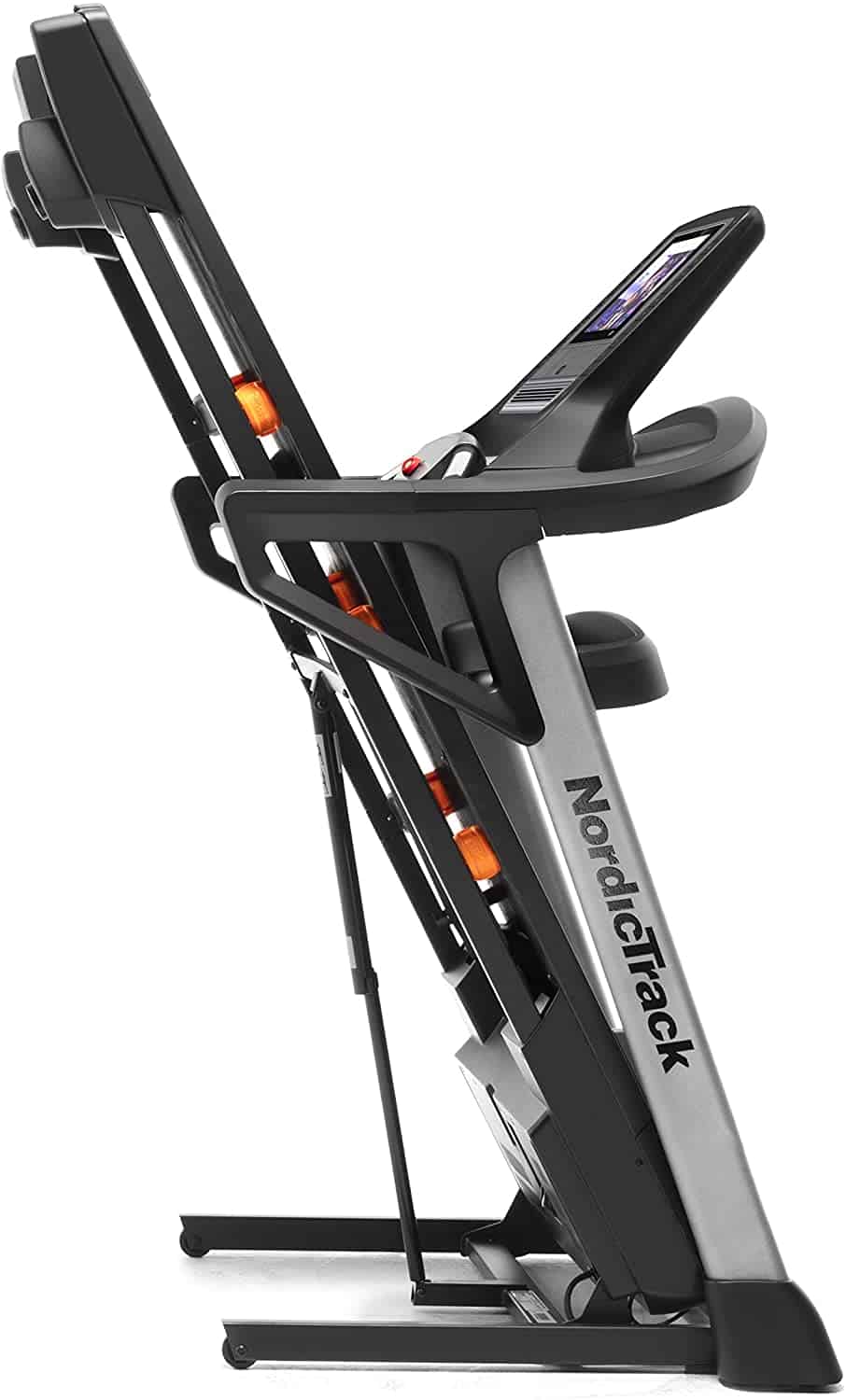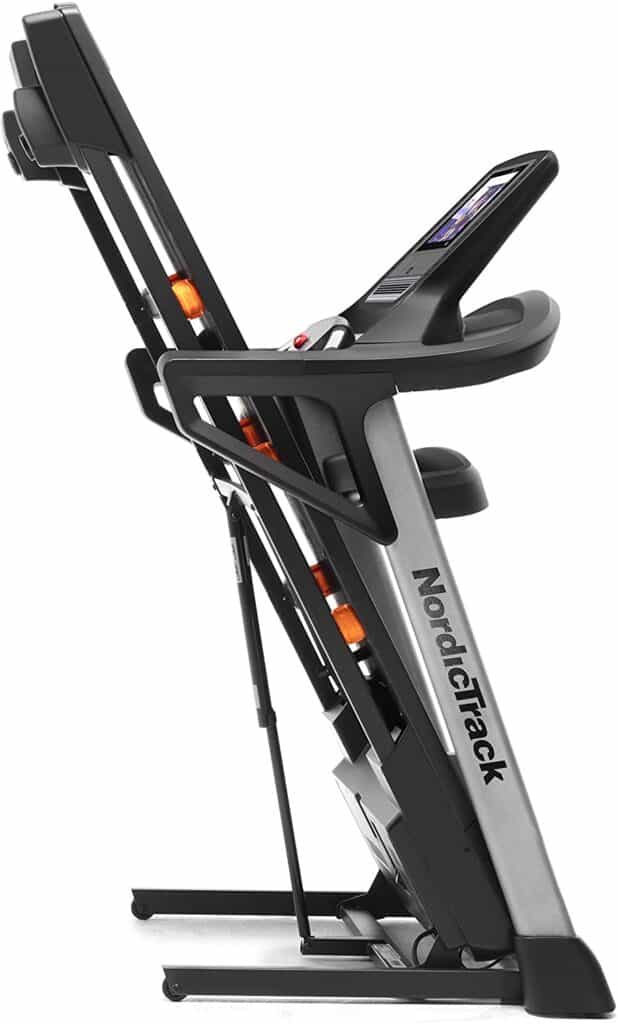 The Nordic Track T 7.5 S Treadmill is foldable and portable. Therefore, it doesn't take too much space for storage and can easily be moved via the integrated transport wheels.
A storage area with perimeters of 3'2'' length by 3' width will suffice.
Its EasyLift Assist helps in the folding and unfolding process of the treadmill. Simply lift it to fold; and to unfold it, push the upper end of the frame forward and gently press the storage latch with your foot at the same time.
Approval Rating
The Nordic Track T 7.5 S Treadmill is popular among its users. This is evident by the positive reviews on Amazon and the favorable reviews by independent review sites.
In a nutshell, the treadmill is recommendable.
Pros/Features Overview
Elegantly and sturdily built
Its stability is outstanding
Supports 300 lbs./136 kg maximum user weight capacity
50 preset workout programs
IFit technology connects you to thousands of workout programs, daily new workout programs, real-time interactive workout session with a personal train, create and run on visual Google Maps, race against other iFit users, and more
1 Year free iFit membership
The HD Touchscreen LCD monitor tracks Time, Distance, Speed, Calories, Incline, and Pulse
Distance and Speed measures in miles or kilometers and mph or km/h
The Powerful, energy-efficient and self-cooling DurX commercial 3.0 CHP motor provides a speed range of 1-12 mph
The console is wifi and Bluetooth-enabled
Operation is smooth and noise level is bearable
The tread belt size is spacious for long and powerful strides
EasyLift Assist system helps to easily fold and unfold the treadmill
The FlexSelect cushioning system reduces joint stress
Automatic 1-12% incline system enables you to challenge and push yourself to the limit for maximum calorie burn
Transport wheels integrated for easy relocation process
Water bottle holders included for maintaining proper hydration during workouts
You can use the EKG contact grips or the optional Bluetooth HR chest strap for heart rate monitoring
Bluetooth-enabled 2'' speakers and the auxiliary port for quality audio output
Accessory tray for keeping stuff such as keys, a remote controller, etc, is included
AutoBreeze cooling fan included
Easy to assemble
Maintenance is not complicated
Decent warranty coverage
Cons
Bluetooth heart rate chest strap not included
No tablet holder
Warranty
10 Years for the Frame
2 Years for the Parts
1 Year for Labor
Product Dimensions & Specifications
Length 81.6''
Width 36''
Height 59''
Folded dimensions: 38'' L x 36'' W x 73'' H
Shipping dimensions: 84'' L x 32'' W x 16'' H
Tread belt dimensions: 20'' W x 60'' L
Net weight: 209 lbs./95 kg
Gross weight: 222 lbs./100.6 kg
Maximum user weight capacity: 300 lbs./136 kg
Frame: Steel
Motor: DurX commercial 3.0 CHP
Speed range: 1-12 mph
Incline: Automatic, 0-12%
IFit technology
Display: 7'' HD Touchscreen
Program: 50
Heart rate monitoring function: EKG contact & optional Bluetooth HR chest strap
FlexSelect cushioning system
EasyLift Assist
Transport wheels
Bluetooth-enabled 2'' speakers
Auxiliary port
AutoBreeze cooling fan
Water bottle holders
Accessory tray
Shipping
The Nordic Track T 7.5 S Treadmill is shipped out in a single box that weighs 222 lbs./100.6 kg with dimensions of 38'' L x 36'' W x 73'' H.
Amazon offers free shipping and makes the delivery in a couple of days.
Assembly
The unit is delivered almost preassembled. Except for the fact that you need to attach the left and right upright posts, the front stabilizer, and the console.
It takes less than an hour to fully assemble the treadmill, that is excluding the time it took for unpacking it from the box.
An instruction manual and tools are included in the package to help you assemble it successfully.
Maintenance
Keep the treadmill clean and dry always. Do not expose the console to liquid, moisture, or direct sunlight.
Inspect it before use to make sure that every part is tight and in good condition. Re-tight any loose part and replace any broken or worn part immediately.
Further instructions on maintenance are laid out in the owner's manual.
Conclusion
The Nordic Track T 7.5 S Treadmill is durable and solid. It is designed for home use and has the features to make your workout productive and comfortable.
This gets you to lose weight and improve your overall physical fitness.