The SNODE 8731 Indoor Cycling Bike is equipped with a magnetic resistance system as opposed to the SNODE 8729 Indoor Cycle Bike that has a friction resistance system instead.
This means that the SNODE 8731 Bike's operation is smoother and quieter, and there will be no wear and tear that will eventually require a part to be replaced.
It is sturdily built and customizable to support users of different weights, sizes, and heights. Its step-thru design enables everyone to easily mount and dismount the bike without a struggle.
In case you are wondering about the size; it doesn't overwhelm your space even though it is non-foldable. Moreover, it is portable and can easily be moved from one room to another.
Click right here to have a peek at the SNODE 8731 Indoor Cycling Bike.  
The Frame and Construction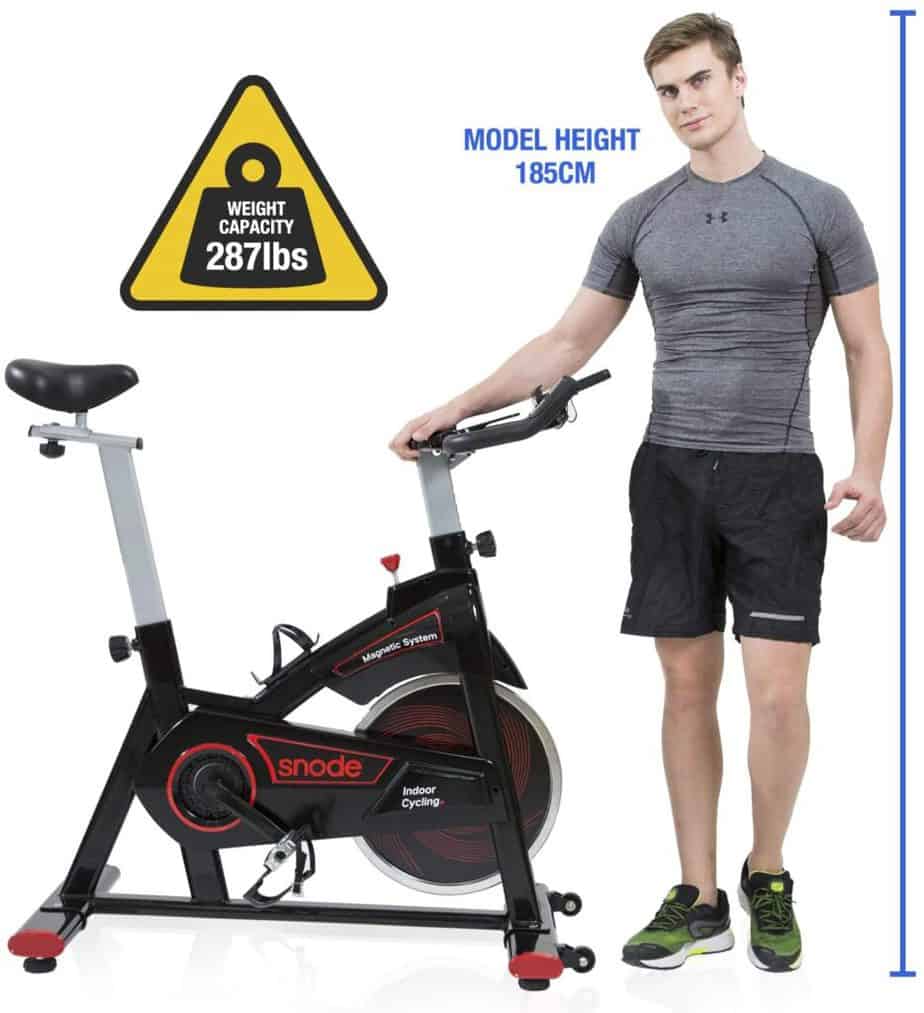 The SNODE 8731 Indoor Cycling Bike is constructed with a wide anti-corrosion heavy-duty steel frame, while other safety and cosmetic parts such as the drive guard, the flywheel, and the console covers are made of durable plastic.
Its overall construction is sturdy and elegant to fit in any room's background and to support 287 lbs./130 kg maximum user weight capacity.
The bike's robust base features steel stabilizers with adjustable levelers that do not only guarantee a wobbling-free workout experience but also enable users to achieve the same level of stability on a surface that is not even.
Its assembled weight of 89.6 lbs./40.6 kg helps to ground it, which in effect, makes it to be more stable. Moving it from one location to another is easy upon assembly because it has front-mounted transport wheels for that purpose.
The use of a protective rubber mat might be a good idea to improve traction, prevent making a hole on a rug carpet and sweat from spilling on the floor during workouts.
As aforementioned, this is a non-foldable compact bike with dimensions of 45'' long by 20'' wide by 45'' high. Differently put, a workout area with perimeters of 3'8'' length by 1'7'' width should be enough to accommodate the bike. However, you must consider adding extra clearance of 2' around it so that your workouts will be safe and comfortable.
The Seat of the SNODE 8731 Indoor Cycling Bike
The Seat on this bike is adjustable, large, and cushioned (1.6" thick with a PU leather covering).
It is 4-way adjustable, meaning you can adjust it vertically (upward/downward) and horizontally (fore/aft). This provides the opportunity for users that are up to 6'1'' tall to be accommodated conveniently.
In other words, the bike supports inseam heights of 28.3'' to 36.6''.
If for any reason you wish to improve on the seat's comfort level, you may use a gel seat cover or better still, have it swapped for another saddle of your choice since the connection mechanism is standard. Alternative options are widely available in the local bicycle shop and online.
Handlebars
The SNODE 8731 Indoor Cycling Bike incorporates a multi-grip and ergonomic handlebar. It offers different grips for a range of workout postures.
It is also coated adequately with a rubber foam material that guarantees comfortable, prolonged, and frequent workouts without experiencing slippage or blisters in the palms.
The handlebar is 2-way adjustable (vertically) and could be adjusted from 42.5'' min. to 46.9'' maximum height. This, of course, complements the seat's adjustability thereby improving the bike's customizability. Thus, users will be able to tweak the bike to fit in comfortably.
Also, there are EKG HR sensors on the grips of the handlebar which read and transmit the user's heart rate data to the monitor if held during a workout.
Pedals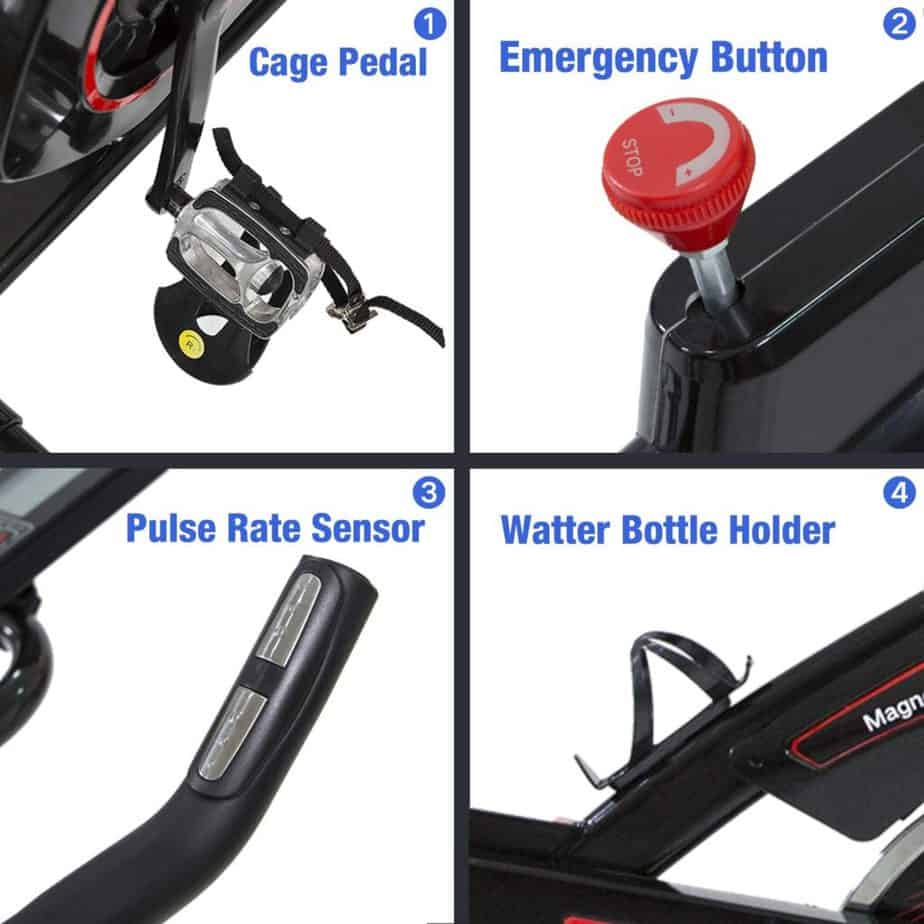 The SNODE Cycling Bike comes with anti-skid toe caged pedals with adjustable safety straps. They can accommodate standard gym shoes and different foot sizes as well.
User's feet are held securely and comfortably even during aggressive pedaling.
That said, the pedals cannot be ridden with a pair of special spin shoes, however, you can have them switched for 9/16'' compatible SPD pedals if you want.
The pedals and the cranks are strong enough to support stand-up pedaling.
Finally, the Q-Factor (distance between the inner right and left pedals) is 20 cm/7.8''. This is not as narrow as a real road bike's Q-Factor which is usually between 5'' and 6''.
The Drive
The SNODE 8731 Indoor Cycling Bike has a belt drive system. Its operation is smooth with a 40dB noise level which is quiet enough not to wake up a newborn baby, or disturb people around you.
Moreover, it is maintenance-free as opposed to a chain drive system that periodically needs lubrication and perhaps an adjustment as well.
Although, the belt may need to be replaced after some time, but this usually takes time.
The drive system comprises a durable belt, pulleys, cranks, pedals, and the chromed 35 lbs./15.8 kg high inertia flywheel. Being a fixed drive, it's possible to pedal forward or backward.
The Resistance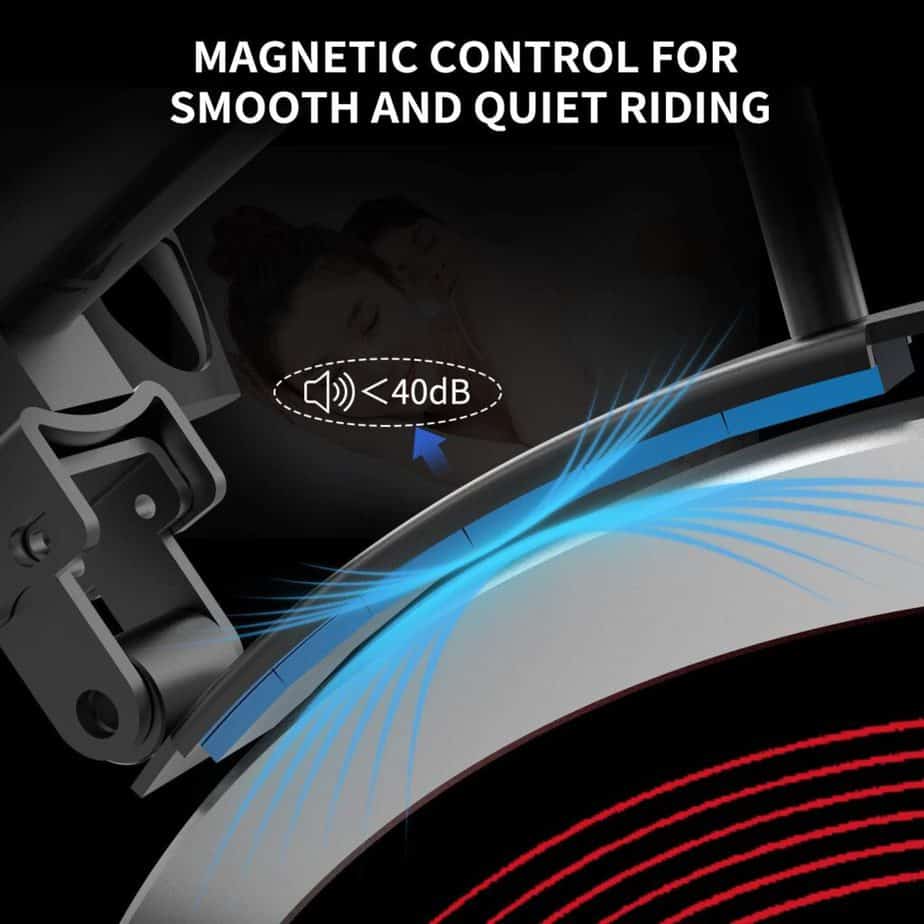 This unit has the same type of magnetic resistance system as the SNODE FIR 8722 Indoor Bike. It is manually adjustable with infinite resistance levels. In other words, there are no predefined resistance levels as the case for some indoor cycling bikes such as the ASUNA Lancer.
The resistance system is friction-free; none of its elements, which mainly consist of a magnetic brake pad and the flywheel come in direct contact when generating resistance. Instead, the magnetic brake pad merely emits magnetic fields on the flywheel to do so.
Therefore, the intensity of the resistance is determined by how close the magnetic brake pad is to the chromed flywheel.
To increase or decrease the resistance intensity, simply turn the tension knob attached to the mainframe tubing clockwise or counterclockwise respectively, or push it down for an emergency brake whenever you wish to abruptly stop pedaling.
The bike's operation remains smooth even when the resistance is in effect because the heavy flywheel provides consistent momentum.
Users whose goals are to lose weight, and improve overall physical fitness will find the different levels of workout challenges the resistance system provides useful.
The Console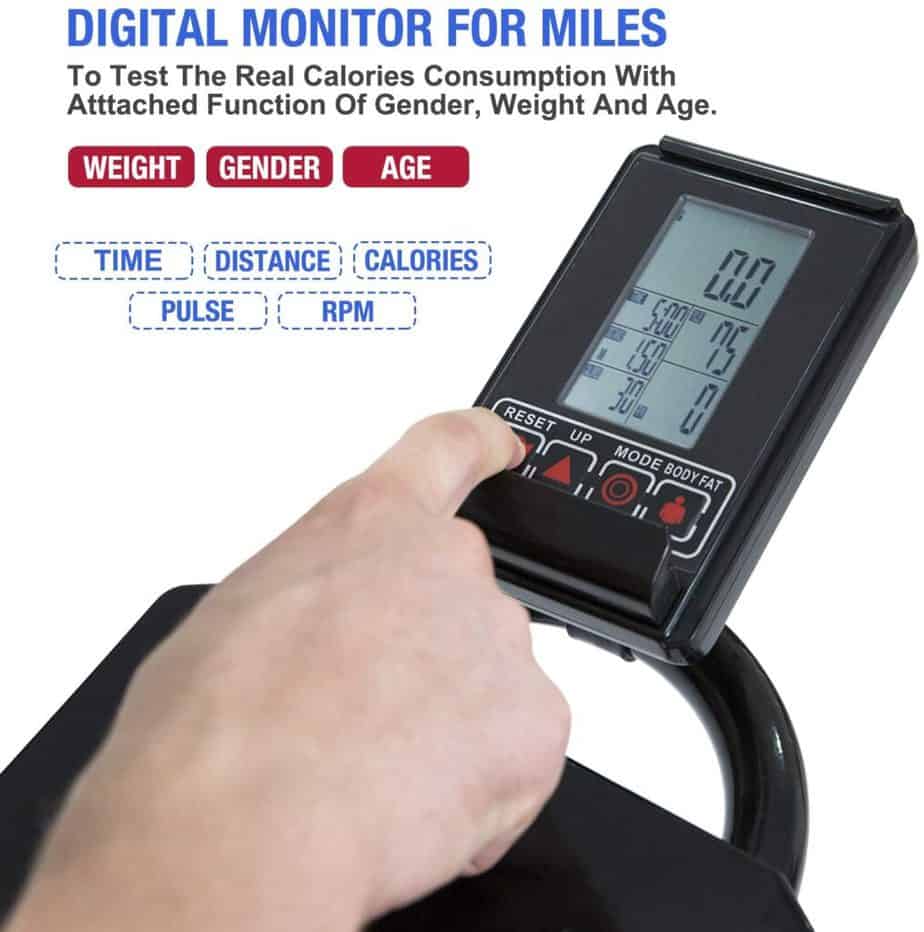 The SNODE 8731 Indoor Cycling Bike's console features a nonbacklit LCD monitor that tracks real-time workout progress by displaying stats such as Time, Distance, Calories, Speed, RPM, and Heart Rate.
It also has a Body Fat Function that tests real calorie consumption upon selecting it and entering your weight, age, and height.
The measurement unit for Distance and Speed metrics is in mile and mph respectively as opposed to some bikes that use kilometers and km/h.
The monitor has segmented windows that display each of the workout metrics simultaneously. No need for SCAN function or scrolling through. Its readability is good but could be compromised if viewed in a room that is not well-lit.
There are 4 navigation buttons that include RESET, UP, MODE, AND BODY FAT.
The monitor is powered by 2 AAA batteries (included). To save the batteries' power, the monitor automatically turns off after a few minutes of idle, and it automatically powers on when activity resumes.
Of course, you can also turn it on/off manually by pressing any of the buttons on the console.
That said, the console is not telemetric (the only way to read your heart rate is to grip the handlebars with the EKG sensors during workouts), it does not have Bluetooth capability nor does it connect to any online app.
Accessory
The SODE 8731 has a tablet holder that is located on the console and a water bottle holder that sits on the mainframe tubing.
They are both within arm's reach for maintaining proper hydration and taking away boredom during workouts by listening to good music or watching a favorite movie via a smartphone/tablet device.
Storage
This indoor bike is portable and compact, and it is not very heavy either. Hence, it is space-friendly and can easily be moved through the transport wheels at the front base.
An area with perimeters of 3'8'' length by 2'7'' width should suffice for storage.
Pros/Features Overview
Its frame is sturdy and solid
Supports 287 lbs./130 kg maximum user weight capacity
Compact and portable: it doesn't take up too much space and it can easily be relocated
It integrates a robust base with adjustable levelers that provide maximum stability
Customizable to accommodate users that are up to 6'1'' tall
Its operation is environmentally-friendly; it's smooth and quiet
The multi-grip handlebar is 2-way adjustable, and it enables users to work out in different postures comfortably
Step-thru design for easy mounting and dismounting
LCD monitor tracks workout stats such as Time, Distance, Speed, RPM, Calories, and Heart Rate
Body Fat Function tests real calorie consumption
No electric power is needed; the monitor is battery-powered
Tablet holder included
Water bottle holder included
Easy to assemble
The maintenance requirement is very low
Cons
The monitor is not backlit nor telemetric
No online connectivity
Warranty
Product Dimensions & Specifications
Length 45''
Width 20''
Height 45''
Shipping dimensions: 43'' L x 34'' W x 9'' H
Net weight: 89.6 lbs./40.6 kg
Gross weight: 90.4 lbs./41 kg
Maximum user weight capacity: 287 lbs./130 kg
Inseam heights: 28.3'' min. – 36.6'' max.
Maximum user height: 6'1''
Q-Factor: 20 cm/7.8''
Drive: Belt
Noise level: 40dB
Resistance: Manual magnetic, infinite
Seat: 4-way adjustable
Handlebar: 2-way adjustable, multi-grip designed
Pedals: Self-leveling, toe caged with adjustable safety straps
Heart rate monitoring: EKG contact grips
Display: Nonbacklit LCD monitor
Body Fat Function;
Frame: Steel
Flywheel: 35 lbs./15.8 kg
Transport wheels
Tablet and phone holders
A water bottle holder
Adjustable levelers
Shipping
Amazon takes care of shipping and delivery, in other words, it is free of charge. It takes a couple of days to get it delivered to your address.
The product is shipped out in a box that weighs 90.4 lbs./41 kg with dimensions of 43'' L x 34'' W x 9'' L.
Assembly
Assembling this bike is not difficult but rather straightforward. It comes with the major parts already assembled for you. However, you need to attach the front and rear stabilizers, the posts for the seat and the handlebar, the seat, the handlebar, the pedals, and the console.
Assembly takes about an hour, more or less.
For successful assembly, an instruction manual and tools are included in the package.
Maintenance
Basically, keep the unit clean, do not expose it to liquid, moisture, and excessive sunlight. Inspect it before use to make sure that every part is tight and not broken.
Conclusion
The SNODE 8731 Indoor Cycling Bike is solid and equipped with features that enable you to attain your cardio fitness goals.
A few minutes of riding every day will eventually result in weight loss, and improved overall physical fitness.