The Circuit Fitness AMZ-587R Magnetic Recumbent Bike is a Marcy Pro product. It is equipped with some features that are found on more expensive recumbent bikes.
It has similarities with the Sunny Health & Fitness Evo-Fit SF-RB4954; although it has 15 workout programs and not 12.  
It is sturdily constructed to support a maximum user weight capacity of 300 lbs./136 kg. It can conveniently accommodate most users and yet doesn't overwhelm your space.
The recumbent bike incorporates an electromagnetic resistance and belt drive system that ensure smooth, quiet, and consistent operation. Users can easily step in and out of it due to its step-through design.
Click right here to have a peek at the Circuit Fitness AMZ-587R Magnetic Recumbent Bike.
The Frame and Construction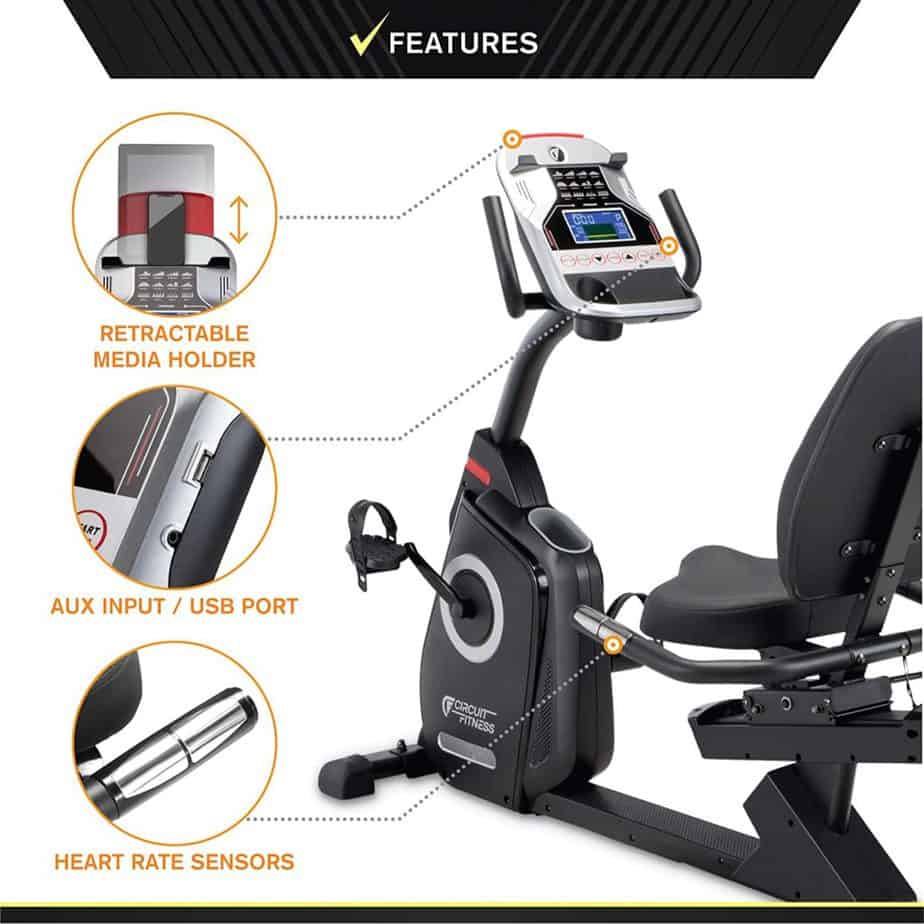 The AMZ-587R Magnetic Recumbent Bike features a heavy-duty wide steel tubing frame that is coated with anti-corrosion paint for longevity. Of course, it also integrates ABS-made covers for the drive system and console.
Its robust base framework features front and rear steel stabilizers with rubber end caps. Thus, the bike has superlative stability that doesn't give in to wobbling during vigorous workouts.
Moreover, there are adjustable levelers at the rear base which enable users to balance the bike on a surface that is not even.
The bike's net weight is not specified but we presumed it should be around 90 lbs./41 kg since its gross weight is 99.2 lbs./45 kg, and this positively impacts the overall stability.
To easily move the unit for storage, a lifting handle and transport wheels are attached to the rear and the front bases, respectively.
The overall assembled dimensions are 55'' long by 24.8'' wide by 48.5'' high. In other words, its required workout area perimeters should be 4'6'' in length by 2'1'' in width. An extra clearance of 1-2′ will be necessary around it for safety and easy access purposes.
As aforementioned, its walk-through design enables every user to step in and out of the bike without struggling, regardless of their physical status.
The Seat of the Circuit Fitness AMZ-587R Magnetic Recumbent Bike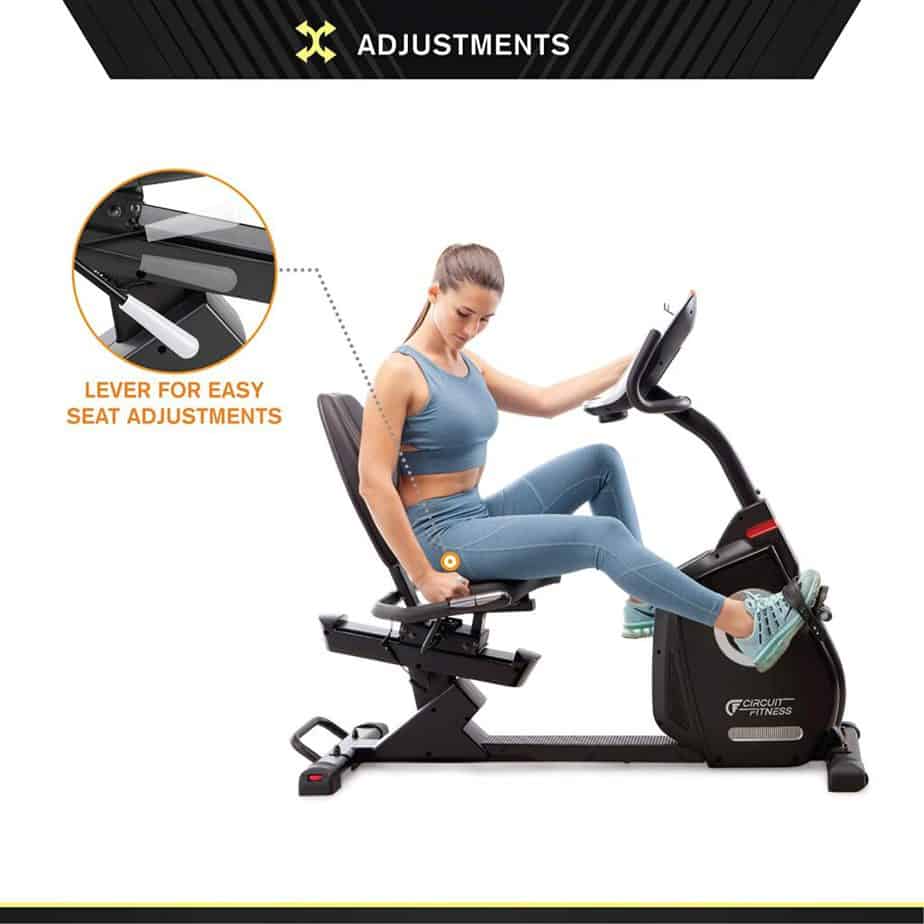 The Circuit Fitness Recumbent Bike seat (with the backrest) is large, contoured, and adequately padded for extra comfort. As a result, users can work out longer with ease without putting stress on certain parts of the body.
In other words, you will be able to workout relaxed and aggressively for the ultimate fitness goals. Its dimensions are 11'' long by 17'' wide.
The seat is attached to a slanted rail and could be adjusted to several positions horizontally (backward and forward) while its elevation is also impacted. Hence, users between the heights of 4'10''-6'5'' can be accommodated.
The adjustment can conveniently be done while seated via the lever on the right side of the seat, and the backrest does not adjust independently without the seat.
The Handlebars
There are 2 sets of handlebars on the Circuit Fitness AMZ-587R Magnetic Recumbent Bike. One set is at the front while the other is on the seat.
The short vertical handlebars at the front are without EKG sensors but are designed for an alternate workout position, while those attached to the seat have the contact sensors for heart rate reading.
The 2 sets of handlebars are coated with soft rubber foam that ensures comfortable and secure grips. In other words, it prevents slippage and blisters that may occur as a result of frequent and prolonged workouts.
Finally, none of the handlebars is adjustable, however, they are optimally positioned to be suitable for different users.
The Pedals
The Circuit Fitness AMZ-587R Magnetic Recumbent Bike has standard and simple pedals that are large, textured with adjustable safety straps. They are self-leveling and are made of durable nylon plastic with a metallic core.
They are designed to accommodate different foot sizes and the use of standard gym shoes.
The pedals provide maximum footing stability that won't be compromised even during an intense workout.
The Drive
The recumbent bike is equipped with a belt drive system that comprises an anti-stretch Poly-V belt, pulleys, cranks, and a flywheel. Its operation is smooth and quiet, and also, it doesn't require any periodic lubrication or adjustment as opposed to a chain drive system.
So, you can utilize or exercise with the bike at any time you see fit and you don't have the obligation of taking the drive's shrouds apart for maintenance.
You can watch a TV show or listen to music without interference from the bike's operation. Also, people around you, including neighbors won't be bothered by your workout activity.
The flywheel's weight is not specified, but it is usually between 8-12 lbs./3.6-5.4 kg. Either way, it still provides a smooth and consistent motion for a recumbent bike.
You may pedal in reverse because the drive is bidirectional.
The Resistance
The unit has an eddy current magnetic resistance system that consists mainly of a servo motor, a magnetic brake pad, and a flywheel. These are the elements that are responsible for generating resistance.
When powered by the included power adapter and the resistance is activated, the servo motor moves the magnetic brake pad close to the flywheel and emits magnetic fields that eventually cause a drag.
The closer or farther away the magnetic brake pad is to the flywheel the harder or easier the resistance intensity becomes, respectively.
This also means that no actual contact is made between the internal mechanisms of the resistance system. Thus, no friction occurs and no part is expected to wear out and be replaced.
There are 24 resistance levels adjustable via the console and they provide easy to fairly difficult resistance intensities that are suitable for those that are recovering from an injury, beginners, intermediaries, and everyone else whose goals are to lose weight, improve heart and lungs' health, and overall physical fitness.
The Console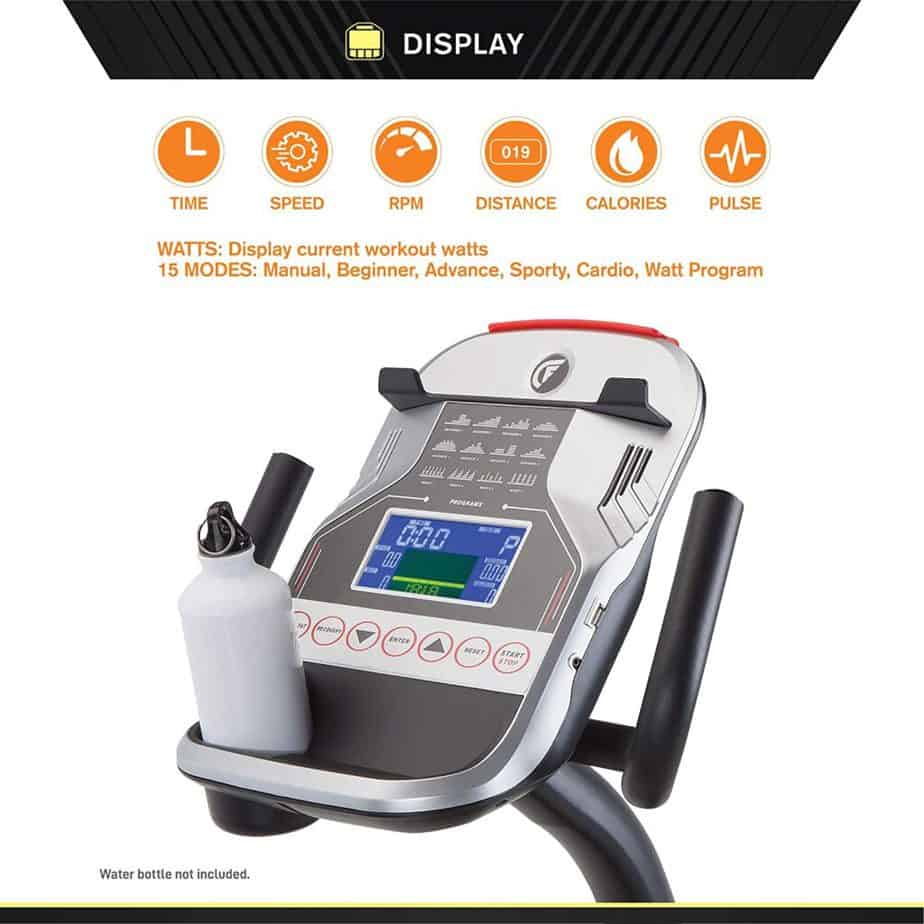 The console on the Circuit Fitness AMZ-587R Magnetic Recumbent Bike has some interesting features that put it on a mid-range category level. These include the integration of a backlit LCD monitor, 15 workout programs, Recovery Function, Body Fat, a sound system, USB charging port, MP3 3.5mm port, a tablet and water bottle holders.
The LCD monitor tracks 7 workout metrics that include Time, Distance, Speed, Watts, RPM, Calories, and Pulse. It does so with high readability that can't be diminished when viewed in a poorly-lit room.
The 15 workout programs involve a Manual Mode, Beginner Mode (4 program selection), Advance Mode (4 program selection), Sporty Mode (4 program selection), Cardio (Target HR training mode), and WATT Program (WATT Constant Training Mode). 
The Manual Mode gives you the control to select the resistance level you wish to use for a workout and to also set workout goals for Time, Distance, Calories, and Heart Rate.  
The Beginner, Advance, and Sporty Modes have 4 preset workout programs each. When any of them is selected, a certain resistance level is automatically applied.
The Cardio Mode automatically adjusts the resistance level based on your heart rate. It has 55%, 75%, and 90% HRC (Heart Rate Control) values that you can select from, while there is also a Custom HRC that allows you to set a preferred customized value.
The Recovery Function calculates your fitness level and produces an output that is usually between F1 (excellent) to F6 (poor).
While the Body Fat Function calculates your body fat percentage. It starts measurement upon prompting you to supply personal data such as Gender, Age, Height, and Weight.
There are few navigation buttons on the console, and they are pretty easy to use. The owner's manual has graphic guidelines on how to use them.
Lastly, the console is not telemetry-enabled, and it doesn't connect to any online app.
Accessory
As aforementioned, this unit has built-in speakers, a USB charging port, MP3 port, water bottle, and tablet holders; all are designated on the console. Except of course for the second water bottle holder that is on the drive system's casing making it a total of 2.  
Therefore, you may choose to keep a water bottle up on the console or down on the drive's casing for maintaining proper hydration. The sound system and the USB charging port allow you to entertain yourself by listening to good music while your device battery is always charged.
The retractable tablet holder securely accommodates a tablet device. Also, the view of the display screen doesn't get blocked when a device is placed on it.
Storage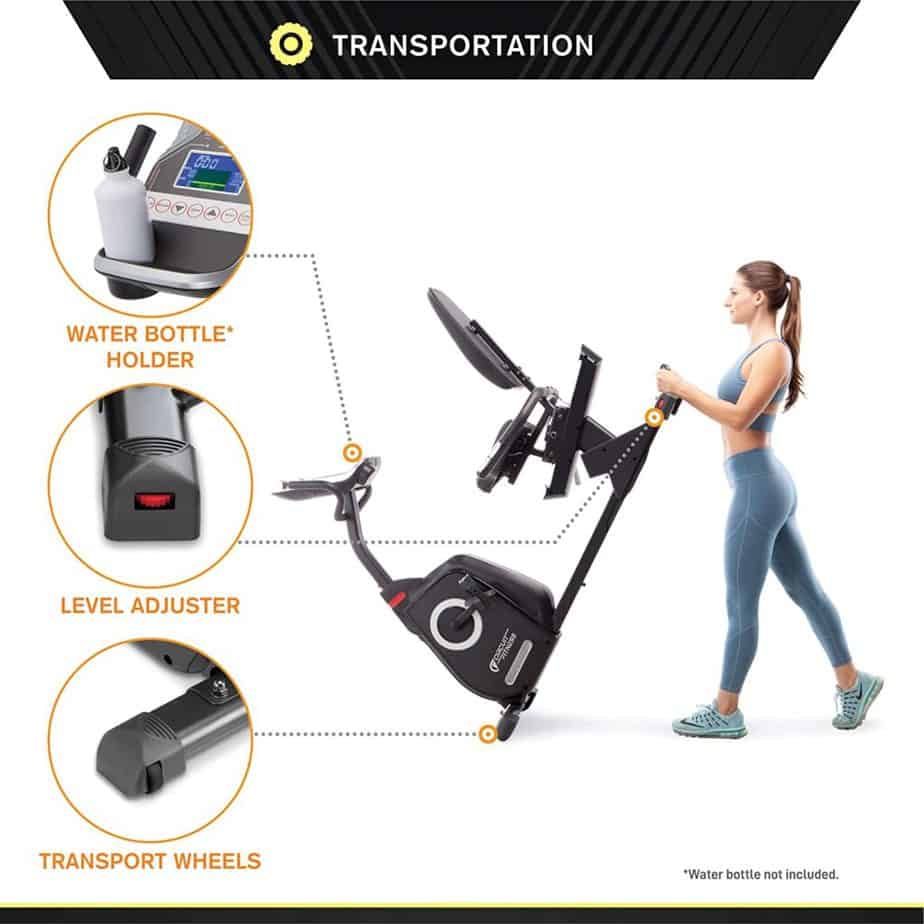 The Circuit Fitness AMZ-587R Magnetic Recumbent Bike is not foldable, neither is it too large. It does require a little bit of space that won't be a problem for most people.
It will need a storage area with perimeters of 4'6'' length by 2'1'' width. There are front-mounted transport wheels and a lifting handle at the rear base for an easy relocation process.  
Pros/Features Overview
Built to last and elegant
Portable and stable
Supports 300 lbs./136 kg maximum user weight capacity
Adjustable levelers enable you to balance the bike properly on a surface that is not even
Its operation is pretty smooth and quiet
The seat is large, padded, and contoured for maximum comfort
There are 2 sets of handlebars that offer the possibility of working out in different postures
The self-leveling pedals accommodate most foot sizes and they secure them comfortably as well
The backlit LCD monitor tracks workout stats such as Time, Distance, Calories, Speed, RPM, Watt, and Pulse with good readability
15 workout programs include a Manual Program and goal settings for Time, Distance, Calories, and Pulse; Beginner, Advance, and Sporty Modes with 4 preset workout programs each; WATT Program; and Cardio Mode with 50%, 75%, 90%, and Custom HRC
Recovery Function;
Body Fat Function
Sound system with MP3 port
Tablet holder
Water bottle holders
USB charging port for keeping your device battery charged
Easy to assemble
Maintenance is low
Transport wheels included for easy relocation process
Step-thru design
Cons
The console is not compatible with any wireless HR device
It doesn't connect to online app
Warranty
Product Dimensions and Specifications
Length 55''
Width 24.8''
Height 48.5''
Shipping dimensions: 57'' L x 31'' W x 11'' H
Net weight: 90 lbs./41 kg
Gross weight: 99.2 lbs./45 kg
Maximum user weight: 300 lbs./136 kg
Drive: Belt
Resistance: Eddy current magnetic with 24 adjustable levels
Seat: 2-way adjustable; dimensions 11'' L x 17'' W
Suitable height: 4'10''-6'5''
Handlebars: 2 pairs (seat & front), nonadjustable
Pedals: Self-leveling, large, and textured with adjustable straps
Frame: Steel
Monitor: Backlit LCD
Programs: 15
Recovery Function
Body Fat Calculator
Water bottle holders
A retractable tablet holder
Transport wheels and lifting handle
Power: AC Adapter
Sound system
USB charging port
Shipping
The Circuit Fitness AMZ-587R Magnetic Recumbent Bike is shipped in a box that weighs 99.2 lbs./45 kg with the dimensions of 57'' L x 31'' W x 11'' H.
Amazon provides free shipping and gets it delivered in a couple of days.  
Assembly
The recumbent bike is not complicated to assemble at all. It comes with the major components preassembled.
You only need to attach the front and the rear stabilizers, the seat post, the seat and the backrest, the front mast, the pedals, the 2 sets of handlebars, and the console.
It takes about an hour or so to completely assemble the bike. Moreover, clear step-by-step assembly guidelines are laid out on the owner's manual, and the tools needed for the job are included in the package.
Maintenance
There is no serious maintenance required since the unit integrates a belt drive and eddy current resistance system.
Just make sure to keep it clean at all times and inspect it for any loose or broken part before use. Do not use or store it outdoors, or expose it to direct sunlight, moisture, or liquid.
Conclusion
The Circuit Fitness AMZ-587R Magnetic Recumbent Bike in our opinion is formidably equipped to help anyone that wishes to lose weight and improve overall physical fitness.
It is a low-impact cardio machine that has a backlit LCD monitor that tracks workout progress, 15 workout programs, a Recovery Function, Body Fat Calculator, and many other features.