The SNODE FIR Magnetic Indoor Cycling Bike 8722 is a cycling bike that features a modern-day design and concept of beauty. Its flywheel is front-mounted and its operation is smooth and nearly silent; thanks to the magnet resistance and the belt drive systems.
It's an ideal spin bike for home use which offers the ability to lose weight, improve cardiovascular health and strength.
Users between the heights of 5'-6'4'' can be accommodated due to its customizable design and it supports a maximum user weight capacity of 287 pounds/130 kg.
The SNODE FIR obviously does not possess the regular outlook appearance of standard spin bikes but however, it shares a lot in common with the GS60 JOROTO Indoor Cycling Bike.
Click right here to have a peek at the price on Amazon.
The Frame and Construction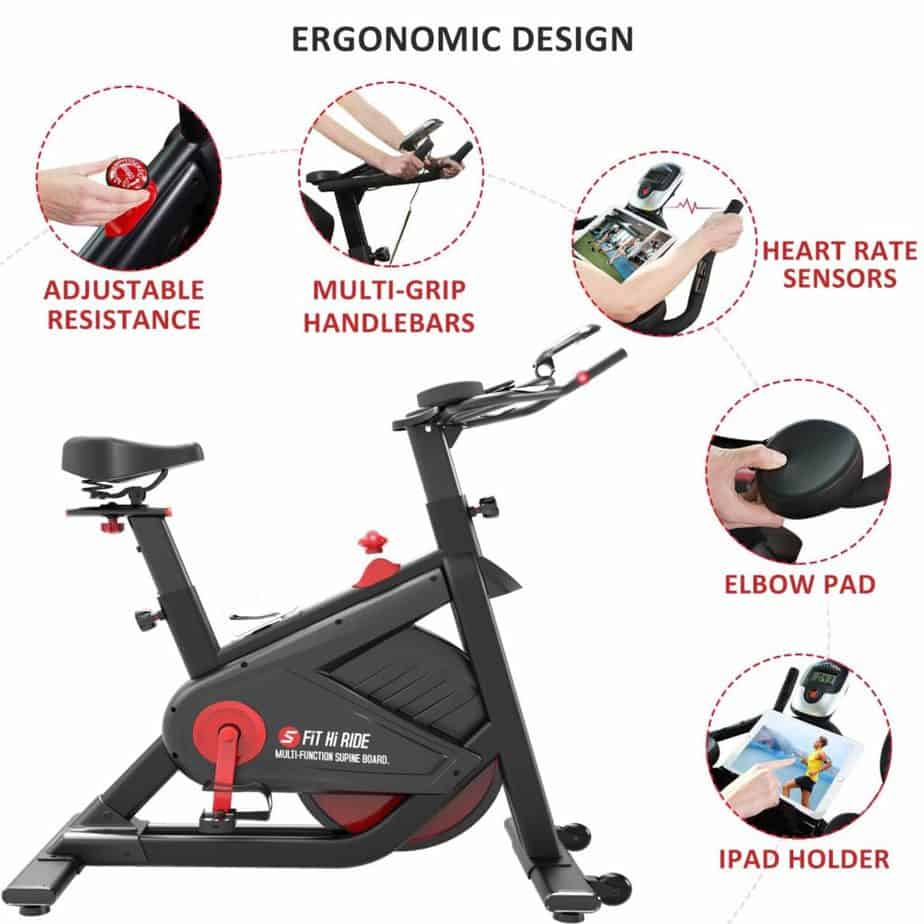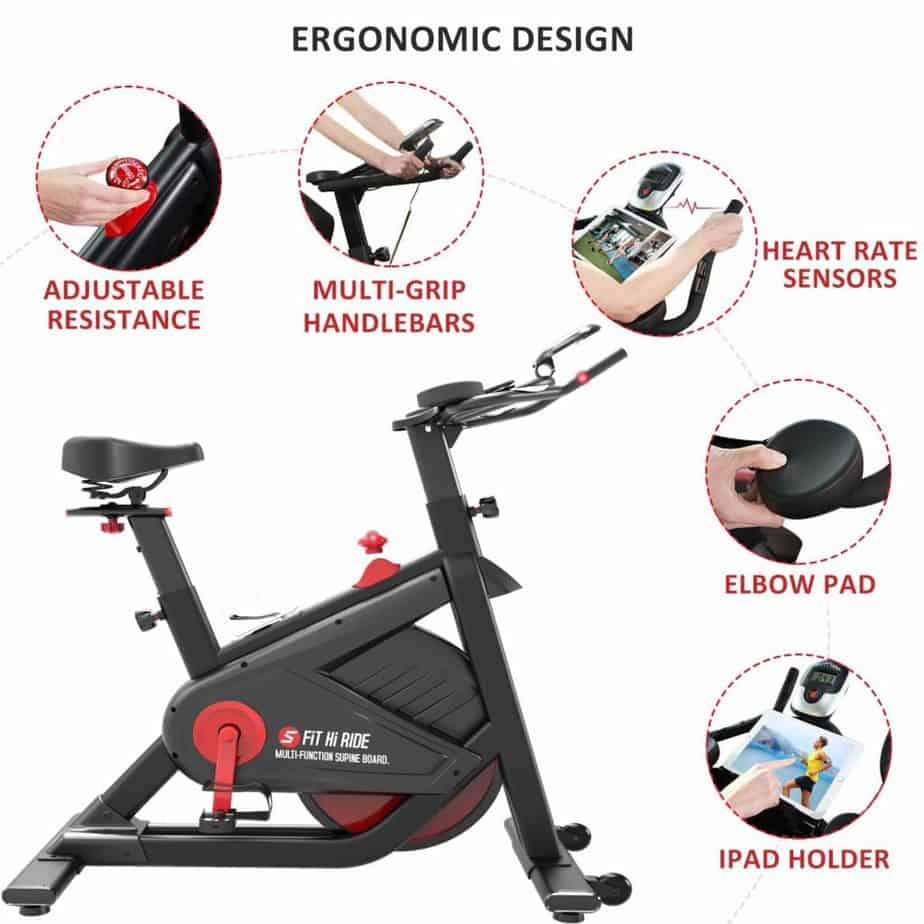 The SNODE FIR Magnetic Indoor Cycling Bike 8722 has a durable robust double orbit frame design that offers maximum stability and sturdiness. The frame is coated with black anti-resistant paint that protects it from corrosion and degradation.
The belt and the large part of the flywheel are covered with ABS plastic material. The coverings do not only give the bike a beautiful outlook but also keep it safe around children.
The base framework features rectangular front and rear stabilizer bars that have adjustable rubberized levelers. Essentially, the base promotes maximum stability even on a crooked surface.
Moving the bike from one location to another is not difficult since it only weighs about 90 pounds/40.8 kg and it is also integrated with transport wheels at the front base. Nevertheless, the weight further boosts the bike's overall stability.
The SNODE FIR Spin Bike is compact with overall assembled dimensions of 45 inches long by 20 inches wide by 45 inches high. An area with a perimeter of 3'8'' length by 1'7'' width can accommodate the bike for workout sessions. That said, it is necessary to consider adding extra clearance of at least 2' around the bike for easy access and safety during a workout, especially if it's going to be used in a somewhat confined area.
The Seat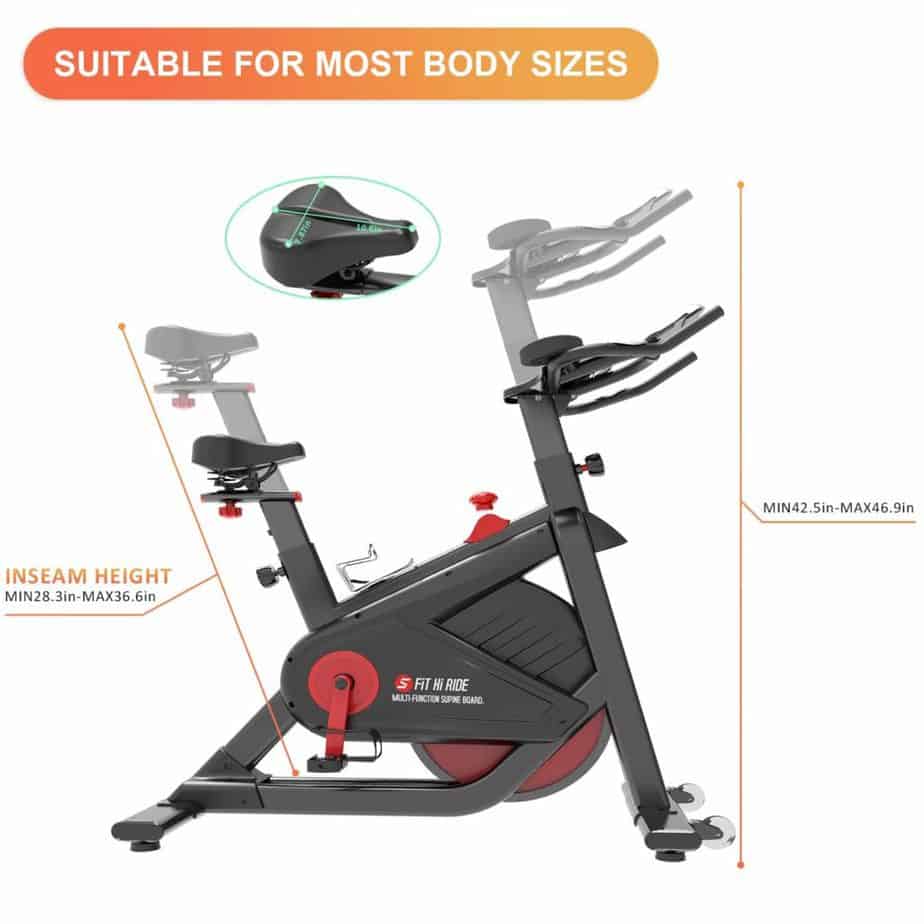 The seat on the SNODE FIR Magnetic Indoor Cycling Bike 8722 is larger and padded than the regular indoor spin bike saddles. Also, there are two springs underneath the seat that make the seat to adhere to the user's movements. Thus, it provides a decent level of comfort that keeps the user working out longer.
If for any reason you wish to improve the seat's comfortability, a gel seat cover could be used and it's also possible to swap the seat for any other seat of your choice because the connection system is standard and so replacements are widely available.
The seat is 4-way adjustable, meaning, it could be adjusted vertically (upward/downward) and horizontally (fore/aft). The adjustments offer several positions for maximum customization that could accommodate users between the heights of 5'-6'4''.
The bike supports inseam heights of 28.3'' min-36.6'' max. Therefore, if your inseam (the length of your inner thigh to the ankle) falls within the aforementioned inseam the bike supports, then you can rest assured that the bike is suitable for you.
The Handlebars
The handlebars are ergonomically designed with multiple grips. Although, it doesn't include the drop-down grips like the ones on the SNODE Indoor Cycling Bike 8729. But it still offers grip options that include the standard, aero, parallel, and race.
It is 2-way adjustable; vertically (upward/downward) only. Not horizontally adjustable does not have a negative effect because it's already positioned to simulate a road bike ride. This is complementary to the seat's adjustability.
Adjusting the seat and the handlebars is very easy and only takes a few seconds.
The handlebars are coated with a soft breathable rubber foam that guarantees a secure and comfortable grip that prevents slippage and blisters.
Elbow pads, a tablet holder, and EKG heart rate sensors are incorporated into the handlebars. Therefore, you can comfortably rest your elbows while you ride on the bike, and you can place a tablet device for entertainment purposes and also be able to monitor and maintain your target heart rate zone.
The Pedals
The SNODE FIR Magnetic Indoor Cycling Bike 8722 has pedals that feature non-slip toe cages and adjustable safety straps. They accommodate standard gym shoes and keep the feet safe and secure during an intense workout.
They are made of aluminum alloy and switchable to a pair of SDP clip pedals. In other words, they have standard 9/16'' threads that allow another pair of pedals to be swapped. Options are widely available online and at the local bicycle stores.
A user within the stipulated weight the bike supports can perform out-of-seat pedaling without any issue.
The Q-Factor (the distance between the pedals) is 20 cm/200 mm/7.87''. This is not very narrow when compared to the ASUNA Lancer's Q-Factor, but neither does it make you feel stressed on the ankles.
The Drive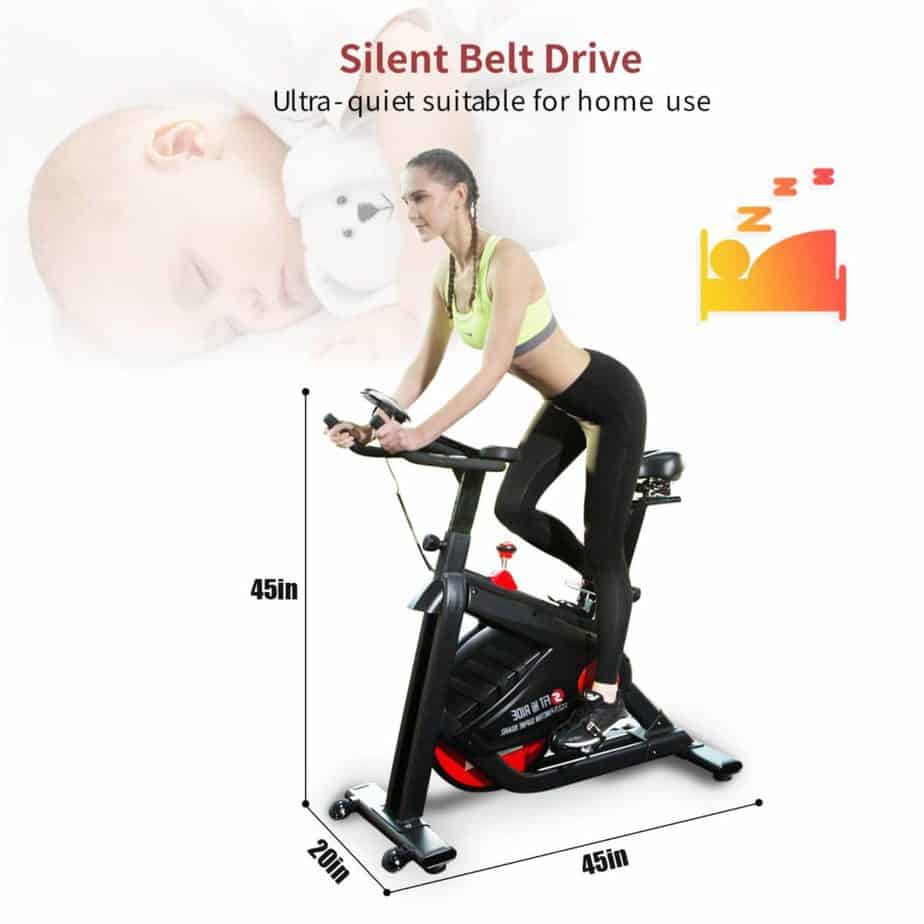 The SNODE FIR Magnetic Indoor Cycling Bike 8722 has a belt drive system. This consists of a durable stretch-resistance belt, a 3-piece crankset, solid crank-arms, and, ultra-wide D17 high inertia perimeter weighted upgraded 40 pounds/18 kg flywheel.
The spray-painted flywheel provides vibration-free momentum that promotes steady motion.
Due to the belt drive system, the bike's operation is smooth and quiet. The people around you won't feel disturbed when exercising with the bike. Also, you can watch your favorite TV show or listen to good music while working out without having to raise the volume level higher than usual.
Importantly, the belt drive system doesn't require any sort of maintenance such as post lubrication or adjustments.
You can pedal in reverse as well to tone more muscle groups if you wish to. But it's not possible to coast on the bike as the drive system is fixed; meaning the flywheel and the pedals spin together simultaneously.
Therefore, for this reason, you must apply the emergency brake by pushing the tension knob down in order to abruptly stop your spinning activity whenever you wish to take a break.
The Resistance
The SNODE FIR 8722 Bike is integrated with a manual magnetic resistance system. The major resistance system elements include the magnetic brake pads, the tension knob, and the flywheel. Unlike the case with a friction resistance system, this is frictionless. No element comes in contact with the other in order to generate resistance. Instead, the emitted magnetic field around the flywheel generates resistance.
While the tensions knob is used to increase or decrease the intensity of the resistance by turning it clockwise or anticlockwise respectively.
Due to the fact that the magnetic resistance system is frictionless, it does not make any noise or vibrate when it is engaged. And ultimately, no part wears out and requires a replacement in the long run.
The resistance system provides infinite challenge-level options. Almost everyone finds a suitably challenging level that is going to push them to the limit.
This also means that there are no pre-defined resistance levels and so it might be a little bit difficult to ascertain strength and endurance improvement progress. Because there is no way to know for certain the highest resistance level used in different workout sessions in order to make a comparison.
The resistance system does not require power (electricity) for it to be functional.
The Console
The console on the SNODE FIR Magnetic Indoor Cycling Bike 8722 is basic. It features a non-backlit display screen that tracks time, distance, speed, calories burned, and pulse. It is simple and easy to use with a single button for navigation.
The display has good readability as long as it's being viewed in a well-lit environment. The display turns ON when the single button is pressed and it automatically turns ON as well when you start pedaling.
The display/monitor is powered by 2 AAA batteries, and in order to save the batteries' power, it powers OFF when the bike is inactive for a few minutes.
The monitor has what is called the SCAN function which is responsible for displaying the workout stats one at a time after every few seconds. This enables you to view all the workout values each at a different time. You may also set up a certain workout metric of your choosing to constantly display without switching to another.
There is no online app connectivity or preset programs as expected but the display keeps you motivated and focused at least toward achieving your fitness goals.
Accessory
The SNODE FIR has a water bottle holder and a tablet holder.
The water bottle holder is designed to help you keep water for hydration handy during a workout session, while the strategically positioned tablet holder allows you to keep a tablet device for entertainment (viewing movies or listening to music).
Storage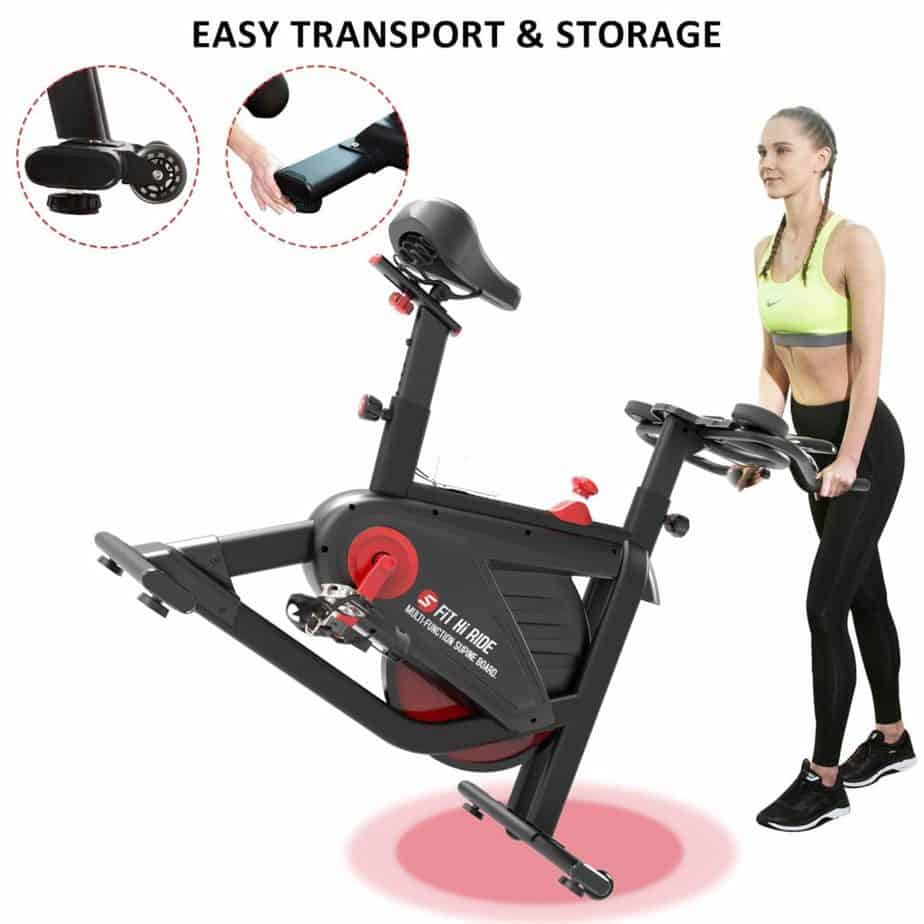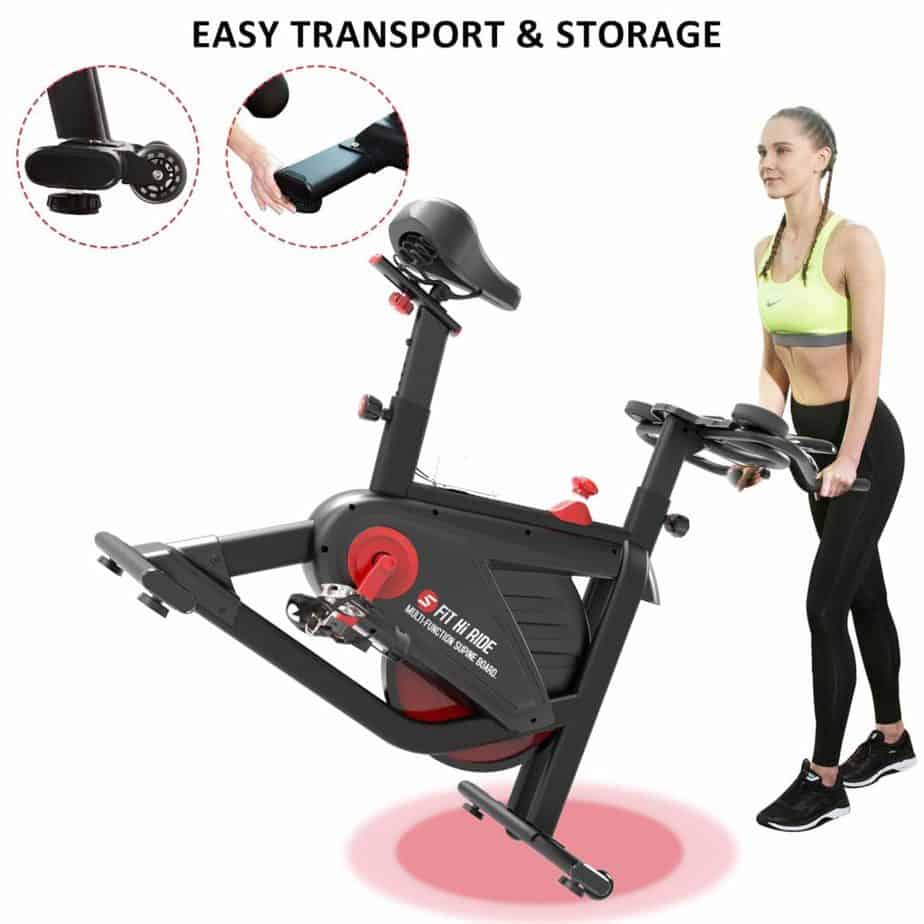 Storage has always been a concern to some of the users who don't have enough space. However, the SNODE FIR Magnetic Indoor Cycling Bike 8722 is not a very large bike that could overwhelm your space.
Basically, it requires a storage space with a perimeter of 3'8'' length by 1'7'' width. The garage or next to a wall could be an ideal place to store the bike. Better still, if you can afford to leave it at the workout area without having to move it that is still great.
If you choose to move it you can do it due to its lightweight and the integrated transport wheels at the front base.
Approval Rating
The bike has a good approval rating on Amazon and other review sites also have a positive view of it.
Pros/Features Overview
Sturdy and robust design
Supports a fairly maximum user weight capacity of 287 pounds/130 kg
It's compact and portable; doesn't take up much space and has transport wheels for an easy relocation process
It is customizable; seat is 4-way adjustable and the handlebar is 2-way adjustable
The seat is decently padded and offers average comfort
The seat can be swapped
There are adjustable levelers that allow you to level up the bike on a surface that is not even for maximum stability
The handlebar is multi-grip designed with elbow pads and adequately coated with a breathable soft foam
Aluminum alloy pedals with toe cages and adjustable straps secure the feet
The pedals can be swapped for a pair of SPD clip pedals
LCD monitor tracks time, distance, speed, calories burned, and pulse
Manual magnetic resistance is frictionless
Operation is smooth, quiet, and vibration-free
Requires low maintenance
A tablet holder is included
Water bottle holder included
Assembly is easy and tools are included
Upgraded 40 pounds/1 kg high inertia perimeter weighted flywheel
Cons
The monitor is not backlit
No wireless online connection
Warranty
Product Dimensions and Specifications
Length 45''
Width 20''
Height 45''
Weight: 90 pounds/40.8 kg
Maximum user weight capacity: 287 pounds/130 kg
Monitor: Basic non-backlit screen displays, time, distance, speed, calories burned, and pulse
Q-Factor: 20 cm/200 mm/7.87''
Inseam: 28.3'' min.-36.6'' max
Seat: 4-way adjustable
Handlebar: 2-way adjustable
Pedals: Toe cages
Frame: Steel
Resistance: Manual magnetic, infinite
Drive: Belt
Flywheel: 40 pounds/18 kg high inertia
Transport wheels: Yes
Tablet holder: Yes
Water bottle holder: Yes
Shipping
The bike is shipped in a 99 pounds/44.9 kg lightweight box. If purchased from Amazon, the shipping fee is free of charge.
Assembly
The SNODE FIR Magnetic Indoor Cycling Bike 8722 is not difficult to fully assemble.
The major and complicated components are already pre-assembled. You only need to attach parts such as the seat and the handlebar posts, the seat, the handlebar, the front and rear stabilizer bars, and the console to the main core unit.
Moreover, an instruction manual that guides you through the process and the tools needed for the assembly are all included in the package.
It takes less than an hour to fully assemble it.
Maintenance
No lubrication or adjustments are required. Simply make sure that the bike is always clean from dirt and sweat.
Also, endeavor to examine it before you commence exercising with it for any loose or broken part. This is to prevent an accident and further damage to the bike.
Conclusion
The SNODE FIR Magnetic Indoor Cycling Bike 8722 is designed for those that wish to turn their home into a workout studio. Those that wish to engage in spin bike training in order to lose weight, improve cardiovascular health and strength.
[rank_math_rich_snippet]