The SKI-ROW (SR-7) AIR+PWR, as the name implies, is a 2 in 1 exercise machine that is uniquely designed for rowing and skiing. These activities are to be performed conveniently in the comfort of your home, and it takes only a few seconds to switch from rowing to skiing position, and vice versa.
This ENERGYFIT brand is built like a tank to support up to 350 lbs./158.7 kg maximum user weight capacity.
Yes, it is pretty bulky when fully assembled, but its space-saving design significantly reduces the amount of space required for storage.
It engages over 86% of the body's muscle groups and provides total body and heart-pounding workouts that burn calories and tone muscles.
As aforementioned, this machine allows you to row, and is also convertible for skiing and other exercises that include;
Alternating reverse lunge
Alternating arms
Butterfly
Plyo jump
Overhead triceps extension
Single leg triceps pulldown
Staggered leg skiing
Wood chopper
Straight arm pulldown
…more
Interestingly, the HOW-TO videos for these exercises are available on YouTube.
Click right here to have a peek at the best price of the SKI-ROW (SR-7) AIR+PWR.
Frame & Construction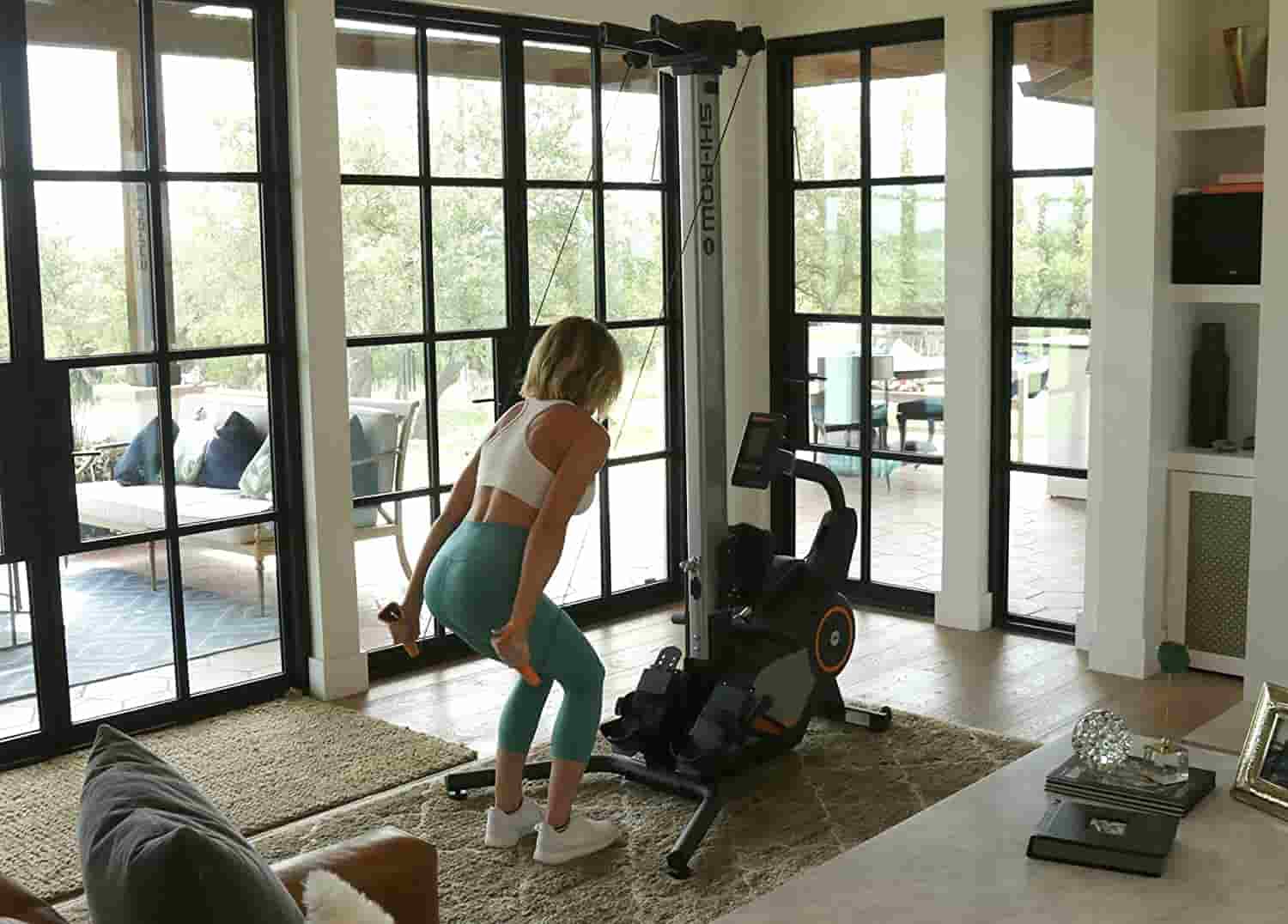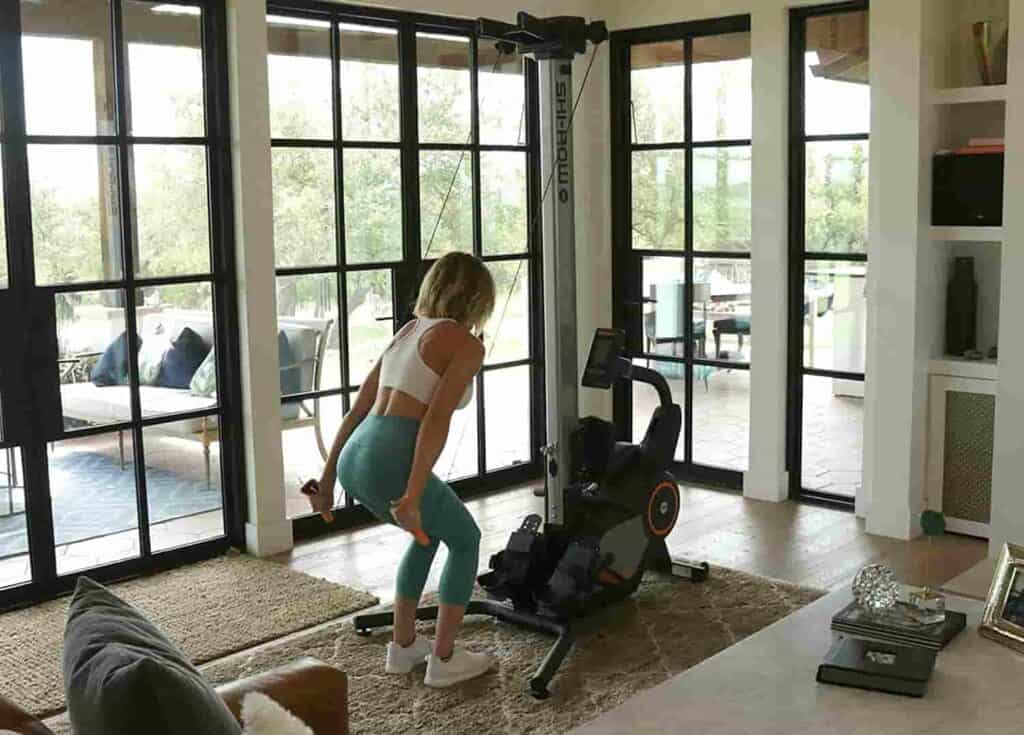 The SKI-ROW (SR-7) AIR+PWR is an all-in-one rowing machine and a skiing trainer. It is a patented total body exercise machine from the stables of ENERGYFIT designed to provide HIIT cardio and strength training.
Its overall construction is commercial-grade, built to withstand hard use and support heavy users. The frame is made of aluminum and steel, while other parts such as the flywheel covers are made of quality plastic.
This model is predominantly coated with black anti-corrosion paint and a secondary color of red, giving it an elegant outlook.
The front part with the rowing system has 2 solid sets of stabilizers and adjustable levelers, while the rear end has yet another set of stabilizers for optimum stability that defies wobbliness that may occur as a result of an aggressive workout.
This unit is bulkier than Concept2 Rowing Machine because it is 103'' long by 34.9'' width. In other words, it is going to need a workout area with measurements of 8'5'' (261.62 cm) length by 2'9'' (88.64 cm) width. This is pretty big.
However, it is foldable, and thus, it doesn't require the same amount of space when not in use. The folded dimensions are 53.6'' long by 34.9'' wide by 84'' high. So, a storage area with measurements of 4'4'' (136.14 cm) length by 2'9'' (88.64'') width can accommodate it. Although, you must watch out for the storage room ceiling height because it is 84" high.
There are transport wheels at the front base. So, even though it is a heavy machine at 150 lbs./68 kg, it could easily be rolled away for storage once folded.
At the rear end of the beam, there is a pull-cable attached to each side of it for strength training exercises.
The Seat of the SKI-ROW (SR-7) AIR+PWR
The padded and contoured seat is attached to the rust-proof extruded aluminum slider beam for maximum comfort. It has durable concealed rollers that ensure smooth and quiet back and forth movement.
However, if for any reason you feel it is not quite as comfortable as expected, a gel seat cover could be used to improve it.
The floor-to-seat height is 14.5''. This means users with joint problems will be able to get on and off the rower without struggle.
The Handlebar
The handlebar is not something unique or spectacular but it is ergonomically designed to offer a comfortable pulling experience.
It is padded with an anti-slip rubber foam material that ensures your grips are firm and comfortable regardless of how long or frequent you have been rowing.
As opposed to the Concept2 Rowing Machine that has its handlebar attached to a Nickel-plated steel chain, this is instead attached to a 1'' nylon strap.
The strap is durable and also promotes smooth and quiet operation.
The Footrests
The footrests are made of plastic. They have protective heel guards and adjustable safety straps that guarantee optimum foot placement.
Do they pivot? No, they don't but are strategically positioned to promote aggressive thrust when rowing and also to prevent ankle stress.
The Resistance
The SKI-ROW (SR-7) AIR+PWR model has a dual effect resistance system. In other words, its resistance system employs air and magnetic forces to generate resistance.
This means it comprises a fan-flywheel and a magnetic brake to generate dynamic and yet adjustable resistance levels.
There are 20 resistance levels to match your workout effort stroke for stroke. Thus, even if you are a seasoned athlete, an intermediary, or a beginner, you will feel suitably challenged. This is one of the reasons this rowing machine is best for HIIT cardio workouts.
As to whether or not it is noisy or quiet. Well, the magnetic resistance is smooth and quiet, while the air resistance aspect of it has a level of noise that is not really intrusive.
What this means is that the noise generated by the fan is not enough to constitute a nuisance or become problematic to the people around you.
You will be able to watch a TV show or listen to music during a workout without an issue.
Finally, the resistance is adjustable manually, and the level being used is indicated on the console.
The Console
This rowing machine comes with an angle-adjustable console that features a monochrome LCD monitor with dimensions of 2.8'' wide by 3.8'' high.
The LCD monitor tracks multiple workout stats simultaneously, and these include Time, Pace, Stroke Rate, Distance (displayed in meters), Resistance Level, Calories, Watts, and Heart Rate.
It is also compatible with the GYMTRAKR app which is free and downloadable from App and Google Play stores. However, I checked out this app and discovered it doesn't have good reviews and ratings.
The console also connects to an ANT+ or Bluetooth HR chest strap for wireless transmission of your pulse rate data. That said, the device (wireless HR chest strap) has to be purchased separately as it is not included in the package.
There are a couple of programs that are also available. These include Time Goal, Distance Goal, Calorie Goal, Time Interval, and Distance Interval.
Storage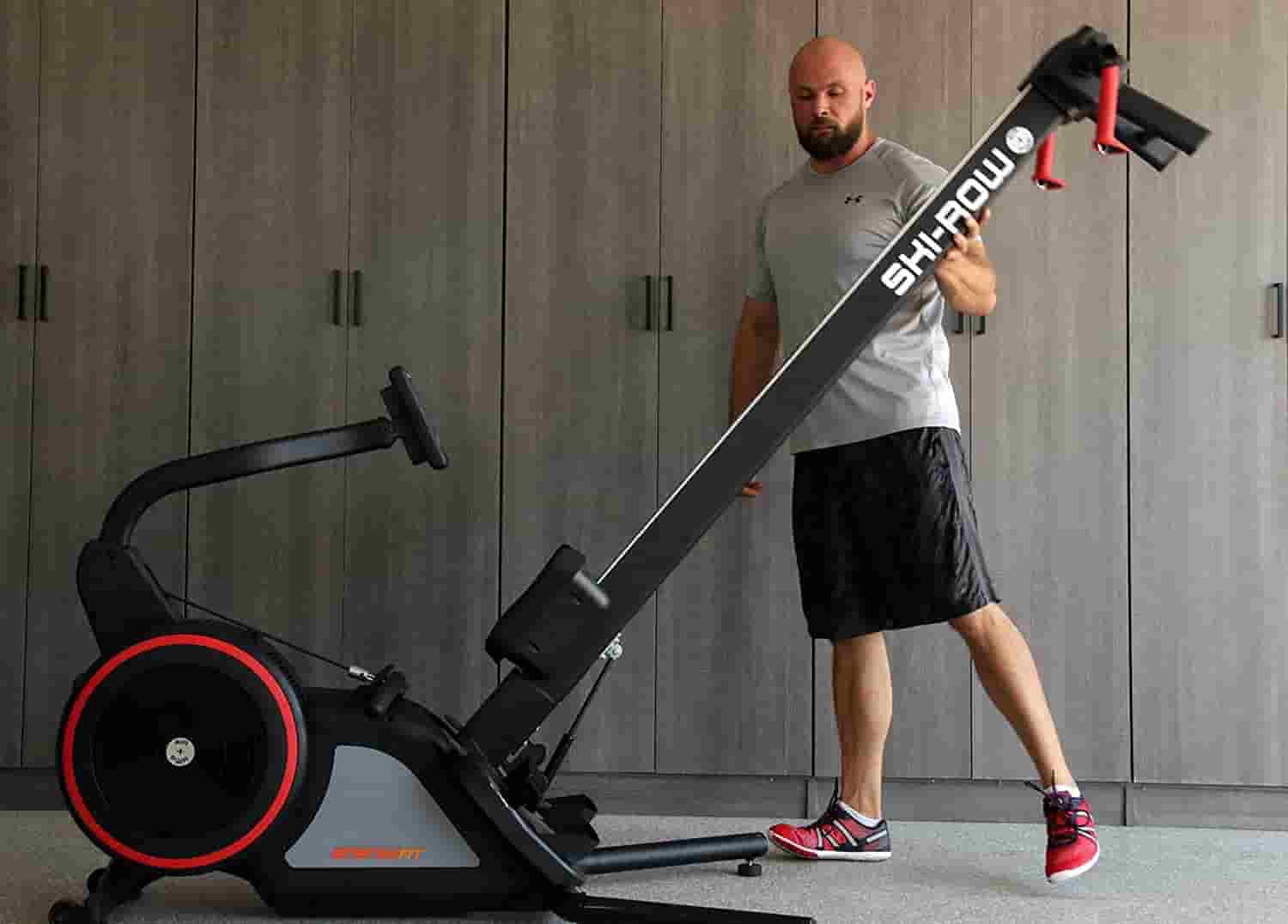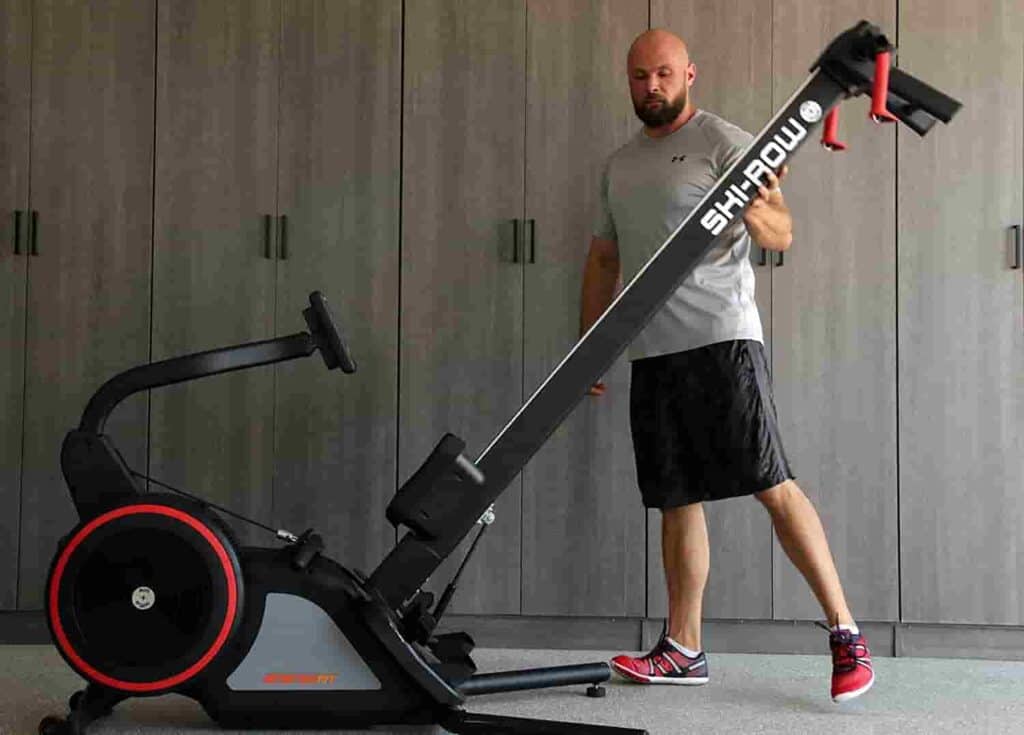 The SKI-ROW (SR-7) AIR+PWR is a large and heavy unit but it is also easy to store away because of its foldability and the integrated transport wheels.
It can easily be folded or unfolded within 5 seconds. Just raise the slider beam to fold, and press the foot-lever for the gas-assist cylinder to unfold it safely and unassisted.
Once it is folded, you can easily move it around the room or to a storage area with measurements of 4'4" length by 2'9" width (regardless it weighs 150 lbs./68 kg.) via the transport wheels.
Pros/Features Overview
Its construction is solid like a tank
It is versatile; meaning, it can be used for rowing, skiing, and other exercise activities
It provides low impact and total body HIIT cardio and strength training
Conversion from rowing position to a skiing position takes only 5 seconds
Its space-saving design makes storage easy and convenient
It can accommodate users that are taller than 6'6'', and maximum weight of 350 lbs./158.7 KG
Designed for both home gyms and training studios
The console features an LCD monitor with multiple display windows capable of tracking Time, Pace, Stroke Rate, Distance (displayed in meters), Resistance Level, Calories, Watts, and Heart Rate
The console is Bluetooth-enabled, telemetric, and compatible with GYMTRAKR app
The air+magnetic resistance system is dynamic and has 20 adjustable levels
There are programs such as Time Goal, Distance Goal, Calories Goal, Time Interval, and Distance Interval
The seat is padded and contoured
The floor-to-seat height is 14.5''
Footrests are large with protective heel guards and adjustable safety straps
The handlebar is coated with soft anti-slip rubber foam
Its operation is smooth and not very noisy
Not difficult to assemble
The maintenance requirement is low
Cons
It takes a lot of space for rowing activity
Wireless HR chest strap not included; has to be purchased separately
The compatible app (GYMTRAKR) does not have good reviews and ratings
Warranty
5 Years for the Frame
2 Years for the Parts and components
2 Years for Labor
Product Dimensions & Specifications
Length: 103''
Width: 34.9''
Height: 40''
Folded dimensions: 53.6'' L x 34.9'' W x 84'' H
Shipping dimensions: N/A
Net weight: 150 lbs./68 kg
Gross weight: 197 lbs./90 kg
Frame: Steel & Aluminum
Maximum user weight capacity: 350 lbs./158.7 kg
Pulling cord: Nylon
Seat: Contoured, padded with concealed rollers
Floor-to-seat height: 14.5''
Handlebar: Anti-slip coated with soft rubber foam
Footrests: Large with heel guards and adjustable safety straps
Resistance: Air & Magnetic
Resistance levels: 20
Monitor: LCD
Bluetooth connectivity
GYMTRAKR App compatible
Heart Rate function: Wireless (Bluetooth & ANT+)
Programs: 5
Shipping
The packaged weight is 197 lbs./90 kg.
A free shipping option is available if purchased from certain vendors such as Amazon.
Delivery could take a couple of days or more depending on where the customer resides.
Assembly
The unit is accompanied by a descriptive manual that illustrates the assembly process step-by-step. Moreover, there is an assembly video on YouTube as well.
Mainly, the parts to be assembled include the beam, the rear and middle stabilizers, the seat, the console mast, gas spring, console, pivot and mast shrouds.
It takes 30-60 minutes to completely assemble the unit.
Maintenance
There is no serious maintenance that is required. Just make sure that the rowing machine is kept clean on a regular basis, and also store in a clean, dry, and cool environment.
As a precautionary measure, examine the machine before use to ensure that every part is tight and in good condition.
Conclusion
The SKI-ROW (SR-7) AIR+PWR is a versatile machine that could be used for rowing and skiing exercises.
It engages the majority of the body muscle groups, and its impact on the joints is minimal.
Its commercial-grade construction can hold up in every workout situation.