Merax Folding Magnetic Rowing Machine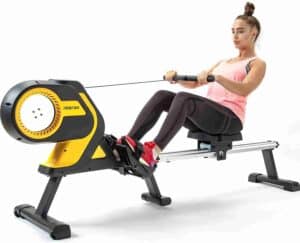 The Merax Folding Magnetic Rowing Machine is the improved version of the previous model. However, it is still a basic and affordable machine that supports a maximum user weight capacity of 330 lbs./149.6 kg.
Product Brand: Merax
Product In-Stock: InStock
The Merax Folding Magnetic Rowing Machine is the improved version of the previous model. However, it is still a basic and affordable machine that supports a maximum user weight capacity of 330 lbs./149.6 kg.
It could be ideal for those that are on a budget, or those who do not need anything fancy with a lot of features as long as they could work out and get their metabolism going.
So, if you wish to have a peek at the best price of the Merax Folding Magnetic Rowing Machine, click right here.
The Frame & Construction
This rowing machine has a frame that is made of steel and aluminum. It has a long slider beam that stands at 46'', meaning users as tall as 6'5'' or even more, could fit in.
The drive system is covered with yellow, white, and black colored quality plastic shrouds, giving the unit a shouty or bright outlook. In a nutshell, the overall quality of the rowing machine is decent and as aforementioned, it supports up to 330 lbs./149.6 kg user weight.
The base has multiple stabilizers with rubber end caps that are designed to make the rower floor-friendly. Moreover, there are adjustable levelers at the rear stabilizer for stabilizing the unit on a surface that is not entirely even.
Having said that, the use of a protective rubber mat could further increase the overall stability and protect your floor; and most users usually do purchase this alongside the rowing machine.
Just as the case with most rowing machines, the Merax Folding Magnetic Rower will require quite a bit of space for workouts. The dimensions are 80.5'' in length and 18.7'' in width and 29'' in height. Therefore, a workout area with measurements of 6'7'' (204.47 cm) length by 1'55'' (47.49 cm) width is going to be required.
Also, extra clearance of 2' on each side of it will be necessary for safety and ease of access.
However, since it has a space-saving design that allows you to fold it when not in use, it occupies way less space for storage than it requires for workouts. The folded dimensions are 46.9'' long by 18.7'' wide by 57'' high.
There are transport wheels at the front base for easy relocation, and moreover, it only weighs 70-80 lbs./31.75-36.28 kg.
The floor-to-seat height is 17.5''. This is great because it allows individuals that have problems with their joints to easily mount and dismount the rowing machine without a hassle.
The Seat of the Merax Folding Magnetic Rowing Machine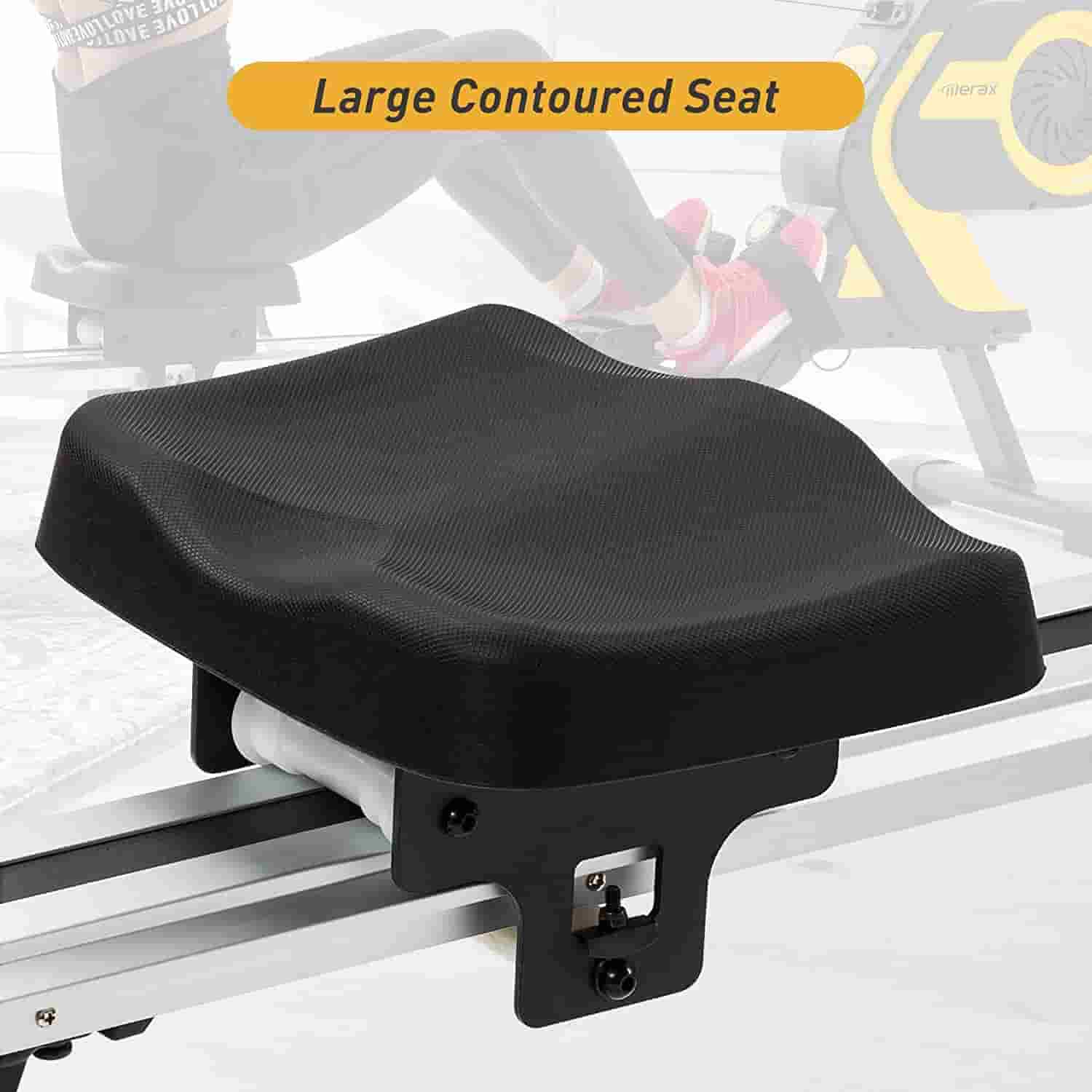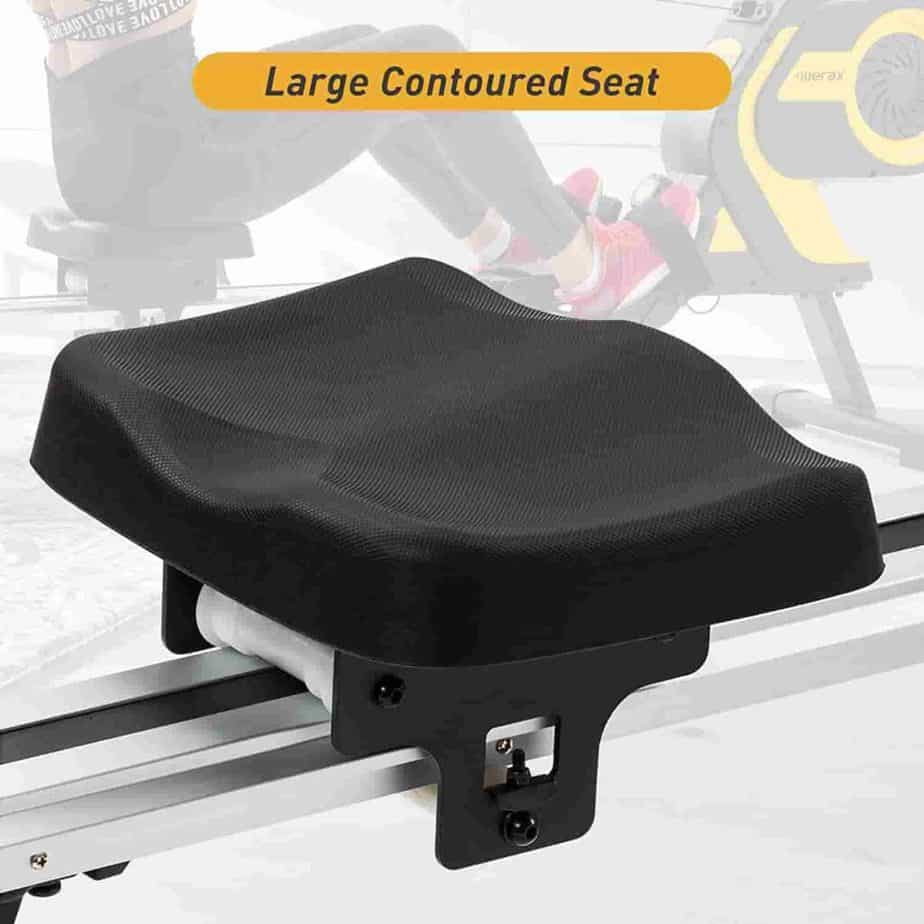 The seat is fairly large at 12.8'' length by 10.4'' width, and its thickness is 2.2''. It is also contoured and padded to provide maximum comfort possible. However, if your butt gets numb within a short time of rowing, then you may want to use an extra cushion to improve it.
3 quality plastic rollers are attached to the seat and the rail beam for smooth and quiet back and forth slide.
The Handlebar
The handlebar of the Merax Folding Magnetic Rowing Machine is lengthy (17.5'') enough to suit every user's shoulder width. It is also coated with soft anti-slip rubber foam to ensure that users feel secure and comfortable grips.
This is a belt-driven rower because the handlebar is attached to a 1'' nylon strap that is connected to the pulley and the recoil system in the drive system. Hence, its operation is smooth and quiet, and the nylon strap is reliable. Thus, it won't snap in the middle of a workout.
Footrests
The 12.2'' long by 4.3'' wide footrests can accommodate different foot sizes.
They are textured and integrate Velcro safety adjustable straps and heel guards for better foot placement.
Moreover, they pivot to adhere to the foot's motion to reduce the effect of stress on the ankle.
The Resistance System
As the name implies, this rowing machine has a magnetic resistance system that comprises a magnetic brake pad, and a flywheel that is probably 10 lbs./4.5 kg.
How this works is that when the resistance is applied, the magnetic brake pad releases magnetic fields around the flywheel to create a drag that ultimately produces resistance.
So, when the magnetic brake pad is close to the flywheel it tends to produce strong resistance and when it is farther away it produces less resistance.
To increase or decrease the resistance level, simply twist the tension knob clockwise or counterclockwise respectively.
Since this is a frictionless resistance system, no part wears out and no maintenance is required. And on top of that, the operation of the rower remains smooth and quiet.
There are 8 adjustable resistance levels that offer a range of workout challenges that could help you lose weight, tone muscle groups, and improve strength and endurance.
It will suffice to say that this rowing machine is suitable for a home gym.
The Console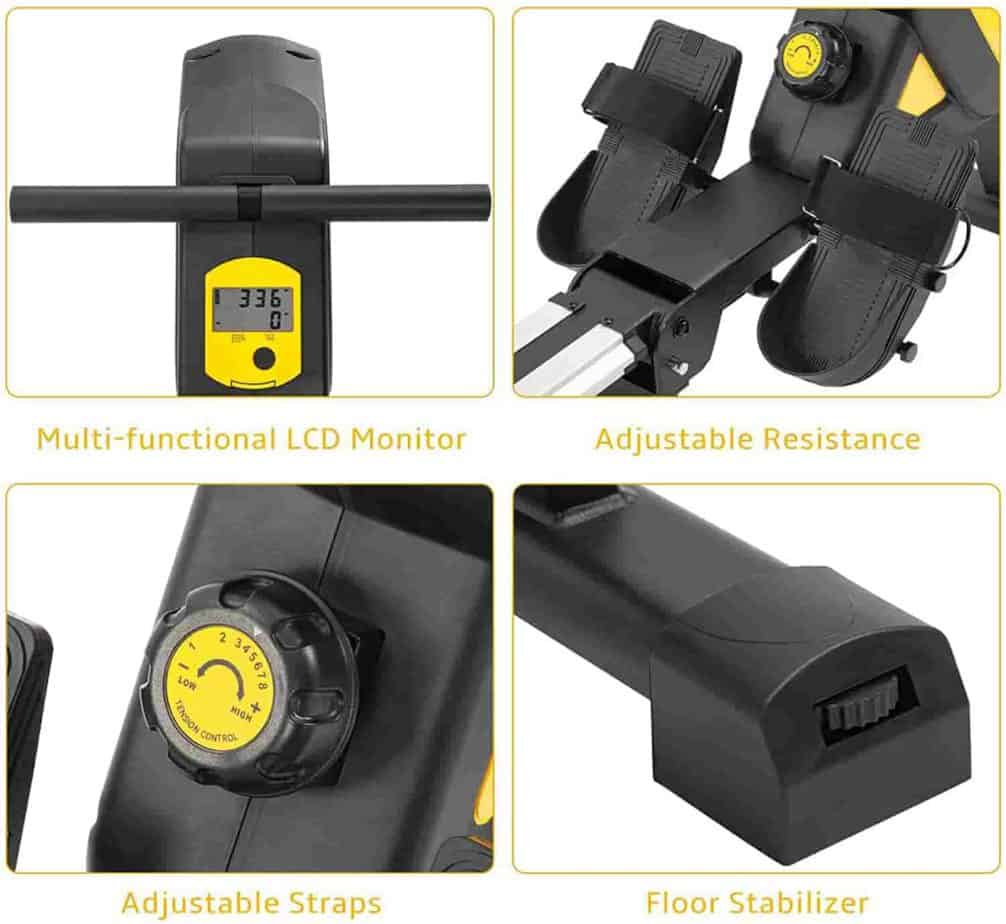 The console is basic, and it is designated on the drive system panel. It features an LCD nonbacklit monitor that tracks workout stats such as Time, Distance, Count, Total Count, and Calories. The workout stats are displayed by the SCAN function continually one at a time after every few seconds before switching to the next value because the window cannot display them all simultaneously.
However, if you wish to view a certain workout value constantly without a switch you can override the SCAN function to set it up.
The readability is good as long as it is being viewed in a well-lit environment, otherwise, it will be compromised because the monitor is not backlit.
The console is battery-powered, and to preserve the energy the LCD goes to sleep after the rowing machine has been idle for a few minutes, and it automatically turns back on when activity resumes.
That's much about the console. It doesn't have many features or functionality. It is not telemetric nor compatible with a workout app.
However, if you wish to keep an eye on your heart rate, you can always use an external HR device to do that.
Accessory
As opposed to ECHANTFIT Rowing Machine, this unit does not have a water bottle holder or a tablet holder.
Therefore, you will have to improvise to keep water handy for proper hydration during a workout and a tablet device for entertainment purposes.
Storage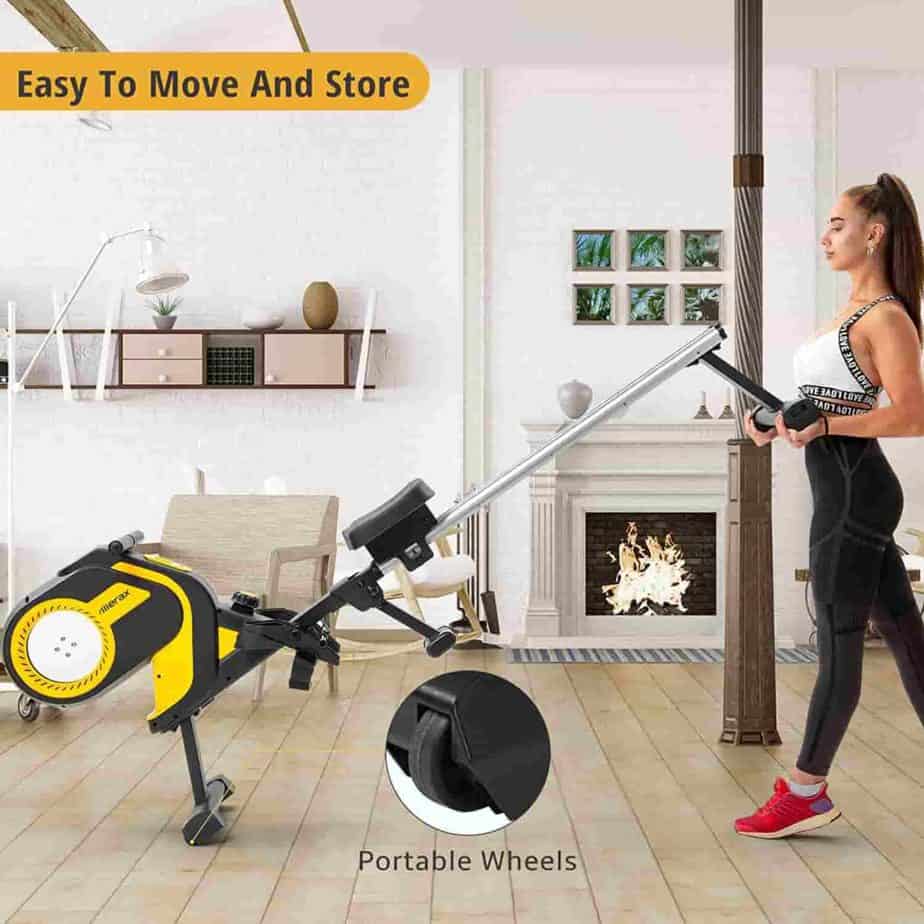 The space-saving design of the rowing machine and the integrated transport wheels make storage easy and convenient.
A storage area with measurements of 3'9'' (119.12 cm) in length by 1'55'' (47.49 cm) in width will accommodate it.
Pros/Features Overview
It is affordable
It is durable and elegant
Sturdy enough to support a maximum user weight capacity of 330 lbs./149.6 kg
Its 46" slider rail accommadtes taller (up to 6'5'') individuals
Operation is smooth and quiet
Multiple stabilizers with adjustable levelers for maximum stability
It provides low impact and total body workouts that engages the forearms, biceps, triceps, shoulder, legs, abdomen, and the thigh
It's foldable for easy storage
Transport wheels included
LCD monitor included for tracking workout stats such as Time, Distance, Count, Total Count, and Calories
The seat is padded and contoured
The handlebar is 17.5'' and coated with anti-slip rubber foam for comfortable and firm grips
The footrests are large with heel guards and adjustable safety straps; they pivot also to ensure the ankles are stress-free
Floor-to-seat height is 17.5''; good for hassle-free mount and dismount
The magnetic resistance system with 8 adjustable levels provides a range of workout intensities that could help you to max your stamina and improve overall physical fitness
Assembly is fairly easy
Maintenance requirement is low
Cons
The monitor is not backlit
No heart rate functionality
No tablet and water bottle holders
Warranty
1 Year on the Frame
180 Days on the Parts
Product Dimensions and Specifications
Length: 80.5''
Width: 18.7''
Height: 29''
Folded dimensions: 46.9'' L x 18.7'' W x 57'' H
Shipping dimensions: N/A
Slider rail length: 46''
Floor-to-seat height: 17.5''
Gross weight: N/A
Net weight: 70-80 lbs./31.75-36.28 kg
Frame: steel & aluminum
Flywheel weight: 10 lbs./4.5 kg
Drive: Nylon belt
Resistance: Magnetic with 8 adjustable levels
Seat: Large (12.8'' L x 10.4'' W x 2.2'' H), contoured, and padded
Footrests: Pivotal, large (10.2'' L x 4.3'' W), and textured with adjustable safety straps and heel guards
Handlebar: 17.5'' long, coated with anti-slip rubber foam
Monitor: Basic nonbacklit LCD
Transport wheels: Yes
Tablet holder: No
Water bottle holder: No
Shipping
The Merax Folding Magnetic Rowing Machine is shipped in a box, and the shipping is free if purchased from a major retailer such as Amazon.
However, there is a paid shipping option if you want it to be delivered without delay.
The free shipping delivery is usually a couple of days but depending on where you live, it might take longer
Assembly
The assembling process is simple and easy because the difficult part has been done in the factory.
So, you only need to attach the rail, the seat, the stabilizers, and the footrests to the core unit. It will take about 30-45 minutes to put together.
The package comes with an instruction manual and tools required for a successful assembly.
Maintenance
In normal circumstances, this rowing machine does not need serious maintenance. It only needs to be kept clean on a regular basis.
Also, ensure to check the parts before a workout to be sure they are tight and in good condition to prevent damage or injury.
Endeavor to store it in a cool, dry, and clean storage area.
Conclusion
The Merax Folding Magnetic Rowing Machine is an affordable entry-level unit that does not have many features.
However, it does provide low-impact and total body cardiovascular workouts that could improve your overall physical health. it supports taller individuals (6'5'') and users that are up to 330 lbs./149.6 kg in weight. Its operation is smooth and quiet, thus, nobody around you will be disturbed (no matter the time of the day) as you exercise with the machine.