The Micyox Water Rowing Machine is a carefully hand-crafted wooden indoor cardiovascular exercise unit.
It is designed to bring the feel of open water rowing alongside its benefits of helping you to lose weight and tone about 80% of the body's muscle groups. It targets your stomach muscles, biceps, quadriceps, elbow joint, knee joint, and large gluteus maximus.
You will experience full-body and low-impact workouts that enable you to lose up to 800 calories within an hour.
Water rowing machines are your ultimate indoor fitness equipment and that includes the Micyox QM-3019 Water Rowing Machine.
Click right here to have a peek at the best price.
Frame & Construction
The Micyox QM-3019 Water Rowing Machine is not particularly unique because there are other similar brands such as the Mr. Captain Water Rower, Mr. Rudolf Water Rower, and many more. However, there might be slight differences in features, quality, and price range that might influence your preference.
Having said that, the Micyox Water Rowing Machine has a premium solid oak hardwood frame that is polished with a walnut stain color to maintain smoothness and originality.
The rails are evenly horizontal with rubber pads underneath for sustained traction and stability. Moreover, an exercise mat is included in the package to help promote stability and protect your floor.
It supports a maximum user weight capacity of 330 lbs./149.6 kg.
The assembled dimensions are 82'' long by 22'' wide by 19'' high. Simply put, it will require a workout area with dimensions of 6'8'' length by 1'8'' width. Plus, it's going to need a clearance of at least 2' on both sides and the rear for better workout experiences.
This is quite a space for workouts, thus, those living in a small room may not have the space to spare. However, for what it's worth, the unit is designed to be stored vertically without having to drain the water in the tank.
Therefore, storage doesn't take as much space, and it is easy and convenient.
The Seat of the Micyox QM-3019 Water Rowing Machine
The contoured ergonomically designed seat integrates rollers that slide on the padded rails for smooth and quiet operation.
Your back-and-forth movement will be noise-free, and due to the contoured surface of the seat, you won't struggle to stay on, and as a result, you will be able to train longer without feeling sour or bored.
The seat dimensions are 13.4" wide by 9.6" in length.
The Handlebar
The handlebar is straight and wide enough for different shoulder-width sizes. It is also padded with soft rubber foam for comfortable and firm grips. Hence, it won't be necessary to use a pair of hand gloves because you won't experience calluses or slippage no matter how prolonged or frequent you work out.
The handlebar is attached to a durable 1'' nylon strap that is connected to the water tank via a pulley.
The Footplates
The Micyox QM-3019 Water Rowing Machine has a set of large footplates that are made of plastic. They have a heel guard and adjustable safety strap that are designed to keep your foot secure and comfortable during workouts.
They don't pivot, instead are strategically fixed for better foot placement.
The Resistance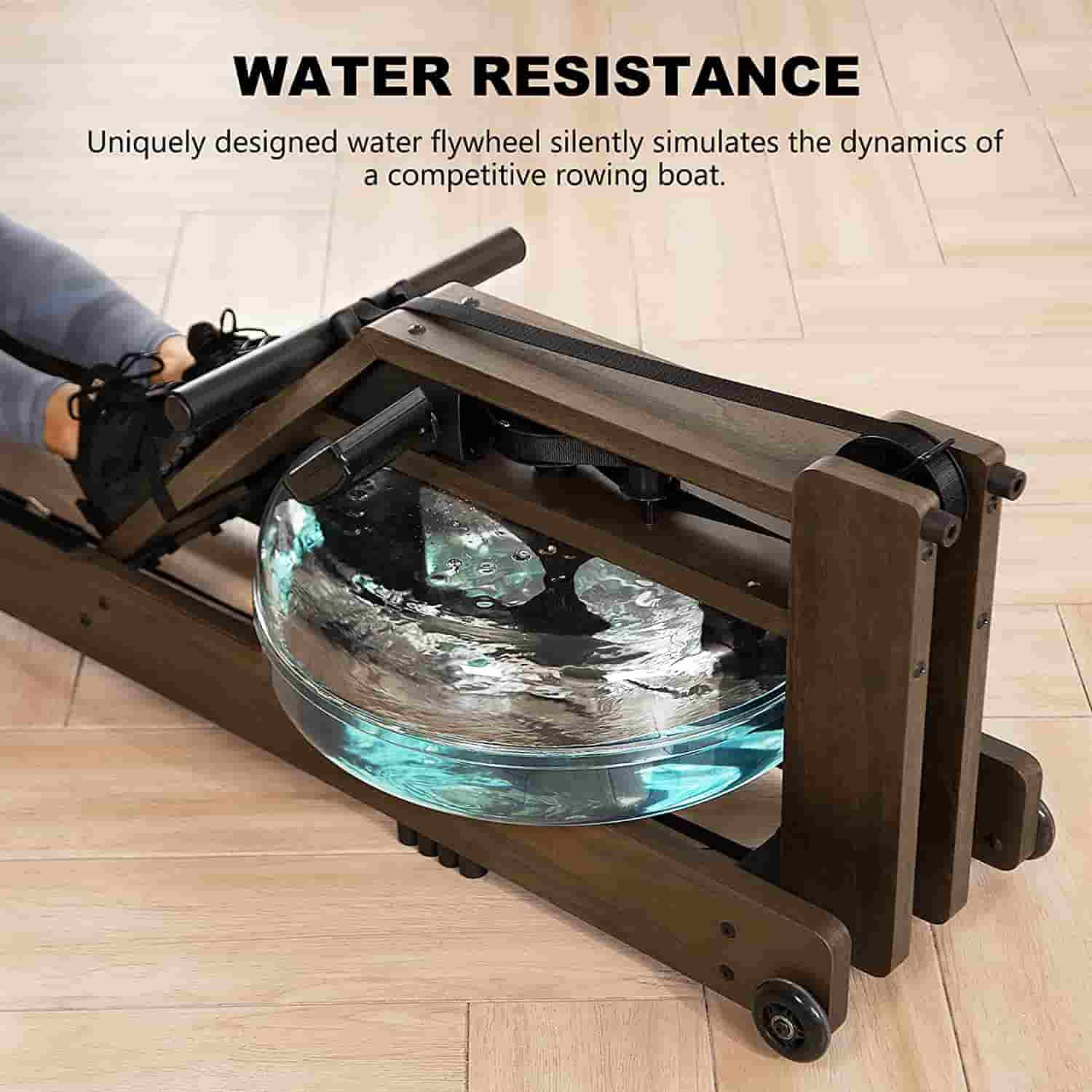 This is a water resistance rowing machine; meaning that it has a water resistance system that comprises a see-through polycarbonate tank with a flywheel inside.
The interesting thing about the resistance system is that it mimics the outdoor rowing experience by providing a swirling soothing water sound as you row.
This is the only audible sound that comes from the rowing machine and it is not problematic. On the contrary, it rather helps you to work out better.
There are no predefined resistance levels as the case with most magnetic rowers because it generates resistance dynamically. What this means is that your workout tempo determines the resistance intensity you experience.
If you pull the handlebar aggressively, the resistance gets stronger, otherwise, the resistance will be less intense or even weak. Therefore, this is good for everyone at any fitness level as they can train according to their strength and grow with it as time goes on.
So, it doesn't matter if you are a beginner, intermediate or advanced athlete, it is suitable for you.
One more quick note, another way to increase or decrease the level of workout intensity is to add more or less water into the tank. In other words, more water in the tanks means you will easily experience strong resistance, while less water means the opposite.
There is a max line on the side of the tank I believe takes up to 4.5 gallons. Overfilling it might result in leakage when stood up for storage.
The water in the tank can easily be added or removed with the included siphon pump.
The Console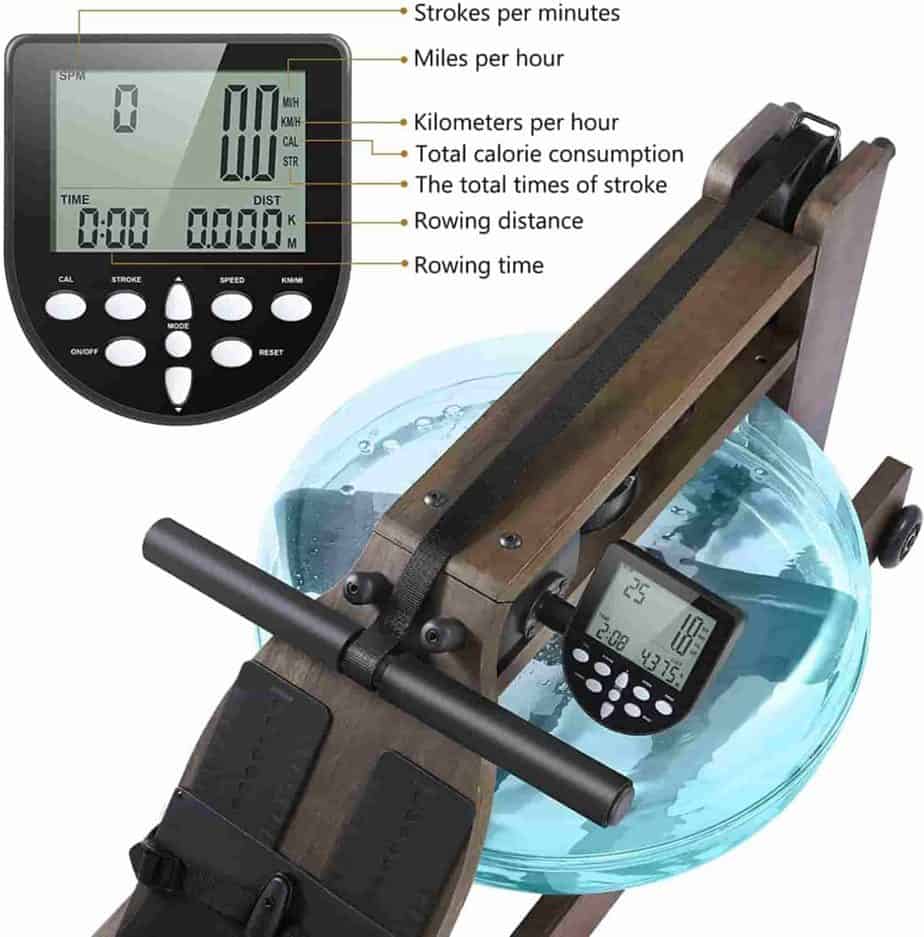 The Micyox QM-3019 Water Rowing Machine has a multi-digital LCD monitor that tracks workout stats such as Time, Distance, Total Strokes, Stroke per Minute (SPM), and Calories. The Distance measurement units are in both miles and kilometers.
It is powered by 2 AA batteries (not included).
This monitor is pretty basic because it only tracks your workout progress. It is not telemetric, and it doesn't connect to the internet either.
Simply put, it does not connect to a wireless HR chest strap or workout app.
Accessory
This water rowing machine does not have any extras such as a tablet and water bottle holders. You must improvise to keep water and a smartphone handy for hydration and entertainment purposes during a workout session.
Storage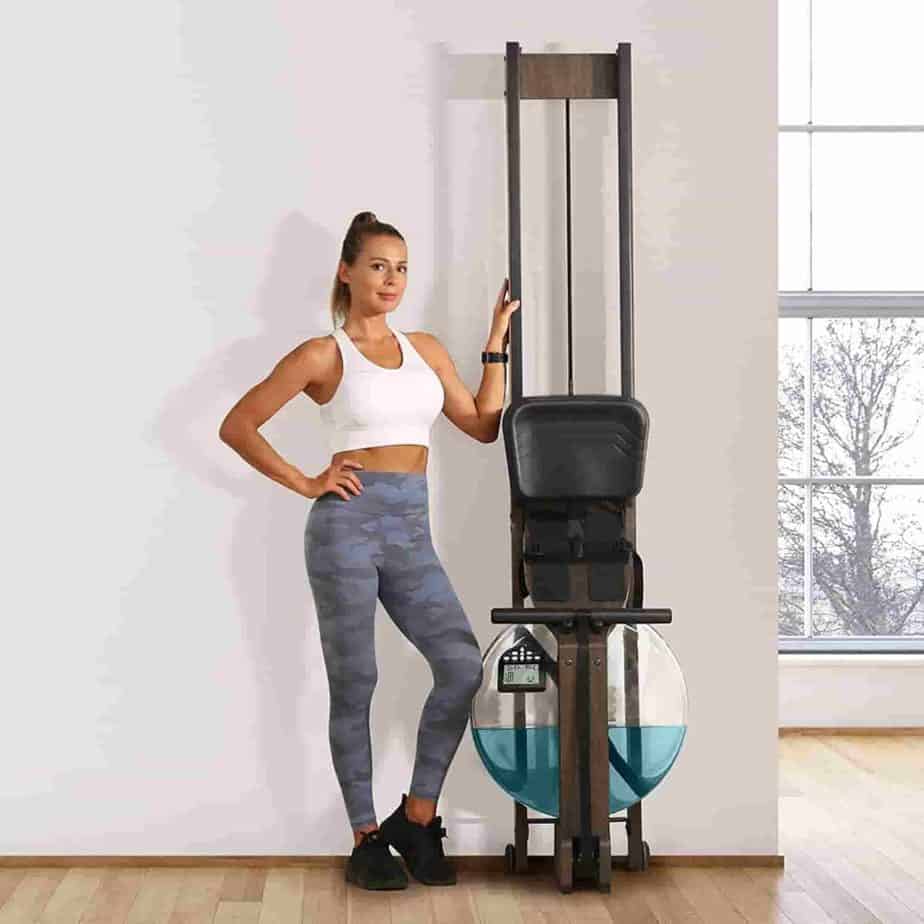 As stated above, the Micyox QM-3019 Water Rowing Machine has transport wheels for an easy relocation process and can be stored in an upright position. Hence, it doesn't take up too much space when not in use.
However, ensure that the water tank is not overfilled to avoid leakage.
Just in case you are wondering, it is not foldable.
Pros/Features Overview
The frame is made of premium solid oak hardwood and finished with walnut satin
It is handcrafted
Supports up to 330 lbs./149.6 kg maximum user weight capacity
Can accommodate users as tall as 6'5''
It is home-friendly because its operation is smooth and calm (soothing splashing sound)
Suitable for users of all fitness levels due to its dynamic water resistance system
It offers full-body and low-impact cardiovascular exercises that also tone over 80% muscle groups in the body
The seat is comfortable because it is large, padded, and contoured
The handlebar is padded with soft rubber foam for secure and comfortable grips
The footrests are large with heel guards and adjustable safety straps
Multi-digital LCD monitor tracks Time, Distance, Total Strokes, Stroke per Minute (SPM), and Calories
Transport wheels included for easy relocation process
Siphon pump included
Maintenance is not serious
Fairly easy to assemble
Exercise mat included
Cons
The monitor is basic; not telemetric and cannot connect online
Warranty
Lifetime warranty
1 month return policy
Product Dimensions & Specifications
Length: 82''
Width: 22''
Height: 19''
Shipping dimensions: 28.7'' L x 22.8'' W x 20.1'' H
Net weight: 75 lbs./34 kg
Gross weight: 78 lbs./35.38 kg
Maximum user weight capacity: 330 lbs./149.6 kg
Frame: Oakwood
Resistance: Water
Monitor: Multi-digital LCD
Seat: Large, padded, and contoured (13.6 W x 9.6" L)
Handlebar: Straight and padded
Footrests: Large with heel guards & adjustable safety straps
Transport wheels included
Exercise mat included
Siphon pump included
Shipping
The Micyox QM-3019 Water Rowing Machine is shipped in a box that weighs 78 lbs./35.38 kg with dimensions of 28.7'' long by 22.8'' wide by 20.1'' high.
No shipping charge is required if you were to purchase it from certain online retailers such as Amazon.
The delivery takes a couple of days or longer depending on your location.
Assembly
The unit requires assembly. However, an instruction manual that has graphic assembly details accompanies the package.
Thus, you won't get stuck in the assembling process.
Maintenance
The maintenance requires you to keep the rower clean after every workout session. Endeavor to remove and refill the tank with clean water, when necessary, maybe after 3 to 6 months of usage.
Do not overfill the tank with water, otherwise, you may experience leakage when stored vertically.
Conclusion
The Micyox QM-3019 Water Rowing Machine is simple to use and maintain. Its smooth operation creates this outdoor rowing boat ambiance.
It supports 330 lbs./149.6 kg maximum user weight capacity, and can accommodate users as tall as 6'5''.