Schwinn offers different models of the Airdyne Bike, providing options to prospective users who are on different budgets. According to personal needs and budget, a user can acquire the Schwinn Airdyne Pro, AD6, AD7, or AD2 which is a lot more affordable.
The AD2 offers a full-body workout and supports about 250 pounds/113 kg maximum user weight capacity which is not surprising considering its price tag. If you need an air bike with a higher user weight capacity then that would be the upgraded models mentioned above.
It has a simple LCD monitor that displays basic workout stats such as time, speed, distance, RPM, and calories rotationally, heart rate not included. The seat is not the best in terms of comfort but can be enhanced with a gel seat cover and it's possible to change it with another.
Users between 5'4'' to 6'5'' can be accommodated due to the bike's overall design and seat adjustability. The air resistance system is dynamic and user-friendly; thus, beginners and advanced athletes will find it suitable.
The Schwinn AD2 is a perfect tool for weight loss and the improvement of overall physical fitness.
Click right here to have a peek at the price of the Schwinn AD2 Airdyne Bike on Amazon.
The Frame and Construction
The Schwinn AD2 Airdyne Bike has an air fan-styled resistance system that is also designed to harness and channel the wind when pedaling towards the user for cooling purposes.
The bike is sturdy and stable. It features a solid anti-corrosive coated steel frame that supports 250 pounds/113 kg maximum user weight capacity. An ABS material is used for the fan blades and their shroud and also for the coverage of the drive belt, and the air vent.
The Schwinn AD2 is safe and suitable for home use.
Its size is not intrusive in terms of the space it requires for workouts or storage. The overall assembled dimensions are 46 inches long by 25 inches wide by 50 inches high.
What this means is that a workout area with a perimeter of 3'9'' long by 2'1'' wide will suffice. That said, there might be a need to add extra clearance of 1-2′ at the rear and on each side of the bike for safety and convenience reasons, especially if it's going to be used in a place that is not necessarily open enough.
The bike features a robust base that has front and rear steel stabilizer bars with adjustable rubber levelers for maximum stability even on a crooked surface. The front base has two transport wheels intended to facilitate the relocation of the bike to and from storage.
There is a footrest on each side of the fan for the placement of the feet when a user decides to exercise only the upper body at a given time.
Users, both young and old, weak and strong will have no problem mounting and dismounting the bike due to its easy step-thru design.
The Seat
The seat is strategically positioned to fit when adjusted upwards or downwards. Obviously, it is 2-way adjustable with several adjustment holes that are about 1'' apart. These allow users of different heights (5'4'' – 6'5'') to be accommodated.
The adjustment is easy and could only take seconds.
The bicycle seat itself is thinly padded with dimensions of 10 inches long by 8 inches wide. Therefore, it is not entirely comfortable but users often enhance it with a gel seat cover. Also, you can easily replace it with a better seat/saddle of your choice.
The Handlebar
The Schwinn AD2 Airdyne Bike only has a set of moveable handlebars. They are ergonomically designed to be suitable for every user. Their motion is smooth and quiet. They are not adjustable but just as aforementioned, their ergonomics provide suitability to every user.
They are fixed with the pedals to synchronize the movement of the arms and legs that simulates the natural movement of humans.
The handles are also padded with a soft rubber foam that offers secure and comfortable grips during a prolonged workout.
There are no contact heart rate sensors on handlebars and neither is the bike telemetry enabled. In other words, the bike doesn't have a heart rate function.
Pedals
The pedals on this bike are pretty much consistent with the ones on most air resistance upright bikes. They are anti-skid designed with adjustable safety straps that ensure the feet are in place, nice and secure.
They are attached to aluminum alloy crank-arms that support stand-up pedaling. However, the bike's overall design makes it awkward for a user to perform out-of-seat pedaling.
If this is something you wish to do then the Fitness Reality 1000AR might just be an option. This air bike is as affordable as the Schwinn AD2 Airdyne Bike but has more functionality that includes heart rate monitoring, 3 HIIT programs, and more.
The Drive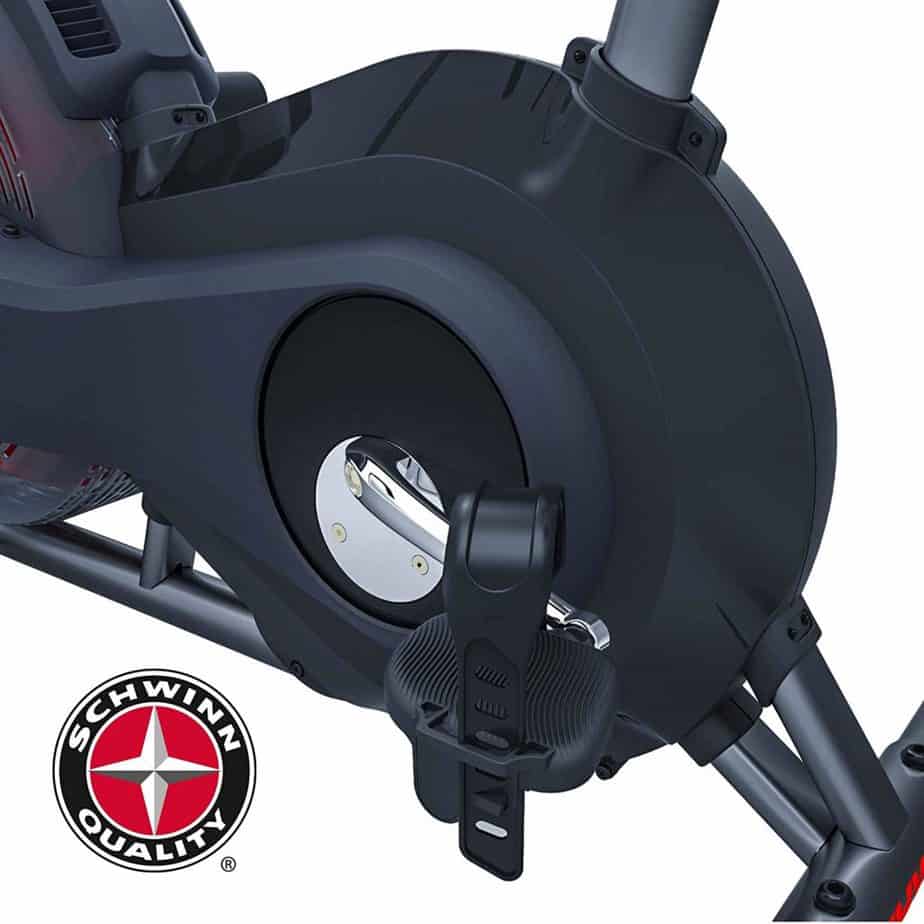 The Schwinn AD2 has a single-stage drive system that consists of a heavy-duty belt, solid crankset, aluminum alloy crank-arms, pulleys, and pedals.
Its operation is quiet and smooth if not for the whooshing sound of the fan.
No post-lubrication or adjustment is required. It's entirely maintenance-free. However, the belt wears out after a period of time and will need a replacement. This happens after a long time of usage.
The Resistance
The Schwinn AD2 Airdyne Bike has an infinite air resistance system that is also very dynamic. Infinite in the sense that it doesn't have any predefined strongest resistance level and it's dynamic because the resistance intensity comes in various degrees depending on the user's fitness level.
In other words, the bike's resistance intensity is defined by how hard you pedal. The harder you pedal the resistance intensity increases and the slower you pedal it decreases. Therefore, no resistance control knob and no need for it.
The air resistance system is suitable for anyone no matter their fitness level.
Now, being a bike with a fan resistance system, some users wonder if it generates a loud noise. Well, the noise it generates will be considered as low when compared to other bikes of its kind. The whoosh sound becomes louder when the user pedals faster but not enough to constitute a nuisance to people around, especially the family and the neighbors.
The Console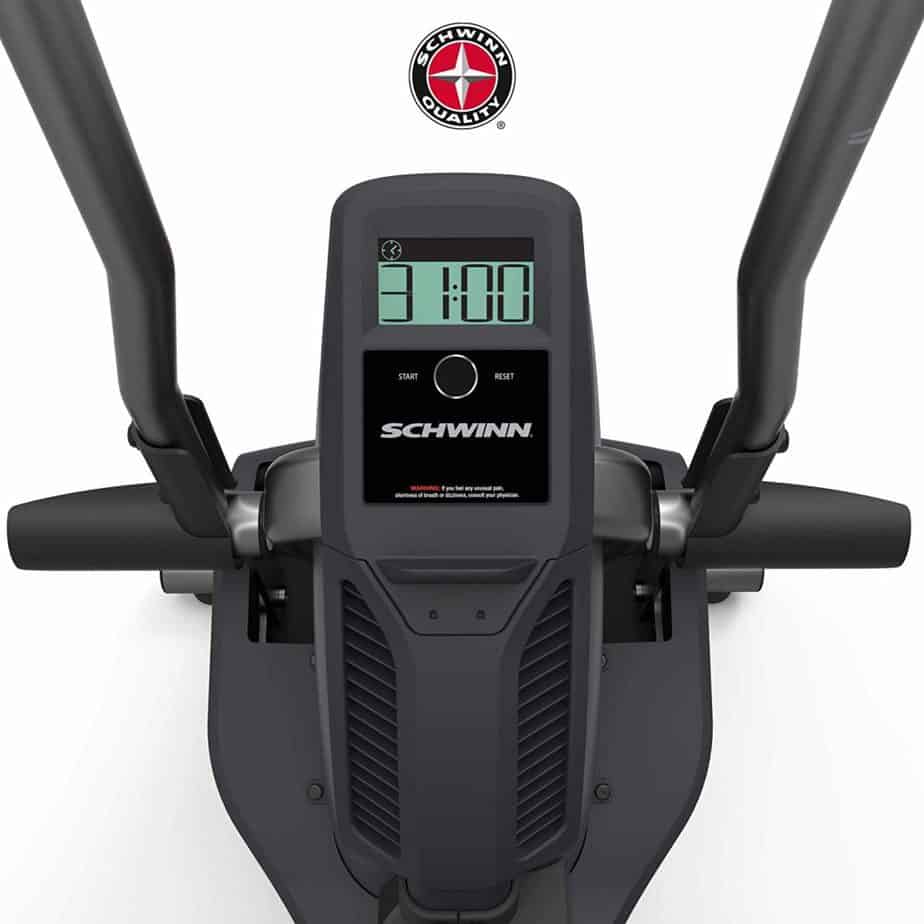 The console on this bike is rather somewhat basic, unlike the one on the Fitness Reality 1000AR. It doesn't have built-in programs or wireless/online connectivity.
It features an LCD display window that tracks time, distance, speed, RPM, and calories. These workout stats are displayed one at a time after a few seconds and rotated. This essentially helps the user to have knowledge of all the stats.
The bike or the monitor need not be plugged into a power source to be functional. The bike is manual while the monitor is powered by 2 AA batteries (not included).
The monitor's readability is good because of its bold display despite the fact that it is down there between the handlebars, on the fan, and farther away from the eyes. But its readability could be compromised if the room it is being used in is not well-lit.
The console also has a little ledge for the placement of a tablet/smartphone device to make those longer rides a little less boring.
Accessory
As aforementioned, the Schwinn AD2 Airdyne Bike has a phone holder. There is also a fan that is designed to keep you cool while working out. However, it is not that strong and doesn't get to your face.
Storage
There are transport wheels on the front base of the bike that makes relocation to storage easy.
Approval Rating
The bike has hundreds of reviews on Amazon by real users and the approval rating is good which suggests that the majority of the users were satisfied by the bike's quality and functionality.
Pros/Features Overview
A very solid and sturdy bike
Supports 250 pounds/113 kg maximum user weight capacity
Not expensive
The resistance is infinite, dynamic, and suitable for everyone
Not too noisy during operation
The LCD monitor tracks workout stats such as time, distance, speed, RPM, and calories burned
Easy to relocate
Low maintenance
Cooling fan
Tablet holder included
Doesn't need to be plugged in
Offers a full-body workout
It's versatile that you can isolate and target to exercise the upper or the lower body
It's ergonomically designed and customizable to accommodate users of different heights
Pedals are comfortable, secure, and accommodate standard gym shoes
The handlebars' motion simulates natural human movement
Cons
No built-in programs
No heart rate function
The monitor may be a little bit far-away from the eyes
No wireless or online connectivity
Warranty
5 Years on the Frame
1 Year on Electrical and Mechanical
90 Days on Wear Parts and Labor
Product Dimensions and Specifications
Length 46''
Width 25''
Height 50''
User weight capacity: 250 pounds/113 kg
Assembled bike weight: 94 pounds/42.6 kg
Resistance: Infinite, air
Drive: Belt
Seat: 2-way adjustable
Handlebars: Dual-action (moveable)
Console: Non-backlit LCD monitor
Programs: No
Bluetooth: No
Transport wheels: Yes
Tablet holder: Yes
Fan: Yes
Footpegs: Yes
Shipping
The Schwinn AD2 Airdyne Bike is shipped in a box that weighs 96 pounds/43.5 kg. Free shipping is provided by Amazon and makes delivery within days of order.
Assembly
The assembly is not difficult and ideally should be done by two persons. The tools required for the assembly and an instruction manual that walks you through the process are all included in the package.
You may opt for the expert assembly which gets someone to come and assemble the bike on your behalf. This service is not free of course.
Maintenance
The bike doesn't need serious maintenance as stated above.
Simply keep it clean from dirt and sweat at all times, and also make sure to examine it for any part that might be loose or broken before use. This is a measure to prevent an accident or further damage to the bike.
Conclusion
The Schwinn AD2 Airdyne Bike has a job description to help users lose weight, improve cardiovascular health, and ultimately the overall physical fitness.
It is affordable, durable, and user-friendly.
Schwinn AD2 Airdyne Bike Review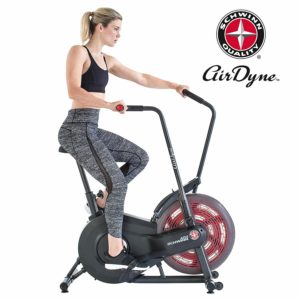 The Schwinn AD2 Airdyne Bike has an air fan-styled resistance system that is also designed to harness and channel the wind when pedaling towards the user for
Product Brand: Schwinn
Product In-Stock: InStock