The Fitness Reality 1000AR Bluetooth Air Resistance Bike supports HIIT (high-intensity interval training). Interestingly, it is an affordable infinite air resistance bike that offers 3 HIIT programs with a highly readable backlit LCD monitor.
This bike may give other air resistance bikes such as the Schwinn AD6 and Schwinn AD7 a run for their money. Its overall construction is solid and colorful, supporting a full-body workout. That's one of the reasons this bike and its likes are different from conventional upright bikes.
It is not a very large bike, yet customizable to accommodate users between the heights of 5'2'' to 6'2'' tall. The user will be able to observe a wide range of workout stats that include the heart rate when used with a compatible MyCloudFitness chest strap (not included).
Accessories such as a water bottle and tablet holders are included to ensure you have a very comfortable and user-friendly experience as you journey towards achieving fitness goals.
The integrated transport wheels help in relocating the bike to and from the storage area.
Click right here to have a peek at the price of the Fitness Reality 1000AR Bluetooth Air Resistance Bike on Amazon.
The Frame and Construction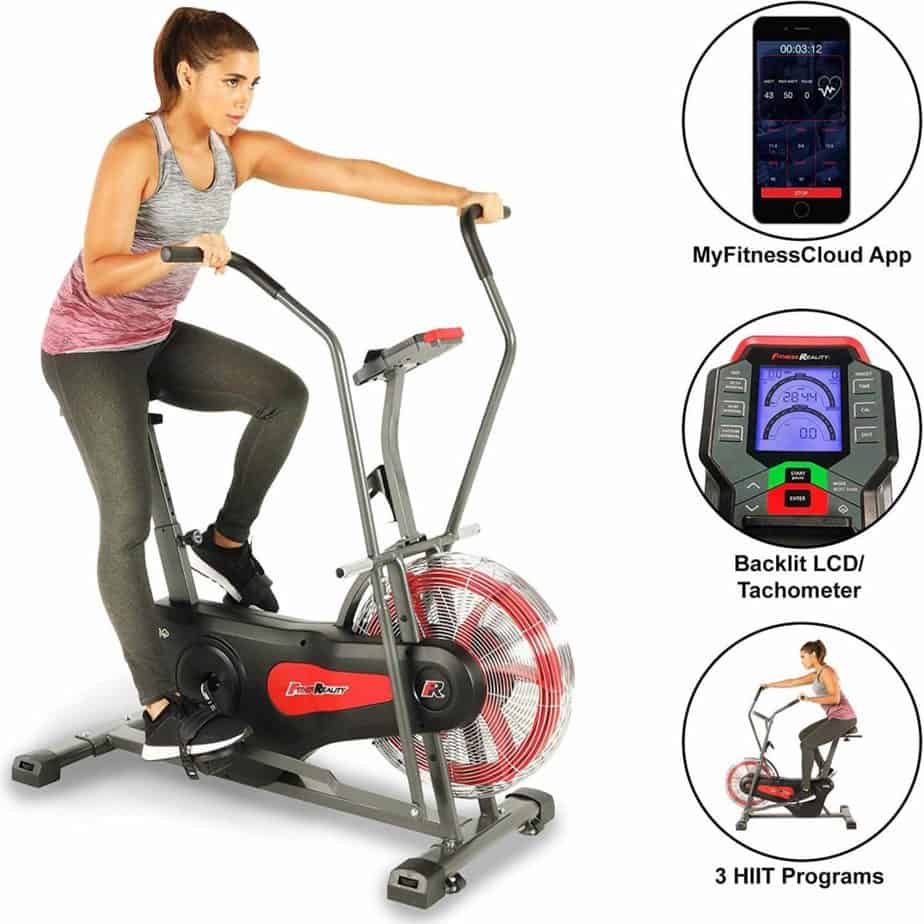 As you may have already noticed and unlike the standard spin or upright bikes, the Fitness Reality 1000AR Bluetooth Air Resistance Bike offers a full-body workout. It has moveable handlebars that allow you to work out the upper body even as you pedal as well.
The Fitness Reality Air Resistance Bike is equipped with a wide durable steel frame that is coated with rust-resistant paint. It is sturdy enough to support 250 pounds/113 kg maximum user weight capacity.
It is not a very large bike that takes up space as some indoor exercise equipment do. The overall assembled dimensions are 51.5 inches long by 21.5 inches wide by 48 inches high. This means that it will require a workout or storage area with a perimeter of 4'3'' long by 1'8'' wide and a ceiling height of at least 7' high.
The workout area may need an additional extra clearance of 1-2′ at the rear and on each side of the bike to ensure comfort and safety is achieved during a workout. This is even more necessary if the bike is to be used in a confined area.
The bike's stability is sufficient. A user will not experience any wobbling or unwarranted movements when exercising on the bike. This is due to the base that features front and rear steel stabilizer bars that are also integrated with adjustable floor levelers. The user can adjust the base to fit even on a crooked floor.
Slightly above the fan resistance system are footpegs that are designed to allow the users to place their feet if they wish to isolate the lower body and workout only the upper body. So also, they can choose not to hold the movable handlebars in order to work out the lower body alone.
The Seat
The seat is large and padded with a decent layer of soft foam for comfort. It is 4-way adjustable (vertically and horizontally). This allows the user to get closer or farther away from the handlebar and the pedals, consequently providing a suitable workout position. Hence, users between 5'2'' to 6'2'' can be accommodated.
The adjustments are straight forward and could be done via the turning knob on both the vertical and horizontal seat bars
The Handlebar
The bike does not have static handlebars only a set of non-adjustable moveable handlebars otherwise known as the dual-action handlebars. These allow the user to work out the arms as he/she pedals.
The handlebars are ergonomically designed to provide a perfect fit. They also feature handles that are coated with a soft rubber foam material for secure and comfortable grips. In other words, no slippage or blisters will be experienced, thus guaranteeing longer workouts.
There are no EKG heart rate sensors on the handlebars but a user can monitor the heart rate by using a MyCloudFitness compatible heart rate chest strap (not included, has to be purchased separately).
The Pedals
The pedals on the Fitness Reality 1000AR Bluetooth Air Resistance Bike are anti-skid designed with adjustable safety straps. These accommodate standard gym shoes, and they align and secure the feet comfortably.
The pedals and the handlebars are fixed together, therefore, when you pedal the handlebars also move. However, this doesn't stop you from isolating the upper or the lower body during a workout, just as the aforementioned.
The Drive
The bike has a belt drive system that consists of a durable belt, solid crankset, crank-arms, and pulleys. These elements together provide smooth and quiet operation. The drive doesn't generate any noise; however, the fan does but it's not considered to be bothersome. Just for the record, every bike with air resistance does make a noise.
The drive is bidirectional. So, you may pedal in reverse and you can also perform out-of-seat pedaling to intensify your workout.
The Resistance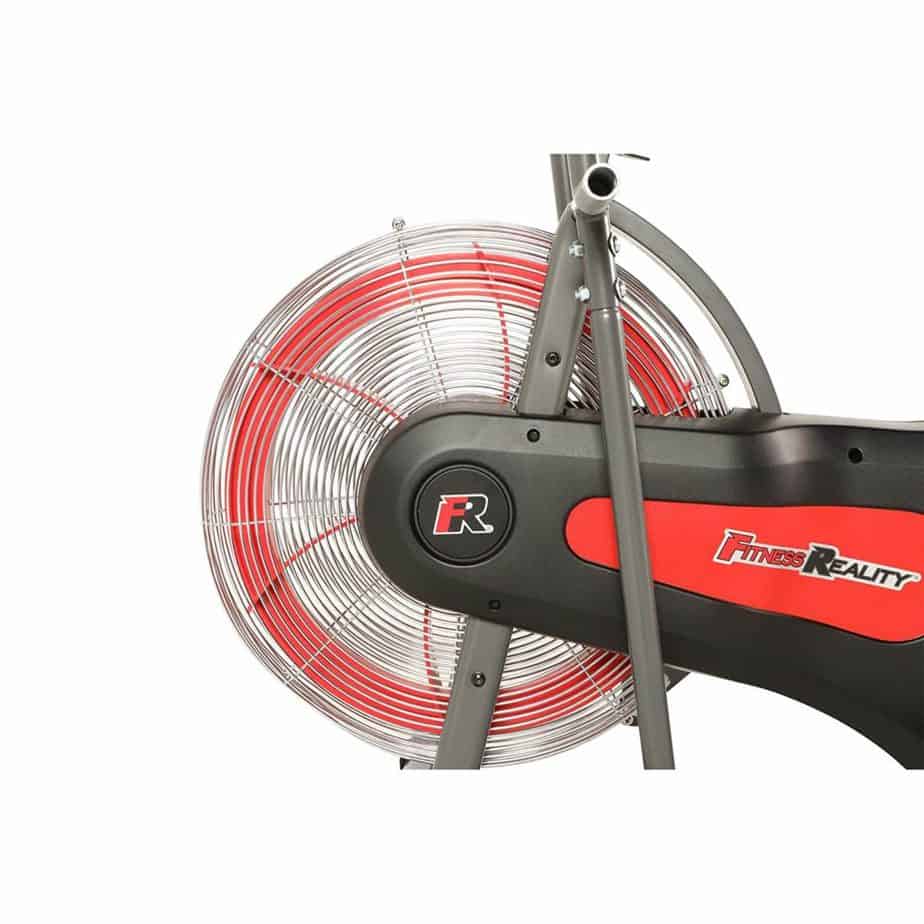 The Fitness Reality 1000AR Bluetooth Air Resistance Bike is apparently an air bike with an air resistance system with an 18'' blade.
This type of resistance system is considered dynamic and suitable for users that wish to engage in HIIT (high-intensity interval training). The bike also comes with 3 HIIT programs that enable you to utilize the bike optimally and achieve results.
The air resistance is considered dynamic because it doesn't have a resistance adjustment control knob. The intensity proportion is determined by how fast/slow you pedal. When you pedal faster the resistance intensity increases and when your pedaling tempo reduces so does the resistance as well.
Therefore, the resistance proportion provided is based on your fitness level. So, it will be safe to say that the resistance system is user-friendly. Anyone at any fitness level finds it suitable and useful.
It is an infinite air resistance system that provides you the amount of resistance intensity you are able to push.
The Console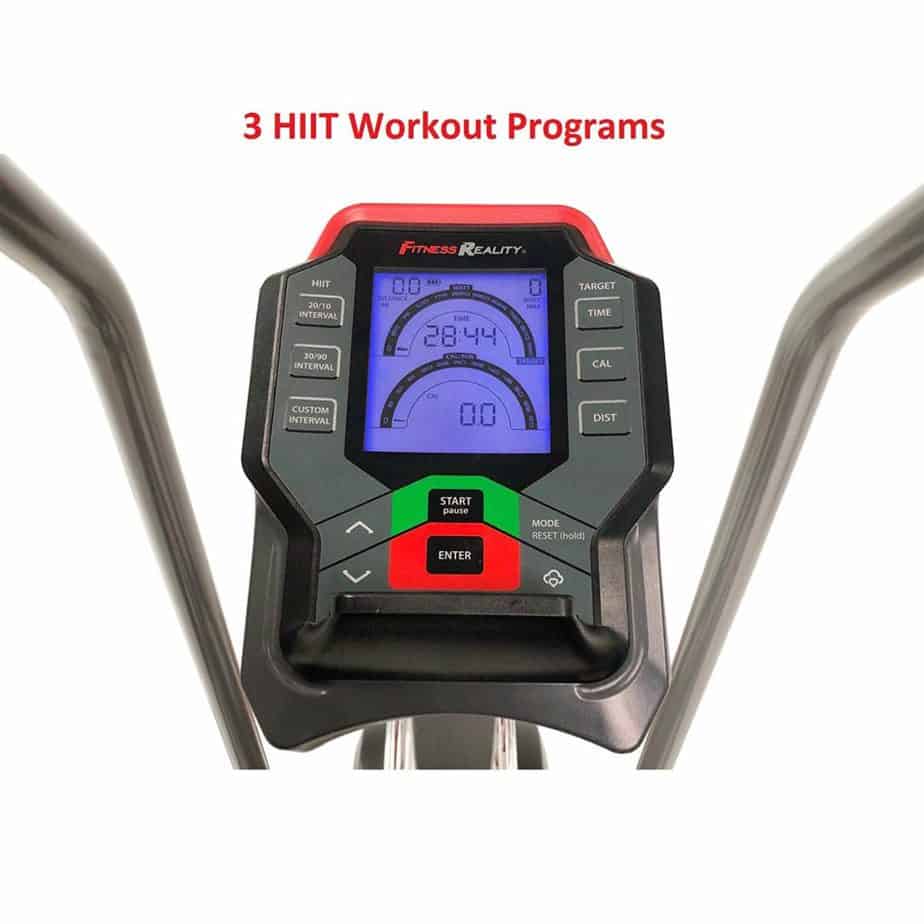 Interestingly, the Fitness Reality 1000AR Bluetooth Air Resistance Bike has awesome features including a console that features a large screen backlit monitor despite the fact its price tag is affordable.
There is a number of other features that are worth mentioning. These include the tachometers for watts and calories burned per minute with instant feedback. The 3 HIIT programs include 20/10 intervals, 30/90 intervals, and a custom interval.
There are 3 workout goal settings for time, distance and calories burned.
The monitor displays workout stats for time, RPM, calories burned/minute, speed, watts, max watts, rounds, sprint, and recovery.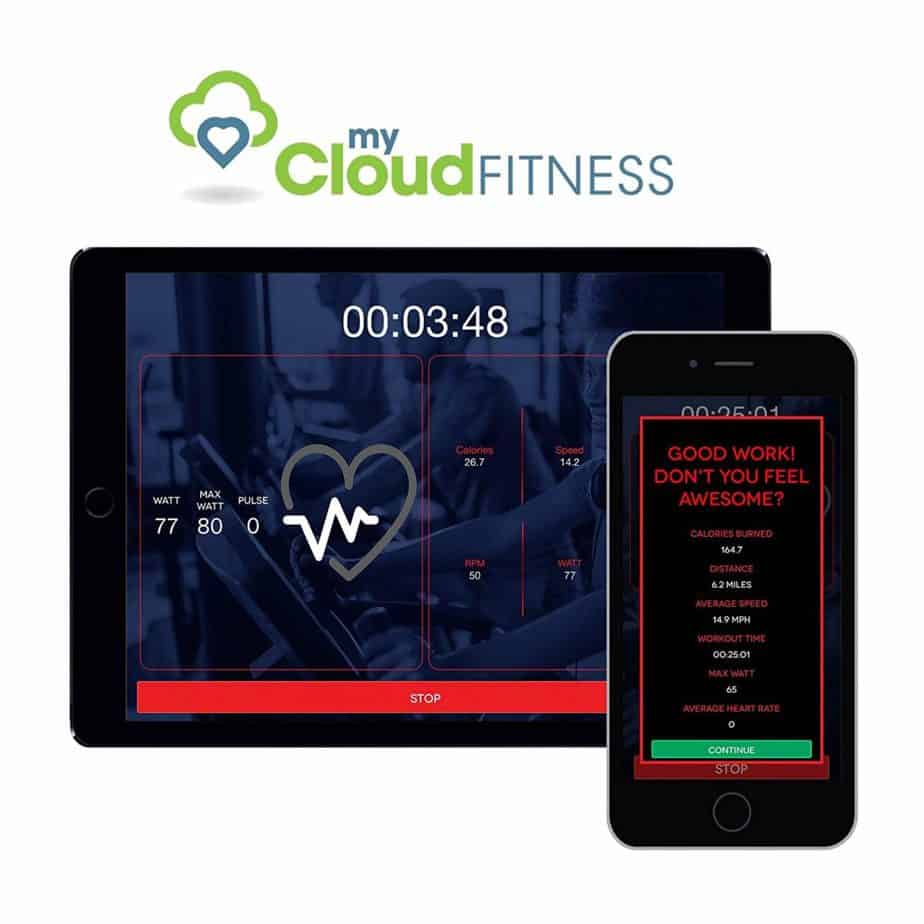 It has a Bluetooth Smart Cloud Fitness with a free My Cloud Fitness app that is compatible with any Android or iOS smartphone/tablet. This enables you to track your workout results.
Moreover, you can track your heart rate as well by using a compatible My Cloud Fitness heart rate chest strap. This is not included in the package; it has to be purchased separately.
The monitor is powered by 4 AA batteries which are included in the package.
Accessory
The Air Resistance Bike is equipped with a tablet and water bottle holders. These are essential accessories that ensure you experience enjoyable and productive workout sessions.
The water bottle holder is positioned strategically to enable you to keep water within reach for hydration while the tablet holder allows you to make use of a smartphone device for taking calls, watching a movie, or listening to music, and for reading workout results.
Storage
There are transport wheels at the front base of the bike. These make relocation to storage easy. Although, rolling the bike on a rug carpet floor may be difficult because the wheels are small.
The best place for storage would be next to a wall or in a garage. Better still, having it in a dedicated workout area would be the best storage solution.
Approval Rating
The Fitness Reality 1000AR Bluetooth Air Resistance Bike has a very good approval rating that suggests it to be a recommendable bike. Actual users on Amazon have reviewed it and rated it favorably.
Pros/Features Overview
Solidly built and cost-effective
Supports users up to 250 pounds/113 kg weight
The resistance is dynamic and suitable for anyone at any fitness level
Supports HIIT (high-intensity interval training) workouts with 3 built-in programs
It offers full-body workouts
Bluetooth Smart Cloud Fitness with free My Cloud Fitness app compatible with Android and iOS smartphones
The backlit LCD monitor tracks workouts such as time, distance, RPM, calories burned/minute, and more
It is customizable; can accommodate users between 5'2'' to 6'2''
Low maintenance
Not difficult to assemble, but does take a couple of hours
The seat is large, soft and comfortable
The arms of the handlebars provide secure and comfortable grips
The pedals align and secure the feet properly
Supports stand-up pedaling for an intense workout experience
A tablet holder is included
A water bottle holder is included
Drive is bidirectional
Cons
The heart rate chest strap is not included, however, considering the bike's price tag we think is not a deal-breaker
May take a little bit of time to assemble
Warranty
Product Dimensions and Specifications
Length 51.5''
Width 21.5''
Height 48''
Assembled weight: 69.8 pounds/31.7 kg
Supports user weight capacity: 250 pounds/113 kg
Drive: Belt
Resistance: Infinite Air
Fan: 18''
Seat: Large and 4-way adjustable
Handlebar: Movable
Footrests: Yes
Tablet holder: Yes
Water bottle holder: Yes
Transport wheels: Yes
Users height: 5'2'' to 6'2''
Console: Large backlit LCD monitor
Programs: 3 HIIT
My Cloud Fitness heart rate compatible
Bluetooth Smart Cloud Fitness
Shipping
The Fitness Reality 1000AR Bluetooth Air Resistance Bike is shipped in a box with dimensions of 50 inches long 11 inches wide and 27 inches high. The box weighs 82 pounds/37 kg.
Amazon provides free shipping and makes delivery within days of order.
Assembly
The bike is easy to assemble, however, may take an hour or more to completely assemble.
The major components come preassembled; the tools required for assembly and the instruction manual that guides you through the process are all included in the package.
Maintenance
The bike doesn't require any serious maintenance.
You simply have to keep it clean from dirt and sweat.
Examine the bike before use for any loose or broken part to avoid an accident or further damage to it.
More details are provided in the owner's manual.
Conclusion
The Fitness Reality 1000AR Bluetooth Air Resistance Bike is recommendable and cost-effective as well. It is a HIIT bike that comes with supporting programs that enable the user to achieve weight loss and improve overall physical fitness.
Remember, it also offers a full-body workout that targets several muscle groups in the body.
[rank_math_rich_snippet]
.