The Nautilus U614 Upright Bike model 100389 is affordable and well-built with a lot of options and capabilities. Considering its price tag, it will suffice to say that Nautilus did a very good job at manufacturing a sturdy and quality bike that also offers a wide range of features that could ultimately help the user to easily transit to improved overall physical fitness.
It is a portable compact bike that doesn't take up much and can easily be moved from one room to another due to the integrated transport wheels. There are 22 workout programs available for workout varieties that target different fitness goals and 20 levels of resistance for different shades of intensity.
Users that weigh up to 300 pounds/136 kg are supported and users between the heights of 4'10 to 6'5'' can be accommodated, thanks to its adjustability.
It has extras, designed to make exercising on the bike less boring, these include a 3-speed fan, a USB media charging port, a media tray, speakers, and a water bottle holder.
Obviously, the Nautilus U614 Upright Bike is not new on the market and neither does it take the back seat when it comes to the best supporting design, ergonomics, and features that offer an outstanding workout experience.
Click right here to have a peek at the price of the Nautilus U614 Upright Bike on Amazon.
The Frame and Construction
The Nautilus U614 Upright Bike has a strong and solid steel frame, which is the reason why it supports a high maximum user weight capacity of 300 pounds/136 kg maximum. Moreover, the frame is fortified with an anti-corrosive paint which consequently preserves it and the outlook to remain the same even after many years of use.
Users enjoy optimal stability while working out on the bike, despite the fact it's pretty compact with a small footprint that will be appreciated by anyone that doesn't want a space-consuming matter. Its stability is a result of a well-engineered base that features front and rear steel stabilizer bars upon which the drive/resistance system sits on.
On top of that, the rear stabilizer bar has adjustable levelers underneath so that a user can level up the bike on a surface that is crooked, while the front base has transport wheels attached to it for easy relocation of the bike.
This upright bike is almost as compact as the foldable upright bikes. Its overall assembled dimensions are approximately 42 inches long by 22 inches wide by 58 inches tall. In other words, when planning for a workout space for the bike, you should consider an area with a perimeter of 3'5'' long by 1'9'' wide and a ceiling height of at least 7-8′ high.
That said, also consider adding extra space of 1-2′ at the rear and on each side of the bike for safety and convenient workout performance.
It is also important to point out that the bike has an easy step-thru design that allows users of all fitness levels to be able to mount and dismount the bike easily.
On a final note, the Nautilus U614 Upright Bike is one of the best upright bikes you should consider purchasing if the price tag is at par with your budget.
The Seat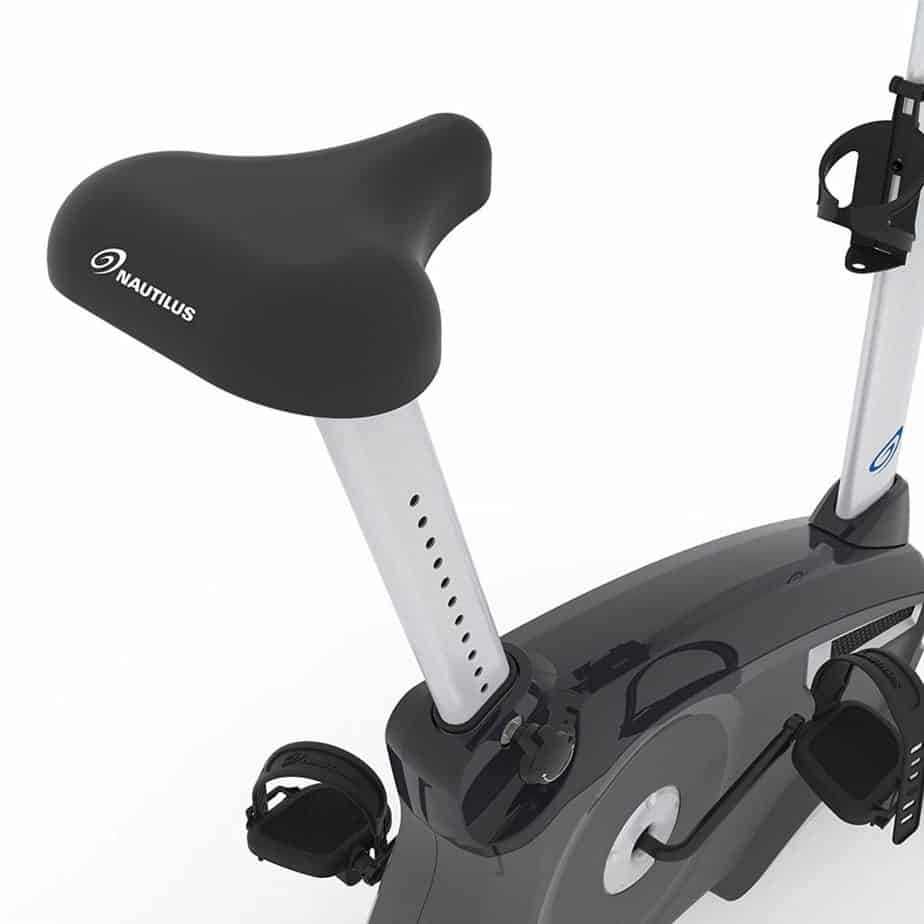 In our opinion, Nautilus did poorly regarding the feel of the saddle. It is not padded well to prevent it from feeling like a rock. Therefore, the first thing you must do is to purchase a gel seat cover to enhance it so that you can work out longer without feeling like sitting on a piece of rock the entire time. It is also possible to replace the seat with a more comfortable type.
Although, the seat is large with dimensions of about 11 inches wide by 10 inches long. It is considered to be a standard seat that could be adjusted to several height positions. In other words, it has a two-way vertical adjustment. Users between the heights of 4'10'' to 6'5'' can be accommodated.
However, if you need an upright bike whose seat could be adjusted 4-ways then you may look up the Nautilus U616 Upright Bike.
The Handlebar
The handlebar is non-adjustable but could be tilted backward or forward according to the user's need, and this must be done before tightening it in place.
The handlebar is ergonomically designed with multiple grips that allow the user to work out in different angle positions. It is also coated with a soft rubber foam that prevents slippage and promotes comfortable grips that could make the user train longer.
There are EKG heart rate sensors embedded on the handlebar which provide accurate pulse rate data when held during a workout.
The Pedals
The pedals on the Nautilus U614 Upright Bike are standard with anti-skid foot pads and adjustable safety straps. They are designed to accommodate barefoot or standard gym shoes providing optimal knee and feet alignment and safety.
Nautilus manufactures only one type of pedal for the Nautilus U614 Upright Bike and recommends not to switch them for another set of pedals.
The pedals are bidirectional; meaning, one can pedal in reverse, however, without tension.
The Drive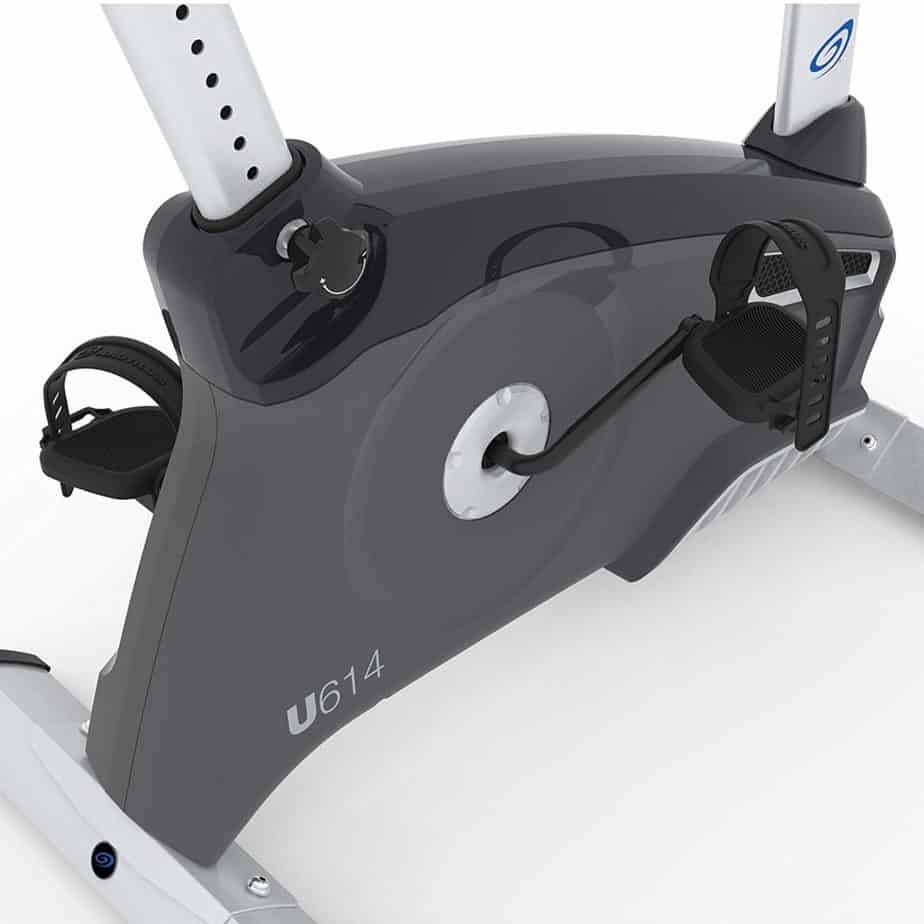 The Nautilus U614 is equipped with a belt drive system that provides smooth and quiet operation. Its operation is environmental-friendly; the family or the neighbors won't be disturbed or bothered when the bike is being used.
A user will be able to watch a TV show while working out without having to amp. up the volume beyond the normal range.
The belt drive system is also maintenance-free, no post lubrication or adjustment is required.
It (belt drive system) consists of a durable belt, solid crankset and crank-arms, a small perimeter weighted flywheel, and pedals. Together, these elements provide formidable performance that also supports a stand-up pedaling by a user that is within the stipulated weight capacity.
The Resistance
The Nautilus U614 Upright Bike is integrated with an electromagnetic eddy current resistance system. This has 20 resistance levels that could be either adjusted via the console or automatically assigned when a certain program is selected.
This also means that the resistance system and the monitor only work when the bike is plugged into a power source. However, the bike can still be used if not plugged in but the resistance will be at the lowest level without the ability to increase it and the monitor will also be non-functional.
The resistance levels available are suitable for beginners, intermediaries, advanced users, and those undergoing physiotherapy.
In other words, users that wish to improve and maintain overall physical fitness, lose weight or recover from an injury will appreciate the resistance intensity levels.
The Console
The console on the Nautilus U614 Upright Bike has quite a handful of advanced features that provide convenience and assist in achieving fitness goals.
First of all, the console features DualTrack LCD monitors, 22 workout programs that include 9 profiles, 8 heart rates, 2 fitness test, 2 custom, and 1 quick-start. The console also has a goal track capability that enables a user to set individual exercise goals, which serves as a motivating factor toward realizing fitness goals.
The monitor tracks time, distance traveled (miles/km), speed, RPM, calories burned, and heart rate.
As aforementioned, the resistance can only be controlled via the console or by automatically assigned when a program is engaged. Thus, there are 4 gradual resistance buttons that enable the user to adjust the resistance by a small increment and there are 10 quick resistance buttons that make it possible for a user to increase the resistance intensity drastically from low to high.
There are 2 user profiles available that allow two different users to store settings and goals differently. This means you don't have to go through the process of re-adjusting the settings and goals when someone else uses the bike.
All data are saved even when the bike is unplugged from the wall socket; this is possible because the console has an internal battery.
Accessory
One other interesting feature is the USB media charging port. This allows you to connect a USB drive to save your last workout data and upload it to MyFitnessPal where it can be analyzed and tracked in order for you to know your progress.
There is also a jack on the console that allows the user to connect any smartphone/tablet or an MP3 player in order to listen to music via the acoustic chamber speakers without having to use the earphone that would probably be more inconvenient.
A tablet holder is incorporated into the console, designed to hold a smartphone device so that calls can be taken and a movie can be streamed and watched while working out. Also, a 3-speed fan is available to cool off the user during extreme heat conditions.
Then, the last but not least, the bike has a water bottle holder on the console post and is within reach of the user for keeping water handy for hydration.
The Approval Rating
We have seen a positive approval rating for the Nautilus U614 Upright Bike on Amazon and other retail and review sites. This only confirms the fact that the bike is highly recommendable.
Pros/Features Overview
It's very sturdy and durable
It supports a high user weight capacity of 300 pounds/136 kg
It's a small footprint, thus, it doesn't take up space
Portable with transport wheels
Customizable; users of different heights can utilize the bike
The bike has 20 eddy-current resistance levels that are essentially suitable for everyone at any fitness level
There are 2 user profiles available for 2 different users to store their settings and goals
3-speed fan available for cooling off
There are 22 built-in programs
The LCD monitor has two windows that track multiple data at once including heart rate
A water bottle holder is included
Acoustic speakers are included
A tablet holder is included
The handlebar is ergonomically designed with multiple grips
The operation is smooth and quiet
It has got a step-thru design that enables users to mount and dismount the bike easily
Low-maintenance
Not difficult to assemble
Cons
It doesn't function 100% when not plugged into a power outlet
The displays are not backlit
The seat is not comfortable but could be used with a gel seat cover
Warranty
10 Years on the Frame
2 Years on the Mechanical Parts
1 Year on the electronics
90 Days for Labor
Product Dimensions and Specifications
Length 42''
Width 22''
Height 58''
Weight: 59 pounds/27 kg
User weight capacity: 300 pounds/136 kg
Resistance: Electromagnetic Eddy-Current resistance system with 20 levels
Drive: Belt
User's height: 4'10'' to 6'5''
Console: Non-backlit DualTrack LCD monitor,
Programs: 22
Bluetooth: No
USB port: Yes
Fan: 3-speed
Speakers: Yes
Heart rate monitoring: Contact sensors
Seat: 2-way adjustable
Handlebar: Non-adjustable, multi-grip designed with EKG pulse sensors
Shipping
The Nautilus U614 Upright Bike is shipped in a box that weighs 76 pounds/34 kg. Amazon provides free shipping and makes delivery in a couple of days.
Assembly
The bike is easy to assemble as the difficult parts are already preassembled.
Moreover, the bike is accompanied by a detailed instruction manual that explains how to assemble it, and the tools needed for the job are also included in the package.
Maintenance
Basically, no serious maintenance is needed as it comes with a belt drive system and has an electromagnetic resistance system.
So, you only need to keep the bike clean from dirt and sweat. Make sure to keep the console away from moisture. Finally, make sure to always examine the bike for any loose or broken parts before using it. This may prevent an accident and further damage to the bike.
Conclusion
The Nautilus U614 Upright Bike is a recommendable indoor bike that stands out from its contemporaries. It is very durable, sturdy, stable, and has way more features than most upright bikes in the same category.
Indeed, it has a couple of downsides, but they are not near enough to break a deal.
Nautilus U614 Upright Bike Review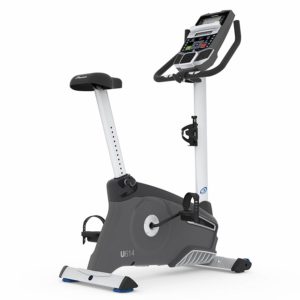 The Nautilus U614 Upright Bike is affordable and well-built with a lot of options and capabilities. Considering its price tag, it will suffice to say that Nautilus did a very good job at manufacturing a sturdy
Product Brand: Nautilus
Product In-Stock: InStock