The RUNOW Oak Wood Water Rowing Machine is one of several wooden rowers we have reviewed. It is a different brand that also offers full-body and low-impact aerobics exercises.
Asides from its health benefits, it offers a realistic simulation of real outdoor boating; thus, providing the experience of what it is like to row on a lake right in the comfort of your home.
To have a peek at the best price of the RUNOW Oak Wood Water Rowing Machine on Amazon click right here.
The Frame & Construction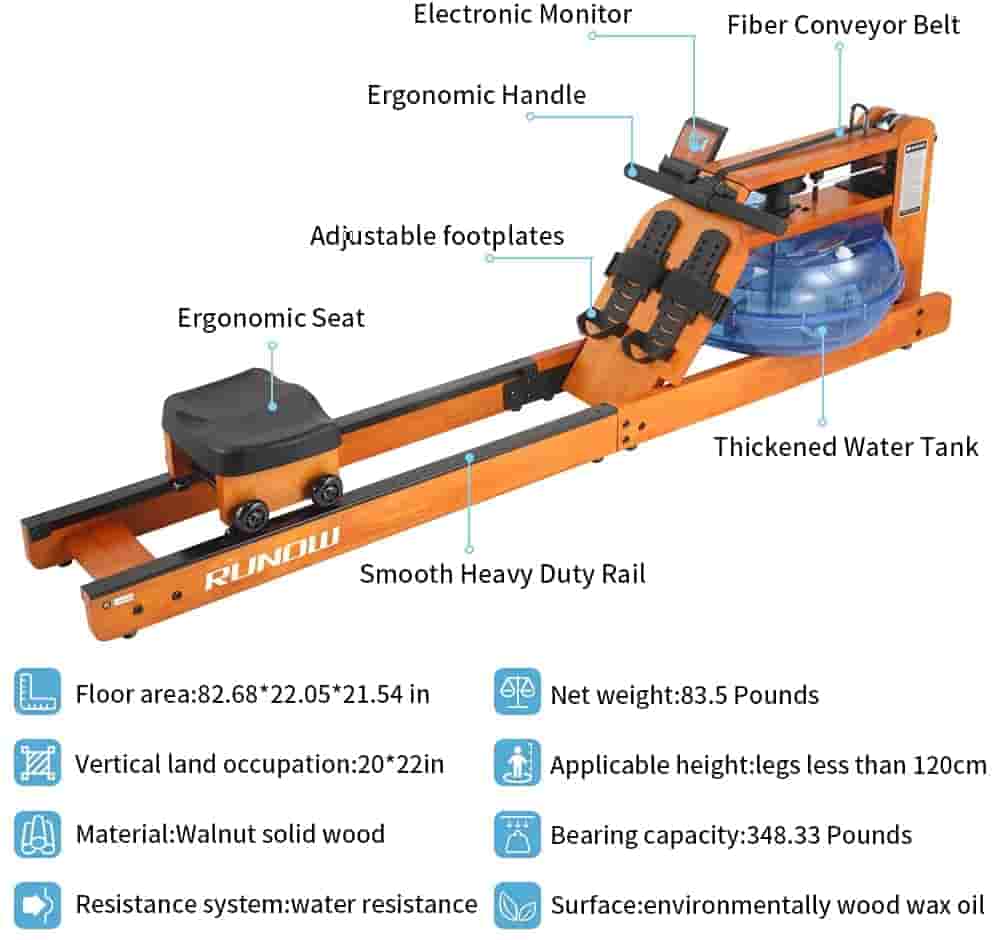 The construction of the RUNOW Oak Wood Water Rowing Machine consists of an Oak Wood frame (just like Mr. Rodulf Water Rower), rubber plastic, and polycarbonate water tank.
The frame is coated with an eco-friendly paint that preserves it for longevity no matter the atmospheric and environmental conditions.
It allows a maximum user weight capacity of 348.33 lbs./158 kg.
The base features 8 little rubber pads for floor-friendliness and stability.
The rowing machine will require a significant workout area because the overall assembled dimensions are 82.68'' long by 21.54'' wide by 22.05'' high. In other words, it needs a workout area with a measurement of 6'89'' (210 cm) length by 1'79'' (54.71 cm) width.
Also, extra clearance of 2′ will be needed around it so that you can safely and conveniently work out.
However, it doesn't require much space when it comes to storage because it could be stored vertically and the water in the tank won't leak; transporting it around the room or apartment won't be a problem either because there are transport wheels at the front base.
The Seat of the RUNOW Oak Wood Water Rowing Machine
The seat of the RUNOW Oak Wood Water Rowing Machine is said to be humanized. What this means is that it is ergonomically designed to fit the butt for optimum comfort. Its contour includes a tail recess that fits the tail vertebrae. Thus, eliminating the soreness that could ensue as a result of sitting for a long time.
Although, a gel seat cover could be used to enhance it further if you feel the need.
The seat installation comprises several durable premium ball bearings that roll on padded rails for smooth and quiet motion, and it fits users of different heights.
The Handlebar
The handlebar is comfortable; hence, you won't need a pair of gloves because it is padded with soft anti-slip rubber foam.
It is attached to a high-quality fiber conveyor belt that anchors to double pulleys and the recoil system for a smooth pulling feel.
The Footrests
The footrests are large with adjustable Velcro straps and heel guards for stable and comfortable feet placement. Therefore, different foot sizes are bound to be accommodated.
Since the legs are slightly engaged more than any part of the body's muscle groups, the footrests are attached to this 45-degree wooden platform for aggressive and forceful thrust. This gives you the leverage to work out properly and efficiently for maximum results.
The Resistance System
One of the selling points of a good water rowing machine is the resistance system. They have what is called a dynamic resistance system that provides unlimited resistance levels.
In other words, there are enough resistance levels to go round for beginners, intermediaries, advanced athletes, and even those recovering from an injury.
How this works is that the resistance is produced based on your rowing ability. Simply put, resistance becomes intense when your strokes are faster, and it lessens when you go slow.
So, the resistance can become challenging based on how you wish to push it.
However, the water level in the tank can also increase or decrease the resistance experience.
The RUNOW Oak Wood Water Rowing Machine resistance system consists of a water tank that is made of durable thick plastic that contains 6 stainless steel blades. The blades are durable than the plastic ones.
This rowing machine not only provides a challenging workout but also emits a soothing swooshing splashing sound as you exercise, and the noise won't prevent you from watching a TV show during a workout.
It is easy to fill and remove water from the tank as a siphon pump is included in the package.
The Console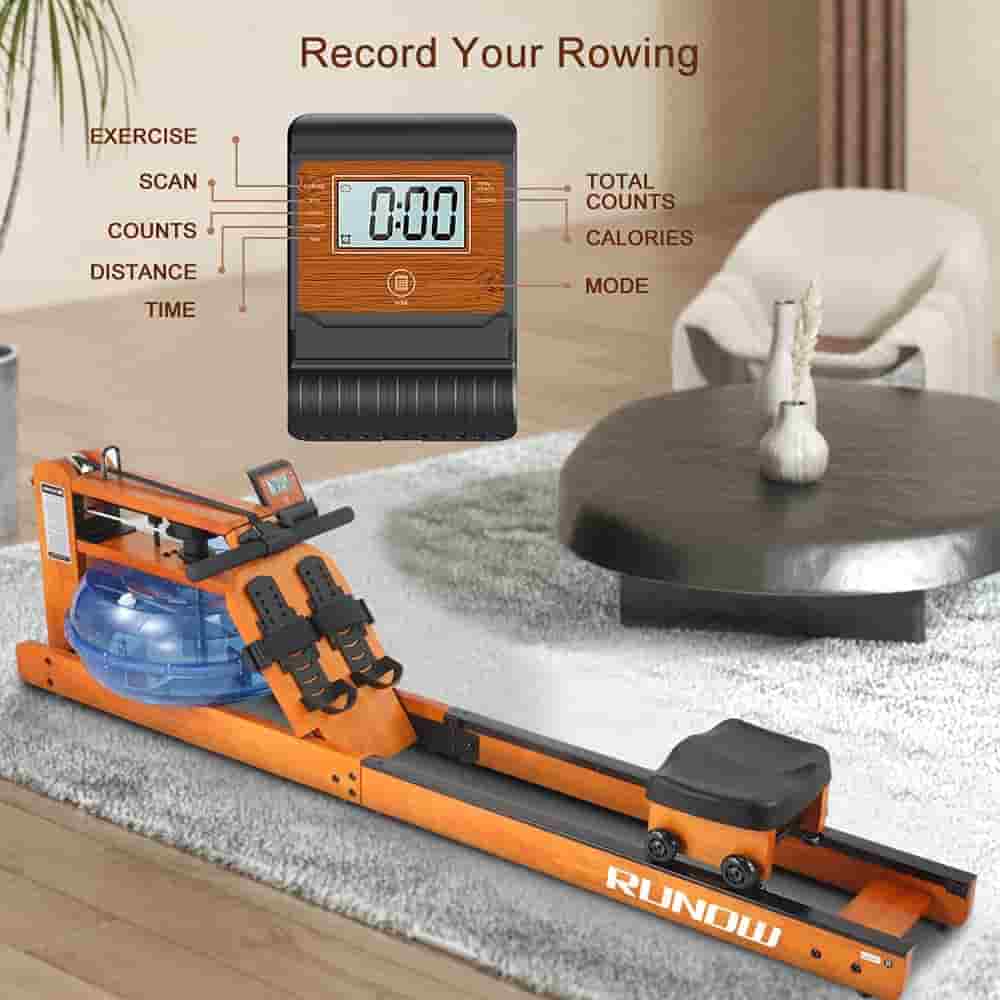 The unit is equipped with a mini and basic LCD monitor that tracks workout stats such as Time, Count Per Minute, Count, and Calories.
Since this is a basic and old-fashioned LCD monitor, the metrics can't be displayed simultaneously. Thus, a SCAN function displays and switches the workout stats one at a time after every few seconds. Although, you can set a preferred workout value to display constantly if you want.
The monitor is positioned on the left side and above the water tank for a clear view. But it has to be viewed in a well-lit environment for clarity because it does not have a backlight.
2 AA batteries are needed to power the monitor.
Storage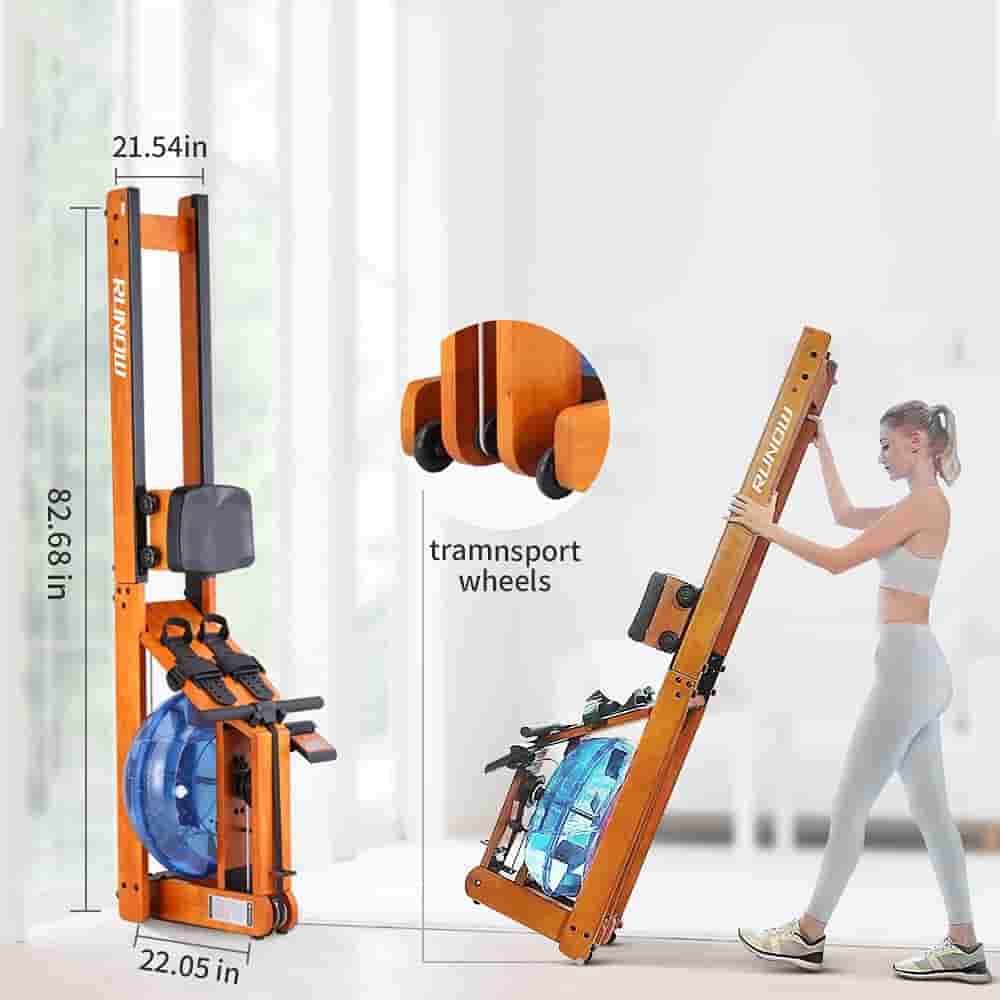 In most cases, storage is a determining factor when people consider purchasing a rowing machine. After all, what's the point if you don't have a space for putting it away safely when not in use.
Thankfully, the storage of the RUNOW Oak Wood Water Rowing Machine won't be a problem even though it is sizable and unfoldable because it can be stored uprightly without leakage from the tank.
If it does leak, then, there is a problem, thus, contact the seller.
Also, there are front-mounted transport wheels that help with the relocation process. So, you can easily move it to and from storage even though it weighs 83.5 lbs./37.87 kg,
Pros/Features Overview
Strong Oak wood Frame with eco-friendly finish
Supports a maximum user weight capacity of 348.33 lbs./158 kg
Users as tall as 6'5'' can be accommodated
Its operation is smooth, and it provides a calming splashing sound
It could be stored uprightly, as a result, saves space
The seat is ergonomically designed with contoured surface for the glutes and the tail vertebrae
There are premium ball bearings that are durable and also ensure smooth transition of the seat
The water resistance system is unbeatable and challenging regardless of the user's fitness level
Though the LCD monitor is basic, but it provides workout stats such as Time, Count, Count Per Minute (CPM), and Calories
This is a full body and low impact cardiovascular exercise machine that impacts over 85% of the body
The pedals are larges with adjustable straps and heel guards for steady and comfortable foot placement
The handlebar is coated with anti-slip soft rubber foam that prevents slippage and calluses, and instead promotes firm and comfortable grips
Transport wheels are integrated for easy relocation process
Assembling is easy and straightforward
Maintenance is not difficult
A siphon pump is included
Cons
The LCD monitor is basic, nonbacklit, and the metrics are not accurate
The machine needs a bit of space for workouts
Warranty
Product Dimensions & Specifications
Length: 82.68''
Width: 21.54''
Height: 22.05''
Shipping Dimensions: 45.25'' L x 24.5'' W x 23'' H
Net weight: 83.5 lbs./37.87 kg
Gross weight: 108 lbs./48.98 kg
Maximum user weight capacity: 348.33 lbs./158 kg
Maximum supported user height: 6'5''
Seat: 3D designed
Handlebar: Padded
Footrests: Large with adjustable safety straps and heel guards
Resistance: Water
Monitor: Basic LCD
Frame: Oak Wood
Transport wheels: Yes
Siphon pump: Yes
Shipping
As opposed to some water rowing machines that are shipped in 2 different boxes, the RUNOW Oak Wood Water Rowing Machine ships in one.
The dimensions are 45.25'' long by 24.5'' wide by 23'' high, and it weighs 108 lbs./48.98 kg.
Assembly
The assembly is easy because there are only a few parts to be attached upon delivery. This process takes at most, 30 minutes or even less to accomplish.
Allen wrench and an instruction manual are included for smooth assembly.
Maintenance
Usually, no serious maintenance is needed. Just make sure it is kept clean after every workout session. Store it in a clean, dry, and cool environment.
If it is not going to be used for a long time, it is recommended to empty the water tank and do change the water after 3 months of usage.
Conclusion
The RUNOW Oak Wood Water Rowing Machine is built to guarantee effective cardiovascular workouts at home.
Of course, it has its downsides, but its overall build, performance, and features outweigh whatever cons it may have.
RUNOW Oak Wood Water Rowing Machine Review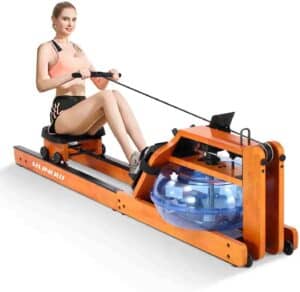 The RUNOW Oak Wood Water Rowing Machine is one of several wooden rowers we have reviewed. It is a different brand that also offers full-body and low-impact aerobics exercises.
Product Brand: RUNOW
Product In-Stock: InStock