The YOSUDA L-007A Exercise Indoor Cycling Bike is the revamped and upgraded version of the YOSUDA L-007 Cycling bike.
Ironically, it looks like a Greyhound, while the latter looks like a German Shephard.
However, don't let its appearance fool you because it is indeed upgraded with a thicker steel frame and thus, supports a higher maximum user weight capacity.
Also, it possesses a better console that features an LCD monitor with segmented display windows.
Click right here to see the best price of the YOSUDA L-007A Exercise Indoor Cycling Bike.
The Frame & Construction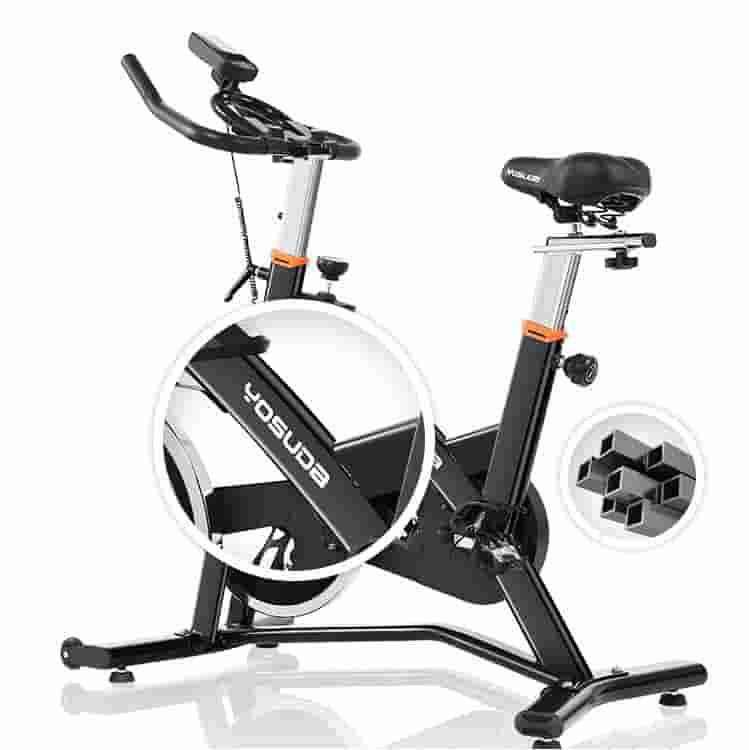 As aforementioned, the YOSUDA L-007A Exercise Indoor Cycling Bike's steel frame is thickened to support a maximum user weight capacity of 330 lbs./149.6 kg; and it is coated with anti-rust paint that keeps its quality intact against environmental degradation.
It possesses durable ABS parts that cover the felt brake pad and the drive-train. Although, they are not as bold and stylish as those on the preceding model.
The base design integrates 4 adjustable levelers; this does not only guarantee stability on even surfaces but also on those that are crooked because you will be able to adjust the levelers accordingly for stable workouts.
However, placing the bike on a rubberized protective mat is an advantage as it prevents the bike from potentially sliding during a workout.
The bike is maneuverable even though it weighs 72.75 lbs./33 kg. In other words, you will be able to conveniently move the bike around the room with ease.
This is a not-so-large indoor cycling bike that is few inches less than the Sunny Health Fitness SF-B1711 AeroPro; hence, it won't require too much space.
The assembled dimensions are 44.5'' long by 21.7'' wide by 50'' high. Thus, a workout area with a measurement of 3'7'' (113.03 cm) length by 1'8'' (55.11 cm) width will be required. Also, consider extra clearance of 2' around it for safety and convenience.
The Seat of the YOSUDA L-007A Exercise Indoor Cycling Bike
The seat on this cycling bike is larger and thicker than the traditional saddles often found on a road bike.
The dimensions are 10'' long by 7'' wide by 3'' high (meaning it is padded with generous soft foam). It also has a groove on the middle of the surface for air breathability that promotes maximum comfort.
Moreover, the seat is 4-way adjustable; can be adjusted vertically (upward/downward) and horizontally (fore/aft). Thus, users of different heights, especially 5' to 6'4'' tall individuals will be accommodated.
However, it is best to confirm that your inseam falls between 29'' to 36'' for a perfect fit.
Adjusting the seat is not difficult and doesn't take a minute. There are markers on the post that help you to quickly adjust it in the event someone alters your setting.
The Handlebar
The handlebar is ergonomically designed with multiple grips for different workout postures. Essentially, it offers standard, racing, and climbing grips.
It is coated with soft rubber foam to prevent slippage or calluses, and instead promote consistent comfort and safety.
It is 2-way adjustable; meaning, you can adjust it vertically between 45.3'' to 50''.
That being said, there are no heart rate sensors integrated into the handlebar. As a result, no heart rate monitoring capability unless you use an external HR device such as a wristwatch.
The Pedals.
The YOSUDA L-007A Exercise Indoor Cycling Bike features a set of toe caged pedals that are self-leveling.
They are ideal for standard gym shoes and can secure the feet regardless of how hard you cycle. They are also durable because they are made of solid plastic and metallic alloy.
Also, you can safely perform a stand-up pedaling (climbing ride) if you want.
If you wish to swap them for SPD pedals (so that you can use special spin shoes) you can because the thread is 9/16'', and they are widely available.
The Drive
This is a belt-driven bike; meaning the drive system consists of a durable anti-stretch belt with multiple grooves for steady and firm motion. Other elements include a pulley, a 3-piece crankset, strong crank-arms, and the 40 lbs./18.14 kg high inertia flywheel.
The belt drive system provides smooth and quiet operation and requires no periodic maintenance.
In other words, working out with the bike won't constitute a disturbance to those around you, whether at home or in the office. You will be able to exercise at any time of the day and as long as you wish.
Also, the heavy flywheel provides consistent momentum that creates the feel of riding a road bicycle.
The drive system is bidirectional because the flywheel continues to spin as long as the pedals do. Therefore, you can pedal in reverse to tone more muscle groups, but you can't coast on the bike as you could on a traditional road bicycle.
As a matter of safety, it is recommended that you apply the emergency brake by pushing down the tension knob whenever you want to stop pedaling since you can't coast and the flywheel is considerably heavy.
The Resistance
The YOSUDA L-007A Exercise Indoor Cycling Bike is equipped with a friction resistance system. This comprises a wool felt brake pad that is connected to the tension control Knob.
So, when adjusted, the felt brake pad rubs on the top surface of the chromed flywheel to generate resistance. The tighter the felt brake pad is to the flywheel the more difficult the resistance becomes, otherwise, the resistance becomes less and weak.
Now, the good side of this type of resistance system is that it provides unlimited micro resistance levels that are suitable for everyone, regardless of their fitness level. In other words, beginners, intermediaries, advanced athletes, and the elderly will be impressed by it.
But the downside of it is that there may be a squealing sound (not always) as the friction between the felt brake and the flywheel becomes dry.
Nevertheless, the application of silicon-based oil on the felt brake pad makes the sound go away, and this also slows the rate at which the felt brake wears out.
To increase or decrease the resistance level, simply turn the tension knob clockwise or counterclockwise, respectively.
The Console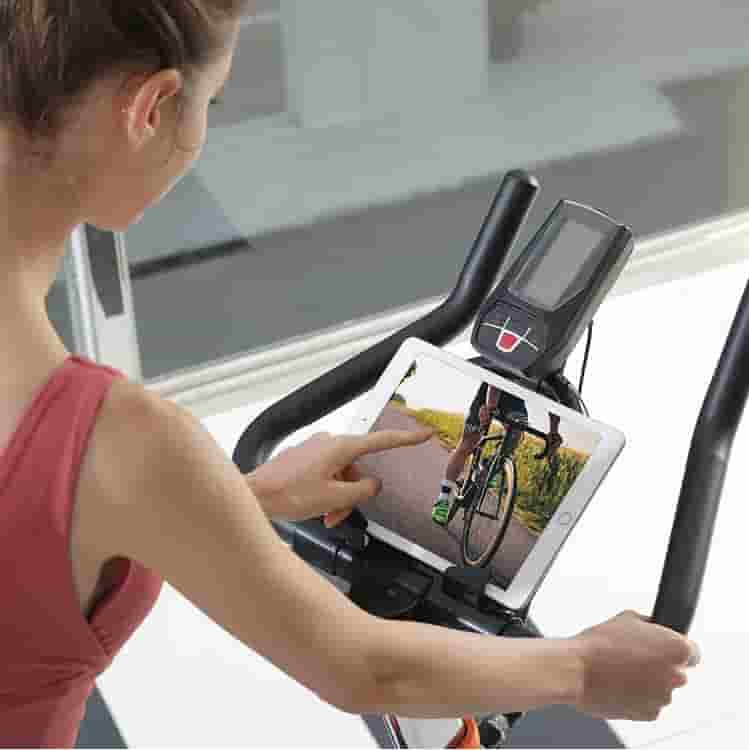 The YOSUDA L-007A Exercise Indoor Cycling Bike integrates an average console that features an LCD monitor with segmented display windows. This means workout metrics such as Time, Distance, Speed, RPM, and Calories are displayed simultaneously.
It is easy to read because the numbers are bold and clear; however, when viewed in an environment that does not have good lighting it may be difficult to discern.
The console does offer the opportunity to set a goal for Time, Distance, or Calories for the motivational purpose of actualizing your goals.
There are 3 navigation buttons that are easy to use, and they include the Set, Mode, and Reset keys.
The console, or rather the LCD monitor is powered by batteries. So, it shuts down automatically if the bike is idle for 4 minutes to save the batteries' power, and it also turns on when activity resumes, or when the Mode button is pushed.
That said, the console is not telemetric, neither do the handlebars have HR sensors. Thus, you will not be able to track the pulse rate unless you use an external device.
Accessory
The YOSUDA L-007A comes with tablet and water bottle holders for entertainment and maintenance of proper hydration purposes.
The tablet holder's dimensions are 15'' by 7.8''; large enough to hold most sizes of tablets or iPad.
They are both strategically positioned for easy reach and a better view.
Storage
This indoor cycling bike is not foldable; however, it is not too bulky to overwhelm your space.
A storage area with a measurement of 3'7'' (113.03 cm) length by 1'8'' (55.11 cm) width will just be fine.
Also, it integrates transport wheels at the front base for an easy relocation process, especially around the room or apartment.
Approval Rating
The YOSUDA L-007A Exercise Indoor Cycling Bike has a positive approval rating across many review and eCommerce websites.
Interestingly, the reviews were written by real users who felt that they got the value for their money.
Pros/Features Overview
It possesses an upgraded thickened steel frame
Supports a maximum user weight capacity of 330 lbs./149.6 kg
Its operation is smooth and quiet; thus, can conveniently be used at home or in the office
The heavy perimeter weighted flywheel provides great momentum that mimics outdoor bike performance
The friction resistance system with micro adjustability offers easy to extreme difficult resistance levels suitable for everyone
It offers cardiovascular workouts for weight loss, improvement of lungs and heart health, and overall physical well-being
Its micro adjustability allows users between the heights of 5'-6'4'' tall to be accommodated (supports 29''-36''inseams)
The seat is better designed and comforable than the standard bicycle seat
The handlebar has anti-slip soft rubber foam, and it offers multiple grips for standard, climbing, and race ride
The pedals are toe caged; very secure and comfortable
The LCD monitor tracks workout stats such as Time, Distance, Speed, RPM, and Calories all at once
It is possible to set goal (countdown) for Time, Distance, or Calories
It is manually operable; no need for electricity
Easy to assemble
The maintenance requirement is very minimal
A water bottle holder included
A tablet holder is included
Cons
The LCD monitor doesn't have a backlight
No heart rate monitoring function
Warranty
Product Dimensions & Specifications
Length: 44.5''
Width: 21.7''
Height: 50''
Shipping dimensions: 39'' L x 34'' W x 10'' H
Net weight: 72.75 lbs./33 kg
Gross weight: 84.9 lbs./38.51 kg
Maximum user weight capacity: 330 lbs./149.6 kg
Inseam heights supported: 29'' to 36''
Flywheel weight: 40 lbs./18.14 kg
Drive: Belt
Resistance: Friction
Seat: 4-way adjustable
Handlebar: 2-way adjustable
Pedals: Toe cages with adjustable straps
Monitor: LCD
Transport wheels: Yes
Water bottle holder: Yes
Tablet holder: Yes
Shipping
The YOSUDA L-007A Indoor Cycling Bike is shipped out in a box that weighs 84.9 lbs./38.51 kg with dimensions of 39'' long by 34'' wide by 10'' high.
Delivery is made in a couple of days, and how quickly it gets there depends on where it is being shipped to.
Assembly
Assembling this bike is not complicated nor difficult. It is straightforward to carry out.
What is required to be assembled include the stabilizers, the seat & the post, the handlebar & the post, the pedals, and the console.
The assembly takes about 30 minutes to accomplish.
Maintenance
There is no much that is expected of you in terms of maintenance but just the basics. That is to always keep it clean after every workout, examine it before using it to ensure that all the parts are tight and in good condition.
Apply silicon-based oil on the felt brake pad if there is any squeaking sound when the resistance is engaged.
Conclusion
The YOSUDA L-007A Exercise Indoor Cycling Bike is a recommendable home gym bike especially for those on a budget.
It supports a maximum user weight capacity of 330 lbs./149.6 kg and allows users that are between the heights of 5' to 6'4'' to fit in. Thus, members of the family can take turns exercising with it.