The YOSUDA 100 Magnetic Rower is one of those rowing machines that were built to be inclusive in terms of who can utilize them. The reason is that it has premium heavy-duty commercial-grade steel with a lengthy rail.
In other words, most heavy and taller individuals can be accommodated, which means the likelihood of the entire family exercising with one machine is viable.  
Aside from that, its operation is smooth and quiet thanks to its magnetic resistance system that also provides 8 adjustable levels for a variety of workout challenges.
If you have a minute, I will take a closer look at every part of the YOSUDA 100 Magnetic Rower as we usually do.
In the meantime, if you wish to have a peek at the best price of this machine, click right here.
The Frame & Construction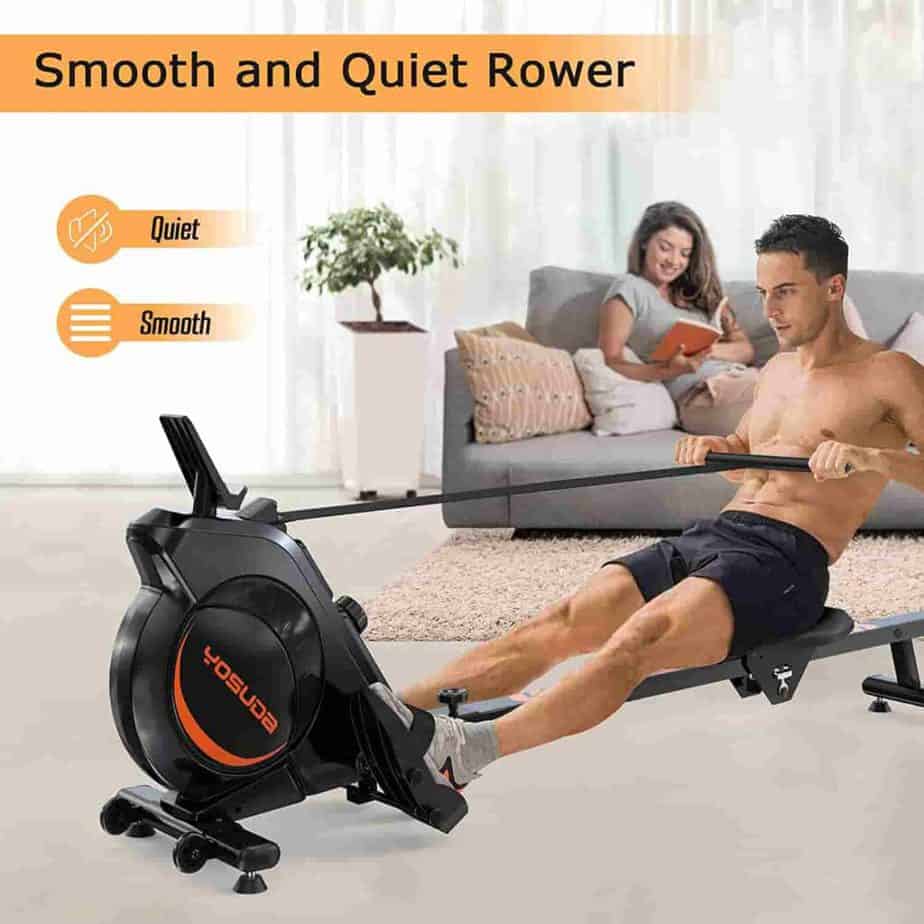 Regardless of being a non-commercial rowing machine, the YOSUDA 100 Magnetic Rower has a solid and durable steel frame that is coated with anti-corrosive black paint. The drive/resistance system covers are of course made of ABS material.
So, it is elegant and supports a maximum user weight capacity of 350 lbs./158.7 kg.
The rowing machine integrates a slightly slanted rail that enables quick motion recovery and puts a little bit of resistance to the legs for better muscle toning.
When you take a look at the base, you will see stabilizers that also have adjustable levelers for optimum stability. These stabilizers are flexible in the sense that users will be able to adjust them accordingly to maintain stability regardless of whether or not the workout surface is even.
The assembled dimensions are 74.8'' long by 19.3'' wide by 27.6'' high. In other words, to be able to utilize this rowing machine for workouts, you need an area with a measurement of 6'23'' (190 cm) length by 1'6'' (49 cm) width, plus, a 2' extra clearance on each side, and the rear for safe and easy access purposes.
Fortunately, it won't require plenty of space when it's time for storage because it is foldable. When folded, the dimensions become 28.7'' long by 19.3'' wide by 51.2'' high.
Thus, a 2'3'' by 1'6'' space area will suffice for storage.
Lastly, the rowing machine weighs less than 70 lbs./31.75 kg, and can easily be moved around the room or apartment via the transport wheels at the front base.
The Seat of the YOSUDA 100 Magnetic Rower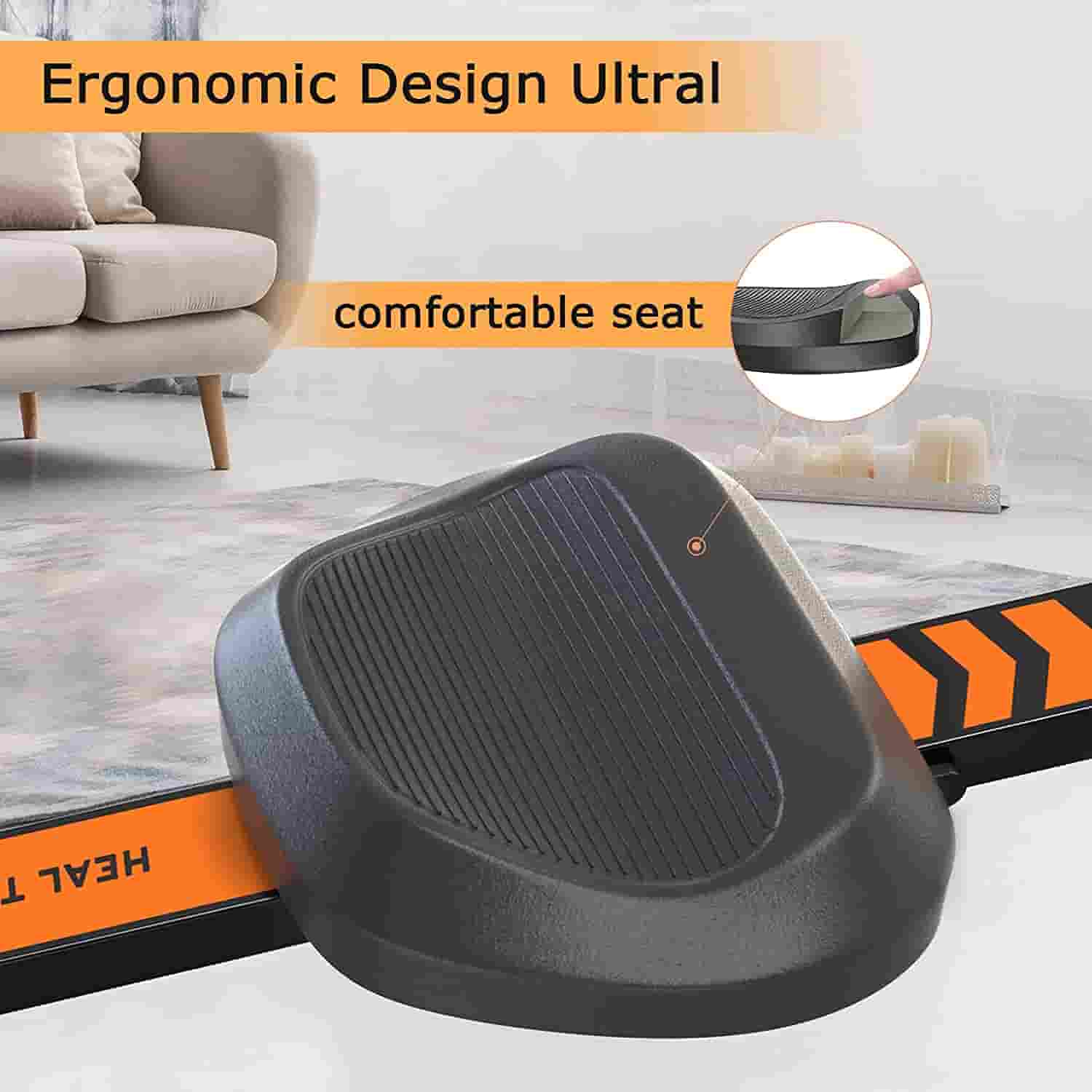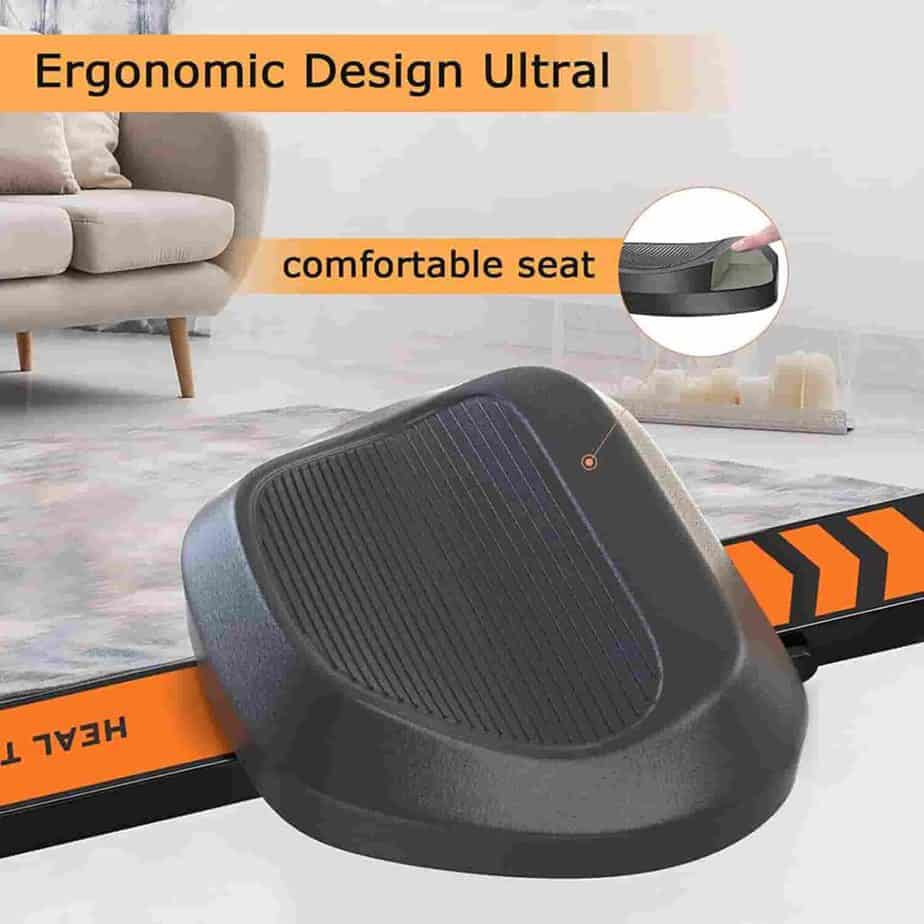 The seat of this rowing machine is pretty similar to the one on the Joroto Rowing Machine. It is contoured, textured, and padded to provide lasting comfort.
It is attached to the 49.2'' long slide rail for smooth and quiet motion, and this also means that users with long inseams can use the machine. For instance, users between the heights of 4'9'' to 6'6'' will fit perfectly.
The Handlebar
The handlebar is 18.5'' long, thus, lengthy enough to suit users of different shoulder-width. It is coated with soft rubber foam to prevent slippage and soreness that may occur during a prolonged workout session.
It has a 1'' nylon strap that is anchored to the drive system attached.
The Footrests
The footrests are large and textured, and they also have heel guards and adjustable safety straps that ensure your feet are saddled up securely and comfortably.
Moreover, they pivot to adhere to movements so that the stress to the ankles is significantly reduced.
Different sizes of feet are most likely to be accommodated without issues.
The Resistance System
This is a magnetic resistance rowing machine. Differently put, it has a magnetic resistance system that consists of a 10 lbs./4.54 kg perimeter weighted flywheel and a magnetic brake pad.
So, it produces up to 8 different resistance levels without a friction effect. What this means is that resistance is generated when magnetic fields are released to create a certain degree of drag depending on the proximity of the magnetic brake pad to the flywheel.
To increase or decrease the resistance level, simply turn the tension knob clockwise or counterclockwise, respectively.
The 1 to 8 resistance levels allow you to warm up, burn calories, improve strength and endurance, tone and strengthen muscle groups.
While you do all that, your kids, family members, and neighbors won't be disturbed by your activities because its operation is smooth and quiet.
Also, no periodic lubrication or part replacement is going to be required.
The Console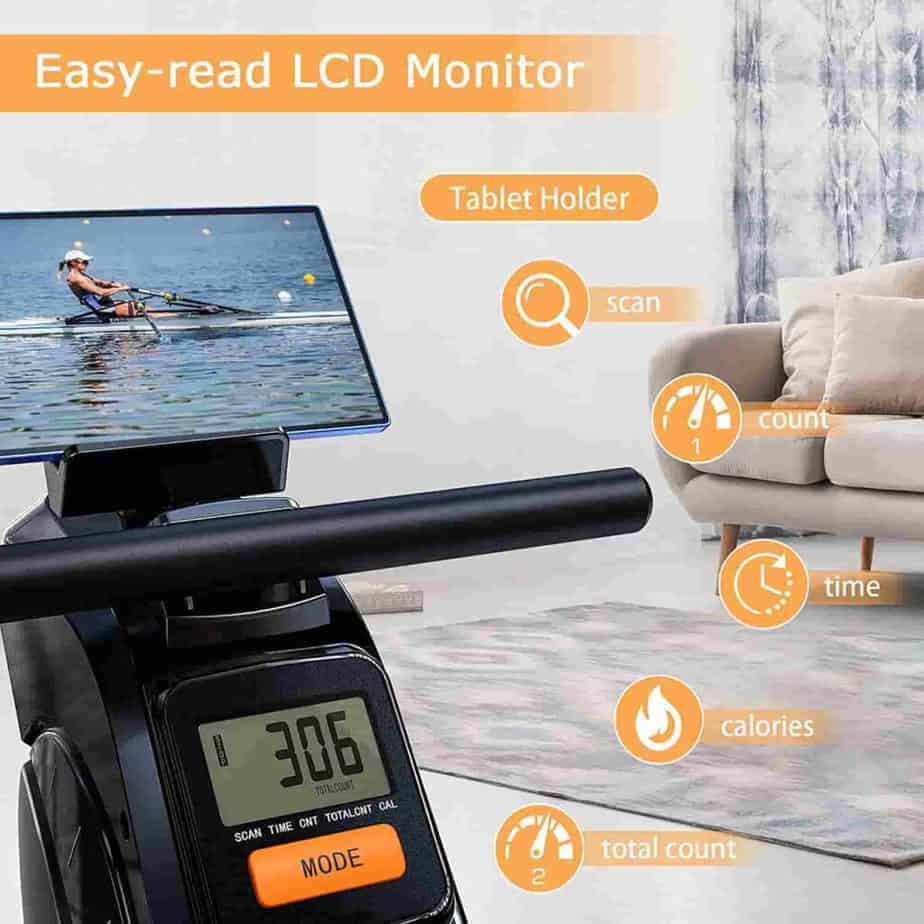 The YOSUDA 100 Magnetic Rower is equipped with a console that is rather basic. But it features a 3.5'' LCD monitor that tracks workout stats such as Time, Count, Total Count, and Calories Burned.
These are displayed one at a time after every few seconds by the SCAN function since the display screen is too small to have all of them shown simultaneously. However, you will be able to read the workout stats without any problem as long as the light in the room is lit enough.
The LCD monitor is fitted on the resistance system's panel and positioned for the best view.
It is powered by batteries, and it turns on when you start rowing or when the Mode button is pushed, and it automatically turns off when the machine is idle for a couple of minutes in order to save or conserve power.
As aforementioned, the console is basic. This means it is a plug-and-play device that does not have preset workout programs, no heart rate functionality, and online connectivity.
It only motivates and gives you a sense of fulfillment as you are able to see how many calories burned and the number of strokes executed within a certain period of time.
Accessory
The unit has a strategically placed tablet holder that won't get in the way of the display screen when a device is placed on it.
Also, it can conveniently and safely accommodate a large tablet device. So, whether you wish to use a smartphone or a tablet for entertainment purposes during a workout session it doesn't matter because it will all be good.
Storage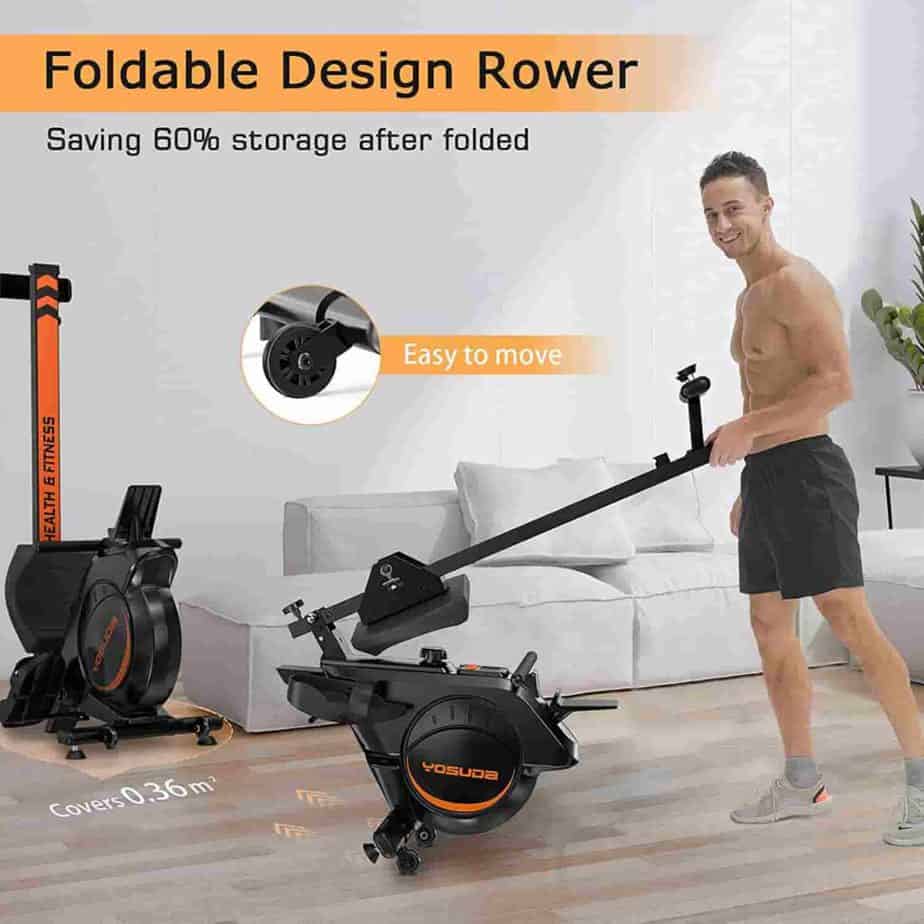 The storage of the YOSUDA 100 Magnetic Rower is easy and convenient because it is foldable and transportable.
When folded, it takes less than half the space it took during a workout session. In other words, a storage space with a measurement of 2'3'' by 1'6'' will be fine.
Once folded, you can easily move it through the transport wheels integrated.
Pros/Features Overview
Possesses a premium commercial-grade steel frame
Supports a higher user weight capacity of 350 lbs./157.6 kg
Users between the heights of 4'9'' to 6'6'' tall can fit
It is stable and provides smooth and quiet operation 
The seat is comfortable and secure due to its contoured, textured, and padded design
The rotary footrests are large and ribbed with heel guards and adjustable safety straps that can securely and comfortably accommodate different foot sizes
The magnetic resistance system provides 8 different workout challenges to enable you to warm up, lose weight, improve strength and endurance, and tone muscle groups 
The machine provides full-body and low-impact aerobics suitable for everyone
An LCD monitor is integrated to display workout stats such as Time, Count, Total Count, and Calories
It is foldable and transportable
It is easy to assemble
No serious maintenance is needed
A tablet holder is included
Cons
The console is basic; it features a small nonbacklit LCD monitor
No water bottle holder
Product Dimensions & Specifications
Length: 74.8''
Width: 19.3''
Height: 27.6''
Folded dimensions: 28.7'' L x 19.3'' W x 51.2'' H
Shipping Dimensions: 47.5'' L x 25.5'' W x 10'' H 
Net weight: <70 lbs./31.75 kg
Gross weight: 70 lbs./31.75 kg
Maximum user weight capacity: 350 lbs./157.6 kg
User heights supported: 4'9'' to 6'6''
Frame: Steel
Flywheel: 10 lbs./4.53 kg
Drive: Nylon strap
Resistance: Manual magnetic with 8 adjustable levels
Seat: Contoured, textured, and padded
Handlebar: 18.5'' long and coated with soft anti-slip rubber foam
Footrests: Rotary, large, and textured
Monitor: Nonbacklit and basic  
Tablet holder: Yes
Water bottle holder: No
Transport wheels: Yes
Shipping
The YOSUDA 100 Magnetic Rower is packaged in a box that weighs 70 lbs./31.75 kg with dimensions of 47.5'' long by 25.5'' wide by 10'' high.
The shipping process commences immediately upon placing an order and delivery is made in a couple of days.
Assembly
The assembling process is not difficult because the heavy lifting has been done by the manufacturer already. In other words, the difficult part of the assembly has been completed, you are only required to attach the slide rail, the seat, the front, and rear stabilizers, and the tablet holder to the core unit.
This probably takes about 30 minutes, more or less to accomplish.
A clear instruction manual and tools are included to help you do this without second-guessing.
Maintenance
As aforementioned, there is no serious maintenance required.
Just as with most simple equipment, you are to keep the rowing machine clean after and before every workout session.
Before using it for a workout try to examine it to ensure that every part is tight and in good condition.
Conclusion
The YOSUDA 100 Magnetic Rower is designed for home use. It is a cost-effective unit that could make your health and fitness journey easy.
It is easy to assemble and use. It does not make any disturbing noise, it engages over 85% of the body and yet does not stress the joints.