The LifeSpan TR1200-DT3 Under Desk Treadmill is the corporate treadmill that makes working and walking possible; the ideal treadmill for those that work long hours in front of a desk and hardly have time to work out indoors or outdoors.
This treadmill is used under the standing desk at work, home, or school so that you can work and walk.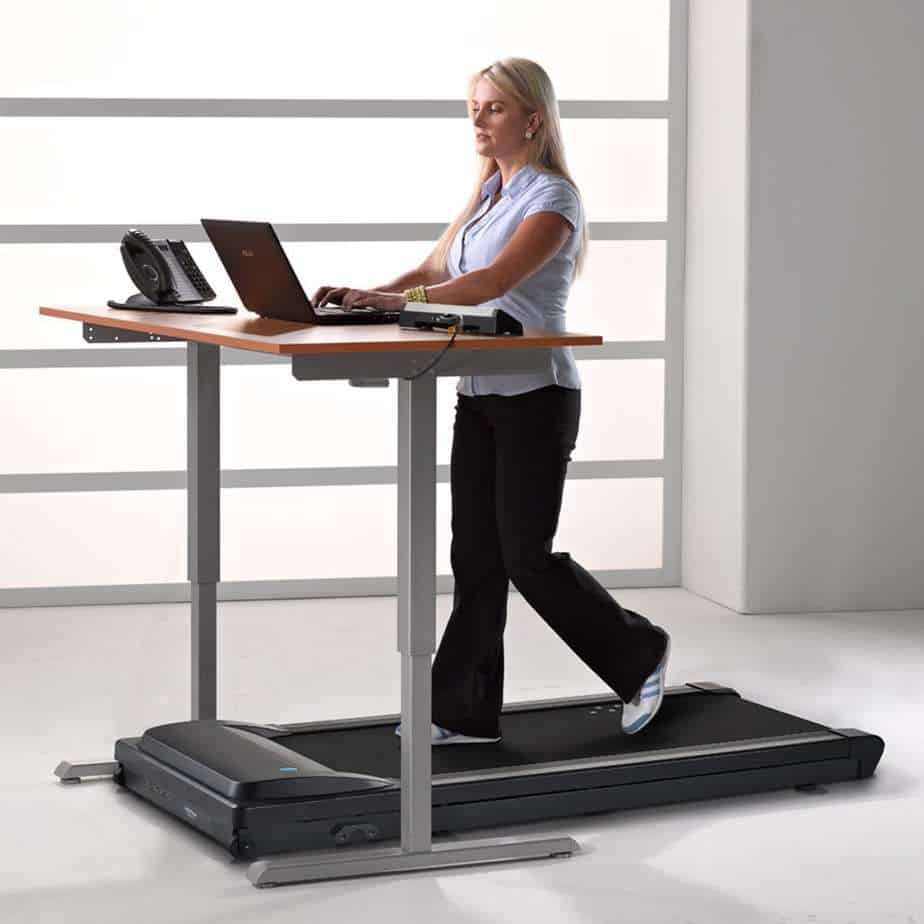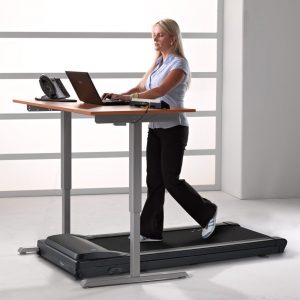 It is not healthy to just sit on a chair all day long, 24/7 in a loop. You can always get under desk treadmill such as the LifeSpan TR1200-DT3 to help you walk while you work.
But before we go into the full review of this unit there are concerns and questions many people have, including you maybe, about the possibility of being able to walk and work at the same time. Some individuals can't just wrap their heads around that idea and thus, they are not sure if they should or should not get one of the under-desk treadmills.
We can understand these concerns because it is unusual to walk on a treadmill while you work on your computer and having to deal with mouse precision and all that.
This is what we are going to address as best as we can so that you can get rid of that skepticism and regain your confidence and do the right thing.
Can you type on a computer while you walk at the same time?
Yes, you can, many people, including those that were once a skeptic, are using the LifeSpan TR1200-DT3 Under Desk Treadmill to walk and type on their computers.
This is possible because while you are walking, your hands are not. They are rested in front of the keyboard and so you should be able to type just as you could when you are not walking.
Can I have total control of the mouse?
This is yet another aspect that is a little bit different from typing because in some cases you may be required to be précised with the mouse control and so you will not need any sort of distraction.
But again, you can have some level of control over the mouse, but in case you need the precision most designers or video game players need then you might want to reduce your walking speed.
Walking at 0.5 mph should be ideal for having that extreme precision when working with a mouse, any speed that is more than that may cause you to have a hard time trying to use the mouse for precision purposes.
How about my energy and concentration while working and walking?
We get it, the belief is that one might get distracted by the walking, hence lose concentration on what he/she is doing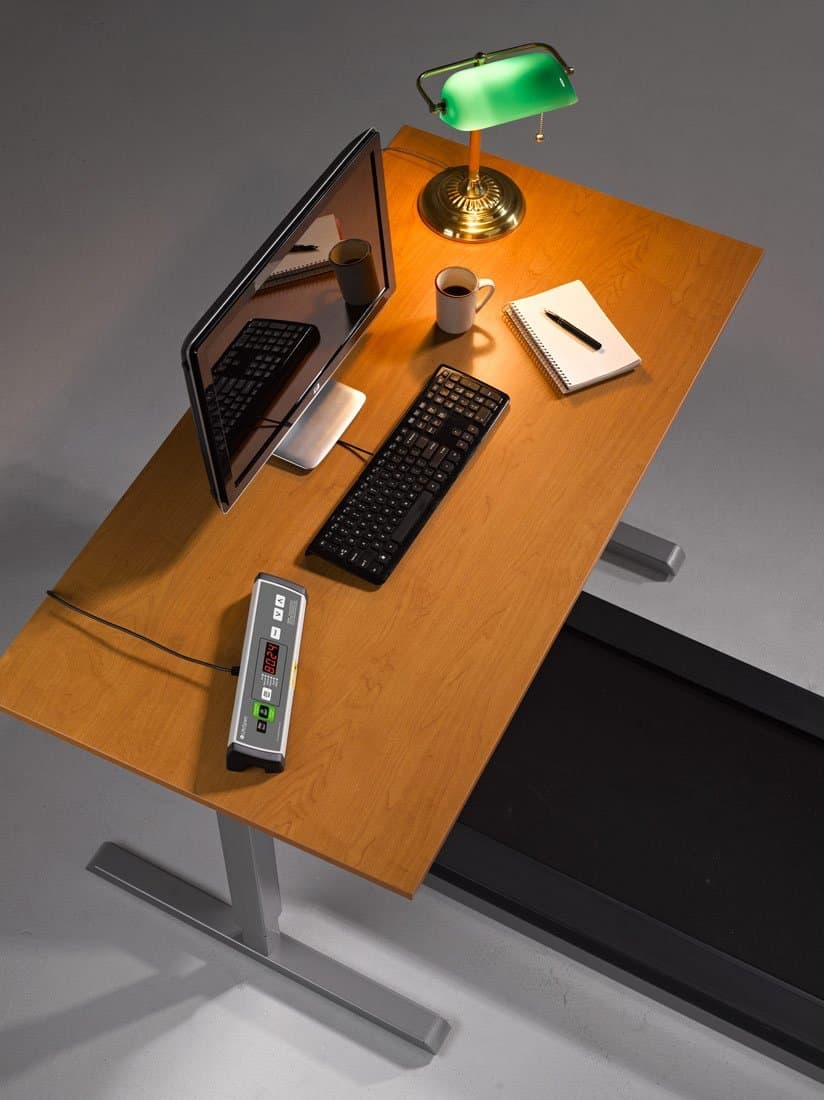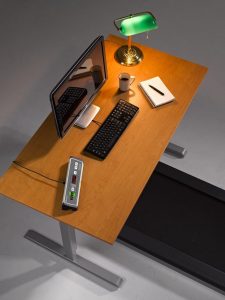 on the computer. And some people also think that you burn a lot more energy while walking and therefore lose the energy that may be required for the work.
On the contrary, if you are going to be walking for 3 to 6 hours in a day is not too much to drain your energy and besides you won't be doing that at a stretch. And as for concentration, you tend to be more alert while walking than when you are sitting. The body is working and as a result, there is adequate blood circulation that gets to the brain and refreshes your concentration.
One user says ''it's amazing how much more alert I feel now than when I used to just sit down all day programming''.
If you wish to see the price of the LifeSpan TR1200-DT3 Under Desk Treadmill, then click right here.
The Frame and Construction
The LifeSpan TR1200-DT3 Under Desk Treadmill comes assembled out of the box, which means it is ready to be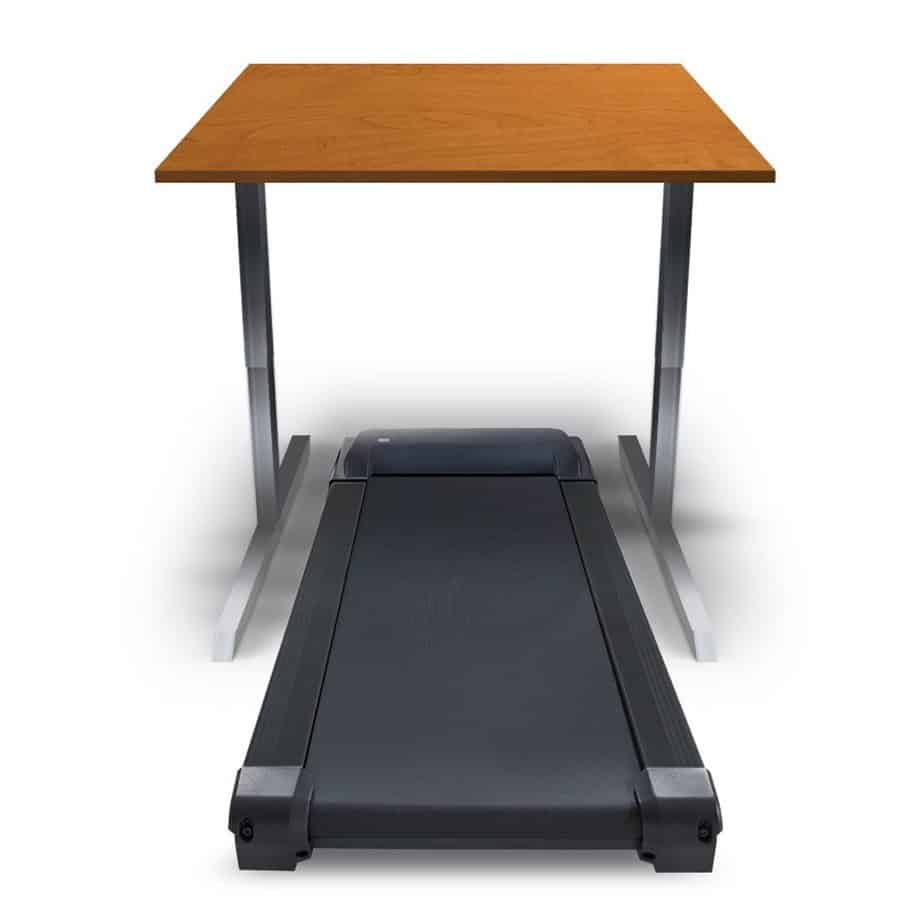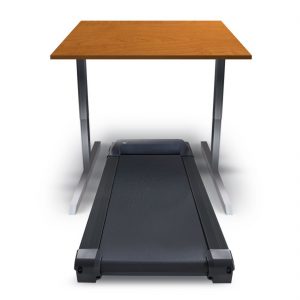 used upon arrival. All you need to do is to get it under the standing desk and connect the console and you are ready to go.
It is compact in design which should fit even in a small space. Its dimensions are 63 inches long by 28.5 inches wide by 7.25 inches tall, in other words, a workout area of 5 feet 3 inches long by 2 feet 4 inches wide.  Although, it is recommended to leave at least 2 feet clearance on each side of the treadmill and 3 feet at the rear for a safe and comfortable experience.
It has an easy step-up height of 4.6 inches (belt), 5.25 inches (side rails) which is great for everyone.
The treadmill belt dimensions are 20 inches wide by 50 inches long which is pretty roomy for walking exercises.  With a deck of that size, taller users can be accommodated comfortably without any restrictions.
It is equipped with a high-quality 2-ply belt that is thick enough to last almost forever. The deck overall built is so solid and sturdy that it supports up to 350 pounds/136 kg maximum user weight capacity, while the side rails are finished with non-slip plastic. Its rollers' sizes are, front 2.4 inches and the rear is 2 inches.
The deck is integrated with 6 independent compression shocks that absorb the shocks that occur during walking which reduces the stress that is often felt on the knees, ankles, and the leg. The weight of the deck is 114 pounds/52 kg, this also enhances the stability.
Do not be troubled on how to move the unit because it features transport wheels that make relocation easy.
Motor
The LifeSpan TR1200-DT3 Under Desk Treadmill's motor is a unique 2.25 HP Continuous Duty Motor that is designed to work longer without getting overheat or broken.  It is a finely calibrated motor designed to achieve 2.25 HP at 2400 RPM, which makes it highly efficient and quiet over long hours of use, unlike conventional home treadmills.
Workplace treadmill motors such as this are designed to work for several hours at low intensities, ensuring cool and quiet workout experience. And being that the motor is so quiet, the treadmill belt has markings on it to help you and others around to know when the belt is moving.
It provides a speed range of 0.4 to 4 mph with an incremental possibility of 0.1 mph which some people have expressed their frustration over the need to continue pressing or adjusting the speed button each time they go off the treadmill and the unit shuts down and they have to reset it all over again.
The good news is that this problem has been sorted out, you don't have to reset the speed anytime you go off the treadmill unless you wish to because you can pause the treadmill any time you wish to step out and still come back and continue without any setting change.
Make sure you read your manual carefully for additional information and don't toss it away because you might still need it.
Incline
The LifeSpan TR1200-DT3 Under Desk Treadmill does not have incline integrated into it just like the other traditional walking treadmills because walking at an incline while you work is not a good idea and it is not recommended by ergonomists as this takes your body out of a natural position hence strains your back and joints.
Console
This unit comes with an outstanding console that is small, and portable with dimensions of 12.9 inches wide by 2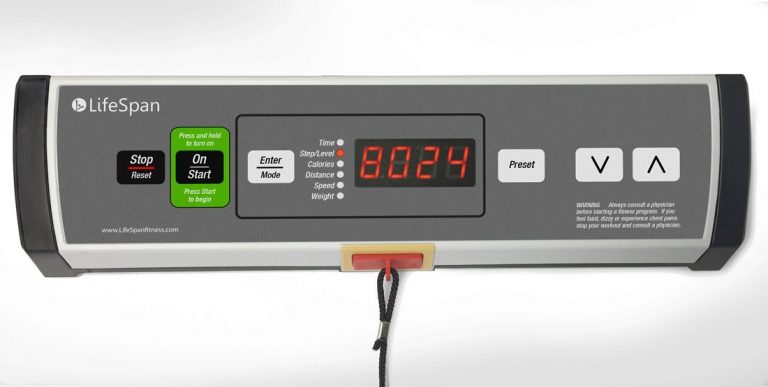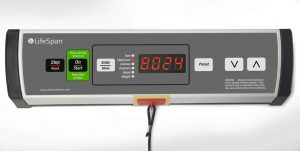 inches long by 3.25 inches tall and weighs 3 pounds. This can easily and discretely be placed on top of your desk without it getting in the way of your work.
The digital LED monitor tracks your workout progress by displaying data such as the steps taken, walking time, calories burned, distance traveled, and walking belt speed.
Through the console, you can silence or turn off the annoying beeps the treadmill often makes each time a task is carried out. You can also set your preferred maximum speed to either 2 or 4 miles per hour; pause the unit to resume walking at the previous speed without shutting it down thereby preventing having to press the speed button several times over again to get to your speed level.
The LED monitor has high readability which cannot be compromised even in a poorly lit room.
Approval Rating
The LifeSpan TR1200-DT3 Under Desk Treadmill has been around for a couple of years now and has accumulated a lot of customer reviews on various retailers' websites. One thing that is consistent with these websites' customer review approval rating is the fact that they are 90% positive.
This means that this treadmill is well accepted and popular except of course for the few customers that were disgruntled because their unit arrived in a bad shape due to mishandling on transit or because it malfunctioned which could be as a result factory defect.
Pros/Features Overview
High quality and heavy-duty steel frame
Supports up to 350 pounds/159 kg maximum user weight capacity
Very smooth and quiet during operation
Calibrated 2.25 HP motor to achieve 2400 rpm which results in whisper-quiet efficiency over longer hours
Compact with dimensions of 63 inches long by 28.5 inches wide by 7.25 inches tall
A low step-up height of 4.6 inches
Roomy walking area of 20 inches wide by 50 inches long
3 pounds LED Monitor with high readability even in a poorly lit room
Ability to keep track of workout progress by monitoring steps taken, walking time, calories burned, distance traveled, and walking belt speed
Ability to pause the treadmill without losing your settings and data
You may use it with the existing standing desk you own
The treadmill stops after 20 seconds of no movement on it for safety
It comes with full membership in the Club, LifeSpan's award-winning health, and fitness software. This allows you to keep track of all your activity and information in one secure location
 The ''Intell-Step'' feature calculates your steps automatically with amazing precision and displaying immediate feedback and historical trends through your Club account
Comes almost completely assembled
USB charging port
Excellent warranty
Cons
There has been a complaint about customer service being a disaster for some users. However, some users did applaud the customer service for responding on time and providing the help they needed.
Product Dimensions and Specifications
63'' Length
28'' Wide
7'' Height
25 HP Continuous Duty DC motor
20'' x 50'' Walking belt
¾'' Phenolic deck
6 Independent Compression shocks
Supports up to 350 pounds/159 kg maximum user weight capacity
Roller Size: Tapered front 2.4'', rear 2''
Warranty
Lifetime on Frame
3 Years on Motor
2 Years on Parts
1 Year on Labor
Shipping, Assembly, and Maintenance
Shipping
The cost of shipping the LifeSpan TR1200-DT3 Under Desk Treadmill varies because it all depends on the shipping policy of the retailer you are purchasing from: however, Amazon provides free shipping.
Assembly
This machine comes assembled out of the box, all you need to do is just fix the console and you are set to go. By the way, it is warned, you must not plug the machine first to the power source before fixing the console.
Maintenance
The LifeSpan TR1200-DT3 Under Desk Treadmill needs to be lubricated after 50 hours of use. You must use a 100% silicone and avoid using aerosol silicone sprays which include additives and petroleum distillates.
During lubrication or cleaning, you must unplug from the power source.
Speaking of cleaning the treadmill, you have to wipe it down daily using a mild detergent at times to help remove stains caused by dirt and salt.
Then again, you have to do a thorough monthly cleaning that includes removing the motor cover and cleaning the motor and electronics.
Then examine the entire treadmill for any loose, worn, or broken part and act accordingly if there is any.
Conclusion
We think that the LifeSpan TR1200-DT3 is a very recommendable piece of equipment for those that sit mostly to carry out their daily tasks. Using this treadmill is a great way of killing a bird with one stone as they say. You can work out while you still do your task conveniently achieving fitness and work at the same time.
We are also pleased by the way the manufacturer has responded to some of the complaints of customers. Providing a solution to put off the annoying beeps and alert that comes from the machine each time you push a button, and also making it possible for a user to pause the machine each time he feels like doing so and still has all his previous settings intact when he resumes walking.
Right now, the only concern that we have is the customer service issue. Hopefully, they will also improve on that even though we know that it is more of, who is attending to your problems from the LifeSpan Customer Service because some customers have expressed satisfaction by this same customer service department.
[rank_math_rich_snippet]