The TrekDesk Treadmill Desk is a standalone desk designed for the Under Desk Treadmill or the traditional treadmills. We think you should understand that before anything else because the presentation of this product on the retailers' platform and their website is kind of misleading to us in the first instance until we looked closer.
We guess a lot of other people might also think that this treadmill desk comes with a treadmill machine as we have seen some users complained on Amazon.
That being said, this is a treadmill desk that is designed to help people that already owned a treadmill to convert it into a walking workstation in their home, school, or at the workplace.
With a walking workstation, you should be able to walk while you work on your computer which is amazing because many people who live a sedentary lifestyle need the opportunity to get fit.
And so, in this review, we are going to try to explain what the TrekDesk Treadmill Desk is made of, its upsides and its downsides. But if you wish to view the price of this product on Amazon, please click right here.
However, we suggest you read the rest of the review for smart and informed purchasing decisions.
The TrekDesk Construction and Specifications
The TrekDesk Treadmill Desk is made of powder-coated steel with desk dimensions of 74 inches wide by 34 inches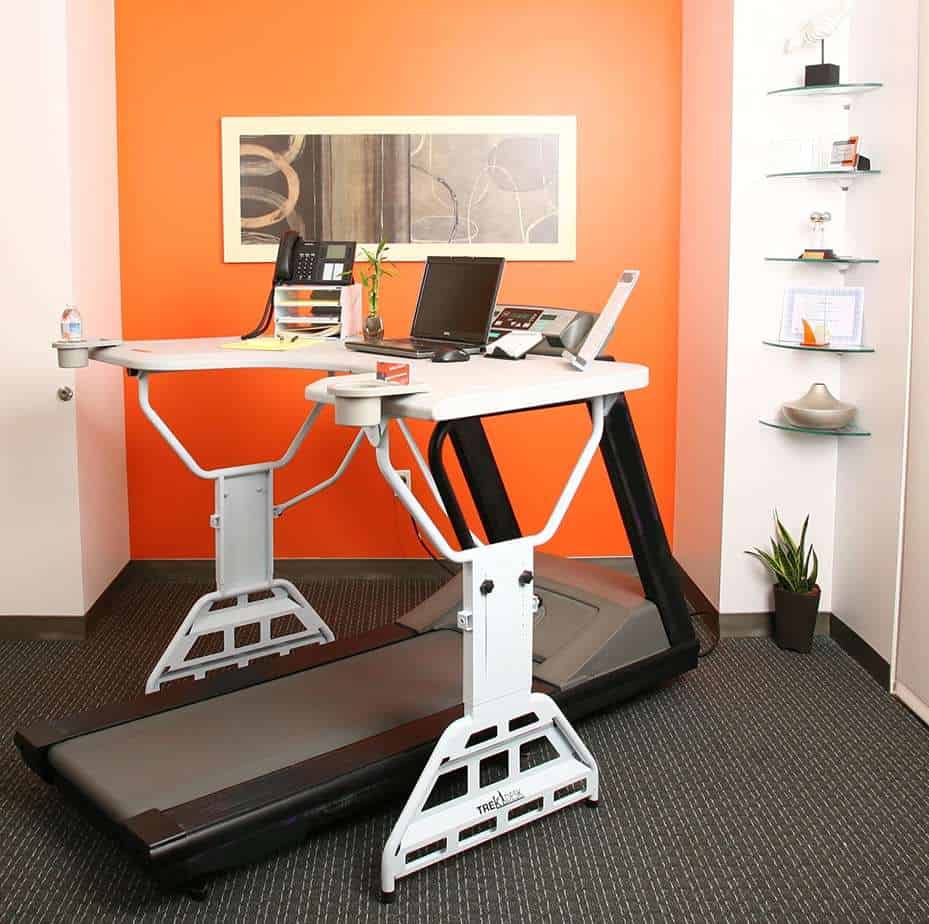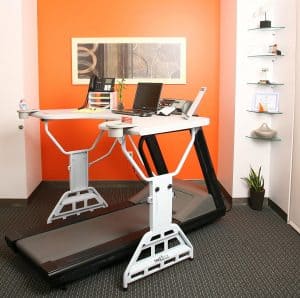 long and weighs about 58 pounds/26 kg.
The desk supports up to 55 pounds/25 kg maximum weight capacity; this means the maximum weight that can be placed on the desk without issues.
It folds for easy storage with accessories such as two cup holders with a four-level file tray. It is believed to be compatible with treadmills with different designs and can accommodate different sizes of users as well because its height is adjustable from 46.5 inches to 56.5 inches. Users between the height of 5 feet 4 inches and 6 feet 4 inches can easily be accommodated.
TrekDesk claims that this desk was designed by a team of engineers, manufacturing, and sales professionals. The overall idea behind the introduction of the TrekDesk Treadmill Desk is to help as many people as possible to be productive even as they also get healthier.
Those being said below are some questions you may want some answers to.
Is this just a Desk or Complete Treadmill Desk?
Just as aforementioned, this is not a complete treadmill with a standing desk as some people may expect but a standalone desk for walking treadmills.
Some customer reviewers on Amazon thought initially that this was a complete treadmill desk which we can understand why they think so. The reason being that the image presentation on Amazon does not even have the standalone desk on its own but the whole images featured a treadmill and a desk on it.
By this act alone, we think that the TrekDesk is not transparent and sincere to some level to its customers and this also makes us act with caution while writing this review.
As we have always stated in our reviews that we seriously consider users' reviews because they have first-hand experience of the product we are reviewing and so we can learn one or two things about the product from them. But in this case, we can't entirely rely on the users' reviews because we think it has been compromised by the aggressive hype carried out by TrekDesk making these customers think they have bought the best product even though they may have been ripped off.
Many of these users may not even know that they could purchase a much better and cheaper standing desk on Amazon.
Is the Price value-oriented?
A product's price is considered value-oriented when the overall value of the product outweighs or it is equal to the price.
The determining factors of a valuable product are quality, ergonomic design, and features. These elements we are going to look very closely concerning the TrekDesk Treadmill Desk.
Quality
Ordinarily, one would expect good quality because of the price and the powder-coated steel frame the manufacturer claims it has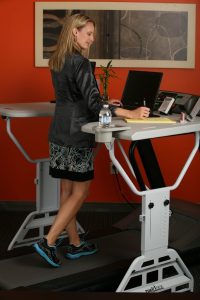 . But, some independent reviewers and Amazon customer reviews suggested otherwise.
Stability is one of the major factors that one should consider when buying a standing desk such as the TrekDesk Treadmill Desk. This is important when you intend to use it for walking while you work on your computer as well.
This table desk supports the maximum weight of 55 pounds/25 kg which indicates that it is one of the weakest, especially in its price category. We think that the manufacturer did not consider this as important because even by merely looking at the desk it appears so thin and wobbly.
You cannot walk and work comfortably with a desk that is not solid because some users might lean on it while walking which could lead to serious safety hazards.  In reality, the desk is not as solid as they made us believe. The parts/components are poorly made and too light. The only parts that have a sheet of metal are the base's narrow legs. The tabletop is made up of plastic that questions the overall structural reliability and integrity of the desk.
No wonder some users think that the desk comes with a treadmill just as this Amazon customer thought;
''NO TREADMILL. They make it seem like there is a treadmill that comes with it. It's $600 for a plastic desk that probably costs $20 to make in China. They even talk about the weight loss benefits and slow and steady movement (which you can't, since there is nothing to move on).

If they weren't trying to be deceptive it would be marked far more clearly.

For this price, you should get the treadmill too''
Ergonomic Design and Accessories
The TrekDesk Treadmill Desk is designed to be paired with a treadmill, which means you can even use it as an office desk if you wish to. The overall design often interferes with the treadmill's console so that you can't view the monitor.  Even if the desk fits with the treadmill console, there is the possibility of blocking the console/monitor view with your computer's monitor.
It has accessories such as the cup holders at both ends of the desk and the file tray which could be difficult for some people to reach.
Even though it has a good approval rating on Amazon, we doubt if it worth the rating after in-depth research.
Instead of spending that kind of money on this standalone desk why not go for a complete walking treadmill with standing desk such as the LifeSpan TR1200-DT5 Under Desk Treadmill, if you already owned a treadmill or you think that is over your budget then head over to Amazon for much affordable and quality standalone desks.
So, we think it is overpriced…
Below are some complaints from Amazon customers;
''This desk is not working for me at all. I got it so I would be able to study for classes while I was on the treadmill to help with back issues from sitting too much. The ergonomics of trying to make this work has only made things worse. Tho I can appreciate the accessories of a cup holder for the ends, you have to twist and reach precariously to get at it. -At least with my small frame.
The most irritating thing is the book holder. The desk has all these slots to place it in, BUT NOT ONE IN FRONT OF YOU! I don't understand this?!?!? Who walks and reads a book without looking in front of them?
I've tried everything to make this work for me, even thinking it would be a plane standing desk without the treadmill underneath, but the lowest it will go is still WAY to high for me to keep good posture.
Sadly it's ultimately it's more hassle than it's worth and I'm back to my kitchen table. I wish I could return it. A huge, expensive lesson to try before you buy.''
''This is my second treadmill desk and I should've just got a regular adjustable standing desk to go with the treadmill rather than this one. It's very flimsy. Moves around a lot while I'm working. The assembly was horrible: I had to buy a power drill because none of the holes for the screws are started for you (and my old power drill was a joke). It also frequently comes partially unhinged if I bump it from below. It does what it was designed for, but ultimately it feels rather overpriced for the build quality and lack of convenience''
Opinion
We have looked at the TrekDesk Treadmill Desk and concluded that it could have been better considering the price.  We think it is overpriced and this makes us disapprove of it because the overall quality and the structural design are not solid.
There is a better deal out there you could take advantage of, but if you wish to go ahead with the purchase, the place to go is Amazon.
TrekDesk Treadmill Desk Review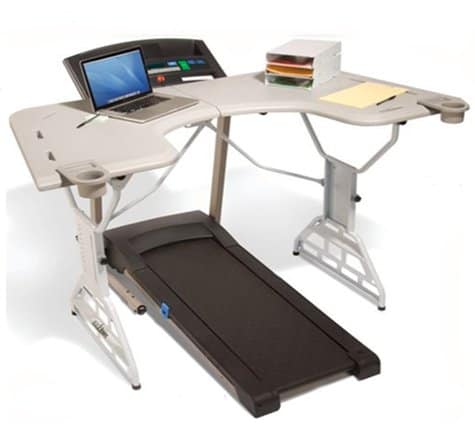 The TrekDesk Treadmill Desk is a standalone desk designed for the Under Desk Treadmill or the traditional treadmills. We think you should understand that before anything else because the presentation of this product on the retailers' platform and their website is kind of misleading to us in the first instance until we looked closer.
Product Brand: TrekDesk
Product In-Stock: InStock