The LifeSpan TR1200 DT5 Treadmill Desk is a complete machine designed to help you work and walk at home, at school, or workplace. It is a special unit that is different from the conventional or the traditional treadmills because it is being placed under the standing desk so that you can walk while you work on your computer.
Just before we go into the review of the Lifespan TR1200 DT5 Treadmill desk we wish to address certain concerns you may have, and these concerns have been expressed by some users and they are:
Is it possible to really walk and still type on the computer?
Yes, it is possible to conveniently and comfortably type on your computer while you are walking on the treadmill because your hands are rested on the desk and positioned on the keyboard while you walk. Therefore, the walking exercise won't have any interference with what you are doing with your hands.
Can I have total control of the Mouse while walking and working?
Ordinarily, you can with almost any speed, especially if you are working on something that does not need extreme mouse precision.  But in case you need to have that extreme precision when working with the mouse, then you may want to reduce your walking speed and that will solve the problem.
Should I be able to remain focused and not lose concentration and energy while working and walking?
In as much as some people think walking while working could be a great distraction and can also diminish energy doesn't have to be true. On the contrary, your level of concentration and energy is being enhanced as a result of the walking activity you are engaged in.
It increases your alert level because your brain receives enough blood circulation and you aren't sitting in a place. It is a lot healthier to walk and work for a couple of hours than to be sitting most of the day while working on your computer.
 Should I get this Treadmill?
Yes, if you hardly have time away from your working desk for workouts or if you are living a sedentary lifestyle. But the other thing we wish to point out is the fact that there are other models of the LifeSpan Under Desk Treadmill, each model with a different set of features designed to suit certain individual's needs.
And it will be smart to make the right choice because you might just be saving some $$ as one model is expensive or less expensive than the other.
So, we are going to focus on the LifeSpan 1200-DT3 Under Desk Treadmill and the one we are reviewing today which is the LifeSpan 1200-DT5 Under Desk Treadmill.
The LifeSpan 1200-DT3 Under Desk Treadmill is slightly cheaper than the DT5 Under Desk treadmill and you shouldn't be needing the latter IF;
You already have an existing standing desk you own
You are about 350 pounds or less in weight
You don't need a console with Bluetooth capabilities, which allow you to track and view your walking progress on your phone
Otherwise, the LifeSpan TR1200 DT5 Treadmill Desk might just be what you need and you can click right here to view the price on Amazon.
The Frame and Construction
The frame of the DT5 Under Desk Treadmill is made of high quality and heavy-duty steel which could be the reason why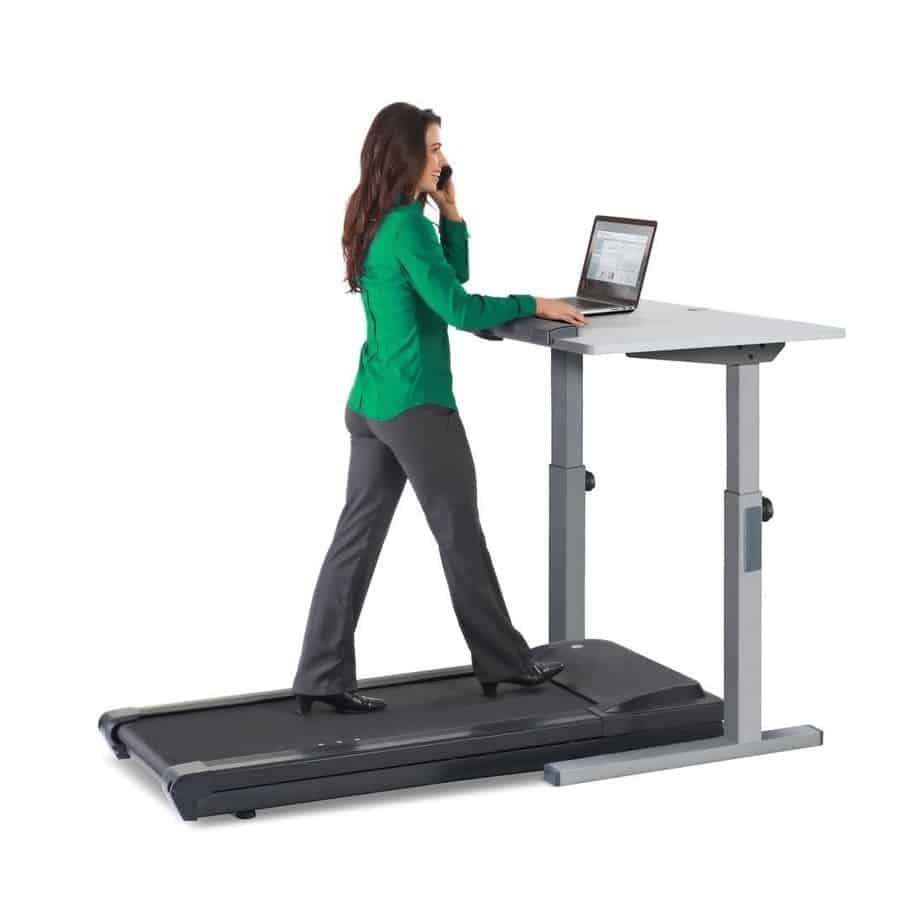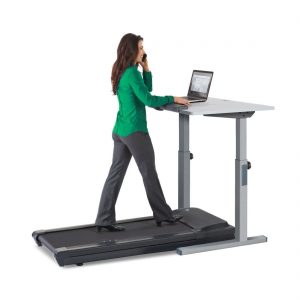 the manufacturer offers a lifetime warranty on it.
It is undoubtedly very sturdy and supports up to 350 pounds/ 159 kg maximum user weight capacity. It comes in 3 different shipping boxes and will require assembly, however, the assembly is process is simple and straightforward.
The treadmill dimensions are 68.5 inches long by 38 inches wide and so a workout area of 5 feet 7 inches long by 3 feet 2 inches width will be required, however, it is recommended to leave an extra clearance of 2 feet on each side of the unit and at least 3 feet at the rear for safety purposes.
The treadmill belt dimensions are 20 inches wide by 50 inches long, roomy enough for the comfortable and unrestricted walking experience.
It has an easy step-up height of 4.6 inches, and a 2-ply belt that is durably graced with non-slip plastic side rails.  The walking surface is equipped with 6 independent compression shocks that reduce the stress effect on the joints during walking.
The overall assembled weight of the treadmill is 114 pounds/52 kg which also enhances its stability and it features transport wheels at the front base for easy relocation.
The Standing Desk
Unlike the DT3 Under Desk Treadmill, this one comes with a manual standing desk that is required for the exercise.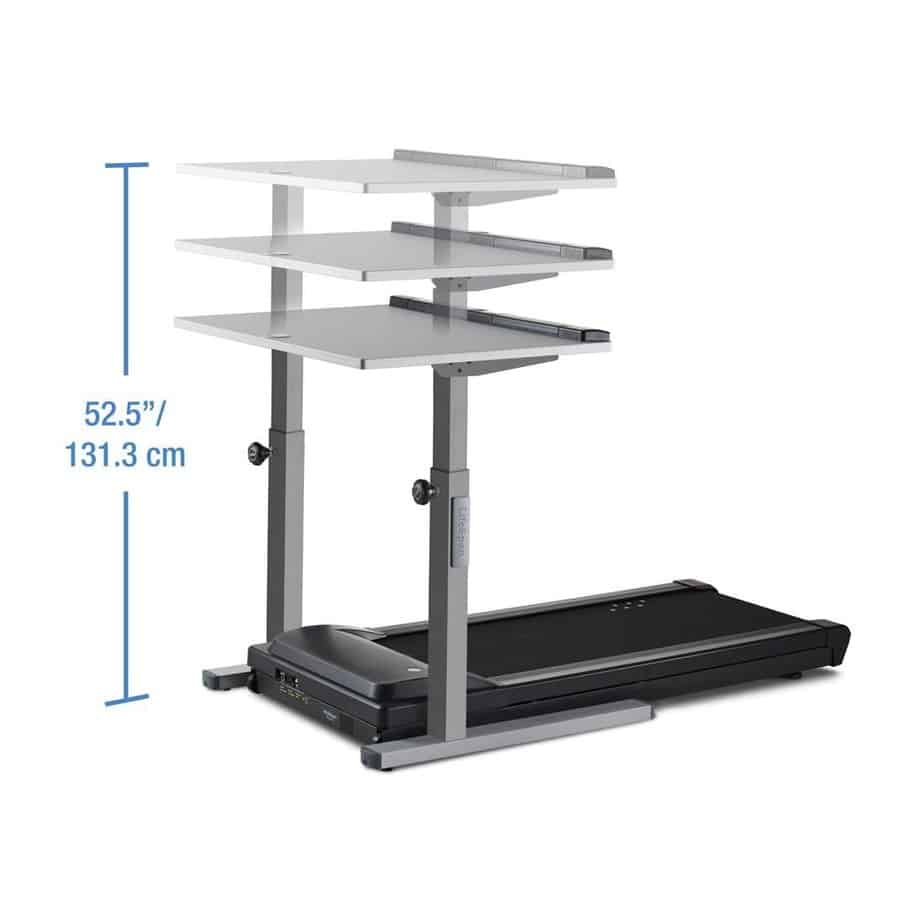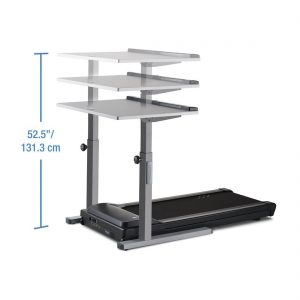 It is a manual comfortable standing desk with desktop dimensions of 38 inches wide and 29 inches deep. You can manually adjust the standing desk to several height levels so that a wide range of different heights of individuals can be accommodated.
It has a height adjustment of 33.5 inches to 52.5 inches. The desktop surface is made of 1 inch thick HD composite board. It supports up to 220 pounds/100 kg maximum user weight capacity and weighs about 60 pounds/27 kg.
Motor
The LifeSpan TR1200 DT5 Treadmill Desk comes with a 2.25 HP high torque continuous-duty DC motor drive that operates quietly.  This is designed to work for long hours without overheating or breakdown, instead it becomes highly efficient and quiet.
Due to the level of its quietness, the treadmill belt is marked so that it could create awareness to people around when the treadmill is running to avoid an accident.
The motor provides a speed range of 0.4 to 4 mph and you can increase the speed by 0.1 mph.
 Incline
It does not have an incline because it is not an ideal feature to deploy during walking and working. This could cause strain on the back and the joints because it takes the body out of the neutral and natural position required for working on the desktop.
The Console
The LifeSpan TR1200-DT5 Under Desk Treadmill console is embedded on the desktop. It is integrated into the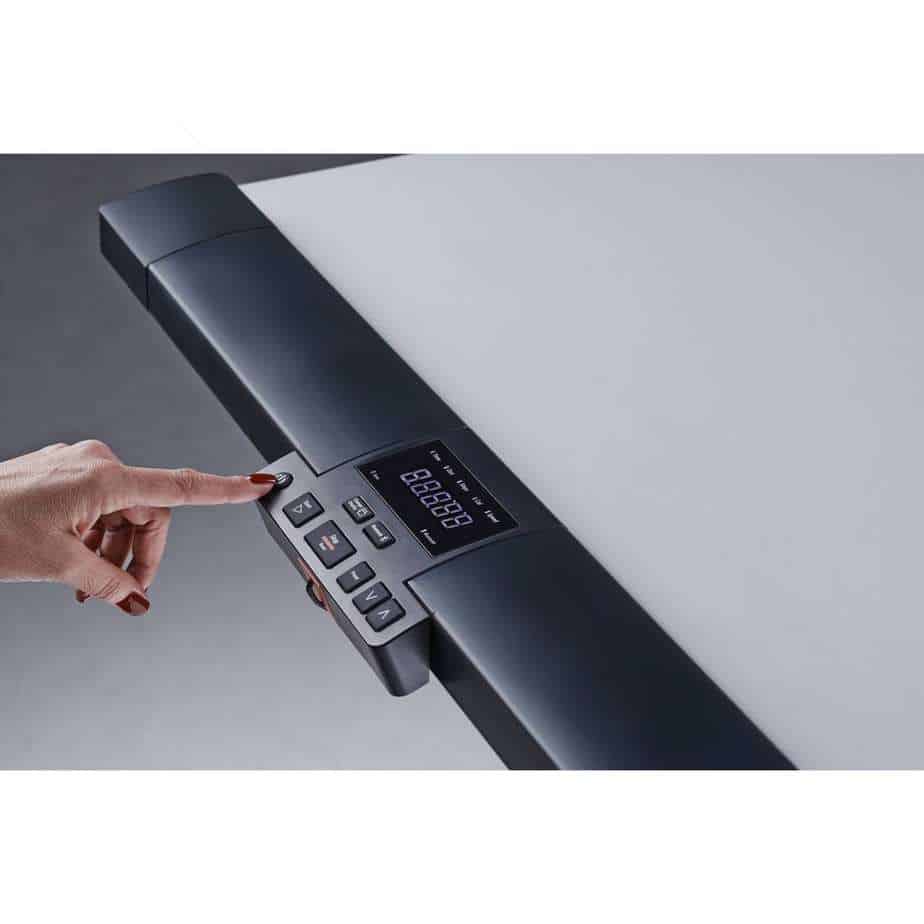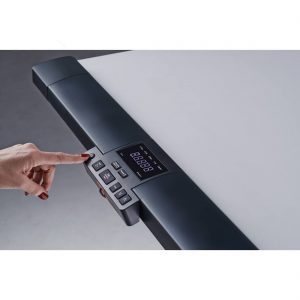 center of the armrest providing you the full view of the LED monitor screen and access to the buttons.
The monitor tracks data such as distance traveled, calories burned, walking time, and step count with precision.  You can set and save your preferred walking speed to 2 or 4 mph with a touch of a button. Turn off the beeps and alerts you may find annoying, pause the treadmill when you wish to step out, and still have your previous settings intact when you resume.
By the way, the LED display has high readability even in a poorly lit room.
The console is Bluetooth enabled; this means you can sync your phone wirelessly with the unit and keep track of your walking progress by hovering it over the console to upload your data and that's it. This keeps you focused and motivated and it is free to everyone. Simply download the Active Trac app from the app store to your phone.
Approval Rating
The approval rating of the LifeSpan TR1200-DT5 shows that it is popular. It has hundreds of Amazon customer reviews most of which are positive. We also found customer reviews on other retailers' websites which also indicate good ratings.
Overall, it is well received by the users and most people were impressed that they were able to achieve their goal with the treadmill.
Pros/Features Overview
Durably built with a solid and high-quality steel frame
Supports up to 350 pounds/159 kg maximum user weight capacity
25 HP high torque continuous duty dc motor that operates smoothly and quietly during long hours of use
A high-quality standing desk that can be manually adjusted to several levels for a comfortable desktop position.
The desktop's working area dimensions are 38 inches width by 29 inches deep
The standing desk weighs 60 pounds/27 kg
Roomy walking surface; dimensions, 20 inches wide by 50 inches long
The deck is integrated with 6 independent compression shocks that reduce stress on the back, knees, ankles, and legs
High readability LED display that tracks distance traveled, calories burned, walking time and step count
You can turn off the beeps if you wish so and set your preferred walking speed with a push a button
You can pause the treadmill and resume walking without losing your previous settings and data
Transport wheels are integrated for easy relocation
Full membership in the club
It is Bluetooth enabled, keep track of your progress via your phone
Excellent warranty
 Cons
It does not come pre-assembled and it will require two people to move the 3 boxes to the spot of assembly because they are pretty heavy.
Product Dimensions and Specifications
68'' Length
38'' Width
38'' Width (Desktop)
29'' Deep (Desktop)
The treadmill weighs 114 pounds/52 kg
The standing desk weighs 60 pounds/27 kg
Belt size; 20'' W x 50'' L
Belt type; 2-ply
Step up height is 4.6'' (belt), 5.25'' (side rails)
2.25 HP high torque continuous-duty DC
Treadmill supports up to 350 pounds/159 kg maximum user weight capacity
Desk support up to 220 pounds/100 kg maximum user weight capacity
The console is Bluetooth enabled
The deck is integrated with 6 independent compression shocks
Desktop surface made of 1'' thick HD composite board
Warranty
Lifetime on Frame
3 Years on Motor
2 Year on parts
1 Year on Labor
Shipping, Assembly, and Maintenance
Shipping
The shipping cost of the LifeSpan TR1200-DT5 Under Desk Treadmill depends on the retailer you are purchasing from; nevertheless, Amazon provides free shipping.
Assembly
Although this treadmill comes in 3 heavy boxes, it is very easy and straightforward to assemble. However, you may require help to move the heavy boxes and parts during the assembling process.
It could take up to an hour; more or less depending on how good you are with your hands.
An instruction manual is included to help you to successfully assemble it.
Maintenance
You are required to maintain the LifeSpan TR1200-DT5 Under Desk Treadmill from time to time to operate smoothly. It is stated in the manual that the treadmill belt needs to be lubricated every 50 hours of use.
Always wipe down the treadmill daily with a soft cloth and mild detergent to remove stains.
You will get the rest of the details in the users' manual.
Conclusion
The LifeSpan TR1200-DT5 Under Desk Treadmill is designed for people that spend a lot of time in front of a desk. It is also obvious that many users are impressed by the treadmill's functionality, which helps them to beat the system by getting fit even as they work on their computers.
This treadmill has been recommended by a lot of experts for people living a sedentary lifestyle, and we concur.
[rank_math_rich_snippet]