The  Cubii Pro Under Desk Elliptical machine is one of those equipment designed to be used underneath the desk while working on the computer or the couch watching TV. It is an innovative product manufactured to provide much-needed convenience and comfort while you multitask by stepping and working.
The company (Fitness Cubed Inc.) was founded by three amazing smart entrepreneurs who were still studying at the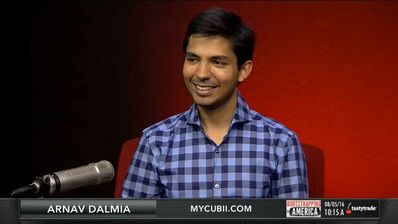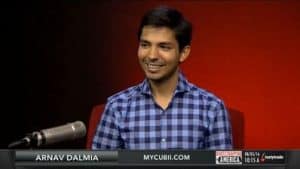 University of Chicago when they first started in 2014. Arnav Dalmia is the Chief Executive Officer whose ability, foresight, and charisma propelled the product into the market against all odds and Ryota Sekine is the Chief Operating Officer.
This is just one of the numerous types of under desk equipment available today; there are other under desk equipment such as the under desk cycling bikes and the under-desk treadmills. They are all made to allow the user to work and workout, in other words, to get fit while working.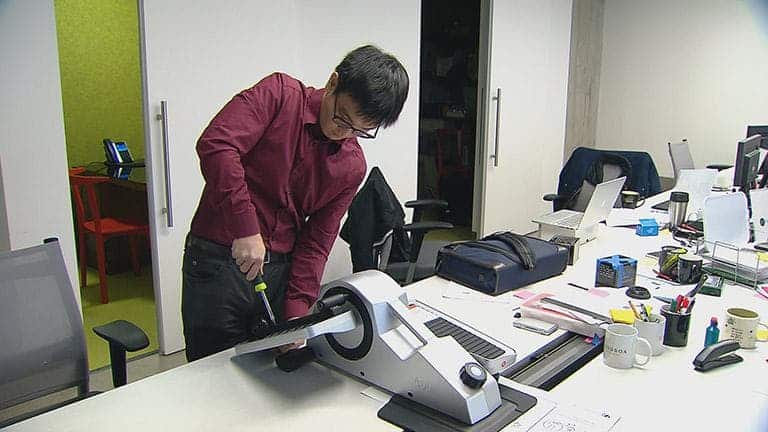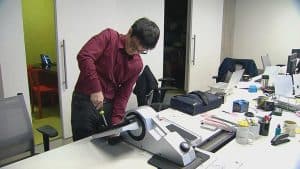 The Cubii Pro Under Desk Elliptical is great for those that sit most of the time in front of a desk, working on the computer or talking to clients.
There are other under-desk elliptical machines before the emergence of the Cubii Pro back in 2014 and upon its launch into the fitness market there was an expected new level of competition with the other brands that already existed, the reason being that the Cubii Under Desk is different with a certain edge over them.
When the company finally started selling and shipping out to its customers in 2015 there were already many customers waiting on the list since its pre-launch back in 2014. So, this became a huge success even as the anticipated features and ergonomics turn out to be what was expected.
If you wish to have a peek at the price of the Cubii Pro Under Desk Elliptical click right here.
Bluetooth
The Cubii Pro Under Desk Elliptical stands out from the rest as most of the under-desk elliptical machines were cheaply made. Even though this unit is built with some level of quality it also has innovative features such as Bluetooth capability. This is probably the only Bluetooth enabled under-desk elliptical that allows you to link to your iPhone or Android phone via an app so that you can keep track of your workout progress. You should be able to view stats such as speed, distance, time, strides, and calories burned.
A user on Amazon expressed how the Bluetooth has brought them together at work and inspired them to challenge and compete with each other. In his words, he says "We have created a group via the app at work challenge each other daily for bragging rights! Highly recommend.''
The Cubii Pro Bluetooth supports iPhone 5 or above, running iOS 9 or above, and Android phones running OS 4.4 or above.
This is an outstanding feature because it boosts your morale by keeping you focused on your fitness goals even as you concentrate on the task at hand.
Cubii has been able to develop more integration because it can even be integrated with the famous and popular fitness device Fitbit, and other wearable devices.
This is a discreet machine designed to help you achieve the physical activity you could otherwise achieve while sitting all the time in front of your desk.
This is considered the first genuine office equipment that is geared towards achieving a healthy body. Generally, the elliptical machines are famous and popular for their low impact effect on the knees, and the ankles and so is the Cubii Pro Under Desk Elliptical.
The Cubii Pro Under Desk Elliptical is integrated with a rechargeable lithium-polymer battery that powers the internal Bluetooth module. It lasts up to 90 days before a recharge will be required and it comes with a USB cable, the power adapter that is used for the recharge.
Ergonomics
Cubii has an ergonomic design for all sitting options which optimizes your comfort while you sit most of the time on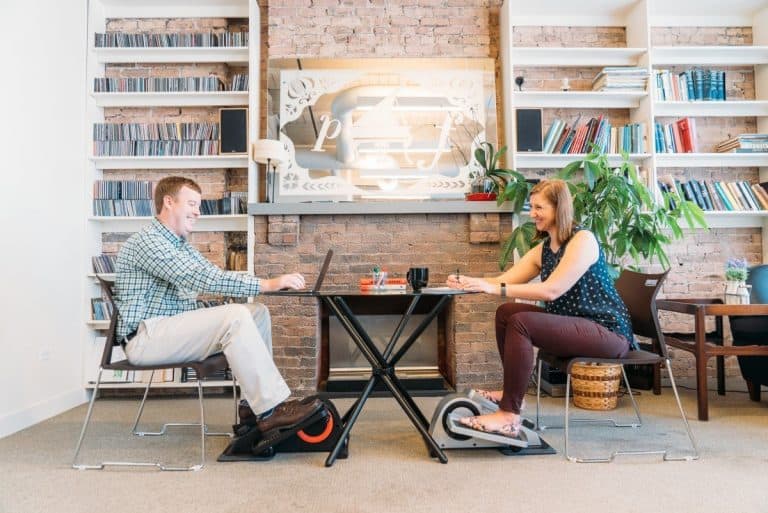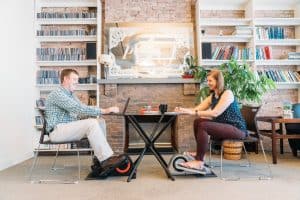 your butt as a result of working on your computer or whatever it is that you do. The patented elliptical angles are optimized to guarantee an ergonomic posture that allows natural stepping and working.  You can enjoy an easy constant motion while you work on your tasks or watch your favorite TV show.
Active sitting has been proven to have tremendous health benefits which include better blood circulation, improved concentration, energy, productivity level, and posture.
Quality
The Cubii Pro was built with better quality materials and construction so that it can last longer than the alternatives.
This is a general understanding among the professional reviewers and users alike. Even the most critical reviewers agree that the machine was solidly built. Many Amazon customer reviews suggest that this is one a kind in terms of quality and ergonomics.
Design
The design is appealing to the eyes even as it is user-friendly. It comes in at least two different color variants which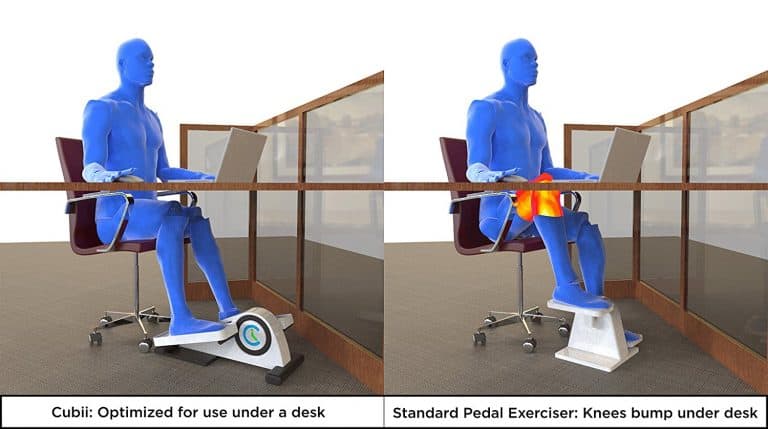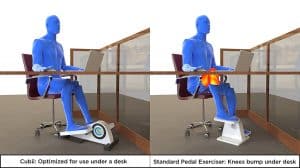 are black with red, and gray with black. The idea behind this is to also provide the user with the opportunity to choose the right color that will fit the office setting.
The overall dimensions are approximately 23 inches by 17.5 inches by 10 inches and it weighs about 27 pounds of weight. This is considered a heavy under-desk elliptical machine when compared with others. It has a built-in handle that is used to conveniently move the unit away any time you wish to. The weight of the Cubii is evenly distributed thereby giving it the stability a user requires during a workout.
Moreover, the unit supports up to 250 pounds of maximum weight capacity. Take note, the weight is not the overall body weight but the weight of your legs which means almost everyone can use it. Also, take note, it is not designed to stand on it.
The height is one of the shortest which kind of eliminates the tendency of hitting your knees under the desk to some level.
There is also another model without the Bluetooth feature and slightly cheaper than the Cubii Pro available and that is the Cubii jr. The overall design makes the equipment inconspicuous and natural while in use under the desk.
The Noise
The Cubii Pro is whisper quiet during operation hence it won't be interfering with your tasks especially when you are on the phone and people around you won't be disturbed.  Using the Cubii Pro in the office space is not going to attract or draw attention because it is discreet and inconspicuous.
Almost every Amazon customer' review indicated how impressive the Cubii works with amazing quietness. This could be attributed to its belt drive system that consists of a small balanced flywheel.
Resistance
The Cubii Pro Under Desk Elliptical features a magnetic resistance system that is famously known for its smooth and quiet operation. The resistance is manually adjustable with 8 levels that provide you with the opportunity to select the intensity of your workout.
The resistance provides fairly challenging workouts and can easily be adjusted by turning the adjustment knob clockwise to increase from 1 to 8 and decrease by turning the knob anticlockwise. This activity can easily strengthen your calf muscles even as well.
 Console
The Cubii Pro does not have the standard console nor does any other under-desk elliptical machine. However, just as aforementioned, you should be able to monitor your workout metrics via your phone when connected to an app via the Bluetooth feature which is one of a kind present in an under-desk elliptical.
You will skip that cup of coffee as you get motivated by being able to view your workout stats such as the calories burned, distance, strides, time, and RPM. Sync to Fitbit and HealthKit via the Bluetooth and stay focused.
Storage
To put away the Cubii Pro Under Desk Elliptical is no big deal because it is a portable and compact unit with a built-in handle that makes it easy to lift easily and relocate to a storage area. It weighs about 27 pounds/12 kg.
Approval Rating
The approval rating of the Cubii Pro is impressive and positive. The vast majority of Amazon customers gives credibility to the unit and said they are recommending it.
This is nothing but an indication that you probably will not be disappointed with the construction, design, and ergonomics of the under-desk elliptical.
Pros/Features and Dimensions
Solidly and sturdily built
Supports up to 250 pounds maximum weight capacity (i.e. the weight on your legs)
Compact with dimensions of 23 inches by 17.5 inches by 10 inches
Ergonomically built to provide a comfortable workout position and posture
It is Bluetooth enable; can sync to Fitbit and Apple Healthkit
Can monitor workout stats such as calories burned, strides, speed, distance, RPM, and time via linked phone
The operation is smooth and quiet for a conspicuous and discreet workout
Features magnetic resistance system with 8 levels that can be manually adjusted
Includes 2 wheel stoppers to keep your office chair from rolling while pedaling
Easy assembly
Good customer service
Excellent warranty
Cons
It is very difficult to find any downside of this product; however, we observed very few users complained about the price and the weight.
The Price: they said it is kind of expensive but at the same time agreed that it worth it, so it is a NO deal-breaker
The Weight: Someone complained about the weight (27 pounds/12 kg) and how difficult it could be to take it out to the office or between a home office and couch; that it will require some level of effort but then agrees that the heavy nature of the unit shows that it is of high quality.
Product Dimensions and Specifications
23'' x 17.5'' x 10''
Weighs 27 pounds/12 kg
Supports up to 250 pounds maximum user weight (note: leg weight)
Manual magnetic resistance system with 8 levels
2 wheel stoppers included for your rolling chair
Bluetooth Enabled
Non-slip pedals
Warranty
Shipping, Assembly, and Maintenance
Shipping
The shipping cost of the Cubii Pro Under Desk Elliptical is determined by the retailer you are purchasing from; although some retailers such as Amazon provide free shipping.
Assembly
This under-desk elliptical takes no more than 3 to 5 minutes to fully assemble and get it functional. The required tool for assembly is also included as well.
Maintenance
The Cubii Pro does not need any special maintenance but to always keep it clean by wiping it down daily. Also, examine the unit frequently before use for any worn, loose, or broken part; fix accordingly if there is any.
Conclusion
The Cubii Pro Under Desk Elliptical is fine equipment that could be used for body motion at the office, home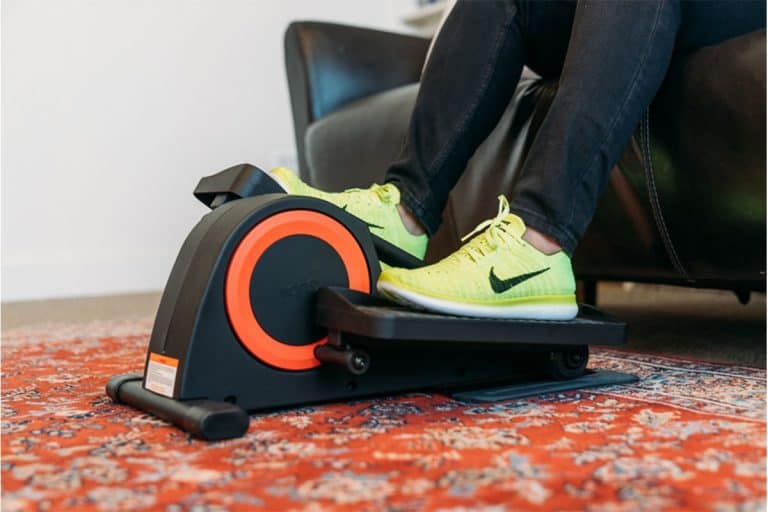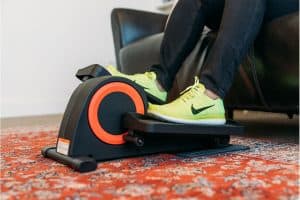 office, or even on the couch. It fits conveniently and discreetly without getting in the way of anything you are doing; be it working on the computer, talking to a client, or simply watching your favorite TV show on the couch.
Its design is solid and it is durable equipment with impressive customer service that cares.
It provides you that body activity that boosts your overall health losing weight without so much pain in the knees and ankles. No noise that should bother anyone around, plus the Bluetooth connectivity that allows you to sync your iPhone or Android phone with the machine via an app and watch your workout stats display on your phone.
This is worth the investment if you are the type that sits at the front of a desk for a long time daily, 7 days a week.
Cubii Pro Under Desk Elliptical Review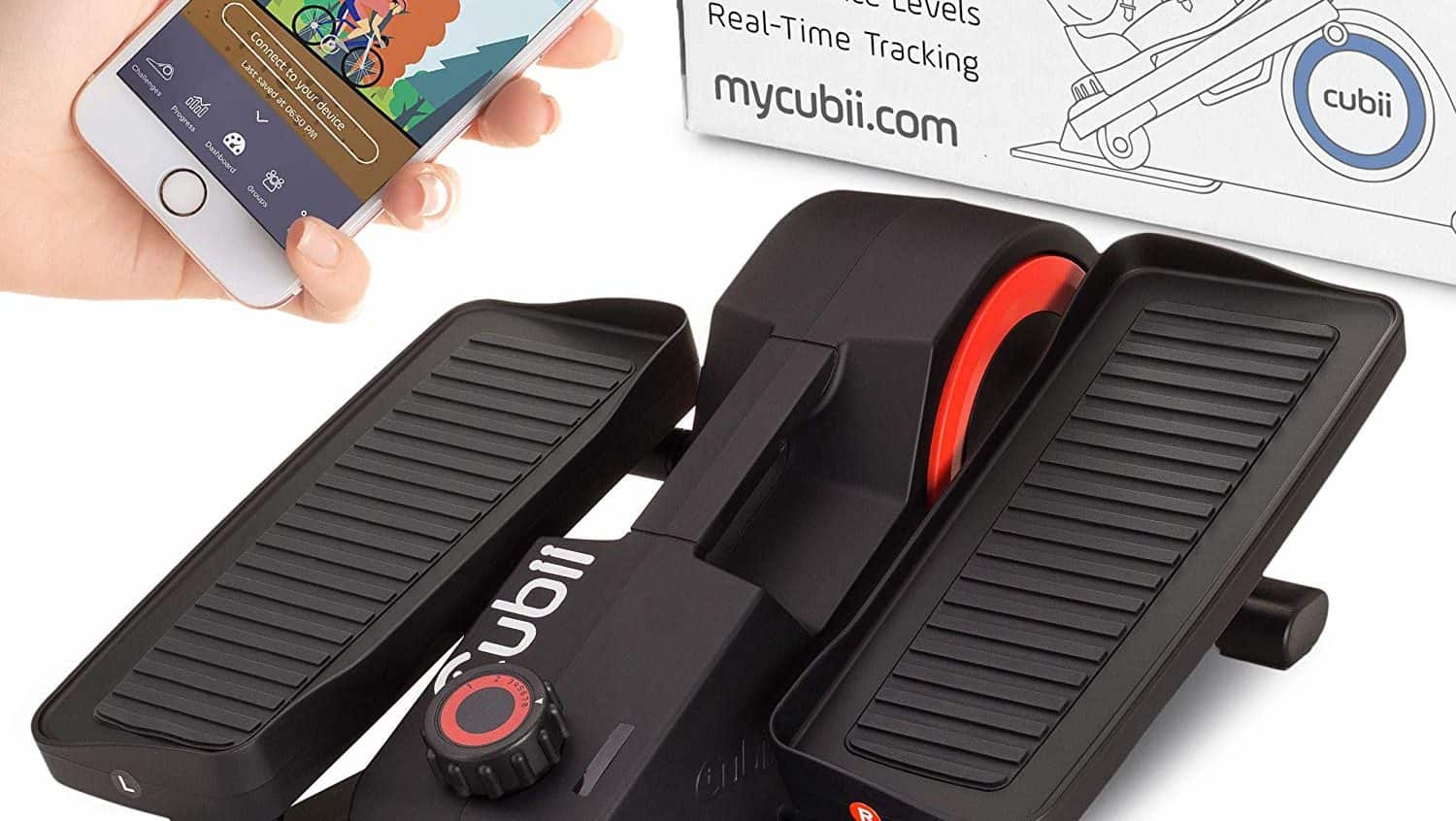 The  Cubii Pro Under Desk Elliptical machine is one of those equipment designed to be used underneath the desk while working on the computer or on the couch
Product Brand: Cubii
Product In-Stock: InStock