The ProFormm Performance 300i Treadmill is believed to be the new improved version of the old ProForm 300 with a lot of positive revamps and additional features.
It has a 2.0 CHP motor that is designed to support both light and rigorous workouts without breaking down or overheating.
Among the improved features is the running surface that is integrated with a better-cushioning element that is also known as ProShox cushioning which greatly reduces the impact or stress that is often felt on the joints such as the knees and the ankles.
And the treadmill is iFit and Bluetooth enabled which means you can connect to the iFit and experience outstanding activities such as competing with your friends and having more exercise options as well.  The iFit is being connected via the Bluetooth which also provides you with the opportunity to keep track of your workout progress and compare performances as it keeps records of every workout session.
There are 16 preset programs that are mainly designed to help you target and accomplish fitness goals such as weight loss and improving your cardiovascular fitness. You can also entertain yourself while working out by connecting your iPod and listening to your favorite music even as you challenge yourself by utilizing the incline.
The ProForm Performance 300i Treadmill seems to be equipped with the right features to help make your quest a reality.
In this review, we shall try to unveil every detail we have discovered concerning this treadmill and conspicuously underline every upside and of course, every downside so that you can make your final purchasing decision wisely.
A little spoiler, this treadmill is not a typical professional runner's machine because it does not offer the features that could make that possible which we are going to explain in due course of the review. However, it has been reported to be great for marathoners and one of the best treadmills for walkers and joggers alike.
But if you wish to have a quick preview at the price of the ProForm Performance 300i Treadmill click right here.
The Frame and Construction
The frame of the ProForm Performance 300i Treadmill is made of steel finished with anti-corrosion and scratch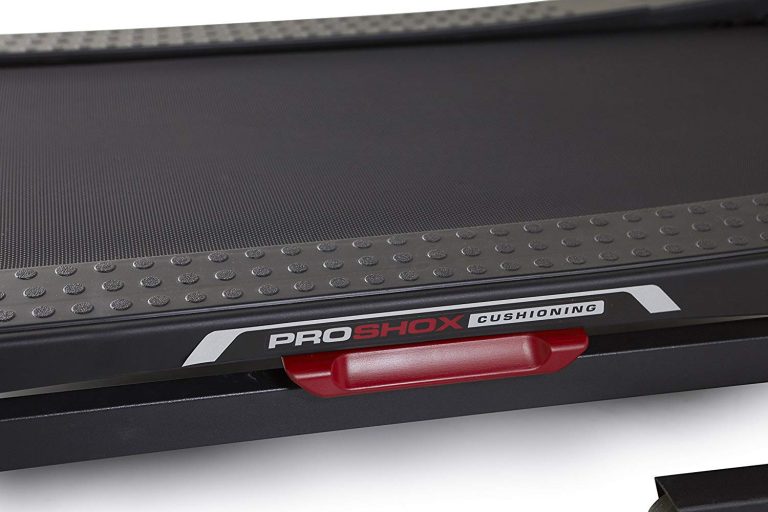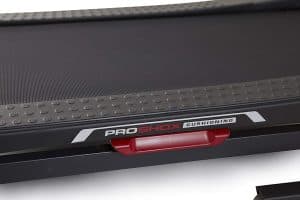 paint that protects it from rust invasion.
Although this is not a commercial-grade treadmill; but it is sturdy enough to support up to 300 pounds/136 kg maximum user weight capacity and great for home use.
The treadmill is foldable; therefore you can easily and quickly fold it up by manually lifting the rear end of the deck to the console and locking it up by the left upright post. The folding up of the treadmill is done manually unlike some other treadmills that have EasyFold and SoftDrop mechanisms that could automatically do the folding and the unfolding easily, safely, and gently. However, folding this treadmill manually is safe and easy as well and could be done by virtually any adult without the risk or fear of dropping it in the process.
There is a steel U tubing stabilizer that runs through underneath the motor compartment which is also integrated with transport wheels that assist in the relocation of the treadmill. The treadmill also practically sits on this stabilizer U tubing with transport wheels when folded up.
Aside from its sturdy and solid built, it is also stable because of the aforementioned stabilizer U tubing at the front base and another two short stands at the rear base of the treadmill. It weighs about 203 pounds/92 kg which is an added advantage to its overall stability.
The running surface dimensions are 50 inches long by 16 inches wide. This is the part of the reason why this treadmill is not suitable for running purposes because it does not have enough room for full stride to be exercised especially for tall individuals or users. Although, just as aforementioned, it is possible to be used for marathon purposes because users have suggested they have been able to do that.
This machine is possible to support marathon-related workouts because the 2.0 CHP motor can withstand that but sprint exercise is hardly what such motor capacity can support because you need a treadmill with at least a 3.0 CHP motor, with larger treadmill deck of 20 inches wide by 60 inches long and a slightly higher speed range of 12 mph.
In other words, this unit is best used for walking and light jogging exercises without a problem but if you try to use it for running you might just be disappointed.
It is not a very large treadmill because it is not a typical runner's treadmill. It has overall assembled dimensions of 64.7 inches long by 28.9 inches wide by 55 inches tall. This means that a workout area of 5 feet 4 inches long by 2 feet 4 inches wide will be required and also consider adding at least 2 feet clearance on each side of the unit and the rear end for safe and comfortable workout experience. While the folded dimensions are, which has significantly reduced the length size of the treadmill and it ultimately occupies small storage space than it could have ordinarily taken
The running surface is integrated with a ProShox cushioning cell that is designed to reduce the workout impact to the joints to up to 20% with a heavy-duty 1 ply belt that is strong and flexible enough not to consume power. The deck also features 1.9 inches balanced and precision machined rollers with sealed bearings that could last for many years.
The Motor
The ProForm Performance 300i Treadmill features a 2.0 CHP motor drive system that is to hold up to any sort of exercise from walking to light jogging without overheating or breaking down.
Users have confirmed that the treadmill could be used for high mileage workouts such as half or full marathons. However, it is recommended if you are going to be using it to this degree then you might consider getting the extended warranty so that you could get house repairs as the belt will tend to slip.
The motor provides a speed range of 0.5 mph to up to 10 mph with an incremental possibility of 0.1 and 0.5 mph. The speed adjustments could all be done via the speed buttons on the console with dual function. This means when you wish to increase or decrease the speed by 0.1 mph you just press either of the speed keys respectively, but if you wish to increase or decrease by 0.5 mph you then have to press either of the keys and hold down.
Its operation has been described as smooth and quiet which means that you won't be bothered by annoying sound, neither your family nor neighbors will be either.
This is a motorized treadmill that is powered by electricity. It requires to be plugged to a power source/outlet of 120 V AC 15 amps power circuit.
The Console
The console of the ProForm Performance 300i Treadmill features a monitor that is about 6 inches in size not as big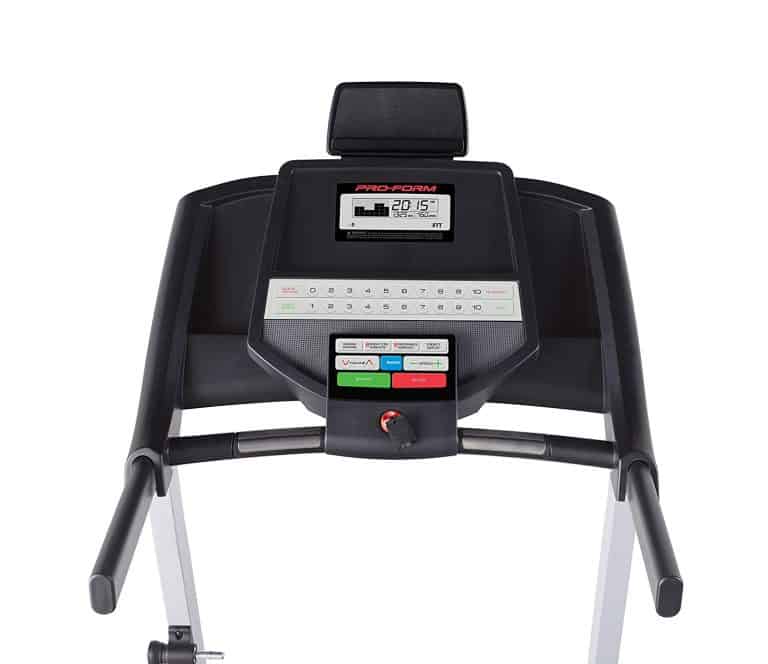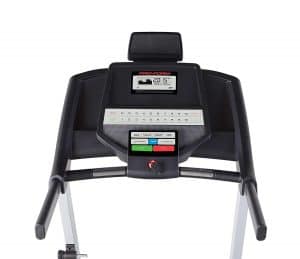 as the one on the Bellar 10.1 Inches WIFI Large Color Touch Screen 3.0 HP Folding Electric Treadmill. However, it is large enough to provide a user-friendly experience.
As we have mentioned earlier, one of the outstanding features of this treadmill is its ability to connect to iFit via Bluetooth. This gives you a lot of leverage towards achieving your fitness goals and provides a spectacular outstanding workout experience as well.
Being able to connect to iFit means you can have access to more exercise options and be able to compete with friends via Google Maps. However, you will have to purchase the iFit subscription separately because it doesn't come with any free trial like the case with some other models.
The iFit can be connected to your smartphone or laptop by installing any iFit compatible app of your choice and no separate module is required in other to use it.
Yet another feature that is worthy of highlighting is the fact that the console is HR chest strap enabled, which means you can choose to use a chest strap device and get connected to the console via the Bluetooth for your heart rate to be read. This is great because it is very flexible to use a chest strap while working out and it tends to provide more accurate heart rate data than the HR contact sensors could.
The HR chest strap device is not included, you have to purchase separately if you wish to use it and it compatible with most Bluetooth heart rate monitors or devices.
That being said, the console also features 16 built-in workout apps designed to help you accomplish specific fitness goals. There are 8 workout apps for weight loss and another 8 for performance. You can also set or adjust your workout speed and incline manually via the Manual mode which means you don't have to necessarily use the ones assigned automatically by the workout apps.
You should be able to keep track of your workout data such as distance, time, calories burned, and heart rate via the monitor. Other metrics are also displayed such as the speed and incline that is currently used in your workout.
The display has clear visibility and high readability but that will diminish when used in a poorly-lit room because the monitor is not backlit.
As aforementioned, there are several vital buttons such as the speed buttons that could be used to increase or decrease the speed by 0.1 mph or by 0.5 mph. There are also the quick incline buttons as well that is used to adjust the incline to various degrees of 0 to 10%. Then there is the start and stop buttons that are used to turn on and turn off the treadmill. The built-in 16 workout apps have two separate buttons for 8 weight loss workouts apps and 8 performance workout apps on the console.
This is a button for the manual mode which enables you to adjust the incline or speed levels manually. And then, there is the emergency key button that is designed to automatically turn off the treadmill in case of accidental tripping during a workout to prevent injury.
Another vital part of the console is the EKG pulse handles that also transmit your heart rate data to the monitor when firmly gripped during a workout so that you can maintain your target heart rate at all times.
There is the entertainment aspect of the console. It is an iPod and smartphone compatible such that you can plug in any of these devices with a 3.5 mm jack cable so that you can listen to your favorite music via the built-in speakers on the console with a quality sound output. The control of the music has to be done via the MP3 device you are using, such as the adjustment of the volume or changing a playlist.
The console also features a smartphone holder that is strategically designated at the top of it capable of accommodating large tablet conveniently and without blocking the view of the monitor display.
And on both sides of the console are the protruded handrails that are designed with a soft rubber material that could provide you with a firm and comfortable grip.
The Incline
The ProForm Performance 300i Treadmill features an incline of 0 to 10%.
This is a very important and positive feature that provides you with the possibility of challenging workouts. You can easily engage in a difficult or challenging workout by choosing between the 0 to 10 degrees incline levels so that your workout will be more productive and expeditious.
You may argue that the incline of 10% could hardly be compared to some commercial grade treadmills that feature much more but it is also important to point out that this is particularly credit to this treadmill because many other treadmills in its category do not have this feature at all.
You can adjust the incline level by 1% increment.
Approval Rating
The approval rating of any given product reflects the level of its popularity and therefore a very important factor in determining whether a product is widely accepted or not. In order words, if the product is built with quality and useful features.
That said the Proform Performance 300i Treadmill has several Amazon customer reviews and still maintains a very good and impressive approval rating that suggests that the majority of its users are well pleased with the treadmill.
Pro/Features Overview
Solidly and sturdily built with steel frame
It supports up to 300 pounds/136 kg maximum user weight capacity
The console is iFit and Bluetooth compatible
The console is also telemetry enabled
It features EKG pulse contact sensors for heart rate data
The 6 inches LCD monitor allows you to track your workout data such as time, distance, calories burned, speed, ¼ Mile track, and heart rate
The console features 16 built-in workout programs that target weight loss and performance
Features motorized incline of 0 to 10%
Powerful 2.0 CHP motor drive system that supports walking and light jogging
Quiet and smooth operation
The running surface reduces the impact on the joints such as the lower back, knees, and ankles due to its ProShox cushioning system
Space-saving design; foldable
Quality speakers with good sound output
Console compatible with iPod and smartphone for listening to good music
Smartphone holder
Impressive warranty
Cons
No free trial for iFit subscription, this means you have to subscribe if you wish to enjoy this feature
Cooling is not integrated
Not suitable for runners
Product Dimensions and Specifications
65'' Length
29'' Width
55'' Height
35'' Length (Folded)
39'' Width (Folded)
55'' Height (Folded)
Weight: 203 pounds/92 kg
Motor: 2.0 CHP Drive
Tread belt size: 50'' L x 16'' W
Supports up to 300 pounds/136 kg maximum user weight capacity
Incline: Automatic, 0 to 10%
Speed: 0.5 to 10 mph with possible increments of 0.1 mph and 0.5 mph
16 preset workout programs
EKG Pulse contact sensor and telemetry enabled
Smartphone holder, sound system and accessories holders
Warranty
5 Years on Frame
5 Years on Motor
90 Days on Parts
90 Days on Labor
Shipping, Assembly, and Maintenance
Shipping
The ProForm Performance 300i Treadmill is shipped and delivered within days if you are purchasing from Amazon.
The shipping cost also depends on the retailer you are purchasing from; however, some vendors such as Amazon provide free shipping.
Assembly
The Assembly of the ProForm Performance 300i Treadmill is not very difficult because it is delivered with the major components preassembled.
You only need to attach parts like the console posts/stands, and the console to the frame and then do the connection of the cables and that's it.
A detailed instruction manual that could walk you through the process of the assembly is included and some required tools are also included.
It won't take an average skilled person up to an hour to fully assemble.
Maintenance
The maintenance of the ProForm Performance 300i Treadmill is not very much as the belt is already lubricated by the manufacturer therefore re-lubrication will not be required until after a couple of months.
Conclusion
The ProForm Performance 300i Treadmill features a lot of useful features that are great for a mid-range treadmill.  It possesses features that are not commonly found on treadmills of the same category.
This treadmill practically has a lot of advantages that void the disadvantages.
ProForm Performance 300i Treadmill Review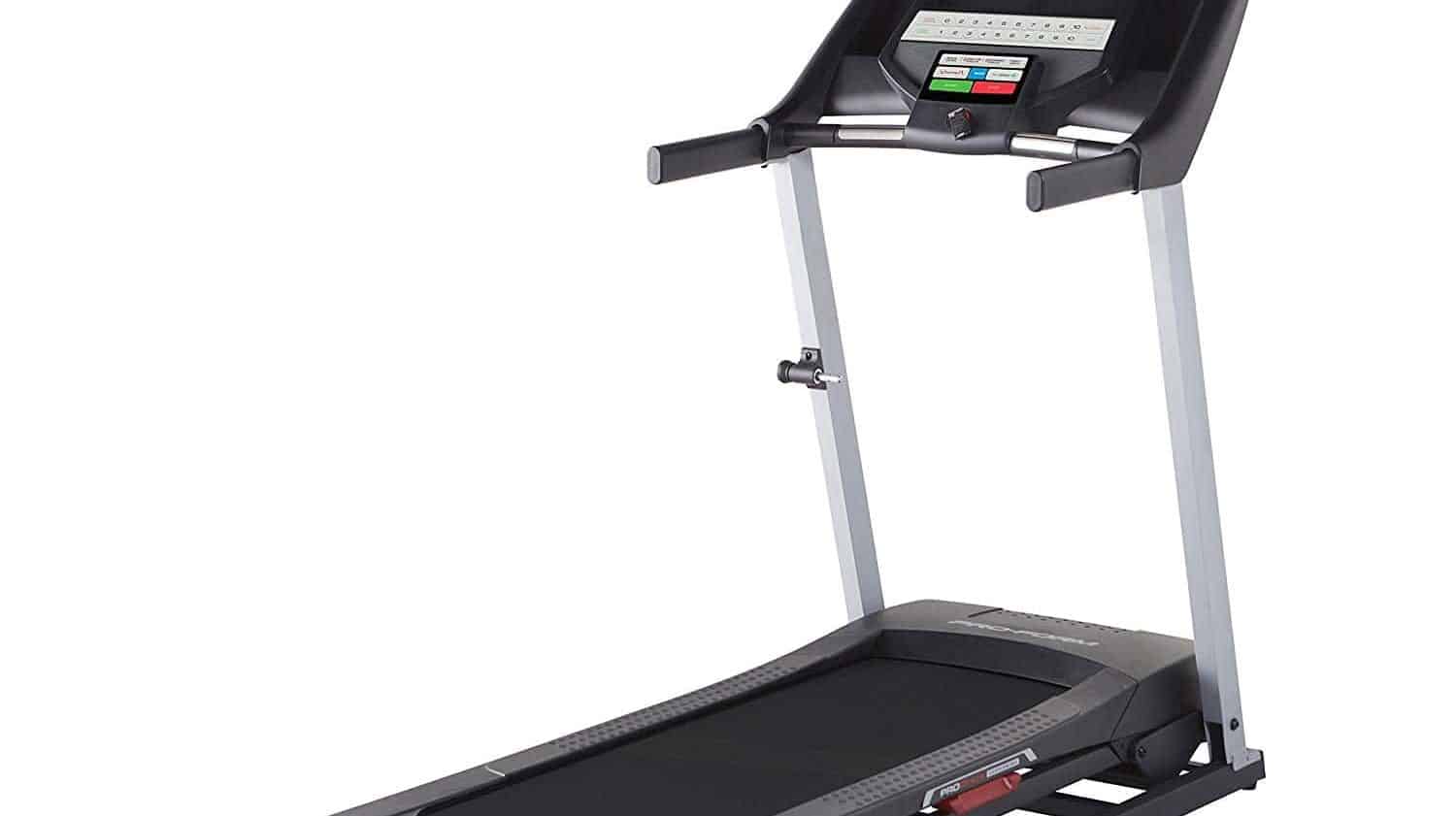 he ProFormm Performance 300i Treadmill is believed to be the new improved version of the old ProForm 300 with a lot of positive revamps and additional
Product Brand: ProForm
Product In-Stock: InStock