The Sunny Health & Fitness SF-B1423 Belt Drive Indoor Cycling Bike has a couple of selling points you can't simply ignore especially if you are on a budget. If you are on a budget and you are looking for that spinning bike that would worth spending that limited budget on, then this cycling bike probably could be the bike, the reasons being that it is a budget-friendly bike that features a belt drive system and a monitor.
This spin bike is among the very few in its category to be supplied with a console and driven by a belt drive that is mostly and commonly found on rather expensive bikes. On top of that, it has a very good flywheel that weighs about 40 pounds/18 kg.
Moreover, Sunny Health & Fitness is a brand name that is very popular and famous in the production of different types of indoor fitness equipment and so, many people won't have a problem in considering purchasing this bike.
That said, you still have to look at the unit and see if it has the necessary elements that could make it suitable for you personally and that is the essence of this review.  We are going to place every part of this cycling bike under scrutiny as best as we can to help you conclude whether to purchase or not.
Meanwhile, if you will like to have a peek at the best price of the Sunny Health & Fitness SF-B1423 Belt Drive Indoor Cycling Bike click right here.
The Frame/Sturdiness
The frame of the Sunny Health & Fitness SF-B1423 Cycling Bike is made from quality steel. The maximum user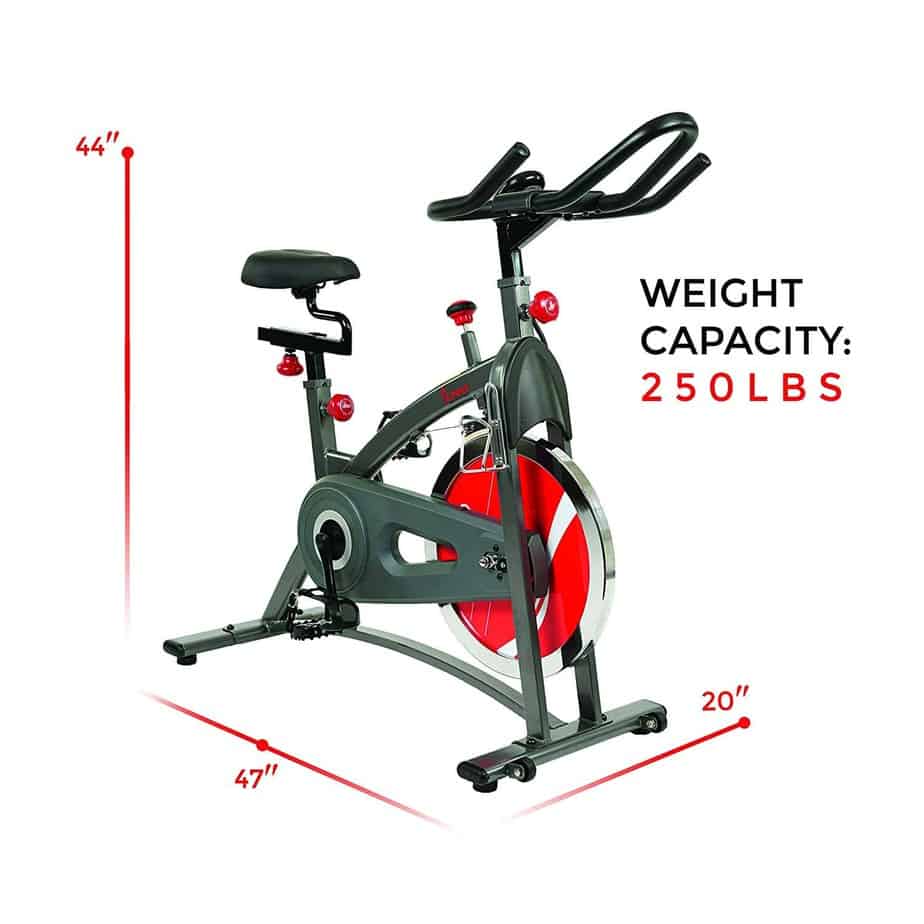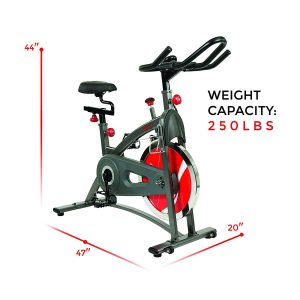 weight it supports is 265 pounds/120 kg. Again, it supports slightly higher maximum user weight capacity than most spinning bikes below $300, and not even the Sunny Health & Fitness Pro Indoor Cycling Bike has the features this bike possesses.
It is not entirely a very lightweight machine because it weighs about 94 pounds/43 kg which some individuals might consider heavy. However, it is integrated with transport wheels at the front base that makes the bike very portable.
The weight is also an added advantage in terms of stability because it makes the spin bike to be grounded and be resistant to wobbling.  The bike also has a good base framework that also further guarantees optimal stability because it features a stabilizer bar at the front and rear bases.
The bike features a space-saving design because of its relatively small footprints. Its overall assembled dimensions are 47 inches long by 20 inches wide by 44 inches tall. This means a workout area of 4 feet long by 1 foot 7 inches wide will be needed. However, it is recommended to add an extra clearance of at least 2 feet on each side of the bike and the rear for safe and convenient workout experience.
It also has 4 rubber adjustable levelers underneath the stabilizer bars designed to have a grip and level up the bike on an uneven floor. Although, you may decide to further boost its level of stability by using a rubber mat that is often sold together with it, but optional.
The Seat, the handlebar, and the Pedals
The seat of the Sunny Health & Fitness SF-B1423 Cycling Bike is just like many other spin bikes out there and it is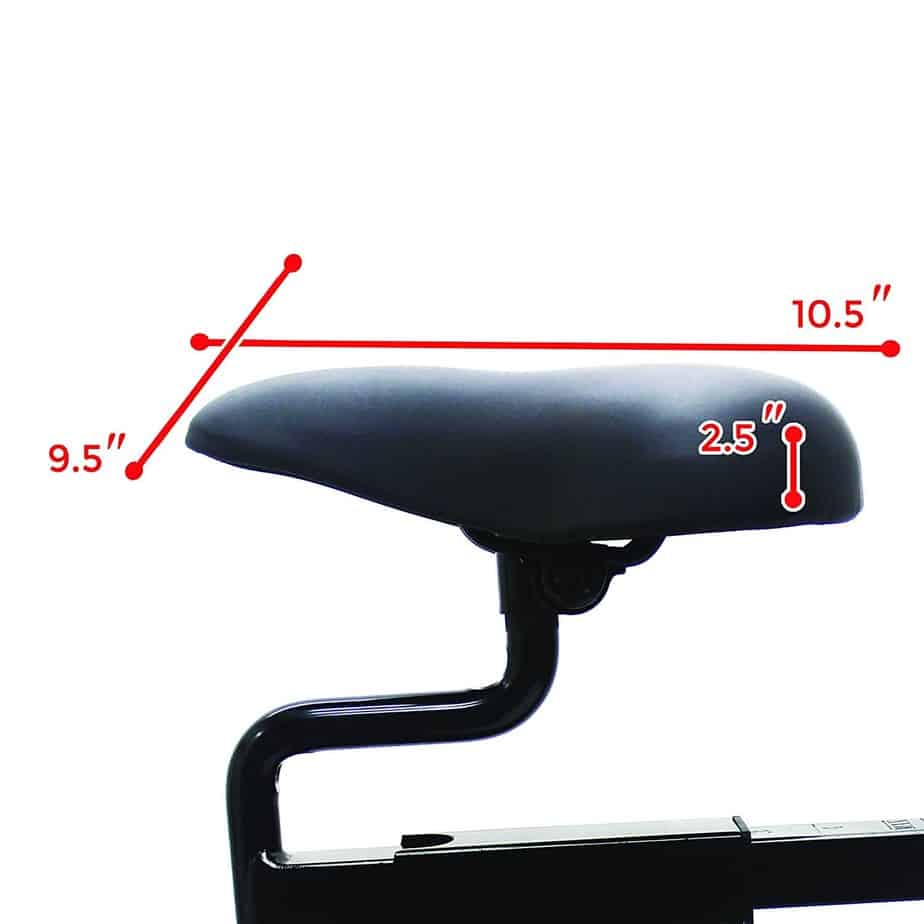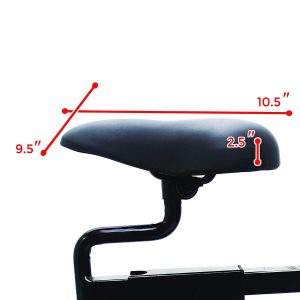 hardly very comfortable. But this is usually the problem with almost any cycling bike as they come with standard saddle similar to that of the bicycle.
Although, this problem can be remedied by using a gel seat cover to improve comfort or replace it with another that is better and comfortable. Its dimensions are 10.5 inches long by 9.5 inches wide by 2.5 inches tall.
The other aspect of the seat that promotes comfort and suitability is its adjustability.  The seat can be adjusted in 4 ways which means you should be able to adjust it upward/downward and forward/backward. This makes it possible for users of different heights to be able to set the seat to a suitable and comfortable workout position.
It can accommodate different users between 4 feet 8 inches to 6 feet 5 inches. The lowest seat setting is 28 inches (seat to pedal) and the maximum seat setting is 36 inches (seat to pedal).
Generally, the seat is firm as long as the adjustment knobs are tightened up very well and it is very easy to adjust within seconds.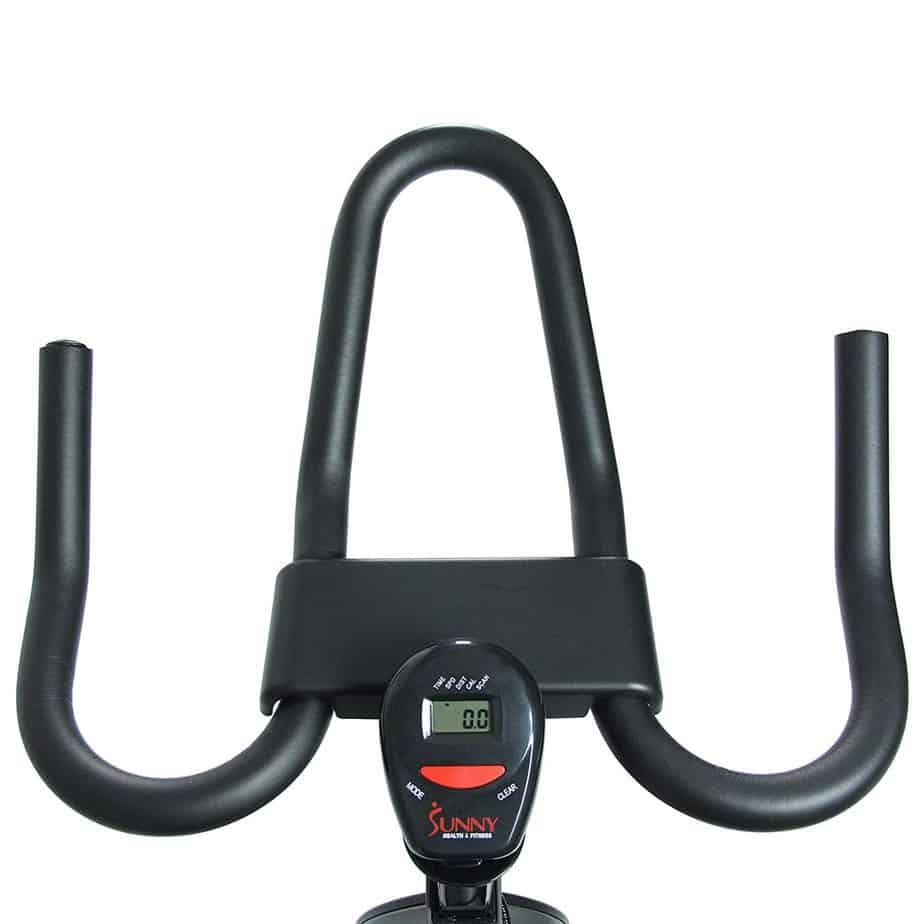 The handlebar is also adjustable but unfortunately, it is not 4 ways like the seat but 2 ways and so, for this reason, you may not get the best workout angle as you could with cycling bikes that feature 4-way adjustable handlebar. But this is usual with spin bikes within this price range.
You can adjust the handlebar upward/downward only and this only takes seconds to set.
It features a multi-grip design that is geared toward providing you with different workout grip positions that could allow you to exercise in different postures. The handlebar is coated with a rubber foam material that provides a firm grip and prevents blisters in the palm due to prolonged and frequent workouts.
Multiple users can use the bike due to its adjustability.
The SF-B1423 features standard pedals, 3-piece crankset with strong crank arms that support up to 265 pounds/120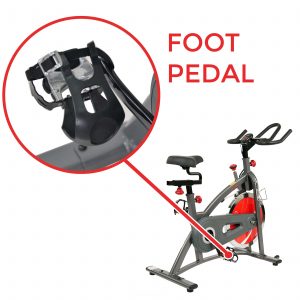 kg maximum user weight and that is including stand up pedaling.
The pedals do not have a dual design but only accommodate standard fitness gym shoes as they come with toe cages with adjustable safety straps. The good news is that they can be replaced with another set of foot pedals that are dual capacity (SDP clips and toe cages compatible).
They are bidirectional pedals that allow you to pedal in either direction which increases the chance of working on more muscle groups. This also means that the pedals and the flywheel spin simultaneously and don't allow you to coast just as you could with an outdoor bicycle. Therefore, it is only imperative that you apply the emergency brake to stop the flywheel and the pedals from spinning each time you wish to suddenly stop pedaling to avoid an accident that could lead to injury.
The pedals' Q Factor (i.e. the distance from the inner edge of left pedal to the inner edge of the right pedal) is not entirely very narrow as it should be because it has about 208 mm/approximately 8 inches. Therefore, your legs on the pedals may feel a little bit awkward especially if you are used to riding a bicycle and this may stress the joints such as the ankle and the knees.
The Drive System
The Sunny Health & Fitness SF-B1423 Cycling Indoor Bike features a belt drive system that is commonly found on high-end spin bikes.
This drive system is popular due to its quiet and smooth operations and it is almost maintenance-free. You don't have to worry about lubrication or adjusting it just like the case with a chain drive system. The chain drive requires periodic maintenance of lubricating the chain and probably adjusting it as well to maintain a good working condition at all times otherwise it will even be noisier with a squeaky and annoying sound.
However, the belt drive has its downside and that is, it does not simulate or mimic the outdoor bike operations but the chain drive does, simply because the bicycle also uses a chain drive system.
The drive system of the SF-B1423 consists of a belt, a 40 pounds/18 kg flywheel, 3 piece crankset, the crank arms, and the pedals. These elements together create a formidable drive that is characterized by a quiet, smooth, and consistent transmission that provides a comfortable workout experience.
 The Resistance
The Sunny Health & Fitness SF-B1423 Indoor Cycling Bike has a friction system resistance that is made up of a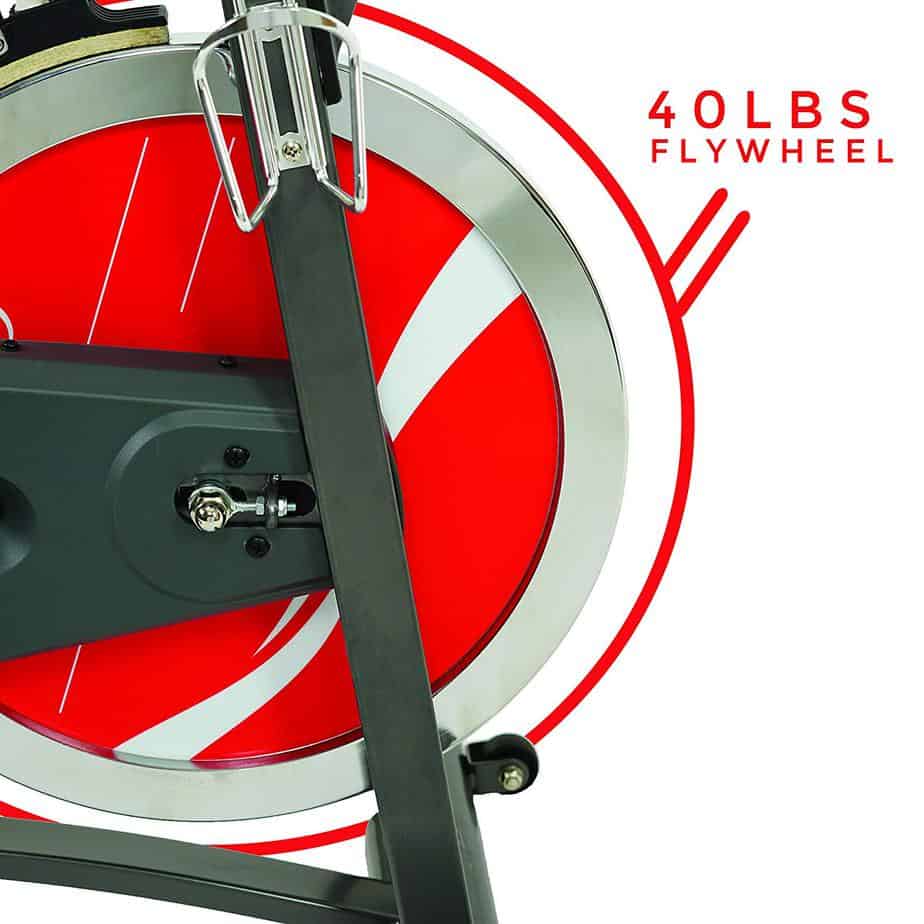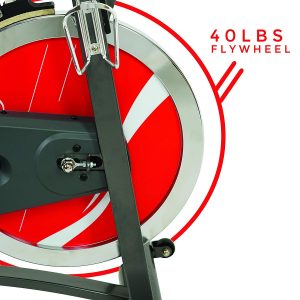 brake pad, a tension knob, and the flywheel.
The brake pad is positioned close and facing the flywheel edge and then connected to a tension knob that is used to adjust the resistance effect.
Resistance is generated when the brake pad comes in contact with the flywheel and the more closer it gets the more the resistance is increased.
It is easy to adjust the resistance; to do so you simply turn/twist the resistance knob clockwise to increase the resistance and turn anticlockwise to reduce it.
The resistance knob also doubles as the emergency brake we talked about earlier in this review. To apply the emergency brake, simply push the knob down and that's it.
The friction resistance system generates effective resistance that is especially suitable for beginners and intermediary users.
However, it does not have distinct resistance levels indicated on the knob which means it has infinite resistance level. To find the amount of resistance that is adequate for your workout you have to keep on adjusting the resistance until you find it.
This also makes it difficult for you to keep track of your strength endurance progress because you won't know the highest resistance level you used in your previous workout to compare with the current level you are using.
But again, this is not unusual because spin bikes of this category don't usually have this feature except such bikes like the Asuna Lancer or the Keiser M3 which are more expensive.
The Console
The Sunny Health & Fitness SF-1423 comes with a rather basic console. Even at that, this is one of its selling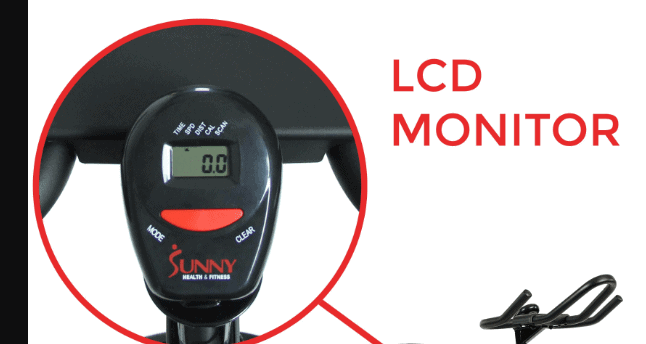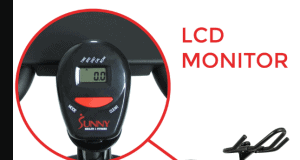 points because even some mid-range to high-end bikes are not supplied with a console.
As aforementioned, the console is very basic but enough to let you track your workout progress. It has a monitor that displays workout data such as time, distance, speed, calories burned, and SCANS function which is responsible for rotating the display of the workout values. And these workout data will surely help to keep you focused and motivated.
The monitor has good readability but could be compromised when used in a poorly-lit room because it is not backlit.
The speed is measured in mph while the distance is in miles only.
The console can easily be manipulated. The only button on the console with two press functions (Mode and Clear) can be used to select a certain value to display constantly on the monitor or have the SCAN function to rotate the values instead. The clear button is used to clear and reset the values to zero.
The console is removable; you can remove and slide it back into the slot on the handlebar.
The console turns on when you start pedaling and turns off when there is no activity for a couple of minutes on the bike.
The console is powered by 2 AA batteries which are included in the original package.
Accessory
The SF-1423 has only one accessory which is the water bottle holder. Other than that it does not have a tablet holder, workout DVD, etc.
You can purchase the tablet holder separately if you need it especially if you wish to listen to your favorite music while working out and also having your smartphone handy.
Storage
The storage of the Sunny Health & Fitness SF-1423 Indoor Cycling Bike is pretty easy and convenient because it is a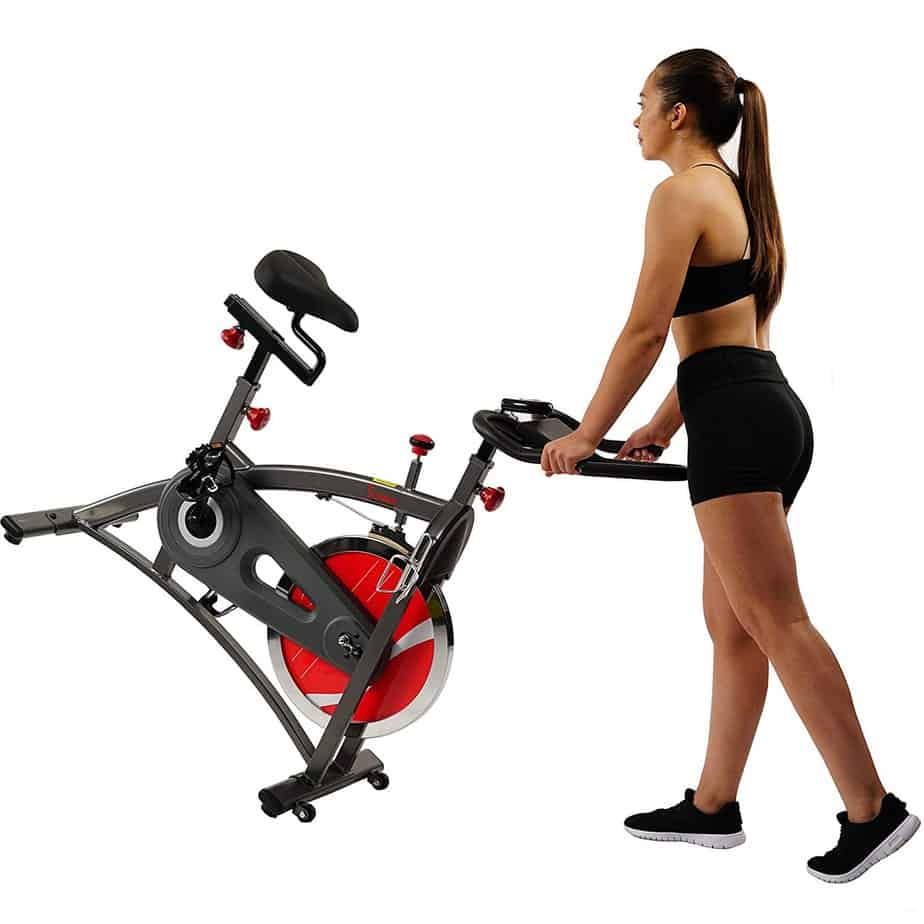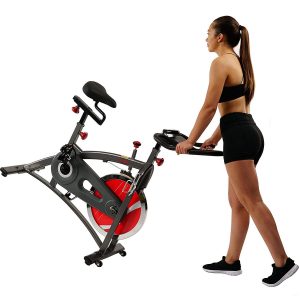 compact bike that does not require a lot of space to be stored. Its overall assembled dimensions are 47 inches long by 20 inches wide by 44 inches tall.
It is also integrated with transport wheels that help in point to point relocation without hassle.
Approval Rating
The overall approval rating of the Sunny Health & Fitness SF-1423 Belt Drive Indoor Cycling Bike indicates that it is a popular spinning bike.
The majority of the Amazon customer reviewers expressed satisfaction but not without a few that have shown some level of dissatisfaction.
Pros/Features Overviews
The frame is made of steel
It supports up to 265 pounds/120 kg
It has a 40 pound/18 kg flywheel
The seat is 4 way adjustable
The handlebar is ergonomically designed with multi-grip that is coated with rubber foam material
The handlebar is 2 way adjustable
Friction resistance system
It has a belt drive system that is super quiet and smooth
It is very stable due to the base framework
It has transport wheels for easy relocation to and from workout and storage area
It features a basic LCD monitor that displays time, distance, speed, calories burned, a SCAN function
The pedals have toe cages with adjustable safety straps with standard thread that allows you to easily replace them with another
Easy to assemble
Water bottle holder included
Cons
The Q Factor is not the best
The seat is not very comfortable but can always be enhanced by using a gel seat cover or replacing entirely with a better one
There are complaints about the pedals not holding up. This could be as a result of defective parts and not a blanket problem
The handlebar cannot be adjusted horizontally
The brake pad wears out and will need to be replaced after some time depending on the usage
Product Dimensions and Specifications
47'' Length
20'' Width
44'' Height
Weighs about 94 pounds/43 kg
Supports up to 265 pounds/120 kg maximum user weight capacity
Belt drive
Friction resistance system
40 pounds/18 kg weighted flywheel
Transport wheels
Seat: 4 way adjustable
Handlebar-2 way adjustable
Basic console
Water bottle holder
Warranty
3 Years on Frame
90 Days on Parts and Components
Shipping, Assembly, and Maintenance
Shipping
The Sunny Health & Fitness SF-B1423 Belt Drive Indoor Cycling Bike is shipped in a box that weighs about 106 pounds/48 kg.
The shipping cost depends on the vendor you purchase from; nevertheless, other vendors such as Amazon provides free shipping and usually delivers the product within days.
Assembly
The assembly of the Sunny Health & Fitness SF-B1423 Belt Drive Indoor Cycling Bike is described as very easy.
This is so because the major components are preassembled. You are only required to attach other parts such as the seat and the handlebar posts, the seat, the handlebar, the stabilizer bars to the frame, and the console to the handlebar.
A detailed instruction manual that is designed to walk you through the process of assembly is included and the required tools for the assembly are included as well.
The assembly won't take an average skilled person up to an hour to completely assemble and have the bike functional.
Maintenance
Just as aforementioned, this bike features a belt drive system that doesn't need any maintenance like lubricating and the system, although, the belt will require replacement after some time (months or years) depending on the level of usage.
In case there is a noise or burning smell coming from the resistance, i.e. the friction between the flywheel and the brake pad, apply a little bit of a silicone-based lubricant on the flywheel to get rid of the noise or reduce it to a bearable minimum.
Finally, always examine the unit and make sure that no part is worn out, broken, or loosed.
Conclusion
The Sunny Health & Fitness SF-B1423 Belt Drive Indoor Cycling Bike is a very recommendable bike when there is no defect. It has several features such as the belt drive system and the console that is rarely found on bikes of its category.
It also has a weighted and heavy flywheel that ensures consistent motion.
Yes, it has a couple of downsides which we have outlined above but then when you consider the price you will agree it is a good buy.